Amazon Connect and Twilio Flex are popular cloud contact center providers offering voice and chat functionality, workforce management tools, analytics and reporting, and third-party integrations.
This head-to-head Amazon Connect vs. Twilio Flex comparison examines each platform's features, pricing, and user experience–plus our recommendations for which solution is right for your business.
Quick links:
Amazon Connect and Twilio Flex: Quick Overview
Amazon Connect
Twilio Flex
Pricing
Pay-as-you-go pricing, per-minute ($0.018-$0.025) and per-message ($.004) charges
$1 per active hour or

$150 per user/month

Key Features

Workforce optimization
IVR
Chatbots
Predictive dialing
Omnichannel routing

Intelligent routing
Reporting and analytics
Recommended responses
Self-service tools

Communication Channels

Voice
Web and mobile chat
SMS
Email outbound campaigns

SMS
WhatsApp
Voice
Video
Facebook Messenger
WebChat

Best For
Startups and small businesses that need a flexible and affordable solution
SMBs and enterprises that need a custom contact center solution
What is Twilio Flex?
Twilio Flex is a customizable digital engagement platform with intelligent routing, workflows, and other contact center capabilities. Twilio Flex integrates with CRM systems and essential business software to provide a seamless user experience, combining voice calling, SMS text messaging, task management, and more in one intuitive dashboard.
What is Amazon Connect? 
Amazon Connect is a pay-as-you-go Contact Center as a Service (CCaaS) and virtual telephony platform. It offers a flexible pricing model, omnichannel capabilities, and workforce management tools to help companies deliver superior customer experiences.
Twilio Flex vs. Amazon Connect: Feature Comparison
Here's a look at how Twilio Flex and Amazon Connect compare when it comes to voice and self-service features.
Inbound Calling 
Twilio users can customize the inbound call experience via a scalable IVR system or by developing an AI bot to interact with customers.
Twilio Flex uses TaskRouter to distribute calls, messaging sessions, and other notifications to contact center agents. Automatic skills-based and business hour call routing distributes inbound calls, provides customer self-service, and collects essential customer data.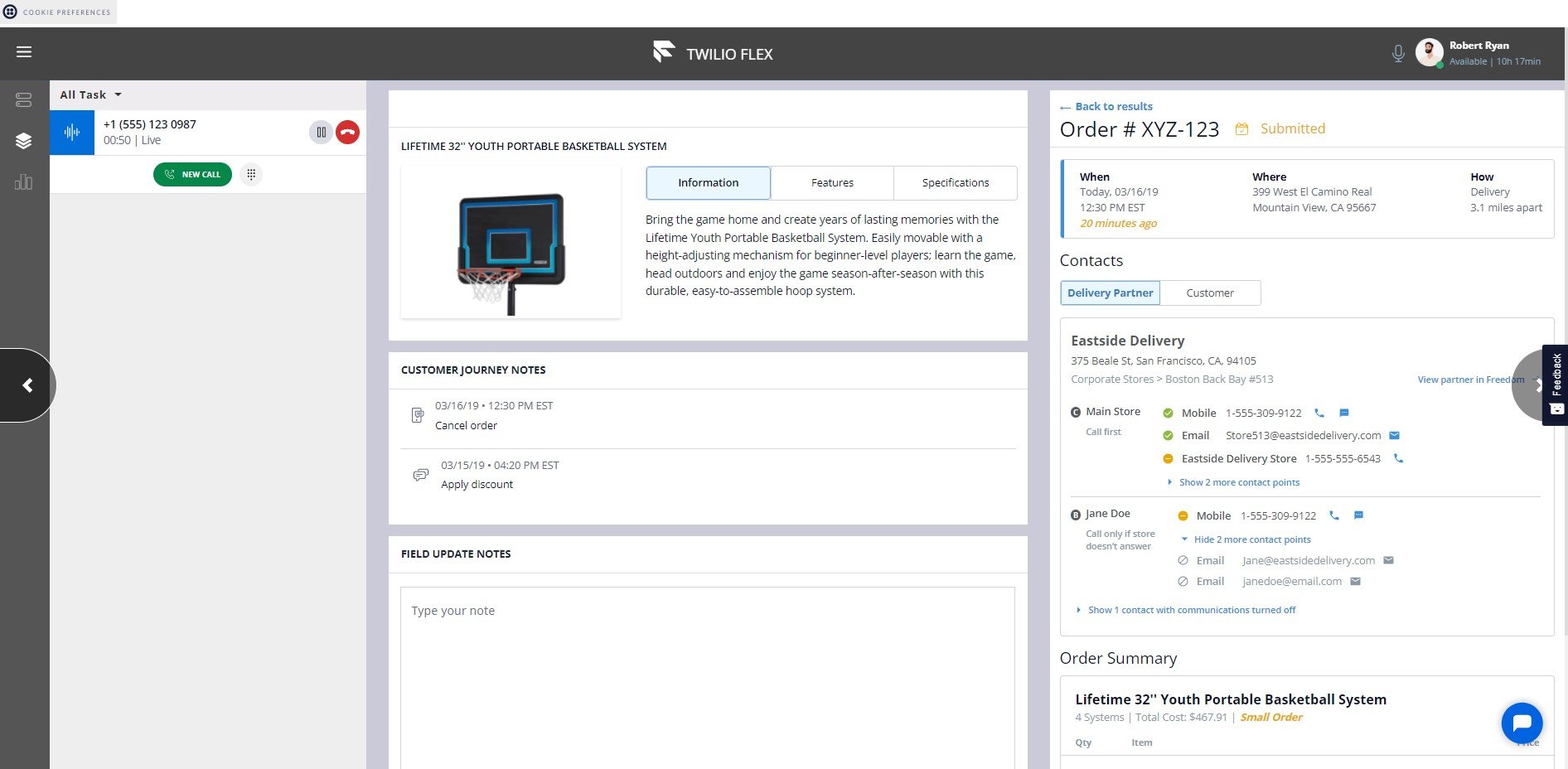 Twilio inbound calling features include:
Warm transfer
Voice conference with 2-250 participants
Hold
Mute/Unmute
Dual-channel call recording
Amazon Connect enables users to create contact flows with dynamic IVR tools, personalizing customer engagement throughout the customer journey.
In addition to queue management and automatic callbacks, admins can create, archive, delete, and restore text-to-speech call flows. Sensitive information is encrypted in motion and when stored via the AWS Encryption Software Development KIT (SDK).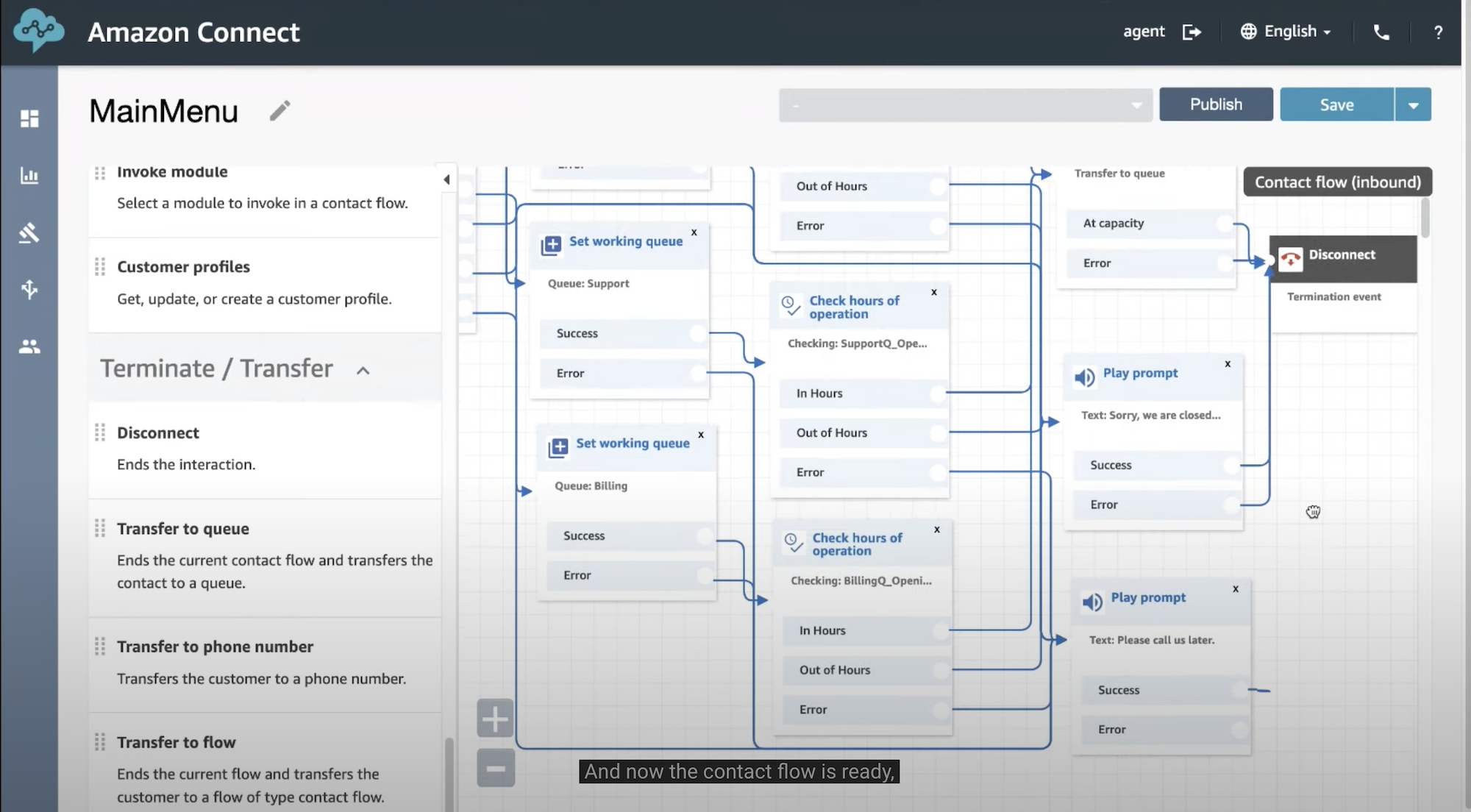 Other Amazon Connect inbound calling features include:
Call transfer
Multi-party calls (up to 6 participants)
Call transcript
Call recording
Authentication through Voice ID
Outbound Calling 
The Twilio Flex dashboard includes a softphone dialpad, click-to-call, and omnichannel campaign management tools for automating billing and appointment reminders, marketing promotions, or deliveries.
Other Twilio Flex Outbound dialing features include:
Preview and predictive outbound auto dialers
Transferring calls to a list of available agents
Custom contact lists/lead lists
Pre-recorded audio messages, voicemail drop, outbound IVR
 Answering Machine Detection (AMD) powered by machine learning
The Amazon Connect platform allows users to create outbound campaigns that reach up to millions of customers daily on multiple channels. The outbound campaigns feature can be used to send out appointment reminders, marketing promotions, deliveries, or billing reminders. Outbound calling is $0.018 per minute and outbound campaigns voice usage is $0.025 per minute.
Amazon Connect's outbound campaigns feature also include:
Predictive dialer

ML–powered answering machine detection service

 

Contact lists
Pre-recorded audio messages
Customer Self-Service 
Twilio Flex enables businesses to provide 24/7 customer self-service across multiple channels via Interactive Voice Response (IVR), Natural Language Understanding (NLU) chatbots, and migration tools for transferring existing scripts to Twilio.
Amazon Connect offers several self-service tools equipped with artificial intelligence, such as natural language chatbots and Voice ID.

Amazon Connect's Voice ID feature automatically analyzes incoming voice calls and compares them with recordings of known fraudulent actors on a custom watchlist. During active calls, Voice ID automatically notifies the agent if a caller is suspicious and displays a risk rating such as "high risk" or "low risk."
Omnichannel Communication
Twilio Flex provides a single interface for all channels and users can add new channels to the cloud contact center software as they become popular with customers. Twilio Flex users can also add their own custom channels such as a branded chat platform.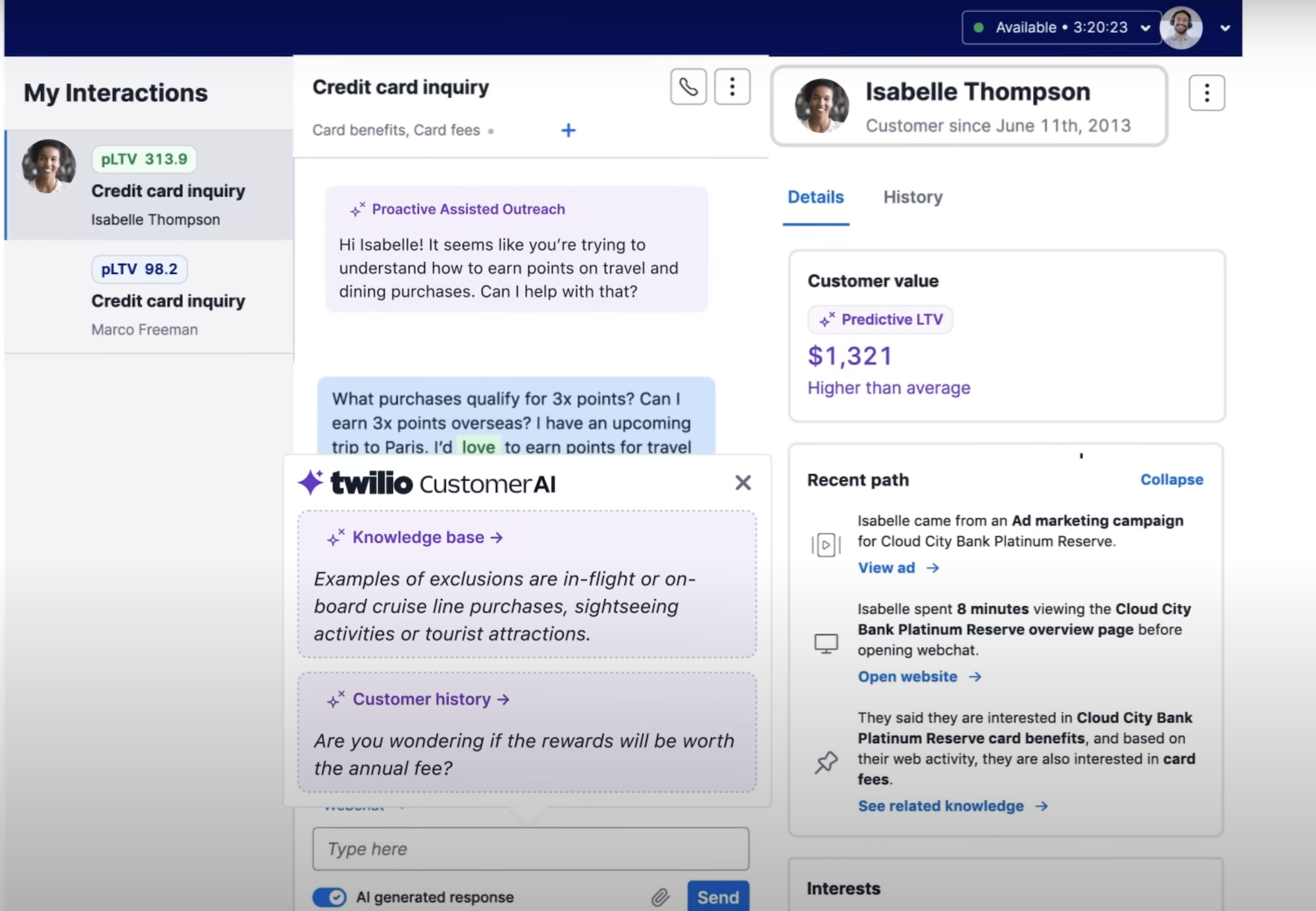 Twilio APIs—such as SMS, Video, Chat, and WhatsApp Business—can be integrated into a single pane of glass to view customer interaction data across all channels.
Amazon Connect enables companies to connect with customers on the channel of their choice. Automation tools such as appointment reminders allow companies to offer proactive customer service.
Amazon Connect omnichannel routing lets companies build IVR flows and bots for voice and chat channels, empowering customers to choose their communication channel based on wait times or preference.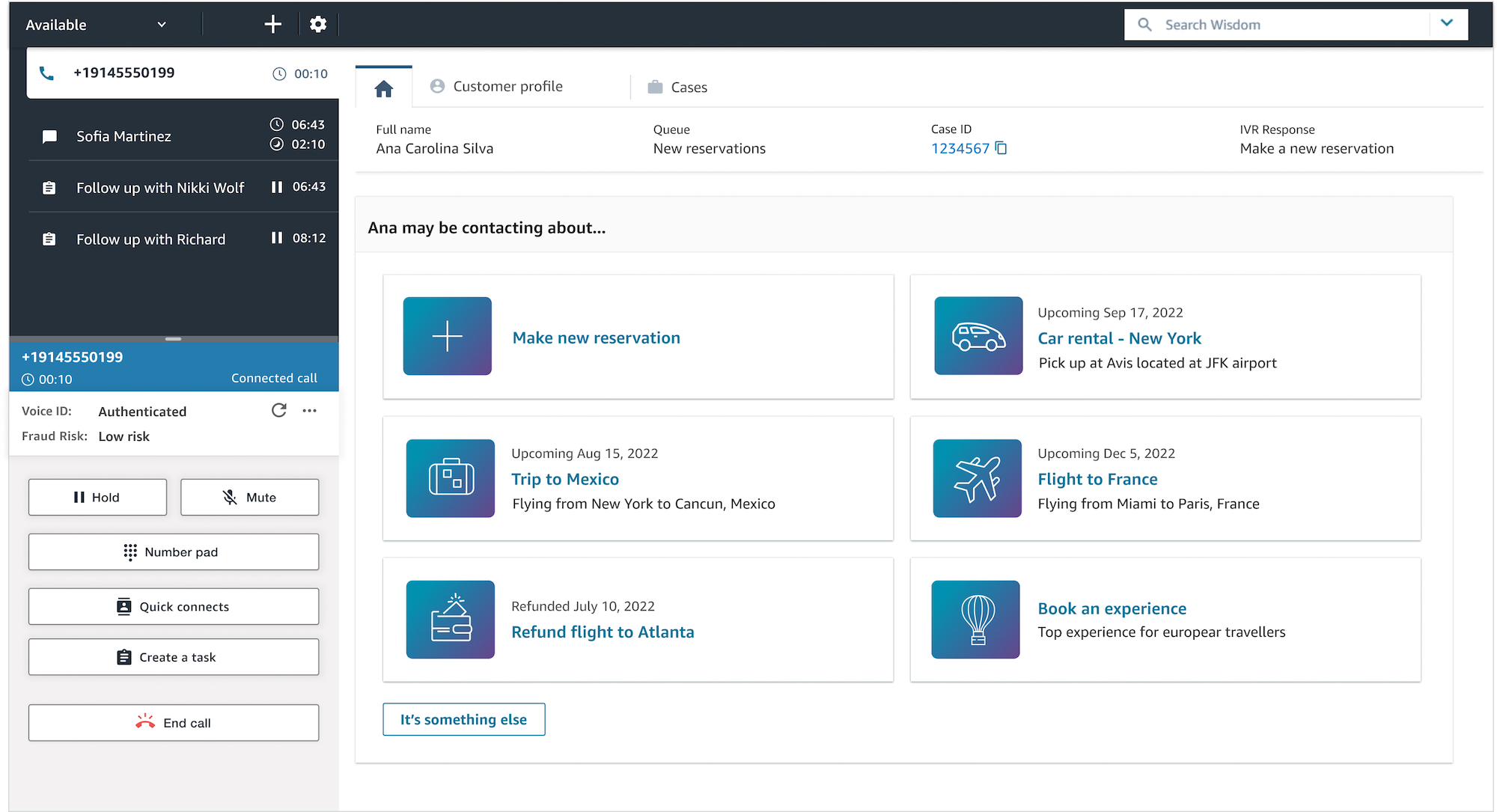 Amazon Connect omnichannel features include: 
Web/mobile chat and messaging
Conversational IVR and natural language chatbots
Omnichannel skills-based routing
Voice ID
Analytics and Reporting
Twilio Flex Insights is a built-in dashboard that monitors and displays contact center KPIs such as average handle time (AHT).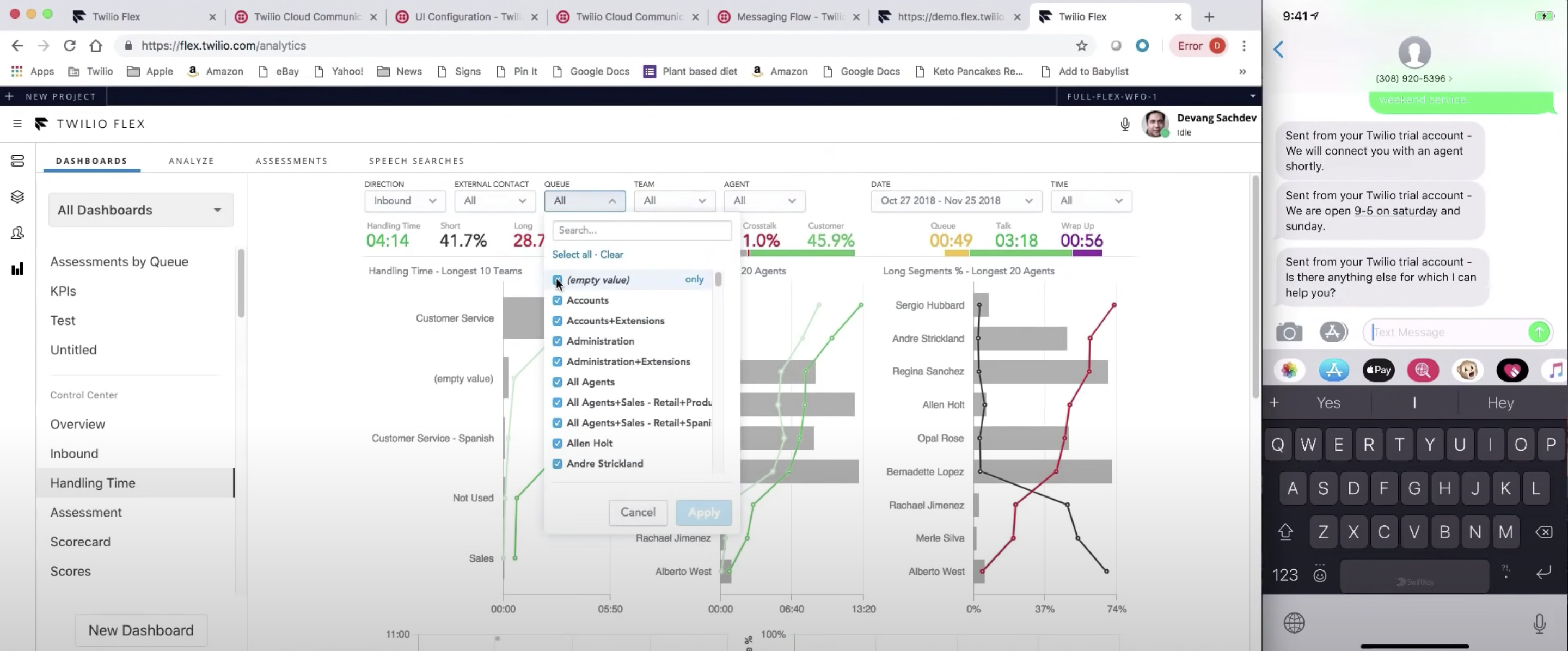 Drag-and-drop design tools let admins create custom analytics dashboards, drill down data, provide agent feedback, comment on conversations, and assess conversation quality.
Feedback and assessment data are then displayed on the dashboard.
Amazon Connect offers AI and ML-powered analytics and optimization capabilities, allowing companies to predict contact volumes, monitor conversations, and set up automatic customer service and KPI alerts.
Contact Lens uses conversational analytics to transcribe customer conversations, analyze customer sentiment, and discover top contact drivers in real-time.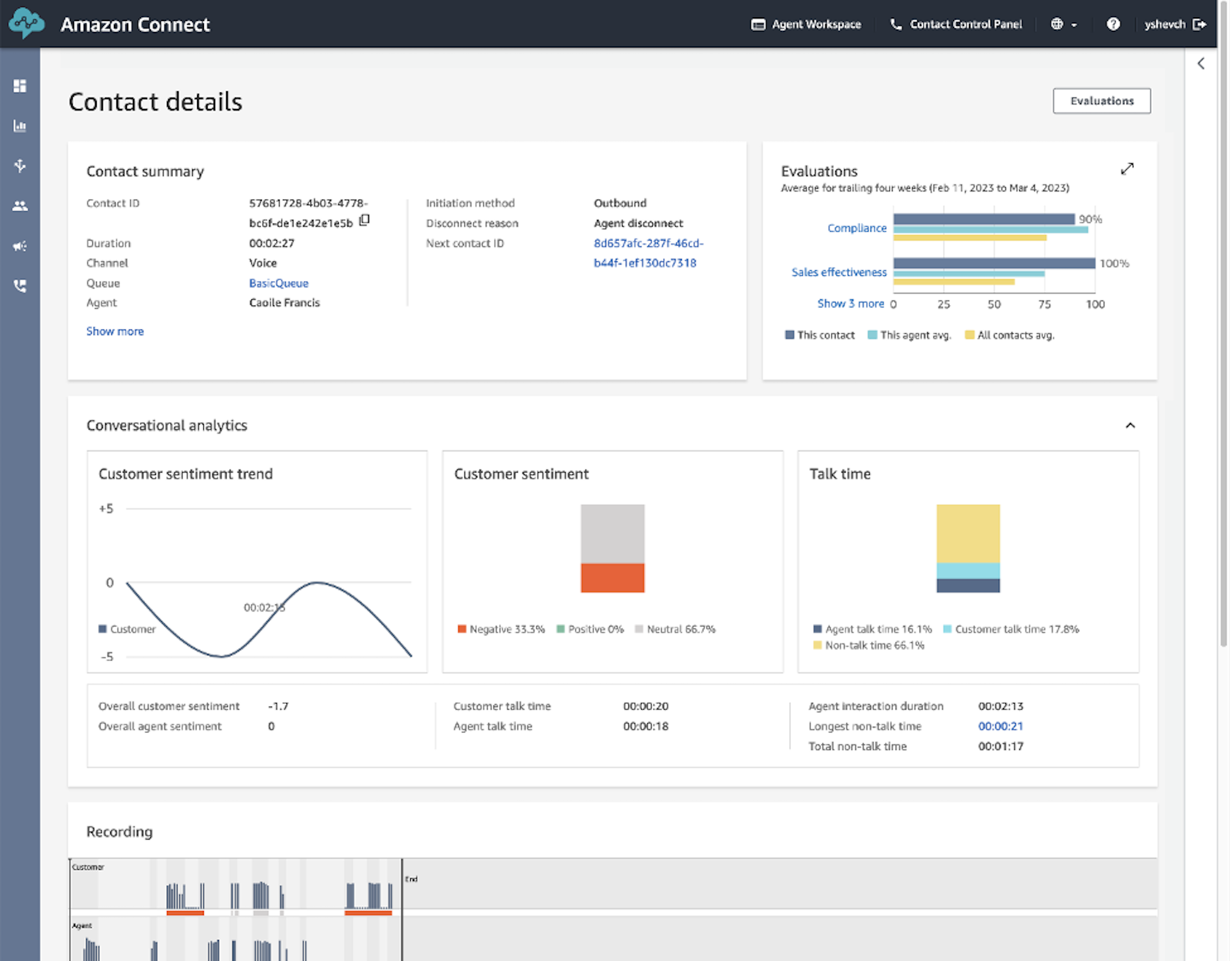 Other Amazon Connect Reporting and Analytics features include:
Screen recording
Automated performance evaluation
Contact scoring
Contact summarization
Sensitive data redaction
Theme Detection
Email notification
Supervisor barge in
Amazon Connect Contact Lens offers separate pay-as-you-go pricing for the following capabilities: 
Conversational analytics for voice calls: $0.015 per minute
Conversational analytics for chat messages: $0.0015 per message
Performance evaluation: $12/agent/month
Screen recording: $0.006 per recorded minute
Integrations
Twilio Flex is a full-stack programmable contact center on its own, but it also integrates with other applications such as CRMs, Workforce Engagement Management suites (WEM), in-house built systems and processes, and contact center add-ons. Twilio Flex can integrate with any solution with an available API.
Popular Twilio Flex integrations include:
Amazon Connect is an open platform that users can integrate with other enterprise applications, such as Salesforce, Zendesk and Zoho. Amazon Connect works extremely well with other Amazon Web Services (AWS) such as Lambda and Amazon Lex.
Amazon Connect vs. Twilio Flex: Pricing Comparison
Twilio offers two pricing plan options, both of which include all features. A free trial with 5,000 free active user hours is available.
Twilio pricing can be charged as: 
Per-hour pricing ($1.00 per active user/hour): Allows users to pay only for what they use, making it easy to scale up or down or make seasonal changes.
Per-user pricing($150.00 per named user/month): Allows users to have a predictable cost, regardless of usage or activity.
Amazon Connect uses a flexible, pay-as-you-go model with per-minute, per-chat, and per-feature charges. A one-year free trial DID and toll-free phone numbers, 90 minutes of voice calling, 30 minutes of outbound calling, 500 messages, and 100 tasks per month is available.
Amazon Connect a la carte charges include:
Inbound voice usage: $0.018/minute
Outbound voice usage: $0.018/minute
Outbound campaigns: $0.025/minute
Chat: $0.004/ message
Tasks: $0.04/task
Workforce Optimization: $27/agent scheduled or forecasted, per month
Voice ID usage: $0.025/transaction
User Experience
Here are some of the things users like and dislike about Amazon Connect and Twilio Flex:
What Makes Amazon Connect Stand Out
Flexible pricing model provides cost-savings
Admins can create multi-level self-service flows
Ease of use
Live monitoring and detailed reporting
Where Amazon Connect Falls Short
Per-minute and per-chat pricing is expensive for high-volume contact centers
Agent control panel is very basic
Support line often has long wait times
What Makes Twilio Flex Stand Out
The use of APIs and plugins makes the Twilio Flex platform extremely customizable
4 different dashboard views (Agent, Teams, Real-time Queues, and Flex Insights)
Users can opt out when new UI versions are released
Includes customizable themes and skins
Strong security and SSO
Where Twilio Flex Falls Short
Compex setup with coding usually requires  an in-house department
Monthly pricing is expensive compared to competitors
Customer self-service options are geared to tech-savvy audiences
Should You Choose Amazon Connect or Twilio Flex?
Amazon Connect and Twilio Flex are both solid contact center solutions that can help businesses make large improvements to customer support. The best fit for your company depends mostly on the size of your organization and your specific needs.
Amazon Connect is Best For:
Startups and small businesses that need flexible, affordable pricing
Small remote teams that need workforce optimization
Sales teams that need software for outbound campaigns
Service teams that need to send out appointment and billing reminders
Teams already using other AWS services
Twilio Flex is Best For:
SMBs that need an affordable and flexible platform
Startups experiencing rapid growth
Enterprises that want a developer-friendly platform and a custom solution
Companies already using CRM applications that need a unified solution