Customers expect far more than they did a decade ago. Do they prefer to be contacted by text? How about social? Would they prefer a more self-service experience? Your goals are important, but they also need to align with customer expectations, and handling customer points of contact internally helps ensure a streamlined experience. For this reason, many businesses are opting to use CCaaS (contact center as a service) contact center software to bring contact in-house. 
What is Contact Center as a Service (CCaaS)?
Contact Center as a Service (CCaaS) is a contact center software that's hosted in the cloud that allows businesses to serve customers efficiently while lowering costs and reducing IT demands on-premise. This enables companies to focus on the customer experience instead of the technical aspects of having a contact center. 
Gone are the days when system administrators were required to update, download, and maintain the software used by call centers. This required the business to have servers on-premise, which needed to be upgraded and replaced from time to time. 
As you are looking to upgrade to a cloud-based provider, some key features to look for include:
Geographically Distributed Data Centers: This provides heightened uptime so that when a server goes down, other servers or data centers pick up the slack.

Cloud-Based CRM Integration: With everything on the cloud, users gain instant access to CRM-based information about customers.

Compatibility with Desktop and Smart Devices: Mobility is important, and with cloud architecture, agents make calls from any Windows, macOS, Android, or iOS device. 

Automation and Artificial Intelligence (AI): Providers like NICE inContact and Talkdesk have AI-based technology that automates repetitive tasks so that your agents can more productively manage their time. 
How CCaaS Differs from On-Premise Solutions
For decades, in-house was the only way a company could open a call center, and the price was always expensive. For example, the cost to purchase a phone switch was at least a million dollars. All in all, a new phone center owner could expect to spend three million dollars just to get fully set up.
On top of this, a new call center would have to also hire IT staff to update and manage in-house servers and software. Most enterprises work with the same vendor to acquire the needed software and hardware.
With traditional hardware/software, calls had to be done in the center – there was no provisioning for agent absences. Moving the servers to cloud data centers makes agents more versatile so that they can take calls from anywhere via their personal computers or smart devices. There's also a reduced need for dedicated IT since the servers are managed remotely by provider staff. 
It also makes centers easy to scale upwards if your call volume and customer engagement numbers are growing. Adding additional seats or scaling backward to fewer seats is done by the provider, so busy periods or slow periods are easily managed. Moreover, agents have control panels that follow them, so you'll have less of a dependence on specific seating arrangements. 
Businesses embracing this call center technology also tend to embrace omnichannel touchpoints while in-house centers usually work with voice calling only. Based on research done by Salesforce, customers today expect to be able to reach the brands they love using at least 10 different touchpoints. 
These may include voice, SMS, chat apps, email, social media, mobile apps, visual IVR, online portals, voice-activated personal assistants, and online knowledge bases. Having these is important for customer satisfaction, and they are all found on various CCaaS solutions. To combat agent turnover, many of these solutions include some form of gamification that helps your center reward high achievers. This gives your agents an opportunity to excel. A feature like this is simply not available via in-house center software.
Here's a quick breakdown of the differences between the two technologies:
| | | |
| --- | --- | --- |
| | On-Premise | CCaaS |
| Unlimited Calling in the U.S. and Canada | x | ✔ |
| Georedundancy via data centers | x | ✔ |
| Instant scaling | x | ✔ |
| Real-time analytics | x | ✔ |
| CRM integration | ✔ | ✔ |
| Presence | x | ✔ |
| Per-use, per-month subscription pricing | x | ✔ |
| Remote work tools | x | ✔ |
| Monitoring tools (barge, whisper, takeover) | ✔ | ✔ |
| IVR | ✔ | ✔ |
| ACD | ✔ | ✔ |
| Auto Attendant | ✔ | ✔ |
| Voice analytics | x | ✔ |
| Dialing software | ✔ | ✔ |
| Gamification Features | x | ✔ |
Benefits of Contact Center as a Service
There are several ways that this kind of software can benefit a business. Adopting this technology can increase convenience and efficiency, but it's also a positive addition that benefits companies in the following ways.
A Better Customer Experience
Since customers are the number one priority of contact centers, it's essential to provide the best experience possible to them. This means reducing hold times, making sure that call routing is efficient. Moreover, it means modernizing the equipment so that when technology evolves, the way that you communicate with your customers does as well. 
Having a provider will allow you to have multichannel integrations so that you can be reached on any channel. This allows the customer to select the channel that they are the most comfortable with using. Today, most contact centers use three or more touchpoints, as we touched on in one of our earlier pieces. With that being said, it's imperative to have voice, live chat, email, and social media communication channels available for customers to use. It's also a good idea to use social media management tools.
You will also have the benefit of being able to quickly implement contact center insight and access tools that can assist agents when they are dealing with customer issues and requests. The more first-call resolutions that your agents have, the happier the customers will be with their experience, which means that they are more likely to continue to invest in your business. 
According to Salesforce, 82% of customers say that personalized customer care influences the amount of loyalty that they give to the company. Also, Forrester states that moving to a CCaaS system raises customer satisfaction to 85% from 59%. 
An Improved Agent Experience
CCaaS solutions are designed to keep all of the agents connected. This means that, regardless of the channel that they are communicating through, there will be detailed records to help the agent better assist the customer. This helps lower the frustration level amongst agents and having all of the critical information on a single screen ensures that agents know the information that they are relaying to the customer. 
In addition, skilled agents are directed to handle difficult customers and have all previous encounters in front of them. This includes any order information, billing history, and up-sell opportunities that they may be interested in that could produce a lead.
Additionally, these solutions enable agents to work from anywhere, which helps remove regional hiring restrictions for your centers. Additionally, 82% of U.S. businesses are now using remote work opportunities as a way to promote better work-life balance. This is particularly important to this industry because of its often-reported high turnover rate.
Lower Initial Operation Costs
Since a cloud contact center solution doesn't require you to purchase or have the space to store servers on-premises, you can automatically save when it comes to the upfront costs of running a contact center. You also will not need to scale your hardware to match your needs when you are using a cloud-based server. Less visible costs will also be cut, which includes:
Having fewer IT staff to manage 

Having reduced downtime because servers don't need to be managed

Using more integrated tools to manage agents
Talkdesk says that cloud-based centers are 27% less costly than in-house solutions.
Exceptional Analytics and Reporting
Tracking analytics is a significant part of determining how well your business is doing, so if a provider has a solution that allows you to keep track of your business with ease, then it is quite a benefit to have for your business. Most contact center providers have integrations that can be used together with your contact software to help improve the quality of the agents that you have. Essential analytic tools allow you to:
Track abandoned voice calls

Record calls

Identify when agents need additional training 

Send an alert when agents use questionable phrasing

Adjust caller queues

Manage

IVR call flow
According to Talkdesk, 31% of businesses that move to a cloud-based contact center are more likely to use analytics tools to track calls and customer interactions.
CCaaS Use Cases
A cloud-based outbound, inbound, and blended solution is optimal for businesses that want to manage customer contact directly and not through a third party. Multiple industries will find this form of cloud contact convenient and direct money saver. Here are a few use cases that highlight how much utility a solution like this brings.
Healthcare Research
In the past, healthcare organizations as far up as the CDC have relied on independent telephone research centers to research topics like childhood healthcare, immunizations, and the health of specific populations. 
These were typically administered via survey, and it had been a bustling industry. With cloud contact, healthcare organizations bring this type of research in-house. Many providers, like Talkdesk, have HIPAA compliance so that sensitive patient information isn't left exposed. 
Solutions like these also make it easier for customers to reach healthcare providers and receive quality care, even when the system itself is more complex. Additionally, the cloud infrastructure helps patients and doctors connect despite regional barriers, and secure virtual care is possible, which has become increasingly critical during the pandemic.
Cognosante utilized Talkdesk as a solution and utilized the Call Bar and Microsoft Dynamics integration to quickly deploy and increase overall availability for their phone system to a "five nines (99.999% uptime)" level of reliability. They also reported spending less than half per agent of what they experienced previously. They were able to deploy to 500 agents in a week's time with cloud-based contact.
Marketing
Dialing tools are critical for marketers to make the most out of a day's worth of contact. For example, predictive dialers, which can be found from almost any provider, automate the outbound dialing process so that more contacts are made in a shift. When a marketing company is making a higher number of contacts, there's more of a chance to convert and turn leads into paying customers.
Several other tools for marketers will also make a difference. For inbound calls, call routing helps get potential customers to the right departments. If they have an inquiry about your service, the menus will pick this up, and contact center technology like sentiment analysis and customer relationship management (CRM) VoIP integration will provide your agents with critical info about the caller that they use to make conversions.
MTD, which is a company that specializes in power equipment, switched to Vonage's cloud contact to replace its legacy system. As a result, they saw a 40% increase in their Net Promoter Score. They also reduced service call times by 30 to 60 seconds, which led to stronger customer satisfaction. When their phone lines went down, they were able to seamlessly shift to WebRTC and bring their calling to browsers, which saved them thousands of dollars.
Financial Industry
When a customer has stock in a company, the proxy is done using a center that contacts shareholders to get their vote when the time comes. With a cloud-based contact center, the financial information is kept securely in-house so that information is not left where it could be vulnerable.
There are also several finance industry-compliant solutions on the market for a business to use. These incorporate encryption at-rest and in-transit, so that data is protected. Additionally, omnichannel outreach also makes contacting customers and clients on their favorite platforms a simple process.
BSI Financial reported a reduced abandonment rate by switching to a cloud provider, Five9. Additionally, they reported that agent productivity and efficiency saw a noteworthy increase. The financial company also noted that integration with financial services tools like Fiserv also were a major benefit to making this switch.
5 Best CCaaS Providers at a Glance
The cloud contact market is becoming increasingly crowded, but there are a few providers that stand above the rest for both features and call quality. Here are five providers that stand out – you may notice that they all are also present on the Gartner Magic Quadrant for contact centers.
Talkdesk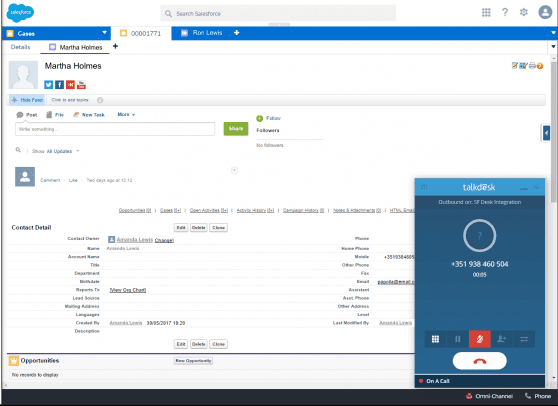 While this provider did not come out on top in our Five9 vs Talkdesk head to head, it was very close. Talkdesk scales well with businesses that are growing, and there are three plans with add-on features for your business to choose from. Talkdesk pricing is also very reasonable for each plan. 
| | |
| --- | --- |
| Talkdesk is Best For | Talkdesk Exclusive CCaaS Offerings |
| Companies without experienced developers. Their Visual SDK system allows for advanced call flows without coding. | 100% uptime guarantee at Enterprise level. |
| Centers in need of extensive integrations. Talkdesk has extensive CRM and third-party integrations as well as access to AppConnect.  | Auto call recording warehouses calls for the contact center. This is useful for coaching and compliance. |
Vonage Contact Center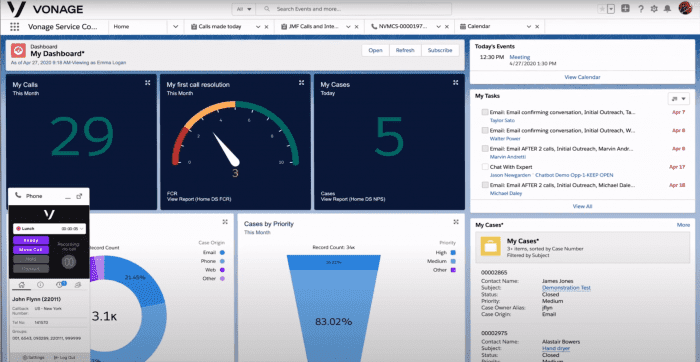 Thanks to Vonage's features that focus on both UCaaS and CCaas, teams of agents will have something of a safety net present when dealing with difficult customers. In addition to team collab tools, the software also has a unique user experience (UX) that places useful tools for customer service in easy reach of your agents. 
This includes customer insight that uses CRM VoIP integration and customizable dashboards that provide engagement histories with customers. Vonage also has gamification features so that agents compete for conversions and are rewarded for performance.
| | |
| --- | --- |
| Vonage Contact Center is Best For | Vonage Contact Center Exclusive CCaaS Offerings |
| Centers looking for TCPA compliance. Vonage has outbound manual modes that help reach customers not in a preset contact list. | Integration with ServiceNow to review logs and recordings |
| Healthcare organizations that warehouse call recordings. Vonage has password protection to ensure that patient information is guarded. | Conversation Analyzer automatically reviews conversations for insights using Einstein Analytics. |
NICE inContact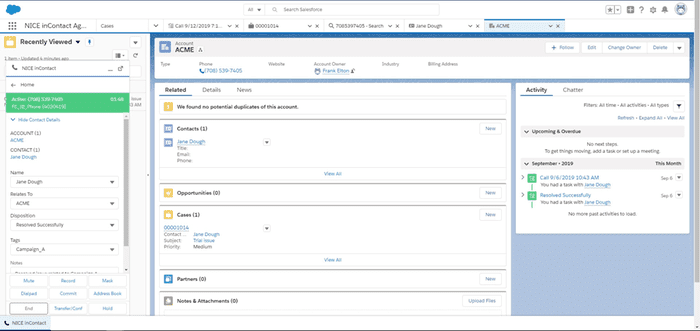 When it comes to dialing, NICE inContact has quite a few customizable dialing modes that are useful for centers with varied calling profiles. It's also a good option for international businesses; they are present in more than 100 countries and offer virtual phone numbers in several. This helps your business establish a presence in multiple territories without actually having a physical location in target countries. 
NICE inContact  is Best For

NICE inContact Exclusive CCaaS Offerings

Centers with a global reach. Nice is present in several countries and has DID numbers around the globe.

CXone Workforce Management software uses AI to forecast schedule adherence for agents. This helps prevent over- and understaffing.

Centers focusing on customer satisfaction. NICE has several tools designed to keep customers happy.

Their

predictive behavioral routing

technology uses AI to connect customers with agents that match their personalities.
8×8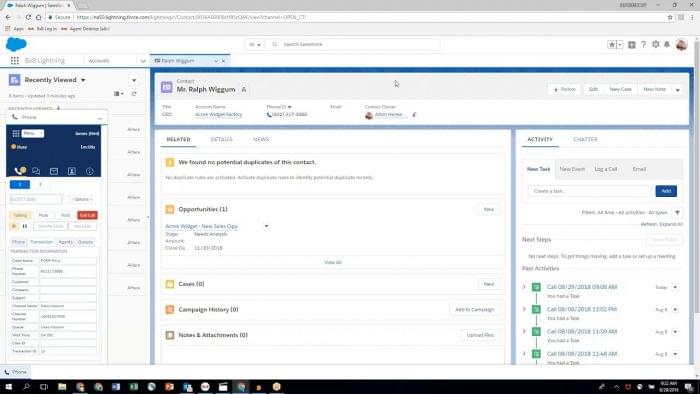 8×8 is another provider that places a strong emphasis on UCaaS and CCaaS integration – with this provider, agents and employees communicate via multiple channels. This helps agents be prepared for customer inquiries and increases the incidence of first call resolution and bolsters customer satisfaction, which are some of the key KPIs covered in one of our guides. 
8×8 also has some of the best quality management tools on the market – speech analytics and customer experience tools are provided out of the box. There's also a native CRM included, but if you have a preference for one of the industry's leaders, like Salesforce or Zendesk, there are third-party integrations as well.
| | |
| --- | --- |
| 8×8 is Best For | 8×8 Exclusive CCaaS Offerings |
| Businesses trying to set up a customer support system. 8×8 has a very easy-to-setup queuing and call flow system. | 8×8's solution is powered by their Gartner Magic Quadrant winning UCaaS system, which helps agents and employees collaborate.  |
| Centers in need of an advanced call distribution center that's highly customizable. | 8×8 has its own native CRM. |
Five9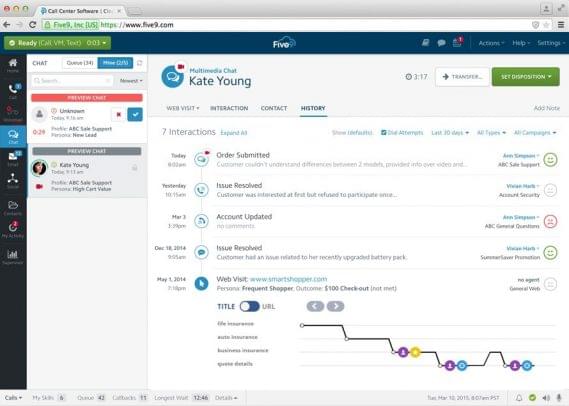 Based on Five9's statistics, their software bolsters the talk time of agents by an average of 300% per hour. Five9 is a solution that's focused on inbound, outbound, and blended centers.  Five9 pricing and plans stand out because the company has a "pay for what you need" structure. This means that the provider doesn't have a traditional tiered plan setup; with this service provider, you have access to all features when you subscribe, and if you don't need a particular feature, you don't have to pay for what you aren't using. 
| | |
| --- | --- |
| Five9  is Best For | Five9 Exclusive CCaaS Offerings |
| Blended contact centers looking for both outbound and inbound calling features. | Pay for what you need allows businesses to customize their calling features. |
| Contact centers with higher turnover rates – Five9 has several gamification features that increase agent morale. | Global Voice uses regional points of presence to route calls for the highest call quality. |
The Future of CCaaS
This variation of software as a service (SaaS) ensures that even smaller businesses bring their centers in-house. This is useful for businesses looking to save money by not hiring third-party centers, and it also ensures that these businesses manage their customer interactions more directly. Each solution also has a variety of tools that would cost hundreds of thousands of dollars in a traditional center.
The contact center software market is expected to grow to be a $50B market by 2025, according to Grand View Research. There's clearly a demand for this software, especially since it provides centers with agility during the COVID-19 pandemic.
Interactive voice response systems help contact centers better route calls, so if you're looking for a dedicated software package, check out our guides. We review several providers with top-tier systems so that you know which works best for your business.