80% of companies say that they provide excellent customer service, but only 8% of the customers agree that their customer service is where it should be. With such a significant percentage of divergence, metrics need to be managed daily using call center software. 
There are certain call center metrics and key performance indicators (KPIs) that you'll need to track in real-time, which deal with how calls are handled, which calls are not received, and how satisfied the customer is with the interaction. Let's take a look at 10 critical metrics that need to be monitored for call center success.
Average Call Occupancy Rate
Average call occupancy is the percentage of time that your call center agents spend handling incoming calls weighed against time spent idle or taking notes. 100% agent occupancy is possible, but this will most likely result in burnout because your reps will have to always be making calls. 
The general consensus amongst call centers is that an occupancy rate of 85 to 90% is a reasonable goal rate to target for agent productivity. It's not uncommon to find call centers with 40% agent occupancy rates. Calculating this requires counting the number of calls (contacts) made during a shift or set period. Resources like Erlang Calculators make this fairly easy to measure.
Here's how one might look: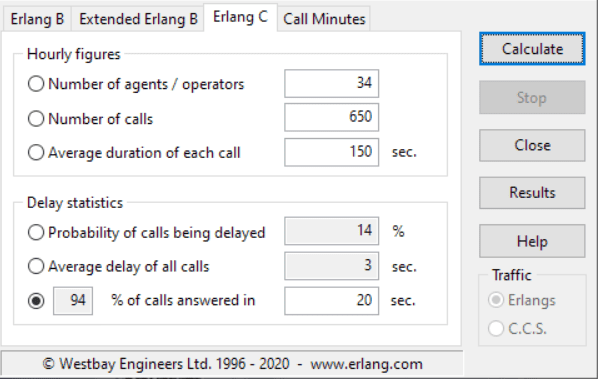 How to Optimize:
Staff according to call volumes. This means that some staff may come in later in the day to cover the busier times. 

Switch agent responsibilities when calls are lower. If inbound calls are not extensive, agents can be switched to outbound calling or another project to make better use of their time.

Outsource staffing during busy periods of the day. These temps can work for half of a shift, which will prevent overstaffing.
First Call Resolution (FCR)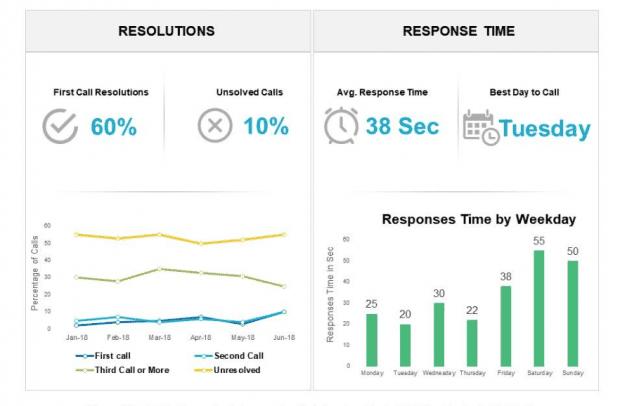 When call centers resolve customer issues on the first call, there's a higher incidence of customer satisfaction. When your agents are prepared with information about each customer that calls in or is reached out to, there's a higher chance that the customer will receive the first call resolution they need. One tool that's useful for this is customer relationship management (CRM) integration that tracks all aspects of a customer's interactions with a brand. 
When call center employees have all pertinent information in front of them, they are more likely to be prepared to handle a customer's issues quickly. This helps them more easily reach customer expectations of quality. 60% of companies in the contact center industry that measure first call resolution have experienced an uptick of 30% in agent performance.  
To measure your center's first call resolution rate, use this formula: the number of customer issues/inquiries resolved in a single call ÷ The total number of incoming calls that have had their issues resolved
How to Optimize:
Analyze what customers need before they call. Train agents specifically to meet these needs, especially when a new product launches so that they have the knowledge that they need to resolve calls quickly.

Invest in software that gives agents updated call logs before the interaction begins. This will make sure that agents with the appropriate skills are engaging with customers with a specific need.

Allow agents to handle small customer issues without transferring the call to a supervisor. This includes removing shipping charges, issuing a credit, removing late fees, adjusting billing, or adding a promotional discount.
Call Abandonment Rate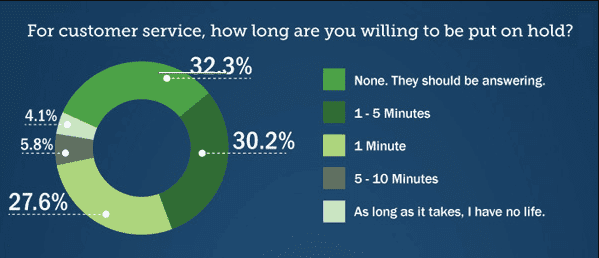 Your call center abandonment rate is the measurement of the number of calls that end when a customer hangs up the phone before a callback or resolution is made. Call center performance hinges on providing callers with the best customer service experience. 
For this reason, you need to optimize the entire contact process so that the customer stays on the line. Fixing your IVR call flow and creating self-service options are a few ways to reduce the number of hang-up results by minimizing the time a customer stays on hold. Also, when call center supervisors manage scheduling difficulties correctly and monitor call durations, call abandonment rates drop. 
A 10% abandonment rate is high, but a rate between 5 and 8% is deemed to be in the acceptable range. Also, for those reaching prospects on smartphones, mobile call abandonment rates tend to be higher – sometimes as high as 20%.
To measure your center's call abandonment rate, use this formula: The total number of abandoned calls ÷ The total number of incoming calls
How to Optimize:
Always communicate with customers about the hold time.  Offer self-service options or the option for a call back when an agent is available.

When a caller requires a callback, make sure these calls are scheduled with call volume in mind. This will help prevent long queues and will increase the efficiency of agents.

Give the customer something to do while waiting, like listening to hold music or listening to messages that update the customer with information.
Average Handle Time (AHT)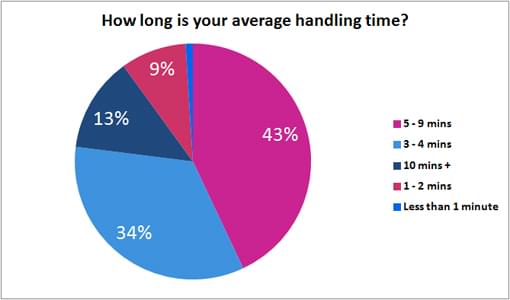 The AHT metric for a call center is the average time it takes for an agent to resolve a customer issue. As a rule, shorter interactions correlate with customer satisfaction, which is why this and first call resolution are so important for call center success. This also helps agents to have a higher total number of calls during the day, which is critical for success. 
AHT is also increased by off-call tasks such as when the agent has to code in complicated health insurance records. Unfortunately, this extends total times, and center managers will have to take this downtime into account. The average handle times per call have been gradually increasing. Between 2013 and 2016, AHT increased by 10.99%. Still, if a call center deals with 100,000 inbound and outbound calls per month, they will save 2,700 hours in labor costs by shortening each call by 10 seconds.
To measure your center's average handle time, use this formula:
The total talk time of the agent + the total time customers have spent in the queue + The after-call work time
The previous number ÷ the total number of incoming calls
How to Optimize:
Make sure that your agents have the knowledge that they need for each call. This means you may need to provide more training and materials.

Invest in software that uses CRM integration for the agents to use. This streamlines the workflow of the agents and allows them to have more information on their screen at once.

Provide feedback to the agents between calls. Provide tips on how the call could have gone better and help them improve their interaction for a better agent and customer experience.
Cost per Contact (CPC)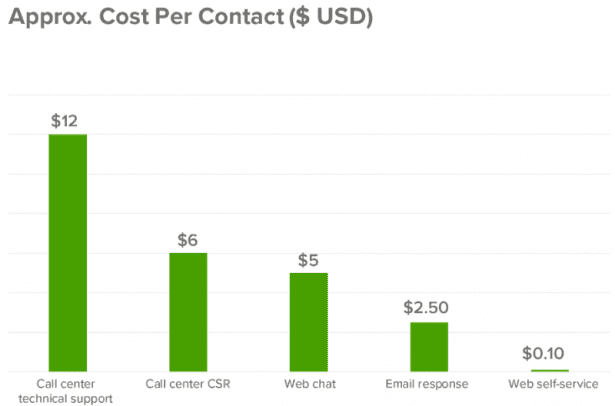 With any type of business, there's overhead to consider, and of course, this is true of contact centers. Whenever an agent picks up a handset for calling, there's a calculation in place. Each call has a cost that includes the electricity it takes to run the call center, the price of software/hardware licenses, and the agent's salary as well as any potential overtime. To maintain operational efficiency, call centers always must take cost per contact into account.
CPC is measured in the total annual/monthly operating expenses of the center divided by the volume of calls made in the same period. This is purely a KPI that measures center efficiency, so if one contact center has a cost of $10.00 per contact and another center halves that price, then the one running at $5.00 per contact has a higher efficiency.
Roughly 70% of contact center costs per contact come from the salaries of personnel. This includes overtime pay and benefits. As a result, some centers only tabulate agent salary against the number of calls per cycle.
To measure your center's CPC, use this formula: The number of calls per month or year ÷ The operating costs plus average agent salary
How to Optimize:
Optimize the training of the agents and how they handle calls. Improving their productivity level and making sure that they have all of the knowledge they need leads to more call resolutions and lowers the average cost per contact.

Predictive dialers are a great way to make sure that calls are productive. This uses data to make contact at the best times, which will reduce the chance of not reaching a live person.

Make use of an inbound and

outbound IVR system

so that customers will have a self-service option to use. 
Average Speed of Answer (ASA)
The average speed of answer (ASA), also known as the response time, is the speed in which an agent responds to waiting customers. If the wait is too long, the chance that a customer will hang up and have a poor customer service experience increases. Measuring the average speed of answer can help you determine if agent efficiency needs to increase. 
This is particularly important for those businesses with service level agreements (SLAs) that establish a certain amount of calls needed to be made within a preset period. In fact, when you hear managers speak about service levels, they are talking about the call center's commitment to reaching specific ASA rates.
The lower the amount of time that a customer spends waiting, the higher the customer satisfaction level will be.  Call center dialers help increase the ASA of your contact center since these parse calls out to waiting agents with a high level of efficiency. Auto Dialer systems provide 200 – 300% more productivity per hour compared to agents dialing by hand.
To measure your center's ASA, use this formula: The total wait time for answered calls ÷ The total number of answered calls
How to Optimize:
Make estimating call volume a priority so that staffing is available when calls demands are high. This helps calls get picked up sooner, which reduces call abandonment rates as well.

Help agents know how to resolve issues and code the call properly without spending additional time leaving notes. This makes agents more efficient and available to take the next call.

Optimize call routing so that agents that speak another language are available for customers when they need it. Some agents may have more training or more experience, which helps them respond to a customer and move onto the next one quicker.
Customer Satisfaction (CSAT)
Simply asking your customers, "How pleased were you with our service?" is an excellent tool for evaluating the effectiveness of your call center scripts as well as the satisfaction levels for your products or services. We created a guide about the art of an effective customer satisfaction survey, and taking your customer experience into account this way increases customer happiness. 
Completed customer satisfaction surveys are calculated into a CSAT score by adding the total number of points received by an agent and then dividing the number of surveys completed. For example, an agent administered 40 surveys during a shift that used a 1-5 rating scale and received a 160 out of a possible 200. This means that the agent received a CSAT score of four, which is a reasonable number but can be increased with coaching.
To measure your agent's CSAT scores, use this formula:
The total number of surveys administered x The total numeric satisfaction score 
The previous number ÷ total number of surveys administered
How to Optimize:
Minimize hold times for the customer. This means making sure that agents are scheduled to be taking calls when the queue volume is high.

Share customer data across all of your systems so that agents have the same information to deal with customer issues. When the agent knows what they are talking about customer satisfaction greatly improves.

Invest in your agents so that they offer the best experience to customers that they interact with. Agents who are not appreciated tend to be less friendly during interactions.
Percentage of Calls Blocked
When your call center is swamped with customer calls, sometimes the inbound customers end up with busy signals due to full call queues. Ideally, this should happen very infrequently because even a single blocked call can result in a massive missed revenue opportunity since 34% of callers who hang up won't call back.
Blocked calls also are considered calls that are sent to voicemail or tell customers to call back later. Blocked calls happen for two critical reasons:
There are no available agents

Call queues are configured to play a busy tone when full
Finding out the percentage of calls blocked yields some critical insights for your center. First, it will help you determine if you have an adequate number of agents answering calls. Secondly, it will also help you determine if your system's queuing capabilities are up to snuff. Finally, it'll help you understand if your agents are spending too long on calls.
To measure your center's percentage of calls blocked, use this straightforward formula: The number of calls that do not reach your agents ÷ The total number of incoming calls
How to Optimize:
Make sure that your call center software is capable of handling the volume of calls that your business receives. If you do not have unlimited concurrent calling, then calls could be being blocked as a result.

Improve call forecasting so that the right number of agents are available when call volumes are highest. 

Train agents to be more efficient during periods of high call volumes so that agents are available to take calls before they are blocked or abandoned. This means postponing breaks until calls slow.
Agent Absenteeism and Turnover
One key statistic that directly affects the percentage of calls blocked is agent availability, which is why it's essential to measure agent schedule adherence. Are your agents there for their scheduled shifts? Is your workforce dwindling due to higher turnover rates? Having your agents work their scheduled shifts reduces the chance of missed or abandoned calls significantly. 
Workforce management tools make tracking agent absenteeism and turnover relatively easy and are considered one of the must-have features in a contact center solution. Using this as well as scheduling software helps your center develop a budget and optimize best practices for your personnel. 
To measure agent absenteeism as a KPI, use this formula: The total time that an agent is available ÷ The total time that the agent is scheduled for shifts
How to Optimize:
Make sure to always recognize agents for hard work and outstanding performance. If their metrics go above and beyond expectations, maybe they can get a monetary incentive in their check or another incentive to keep up the good work.

Offer opportunities for agents to be promoted. This will provide an incentive that will improve agent metrics and give you more experienced agents.

Update software and provide agents with tools that can make their day-to-day process easier to manage. 
Average Call Transfer Rate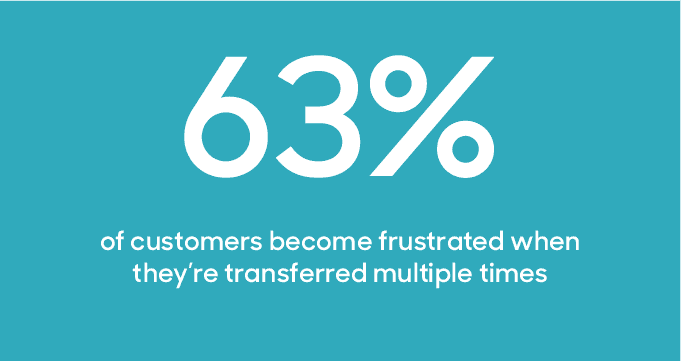 Unfortunately, due to poor IVR call flow or wrong touchtone inputs, callers can be misrouted through your system and will require to be transferred to different departments. The average call transfer rate KPI monitors how many calls end up transferred to a different department or are sent to the supervisor level. 
For example, an agent receives an inbound call from a customer who just wants to pay her bill. This ties up the agent's time when she should have been routed to either the billing department or to the company's automatic bill pay system. 
Having an unknowledgeable agent that sends customers to supervisors or other agents will also increase a caller's frustration. Some call transferring is inevitable, but your center and system should be optimized to reduce the number of customer bounces. 
To measure your average call transfer rate, use this simple formula: the number of calls transferred ÷ the total number of handled calls
How to Optimize:
Make sure that your

IVR system

is clear and easy to follow so that calls are routed correctly. This will minimize misdirected calls and keep agents from transferring to another department.

Train your agents to handle difficult calls. This will help solve issues that may lead to transfers to a supervisor.
Good Customer Service Leads to More First Call Resolutions
According to 36% of consumers, the most frustrating part of phone interactions is an agent that lacks knowledge about the topic. The more an agent personalizes the call and creates a connection with the customer, the less likely they will hang up during the call. Well trained agents should have a higher rate of resolution, especially if they are taking inbound calls. If your first call resolution rate is low, additional training may be required. 
On our page, we lay out several options with the pros and cons of each to help you find software that will help your call center agents be more efficient during their interactions.
Sources: Anahuac University – Dr. Luis Reynoso, The Taylor Reach Group, Talkdesk,  Ascent Group, Springer, Chase Data, Verint, ICMI, Call Center Helper, Tenfold, Quality Assurance and Training Connection (QATC), Microsoft