Today, teams are often spread out around the world, and many employees are using web conferencing solutions that use technology like SIP trunking and H.323 to stay in the loop.
Modern solutions like Zoom have become incredibly popular in the last few years, but which underlying technology provides the best video conferencing support? A growing number of meeting solutions have been using SIP for video conferencing instead of H.323.
What is SIP for Video Conferencing?
SIP for video conferencing is based entirely off of session initiation protocol (SIP), which is a signaling protocol that allows SIP users to establish data connections as well as maintain, modify, and close them when finished. This protocol was developed more than 20 years ago by the Internet Engineering Task Force (IETF), and it incorporates aspects of both HTTP and SMTP.
Originally, SIP wasn't developed for telecom, but over time, its uses have been expanded thanks to its versatility. SIP is format-agnostic, so you can use a SIP connection for video conferencing, SIP calling, chat, texting over the internet, or file sharing.
SIP also allows for RFC presence information, so users on a SIP UC platform alert other users when they are available. This makes SIP a useful option for unified communications solutions thanks to its ability to manage multiple connection types.
SIP is used in one-way connections, which are called simplex, or in both directions, which are called full-duplex connections.
Simplex connections are useful for paging, sound projection (in one direction), and video monitoring. Duplex is used for the aforementioned SIP calling or in SIP for video conferencing.
When using a full-duplex connection for video conferencing, SIP initiates the initial conference and allows additional connections with the right credentials to join or leave at will.
Voice over IP (VoIP) endpoints are the hardware and software solutions that your team uses to connect to a media stream. There are several free video conferencing solutions available that will work with SIP for video conferencing.
For video conferencing, this includes video conferencing-enabled desk phones, smartphones, softphones, webRTC browsers, and all-in-one unified communications software.
As a protocol, SIP makes it much easier for these endpoints to connect to a conference because it merely manages the connections while transport layer software and hardware handle the credentialing. These transport layers are easily integrated and may include TCP, ATM, UDP, or SCT, among others.
What is the Difference Between SIP vs VoIP?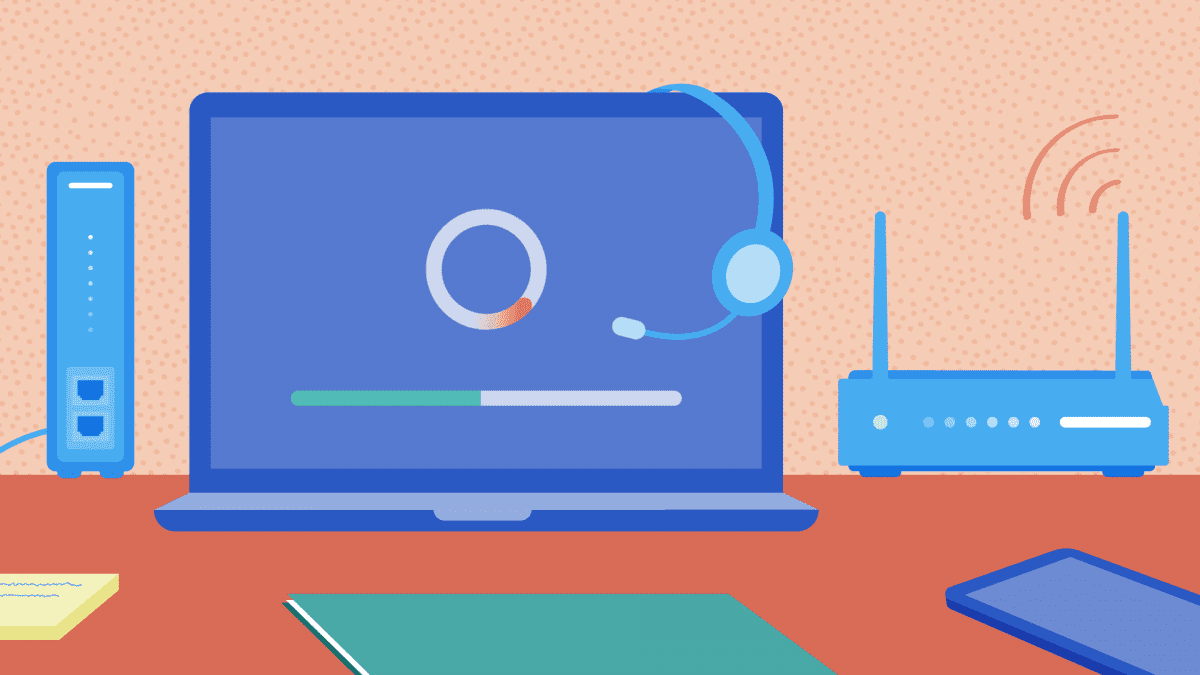 Both of these technologies are very interrelated, but there are some key differences that you're going to need to understand. VoIP connections are entirely internet-based and deliver voice data in the form of audio packets to a target endpoint.
This target endpoint doesn't have to be on the internet. One of the major benefits of VoIP is its ability to connect to traditional PSTN networks at very low costs so that local and international calling is much more affordable than it would be with traditional telecom carriers.
VoIP sends information over data networks rather than circuit-switched networks but will still connect your calls to these networks with ease.
VoIP is very useful, but as a protocol designed to send voice over the internet, it isn't designed for video conferencing – it's more of a technology designed for calls.
SIP sends any media type and creates the connections and closes them when there's a need, so VoIP calls can even be sent using SIP. VoIP directs traffic through single central IP networks, which leads to congestion.
SIP, on the other hand, uses user agents, which are the individual systems on each end of a connection to process any transmitted data. SIP for video conferencing is much more of a peer-to-peer or point-to-point experience and is less likely to experience the congestion on a single network connection.
Reduced congestion means you may lose data packets during the conference, which degrades call quality. While learning how to fix packet loss is an option, having a protocol that prevents saves you steps.
Why is SIP Better than H.323 Video?

For decades, H.323 has been the go-to protocol for video conferencing for enterprise users. It was developed and published by the International Telecommunications Union's Telecommunications Standardization Sector (ITU-T) in 1996 for the express purpose of video conferencing.
Over time, H.323 also started to be adopted as a method of creating voice communications over IP connections. Like most VoIP protocols, H.323 is a packet-based multimedia communications system. It's primarily intended to work over LANs without a guaranteed quality of service (QoS).
SIP was developed by the Internet Engineering Taskforce (IETF) without video conferencing or communications in mind. Instead, it was created as more of a session manager. Without as many limitations, SIP naturally extends to several systems, including PSTN and private domains like UC servers and private branch exchanges (PBXs).
In the end, SIP for video conferencing isn't the only use for SIP technologies – you use it for file transfers, calling, and as an integral part of your UC toolbox. H.323, on the other hand, needs to be augmented with other technologies to add features to your organization.
H.323 has a more proprietary model than SIP for video conferencing. For example, phones that are designed to work with one provider won't necessarily work if you go with another system. SIP devices will work with just about any system, so if you're switching service providers, your SIP-powered devices should function with ease.
Specific conference control features that are unique to that vendor may not work with the new one.
SIP is simply the more versatile of the two video conferencing solutions. Thanks to session description protocols (SDP), SIP for video conferencing sessions are easily configured for user preference.
For example, with SDP, your team determines the video codecs used in each call. It's so versatile that SIP-based video conferencing systems will sometimes use the H.323 protocol for connecting users since SIP connects so easily to almost any protocol.
Despite it being a better alternative in many ways to H.323, SIP for video conferencing often works well in conjunction with the other protocol. Most hardware manufacturers for video conference room technology and many of the UC providers on the market grant compatibility and support for both protocols.
To connect systems that use H.323 and SIP for video conferencing, your organization is going to need a multipoint control unit (MCU). These bridge video conferencing connections and works as an endpoint on the LAN that will connect three or more terminals so that usually incompatible systems communicate in real-time.
What is the Role of SIP in UC?
SIP is configured to effortlessly work with voice, video, files, and text, so integrating these features into a unified communications system is a very straightforward process. Beneath all of the video conferencing, enterprise instant messaging, and calling tech of a major UCaaS provider, you'll find SIP managing the initiation of communication sessions, their maintenance, and closing.
For this reason, when you deploy a SIP trunking solution for your business, you're laying the groundwork for maximized operability when you deploy UC suites in the future. SIP also makes interoperability between software more streamlined.
When using chat software, SIP manages the connection so that you quickly click a button and change the chat to a full-sized video conference with the ability to add attendees without closing the initial connection. SIP also connects easily to landlines, so your team utilizes standard calling on the same platform that they might use for SIP for video conferencing.
What are the Disadvantages of SIP for Video Conferencing?
SIP is versatile enough to provide companies like yours with stable video conferencing, but SIP, as a protocol, isn't going to be a cure-all. Some of the distinct advantages of SIP are:
SIP trunks will require maintenance from IT staff
SIP for video conferencing sometimes experiences signal degradation with higher network loads
SIP is vulnerable to eavesdropping
Hackers can add noise to video conferencing sessions (audio injection)
SIP for video conferencing has some of the same encryption issues that cause VoIP security vulnerabilities
Top 5 SIP Providers for Video Conferencing
The top SIP providers provide many of the same features but the details make the difference in every industry.
GoToMeeting
GoToMeeting, which is LogMeIn's versatile meeting solution, allows businesses to connect reliably and seamlessly using SIP. The provider's services integrate with both SIP video conferencing systems and H.323.
It's straightforward to make a call and connect to the meeting using InRoom, which makes it easy to video chat on any device. In our Zoom vs GoToMeeting head-to-head, you see why GoToMeeting is an ideal video conferencing option for large, enterprise-level businesses with a large number of attendees.
Zoom
By a wide margin, Zoom is the leading provider when it comes to video conferencing, and they were even named a leader in the meeting solutions Magic Quadrant by Gartner. Zoom provides a consistent video conferencing experience that works with both H.323 and SIP endpoints.
The system communicates easily with Mac or Microsoft desktops and mobile devices like those provided by Google and Apple, so meeting attendees can be located anywhere there is an internet connection.
Zoom charges companies to provide interoperability with rooms using H.323 protocols. This "Zoom tax" is a monthly fee, which is why SIP for video conferencing is becoming a more standardized way of connecting with rooms that use different protocols.
Zoom for educators was an option that many teachers used for distance learning with their students during the Covid-19 pandemic in 2020.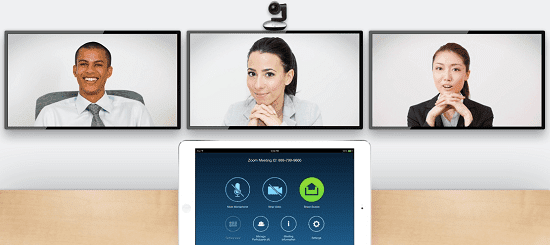 BlueJeans
BlueJeans is a provider that was positioned as a visionary in the Gartner Magic Quadrant for 2019 for meeting solutions. It's also on our list of Cisco Webex Alternatives for video conferencing.
The provider supports both H.323 and SIP video conferencing systems to connect to BlueJeans meetings and events that are video-enabled. They have mobile integration that makes it easy to attend video meetings using any device, and BlueJeans also has enterprise-level security to ensure that meetings are secure.
Check out our hands-on review of BlueJeans video conferencing to see if their plans fit your business needs.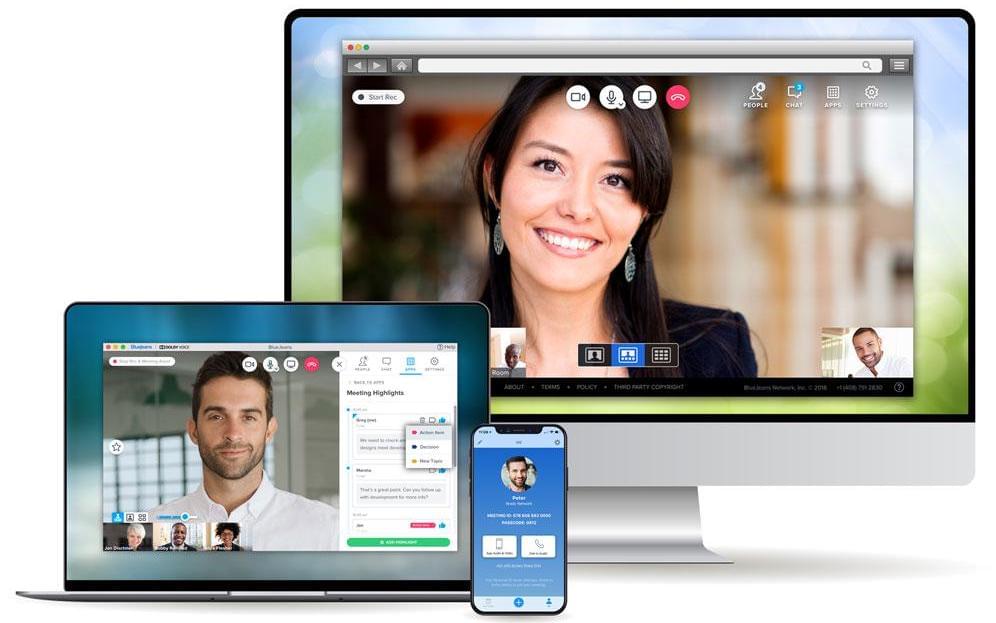 Twilio
Twilio is a cloud-based communications platform used by Airbnb, Uber, and Instacart. Even though we covered the top Twilio alternatives for flexible communications, they are a leading solution for video conferencing.
For video calls, Twilio uses the SIP protocol for easily integrating with other video conferencing services and systems. SIP for video conferencing connects attendees using a virtual PBX, and with a global reach, attendees use SIP connected devices at work, home, or anywhere in-between. Video conferences are also protected with enterprise-level security.

Vonage
Vonage is another provider to consider for your business that uses SIP for video conferences. This provider uses several VoIP protocols for these meetings, which include H.323 and SIP.
With a global reach, this option is ideal for companies that have offices that need to collaborate in different locations. Vonage SIP easily connects to your existing phone system and allows you to make video calls globally.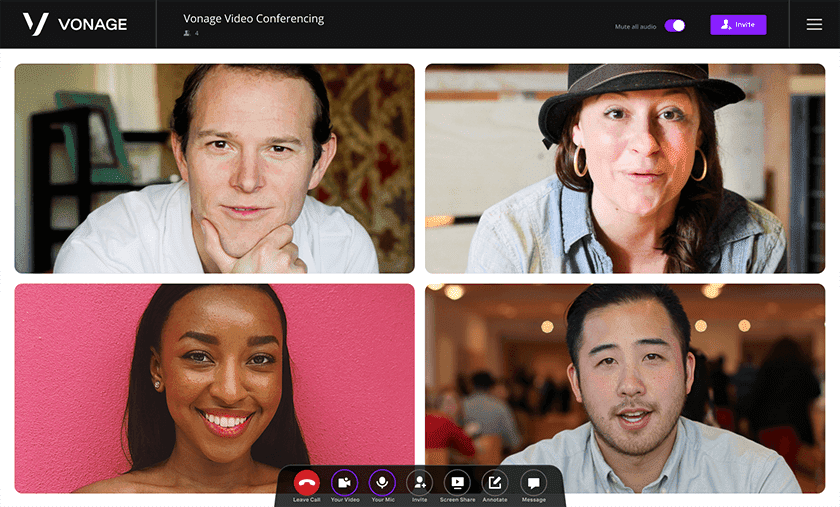 SIP for Video Conferencing is the Future of Video Meetings
Video conferencing is your best means of keeping in contact with your remote workforce during uncertain times. SIP for video conferencing enables you to quickly and easily integrate entire UC suites so that you support your teams as they work from home.
Implementing SIP into your organization's UC stack is relatively easy since SIP follows a text-based design structure, which is much easier to troubleshoot and debug compared to the hexadecimal-based H.323.
Also, SIP is not proprietary than other formats and works well with other video conferencing technologies such as WebRTC, which allows your team to bring their conferences to modern browsers.
SIP for web conferencing is just one of many applications of this powerful technology.