Coronavirus and the resulting social distancing regulations lead to a sudden increase in remote work and a heavy reliance on remote work tools.
It also left many companies wondering how to host a virtual conference, as they needed to quickly make the transition from in-person events to online ones. Many companies, especially those unsure of how to host a successful virtual conference, opted to completely cancel these events instead.
But now that remote work and online-only events and seminars are the new normal, your business needs to adapt and learn how to host a virtual conference that's just as impactful as an in-person one.
From learning how to choose the best webinar software to effectively following up with event attendees, this step-by-step guide to how to host a virtual conference provides a straightforward roadmap to online event success.
What Are the Benefits of Hosting a Virtual Conference?
Learning how to host a virtual conference offers numerous benefits outside of cost savings related to event space, travel, and hotels.
Taking conferences online also saves the hassle of travel time and makes it much easier for your event to reach a nationwide or international audience. Because of the lowered cost and convenience of a virtual conference, you're much more likely to have a higher number of both registrants and attendees — meaning more leads for your company.
Speaking of lead generation, the data you collect on attendees during the virtual conference through things like live polling and Q&A sessions can help you to improve your marketing strategy, product launch, and any future virtual events you host.
Online conferences are an excellent way for newer companies to increase their brand recognition while also generating revenue by selling products during the online conference or charging a registration fee.
How to Host a Virtual Conference: A Step-By-Step Process
Pulling off a successful virtual conference requires a significant amount of planning regarding not just presentation topics and guest speakers, but also webinar software, security, and audience engagement.
The below step-by-step process easily breaks down how to host a virtual conference that gets results.
Step One: What are the Most Important Webinar Software Features?
While there are some free webinar platforms available, they don't have the features required to host a large-scale virtual conference. It's best to go with a paid virtual event platform that has all the features you need.
The most important features to look for in webinar software are:
High maximum number of attendees
Custom registration form
Ability to assign multiple hosts/panelists
Automatic email reminders/notifications
Audience engagement tools
Screen sharing
File sharing
Chat messaging tool
Audience analytics and reporting
Event Recording
Live-streamed and pre-recorded content
Integration with team collaboration and marketing tools
Later in this post, we'll share the best webinar platforms that have all of these features.
Step Two: Consider Additional Presentation Tools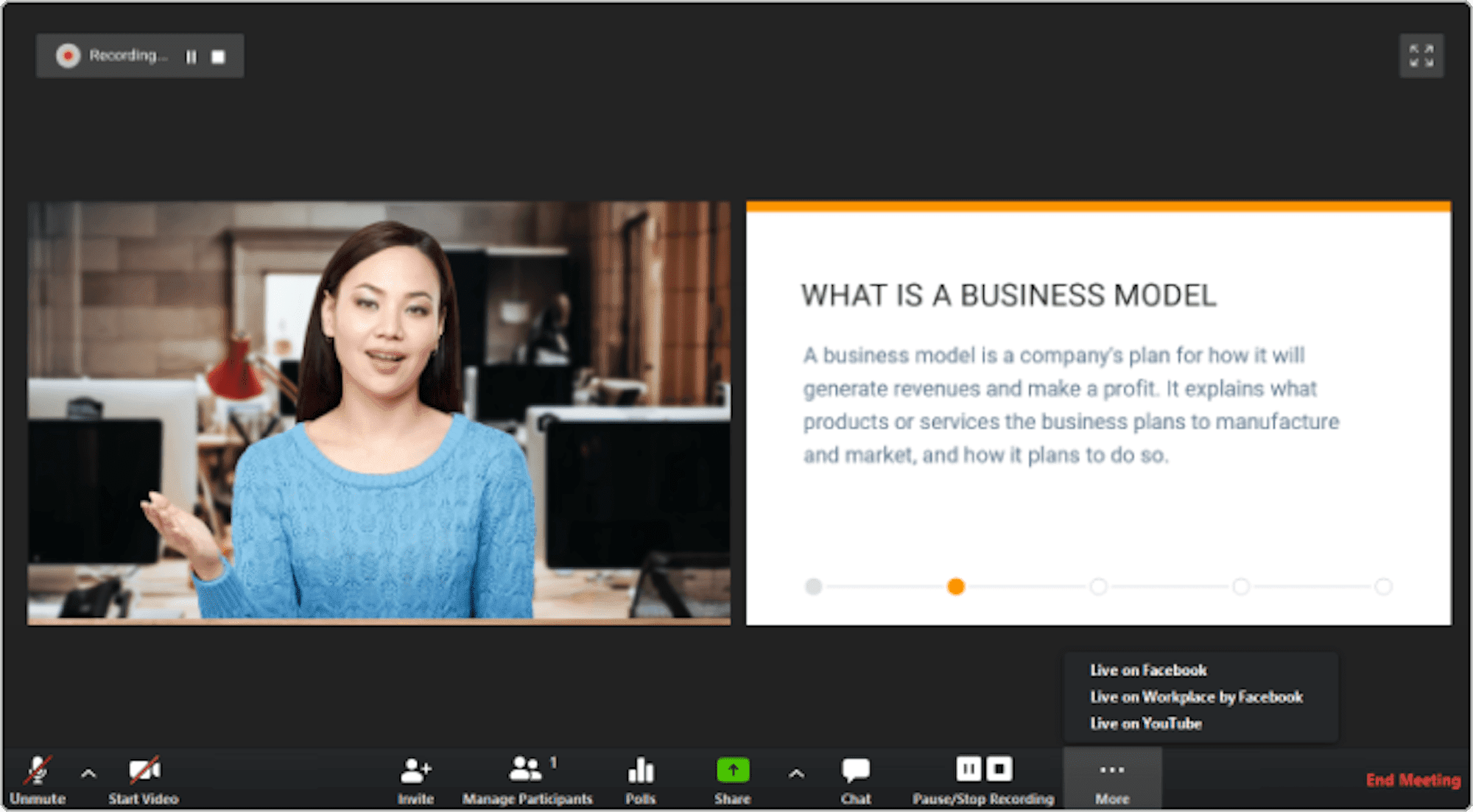 In addition to the webinar software itself, consider what other tools you'll use to share information succinctly, and keep attendees engaged.
Instead of having a speaker make an introduction, use a pre-recorded video instead. Share your screen during the conference to better illustrate points or walk attendees through how to use software or navigate your website landing page. Create a slide presentation to show important data and infographics.
We also suggest that you virtually share handouts and files with attendees at the start of or before the conference. These can include meeting agendas, questions to consider, workbooks, copies of presentations, presenter bios, and more.
Finally, make sure to consider how hardware and equipment can improve your virtual event. Investing in a high-quality webcam and lighting can make a world of difference.
This video offers valuable and quick tips for how to set up live video conference lighting in your home:
Step Three: Select Topics and Speakers
The best approach when deciding on a topic for a virtual event is to be as specific as possible.
Resist the temptation to cover a wide range of subjects, and focus instead on a relevant niche that presents new information on a hot topic.
For example, if you want to host an online event about social media use, a conference with a title like, "How To Use Social Media to Leverage Sales" is likely to get few registrants. A better conference topic would be something like: "TikTok: How and Why It Replaced Instagram as Most Popular Social Media Platform."
When it comes to selecting a speaker line-up, we suggest that you secure a panel of 3-5 industry experts as opposed to having one person host the entire event.
Multiple hosts will bring in different types of attendees based on their own followings and subjects of discussion. Plus, people will feel as though they're getting more value out of the online conference because you're offering a variety of perspectives.
Step Four: Create a Virtual Conference Registration Form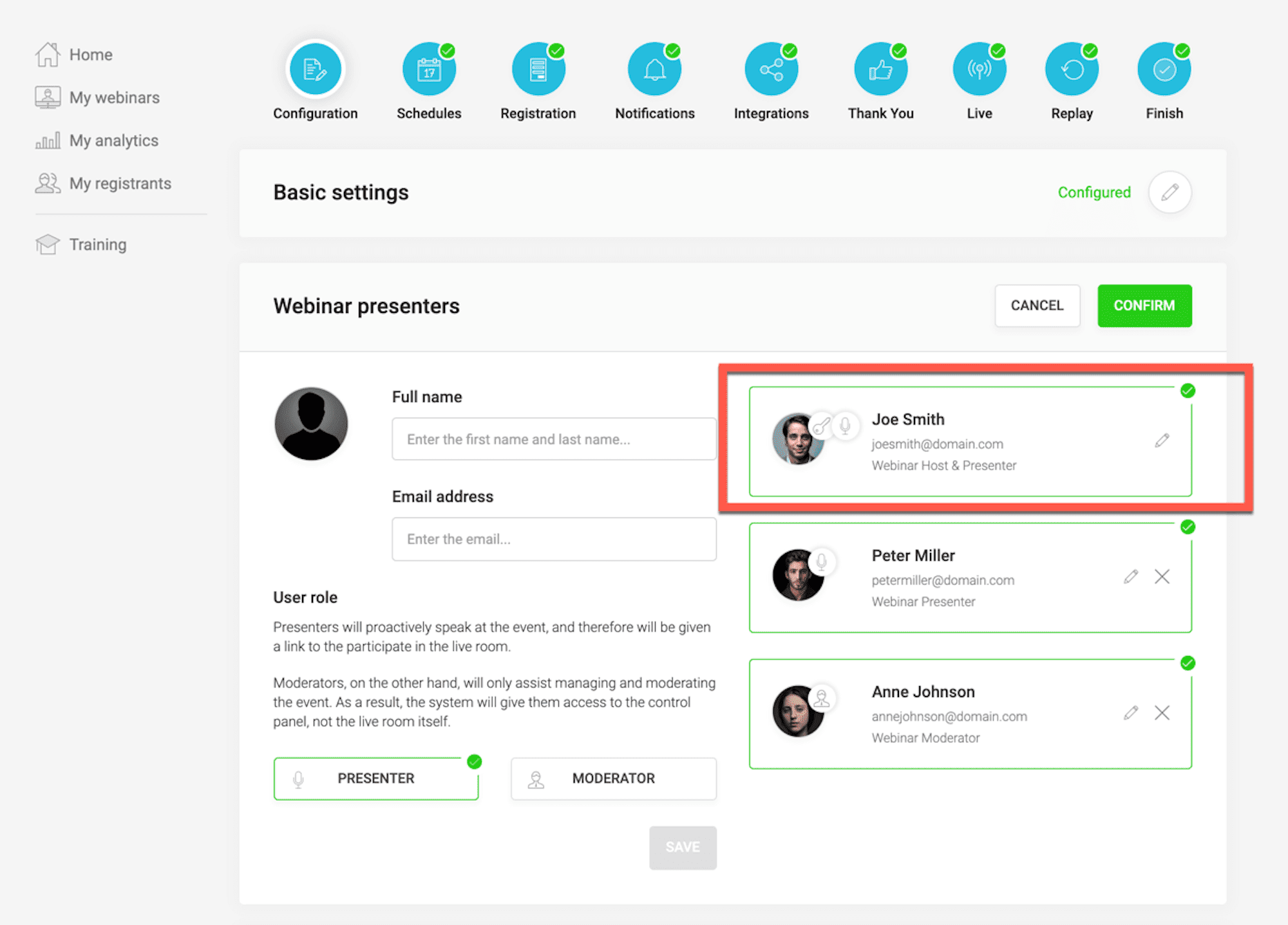 Next, create a registration form that allows people to sign up for (and pay for, if relevant) your virtual conference.
You can opt to embed the registration form on your website so it can be found via Google search. You can also list it on social media pages or send it in a direct link via email. If possible, opt for one-click registration.
Your registration form should include:
Attendee contact information
Speaker/panelists information
Conference schedule
Your company's social media links
Attendee demographic information (age, location, gender)
Attendee employment information
Don't just use the form to get sign-ups — see it as an opportunity to get to know your audience and fine-tune your content.
Include surveys asking registrants what they'd like to get out of the conference, the topics they're most curious about, and which speakers they're looking forward to hearing from the most.
Step Five: What Are the Best Ways to Promote Your Virtual Event?
The best way to promote a virtual event depends on the type of conference you're hosting and what you hope to get out of the event.
If you're selling the webinar itself by charging for registration, send out email marketing blasts to your existing clients and lead email list and post about it on social media. If you're trying to connect to others in your specific industry, post information about your event on discussion forums or reach out to other companies in your industry directly. You may even want to consider connecting with relevant social media influencers who will share information about your conference with their followers.
Remember that promoting a virtual conference isn't just about getting a high number of registrants. You also want to make sure you have a strong registration: attendance ratio.
Send reminder notifications once to registrants, especially the week of the conference. More importantly, create a private social media page or discussion forum where registrants can get to know one another, ask questions, and talk about what they hope to learn from the conference.
If you still haven't seen the number of registrants you expected the week of the event, don't panic. Over half of webinar attendees wait until the week of the event to register.
Step Six: How Can You Keep Your Virtual Conference Secure?
Due to issues like Zoombombing, you'll need to take extra precautions to ensure that your virtual conference is secure and private.
Look for webinar software that requires two-factor authentication for meeting hosts and allows you to password-protect virtual events. Admin controls like the ability to mute/unmute participants, decide who can share audio/video, and who can and can't share their screens during the event are also crucial.
The best way to keep your event secure is to enable a virtual waiting room.
This allows admins and hosts to pre-screen attendees before they are allowed to join the event. If someone didn't register or seems unfamiliar, you don't need to let them in. You may also opt to lock your event after it has started, which prevents anyone else from joining it.
Step Seven: Select Your Background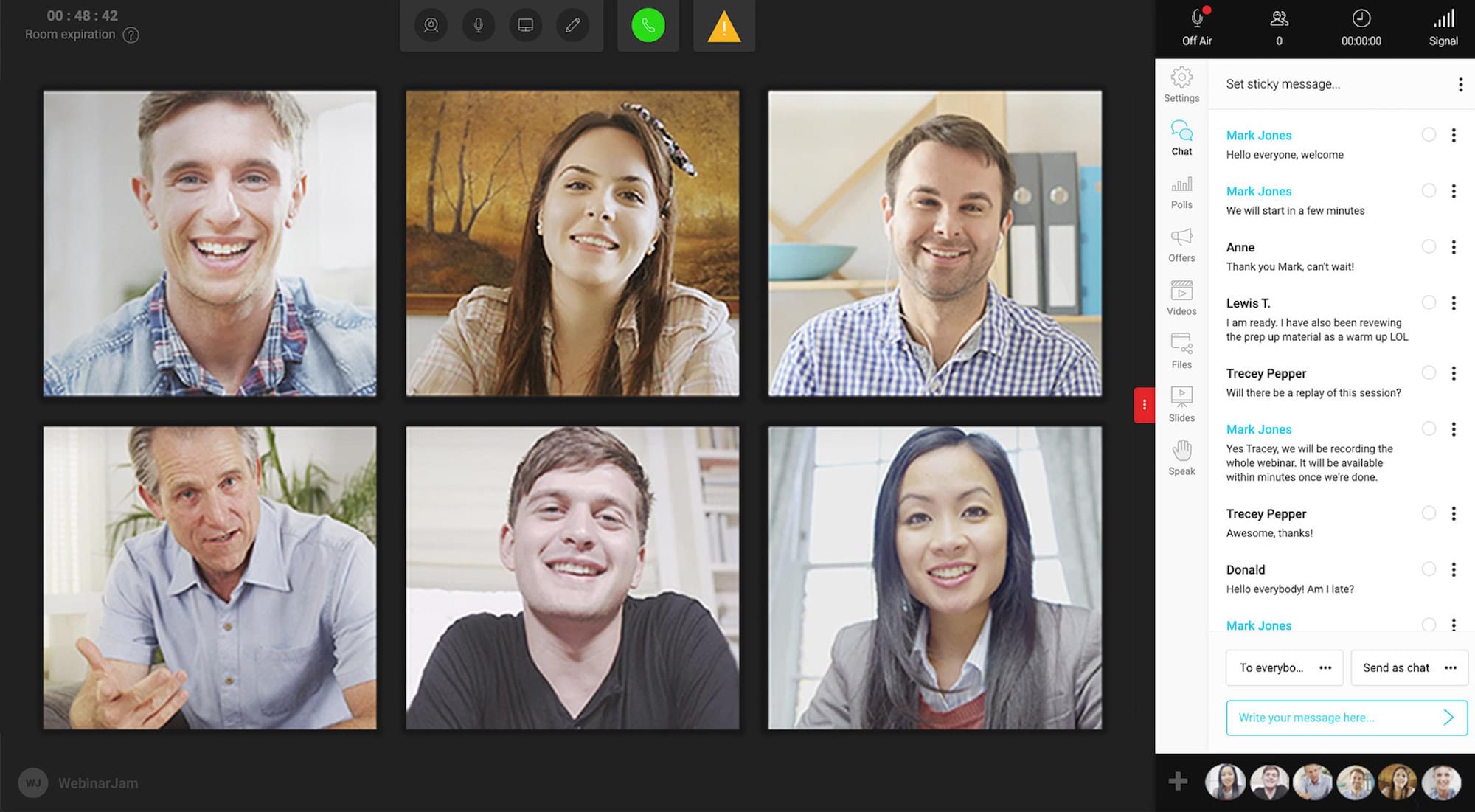 You wouldn't host an in-person event without setting up the stage to reflect your brand — so make sure you pay an equal amount of attention to setting up your virtual background.
You can select from premade background images provided by webinar software to give presenters privacy and to hide a cluttered home. Many webinar platforms also provide custom branded backgrounds that feature a company's logo.
This video provides a simple breakdown of how to customize your virtual conference background.
Step Eight: How Can You Increase Engagement at a Virtual Conference?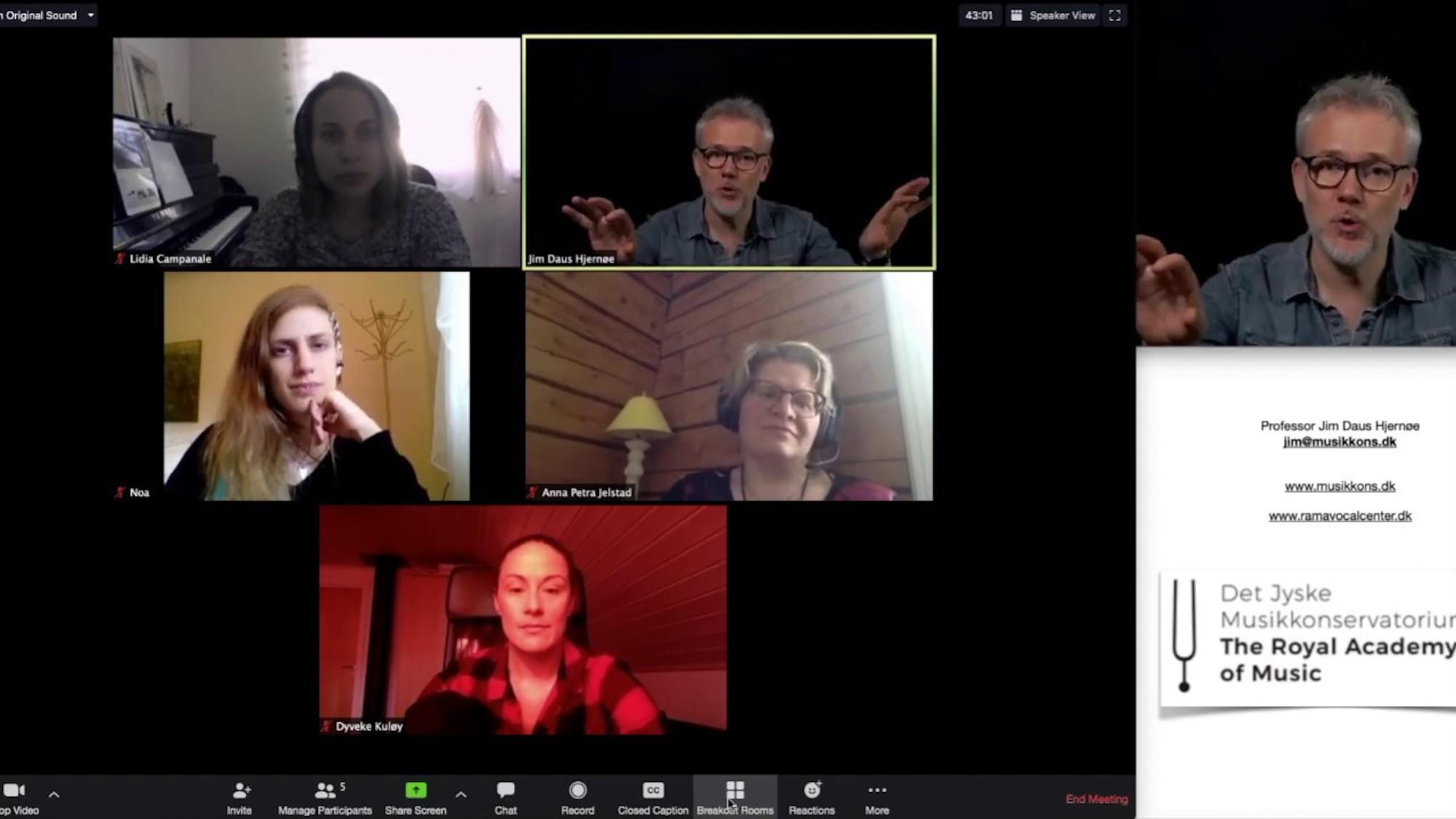 Attendee engagement is the most important part of your virtual conference — but interesting, relevant content alone isn't always enough to keep your audience's attention.
Taking live polls and surveys during your virtual event help hosts to evaluate how engaged the wider audience is and gives attendees the chance to share their opinions as they would at a live event. It keeps them involved in the presentation from afar.
In fact, you will likely find that the feedback you receive virtually is more honest and detailed than at in-person events, especially if you allow for anonymity.
Every virtual conference should have its own chat messaging tool that allows for both public and private messages. This way, attendees can ask quick clarifying questions, share ideas, and even make comments on the information being shared.
You have several options when it comes to Q&As during an online event. First, attendees can ask questions at any point during the event through a Q&A box in the chat messaging tool. Or, you can set aside a dedicated amount of time for Q&As at the event's end or after every speaker. Virtual hand raising and audience spotlight tools that show the person asking a question on a video live stream replicate the live Q&A experience even further.
Finally, consider breaking down attendees into smaller virtual breakout sessions of groups of 5-7 people. A small breakout room allows them to network, brainstorm, and then present their ideas to other attendees.
Step Nine: What is the Best Way to Follow Up After a Webinar?
After the virtual conference ends, many webinar tools will automatically send out an event recording and transcript to attendees and registrants. Consider if you'd like that recording to be accessible forever, or only for a set period of time.
Presenters may also be willing to share presentation slides or pre-recorded videos shown during the virtual event in addition to these recordings.
Even if you sent out offers during the online conference, send out additional offers or invitations to an upcoming virtual event immediately afterward.
The most important thing to send out after a virtual conference is a survey, which can either be ratings-based or in a Q&A format for more specific feedback. To encourage attendees to take the survey, promise to upload responses on social media, or enter anyone who answers the survey into a prize drawing.
Especially if your virtual conference is focused on networking, you may also want to immediately transition from the conference to a virtual happy hour via web conferencing software.
Step Ten: Repurpose Content Into An On-demand Webinar
The final step in understanding how to host a virtual conference is to determine whether or not you'd like to reuse part of all of the recorded content in the future online courses or webinars.
Consider turning footage from live sessions into an on-demand webinar, especially if the virtual conference focused on evergreen content. This also gives registrants who missed the live webinar to view the content in the future.
You can opt to make these on-demand webinars free or paid.
What Are the Best Practices for a Successful Web Conference?
In addition to the above steps, follow these best practices for how to host a virtual conference.
How Long Should A Virtual Conference Be?
First, consider the length of the event.
Though day-long physical conferences are common, much of that time is spent networking and socializing. If your virtual conference is an all-day event, consider turning some of the topics into shorter on-demand sessions or make sure you build in plenty of breaks.
Close to 70% of webinar registrations are for virtual events that are one hour long — so consider that the "sweet spot" when it comes to length. You might also want to spread longer virtual conferences out over the course of a week.
However, if your virtual conference must be a day-long event, make sure you create and share an event agenda with registrants beforehand.
Should You Create a Virtual Conference Agenda?
Especially if you're hosting a virtual conference that's several hours long, having an event agenda allows attendees to select which sessions and speakers they will prioritize and illustrates the event's overall value.
Conference agendas also allow you to build in dedicated virtual networking times for attendees throughout the day, which will encourage them to stay longer.
Agendas are helpful in learning how to host a virtual content since they provide an outline of how you'll transition from one subject or speaker to another. Plus, they keep speakers that have a tendency to go over their time on schedule.
Best practices are to put the most important information at the start of the conference and to save the most anticipated session or speaker for last.
How Can You Practice For a Virtual Event?
When hosting an in person conference for the first time, it's easy to get to the space a few hours ahead of time to practice and ensure that all equipment and tech are working properly.
When hosting an online event, look for webinar software that includes a virtual practice room. This is a private meeting room where all exhibitors showing off products and speakers can meet to practice their presentations. They can also ensure slides and other engagement tools are working properly.
These rooms can record practice sessions, so hosts can watch and improve their virtual presentations.
However, even with plenty of practice, things can go wrong. Make sure that you have plenty of tech support staff and customer service representatives on hand during the conference, and create a "Plan B" in case of technical difficulties.
What are the Best Virtual Conference Platforms?
None of the above advice on how to host a virtual conference will make any difference if you don't choose the right virtual conference platform.
Below are our picks for the top 5 virtual event platforms.
GoToWebinar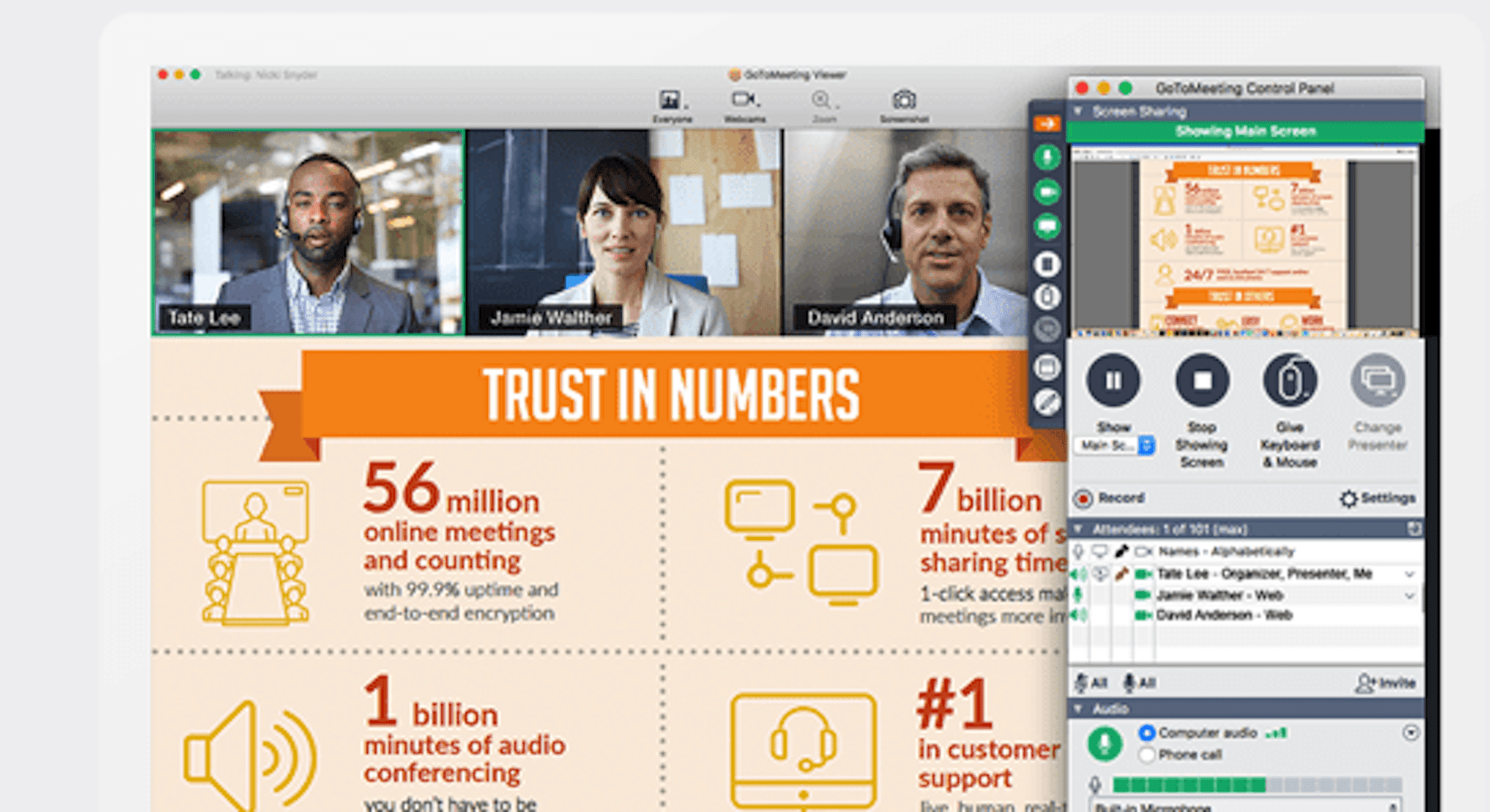 GoToWebinar, GoToMeeting's webinar platform, can host up to 3,000 attendees and allows for both live and pre-recorded content.
Its top features include:
Handouts and file sharing
Live Polling and Q&A
Virtual hand raising
Audience spotlight
Whiteboard
Automated emails
Online and local recording and transcripts
No0download attendee access
Multiple payments accepted
Event analytics and reporting
Custom registration form
Webinar templates
It's ideal for large virtual conferences as well as companies using virtual events to learn more about their target audience or generate revenue.
GoToWebinar offers four paid plans ranging in price from $49/month to $399/month.
WebinarJam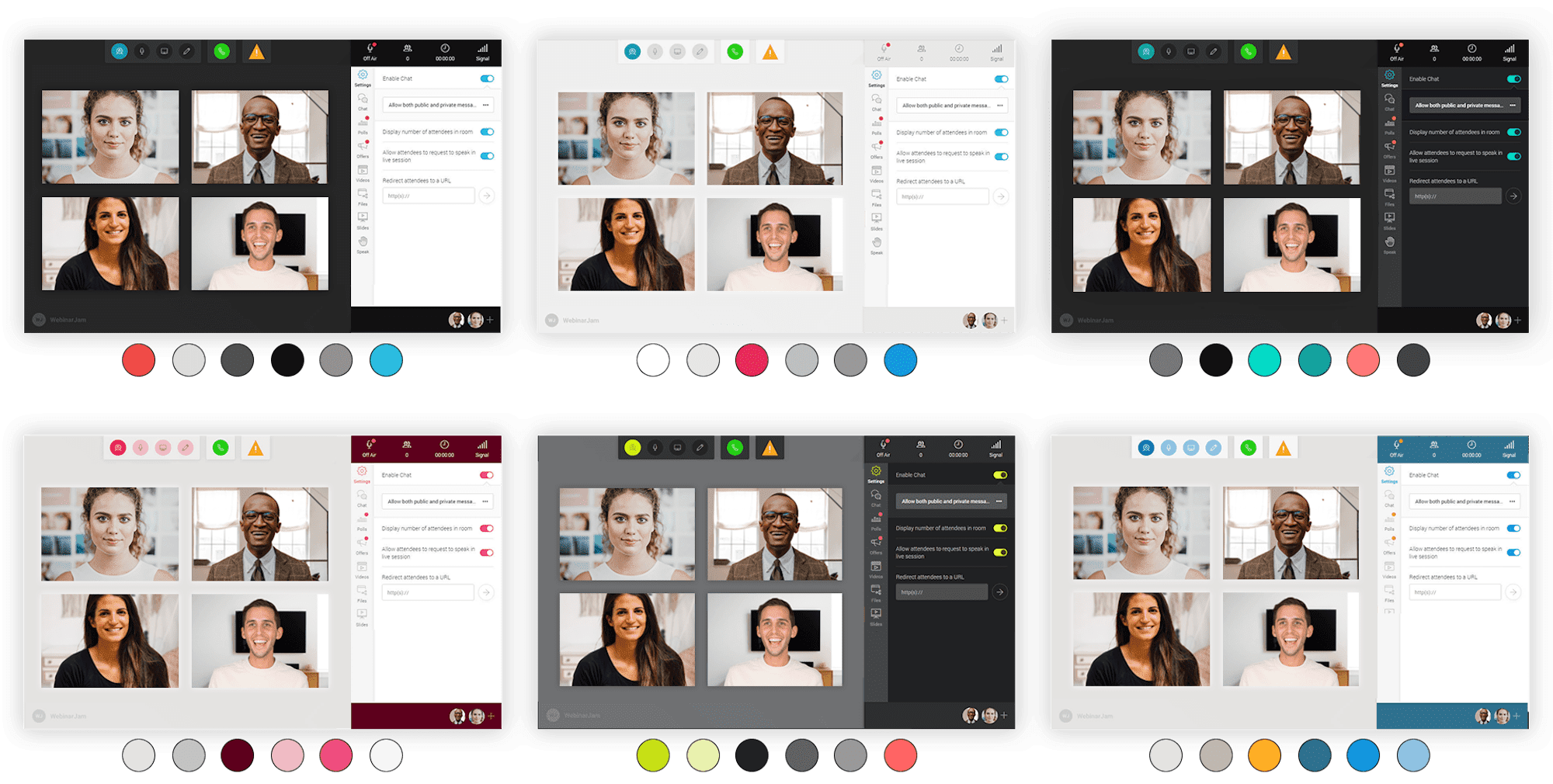 WebinarJam is a virtual conference platform that can host up to 6,000 attendees, six presenters, and allows webinars of up to four hours.
Its best features include:
Chat messenger
Whiteboard
Live polls
Email/SMS notifications
File sharing and handouts
Active offers
One-click registration
Performance analytics
Panic button
Automatic recording
Integration with Mailchimp, Zapier, and more
WebinarJam is a good choice for virtual conferences that include live offers and those that rely heavily on attendee engagement and participation. Note, however, that it only offers live webinars, not automated ones.
WebinarJam offers three paid plans ranging in price from $499/year to $999/year. Read our detailed review for more information about WebinarJam pricing and features.
EasyWebinar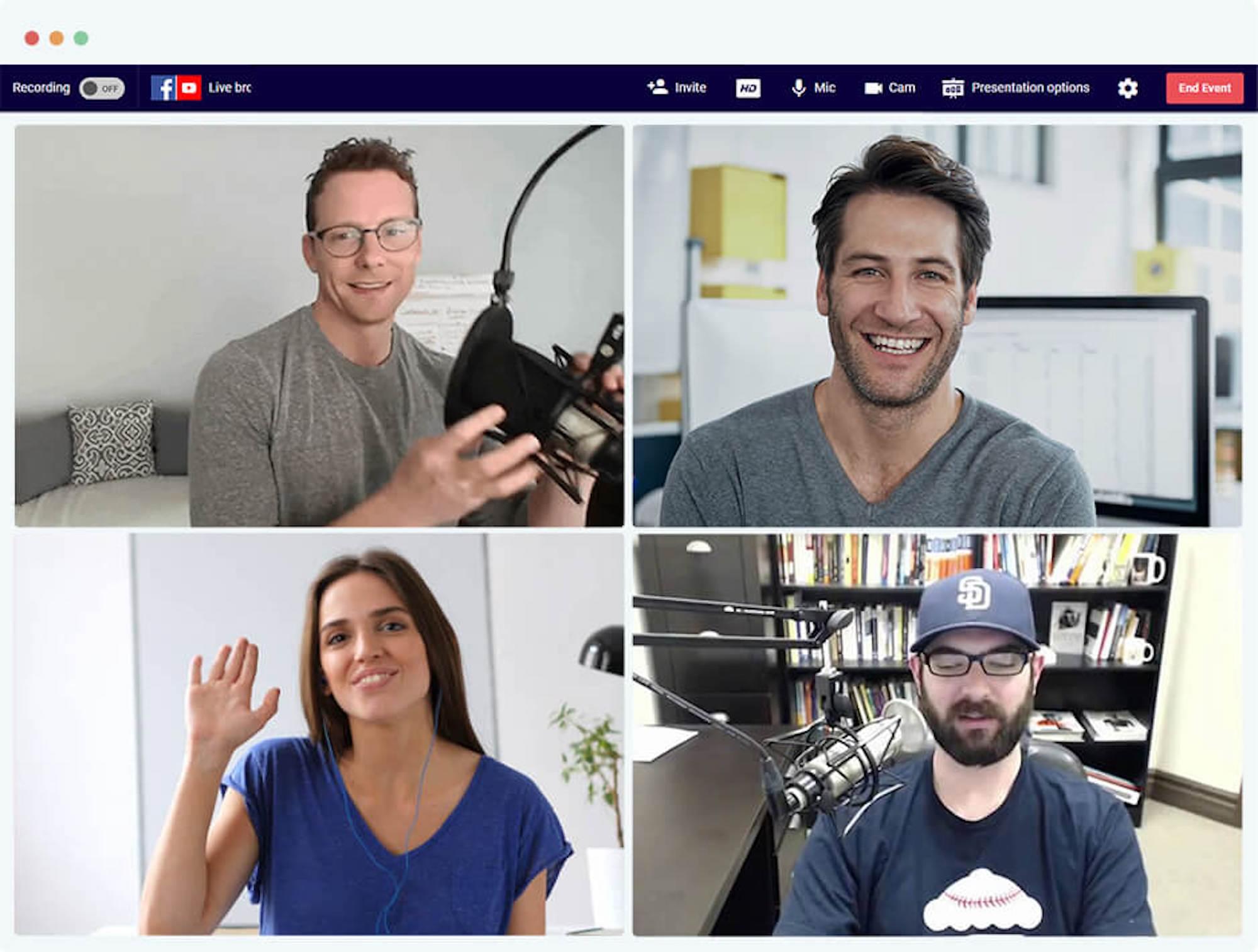 EasyWebinar provides both automated and pre-recorded virtual events of up to 2,00 attendees.
Top EasyWebinar features include:
Unlimited monthly webinars
Up to 4 simultaneous presenters
Live chat messenger tool
YouTube Live and Facebook Live integration
HD screen sharing/ integration with free screen sharing apps
Automatic recording
Noise reduction VoIP audio
Pass presenter tool
Attendee reporting/analytics
Real-time offers
Q&A/polling
Email notifications/reminders
EasyWebinar is ideal for companies who want to use these platforms to learn how to create a training webinar for employees or for those who want to reuse past webinars. It offers three paid plans ranging in price from $78/month to $499/month.
BlueJeans Events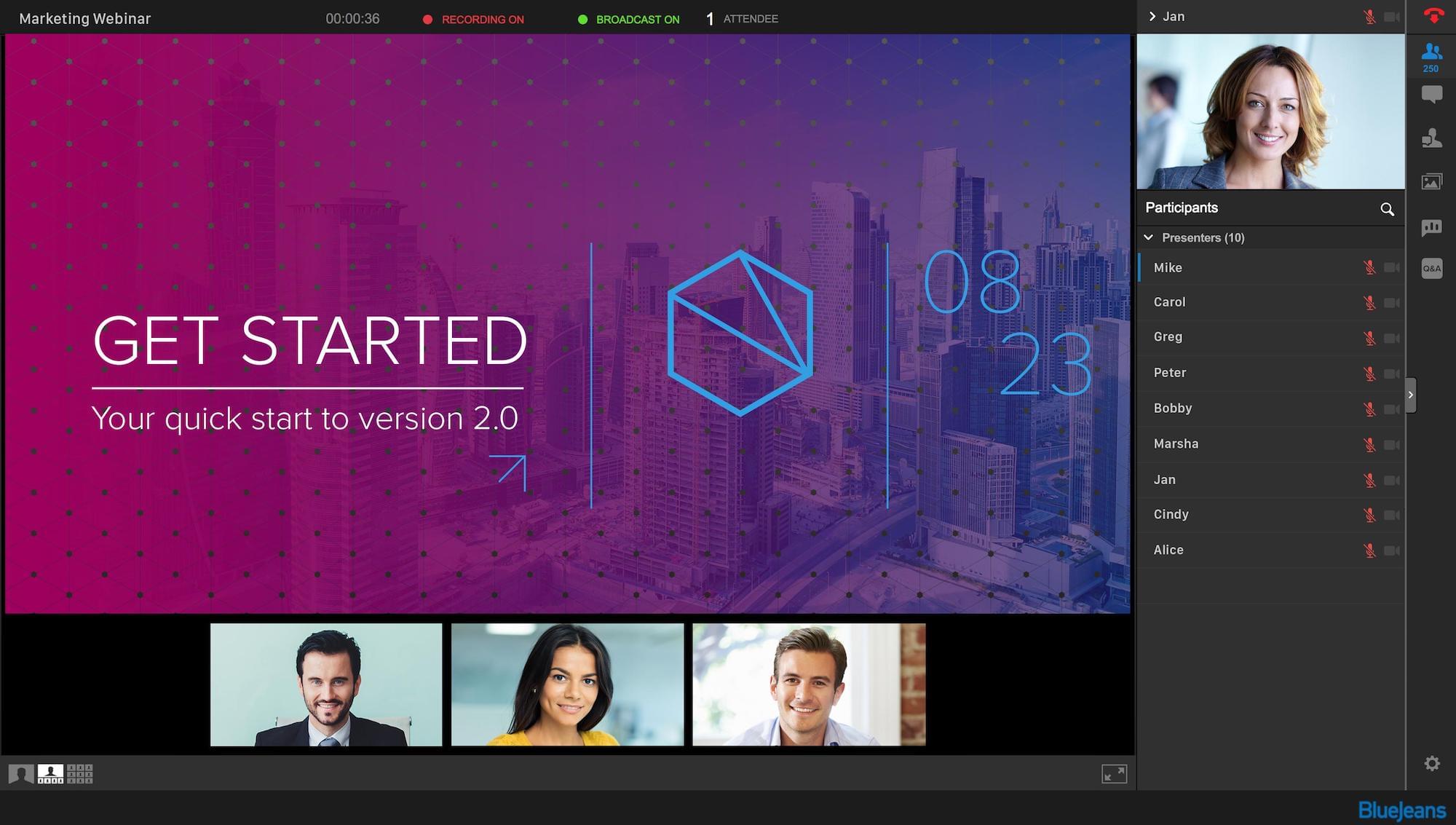 BlueJeans Events is a webinar platform that allows for a maximum of 50,000 attendees, device-agnostic attendance, and up to 100 simultaneous screen streams.
Its features include:
Screen sharing
File sharing
Live chat messaging
Live polling/Q&A
Live surveys
Integration for Salesforce, Marketo, and more
Toll-free dial-in access
Unlimited virtual conference length
5 hours of event recording
BlueJeans Events is ideal for nationwide corporations that want to be able to host the highest number of event attendees possible. However, like WebinarJam, BlueJeans Events also doesn't offer pre-recorded, automated virtual conference capabilities.
BlueJeans Events offers one-time webinar hosting for $499 or unlimited webinars for an undisclosed amount. To learn more about what this platform has to offer, read our complete BlueJeans video conferencing review.
Zoom Video Webinars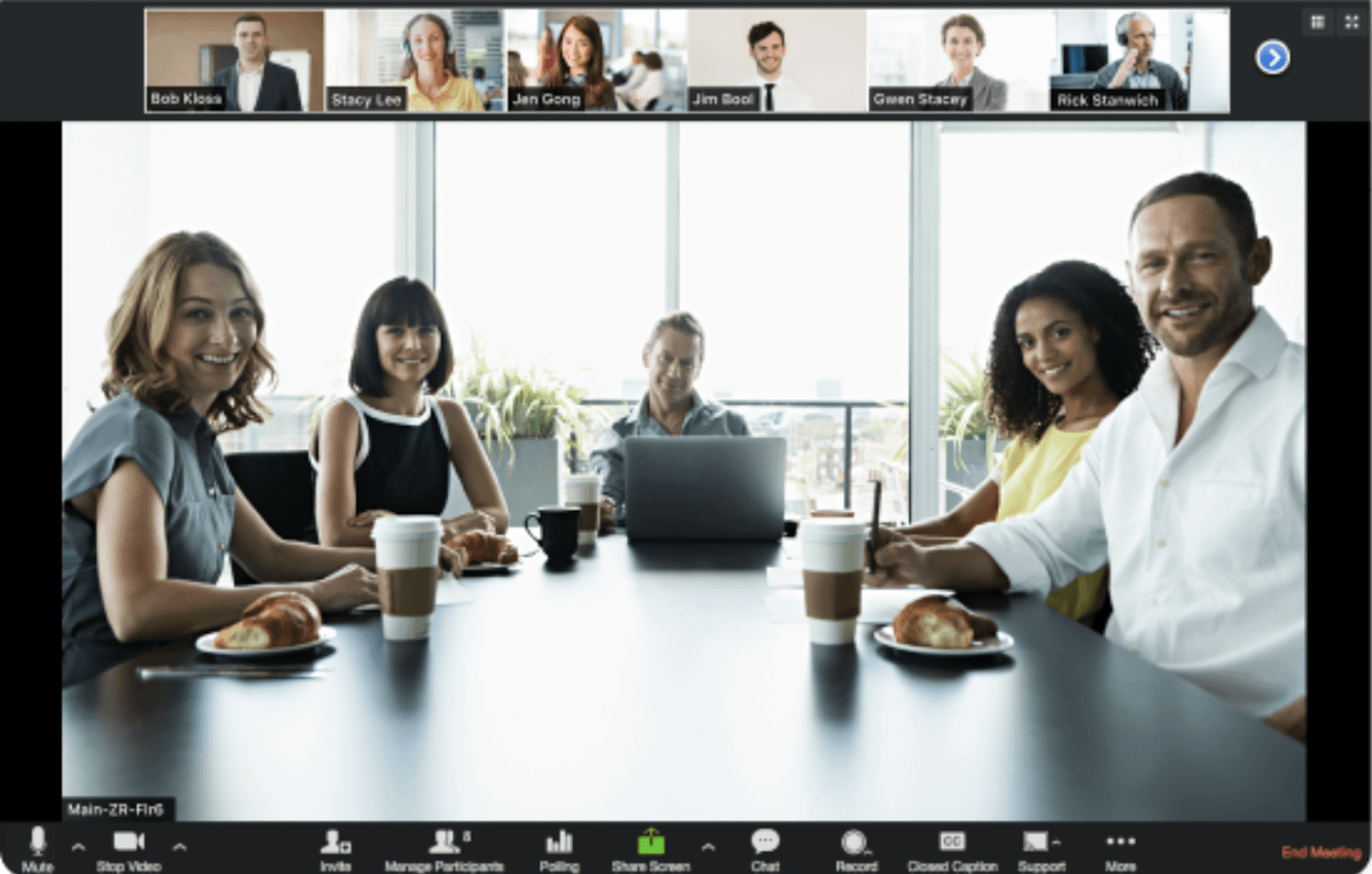 Zoom Video webinars allow for up to 10,000 virtual event attendees and include both live and on-demand viewing options.
Its top features include:
Custom branding
Live chat
Polling/Q&A
Virtual hand raising
Pass presenter tool
Live streaming to Facebook Live and YouTube Live
Integrations with popular team collaboration
Branded registration templates
Reporting and analytics
Host controls
Event planning assistance
Zoom's webinar plans pricing starts at $40/month per host for up to 100 attendees. It's an ideal platform for companies looking to increase brand recognition and monetize webinars.
If Zoombombing poses too big of a risk for your business, or if industry regulators have forbidden the use of Zoom, consider these Zoom alternatives instead.
Can A Virtual Conference Have the Same Impact As an In-Person Event?
Especially given the robust features, audience engagement tools, and detailed attendee analytics, hosting a virtual conference isn't just as good as an in-person event — it's even better.
However, in order to properly plan how to host a virtual conference and ensure that all panelists and employees are on the same page, you need to upgrade your team collaboration software to improve your management system.
Project management tools like Monday.com and Asana can help you to clearly assign tasks like developing content and contacting guest speakers to specific team members.
Chat messaging tools like Slack and top Slack alternatives ensure that employees can get quick answers to time-sensitive questions and communicate with other departments about issues like registration page errors.
Our detailed reviews of the top team collaboration tools and their best features ensure you'll select software that makes planning and executing a webinar simple and seamless.