For those enterprise-level users that wish to plan a training, a webinar, or have a simple video conferencing call, Cisco's WebEx has been a great go-to solution for years now. The software can save you the downtime that comes with planning an in-house meeting, which can take as long as 30 minutes to prepare.
What are the Best Cisco WebEx Features?
Cisco WebEx has some great features, but most agree that it has its limitations as well. Some of its prime benefits include:
Scalability up to 3,000 Attendees – Having large-scale functionality for more substantial corporations is a feather in the WebEx cap.
Training Features – It's a straightforward process to share presentations or use a digital whiteboard to teach colleagues. There's even the ability to record meetings.
Mobile-friendly Design – Cisco WebEx Meetings supports the two leading mobile ecosystems: iOS and Android. There's even Siri support for Apple devices.
These hold water, but there are some disadvantages as well:
There can be slowdown – When using desktop sharing or controlling screens, stuttering can happen.
Some user controls are hard to find – This is primarily due to a relatively lean interface, but it can be challenging to locate features like screen share.
In this guide, we're going to present you with seven competing solutions for video conferencing that give WebEx a run for its money. Each has multiple tier plans and provides businesses with varied options when it comes time to set up a video meeting with clients or colleagues.
Top 7 WebEx Alternatives
When it comes to web conferencing tools comparable to WebEx, Zoom is one that is gaining in popularity because it's so versatile. It's usable across a variety of platforms, including Mac, PC, iOS, Android, and H.323/SIP room systems
The company started as the brainchild of Eric Yuan, who was the VP of Engineering at Cisco for WebEx. When he started at WebEx, the company only had about a dozen employees. In 2011, Yuan branched off on his own to form Zoom, which he felt would address the weaknesses of WebEx and make business customers happier.
.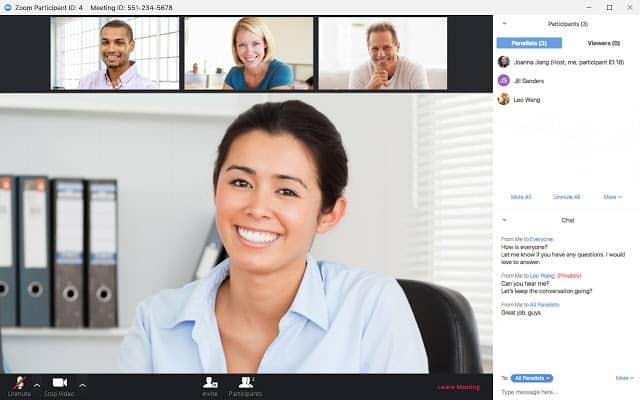 Features
Zoom stands out because it has four potential plans that even include a free option. This is also a solution that allows all members of the video conference to be on video simultaneously. This isn't a feature that's available for many video conferencing software solutions, so this stands out.
Additionally, simultaneous screen, desktop, and app sharing are all built-in features that can be useful in online meetings. Recording meetings is also effortless, and once the meeting completes, the video feed can be stored either on the cloud or local devices.
| | |
| --- | --- |
| Pros | Cons |
| The Zoom Basic plan allows for meetings with up to 100 participants at no cost. It even has a high-def video. | The free plan only allows for 40-minute meetings. |
| The software allows users to record meetings. These meetings are stored in MP4 or M4A file formats. | The customer support is a bit uneven. Users may end up being tossed from agent to agent before getting help. |
| Zoom includes Gmail integration and has group messaging support. | |
Zoom Pricing
Zoom Basic is a free service that can be very useful for those that don't have a massive budget but need a relatively robust video conferencing experience. Once you start getting into the paid options, you'll have three additional plans in which to choose. These include:
Zoom Pro – 14.99 per month, per host. Pro has the basic features plus a longer maximum duration of 24 hours.
Zoom Business – 19.99 per month, per host. This carries with it a minimum of 10 hosts. Businesses can have as many as 300 participants.
Zoom Enterprise – 19.99 per month, per host. Enterprise has a minimum of 50 hosts and has a maximum of 500 participants.
One of the latest WebEx alternatives is this relatively new offering from a company that is well-known in the field of VoIP-based business telephony. 8×8 Video Meetings is noteworthy because it's completely free and is accessible through many browsers, and you don't even have to sign up to use the service. It's just a matter of navigating to the video meeting homepage.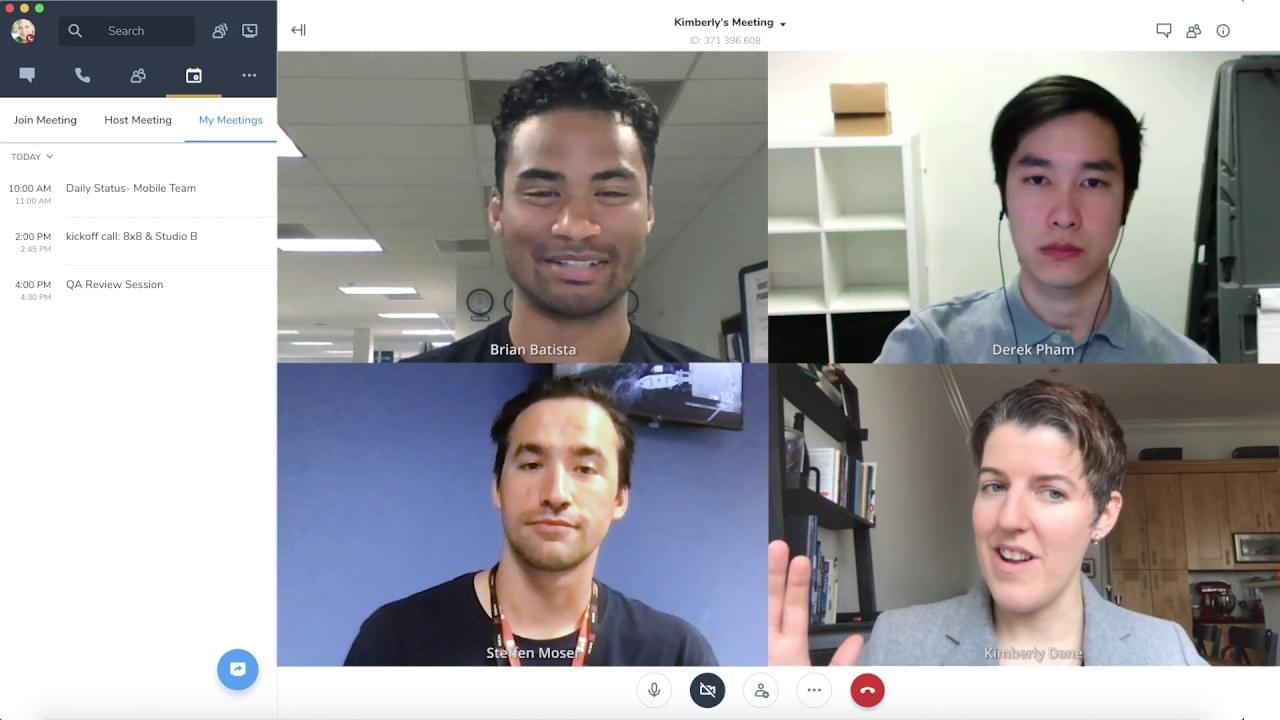 Features
As we mentioned in our review, a free service like this is a great way to entice businesses into the 8×8 ecosystem, especially since this is a market leader when it comes to quality. Also, its ease of use is perfect for those smaller companies that want a simple solution for meetings of up to 50 people.
The conference calls with this software are also top-notch – both audio conferencing and video calls are in high definition, so it won't feel like users are skimping while video conferencing.
| | |
| --- | --- |
| Pros | Cons |
| 8×8 utilizes both HD audio and video for crystal-clear video conferences | It doesn't work as fluidly in every browser as it does Chrome. |
| The software provides real-time stats during the video conference like upload and download speeds. | The no-software-required features are for desktops and laptops only; if you want to use it on mobile, you'll need an app. |
| The software doesn't require a download on desktop as it can be accessed via a browser. | |
8×8 Meetings Pricing
8×8 Video Meetings is one of the only free software options that stacks up to Cisco WebEx, especially considering the quality of the audio and video. 8×8's Video Meetings is a newer challenger in the realm of video conferencing, so it may be too soon to see how much it's going to shake up the field.
GoToMeeting is a long-running solution for video conferencing and has been active since 2004, making it one of the most well-established WebEx alternatives. The technology provides some fairly high-quality video conferences, and it's also very easy to use and set up. Formerly developed by Citrix, the software is now under the LogMeIn banner and is part of a larger ecosystem that includes GoToWebinar and GoToTraining.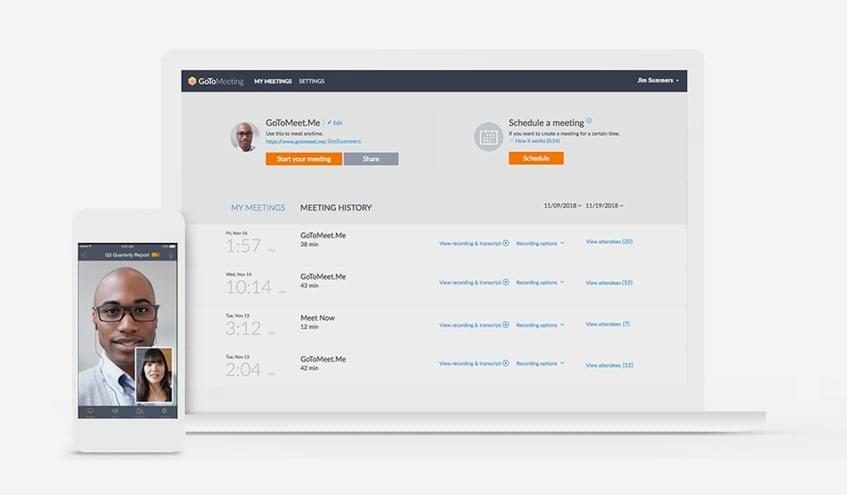 Features
The primary driving function of GoToMeeting as compared to WebEx is its simplicity. The software is not only easy to use, but it's also super-simple to set up and get started, and they even offer a 14-day trial. The software has three plans that are relatively competitive with other offerings out on the market, and you'll get features like screen sharing and support for multiple devices.
The user interface is also as straightforward as possible; there aren't any excessively small buttons, and its design has a good "what you see is what you get" aesthetic. For those that need a bit of extra security, GoToMeeting even has a PIN-based entry system for video conference attendees.
| | |
| --- | --- |
| Pros | Cons |
| GoToMeeting is one of the few WebEx competitors to offer a trial that doesn't require a credit card. | GoToMeeting is basic, which makes competitors more appealing. |
| This has become something of a go-to solution, even compared to WebEx, so clients and colleagues alike should quickly acclimate. | There's no built-in webinar or training functionality. For that, you'll have to use the sister products, GoToWebinar and GoToTraining. |
| The software is simple to set up with an email address, a username, and a password to start an account. The "My Account" page is straightforward to navigate and select a plan. | The "copy" button uses flash, which is an odd choice in 2019. |
GoToMeeting Pricing
GoToMeeting is a software solution that comes in three flavors:
Starter – This starts at $14.99 per month, per host. 10 participants are supported by this plan.
Pro – The mid-tier plan, which costs $29 per month, can support a relatively robust 150 participants.
Plus – Plus costs $39 a month and allows for 250 participants per video conference.
ClickMeeting is another new WebEx alternative that has great video conferencing features and even can be used as an expert webinar solution. It's relatively easy to set up and has a great user interface, and several features can make meetings unique and fun for attendees.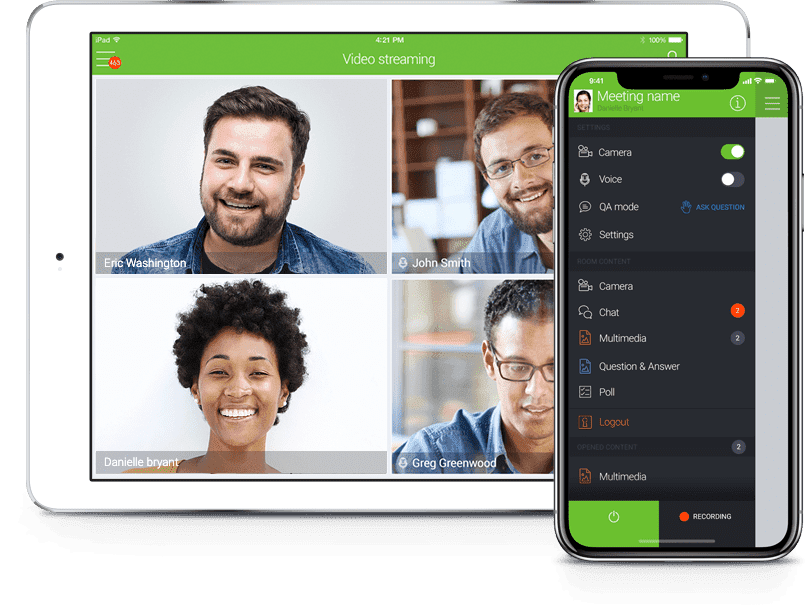 Features
One of the best features of ClickMeeting is how crisp and clean its interface is – there are several colors as well, which makes the whole experience pop. The meeting space can also be customized by using background skins that are unique to your company, and ClickMeeting also can be programmed to customer satisfaction surveys to participants once the conference has ended. Everything is well organized, and the system even allows presenters to upload files from a computer or a cloud-based solution like Dropbox.
ClickMeeting even allows presenters and administrators to lock the meeting so that there are no new participants, which is useful when confidential topics are being discussed. There's also a Q&A mode that allows a presenter to take a question and then mute the questioner.
| | |
| --- | --- |
| Pros | Cons |
| With ClickMeeting, you can create specific URLs for each meeting. For example, you can create one like yourcompanyname.clickmeeting.com, which adds some customization to the video conferencing process. | Companies that are looking for versatility and an all-in-one solution may be disappointed that there's no dedicated phone support with ClickMeeting. |
| Like GoToMeeting, ClickMeeting doesn't require a credit card for a trial. | Like GoToMeeting, ClickMeeting still uses Adobe Flash. |
| This product scales higher than many of the previous ones – with four presenters and 5,000 attendees with the most premium plan. That eclipses WebEx's capabilities. | It starts at $25 per month, which is more expensive than many of its contemporaries, including WebEx. |
ClickMeeting Pricing
While it's noteworthy that ClickMeeting has a free trial, this only lasts for 30 days and has reduced features. It's important to note that ClickMeeting has a sliding scale when it comes to attendees, and their current plans start at 25 attendees per plan. Here are the three at their base level of 25 participants:
Live – This costs $25 per month. Live has an unlimited number of live conferences and allows for a single presenter. Recording storage for this is limited to six hours.
Automated – This plan starts at $40 per month. It has the same number of presenters, but storage is boosted to 10 hours of video.
Enterprise – Enterprise doesn't have a preset monthly value, and it is set as custom. Six presenters can be used with Enterprise, and users will be able to record 10 hours of video.
After Motorola purchased their previous company, RingZero, and changed its focus, the team of Vlad Vendro and Vlad Shmunis opted to form RingCentral. RingCentral Meetings is their video conferencing solution that not only has full HD video but has options for large-scale webinars and trainings. It also has a robust free plan that is very functional for smaller-scale organizations, and signing up and getting started is a breeze.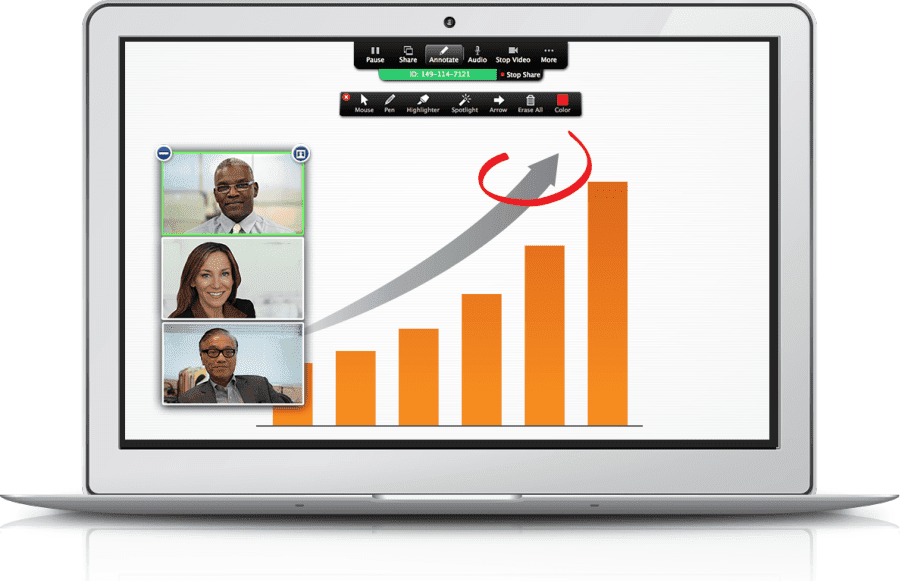 Features
One of the unique offerings in RingCentral Meetings' repertoire is the "Call Me" feature, which lets users quickly transfer call audio via the mobile app. This is a useful tool that can be used to take your web meetings with you when you need to go about another task.
RingCentral pricing offers Meetings at each of their three tiers of service, which provides a reasonably comprehensive level of coverage for small businesses and enterprises. You'll find easy screen sharing, simultaneous screencasting, whiteboarding for training, and group video chats that can be used while in a conference.
| | |
| --- | --- |
| Pros | Cons |
| The free service is fairly comprehensive. With it, you get real-time annotations, messaging across teams and co-workers, and integration with Outlook. | There's no cloud-based meeting recording feature. |
| The video quality is high-definition, which can facilitate a stronger face-to-face video conference experience. | To set up "Call Me," users will have to contact customer support. |
| The video gallery can display up to 25 video feeds simultaneously. | There's a slight learning curve when setting up video conferences. |
RingCentral Meetings Pricing
This web conferencing software has a three-tiered plan for businesses:
Free – Like Zoom, this free version of their service limits calls to a 40-minute duration. Users can expect real-time annotations and the ability to save meetings locally in MP4 and M4A formats.
Essentials – This plan goes for $14.99 per month and has single sign-on (SSO) features. This variation also has the "Call Me" feature, which comes with 1,000 minutes.
Advanced – The final tier is designed for those with more demanding needs for video conferencing. This plan costs $19.99 and comes with a dashboard, which provides some reporting for video conferences. This also provides 2,500 "Call Me" minutes.
In 2017, the brand ReadyTalk joined with PGi, which has been in operation for almost three decades as a corporate communications solution. Since then, the ReadyTalk brand has been built out so that professionals can have one of the most stable options for communications in virtual meetings.
ReadyTalk is meeting software that is based around voice, but its video conferencing features are robust enough to make it a great WebEx alternative. Once you start up the software, it's a simple process to start up the video conferencing features.

Features
ReadyTalk's video conferencing features are included with the ReadyTalk platform at no extra cost, so this is an excellent option for those businesses that already use the platform for their calls. It's essential to note that the platform doesn't scale higher than a 125-participant limit, so this is the right solution for smaller teams.
| | |
| --- | --- |
| Pros | Cons |
| Since it's built on a competent VoIP calling system, having attendees call into the video conference on just standard phones is relatively easy. | Flash is required for the viewing of meeting recordings, which can be a problem for those on mobile or in web browsers that don't support Flash. |
| The company provides a very high-quality remote support experience. Support staff members are on-call 24/7. | Every meeting will have the attendants input a seven-digit code, which is great for security but not so great for a seamless video conference process. |
| The "Always on Top" feature can be manipulated by the chairperson or administrator to keep the webcam feed on top of other content. | The interface will take some getting used to as it's not simple to use for beginners. |
ReadyTalk Pricing
It's important to understand that while ReadyTalk provides free video conferencing services, you still have to have their service to gain access. Here's a breakdown of their plans:
Standard – Their starter plan has a cost of $12.99 per month, per host. With this plan, there are cloud recording options.
Premium – This second-tier plan costs $24 per month, per host. This variation offers more nuanced host controls.
Enterprise – The final tier varies in pricing based on the needs of the company. With Enterprise, users have HD multipoint video and language localization features.
BlueJeans is a solution that's focused on providing an experience for meeting attendees that feels like everyone is in-house. The company has been innovating since 2011, and in the intervening time, they have earned their position as a leader in the industry. In the past two years, they have received several accolades, including Best Mid-Market Relationship Index for Video and three wins for Enterprise Results Index for Video at G2 Crowd.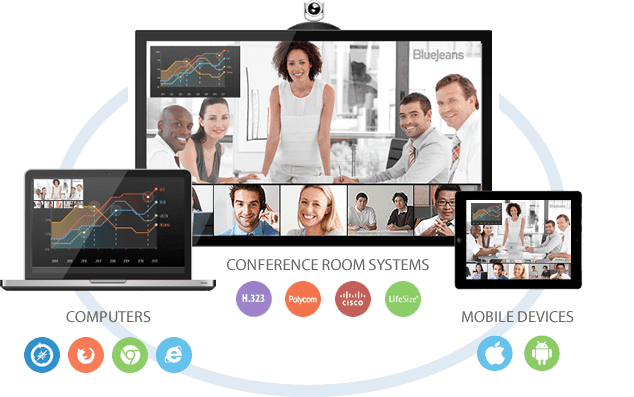 Features
The standout feature of BlueJeans that can be the most useful in a meeting is its crystal-clear audio. BlueJeans video conferencing uses Dolby Voice® to make fuzzy-sounding meetings a thing of the past. The software also features HD video, so colleagues will be able to present in stunning clarity. The software also has options for custom branding, which is a nice touch.
This is also a WebEx alternative that doesn't require a tremendous amount of effort for setup; you enter a web address, company size info, and some other info, and you've already hit the ground running. Scheduling meetings also is a simple process, and integration with Office 365 is very straightforward.
| | |
| --- | --- |
| Pros | Cons |
| This is one of the few video conferencing solutions that doesn't require that you pay for the service annually. This can be very useful for those companies that don't mind spending slightly more on a month-to-month style of payment. | There isn't a free plan. |
| The Dolby Voice® feature is fantastic since it even has directional audio, which will emulate the feeling of being in the same room with the other conference attendees. | Unfortunately, there's no built-in file sharing and not every tier allows for recording video/audio. |
| Not only is the app available for Windows, macOS, Android, and iOS, but there's also a Linux variation. | It can be hard to find the moderator controls. |
BlueJeans Pricing
Like many of the best WebEx competitors, there are three plans available with BlueJeans:
Me – This plan is excellent for individuals and small teams and starts at $14.99 per month. Me offers the ability to have video conferences with up to 50 members.
My Team – Geared towards small- and mid-sized businesses, My Team costs $16.65 per month, per host. This tier also supports up to 75 participants.
My Company – As is usual with these providers, the final tier is for larger-scale businesses. As with ReadyTalk and ClickMeeting, those interested in this plan will find that it has variable rates based on enterprise needs. It has the features of My Team, but also includes real-time metrics and unlimited recording.
Finding the Right Alternative for Business Video Conferences
While WebEx is undoubtedly a great solution and a leader in this space, it's certainly not for everyone. The alternative solutions that we've provided here are competitive, and they all have unique features that you may want to consider for your web conferences.
Do you want a more in-house feel for your meetings? Then, there are options such as BlueJeans, Zoom, and RingCentral. Looking for something that is low-cost (or even free) but still has some features for a relatively high number of attendees? ClickMeeting offers bandwidth for up to 5,000 watchers.
Our latest guide on how to create a webinar can help you make the most of whichever solution you choose.
Finding the right video conferencing alternative to WebEx can definitely take time, but in the end, the right software can streamline processes significantly. Take a look at our web conferencing guide if you want to see some more in-depth stats for the various solutions out there.