Now known as Zoom Team Chat, the feature once known as Zoom Chat, today has a few new capabilities. The chat function: primarily built for internal and external workplace communications, brings together messaging, file sharing, third-party apps, video, voice, and whiteboard, into a single app.
This is all a part of Zoom's efforts to rebrand its platform to Zoom One, and it brings me to the realization that the platform has undergone much change since its inception. Initially, it was a mere video conferencing app. Now, the folks at Zoom hope that the platform will rival that of other vendors in the space.  
If you may recall, Zoom introduced a long-awaited CCaaS offering back in February 2022, doing what many already assumed the firm would do, as the writing was on the wall for quite some time. Nonetheless, today, the platform is robust – and fit to extend many of the most sought-after and advanced enterprise communications features to the millions of new users it gained during the Coronavirus Pandemic.
More on: Zoom Contact Center
According to a 2022 survey of Information Technology decision makers commissioned by Zoom; conducted by Morning Consult: 95% agree that messaging services remain essential for those in remote/hybrid environments. Eighty-six percent of survey respondents noted that messaging services were "essential" to their organization, and 90% reported using them daily. 
Rebrands for Days
With a rebrand under its belt, it seems only fitting to overview the platform that looks much more different than it did, even a few years ago. According to Janine Pelosi, Chief Marketing Officer at Zoom, chatting in Zoom is a more robust experience than ever before. She continues, noting: 
"Zoom Team Chat offers a powerful hub with chats and channels to connect workstreams, keep projects on track, and stay in touch with the whole team and key stakeholders." 
The biggest plus of the platform; is that the experience it extends is a seamless chat experience for team members and external contacts. And there are countless features that make it easy to collaborate, like via whiteboards or alter the dynamic of a chat exchange; by elevating chats to meetings or phone calls.
Users can even share recorded video messages, all from within the Zoom Team Chat app. Here's what else is new with Zoom's freshly-rebranded Zoom Team Chat:
Zoom Team Chat's Latest – Set for EOM Delivery
By the end of September, Zoom Team Chat users will gain access to a few new useful features that should add to their arsenal of tools to aid in hybrid work environments. Set to roll out first; is the ability to share in-meeting chats to team chat.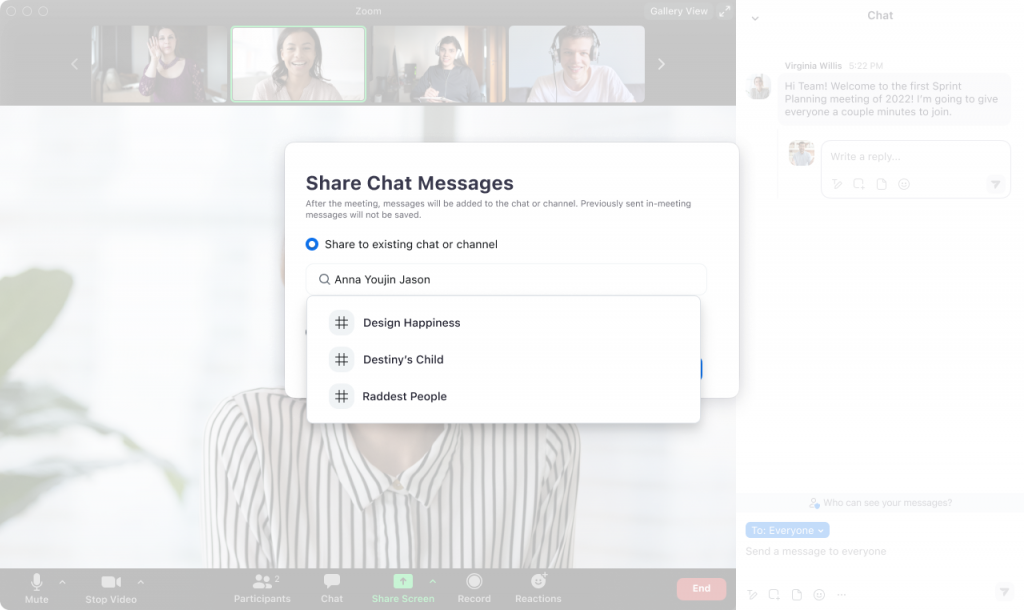 The goal of this feature is to meeting attendees from losing links or principal information shared during a meeting. Users can also now schedule a Zoom Meeting from chat or channel. This feature hopes to eliminate an annoying occurrence, lots of back-and-forths trying to find the most optimal time for a meeting, and potentially dozens, if not more – messages later. 
Furthermore, Zoom introduced a new way for users to organize their workday with a "reminders" feature. The fresh function lets users flag a chat message; so they can receive a notification about it at a more convenient time.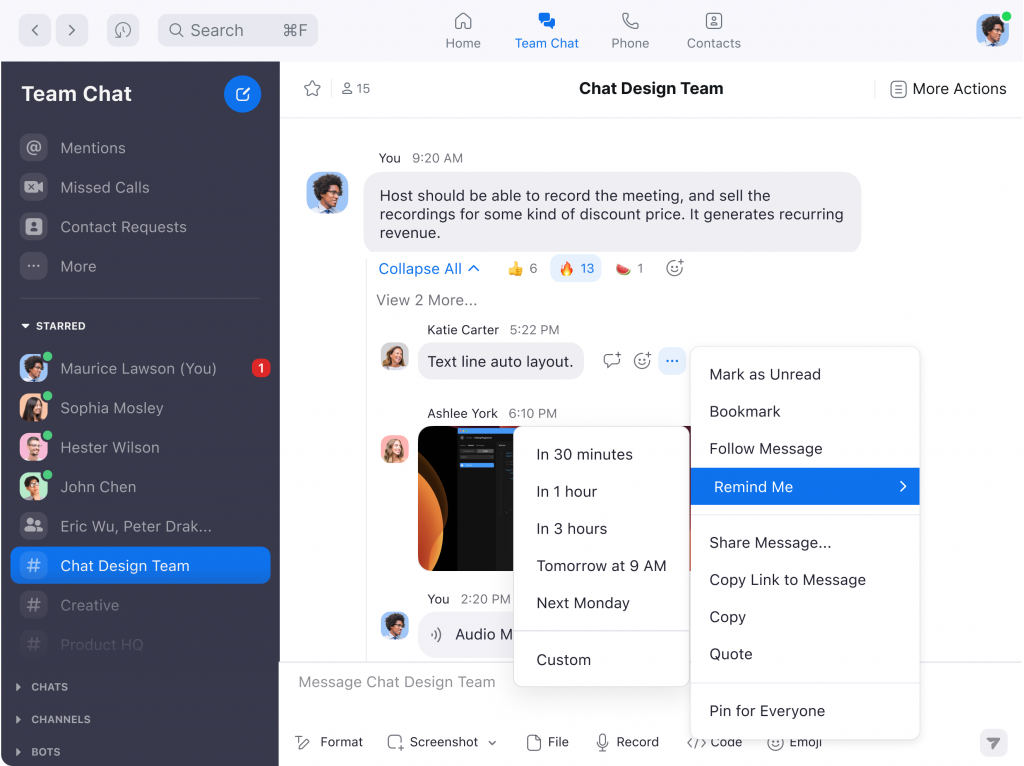 In the event of an ad-hoc meeting, users who are not available at that time – can respond with a chat message; rather than having to answer the call at that moment. And last but certainly not least: access to more third-party integrations. 
Leveraging Progressive Web App technology, users can access the all-new Zoom Team Chat from any browser, eliminating the need for the Zoom client in many cases. 
Introducing the All-New Zoom 
In line with the rebranding of its Chat platform, Zoom introduced all-new visual representations of its platform. The brand-new look and feel of the platform include updated colors, typography, and product icons. According to a statement from the company, Zoom's logo will remain untouched, but Zoom has replaced the letter Os in its name with icons.
It is doing as much, according to that statement: 
"To communicate that Zoom is the one platform where connection happens. The new Zoom Team Chat icon is positioned first in the visual to demonstrate its role as the hub that connects all workstreams."
This is, of course, all in line with Zoom's ambitions to grow beyond that of a household name; and become more synonyms with (that of) an enterprise collaboration platform. 
During the Pandemic, the former video conferencing platform became well-known in the consumer space, with many organizations also taking note of the platform – but the money is where the enterprise is, so this particular rebrand makes sense. 
Stay Tuned for Zoomtopia 2022
One might expect to see more of these enhancements live and in action at this year's Zoomtopia event, held November 8-9. It is not too late to register for the free event. While the event will get recorded: it still seems worthwhile to check out the experience as it happens.
Last year at Zoomtopia 2021, Zoom announced a plethora of innovations to its platform and ones that users tend to crave and rely on quite heavily – to this day. I would expect this year's event to be no different.
As Zoom continues to hope for dominance in the UCC space, it is just that kind of drive that will likely enable the company to do just that. It appears to merely be a matter of time before that happens, as the company is aggressively making over its platform while going after new; yet fairly obvious markets.
Zoom and its leadership appear to be quite hyper-focused on elevating the platform to something most would not immediately recognize as the platform it once was, only for video conferencing and Zoom is more-than thrilled for that to be the case.
Stay tuned for the latest UCC news, trends, and industry insights.