It all started with Zoom/Oculus, then Webex, Microsoft with Microsoft Mesh, and now; Slack. Four collaboration giants have joined the metaverse, a newly-coined term used to define the concept of a coming variant of the internet. 
The concept itself is not a new one; however, it is simply one Facebook (Meta?) Co-Founder & CEO Mark Zuckerberg hopes to perfect. Facebook unveiled plans to invest over ten billion in funds to help make significant progress toward a new (iteration) of the internet.
Before he can fully realize that future version of the internet, though, he will have to take on some legal issues, as there is already a company called Meta, and it is asking for 20 million for the name. 
Set to consist of constant shared, 3D virtual spaces linked into a (perceived) virtual universe – such (metaverse) advancements in technology could present a new set of hurdles for workers of the near future. It could also extend many benefits to training, learning/comprehension, boosting employee engagement, safety awareness, and mitigating costs associated with workplace training. 
Check out Zukerburg's vision for the metaverse
For remote workers, it would imply that future employees are likely to have more immersive work experiences. That is, for the companies that choose to adopt technologies proposed by the four collaboration firms that have introduced these limited; yet viable future-leaning workplace collaboration technologies. While the metaverse does presently exist, it is finite, mind you, and Facebook (Meta) knows it will lose money for years to come. 
The investment, it seems, is worth it to them, nonetheless.  
Although the metaverse as an idea; has been around for decades, Zuckerberg appears the most hell-bent on transforming the internet. No one company has ever poured this amount of funds into the future of the internet to design a space where you can interact with coworkers in real-time, co-create, collaborate, and close sales. 
For this reason, I figured it might be simply to break down what each new AR offering, partnership, or deal will extend and who it will reap the gains of the metaverse. 
Zoom-Oculus Workplace AR/VR
At Zoomtopia 2021, Zoom and Oculus, a Facebook/Meta company, teamed up. The duo unveiled that it would team up so Zoom could leverage the social media firm's surprise to the market offering – Horizon Workrooms. Back in August, the social media company announced the launch of the new app that extends a virtual collaboration by bringing VR users and video chat participants together. 
This led the social media giant even further into the collaboration market. That is in addition to its project in the productivity/collaboration arena, Workplace from Facebook. 
The duo's objective – to allow users to access Zoom whiteboards and Zoom Meetings from within virtual workroom environments leveraging Horizon Workrooms available on Facebook's Oculus Quest headset. Set for availability in early 2022, here is what I learned from a recent interview with Head of Zoom Rooms, Jeff Smith. 
For starters, Smith said that Zoom does not want to waste time or to get into VR for no purpose. In a recent interview with GetVoIP News, Smith told me: 
"We want to solve real-world problems. What if I don't have a large screen? What if I can't visualize the content on the whiteboard."
Here is where VR comes into play for Zoom and transforms into a mechanism that helps users visualize large amounts of content without using a large screen.
"It is a simple problem that; we are trying to solve, and it happened to coincide in a timely way with Oculus and its development of Horizon Workrooms," Smith shared with me at the time. 
Webex Hologram 
Roughly a month later, at Cisco One, Cisco gave the world a look at its new forward-thinking application of AR/VR tech, introducing Webex Hologram. The platform combines the rich features of Webex meetings and calling; with the functionality of immersive 3D holograms. Harnessing the power of augmented reality (AR), Cisco said it wants to close the gap between virtual and in-person collaboration, one that remains with its fair share of friction. 
It plans to tackle the issue with its real-time, photorealistic holographic experience for pretty much any scenario that might include the participation of a remote or several remote employees. Taking a cue from its own research, which suggests in Cisco's Hybrid Work Index – 64% of employees say if they do not have the option to work remotely – they will leave their job.
Cisco has plans to accommodate these folks. 
Thanks to the broad appeal of Cisco technology – it could be a game-changer for those in most industries. It will take some fine-tuning of the limited experience most users know today. But once Cisco does that – it could catch some big fish, also known as high-volume users. 
That includes the likes of physicians, technicians, sales, and support teams who might profit handsomely in some way, shape, or form from the technology.
Microsoft Mesh
A mere week after collaboration leader, Cisco previewed an AR-powered Webex meeting solution intended for the future of work – Microsoft announced plans to do, you guessed it – something a lot similar. 
Microsoft would call its offering: Microsoft Mesh; and plans to release it on Microsoft Teams,  a notion Microsoft Corporate Vice President Jared Spataro; explained recently. Its strategy could more than likely lead to users adopting AR/VR technologies quicker. In a blog post, Spataro wrote: 
"We are taking that experience and building Mesh right into Teams, recreating a lot of what we value about being together and extending productivity beyond what was previously possible."
Microsoft hopes that its immersive AR meeting experience for enterprise meetings users will lead to sharing virtual conference rooms, design centers, networking lounges, and other real-world places used to co-create. Microsoft Mesh is set for a 2022 release across Microsoft Teams, PCs, smartphones, and various mixed reality headsets like Oculus.  
Read Slack Messages via Oculus VR Headset 
So far, we do not know a lot regarding Slack's VR ambitions. We do know that soon – Slack users can read Slack messages without taking off their VR headset. 
One might assume that this is just the tip of the iceberg, as Salesforce, Slack's parent company, typically likes to do things big. This year, at Facebook's Connect conference, the social media business showed attendees how it plans to add moremon 2D apps to the Oculus Store.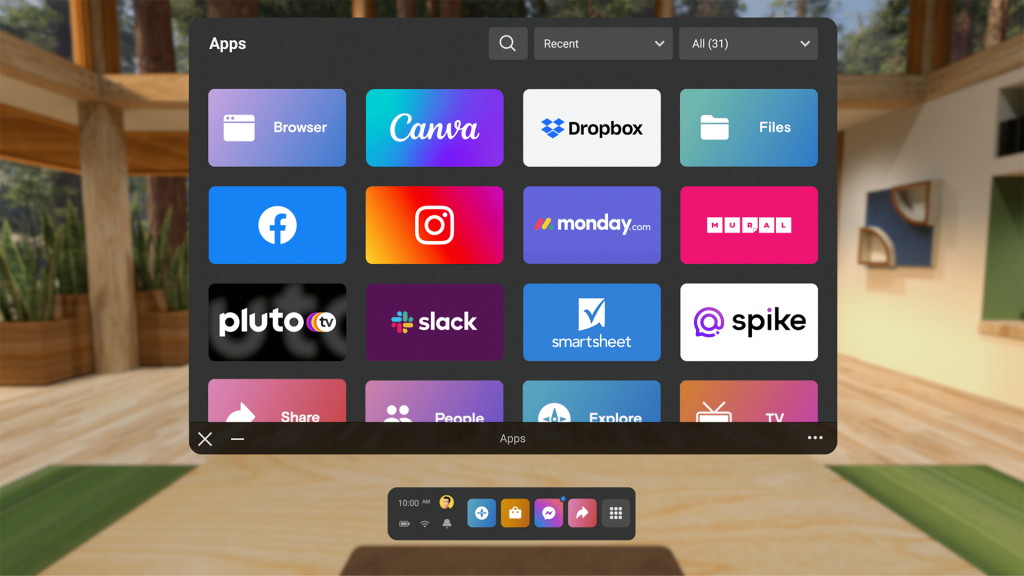 Slack and Dropbox are two of the latest to join Facebook's apps for Oculus while CRM platform Monday.com is already available on the platform. 
Many Use Cases, Yet to be Unlocked
There are so many potential use cases for workplace VR/AR. So many that a lot of them have not been thought of yet. This is often the case with bleeding-edge technologies, which take some time to make it to everyday users. 
Enterprise leaders around the globe have to do their due diligence, too. And that heavy lifting comes down to, before taking the plunge into AR/VR solutions in the workplace, figuring out which employees get access to headsets and for what purposes.
There is also the matter of cost. Are employees expected to pick up the tab for a headset? Or will the company handle that expense? Some organizations already have a BYOD (bring your own device) policy, while others prefer to secure a fleet of devices it assigns to employees. 
Enterprise leaders will also have to encourage employees to play around with the VR/AR headsets, keeping in mind the sky's the limit when it comes to use-cases of the technology. 
Thanks to COVID, Workplace AR/VR is Booming
Forecasters at ARtillery Intelligence estimate that virtual reality in business settings will grow from $829 million in 2018 to $4.26 billion in 2023. They say that the solution, in the workplace, offers a viable response to customer service,  as well. 
We have talked about it for years, and finally – almost suddenly, it is here. Actual virtual and augmented reality, although limited in some respects, has been introduced by some of the biggest players in the collaboration game. Forecasters say that COVID-19 is largely responsible.
And it is about time that we have these capabilities, as six years have elapsed since Oculus Founder Palmer Luckey rather boldly claimed that virtual reality would change the world. It truly hasn't, (at least thus far) and until recently stayed far under the radar, unless you were a gamer.
As more and more employees went from the office to home – they craved more immersive experiences. The same can be said about customers, at least in some industries, who might benefit from more hands-on attention from a support agent.
That is not to say, improved experiences for those who are hearing impaired – as VR/AR experiences can be tailored to fit the needs of most. If a person is hearing impaired, for instance, they might benefit from having a representative live in their living room in hologram form with subtitles for the sake of clarity.
That is not to say that there will not be a lot of issues in the beginning, including security. How do companies ensure VR meetings are secure? It will be a primary responsibility of vendors, but employee training will remain principal at mitigating some forms of intrusion. 
Facebook's Fingerprints are All Over the FOW
Creepy introduction to Zuckerberg's idea of the metaverse aside, it is clear that Facebook plans to bring the Oculus Quest headset to a broader audience, looking to make its technology more ubiquitous. 
Most of the above offerings will be available on a Facebook Oculus headset. The company's aggressive market attack – could mean that if it succeeds in producing large portions of the metaverse, it might eventually rake in some serious moolah, too. 
It seems that compromise is also front of mind for Facebook, as, in the past, the firm was not too keen on supporting 2D experiences. Perfecting the Slack messaging experience and offering extended functionalities will be the real test of Facebook's willingness to support a variety of virtual experiences, too. 
In the past, many of the experiences it offered by way of 2D and 3D were restricted to the Oculus web browser. Many users reported this to be a lackluster occurrence, nonetheless.  Another key indicator is that Facebook has also rolled out native support for Messenger on the Oculus Quest 2 Headset.
It even announced it would extend support for audio calls with no mention of video. 
Where things become even more apparent, Facebook will launch a set of 2D apps. The social media firm also wants to make the barriers to entry slim to none. Let me explain. Enterprise users will no longer need to purchase Oculus Quest business headsets, as Facebook's new suite of apps – Quest for Business – will eventually run on everyday Oculus Quest hardware. 
According to the company – it will start closed-beta testing for Quest for Business and Work accounts by the end of the year, hoping for a full-scale launch in 2023. For now, one thing is clear, the future of work will involve a lot more Facebook, hinting at extra scrutiny as the firm grows larger, raising further possible anti-trust issues. 
Today, there are more than 26 million virtual reality headsets in circulation, according to Omdia.