This week at Channel Partners Conference and Expo, held in sunny Las Vegas, Nevada, Talkdesk, the cloud-based contact center; and artificial intelligence software provider – earned Google's Enterprise accreditation. 
Having met the rigorous security and performance requirements for Chrome OS – it is now seen as a validated CCaaS solution in the eyes of Google. The recently-announced news will lead to what the company called a deeper partnership with Google, in which Talkdesk is a Chrome Enterprise Recommended partner. In a statement, Talkdesk wrote: 
"The partner program highlights exceptional Chrome OS partners that deliver an elevated set of features and support on the Chrome OS platform."
As a cloud-native firm, the company excels at delivering enterprise-scale to customers with the promise of ease-of-use; and deployment – thanks to the nature of the software's cloud-first approach. 
For contact centers with scattered employees, Talkdesk CX-One for Chrome OS might assist in pulling off some massive feats. This includes onboarding new agents in just a few clicks. It could even mean scaling up and down agents as needed, as customer demand rises and falls accordingly – also with relative ease. 
As Talkdesk customer experience/contact center software meets stringent security requirements, the kind needed to secure a fleet of employees of nearly any size – the renewal of partnership vows makes a lot of sense. I want to unpack more of what the updated partnership might mean for the duo and how its respective customers might jointly benefit from the pair's dual efforts in security, contact center, and CX. 
Talkdesk Security, Up to Par with Google Standards
For starters, Talkdesk CX Cloud was optimized for Chrome OS since its inception – with the company even going so far as to recommend customers and agents access the platform via Chrome for "optimal performance and experience."
Today more than 60,000 leverage Talkdesk's Click-to-Call Chrome extension, extending the same user experience across all Chrome OS devices. According to the Talkdesk Future of Workforce Engagement report: the company estimates that 61% of organizations plan to implement a hybrid workforce model in the future, making contact center security and flexibility a priority. 
You can see Talkdesk at the Channel Partners Conference & Expo, April 11-14 in Las Vegas, Nevada. The company is located at booth number 1124; and joins the likes of Salesforce, DocuSign, Cisco, Slack, RingCentral, Edify, Five9, Vonage, 8×8, Genesys, and UJET – which all earned Google accreditation.
Launching New Apps at Enterprise Connect 2022
Talkdesk also introduced new apps for Talkdesk On The Go, a suite of intelligent mobile solutions that now consists of the Talkdesk Phone Mobile App and Talkdesk Schedule Mobile App. If you may recall, Talkdesk previously announced Talkdesk Conversations Mobile App, on which these two new apps build. 
According to research from Talkdesk AppConnect partner Calabrio, one in three contact center agents plan to quit their job within a year. "Many also cite wanting greater flexibility to work when and where they choose," a spokesperson wrote in a statement. 
They note that the updates, which you will learn in further detail below: are 'critical to a company's bottom line,' especially as contact center agents face what Talkdesk calls "increasing challenges from rising call volumes, supply chain disruptions, and frustrated customers."
And there are many challenges ahead for agents and customers, who face an uphill battle of higher-than-usual call volumes, on top of other job-related challenges. Charanya Kannan, Chief Product and Engineering Officer, Talkdesk, wrote that the move represents significant advancements in the company's mobile strategy, enabling what it calls highly-focused use experiences. Kannan continued by noting: 
"They enable highly focused user experiences to help customer service agents be more productive, tightly connected, and have a better employee experience, whether they are working at home or in the field."
Introducing the Talkdesk mobile app: the mobile application enables employees to connect from anywhere on their mobile devices. It leverages the firm's modern cloud phone system. 
With the app, dispersed teams can connect for purposes of collaboration. They can also receive and make calls anywhere in the world (as well as) connect with subject matter experts to resolve complicated customer queries quickly. 
Talkdesk further introduced the schedule mobile app, which lets contact center agents access their schedules 24/7. Via the app, global work teams can even manage their working hours as desired.
Talkdesk Named Best Place to Work in Bay Area
Another recent win for Talkdesk comes from having scored a coveted spot on the Best Place to Work in the Bay Area list – awarded by Comparably. The workplace culture and corporate brand reputation platform gave Talkdesk the distinction based on current employee ratings. Comparably wrote in a statement: 
"They gave the company high marks across many areas, including compensation, leadership, co-workers, work-life balance, career growth, perks, and benefits." 
So, how did the California-based tech firm get named "best place to work?" "One particular area of the Comparably metrics in which Talkdesk excelled was diversity, where it scored in the top 10% of similar-sized companies," according to Comparably.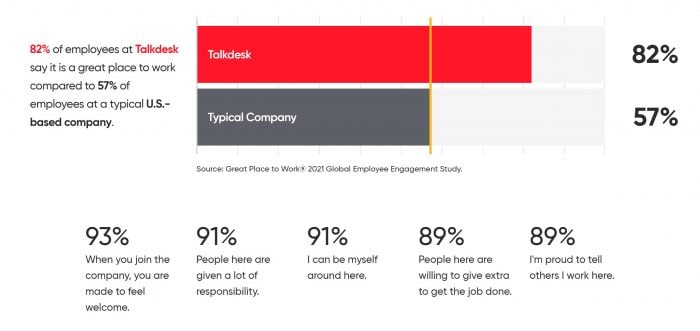 In recent years, Talkdesk has fostered one of the tech industry's most "gender-diverse executive teams." Women hold 50% of the firm's senior leadership positions – earning the company an overall score of 4.7 out of a possible five regarding culture. 
Since the onset of the Coronavirus Pandemic, Talkdesk is one of the firms to see a great deal of success, practically skyrocketing to success in recent months. It has announced over 40 product updates. 
The firm even expanded into 20 previously untapped global markets and (more than) doubled its headcount from 1,000 to more than 2,200 employees in 2021. Other indications of Talkdesk success include having soared an impressive 36 spots to number 17 on the Forbes list of 100 top cloud providers.
For now, it seems that its competitors should be on the lookout, as the firm continues to make waves in the industry. 
This is chiefly as we progress into the future of work and more companies leverage the very technologies designed to bring desperate workers closer together in a world where hybrid work is almost certainly the new normal for most, if not all knowledge workers.