For a long time, I seemed to be drinking the Kool-Aid, so to speak. I believed: much like many in the industry that everyone would be down to work from home. I thought it was here to stay, for good, for most companies. And while that has not changed, I have come to understand that not everybody wants to work from home. 
Not only are some folks opting to go into the office one or more times per week; countless others say they never liked working from home in the first place. There are, of course, some regulated industries that require employees to work from the office. Think Finance, banking, etc.
A recent survey led by nonprofit business insights firm; Conference Board: found that 4% said they plan to require all employees to return to the workplace full-time. That same survey found that less than half (45%) said they would require some workers to come back into the office five days per week. Companies like Tesla have told employees that they must all return to the office full-time. 
The Conference Board survey further found that hybrid work is here to stay, unearthing that 90% of employers surveyed say they will keep hybrid-working policies in place, meaning employees can mostly choose the number of days they come into a physical office, if at all.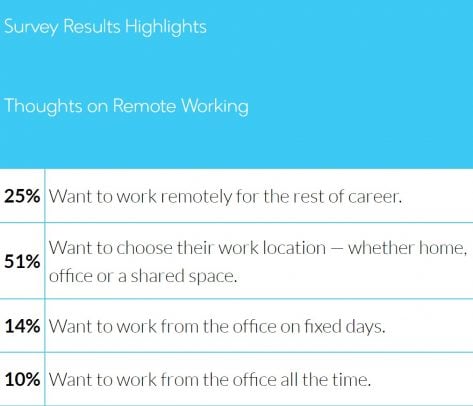 And employees say that there are a lot of health benefits to going into offices, at least the ones who opt for going one or more times per week. The benefits? Ones like the mental health boost some gain from the 'comradery' they find in an office, among many other things, seem to motivate some to opt for going into the office.  
Looking into IR's Findings on the Future of Work
Performance management and analytics for unified communication and collaboration, IT infrastructure, and payment ecosystems, IR, found something quite compelling in its recent survey: 75 percent of folks say they want to go into an office in 2022. 
'IR' authored the 'Build a Resilient Work from Anywhere Model in 2022' report, which gathers data from 300+ employees who span 1,300 organizations. While IR found that 51% of employees still prefer to choose their work location, an astonishing amount want to work from home all the time.
"Organizations face a significant challenge adjusting to the ever-changing hybrid workplace while managing employee expectations, maintaining performance, and a strong culture," IR wrote in a statement. John Ruthven, CEO, and Managing Director, IR, noted that most organizations are at the tip of the iceberg in understanding and implementing a hybrid work environment, adding: 
"We have seen three workplace models emerging – remote first, office first, and blended. And it will be crucial that we constantly experiment and continue innovating to define practices that work best for our respective organizations." 
He ended by stating that: communication, collaboration, and experience management will have to be top priorities. According to IR's report, 51% of organizations said they have increased the use of collaboration platforms and tools. Forty-four percent say they have deployed technology to enhance employee experience.
It's Been Hard Finding the Right Rhythm
Most individuals thrust into working from home had no previous work-from-home experience. They found out the difficult way: they loved or hated working from home, from experience.  
These folks likely experienced several; common issues that plague those who work from home, poor internet reception from time to time, a lack of motivation, micro-managers, and the everyday distractions that come with being in the comfort of your home. 
IR says that finding this rhythm is important. It is still a work in progress. There remains, however, a sizable amount of people who want to go into the office. In a study commissioned by Slack, the collaboration giant pointed out a dramatic divide between executive and employee preferences. 
Slack found that 66% of the 10,000 executives surveyed said they would design their Post-pandemic workforce policies with little-to-no firsthand input from employees. Slack data further revealed that more than two-thirds of executives (68%) wanted to work in the office most or all of the time when it got commissioned in 2021. 
Employees will Retain the Power to Choose
The good news is, in this economy, it seems that employers are nearly powerless. Employees hold most, if not all the bargaining power when it comes to how they work, and most companies that are savvy have come to realize as much. Zoom, Slack, and Apple, to name a few.  
The forward-thinking firms will not mandate employees to come back into the office full-time unless they have listened to employees and that is what they overwhelmingly want. It does, however, seem that not everyone is that thrilled about full-time home working, which is why there will always remain a need for an office. 
Networking and collaboration giant, Cisco, is placing bets on this being the case, having unveiled its NYC office, which Cisco equipped with IoT devices that monitor things like: The amount of natural light in a space and building capacity.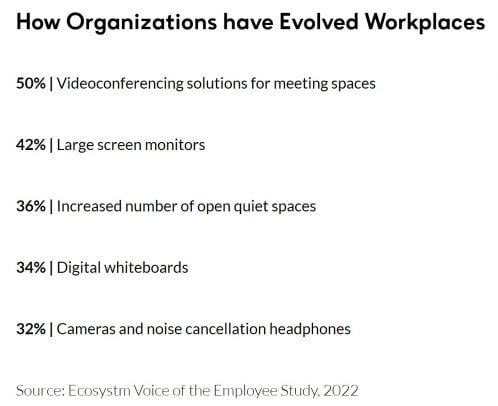 This is likely more or less the future of work, those who have to and choose to go into the office, contributing to a massive amount of workplace insights gathered from an office space itself. IoT almost certainly holds the might to impact the FOW positively and could enable organizations to make optimizations in real-time based on employee data.
Whatever the future of work holds, it will almost certainly look different for everyone who takes part in the experience today known as work. I do believe that until then, most people will try to find balance. The truth of the matter is, after two years most people already know what they want; but will have to remain vigilant to get what they want.
Companies today are almost powerless when it comes to this, unless they operate in one of the highly-regulated industries that necessitate going into an office, their employees will likely have the last say on how they choose to work. It remains the company's job to ensure security and that employees have the tools to work.