GoTo has announced over thirty fresh features it expects will make managing IT; simpler with new functionalities that include: access to performance insights and additional ways to support employees and customers. The end goal: GoTo says, is to help customers and IT teams save time and money. 
The firm is also one of the latest to incorporate ChatGPT technology into its stack, adding integrations with OpenAI's ChatGPT that assists agents in pulling off various tasks that further the goal of effectively solving customer queries.

GoTo's artificial intelligence (AI)-powered messaging assistant is similar to vendors like Five9 and Slack, which both drooped generative AI functionality in recent months. The concept of the offering is that it helps locate concise and relevant content to resolve any particular reason customers reach out to customer support agents. 
Furthermore, according to GoTo, it now offers customizable surveys that allow result tracking with analytics to ensure quality customer care. 
And in line with CX (customer experience) and support, GoTo released what it calls: "Rescue and Google Translate, a feature that extends real-time, multilingual customer support. The firm even launched a new mobile experience that "instantly engages and interacts with customers from anywhere with a mobile inbox and shared contacts."
Customer engagement capabilities are now officially available on the go via GoTo's fresh mobile experience. And that is much needed, at least according to GoTo's 2023 IT Priorities research, which found that 34% of surveyed companies said they leverage three or more platforms to manage customer communications.
GoTo's hope is to make that one platform.
As part of its vast feature launch, GoTo redesigned its softphone experience. Along with what I have listed thus far, there are a plethora of other updates that constitute a complete platform revamp. From a Zendesk integration to the ability to schedule various automation; I plan to explore many of the latest updates from GoTo in the below sections.
Platform Integrations for Productivity, Etc.  
GoTo Resolve and Zendesk will integrate, allowing remote support session initiation. It will also enable members of IT; to automatically track session information within the same Zendesk ticket: GoTo noted in a statement. Google is also a part of that deal; as previously mentioned, Rescue and Google Translate will enable multilingual real-time support.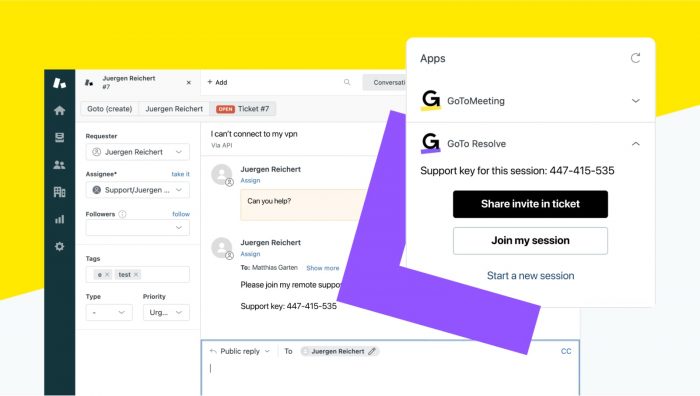 And GoTo Connect also introduced over 25 new administrative APIs like those for phone, extension, device, and location APIs, looking to: "streamline new application creation," it wrote in a statement.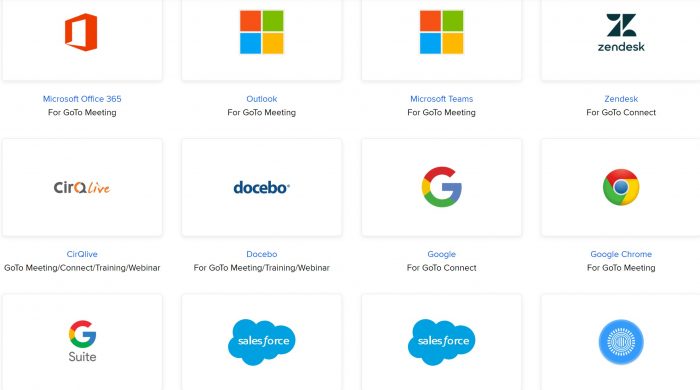 All these feature enhancements share one thing in common, improving employee productivity, which Irwin Lazar, President, and Principal Analyst, Metrigy, notes is the most frequently measured KPI (key performance indicator) for technology investment, adding: 
"This is followed closely by cost savings, end-user experience, and business process improvements. With these enhancements across its IT management, support, and business communication applications, GoTo offers its customers the ability to achieve measurable benefits in all these areas." 
Looking to Drive Smarter Data-Driven Decisions 
GoTo said it hopes to pull this off faster via advanced capabilities and insights, launching GoToMyPC, a feature with a centralized security center dashboard that helps manage settings, improve device vulnerabilities, and view security scores to track improvements. 
In practice: that looks like GoToMyPC's Security Center, which now extends enhanced protection and insights to GoTo accounts.
"This makes it easier to get data and insights from our award-winning remote access software, with our new feature allowing users to manage settings, improve device vulnerabilities, and view your security score – all in one centralized dashboard."
Users can now customize password strengths, add additional layers of security with 2FA, and proactively identify and protect against threats with complimentary antivirus software. They can also lock the host computer at the start or end of every session and the keyboard and mouse during remote sessions to prevent access.
Enabling screen blanking on host devices to ensure privacy during sessions and disconnect automatically with security time-out – also possible with the new functionality.
There's even an all-new security scoring feature that enables users to see their security score and learn how and where users can quickly improve the security of that account. Accordingly, GoTo says users can take "immediate actions to increase their security level; by safeguarding that account and devices."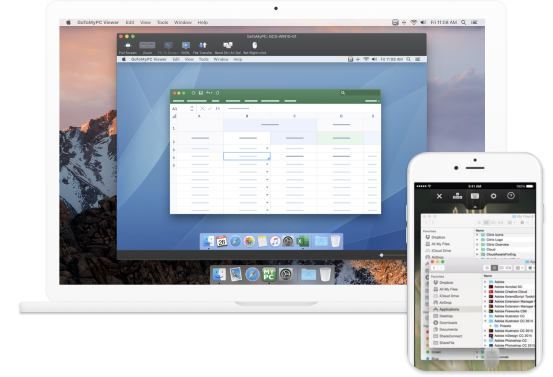 Updates to its flagship software GoTo Connect are also in order, and it now supports reducing dropped calls with new call-level analytics. According to GoTo, these analytics extend: what it calls better insight into customer call flows. "Additionally, GoTo Connect continues to reduce IT workloads with simplified network testing for administrators to geographically locate, inspect, and monitor network performance," it wrote in a statement. 
And GoTo Customer Engagement freshly extends customizable surveys for result tracking with analytics – in hopes of improving the quality of customer experiences. All this, Paddy Srinivasan, CEO of GoTo, notes, comes as customer demands continually evolve, adding: 
"Our cutting-edge product innovations across GoTo Resolve, Rescue, GoToMyPC, and GoTo Connect will help our customers take productivity, savings, and usability to the next level while empowering businesses to make smart decisions and improve the overall customer and IT team experience." 
Streamlining IT/ End-User Work via Automation  
Finally, there is GoTo Resolve, which added scheduled automation functionality. It, according to GoTo, allows teams to manage, update, and secure devices – pushing out said updates via scheduled automation. "Deploy software updates, system cleanups, log captures, or any scripts at a time best for end-users and IT," GoTo wrote.  
GoTo Resolve enhanced its IT helpdesk feature – adding a ticketing portal with advanced customizations and IT modifications. All this; is based on workflow requirements, and end-users can now access, comment, and monitor tickets from that centralized location.  
Lastly, GoTo Connect; today extends "better ways to make and manage calls from the main application via a new widget. And users can more easily swap phone numbers for outgoing calls, park or transfer calls, and even designate E911 locations.
It seems that these updates will only be to the benefit of GoTo users – those agents who leverage the technology. They will likely more than see clear results after deploying any number of these updates to pull off various customer-facing tasks and their jobs, will likely become simpler to do as well thanks to automation.