Last year, Google Cloud began its push to secure its place more permanently in the contact center space. Since then, Google (has looked) to ensure commercial deployments of its contact center artificial intelligence technology, which has been around since 2018 when Google threw its hat in the CCaaS race – launching the CCAI suite.  
Google Cloud has long had many contact center partners, which include: Genesys, Cisco, and Avaya, and has spent a great deal of time enhancing its contact center technology with its homegrown contact center AI (CCAI) solution. 
Securing a deal in 2022; with U.S.-based internet service provider Segra – which has employees across 90 sites proved to be a game-changer for Google and gave it much more clout than many assumed it might gain in such a short period in the CCaaS space. 
Google's contact center intelligence integrates with Segra's CRM system – effectively capturing conversational data (in hopes of) extending a unified look into the coveted customer voyage. Of course, the partnership offers much more nuance; but in a nutshell – it was the start of something grand for Google's contact center AI suite. 
What is Google CCAI?
Since then, Google's CCaaS offering has garnered attention from some heavy hitters. Those like Fitbit and OneUnited Bank: have also implemented Google's contact center AI solution within their organizations. 
Now, Google said it will launch an app marketplace specifically for its CCaaS solution that will probably feature apps from various providers. What might that look like, and what kinds of apps might appear there? The answers to that and much more – I plan to explore below. 
Exploring Google's CCaaS Marketplace
Not much (is known) about this mysterious CCaaS marketplace – but it is (widely known) that TTEC already has a powerful tool that lends a view into contact center data and can spot trends via the CCAI platform. It launched that back in January. Other partners like Cisco, Five9, Genesys, Mitel, UJet, Twilio, Vonage, and Nice could also (very well) launch apps in Google's contact center AI App Marketplace.
In a statement, TTEC commented on the app soon to be on Google's CCaaS marketplace, noting: 
"Optics for Google CCAI Platform will be one of the first applications in the Google Marketplace built specifically for the cloud-native contact center platform. It allows enterprises to leverage existing investments, get a unified view of their contact center data, and identify trends resulting in shortened time to value and a frictionless experience."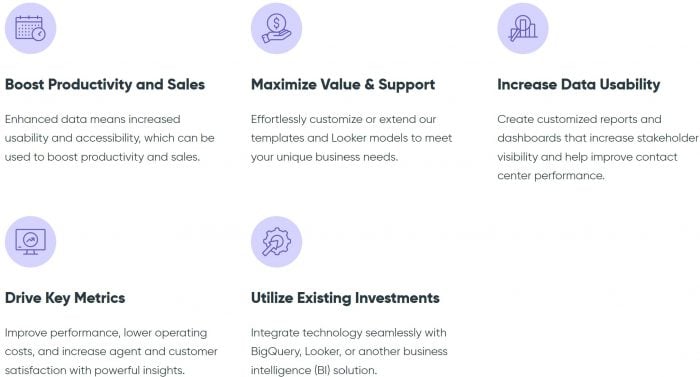 There's the potential to contain apps from providers like Zendesk and even Salesforce. So, with such a wide variety of providers, what might one expect regarding the kinds of apps that might grace Google's CCaaS-focused app store?
Marketplace app users will likely gain access to apps that enhance various AI-powered processes: like those related to natural language processing, and that give agents insight into what customers want, how they might react, and how (to quickly) and more efficiently resolve queries.
Other practical tools, like those that enable (real-time) translation and sentiment analysis: might also grace the marketplace once it gets launched. It also seems that this marketplace will be a home for some (of the) mainstream players to showcase how their product enhances what Google's CCAI can do – likely persuading more than a few folks to take a deeper look into their technology. 
That is, after all, one of the most sizable points of interest, getting your name out there – in yet another marketplace. This time, one specific to CCaaS, nixing the need to compete with all other categories of tools. This one is set to be laser-focused in a specific area – CCaaS thus, making any probable download, integration, or trial use – a new and potentially high-dollar CCaaS client.  
Google Cloud Launches Generative AI Builder
Earlier this month, Google also announced plans to add a generative AI app builder to its CCaaS platform. The offering will support automation and even help customers do things like process returns, make payments, and pull off various other transactions. 
Essentially, it is a bot builder that can do more than the average bot builder – principally because it is Google executing it. It will have access to a (wide array of) data points, such as company FAQs, product manuals, and agent support materials. 
Google Bets on CCaaS Flexibility 
Today, Google's CCaaS offering includes a myriad of features, such as an agent desktop, IVR (interactive voice response), and various channels for customer engagement. 
With omnichannel functionality to SDK (software development kits) for apps – Google is betting on flexibility. That means flexibility for developers and non-developers. Overall – the platform extends a great deal of flexibility; that is what Google set out to do from the beginning. 
Extending virtual agent capabilities and agent assist not only underscores this notion, but the nature of the platform and its consumption model yields itself to flexibility and scalability.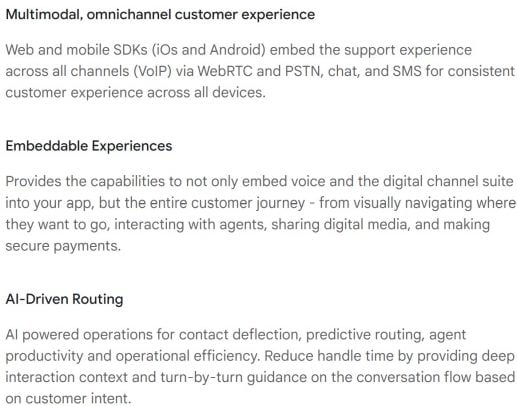 Continuing to Ride the Wave of AI in 2023
Google Cloud's principal aim is AI, so it is no surprise that its focus is (largely) that in 2023 and previous years, too. This year feels like a heavier year, however. And it is not just Google Cloud. And other CCaaS providers, from Five9 to Dialpad, have continually championed AI in the contact center – so Google is not unique: at least in this respect. 
Where it is unique is in its scale and notoriety. Others have been slow to the game – but now (appear to) understand that having AI in your offering is not just something you have to say – you have to deliver, too. And if you are not producing it – you may forfeit buyers.
Some have found out the hard way while others continue to ride the AI wave in 2023, the wave that shows no signs of getting smaller any time soon. For now, it seems that quality AI and not just inserting it into an offering at random remains the name of the game. It has to extend some value, and that is something Google Cloud's developers seem to understand well. 
Driven mainly by customer data, Google further appears to be at the forefront of listening to its customers to deliver innovative AI-fueled features: and it seems that it is gaining more traction in the CCaaS space – something most didn't previously imagine. 
Now, as odd as it may seem – Google is a formidable CCaaS contender, while other newcomers like Zoom also show signs of promise, having released its CCaaS offering just last year. The market continues to form and shake up as more enter it and develop offerings that many find attractive: and extend a great deal of value to users.