Five9's annual CX Summit recently wrapped up, and it was full of insight. I attended the two-day virtual event, where CEO of California-based Five9, Rowan Trollope kicked things off by chatting about his vision for the future of the cloud contact center provider. 
The 2021 summit happening shortly after Zoom said it would acquire Five9 – a move that could prove to significantly enhance not only clout but the duo's product trajectory and capabilities. Speaking briefly on the acquisition, he presented the typical corporate rhetoric about ensuring customer happiness – a nod to Zoom. He called it a "natural next step in Zoom's evolution and the way enterprises connect and engage with customers," adding:
"Zoom transformed the meeting space, and together, we believe we can help our customers transform CX and CC." 
Trollope did note that there is to be no disruption from the Five9 development roadmap. I wanted to examine how Five9 positioned itself to become a CCaaS market leader, a story 20 years in the making. As it claims – it is the first cloud-native contact center, which put it in a position to tackle the pandemic and onboard thousands of new users due to the scalability and flexibility of its multi-cloud approach.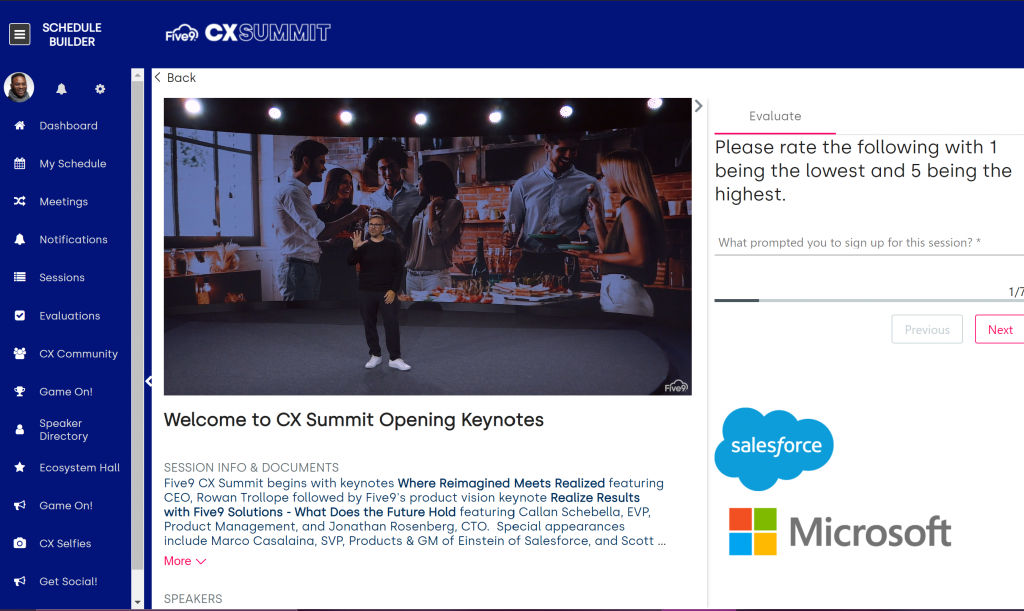 Addressing the virtual Summit audience – during the pandemic – Trollope said the company added several fresh public cloud instances to enhance its international scalability and had expanded its telecom presence in the United Kingdom. Another major feat – having added a whopping 500 customers, with over 1,300 customers having scaled business.
"This was the most transformation year in our history," Trollope said.

He added that the company did a lot in 2021, much of which advanced its mission of figuring out how to best implement AI in the contact center with the express goal of enhancing customer and end-user experience.
Quite frankly – things are going very well for Five9 and have been for some time now. So, what gives? The answer could lie in the fact that it has been the cloud contact center provider's mission to understand how to; best implement AI into the contact center, not just arbitrarily placing non-responsive IVA, for instance. 
Hopes of Realizing AI Effeiencey in Contact Center with IVA 
Back in October 2020, many assumed we would soon be near the end of the pandemic. Contact center call and chat volumes were still sky high. And at the time, Gartner likewise noted that customer service and support leaders accelerated options for self-service to: 
"Mitigate potential negative impacts of the COVID-19 pandemic." 
Researchers at Gartner reported that more than 40% of customer service and support leaders said they had experienced increased service contact volumes – compared to initial 2020 projections of the impacts of COVID-19 on enterprises – also examined by Gartner. 
More Success ahead thanks to Focus on Intelligent AI
Coming to a head, Five9 acquired market-leading intelligent virtual agent platform developer, Inference Solutions, which seemed to have culminated after years of enhancing and testing several AI-heavy features. Improvements to Five9's natural language processing, sentiment analysis, agent assist, voice biometrics, and other AI-centric contact center features would all occur because of the acquisition. 
Putting the cheery on top – the cloud contact center provider launched Studio Seven in July 2021, a no-code IVA development platform – yet another trend CCaaS (Contact Center as a Service) providers have taken to. Alone, the strategic purchase did not make Five9 unique. It did, however, give another much-needed boost to Five9's CCaaS solution. 
What makes (Five9) novel; is that it attempts to make AI (actually) intelligent and user-friendly. It is not merely in the business of using AI as a buzzword – but is actively trying to make advanced functionalities accessible to organizations without a dedicated set of developers. 
With the help of complex conversational flows, many are ready out-of-the-box; Five9 has seen a high demand for said functionalities throughout the pandemic. 
Trollope Cautions: Industry Group Think in Full-Effect 
Having touched on many topics already, I wondered what Trollope would discuss next. He quickly segued to one of the biggest hurdles Five9 has to jump. Trollope called "BS" on a common, what some might consider "group-think." This particular iteration of the psychological phenomenon leads to what he calls "the digital fallacy."
No matter what you think – voice communications are still the preferred method of contact, he noted, adding that they should therefore be good experiences. 
"I'm calling "BS," and saying that voice technology has fallen behind, though, because investments have gone into digital channels in what has become a sort of industry group think or digital fallacy." Digital channels matter, but not the most – and many otherwise bright folks have given into this."
Newly informed by recent customer data from its 2021 Customer Service Index, Trollope gave deeper insight. The survey found that voice is still the preferred contact method in places like the United States, Germany, Italy, Spain, and the UK. 
Five9's Global Customer Service Index for 2021 found that across all geographies and age groups, voice channels still hold the lead when it comes to sensitive issues. Email and online chat came in close second, the survey found. More than two-thirds (64%) of respondents acknowledged that it is still difficult or time-consuming to find the information they need to reach out to a contact center, which leads to frustration.
When asked which factors most negatively impact the customer experience? Thirty-four percent of respondents said getting handed off from one representative to another. Twenty-six percent said waiting too long to reach a representative was another big offender. 

When asked which factors were most important to contributing to a positive or good experience, the number one response – getting the (right) answer from a representative, even if it takes more time – that figure sits at 33%.

Trollope said this kind of experience; can only come from voice. And what drives people to a digital channel?
"Typically, unfortunate reactions to a voice experience with poorly implemented IVR and waiting too long on hold."
The fallacy lies within the fact that the human voice never seems to be the issue that drives a customer to a digital channel when they must speak with a human via a voice channel. So if the voice experience is poor, fix the IVR so that it is responsive, route customers to the right agent the first time – and ensure that their query gets solved quickly. 
According to Trollope, this stresses the importance of applying data and AI in the contact center. "We must also kill touch-tone IVA and replace it with conversational AI, voice stream, real-time insights, etc." The focus of the customer-experience-centric summit remained on details that reside at the core of Five9 DNA since the early years of the company. There are plenty of sessions still available on-demand, with sessions curated to help organizations reimagine CX and how to can actualize real-world business results via the implementation of AI. 
There were even sessions on the role of the digital workforce, expressly as the pandemic has shifted the way we work in such a drastic way. You can still catch many of the sessions, including the keynote over at the 2021 Five9 CX Summit website.