The cloud contact center market has developed over the past year and a half, and that market – is saturated with offerings, not all created equally. This made me curious as to why Zoom might swoop up the likes of Five9 with its strategic purchase of the cloud contact center provider.
I sat down with Chief Technology Officer, Jonathan Rosenberg, Five9 who shed some light on the company's competitive advantage as well as its long-term vision. Although I did not directly ask Rosenberg about the acquisition, his responses to my queries are more than I needed to paint a clear picture of why Zoom would want Five9 to become a part of the family.
Rosenberg has worked at Five9 for nearly three years. He is widely respected; as a veteran of the telecommunications industry. Having worked for Skype, as a Chief Technology Strategist, for Microsoft (after the skype acquisition), and most recently, for Cisco, as its VP/CTO of its collaboration division. He attributes many factors, including a multi/native cloud approach – to Five9's success.
An Attempt at Solving an Underlying Concern
One of the many challenges contact centers face is building a comprehensive offering, a feat that can be complicated to achieve. While many contact center solutions extend out-the-box functionalities, they are not like Webex, for instance.
Building a robust contact center offering means putting in a bit of work, Rosenberg noted. There is the design of cloud interactive voice response (IVR) systems, the need to integrate databases, routing, and agent configuration.
All this – creates a complex process that customers with advanced technical knowledge could do themselves. At Five9, however, they ask a fundamental question: Why make the customer do it? The company's response – a force of hundreds of dedicated individuals with the technical knowledge to help customers with literally everything.
Dubbed the professional services team, the dedicated team walks customers through the process of initial setup to day-to-day maintenance. Rosenberg said that this dedicated team; is interwoven into the company's DNA. It shows up just about everywhere – in the support and sales process – as well as the product development process itself.
According to Rosenberg – Five9 takes things a step further – extending many customer benefits by involving its Professional Services Team in the development process. This – he notes, is impactful for everyone:
"It is quite powerful, and it gives us the opportunity as we build products to refine the process based on their direct feedback. It also helps us build a sellable and robust contact center offering."
With this key differentiator in place – it is straightforward to see how a dedicated team of engineers can help guide a customer to success.
The Multi/Native-Cloud Advantage
I asked Rosenberg if Five9's multi-cloud architecture gave the company a competitive advantage, and he said – unequivocally – "Yes, and for me, this is personal." To disrupt, evolve, and make software better – he argues: That must occur in the cloud.
"I am a big believer in innovation, and the cloud is the only way to deliver innovation in real-time."
He argues software disruption, innovation, and overall evolution are not possible if you have to deliver it on-premises and that other vendors in the space try to have the best of both worlds. These individuals do not reap any of the benefits of speed/velocity stemming from the cloud because on-premises offerings slow down the process, he noted, elaborating:
"They often end up in a situation where they have the worst of both worlds."
On the surface, Rosenberg said, this sounds great, "On-prem, or in the cloud – you pick," but he called the notion the "worst idea EVER in the history of enterprise technology." It delivers the slowness of on-premises technology, and it is saddled with all the things that make it deployable in the cloud, further creating sluggish technology.
According to Rosenberg – this is one of Five9's primary advantages, its multi-cloud/tenant nature. This alone extends all the benefits of a scalable cloud-native platform that includes access to APIs, an overall lower cost of ownership, and the latest software releases.
"When I left Cisco, I knew that I only wanted to work for a company that was 100 percent cloud."
Examining the multi-cloud model, it is the use of multiple cloud computing and storage services in a single diverse architecture and it also refers to the distribution of cloud assets, software, applications, etc., across many cloud-hosting environments.
Five9's Competitive Landscape
No matter how well you cooperate with others, competitors are a part of most business equations. Even if you have an integration with, let's say, Microsoft Teams, they could be a competitor.
You can say the same about tons of other vendors. As Rosenberg sees things, there are a few different areas of competitors. And the relationship Five9 has with the competitor depends on where they fit into the space. Traditional competitors or on-prem vendors who try to make the jump to the cloud world are the first. That includes the likes of Cisco, Avaya, and Genesys.
Classic competitors build similar businesses and are cloud-centric. There are also competitors that Rosenberg sees as frienemies/collaborators, which include many non-traditional players such as Amazon Connect. He noted:
"We have a very open platform model because we want to make it possible to integrate on top of our platforms."
In terms of work-from-home solutions, Five9 supports Verint – and has its own work-from-home (solution) too. "We support many others as well, in addition to working on several APIs for agent assist. The contact center market is like that – customers like to pick and choose the solutions they want to deploy in their tech stack," Rosenberg said.
First Native Cloud Contact Center
Plenty of folks tout being the first in the industry to do something, but not many can prove it. In this instance, I can say that there seems to be a lot of validity to the claim made by Rosenberg. I asked him about the tons of people who claim to be the first to do something, clarifying if there is there anything that he knew for sure that Five9 was the first to do?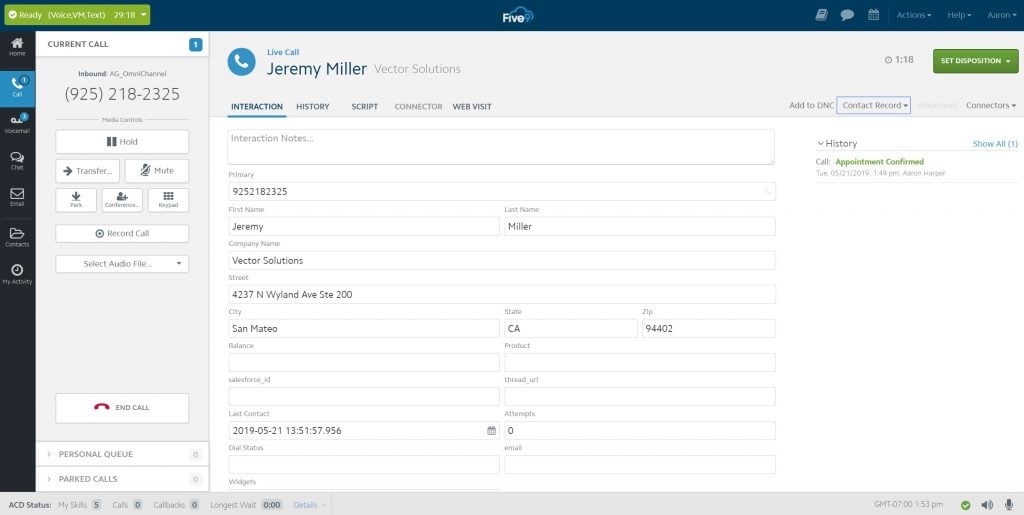 He hit me with the most surprising response:
"I believe we were the first cloud contact center."
That's right, 20-years-later, Five9 has always been cloud-native, yet another reason Zoom might want to leverage Five9 knowledge and swoop them off their feet.