This morning, 8×8 CEO Dave Sipes announced intent to acquire Fuze, a top provider of cloud-based enterprise VoIP comms. Last week Ericsson made a giant leap into the UCaaS industry, buying out UC provider; Vonage in a deal worth a reported $6.2 billion. 
In that piece, I asked one expert who he thought would be next to get acquired? His response, though reasonable – didn't come true (at least yet). He said Dialpad. 
After pressing the publish button on that article, I wanted to ask another authority in the space, too. I reached out to industry analyst Zeus Kerravala and Founder at ZK Research, the same question. His response:
"Well I know Fuze has been for sale for some time; there is a good chance it's them."
Today, I reached out once more, to tell him he called it. I also wanted to give Zeus props where they were due – so to speak. He gave me a bit more insight into the deal, noting that it is not so great for Fuze investors.
"They raised $494 million in cash," he notes, continuing, "then sell for $250 million?" 
It seems that 8×8 stands to benefit the most from the deal, with Kerravala even telling me the deal is a "great deal for 8×8."
"They pick up customers, a large R&D team, gain access to regional expansion for $125 million in cash with the rest being stock, not a bad deal."
With roughly 300 enterprise customers and over 400,000 total paid business users, Sipes said that Fuze (can) increase the firm's global reach. He also bets on the cloud communications and collaboration software platform provider accelerating innovation of its unified communications and contact center solutions. 
Sipes wrote: 
"With this transaction, we simultaneously expand our installed base of enterprise customers and create a multi-year opportunity to address a broader set of communications requirements for these organizations."
The Plan of Attack  
8×8 has plans for global expansion – and hopes it can capture even more of a market ripe for the picking. With shifts in migration patterns, particularly migration to cloud-based communications and engagement tools – we have seen an acceleration in user adoption. 
A survey conducted by Hanover Research found that 87% of IT leaders at what they call 'forward-looking organizations' acknowledged that integrated unified communications and contact centers are the future of business communications. 
8×8 estimates that number sits (however) at a 15% rate of penetration of cloud solutions today, with Sipes noting: 
"The opportunity is massive, and customer preference is for an integrated UC and CC solution."
New Partner Revenue Opportunities
Sipes further noted that, together, 8×8 and Fuze will deliver "significant value to the customers of both companies." Its focus, extending what it calls "the best of both platforms to all customers." That value will also extend to partners and those selling/managing these enterprise communications technologies.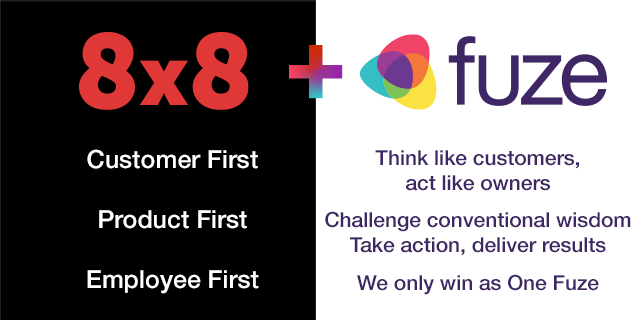 There is the potential for new revenue streams, for one. There is also the appeal of the innovation set to take shape if the deal is finalized. Sipes nodded at partners, assuring them there was something in the deal for them, too, adding: 
"It will create significant new revenue opportunities with an expanded solution portfolio and complementary partner-led value-added services."
Finally, Sipes wrote something that has been in front of mind for many UCC industry folks, summarizing his thoughts; cloud communications have never been more relevant than now. 
What's to become of this? 
Meanwhile, it will take some convincing of the powers (that be) to close the deal without any hurdles, but there are some obvious signs of a not-so-great deal for Fuze. While things look solid for 8×8 if they can manage to seal the deal in the coming year. 
As for Fuze, they do have a lot to offer, but something is a bit off here. Acquisitions in the UCC space could very well average a multiple of 15x revenue. At that rate, Fuze could have gone public and come out at a $1 billion valuation – which explains why 8×8 shareholders aren't too fond of the deal. 
And that all reflects in 8×8 stock, which is today down as much as 10 percent. This adds to a rather lengthy list of UCC firms to get acquired in 2021, but sometimes in deals – not everyone gets what they want. In this instance, it is a bit of a difficult call, but what we could see is something like what happened with Zoom and Five9. 
The nearly $15 billion acquisition folded because of a Five9 shareholder rebellion. They were not ok with the deal and somehow managed to stop it.
Fuze Does Have a lot to Offer
Don't get me wrong, Fuze does have a lot to offer. It is a fairly powerful solution, which is why the deal makes so little sense considering its other options. It could be some form of FOMO, as there have been plenty of other acquisitions in the space this year, likely more than any other year on record.
I would like to dive a bit into what Fuze does have to offer, for customers, and for partners. Fuze is pretty smart – it combines UCaaS and CCaaS into a single platform for a seamless experience, reducing operational costs while increasing aspects of business such as efficiency and productivity.
This presents partners with a lot of high-tech and flexible technologies when seeking new revenue streams. For customers, this means enabling world-class customer service with a fleet of remote employees using stable and simple-to-use/deploy technologies.
By combining voice, chat, SMS/text, video conferencing, collaboration, and contact center – Fuze essentially nixes the need for workers to toggle between different technologies they use to fuel their workday. This is pretty major, and there have been many attempts to do it, with Fuze being one of the visionaries.
Quite literally, the firm was named a visionary in this year's UCaaS Magic Quadrant. It has also captured a sizable part of its market, organizations with 500 to 10,000 users headquartered in North America, the U.K., and Europe.
Over the past year, Fuze has undergone plenty of changes and can now say it has plenty of other differentiators under its belt as well. It now has two new Microsoft Teams solutions — Click to Connect and Direct Routing; and it has expanded its developer ecosystem of APIs and out-of-the-box integrations for apps like Zapier, Slack, and Gmail.
Anyone who acquires this stands to gain plenty.