Telefonaktiebolaget LM Ericsson, more commonly known as Ericsson, is a name you have likely heard before. It is one-half of the former Sony Ericsson, which split in October 2011. The Swedish multinational networking and telecommunications company headquartered in Stockholm is looking to expand its presence in the wireless enterprise arena and broaden its global offerings. 
And it is putting a lot of faith in the performance and growth prospects of the Vonage Communications Platform (VCP), which, according to a joint press release – delivers about 80% of Vonage's total revenue and serves more than one million registered developers globally. 
Today, Ericsson employs around 100,000 people and operates in more than 180 countries, with over 57,000 granted patents, and is a telecommunications pioneer, is a leader in the 5G-race. There are a lot of particulars of the deal, and I've taken the time to break them down in this article. 
Diving into the Details of the Deal 
Ericsson will acquire Vonage for $21 per share, representing a total acquisition price of just over $6.2 billion. Although the merger got approved unanimously by Vonage's board, it is still subject to shareholder approval. If and (once) approved, the deal should close, after which Vonage will become a fully-owned subsidiary of Ericsson, yet it will continue to operate under its present name.  
Headquartered in Holmdel, New Jersey, Vonage has 2,200 employees throughout the United States, EMEA, and APAC. All of them will remain on board, with Vonage CEO Rory Read joining the Ericsson Executive Team and reporting to President and CEO Börje Ekholm. 
With just over a year on the job, Read joined Vonage as CEO in July 2020. He is, however, a technology industry veteran with more than thirty years of global technology experience. He previously acted as Chief Operating Executive for Dell Technologies and as CEO of Advanced Micro Devices (AMD), a company that builds high-performance semiconductors, processors, etc.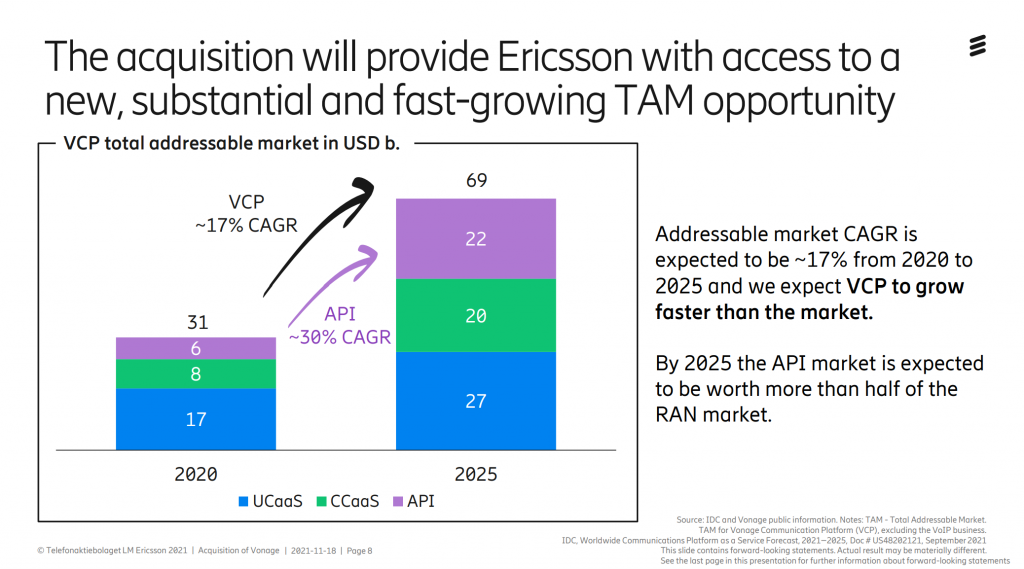 If all goes well, Vonage and Ericsson will be fully merged by the first half of 2022, but there are some other potential regulatory hurdles in the way of the deal, although nothing seems to threaten it directly. Ekholm, is confident about the deal, saying in a statement: 
"Imagine putting the power and capabilities of 5G, the biggest global innovation platform, at the fingertips of developers. Then back it with Vonage's advanced capabilities, in a world of 8 billion connected devices. Today we are making that possible."
Not only will the deal have a lot of implications for developers, but it will allow them to develop new kinds of innovative global offerings leveraging Vonage Communication APIs for voice, messaging, and video. Pair this with the 3,4 and 5G capabilities of Ericsson, and Vonage says: 
"Communication Service Providers will be able to better monetize their investments in network infrastructure by creating new API driven revenues, further noting: Finally, businesses will benefit from the 5G performance, impacting operational performance, and share in new value coming from applications on top of the network."
The Big Picture
Ericsson purchased Cradlepoint in September 2020 and notes that it has continued to develop "strongly" under Ericsson's ownership. The firm's hoping to take that success and transfer that strong performance to its latest acquisition – Vonage. 
Betting on the Vonage and the Vonage Communications Platform (VCP) – sales of the CPaaS platform reached $1.4 billion during the 12-month period that ended September 30, 2021. There is that and the fact that Vonage's management team projects annual growth of over 20% for VCP in the coming years, something that is most (certainly) attractive to Ericsson. 
"And over the same period, Vonage delivered an adjusted EBITDA (earnings before interest, taxes, depreciation, and amortization) margin of 14% and free cash flow of USD 109 million," Vonage wrote in a prepared statement. 
The cloud-based Vonage Communications Platform (VCP) has over 120,000 customers. And the appeal of the AIPs must be fascinating to many, as they enable developers (and non-developers) to embed high-quality communications – like messaging, voice, and video – into applications and products. 
In doing so, it eliminates the need for back-end infrastructure or interfaces. Looking more long-term, Ericsson has plans to extend its offering to the entire ecosystem of telecom operators, developers, and businesses by creating a global platform for open network innovation; built on Ericsson and Vonage technology.
Who is Next to Get Acquired?
As this is the latest of many acquisitions in the unified comms space, I felt it necessary to look at some of the deals set to reshape the industry and how it looks for a long time to come. Enreach acquired DSD Europe and its sister company CloudLand. In July 2021, Broadvoice acquired GoContact, in a deal that merged UCaaS and contact center as a service (CCaaS) capabilities.
Earlier this year, Zoom made headlines saying it would buy cloud-based contact center provider Five9. Zoom, however, backed out of an agreement to acquire the cloud-based contact center software provider, Five9. The deal, worth nearly $15 billion, got scrapped after investors gave a resounding 'no' to the acquisition.
It did pick up Kites to expand its real-time language translation software. And in February 2021, Sangoma acquired Star2Star to expand its UCaaS services globally.
Several more deals went through this year, ones set to shake things up and make any future reporting on these firms look a lot different than they previously did. The only question that remains is: Who will acquire who next? I reached out to Dominic Kent, Founder of UC Marketing, to get his take. He has worked and still works with some of the biggest names in the industry like Mio, Cisco, Cavell Group, and RingCentral. Here's what he told GetVoIP News:
"I can see someone (big) coming in for Dialpad. Its core focus on telephony is a lot of what's missing in some collaboration vendors that don't stem from traditional unified comms. It's well-established, has a solid leadership team, and has made sensible acquisitions and partnerships of its own."
The company has already made five strategic acquisitions, including its most recent in October 2021, Koopid. It also acquired Kare Knowledgeware, Gluru, Highfive back in September 2020, and TalkIQ in May 2018 was its first purchase. To date, the firm has 15 high-dollar investors and has raised $230 million in funds.
Kent also noted that there is the (obvious) query of what Zoom will do in terms of the contact center, telling me:
"Perhaps they didn't need Five9 as much as the industry thought, as they are plenty of feature-rich and innovative pure-play CCaaS vendors like Talkdesk who would fit the bill nicely."
It is clear that this buy-out has a ton of implications including 5G, future of work, remote work, and overall faster speeds for those leveraging UCaaS technology for telehealth, work from home, what have you. What's your take? Hit us up in the comments section with your predictions on the next UC acquisition.