Today's business leaders know the importance of quality customer service, relying on live agents and AI-powered tools to improve buying and support processes.
For example, SMBs may use website chat software to make real-time shopping recommendations, let customers access asset management tools and other financial services via IVR call menus, or offer live video product tutorials to entice buyers and teach them how to use top-selling items.
But while these strategies are valuable, the problem is that they focus only on some parts of the customer journey – not all of it.
Customer experience (CX) solutions like Zendesk and ServiceNow optimize the entire customer lifecycle from beginning to end, which includes customer service, but isn't limited to it.
Zendesk and ServiceNow both provide strong customer experience solutions: Zendesk for Service and ServiceNow Customer Service Management (CSM).
This article will compare customer service platforms for Zendesk vs ServiceNow, taking a side-by-side look at the products' key features, pricing, pros, and cons.
Table of Contents:
Zendesk vs ServiceNow CX Tools: Overview
Zendesk for Service and ServiceNow CSM both come loaded with customer support and service features, as well as omnichannel communication and workflow or project management tools.
The comparison table below is a summary of our research.
Zendesk for Service

ServiceNow CSM
Available Communication Channels
-Email

-Help center -Chatbots
-Live webchat

-Social media messaging

-Voice

-Text

-Live chat

-Email

-Help center -Chatbots
-Live webchat

-Social media messaging

-Voice

-Text

-Live chat

-Walk-Up

Top AI-Powered Features
-Answer bot

-Automated triggers and workflows

-Canned responses

-IVR

-Virtual Agent

-Guided Decisions

-Predictive Intelligence

Ticketing System Overview
Customer queries turned into tickets, highlighted, routed to agents
Customer queries turned into cases, organized by case type, routed
Top Customer Self-Service Features
-Help center

-Knowledge Base

-Chatbot -Community forums

-Help Center

-Knowledge Base

-Chatbot

-Community forums

-Service Catalog

Top Workflow Management Features
-Custom Ticket Fields

-SLAs

-Ticket Tags

-Triggers

-Proactive Case Tool

-Customizable playbooks

Key Integrations
-1600 apps

-Slack, Salesforce, Maestro QA. SurveyMonkey, Shopify, JIRA

-165+ spokes for quick integration

-Salesforce, DocuSign, Microsoft, Jira, Oracle, Workday and Okta

Best For
-Medium-to-small businesses with growing customer-support teams
 -Enterprise-level businesses with large product catalogs
What Is Zendesk for Service? 
Zendesk for Service is Zendesk's all-in-one customer experience platform, which provides omnichannel customer support with self-service, integrated ticketing systems, AI integration, workflow management, and analytics–all unified in one software solution.
What Is ServiceNow Customer Service Management?
ServiceNow CSM is a customer-service support platform that connects omnichannel support, customer case information, and workflow optimization across your entire company–a single solution using automation to improve customer relationships and make agents happier.
Zendesk vs ServiceNow: Key Features
Below, we'll overview and compare some of the key customer support features in Zendesk for Service vs ServiceNow CSM, selecting a winner for each category.
Omnichannel Communication
Omnichannel communication consolidates available business communication channels like voice calling, SMS texting, email, social media messaging, and web chat into a unified dashboard, enabling seamless real-time conversations between channels, as shown in the image below.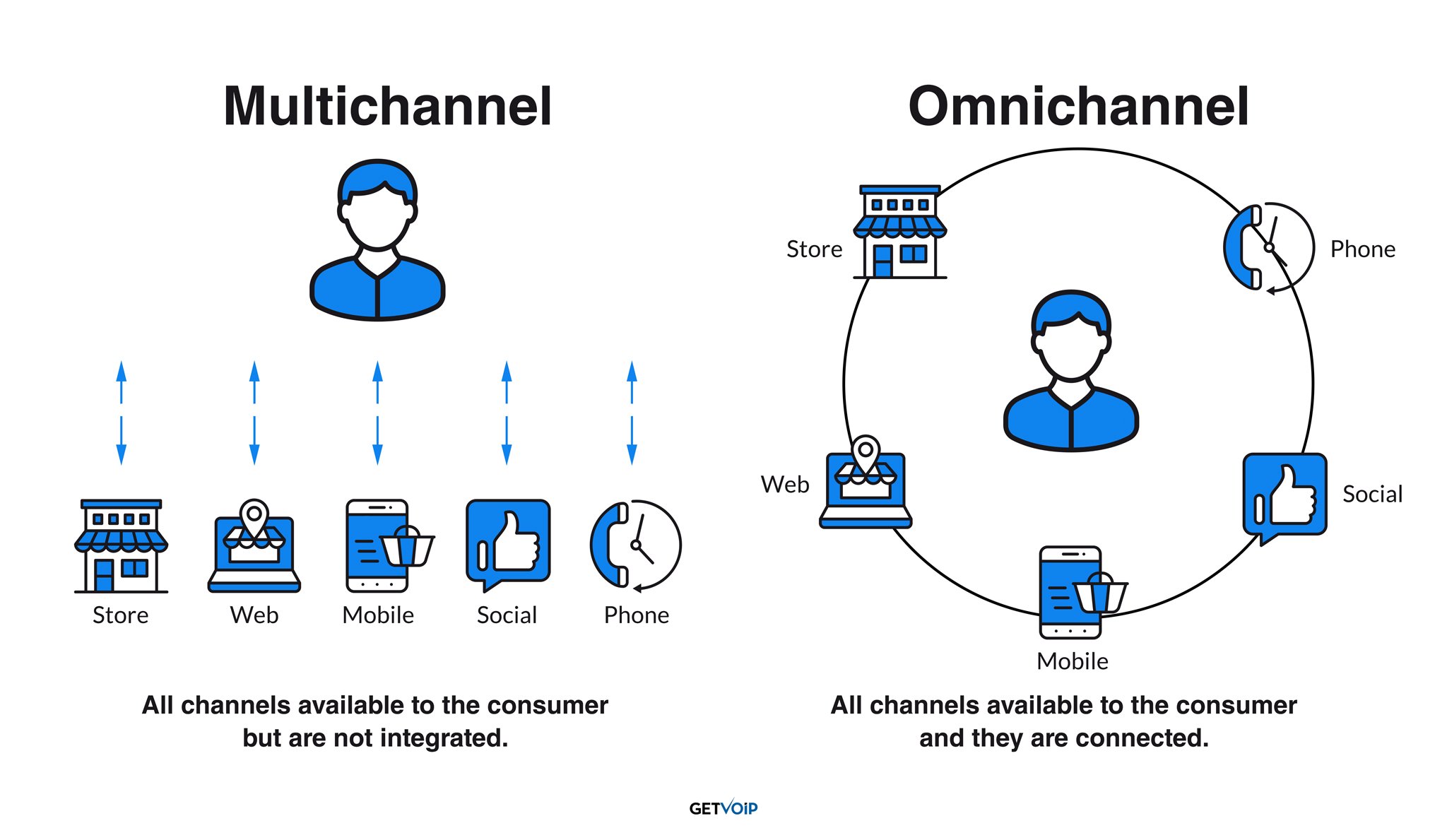 Let's quickly review popular communication channels in more detail:
Email: Customers send and receive customer-agent communication via a business customer support email address
AI Chatbots: Automated, AI-powered chatbot messaging tools available on business websites, iOS iPhone and Android mobile apps, and social media platforms
Social Media Messaging: Direct messaging through social media or messaging platforms like WhatsApp, Facebook Messenger, Twitter, or Instagram
Live Webchat: Live chat between a human agent and a customer embedded into any website or chat tool
Voice: Live telephone calls between agents and customers, or customer self-service via IVR
SMS Text: SMS text messages, automated alerts, and proactive texts/reminders
Note that many customer experience platforms, like Zendesk for Service and ServiceNow CSM, also include essential service and support agent tools within the unified omnichannel dashboard. This allows agents to access key information from CRM software, internal knowledge bases and help desk software, team chat messaging, and more during a customer conversation, speeding up resolution times.
Zendesk Omnichannel Communication 
Zendesk provides the following communication channels within its unified interface, all in a single dashboard:
Email
AI-Powered Chatbots
Live Agent Webchat
Voice Calling
SMS Texting
An example of the Zendesk omnichannel interface is shown in the image below: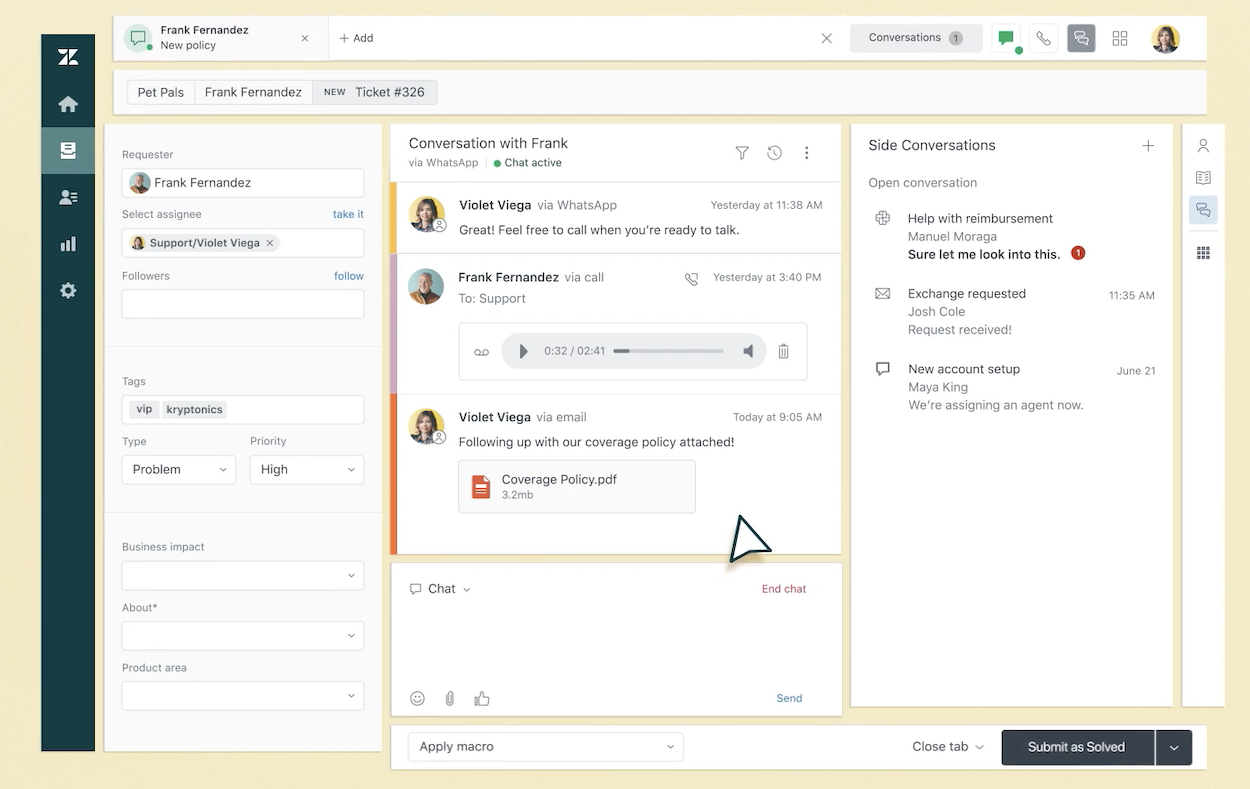 ServiceNow Omnichannel Communication
ServiceNow CSM combines the following channels in one agent dashboard:
Email
AI Chatbots
Social Media Messaging
Live Webchat
Voice Calling
SMS Texting
ServiceNow is unique in that it also offers a Walk-Up Experience for improved in-person support experiences. Using digital queue management, the Walk-Up Experience feature offers faster IT and equipment support by letting users check in online, read through and select common support requests, check their Walk-Up Status (place in line), or schedule appointments. You're likely familiar with Apple's Genius Bar check-in and support process – that's an example of the kind of experience ServiceNow's Walk-Up Experience channel provides.
The below image shows the Walk-Up Experience check-in self-service portal: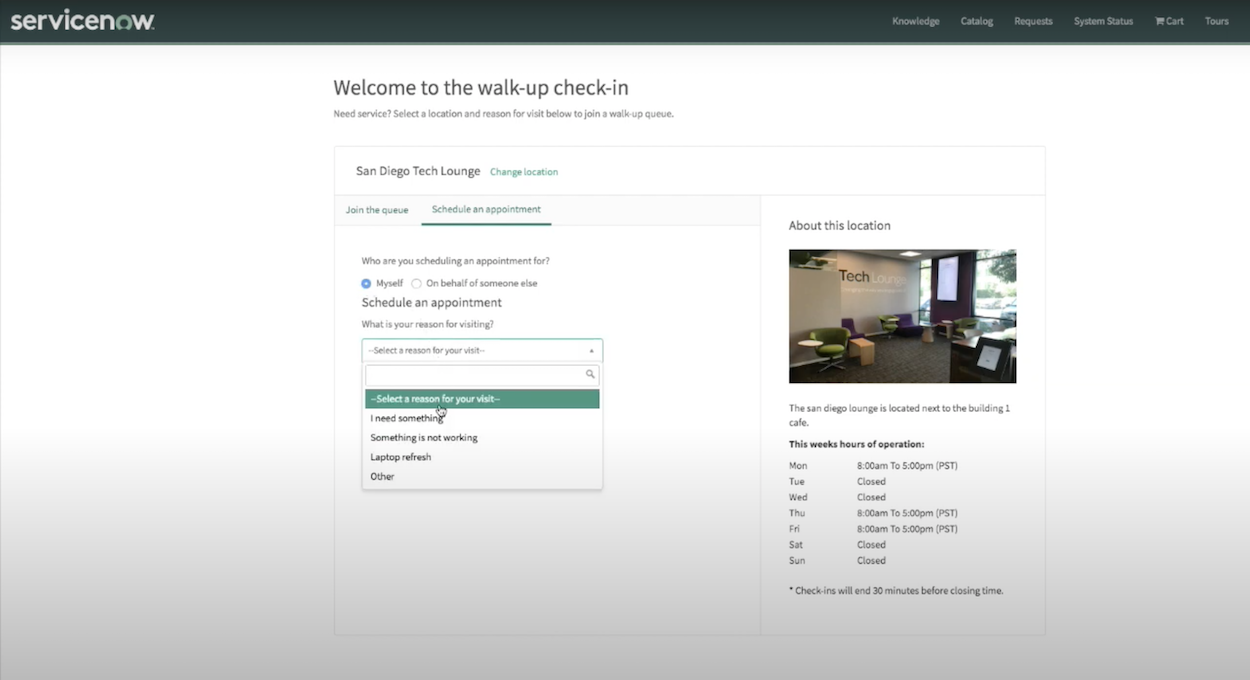 Winner: ServiceNow wins the omnichannel feature because it provides walk-up support.
Customer Self-Service
Self-service tools help customers find support, product, and service information without needing to involve a live agent. This lets customers resolve their issues on their own schedules, keeps support and ticket queues manageable, and provides a stronger customer experience by eliminating the need for hold times.
Key self-service tools include voice IVR, automated chatbots, support documentation, and above all, online support databases with links to FAQs, video tutorials, and written instructions.
Zendesk Customer Self-Service
Zendesk includes several self-service capabilities and features, summarized below.
Answer Bot
Zendesk's chatbot, Answer Bot, automatically answers customer questions asynchronously through any text-based channel, in up to 40 languages.
Answer Bot uses Natural Language Technology (NLT) to analyze text, identify trigger words and phrases, and provide prewritten, direct answers and relevant links to helpful knowledge base articles. If the customer isn't satisfied, Answer Bot quickly routes them to a live agent suited to help.
Zendesk Guide
The Zendesk online knowledge base and self-support help center, Zendesk Guide, gives customers a self-service hub with a search bar to browse knowledge base articles and submit contact requests.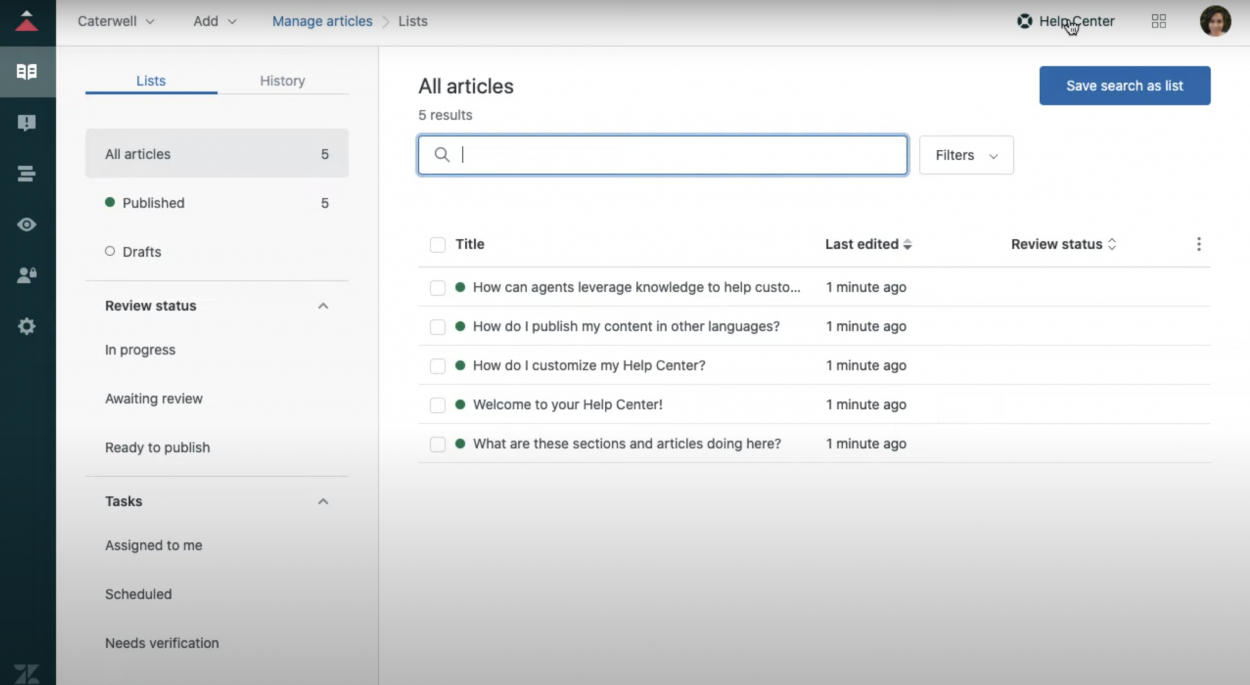 The translation tool searches in 40 different languages and a type-ahead feature suggests articles based on word choice. Knowledge base articles integrate with any text-based channel, popping up to guide customers. Live agents and chatbots can reference these articles to elaborate on responses.
Customers can submit ticket management requests directly through the Guide interface. Zendesk even provides Guide Analytics and allows guests to vote on an article's quality, letting admins evaluate the effectiveness of their knowledge base content.
Community Forums
Zendesk Community Forums are places for customers to assist each other, ask questions, and share tips, experiences, tools, and best practices. This means real users can create custom profiles, follow each other, sort posts, and follow specific topics.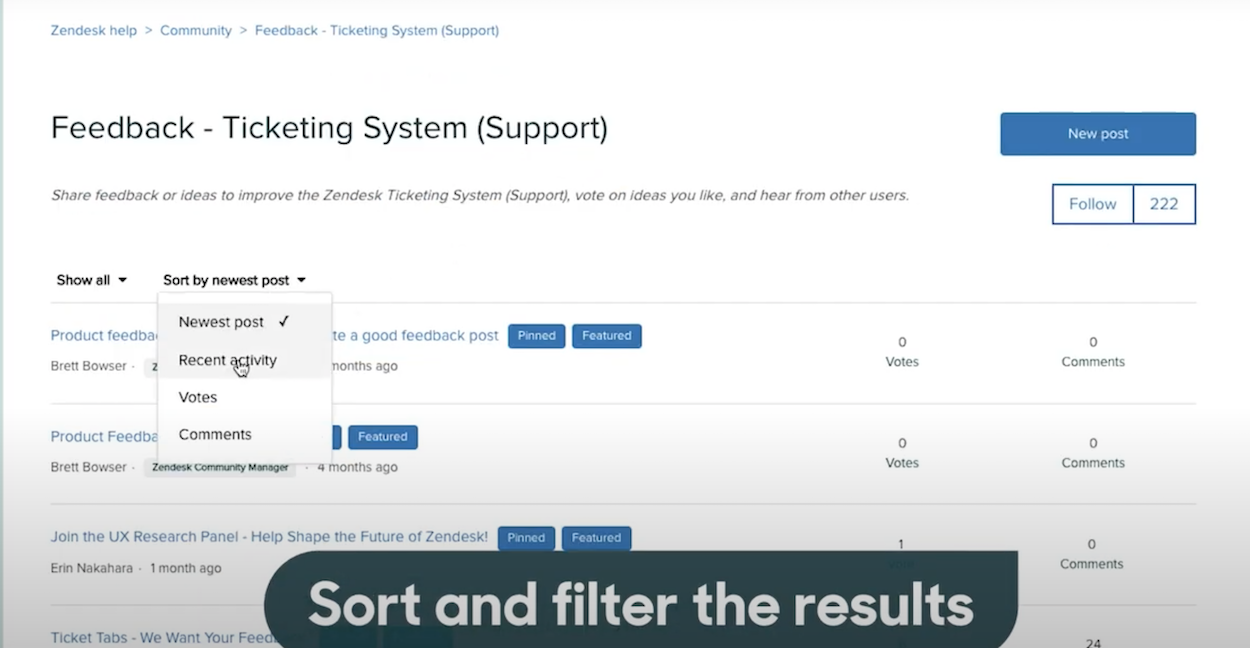 Admins and agents can highlight top comments and topics, categorize responses, or participate in forum discussions themselves. If an agent notices a forum post warrants follow-up, she can turn it into a ticket; additionally, agents can turn their community-forum responses into knowledge base articles, for future-customer easy access.
Forums leverage customer knowledge from all types of personalities to create a unique, user-built, searchable solution hub.
ServiceNow Customer Self-Service 
ServiceNow CSM provides several self-service capabilities through its Self Portal application, which includes both B2B and B2C customer portals. The below features are included in both portals:
Knowledge Management Application 
ServiceNow's Knowledge Management Application is an online customer self-support database including articles, images, videos, customer ratings, and multi-step how-to guides. In-article view features a sidebar with relevant article suggestions based on predictive intelligence and machine learning. Customers can comment on and share helpful articles.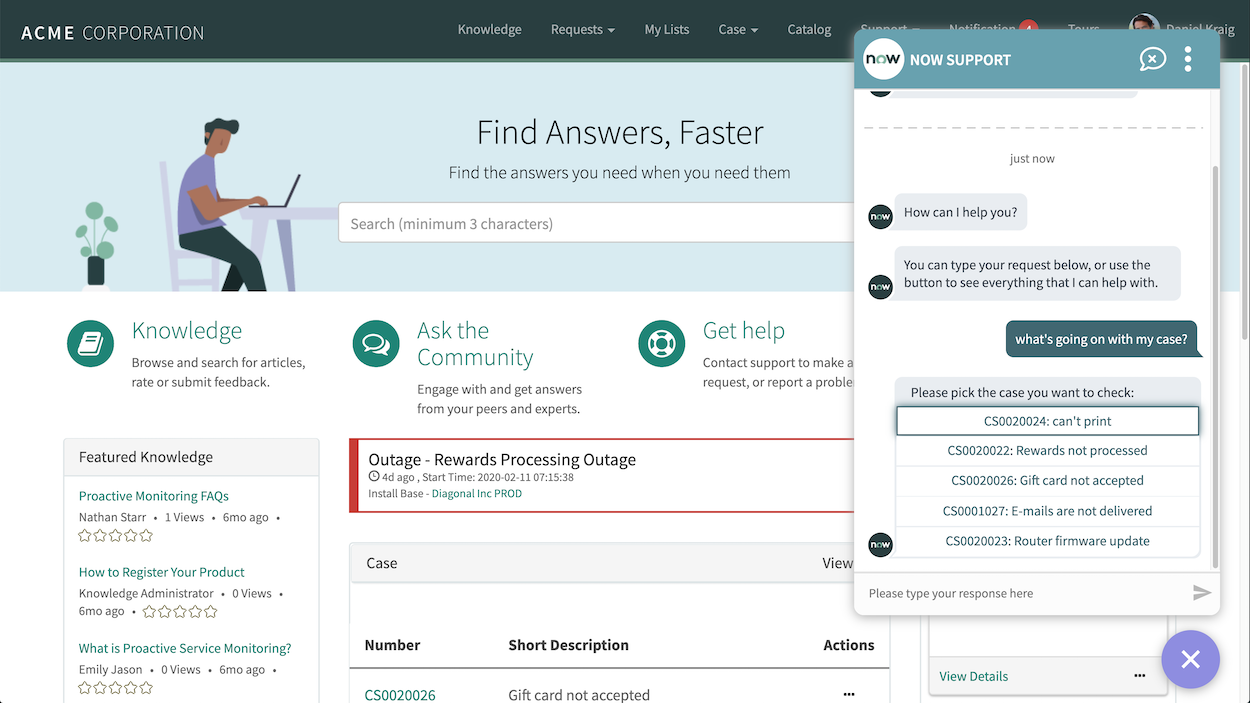 As with Zendesk, ServiceNow lets users create support requests directly within the Knowledge Management App, but ServiceNow also lets admins create new knowledge base articles based on customer support interactions. Better yet, ServiceNow offers knowledge base article templates, article versioning, and specific article workflows to ensure no article is published without the proper review process. ServiceNow's knowledge base tool also provides analytics on popular articles and common search queries and other self-service activities.
Community Forums
ServiceNow Community Forums are ServiceNow's #1 most viewed content for customer question resolution. Customers can click an "Ask the Community" button on the right-hand side of the knowledge base or Service Catalog, which directs them to a community database housing hundreds of forums: posts written by customers, sharing their knowledge, questions, and experience.
Other customers respond in minutes with relevant insights, marking certain responses as "correct" and voting on the best answers.
Service Catalog
Customers can browse the company item catalog directly to find needed items or submit help requests that route all appropriate teams: support, billing, claims, or product. Customers can make purchases, submit service requests, request a password reset, or submit an idea to the company.
Winner: ServiceNow wins the self-service feature because it includes a Service Catalog.
Support Ticketing System
A support ticketing system streamlines the customer issue-resolution process by turning customer requests into tickets, routing these tickets to agents for processing, and resolving issues fast.
Zendesk Support Ticketing System
Zendesk turns all customer queries–from all channels–into tickets housed in one place: the Zendesk Agent Workspace.
Once a customer's query is turned into a ticket, the customer is notified, added to the queue, and the resolution process begins.
AI tags each ticket based on keyword and customer context before routing the ticket to an agent pre-categorized by business rule, skill level, or specialty–this process prevents agent queue overload and ensures customers get fast access to the optimal agent.
The Agent Workspace highlights tickets, indicating time sensitivity, importance, and priority, within a dashboard interface that enables agents to work on multiple tickets at the same time, equipped with all the tools they need to solve an issue.
ServiceNow Support Ticketing System
When a customer submits a contact request, question, or issue in ServiceNow CSM, it gets logged as a case; from here the customer is notified and the case-resolution journey gets underway.
Advanced Work Assignment allows administrators to pre-define criteria and routing conditions to automatically assign cases to agents based on availability, capacity, skills, and specialties, so cases always go to the most prepared agent.
If an agent needs support, the Universal Request feature allows agents to reach out to all departments at once with a single ticket request, translatable to new languages with Dynamic Translation. Relevant departments get notified, saving the original agent the hassle of determining which departments she needs to contact at each step in helping the customer.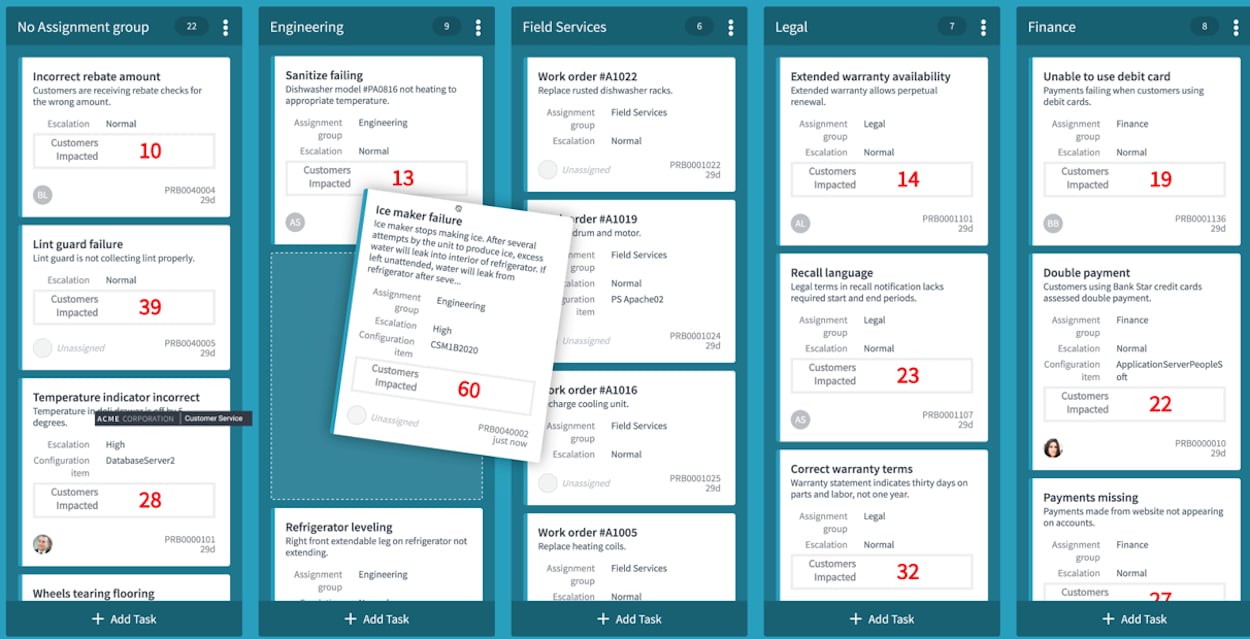 Pre-created playbooks, varying based on case type, outline workflows that move the case through the customer pipeline, involving new employees along the way as necessary and granting each involved agent full case visibility.
Along the way, SLAs (Service Level Agreements) outline rules for responding to certain cases within predetermined timeframes, keeping things moving, and ensuring that cases are resolved in a timeline that customers expect.
Winner: ServiceNow wins the ticketing system feature due to its playbook option.
Automation and AI
Automated or AI-enhanced customer service provides 24/7 support, including conversational AI chatbots and automated insights to boost agent performance.
Zendesk Automation and AI
Zendesk's Answer Bot, available to customers any time of day through any text-based channel, provides a host of useful features and capabilities:
Reduces Repetitive Work: Answer Bot screens customer queries, handling low priority or simple tasks while collecting customer information like name, email, issue type, and more.
Fills In Ticket Gaps: Answer Bot maps and pre-populates missing customer information into existing ticket fields.
Gives Agents Context: when agents take over for Answer Bot, they can access the whole conversation that already took place for full context.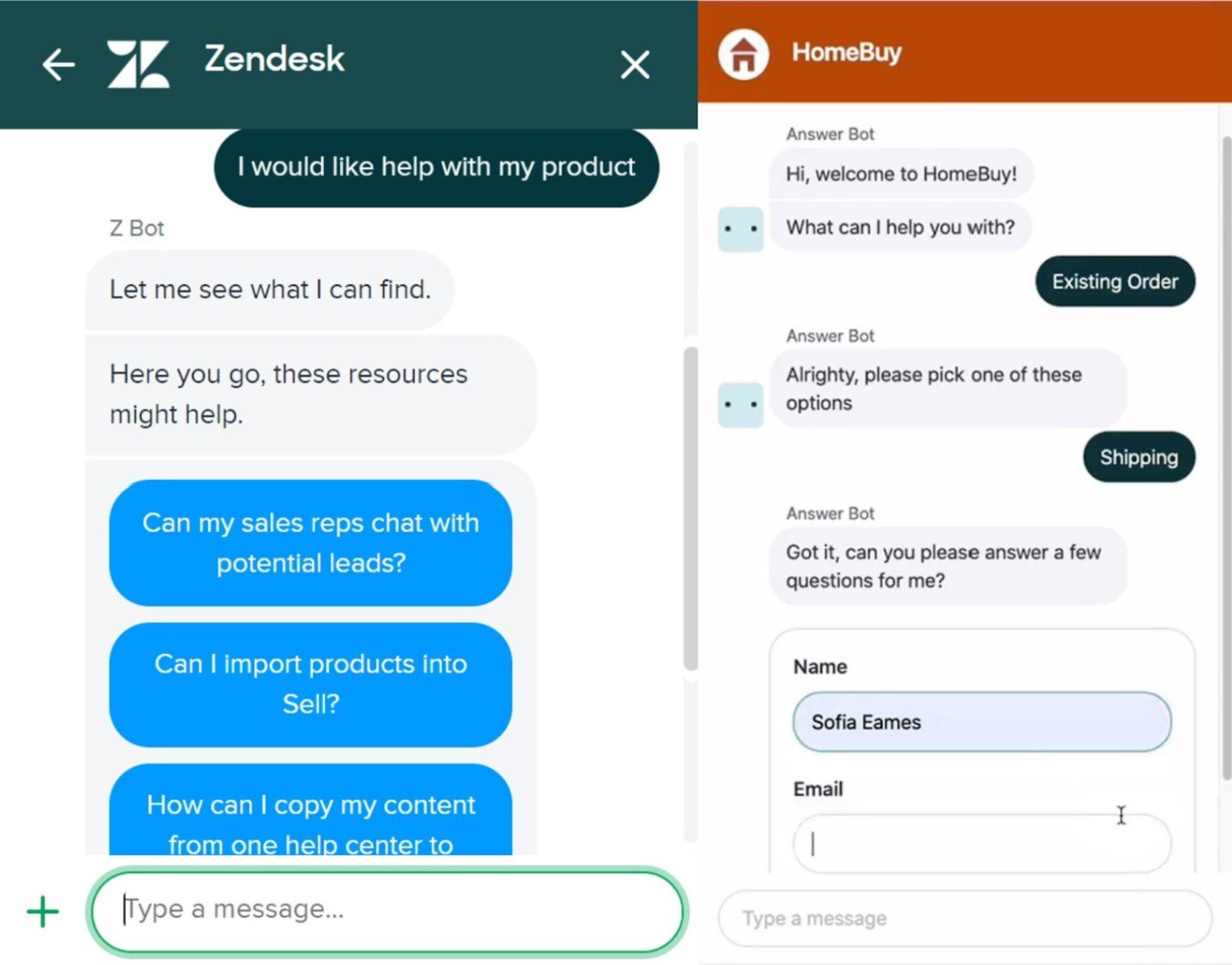 You can build Answer Bot conversations with Zendesk's Flow Builder tool, diagraming conversation paths with Answer Bot messages, customer button options, and possible conversation destinations: articles, links, agents, and more.
Flow Builder's Preview option lets you interact with the chatbot from the customer's perspective.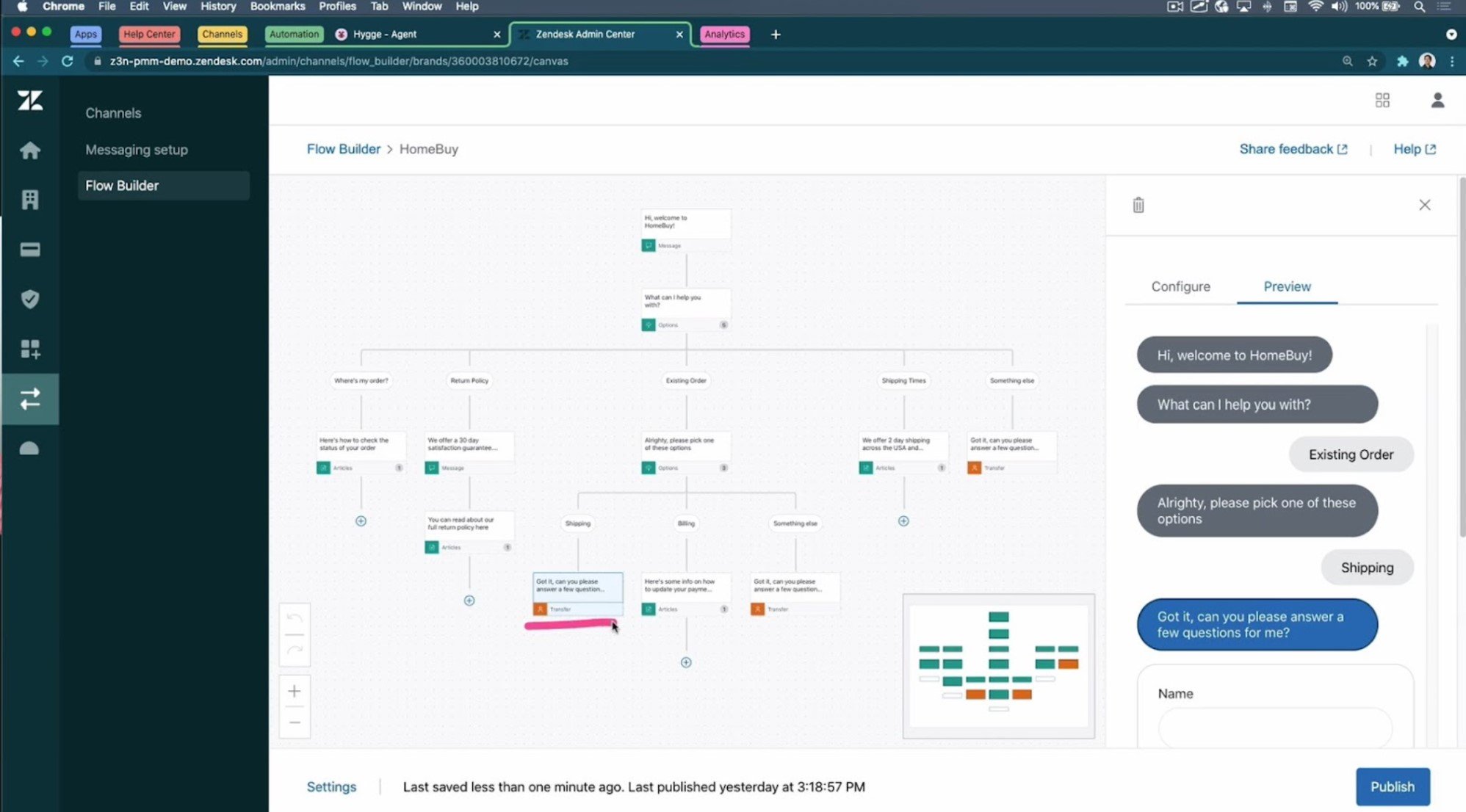 Even in live chat conversations, agents can leverage Zendesk AI for stronger communication: AI-generated conversation flows analyze customer intent to guide agent responses and actions.
Proactive Support automatically detects customer-related problems, like abandoned customer carts or delayed delivery, sending customers a quick message asking if they need any support or notifying them of the delay. This automated support can also troubleshoot simple, common customer issues and provide quick responses, freeing agents for more complicated problems.
ServiceNow Automation and AI
ServiceNow's Virtual Agent comes with a toolbox full of helpful features to allow your customers to help themselves.

Personalized, Rich Experiences: Virtual Agent connects to the knowledge base, community forums, and Service Catalog, providing customers with elaborate, resource-rich responses.
Pre-Built Conversations With Virtual Agent Designer: use pre-designed templates to outline Virtual Agent conversation paths, or use the Virtual Agent Designer to diagram conversational paths with customized responses, buttons, and custom options.
Live Agent Hand-Off: When Virtual Agent routes a case to an agent, the full conversation context transfers instantly too.
Customer Information Back-Ending: Virtual agent automatically extracts new customer information and assimilates it with the existing customer profile.
ServiceDesk Predictive Intelligence uses a customer's purchase and query history to predict a customer's needs, then sets priority, category, and assignment group for the service request.
AI-mediated Guided Decisions consider the full customer context to rank agents' next-best actions, giving agents a list of suggested steps to help resolve complex issues fast.
Winner: Zendesk wins the workflow automation and AI category due to its dynamic Flow Builder tool.
Workflow Management
Workflow Management tools facilitate and streamline the set-up, performance, and/or monitoring of work processes, making them faster and more efficient.
Zendesk Workflow Management
Zendesk provides tools to automate ticket and agent workflows.
Some tools kick off the flow, some automatically move it forward, and some help agents move the flow along.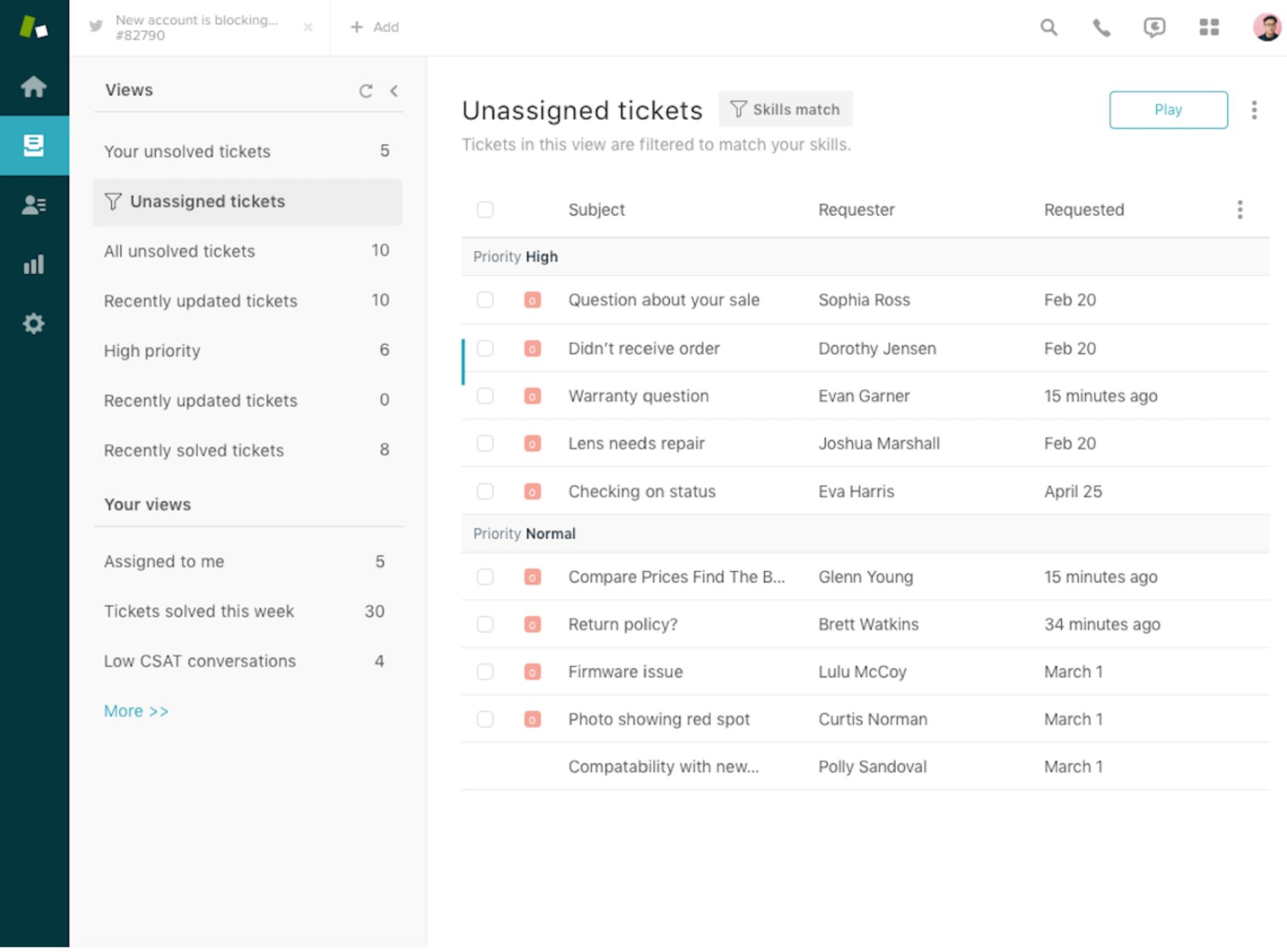 You can customize any of the below workflow tools in the Admin Center.
Tools that kick off the workflow:
Custom Ticket Fields: Process rules that target key issues and gather important information about tickets, using it to carry out a basic process like routing the ticket to an agent or resource. You can set ticket fields based on information like language, order numbers, and product types
Service Level Agreements (SLAs): Policies that guarantee time limits for certain responses–these make it easier for your agents to prioritize tickets
Ticket Tags: Words or word combinations that give more context to tickets for easier routing and processing. You can use triggers or automation (both described below) to set tags
Tools that automate the workflow forward are known as "business rules," which include triggers and automation. Administrators can set up unlimited sets of business rules through an intuitive set of cause-and-effect statements: if a ticket meets a certain set of conditions, then an action is performed.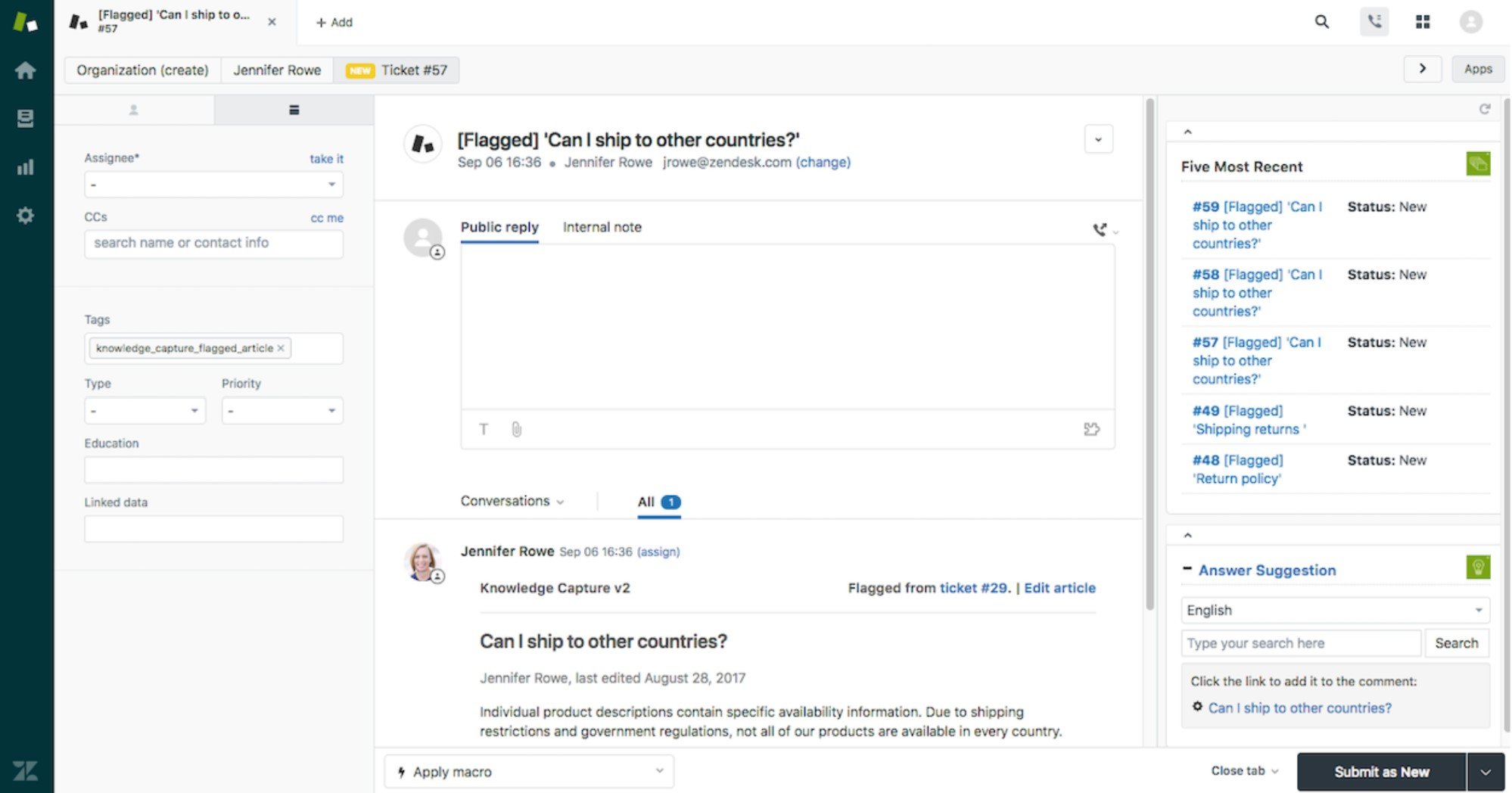 Triggers are event-based rules that can fire every time a ticket is created or updated. For example, if a customer ticket uses certain keywords or asks about a certain product, you can set a trigger that automatically routes that customer to a particular agent.
Automations are time-based rules that run at regular intervals throughout the day. For example, if a ticket isn't answered in a set timeframe, a pre-set automation can escalate it to high-priority status.
Tools that move the flow along:
Views: organize tickets based on specific criteria that you define, making it easier for agents to view and respond
Macros: a predefined set of actions that agents can use to respond to a ticket in a single click. For example, an agent can use one click to send a pre-written template in response to a customer email.
ServiceNow Workflow Management
ServiceNow's Proactive Case tool auto-creates cases and connects operations, so agents don't have to reach out themselves.
Service Management for Issue Resolution provides agents and operations with all case-relevant information to solve any detected issue quickly, minimizing customer impact and improving SLA performance.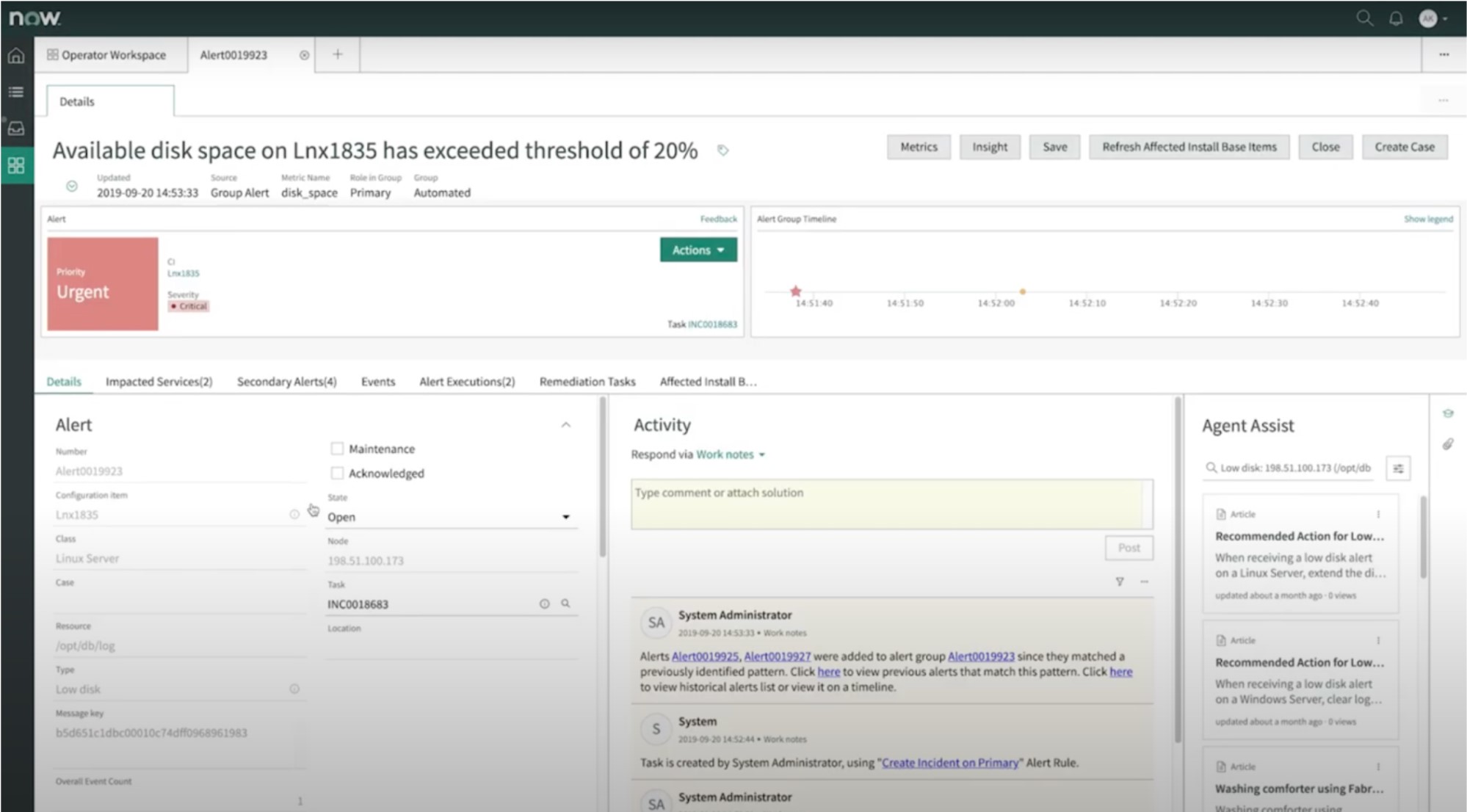 Process Optimization Analysis uncovers hidden inefficiencies in customer service performance, showing a live process-flow map with visualized bottlenecks compared to an ideal process flow. These maps zoom out to show how the inefficiency impacts other company processes.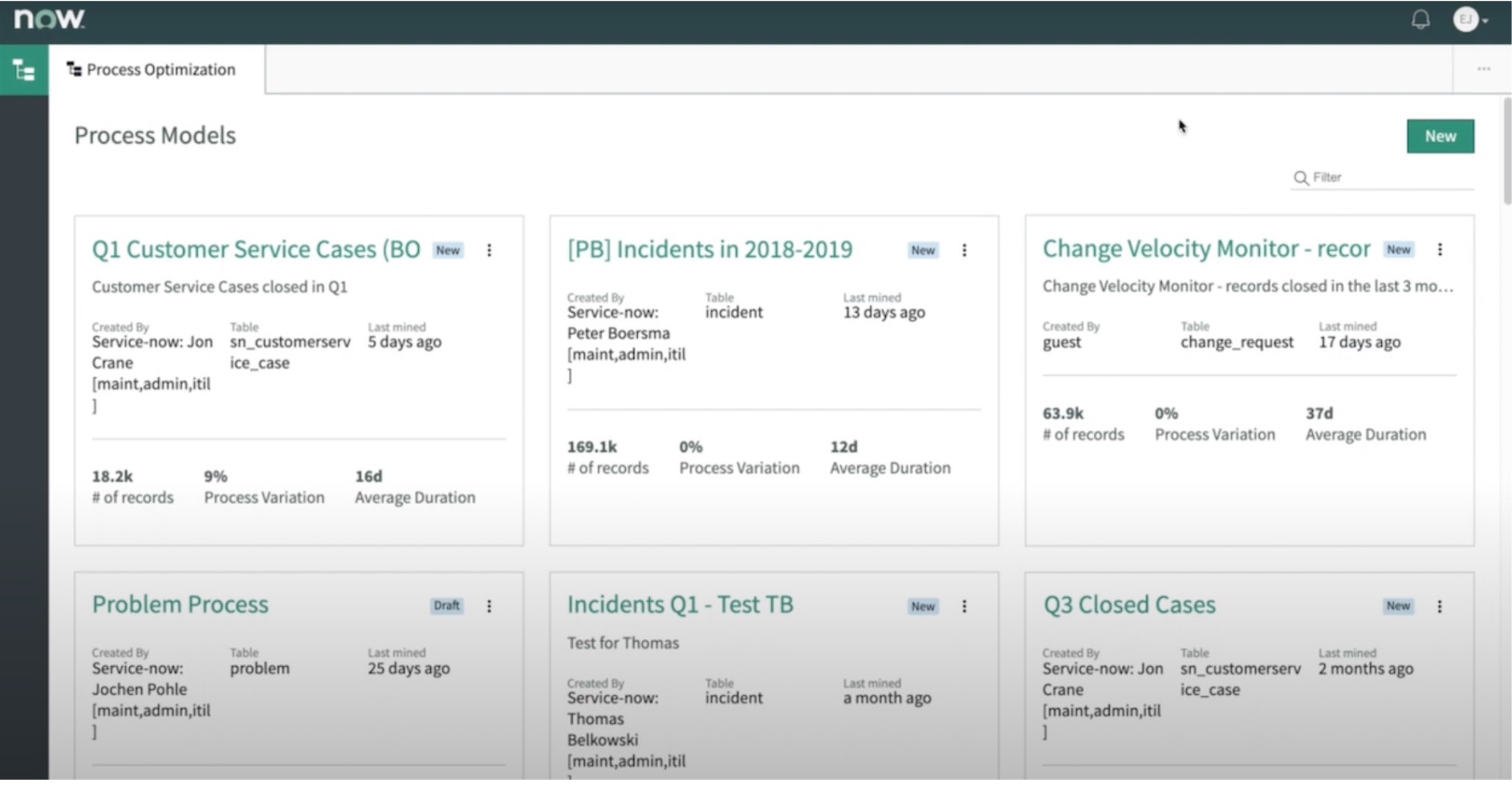 Customizable Playbooks are workflow sequences outlining formal step-by-step processes for three major customer support categories: customer complaints, customer onboarding, and product support. Each case's customer playbook updates live onscreen for agents, so collaborating employees always know the full context of the case's overall workflow.
Customizable steps for the Customer Complaint Playbook:
Intake: add involved parties; notify customers
Triage: verify the complaint; notify customers
Research: review legal implications; product owner review for other customers
Respond: compose an email
Resolve: propose resolution; notify the customer
Customizable steps for the Customer Onboarding Playbook:
Initiate: collect customer information; add additional members; notify the customer
Pre-approval: check approval status; update customer information; complete pre-approval; notify the customer
Data capture: verify document checklist; notify the customer
Due diligence: perform background check; initiate legal verification; review credit history; notify the customer
Resolve: Propose resolution; notify the customer
Close: Notify the customer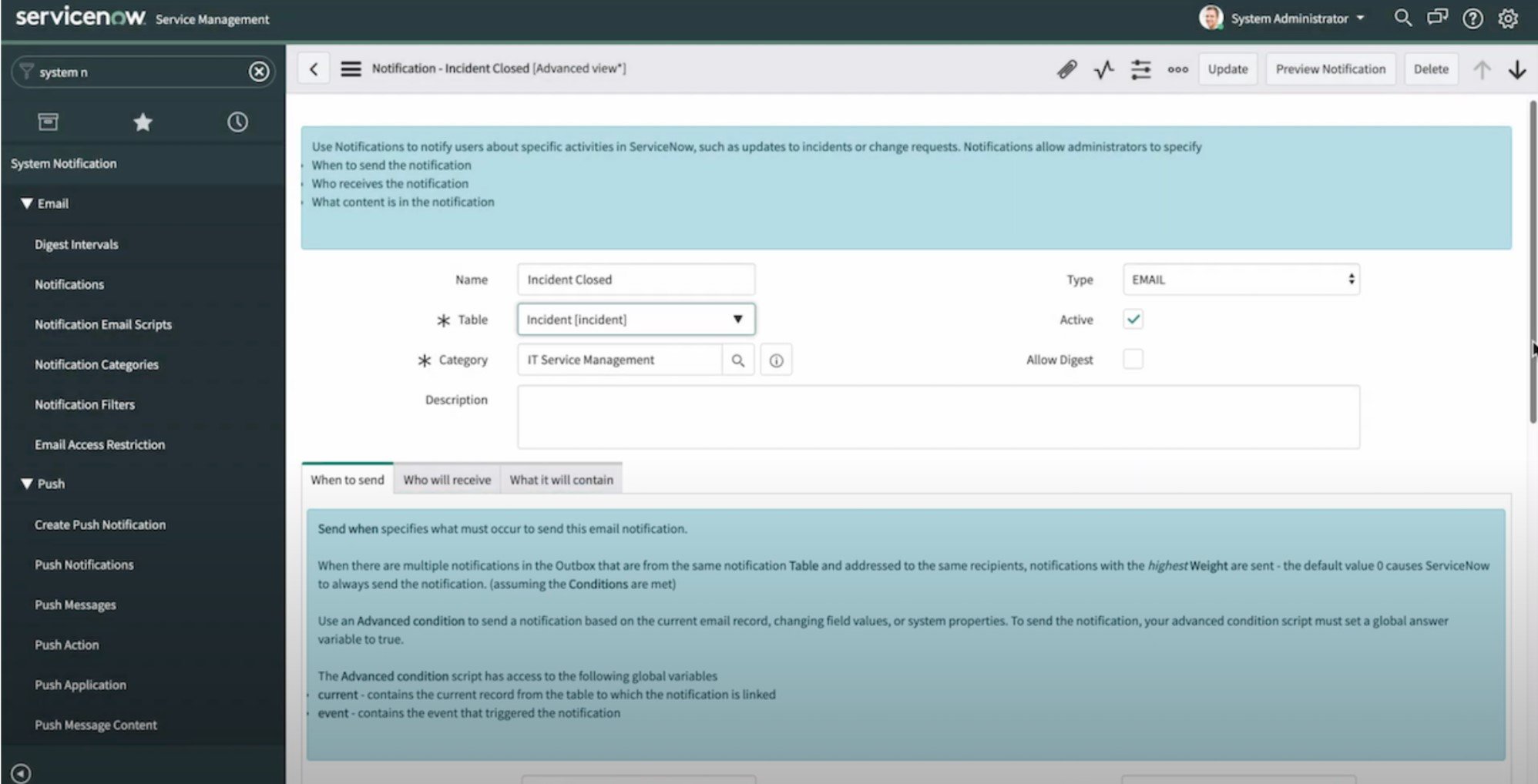 Customizable steps for the Product Support playbook:
Investigate: review case details
Work in progress: create case tasks
Resolve and close: resolve; close case
Winner: ServiceNow wins the workflow management feature, due to its informative customizable playbooks.
Third-Party Integrations
Third-party integrations refer to your help center's capabilities to integrate with third-party apps and software: for example, communication software like Slack, or CRM software like Salesforce.
Zendesk Integrations
Zendesk provides over 1,600 apps and integrations to choose from, available in their App Directory. These apps cover everything from communication technology like Slack, to Sales pipeline apps like Salesforce, to quality assurance tools like Maestro QA.
ServiceNow Integrations
ServiceNow's Integration hub spokes connect ServiceNow workflows with your preferred systems in minutes, moving powerfully across your whole company. Some spokes include Salesforce, DocuSign, Microsoft, Jira, Oracle, Workday, and Okta.
Winner: Zendesk wins the integrations category, due to its incredible abundance of integrations.
Reporting and Analytics
Reporting and data analytics within your customer support center allows you to observe customer service statistics and insights that drive informed and impactful decisions for your company's short- and long-term benefit.
Zendesk Reporting and Analytics
Zendesk has a ton of out-of-the-box, pre-built analytics dashboards that make it easy to understand the trends and insights happening across your business.
Here are just a few examples:
Tickets Dashboard: shows how many tickets you've had over a time period, what time of day is busiest, which day is busiest, and which channels are most popular
Knowledge Base Dashboard: shows how many views your help center has been getting, who has been viewing it, and which articles are most popular
Live Data Dashboard: shows you what's happening with your call center in real time: how many agents are online, how many customers are waiting in the queue, and how ticket volumes have evolved over the last 8 hours
Reporting Metrics Dashboard: gives Answer Bot effectiveness insights, like resolution rate, resolution time median, and click-through rate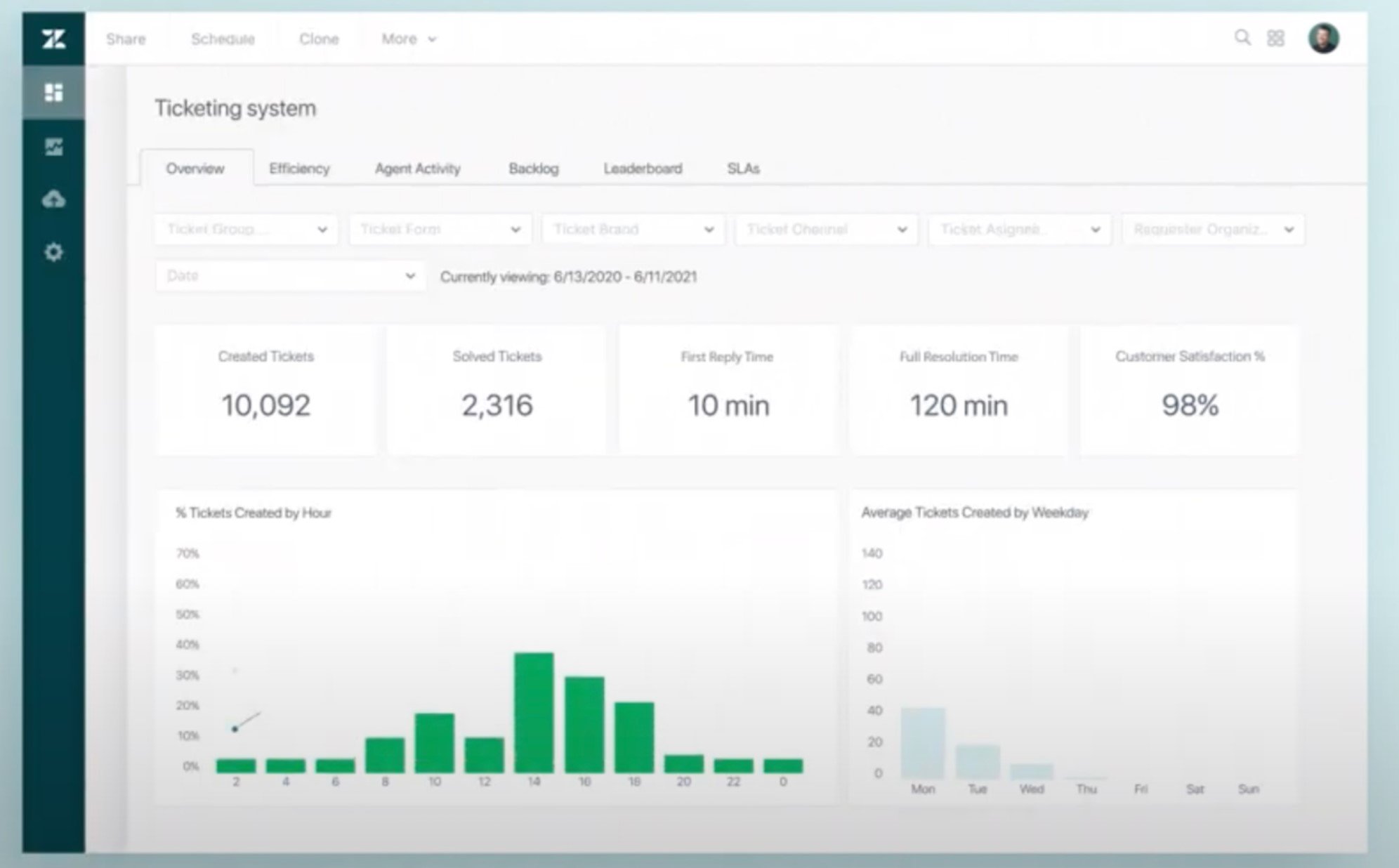 You can also build your own dashboards, compiling from the hundreds of analytics metrics that Zendesk tracks.
The Admin Center's Analytics tab lets you schedule deliveries for analytics, so you and your staff receive routine updates on your most important metrics.
ServiceNow Reporting and Analytics
ServiceNow Performance Analytics comes with over 600 predefined KPIs for measuring platform processes, along with responsive and interactive dashboards, and drill-down target progress in the Analytics Hub.
Each out-of-the-box dashboard provides a graphical view of performance trends and real-time results for dozens of unique KPIs or metrics.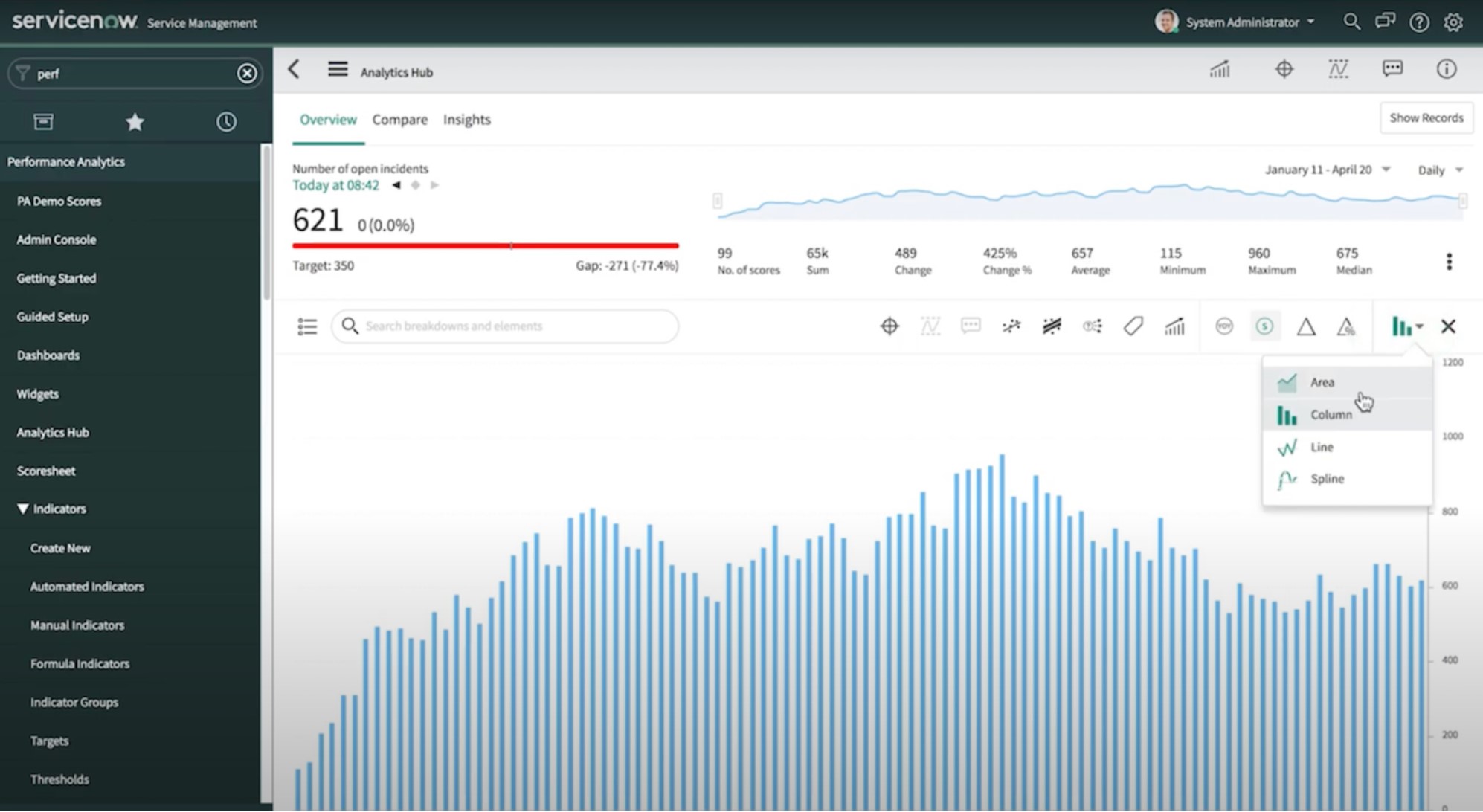 Some dashboards include:
Knowledge Management
Natural Language Performance
Self-Service Analytics, leveraging machine learning
Proactive Customer Service Operations
Virtual Agent Dashboard
ServiceNow's Virtual Agent Dashboard, for example, provides reports, charts, and graphs to visualize these metrics over time:
Daily new conversation trends
Daily faulted conversations
Percentage of correct, incorrect, and skipped predictions
Average duration with or without a live agent
Preferred customer devices by channel and topic
The Analytics Hub tracks company progress toward defined targets, visualizing progress along the way with objectives, metrics, and progress scores.
Key Analytics Hub capabilities include:
Define targets to visualize progress towards goals and set thresholds (low or high) for proactive score alerts
Drill into results with breakdowns that show each dimension of an overall target-progress score
Make annotations on charts to leave visible comments for everyone
Winner: ServiceNow wins the Reporting and Analytics category due to its dynamic Analytics Hub feature.
Customization Tools
Customization tools allow an administrator or agent to customize the help center, including aspects like design, layout, theme, as well as content and options on each page or dashboard.
Zendesk Customization Tools
Zendesk provides an easy-to-use Administrator Dashboard, full of customizable features to personalize the agent interface to the company's or agent's needs and channels.
The Help Center Themes tab in the marketplace sells professionally designed help-center themes, but the Help Center also offers a plethora of customization features for you to design your own help center theme.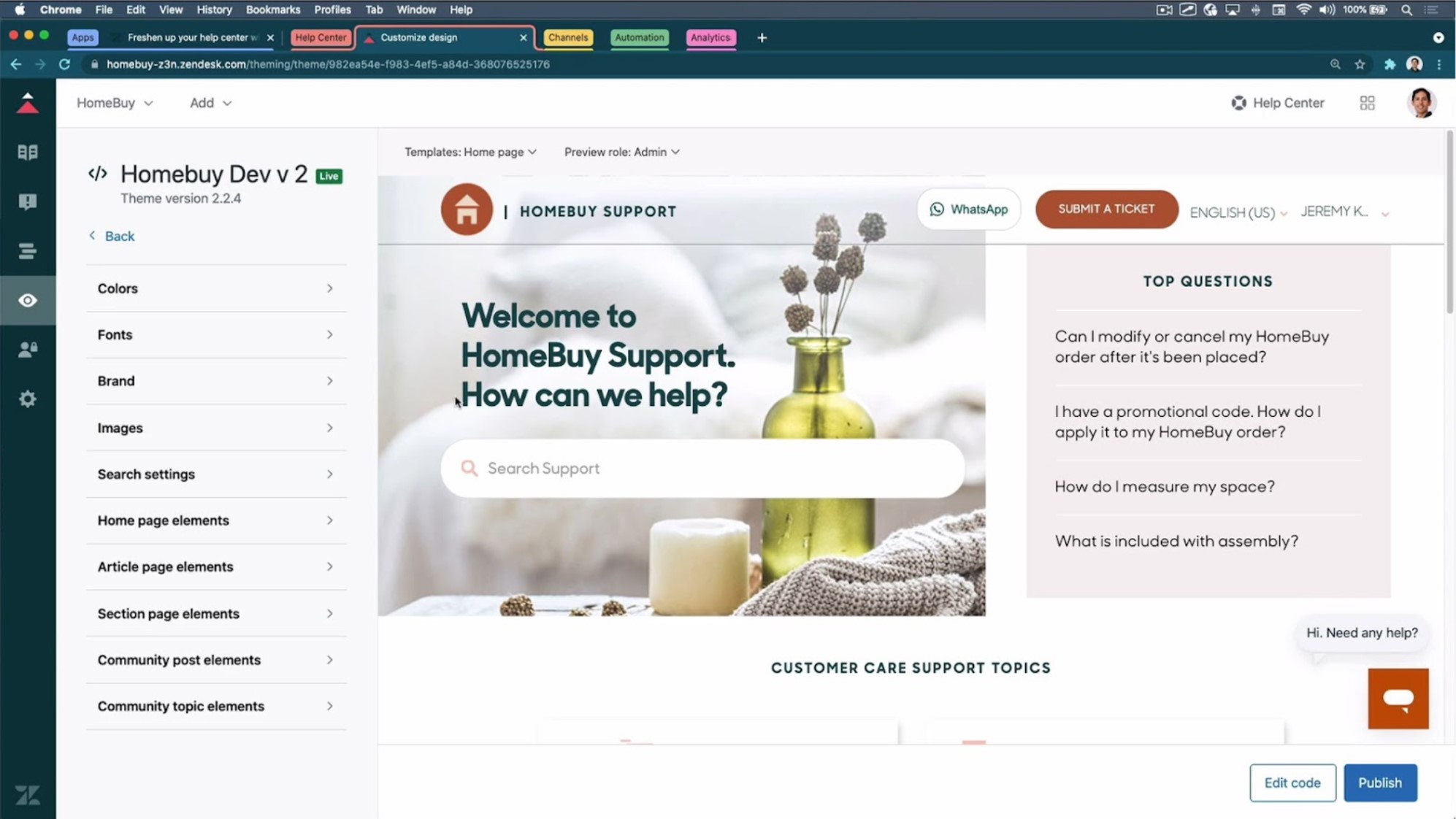 Help Center Customization Features:
Colors
Fonts
Brant
Images
Search settings
Home page elements
Article page elements
Section page elements
Community post elements
Community topic elements
ServiceNow Customization Tools
In the ServiceNow System Administrator Dashboard, users can customize settings in workflow management and self-service customer support:
Workflow tools: administrators control which workflow tools and suggestions apply at each stage, and when they pop up in agent dashboards
Virtual Agent: customize all Virtual Agent features, including the Virtual Agent face, name, color layout, and theme.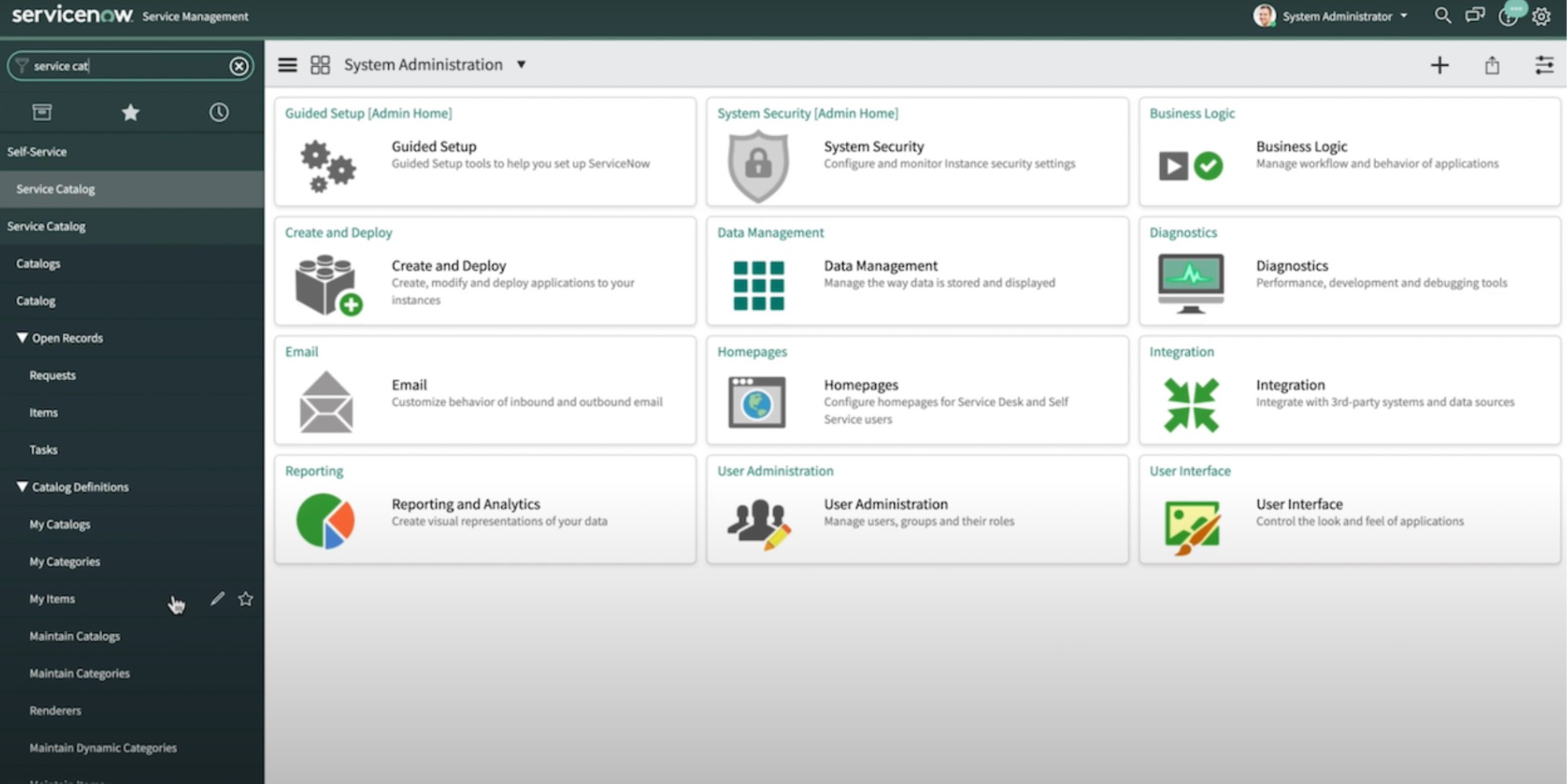 Administrators can also customize a ton of other features and tools, including the following:
User Interface+Notifications
Themes: colors for agent dashboards, service catalog, and knowledge base
Accessibility: who can access which articles, tools, and data
Lists: group certain employees or customers
Forms: the layout and design of any forms in the customer service system
Email: customize the behavior of inbound and outbound email
Reporting and Analytics: create custom representations of KPIs and data
Homepages: configure homepages for the Service Desk and Self-Service Users
Winner: Zendesk wins the customization feature because it provides the user with tremendous control over help center layout design.
Zendesk vs ServiceNow: Ease of Use
Ease of use refers to how intuitively and easily a user operates and manages the customer support center.
Zendesk Ease of Use
Zendesk is easy for admin to use and manage.
The Admin Center sorts control settings into 6 categories:
Account: information and customization options about your plan and product, security settings, sign-on settings, brand management and appearance, and survey tools
People: view team members, create and sort groups, configure organization fields and set up events, and import or delete users
Channels: organize and customize all help center channels, including messaging apps, Facebook and Twitter accounts, bots and the articles they recommend, and widgets
Workspaces: customize agent tools, including agent interfaces and views, canned responses to help agents respond to requests, agent signatures, and even multi-language responses and triggers.
Objects and rules: determine the fields and data contained in various types of ticket forms, connect apps and data to each other for easy access, set up event-based rules and outcomes based on ticket triggers, and add or manage automation.
Apps and Integrations: manage all apps and integrations, including Zendesk Support apps and Channel apps, integrations, and troubleshooting options, as well as Zendesk APIs
An admin can click on the Support, Chat, or Talk tabs to monitor tickets and agent performance in live time, including updated help center data and analytics, across all agents and channels.
Zendesk also makes whole-team collaboration easy, with unified internal communication channels and all communication tools in one place.
ServiceNow Ease of Use
The ServiceNow Manager Workspace makes it easy for managers to monitor and view team structure, real-time reports, KPI details, drill-down views, user interface, and workforce optimization.
The My Team's Work dashboard, in the Manager Workspace module, visualizes:
Real-time case progress
Agent distribution and status in current calls
Weekly performance stats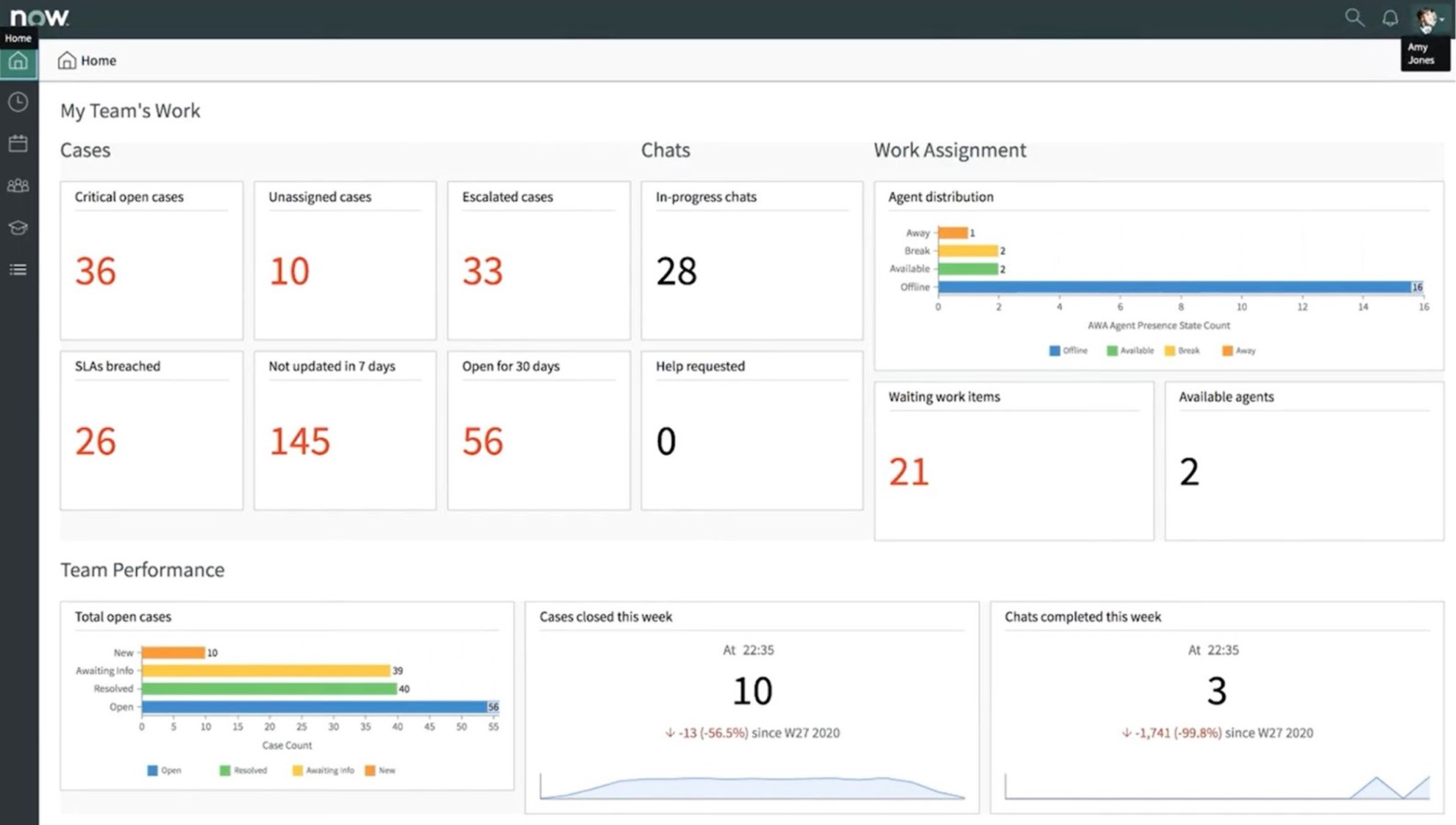 If the manager wants to gain further details about these reports, cases, or agents, all she has to do is click–this leads to a new window providing full details and reports about each interaction.
The Manager Workspace offers a toolbox of dynamic capabilities for a manager to customize and monitor aspects of Workforce Optimization.
Team Scheduling: organize shifts, on-call agents, and time-off requests for all agents at once into easily arrangeable schedules, with an intuitive omnichannel interface
Performance Reporting: view and filter team and individual data, drill down into KPIs, set targets, and track progress
Omnichannel Optimization: monitor conversations, analyze voice recordings, and track capacity utilization across all channels
Skills Management: engage agents and improve service quality with skill development recommendations
Winner: ServiceNow wins the ease of use category because it arranges all admin tools intuitively in the tool menu.
Zendesk vs ServiceNow: User Interface
User interface refers to the onscreen display–how the help center looks and functions for the customer-facing agent using it.
Zendesk User Interface
The Zendesk Agent Center provides an easily-navigable user interface during all stages of an agent's experience, a major reason for the number of positive Zendesk user reviews. When working on a ticket, agents have access to all their customer-immediate tools:
Notifications for new tickets
Easily switchable tabs for each active ticket and incident management request
Customer history and contact information
Customer's current support path and interaction history
One-click switching from channel to channel
Suggestions with articles and tidbits from the knowledge base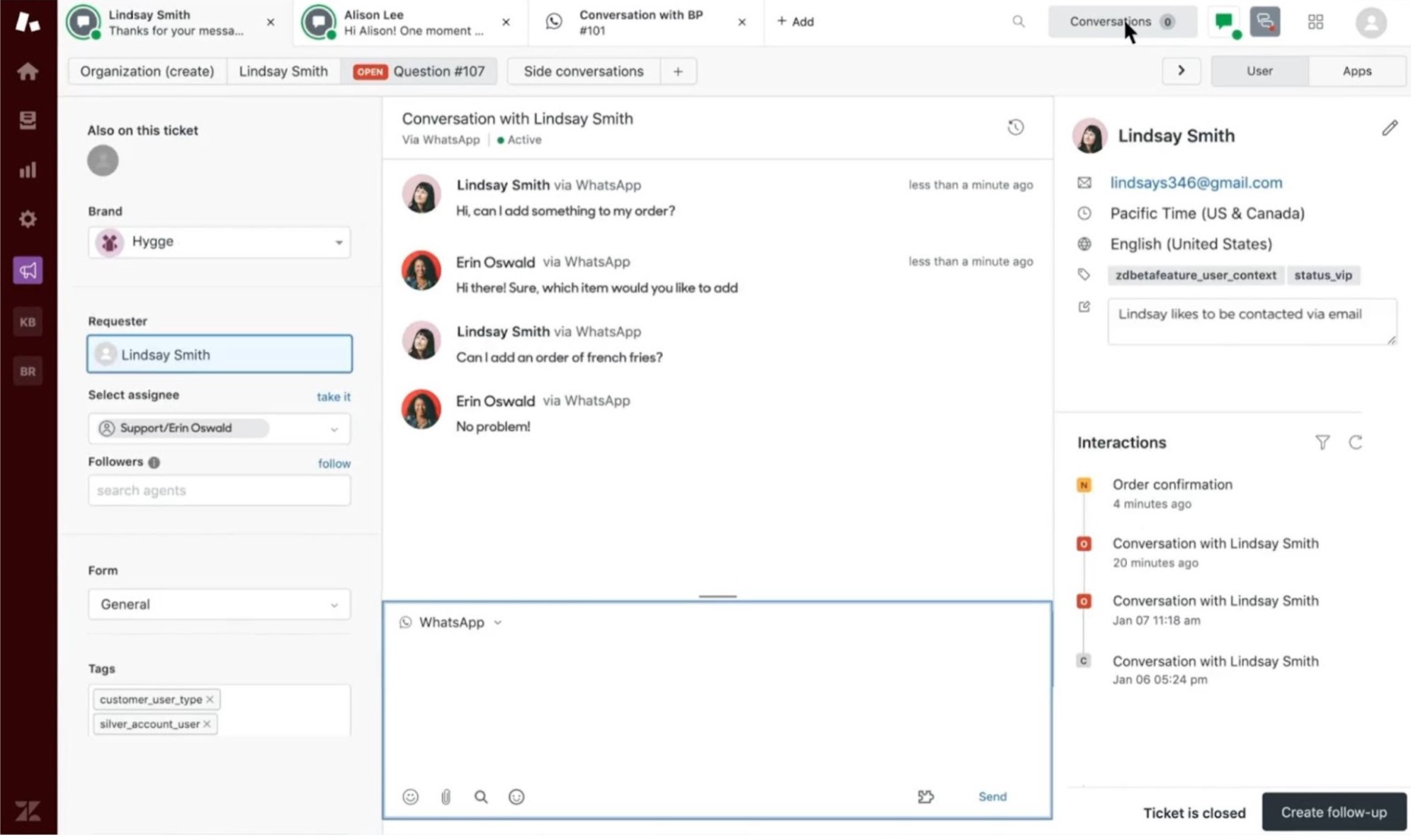 The workspace includes 4 sidebar tabs that make it easy for agents to access general tools:
Views tab shows the status of all an agent's tickets, including unsolved, unassigned, recent updates, and pending tickets
The customers tab shows all of an agent's customers in one place, where an agent can easily add, search, or manage customers
Organizations tab lets an agent manage all of their associated organizations, companies, or groups in one place
Reporting tab lets an agent view all queue-related statistics and any other company-related insights visible to them
Side Conversations: Zendesk makes it easy for agents to reach out to other teams and experts for support with the dashboard-embedded Side Conversations menu. A single click leads to a dropdown menu offering agents communication options–Slack, Email, or the ticket itself–and each conversation appears as part of a unified conversation within the ticket.
Light Access: Users with Light Access can pop into tickets to browse and monitor the conversation, providing internal notes to help agents do their job.
ServiceNow CSM User Interface
The Agent Workspace provides agents a single-pane view containing all necessary context and organized information:
Easily switchable tabs for each ticket
The ticket's title or label
Ticket details and context
Agent Assist, with AI-assisted action recommendations
Customer Playbook, giving agents full context of customer's support journey
Priority level active and queued tickets
Omnichannel or multi-channel communication modes switchable with one click
Relevant customer context, like related major incidents
Agents can customize their own dashboard layout by showing, hiding, or resizing the sections they find most useful.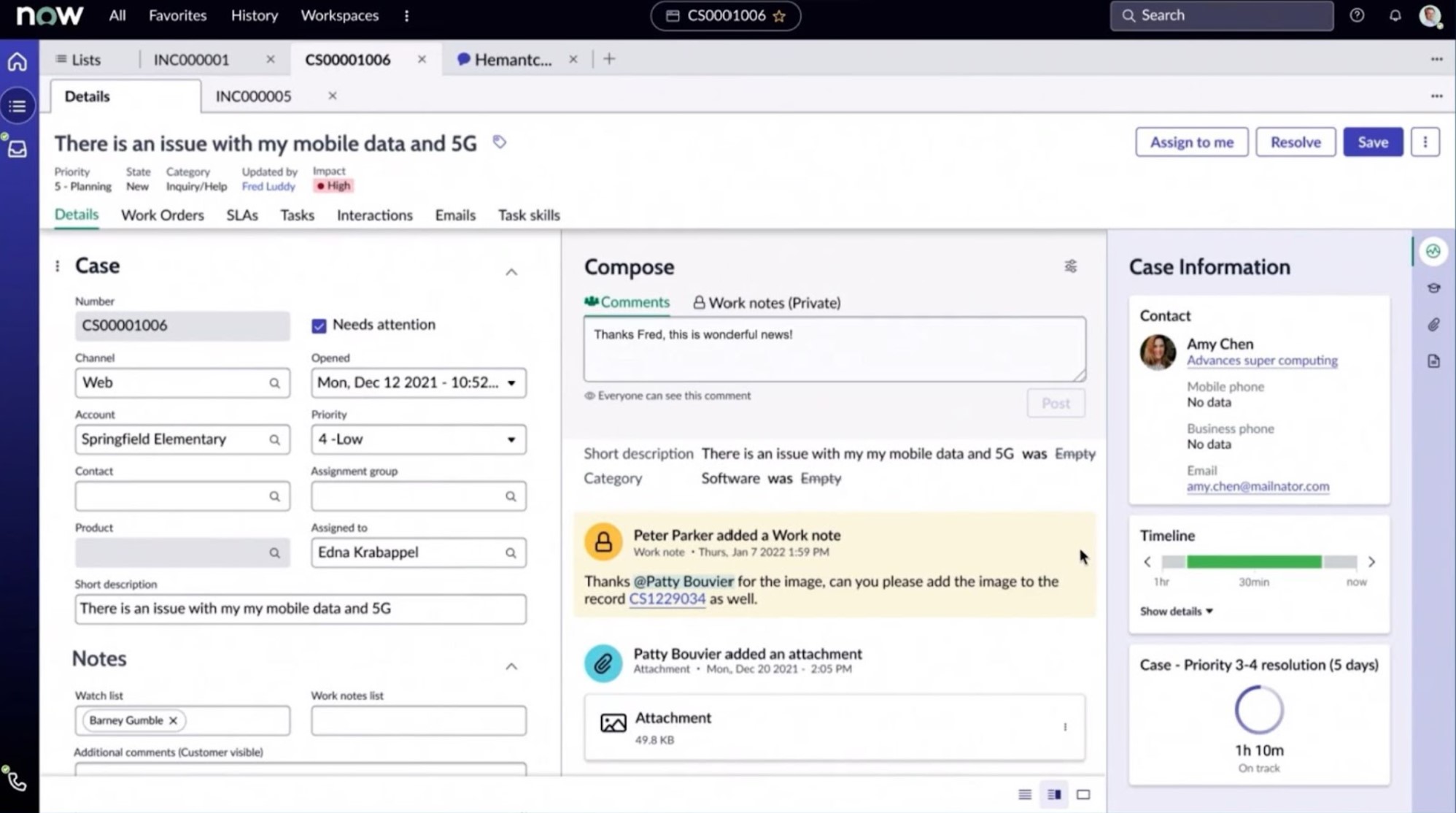 Seamless handoff from the Virtual Agent lets an agent hit the ground running with customers, instantly informed about the chatbot conversation and gathered information.
Agents can quickly move to the Performance tab to see live statistics like:
Customer satisfaction
Percentage or chat items that have exceeded the target wait time
Winner: Zendesk wins the agent interface category, with an efficiently designed and visually appealing agent dashboard.
Zendesk vs ServiceNow: Pricing and Plans
Below, we've compared the pricing and trial/demo options for both platforms.
Zendesk Pricing and Plans
Zendesk offers their help center software as a suite, in a single package containing everything you need to get started. Zendesk suites tiers range from $49 to $99 per agent per month, each tier providing more features than the one before it.
You can try out Zendesk on a 14-day free trial before signing up.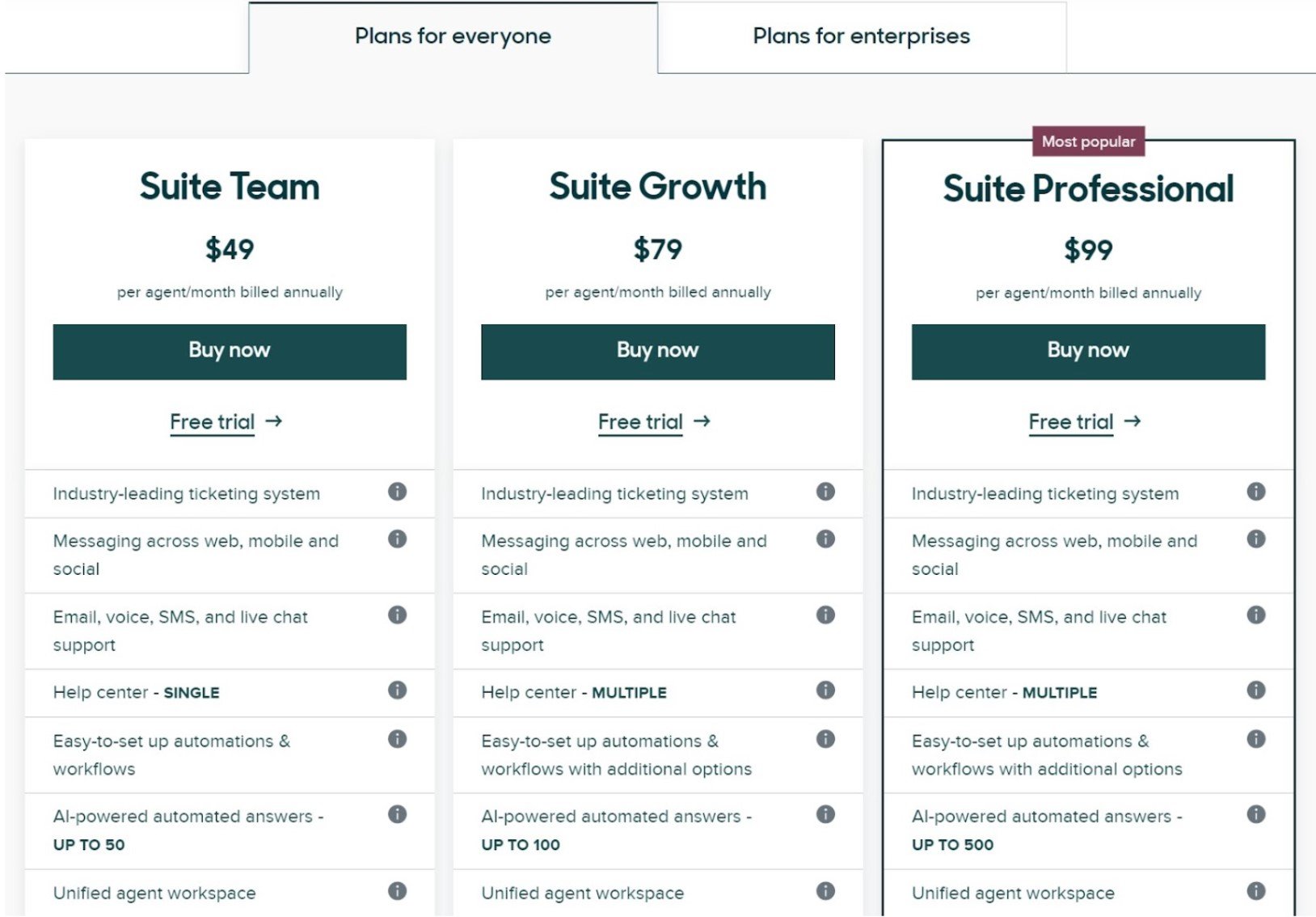 ServiceNow Pricing and Plans
ServiceNow provides custom quotes factoring in your company's information, so contacting ServiceNow directly is the only real way to know how much it will cost for you.
However, the average yearly price for 50 licenses ranges from $50,000 to $70,000, with an additional estimated $20,000 to implement the ServiceNow CSM module.
ServiceNow does not offer a free trial period, but they do offer test demos for up to 15 days.
Zendesk vs ServiceNow: Pros & Cons
Zendesk provides an intuitive and easy-to-use interface with a high degree of customization, while ServiceNow provides an extensive library of data KPIs and self-service tools.
Zendesk Pros and Cons
Zendesk makes a great fit for small-to-medium companies looking to provide the essential omnichannel support options, with a user-friendly and highly customizable interface.
| | |
| --- | --- |
| Zendesk Pros | Zendesk Cons |
| Tons of help center customization options | Lacks some workflow management tools |
| Intuitive and efficient agent interface | Could use more AI agent-assist features |
| Control over analytics reports | Analyzes fewer KPIs |
ServiceNow Pros and Cons
ServiceNow CSM makes a great fit for enterprise-level companies with over 300 employees, large product libraries, in-person services, and a strong desire to refine their support center based on detailed data.
| | |
| --- | --- |
| ServiceNow Pros | ServiceNow Cons |
| Walk-up omnichannel support | Agent dashboard inefficient layout |
| Service Catalog for customer product-browsing | Not many options to customize the help center |
| Tons of analytics and KPIs | Pricier |
Which Customer Service Platform is Right for Your Business?
Both Zendesk and ServiceNow provide great features, but the two help center services differ in some key ways.
With its focus on customization and intuitive design, Zendesk makes a great fit for small-to-medium companies looking to provide a personal experience to their customers and agents. If your company is new to omnichannel contact centers, we recommend Zendesk due to its usability.
ServiceNow makes a great fit for companies that offer walk-up services, and its service catalog is a useful feature for large companies with substantial product libraries. Additionally, with workflow playbook customization, ServiceNow facilitates workload in enterprise-level companies supporting large agent teams.
A Good Help Center Fits your Team's Needs
Adding an omnichannel customer support center SaaS to your business will provide excellent ROI through satisfied customers and happier agents, meaning less agent burnout and improved IT Service Management (ITSM.)
With the abundance of call center and omnichannel tools that Zendesk for Service and ServiceNow CSM provide, you can create a customer support experience that helps your business continually grow and provide better service, making more sales as a result.
Whichever provider you choose for your customer support center, we know it will help your company thrive.
FAQs For Zendesk and ServiceNow
Below, we've answered some of the most frequently asked questions about ServiceNow vs Zendesk: