As more and more companies make the shift towards business VoIP solutions, service providers compete to meet the demand. RingCentral and Grasshopper mark two of the top options but which one is the better choice?
Let's compare their pricing, features, and user experience to help you decide!
Grasshopper vs RingCentral: At a Glance
If you're in a hurry then the decision between Grasshopper and RingCentral comes down in large part to whether you're looking for a no-frills solution or a full feature suite. Grasshopper brings simplicity at an affordable price while RingCentral provides customization and control.
| | | |
| --- | --- | --- |
| | RingCentral » | Grasshopper » |
| Price | $20 to $60/month per user | $26 to $89/month per user |
| Business Model | Feature suite | No-frills function |
| Communication Channels | Calling, business SMS, instant messaging, video conferencing, and faxing | Calling, texting, and faxing |
| Features | Video conferencing, integrations, analytics, mobile app, and team collaboration | Custom numbers, mobile app, and 99.999% uptime |
| Scalability | Unlimited | Up to five numbers + unlimited extensions |
| First-Party Hardware | Yes | No |
| Customer Support | Phone + Live Chat | Phone + Knowledge Base |
| Best For | Businesses who need a full-featured solution to unify communication | Companies looking for a simple platform that can be scaled up cost-effectively |
Grasshopper vs RingCentral: Evaluation Criteria
To ensure we factor in all the nuanced differences between the two service providers and help you make an informed buying decision, we performed a direct comparison. A total of nine categories were selected based on their importance to the end-user. These categories are:
Calling:

we took a look at the call management to see which platform provided the better user experience and feature set.
Auto-Attendant:

we compared the auto attendants on both platforms to determine which virtual assistant provided the most value.
Integrations:

we looked at which platform had superior compatibility with third-party integrations.
Alternative Communication Channels:

we compared the two solutions to see which one was better at unifying communications across multiple channels.
Scalability:

we took into consideration which service provider was easier to scale up in a cost-effective manner.
Hardware:

we looked at which option provided greater convenience in terms of VoIP hardware.
Cross-Platform Compatibility:

we analyzed each provider's respective mobile app to see which option gave customers the most seamless cross-platform experience.
Ease of Use:

we compared which platforms were easier to both setup and continue using.
Customer Support:

we looked at which service provider was better equipped to help customers if they run into an issue.

Pricing:

we compared the various plans to determine which provider would be more affordable to companies.
Grasshopper vs RingCentral: Direct Comparison
Calling
Let's start with the core function of VoIP: calling.
Grasshopper takes a spartan approach by providing the necessary communication features without the bells and whistles the pricier competitors may offer. The lack of advanced call management features makes the platform easier to use and more affordable at the cost of control.
RingCentral justifies its higher price point by giving you all the VoIP features and functionality you could ever ask for. Open APIs and a broad range of integrations (which are listed below) allow for advanced call management on an unmatched level.
The ability to personalize the platform to this extent does mean you'll need to pay more though.
Winner: RingCentral takes the first win due to its superior call management features but those looking for a no-frills platform can still benefit from Grasshopper.
Auto-Attendant
While both solutions offer an auto attendant, there are differences between the two. Grasshopper uses a virtual receptionist called Ruby that helps with gathering information, scheduling calls, and interacting with customers instead of sending them to voicemail.
Grasshopper lets you either record your own custom greeting for the auto attendant or utilize their Professional Voice Studio at a reasonable price. You can also edit extensions and call forwarding rules anytime in the auto-attendant settings.
RingCentrals' virtual assistant serves similar auto-attendant functions to that of Grasshopper. You can customize the virtual answering service to route calls to any device, department, inbox, or extension around the world. When a certain employee's device is set to "do not disturb", RingCentral will automatically reroute the call to someone else on the team.
Callers looking for a specific employee will benefit from the dial-by-name directory that the RingCentral auto-attendant can route them to. If you need custom greetings, then you'll be glad to know that RingCentral also offers a professional recording service.
Regardless of which auto-attendant you prefer, simply having one can be a great asset to your company since it ensures that your customers will always be well-taken care of even outside office hours.
Winner: tie, both offer robust IVR, auto-attendant, and virtual receptionists provide value to businesses.
Integrations
RingCentral makes streamlining your company workflow incredibly straightforward thanks to all the third-party integrations it supports. Whether it's Salesforce, Microsoft Outlook, Dropbox, Slack, Google Workspace, or Google Drive – RingCentral has you covered.
It's worth noting that you'll need the Standard plan or higher to make use of these integrations so bear that in mind if you were planning on getting the cheaper Essentials plan. While Grasshopper also has integrations, they focus more on communication tools.
CRM software can be connected through the use of APIs but otherwise, you're stuck with Skype and Google Voice as the only two supported integrations on Grasshopper. This may or may not be a problem depending on how you intend to use the solution.
Winner: RingCentral takes a decisive win here due to their broad catalog of useful integrations.
Alternative Communication Channels
By virtue of its full-feature business model, RingCentral is the heavy favorite in terms of alternative communication channels. If calling, texting, and faxing are all you need, then Grasshopper should be enough for you.
That being said, messaging and video conferencing are luxuries reserved for the customers of RingCentral. These features could also help you consolidate all communications onto a single platform rather than having to use third-party solutions like Zoom or Skype to run video conferences.
Winner: RingCentral is the clear winner since it can save your company time and money by eliminating third-party tools.
Scalability
RingCentral has always taken a quality over quantity approach. This has led to its features being fully fleshed out and a myriad of integrations being available. The downside is that this full-featured nature can make it a bit trickier and costly to scale up past a certain point.
In contrast, the simplicity of Grasshopper can make the scaling process more straightforward since call and text make up the majority of the platform's functions. Finally, the budget-friendly pricing and unlimited extensions reduce the cost of scaling.
Winner: Grasshopper is the easier solution to scale due to its pricing and simpler nature.
Hardware
While Grasshopper and RingCentral are able to function over web-based softphones applications, only one of them sells first-party VoIP hardware. Companies that intend to buy headsets and desk phones should likely go for RingCentral.
Grasshopper does support third-party solutions but you'll miss out on the discounts that you could get on RingCentral phones when buying their bundles. Companies with existing hardware won't be impacted as much unless they plan on upgrading their current desk phones.
Winner: RingCentral gets an uncontested win in this category since Grasshopper doesn't sell first-party hardware.
Cross-Platform Compatibility
The RingCentral app, available on both iOS and Android devices, brings quite a few handy features to the table. As we mentioned earlier, it comes with business SMS, which is a perk in itself. Beyond that, you'll also be able to track your account activity and make changes that sync across all logged-in devices.
Grasshopper's mobile app is centered around privacy and client relations. You'll be able to use your Grasshopper caller ID when talking to clients, which not only keeps your personal number private but also makes it look like you're still in the office while talking to them.
Those with multiple Grasshopper numbers can even choose which one they want to display.
Winner: RingCentral has a slight edge here with cross-platform syncing and robust business SMS.
Ease of Use
Grasshopper is built around delivering a seamless experience on both ends of the call. For instance, transferring virtual numbers from one employee to another only takes a few clicks rather than making you update multiple fields.
Installation, implementation, and customization are all equally hassle-free with RingCentral.
The aforementioned mobile app for RingCentral has an interface built around intuitive navigation. All the main features are presented in large buttons as soon as you open the app and sending messages to an entire department can be done in just two taps.
RingCentral also syncs your devices to keep the experience consistent even when switching from PC to mobile or vice-versa.
Winner: RingCentral gets a marginal victory here, especially for those who use multiple platforms.
Customer Support
Grasshopper mostly relies on a self-service model for technical support with their extensive knowledge base. However, they do have a 24/7 toll-free sales hotline at 800-820-8210 if you want to reach them by phone and subscribers have a direct support line as well.
RingCentral is the opposite as it focuses on assisting customers with their problems directly. It has a live chat option where you can speak either to a chatbot or human agent depending on how complex your problem is to ensure that you always get timely support.
Winner: tie, it depends which approach you're more comfortable with when you run into a problem.
Grasshopper vs RingCentral: Pricing
Speaking of pricing, which option is more cost-effective?
Grasshopper Pricing
Solo

Partner

Small Business

Price billed per month

$29/month

$49/month

$89/month

Price billed per year

$26/month

$44/month

$80/month

Numbers and extensions

One number




Three extensions

Three numbers




Six extensions

Five numbers




Unlimited extensions

Toll-free minutes per month

Unlimited

Unlimited

Unlimited
RingCentral Pricing
| | | | | |
| --- | --- | --- | --- | --- |
| | Essentials | Standard | Premium | Ultimate |
| Price billed per month | $30/month for each user | $35/month for each user | $45/month for each user | $60/month for each user |
| Price billed per year | $20/month for each user | $25/month for each user | $35/month for each user | $50/month for each user |
| Maximum users | 20 | Unlimited | Unlimited | Unlimited |
| Toll-free minutes per month | 100 | 1,000 | 2,500 | 10,000 |
While RingCentral may seem cheaper at first since its cheapest plan comes out at $20 compared to Grasshopper's $26, that doesn't tell the whole story. This is because Grasshopper prices its plans in packages.
Every plan comes with multiple numbers and extensions. This makes it possible for an entire team to share a phone number if needed. Ultimately, this makes it cheaper as long as you don't need a dedicated line.
One great example is the Small Business Plan that Grasshopper offers at $80/month for five numbers + unlimited extensions. Averaged out, the per-user monthly cost comes out at $16 which is cheaper than RingCentral.
Furthermore, higher tiers of RingCentral plans could see you paying as much as $60 per month for each user just to access a few premium features. Conversely, Grasshopper gives you full access regardless of what plan you're on.
Winner: Grasshopper is almost always more cost-effective except in edge cases like a one-person team that doesn't need premium features.
Top Grasshopper Benefits
Custom Numbers
Grasshopper gives users a lot of freedom when creating numbers to build up their brands. There are three types of numbers that Grasshopper lets you generate to leave a positive and lasting impression on your customers:
Vanity numbers. Vanity phone numbers are one of the best ways to make your business memorable since you can include a word or phrase in your hotline. 1-800-Go-Fedex is not only memorable but also uses a verb that encourages action on the part of the customer.
Toll-free numbers. Toll-free numbers are a common way of making companies look more established and set a national image as opposed to a local one.  Prefixes like 800 can have a surprisingly large impact on whether or not people perceive your brand as legitimate.
Local numbers.

The opposite approach can also be helpful. Customers who want to support local businesses are more likely to call local numbers which can help you widen demographics without needing additional physical locations.
If you already have existing numbers that fall into these categories then you can simply port them over to Grasshopper rather than having to recreate them and update all your marketing material. The porting process usually takes a week or less with Grasshopper so there's really no downside.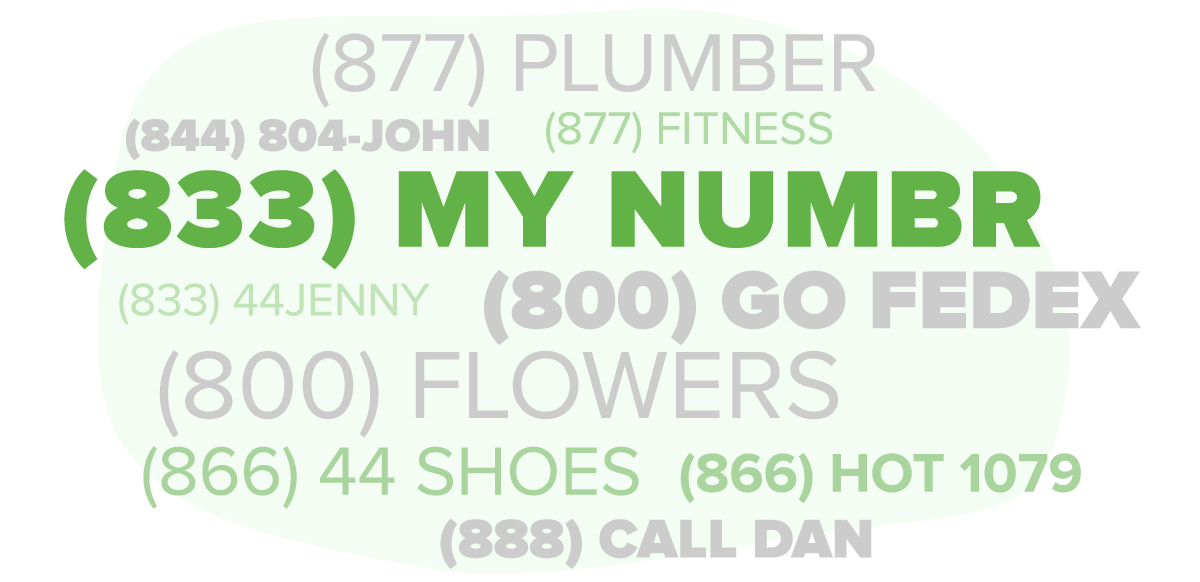 99.999% Uptime
Reliability should always be a top priority when choosing a VoIP provider and this is certainly an area where Grasshopper excels. With multiple backup servers across different geographic locations, Grasshopper has enough redundancy in its system to guarantee 99.999% uptime.
In the event of a rare service outage, you can use the Grasshopper Status page to wait for updates. Scrolling through the history section of this page also shows just how few and far between Grasshopper outages actually are.
In the event that your local network runs into connectivity issues, organizations can switch over to cellular data and continue to use their Grasshopper devices normally until the WiFi connection has been restored.
Mobile Access
The Grasshopper app (available on iOS, Android, and desktop) ensures that your agents will be able to address any customer questions and concerns while on the go. Full SMS and voice calling capabilities are available through the app on any device with an internet connection.
Outside communication, the app also helps you stay organized. You'll be able to look at call/SMS histories, send/receive faxes, read voicemail transcriptions, and more. Voicemail transcriptions are particularly effective at keeping employees in the loop on their tickets while they're not in the office.
It's also worth noting that you can categorize all the data available on your Grasshopper mobile app to make navigation and review easier. Even if you're looking for something specific, the searchable nature of the app helps you pinpoint the relevant data in an instant.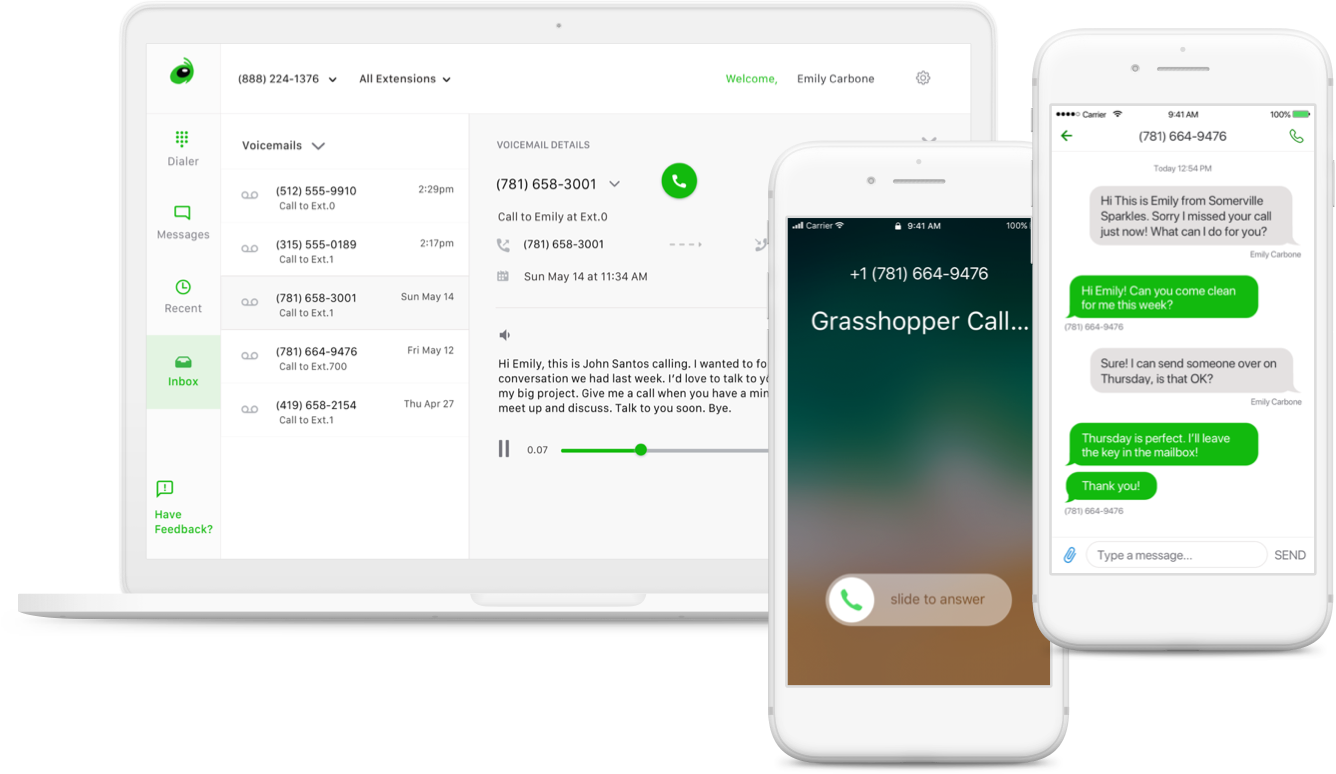 Top RingCentral Benefits
Video Conferencing
In addition to the usual features like whiteboarding, screen sharing, and file sharing, RingCentral Video conferencing has a few unique benefits. First of all, users can switch between devices mid-meeting which circumvents a myriad of would-be technical difficulties.
Scheduling meetings can also be done on-platform which eliminates the need for third-party solutions like Calendly or Google Calendar. Hosts will be able to edit, reschedule, or cancel meetings as needed without having to manually update 100 participants after the fact.
If 100-participant meetings aren't enough for you then you can upgrade to the Pro+ version to double conference capacity as well as get extra benefits like expanded cloud storage, advanced analytics, and additional integration options.
That's right, while RingCentral is more than able to cover all video conferencing needs natively, third-party integrations are supported too. You can use RingCentral video with apps like Salesforce, Slack, Skype, Microsoft Teams, Google Workspace, and more.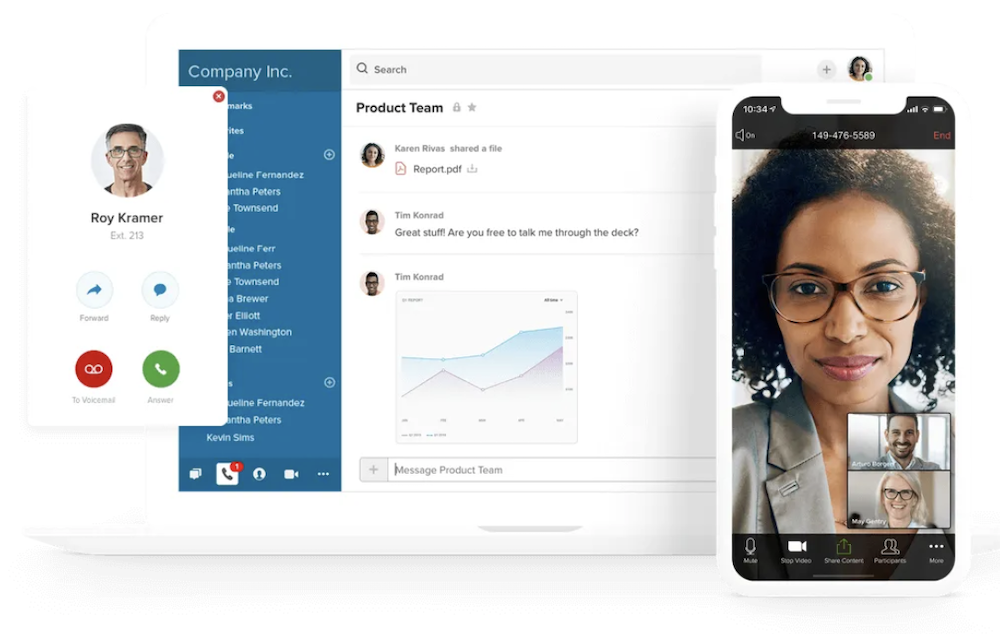 Team Collaboration
RingCentral's built-in collaboration solution can increase productivity by unifying team communication, collaboration, and task management onto a single platform. It has all the team chat features you'd expect like task management, direct messages, voice calling, and conferencing.
Admins can also create channels for specific departments or projects to streamline workflow and segment teams. Users can also attach files to their messages then pin them for review later or to ensure other team members see the upload.
If you're already using a third-party project management software and don't want to migrate everything to RingCentral then you can always integrate Asana, Monday, or other tools that you might prefer.
Finally, you can pull documents from your Google Drive or local storage then upload them to RingCentral. Once these files have been imported, you'll be able to easily search through them or leave comments in real-time.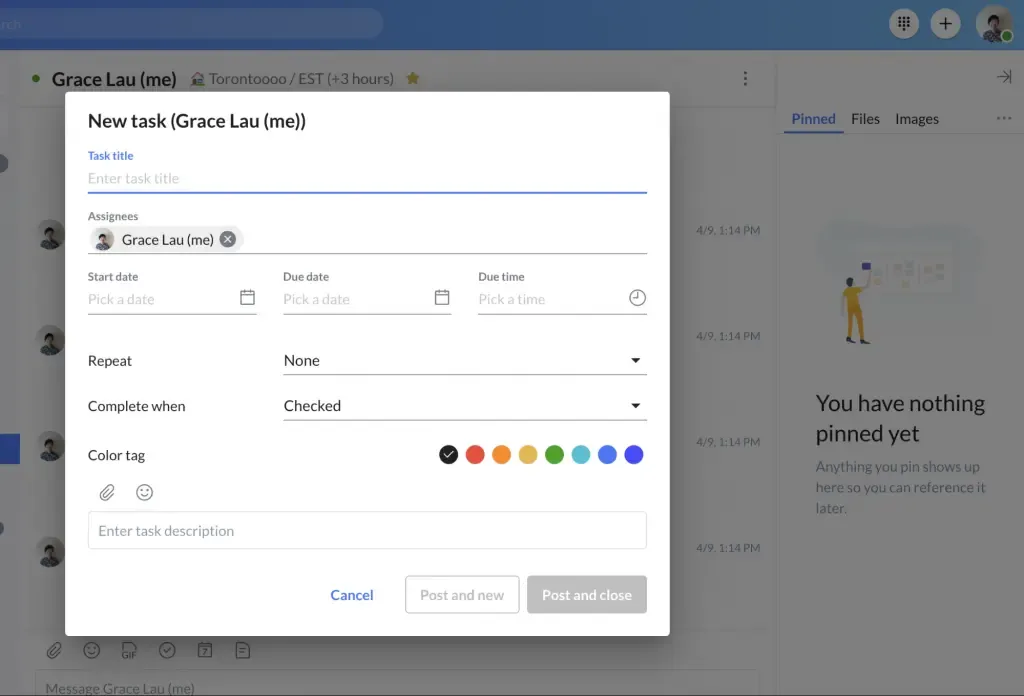 Analytics
The RingCentral Analytics Portal lets you view real-time data on every agent, client, or department as well as review historical insights. You can even specify a specific date range then send these customized reports out via email.
Pre-made report topics include:
Percentage of calls answered vs. sent to voicemail

Average call duration and handle time

Performance reports with predictive analytics and KPI trends

Live reports of user activity with more than 30 metrics

Quality of service and user escalation

Adoption and usage (how your team uses the RingCentral platform)
You can also use the Feedback Management tool to monitor CSAT levels and look at any trends that may be present in customer service responses. Its features include agent patterns, coaching plans, and peer benchmarking to name a few.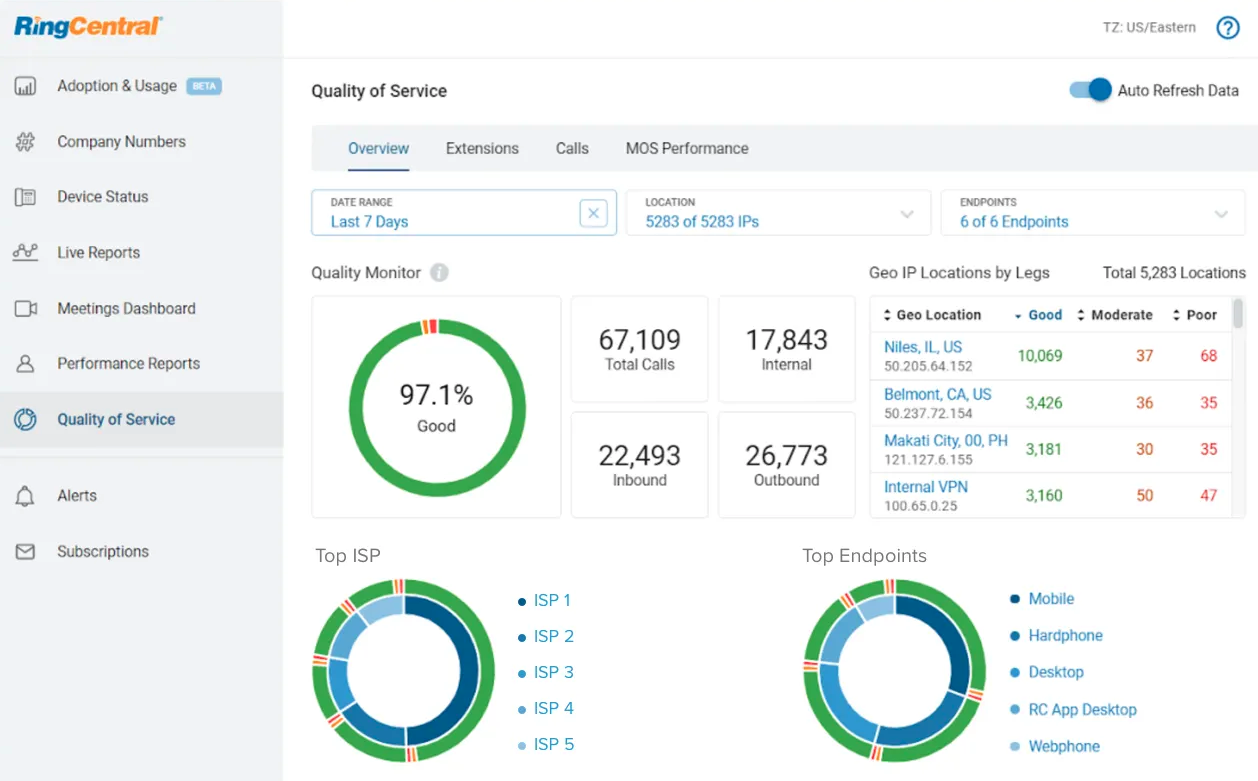 Which Solution is Right For Your Business?
It's impossible to crown an objective winner between the two service providers since every company has different needs. To keep things fair, we have a few recommendations depending on your specific use case.
Who Should Use Grasshopper?
Companies who want the bare minimum to migrate over from PSTN to VoIP should be satisfied with the service that Grasshopper offers. It's a solid and affordable solution that lets you run calls through the internet and as a result optimize the efficiency of your workspace.
It might not come loaded with a mountain of features like many of its competitors in the VoIP space but that doesn't make it any less valuable to the right customers. In fact, customers who don't need extra features might even see them as clutter that they're forced to pay for.
This lean business model also makes Grasshopper cheaper to scale up which can be essential to companies who expect rapid growth in the coming months or years and don't want to pay a fortune for virtual numbers.
Who Should Use RingCentral?
If customization, VoIP security, and cross-platform consistency are high on your priority list then you'd likely be happier going with RingCentral. Companies who will be replacing their old equipment in favor of newer desk phones also stand to gain from the discounted first-party hardware that RingCentral can bundle in.
Teams that use Google Drive, Dropbox, or Slack will generally have a more convenient experience on RingCentral as well due to the support for third-party integrations. On the flip side, you can save money on third-party tools thanks to the video conferencing capabilities at RingCentral.
It may not be the cheapest solution on the market but those looking for a feature-rich maverick that's versatile enough to flex to their dynamic needs will quickly find that RingCentral is definitely worth the monthly fee.
Conclusion
As you can see, there's never really a clear-cut answer when comparing service providers. Additionally, there's a plethora of other RingCentral alternatives as well as Grasshopper alternatives to choose from.
If you're still on the fence then feel free to have a look at our guide on How to Choose a VoIP Provider. Also, be sure to share this article if it helped you make an informed buying decision so your colleagues don't regret their next subscription!