Freshdesk and Zendesk are two of today's top omnichannel customer service software providers, and while the two providers share many features, they have some key differences.
This article will outline both providers' solutions in detail–comparing key features, ease of use, pros and cons, and ultimately which one makes a better fit for your company.
Freshdesk vs Zendesk: Overview
The table below provides a quick overview of key Zendesk vs Freshdesk features and functionalities.
Freshdesk
Zendesk
Available Communication Channels
-Voice

-Live chat

-Chatbots

-Social media messaging

-Email

-Voice

-SMS texting

-Live chat

-Chatbots

-Social media messaging

-Email

AI-Powered Features
-Omniroute ticket assignment

-Ticket auto-prioritization

-Agent assistance

-Scenario automation

-Chatbots

-Automated ticket routing

-Agent suggestions

Customer Self-Service Features
-Chatbots

-Help center

-Community forum

-Chatbots

-Help center

-Community forum

Workflow Management Features
-Triggered routing automation and notifications

SLA management

-Field service dispatch and scheduling

-Bot flow builder

-Custom triggers

-Custom automation

-Bot flow builder

Key Integrations
WhatsApp, Slack, Shopify, Salesforce, Microsoft Teams, Mailchimp, Hubspot, Stripe, and more
Jira, Zoom, Slack, Shopify, SurveyMonkey, Salesforce, MaestroQA, and more
Best For
Companies providing field service, or businesses that often have multiple teams working together on one ticket
Companies planning to use all customer-service channels, even on a budget
What Is Freshdesk?
Freshdesk is an omnichannel customer support suite including:
Team Inbox ticket management system
Multi-agent Ticket Collaboration
Field service management
Interactive knowledge base/help desk solutions
Help widget
AI-powered customer self-service and support chatbots (FreshChat)
Workflow automation
Analytics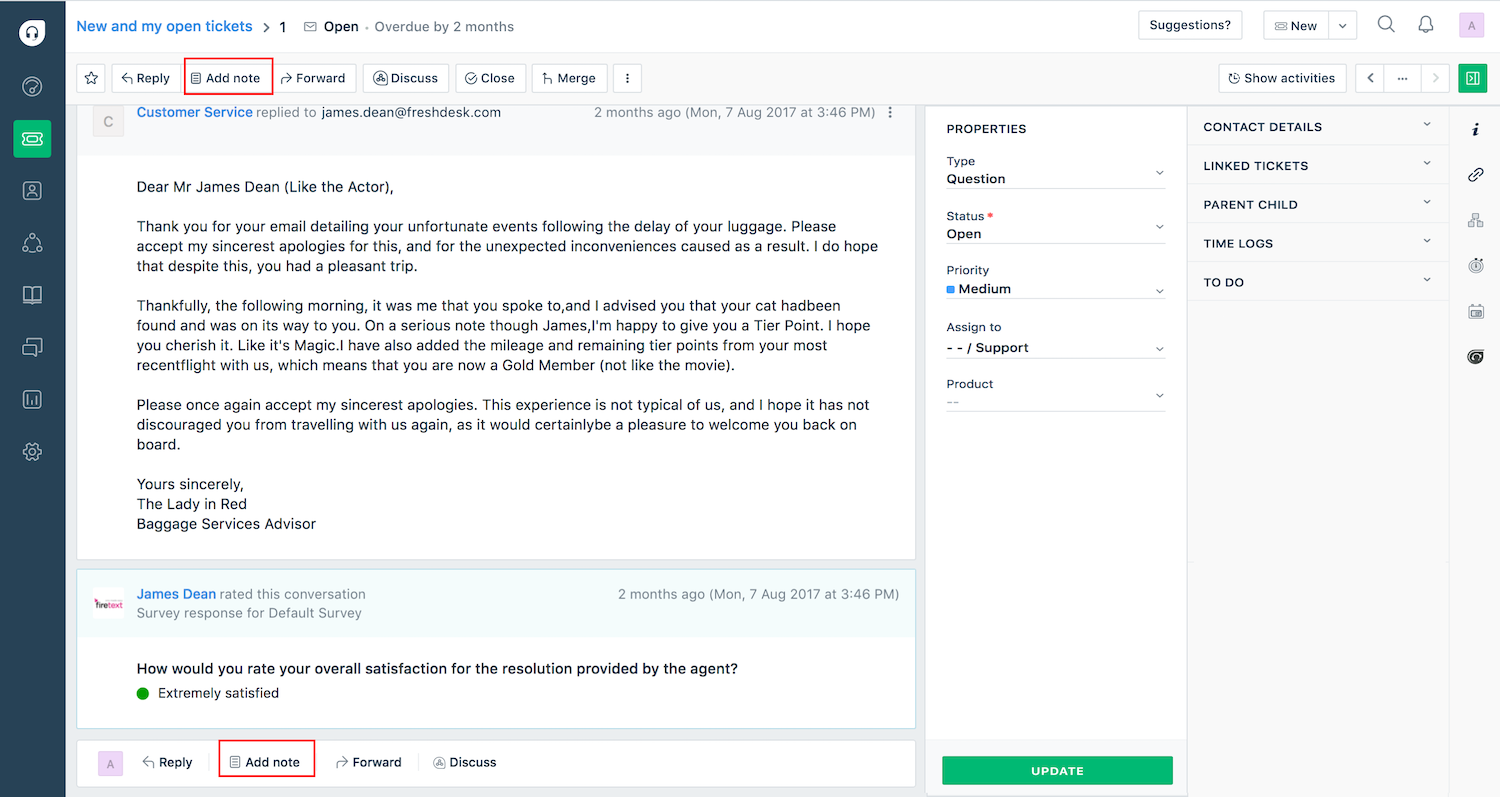 Support agents and customers can connect across popular communication channels, including email, live chat, phone, WhatsApp, and social media platforms like Facebook and Twitter. Customers can also make support requests through your business website.
What Is Zendesk?
Zendesk is an omnichannel customer support software with customer experience solutions for sales and support teams.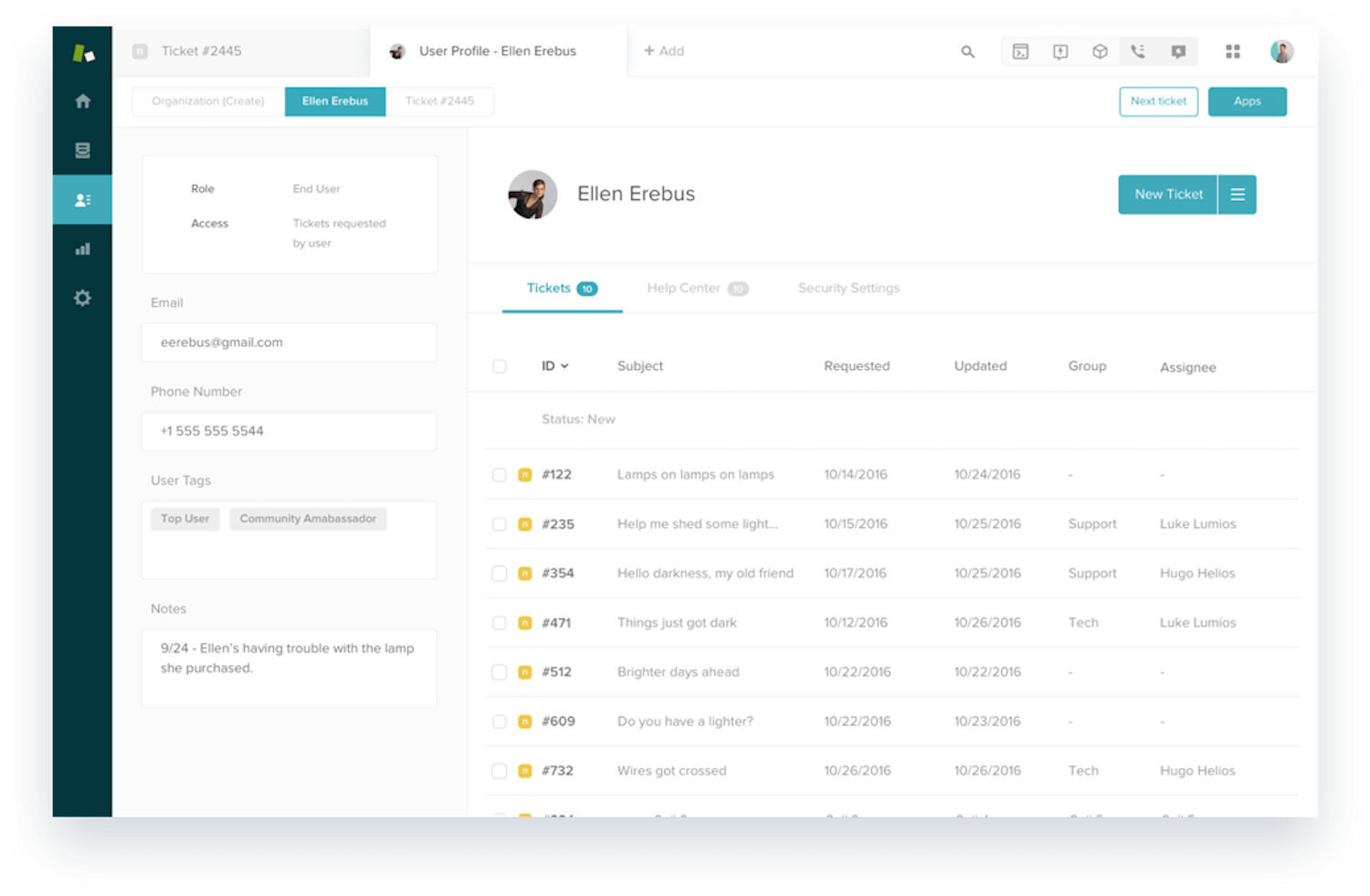 It offers:
A smart knowledge base (Zendesk Guide) for agents and customers
An AI-powered chatbot (Answer Bot)
Sales and support CRM systems
Intuitive Zendesk Agent Workspace with over 1,000 pre-built integrations
Omnichannel ticketing system with ticket routing
Analytics and reporting
Agents and customers can connect via website or mobile app chat, WhatsApp, SMS texting, voice calling, email, and social media platforms like Facebook and Twitter.
Freshdesk vs Zendesk: Ticketing System
A ticketing system transforms inbound customer queries into internal tickets, organizing them for agent response and monitoring.
Freshdesk Ticketing System Features
Below, we've outlined Freshdesk's key ticketing system features.
Shared Ticketing Inbox
Freshdesk's ticketing system automatically creates tickets from customer queries across all communication channels, combining these tickets in a single shared inbox for collaboration-based customer service.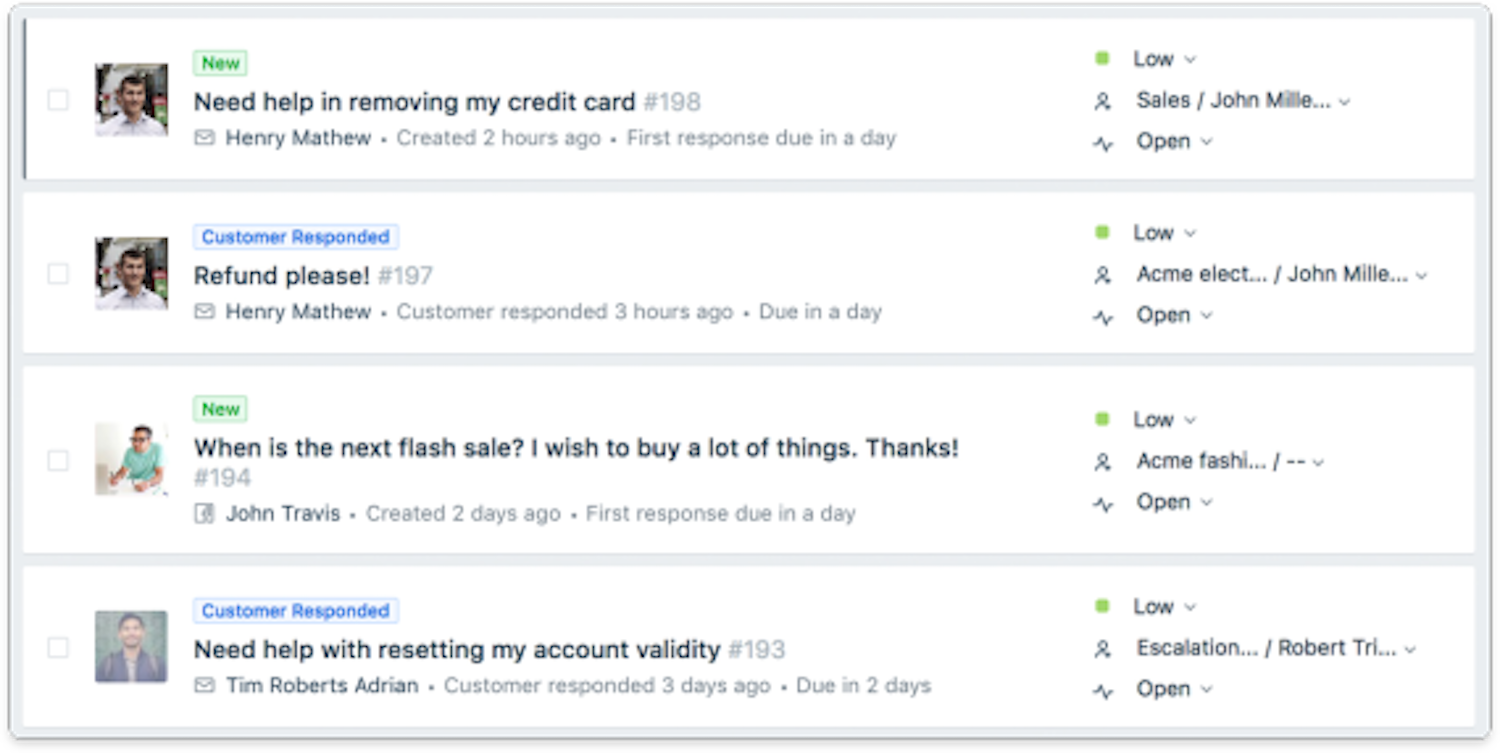 A shared inbox allows multiple agents (or entire departments/teams) to view, manage, and resolve all customer support ticket requests in a unified interface complete with real-time syncing to prevent two agents from simultaneously working on the same ticket.
Freshdesk takes the shared inbox experience to the next level through in-ticket team collaboration, instant access to the company knowledge base, and workflow automation.
Agents and administrators can categorize, tag, prioritize, assign, and filter tickets by keyword, and create and update ticket statuses.
Collaborative Ticketing
Freshdesk lets agents collaborate directly inside tickets.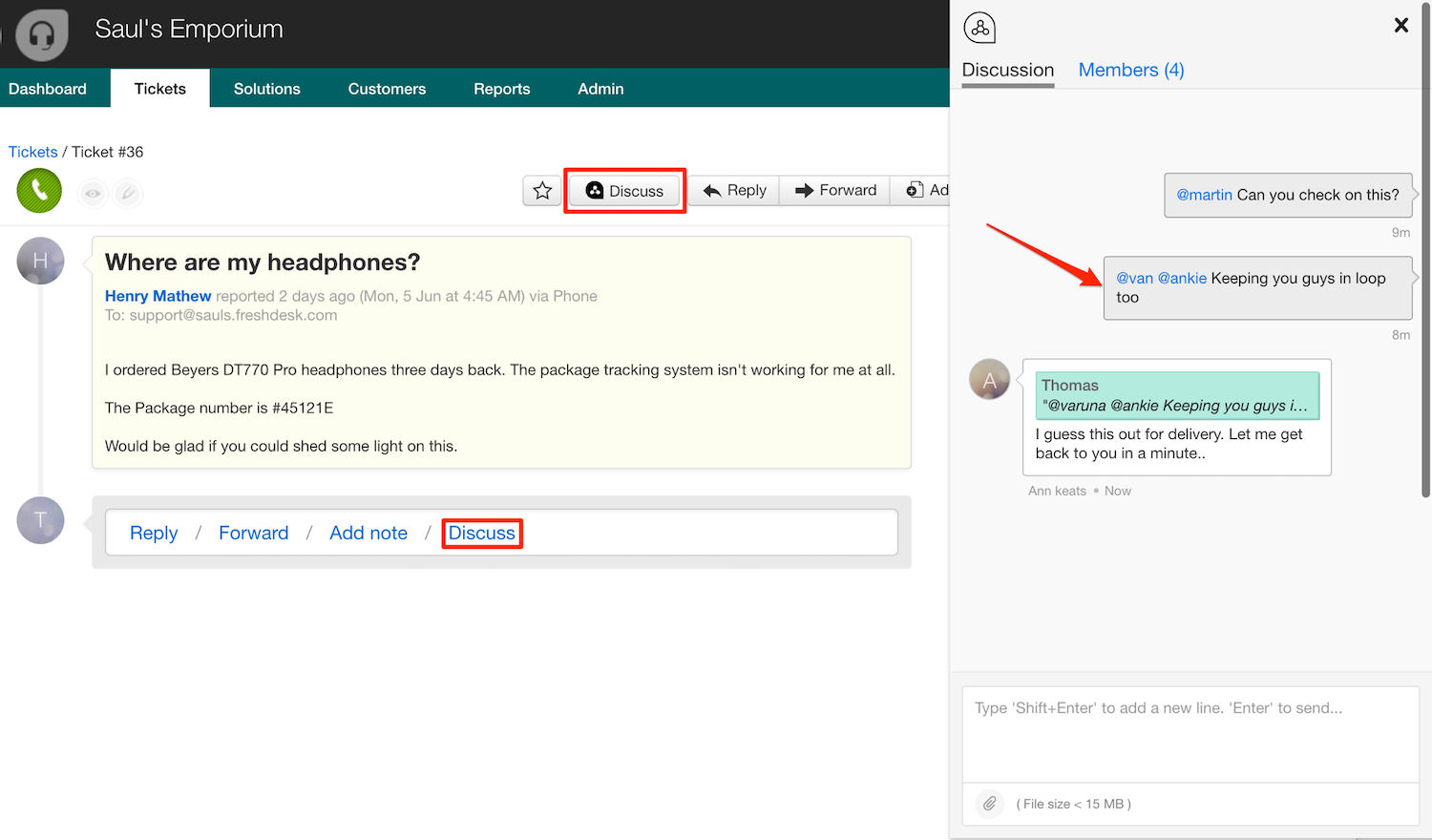 It helps to streamline the resolution process and prevent miscommunications through features like:
Shared Ownership: Maintain ticket visibility by looping multiple teammates into one ticket
Collision Detection: Automatically informs agents when one is on the job, preventing multiple agents from responding to the same ticket
Ticket Merging: Merge multiple tickets into one when they share the same issue
Ticket Splitting: Split tickets into sub-tasks so that multiple teams can handle ticket resolution at once
Team Huddle: Each ticket has a Team Huddle feature where agents can share ticket ownership and use internal notes to discuss ticket details
Activity Log: View all agent and automated activity within a ticket
SLA Management
Service Level Agreements (SLAs) help agents set priorities and make deadlines for tickets.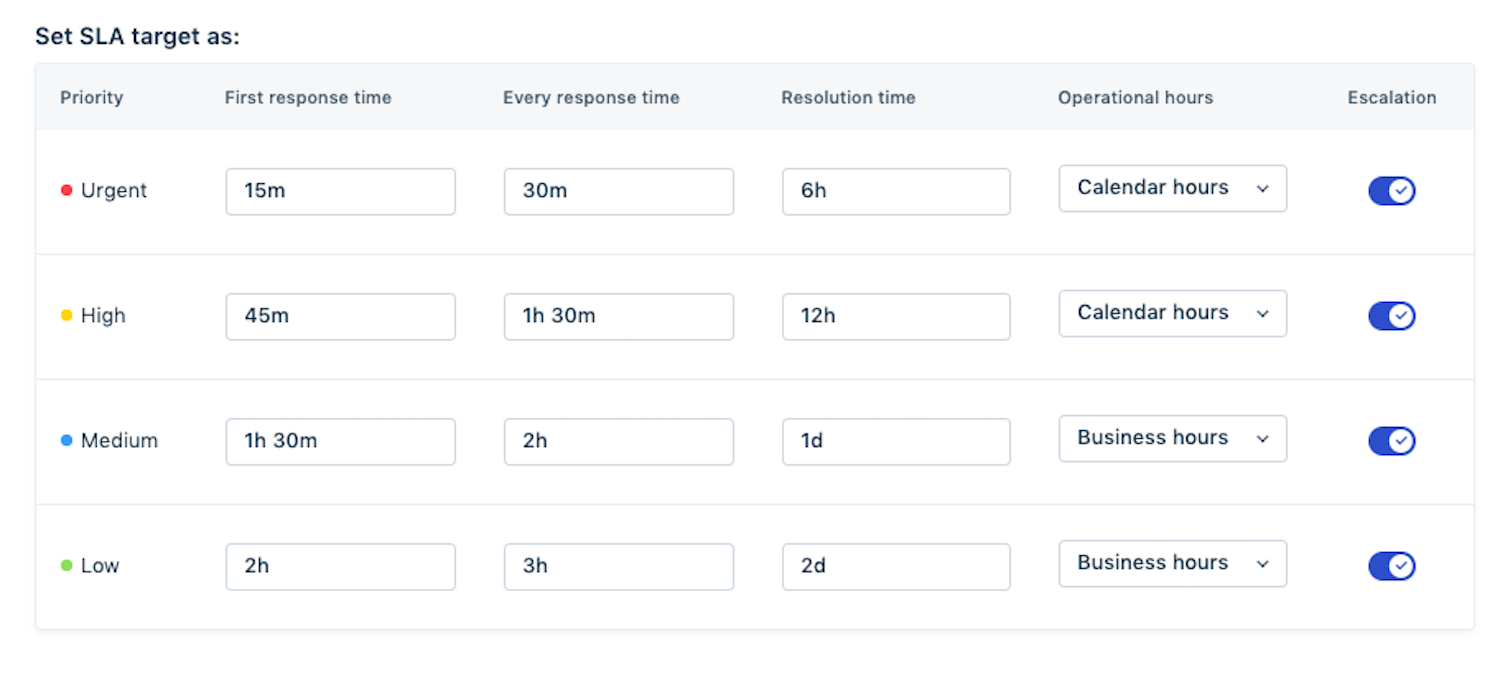 It includes features like:
Ticket Rules: Set deadline rules for when tickets need to be replied to and solved
Automatic Reminders: When an agent does not meet an SLA, trigger automatic reminders and escalations
AI-Supported Ticketing
Freshdesk's Freddy AI supports ticketing by reducing repetitive agent tasks.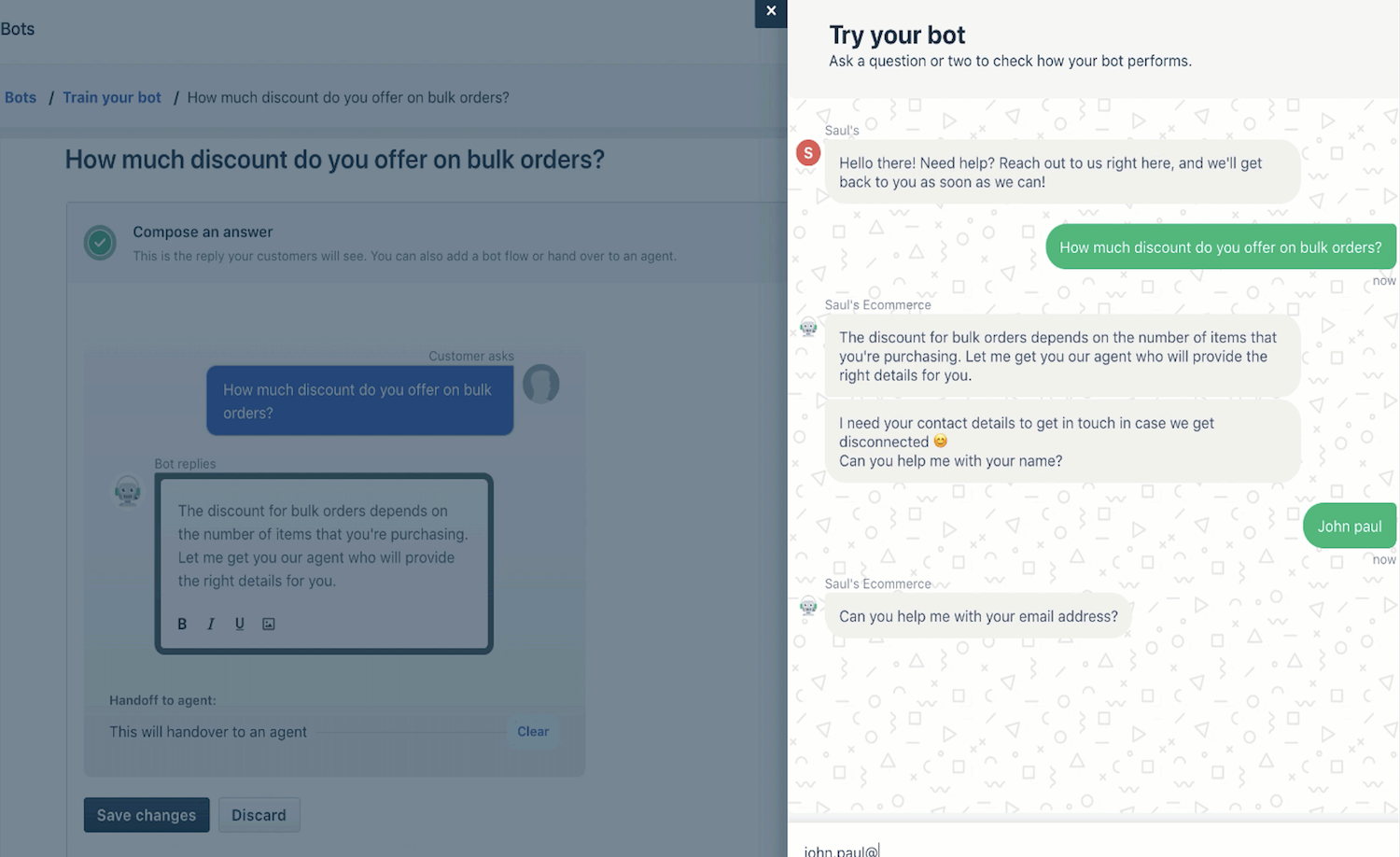 Top Freddy automations include:
Suggested Ticket Fields: Automatic ticket categorization and routing suggestions
Article Suggestions: Suggests relevant knowledge base articles to help agents and customers resolve issues (for live agent support and customer self-service)
"Thank You" Detector: Prevent agents from reopening tickets after a customer says "Thank you"
Canned Responses: Save and reuse common ticket replies
Scenario Automation: Trigger action sequences within a ticket with a single click, with automated repeated actions
Field-Service Communication
Agents can create field service tasks right within the ticket for fluid communication between the home office and field employees, such as:
Ticket Assignment: Assign tickets to field employees based on issue type, field location, and required skills
Freshdesk App: Field employees access and receive updates on assigned tasks within the app
Field Updates: Field employees can update a ticket, notify dispatch and other agents
Custom Objects
Create customized databases and tables relevant to your company's services and products.
Relevant objects (data tables) automatically appear in the ticket interface to provide agents with fuller context about the customer or issue. Sample custom-object data tables include customer information, order confirmation and status, product details and specifications, and more.
Zendesk Ticketing System Features
Below, we've outlined key features of Zendesk's ticketing system.
Automated Actions
When a customer contact submission becomes a ticket, Zendesk support automations immediately begin facilitating the resolution and communication processes.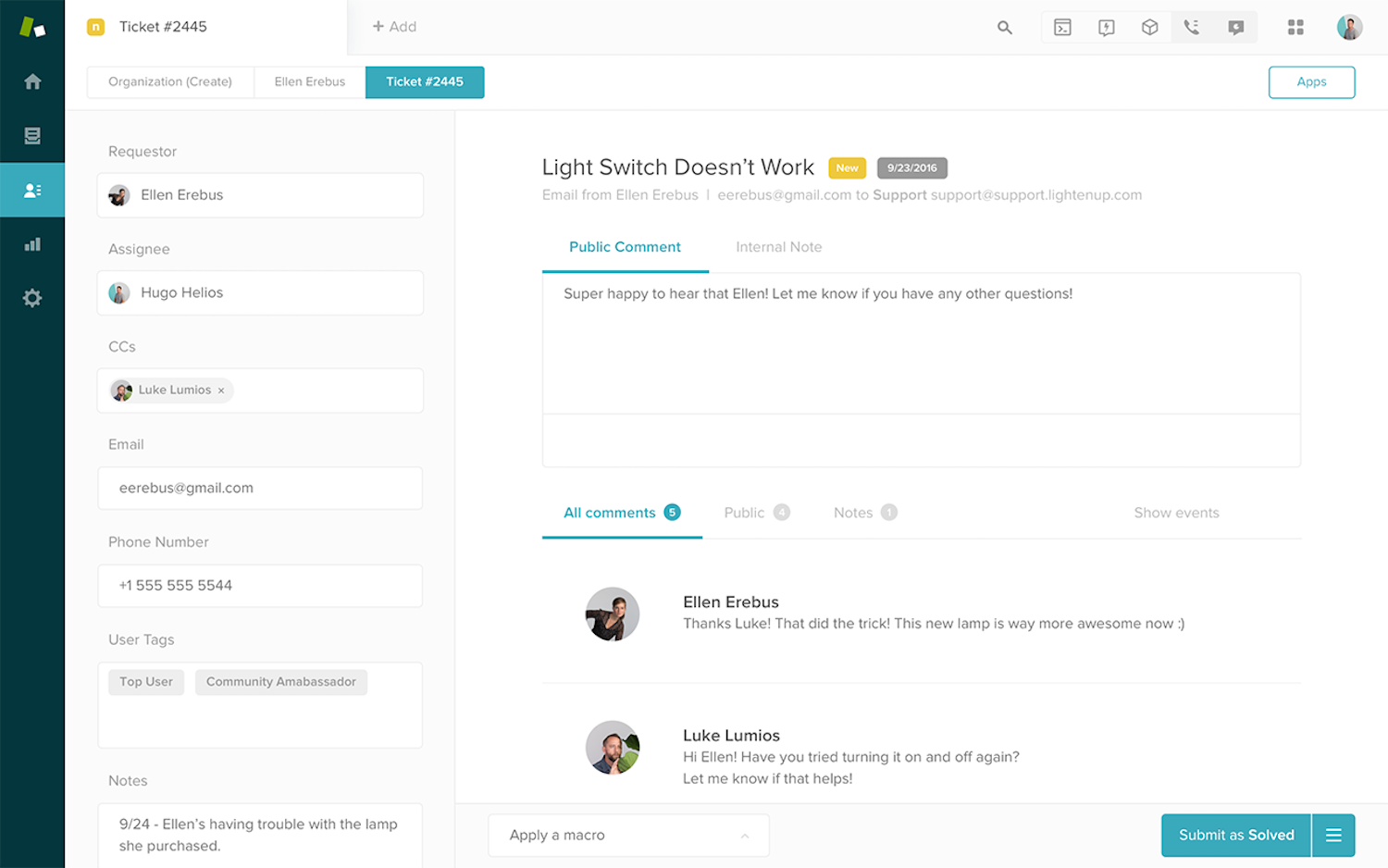 Ticketing features include:
Customer Notifications: Customers receive an automatic notification message when their contact request becomes a ticket
Routing Workflows: Preset workflows, routing rules, and SLAs ensure that tickets automatically route to the right agent
Ticket Macros: Automated action responses/action templates that agents initiate with one click (i.e., attach reimbursement policy, initiate escalation matrix, etc.)
Agent Tools
Within the Zendesk Agent Workspace, agents have the tools to collaborate and manage multiple tickets at once, with access to all necessary customer information, tagging tools, communication channels, and collaboration options.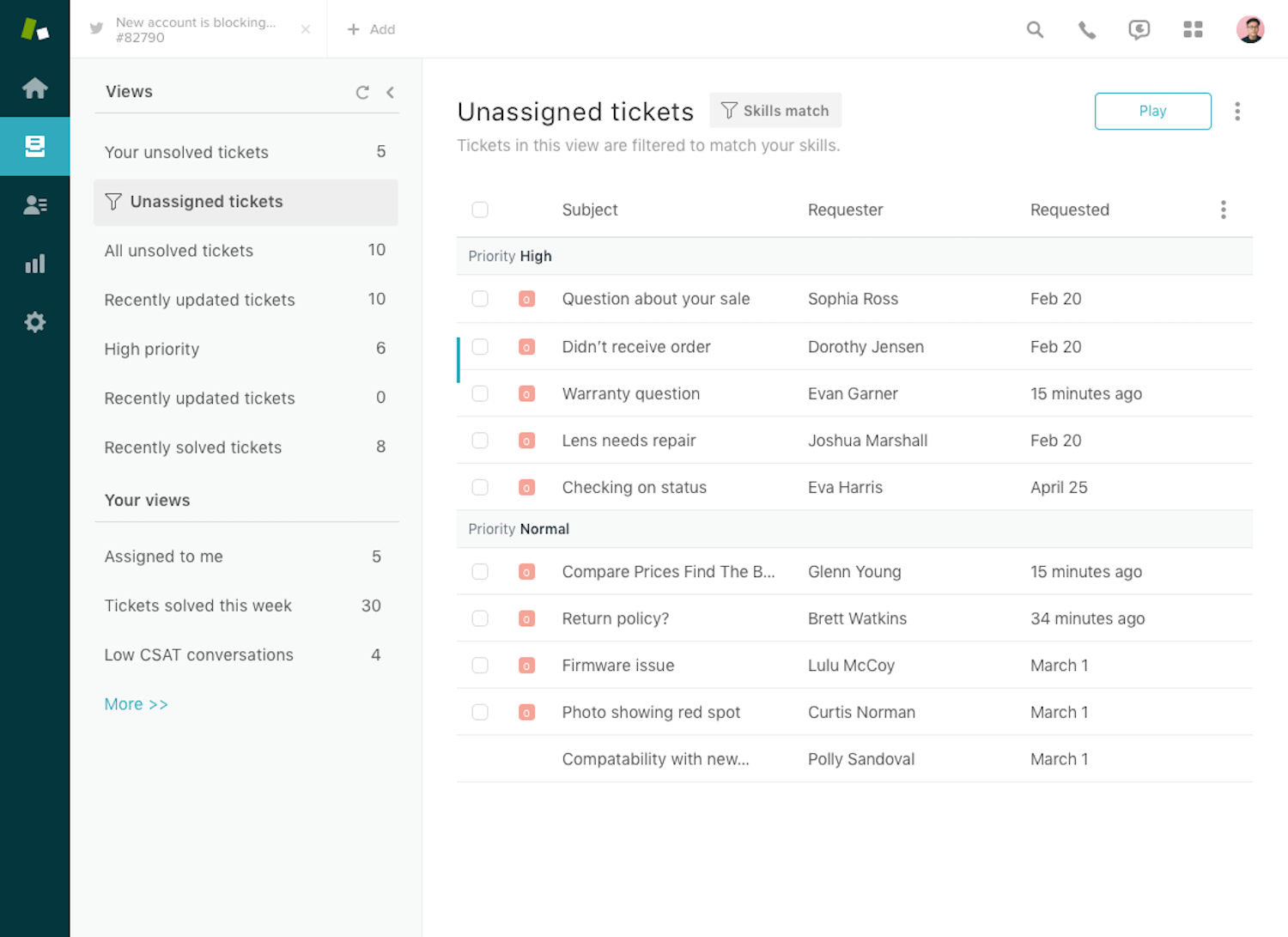 Other agent tools include:
Ticket Tabs: The workspace organizes all tickets as tabs, so agents can jump between tickets with one click
Customer Details: Within a ticket window, agents can access all customer information–contact information, previous interactions, customer priority/VIP status–to quickly gain full context and provide support
Tagging: With one click, agents can tag tickets with urgency and ticket status, keeping any involved agents, supervisors, and customers in the loop about ticket status
Launch Zoom Meetings: With Zendesk's Zoom integration, agents can schedule and launch Zoom video meetings right within the ticket window
Winner: Freshdesk
Freshdesk wins the ticketing system category because it offers numerous small, AI-supported ticketing features to streamline and simplify the resolution process.
Freshdesk vs Zendesk: Collaboration
Collaboration tools allow agents to communicate and share visibility within tickets, improving and speeding up the support process without confusion or repetition.
Freshdesk Collaboration
Here, we've outlined Freshdesk's collaboration features.
Collaborator Roles
The Ticket Collaborator role allows agents to collaborate with anyone–subject matter experts from internal teams, third-party providers and companies, partners, and customers–directly within the ticket.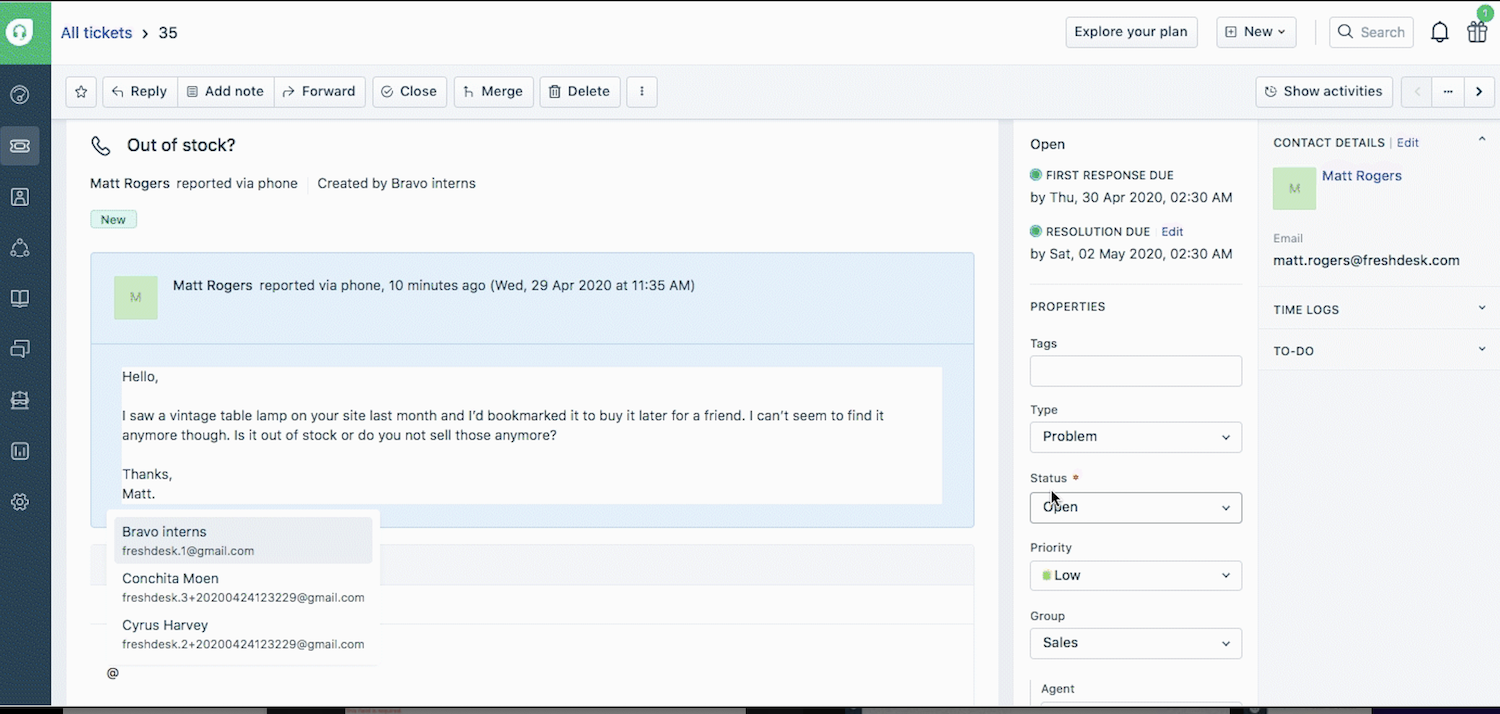 Other collaboration tools include:
Private or Public Notes: Tag collaborators privately or publicly for them to view tickets and customer profiles, add private notes, and change the ticket status
Analytics Collaborators: Engage key agents or executives with the ability to view and discuss analytics, with shared visibility of performance and customer service metrics
Shared Ownership
Share ticket ownership among multiple teams while each group retains full visibility, so teams can split tasks and work on subtasks in parallel while monitoring overall ticket progress.
Contextualized Chats: In-app chats are linked to all respective tickets, so everyone involved stays on the same page
Easy Tagging: Agents can search and invite collaborators right within the ticket via a pop-up menu
Parent-Child Ticketing
Split tickets into smaller tasks that teams can work on simultaneously, keeping every internal team individually accountable and only resolving the ticket once every party has completed their task(s).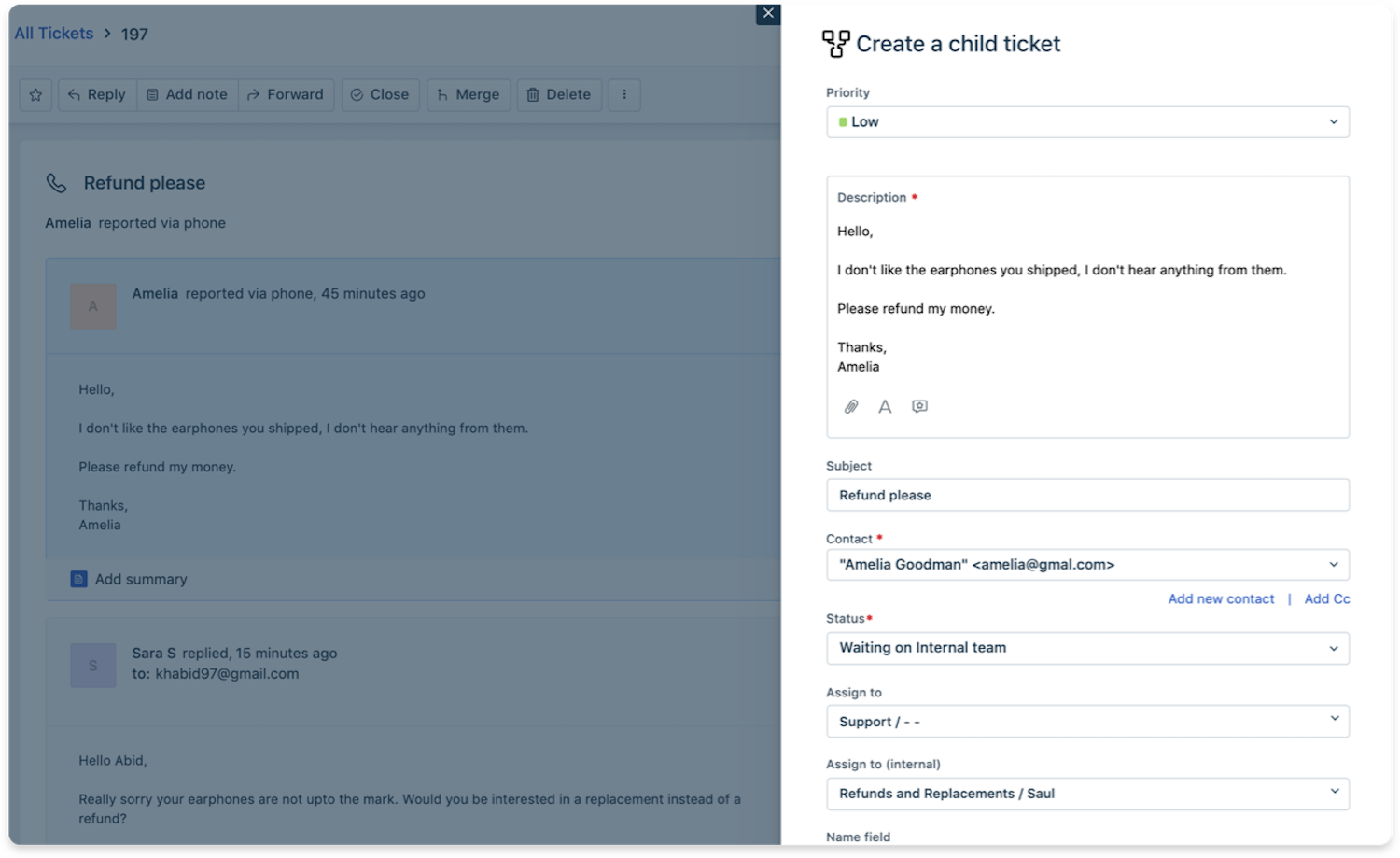 Other features inlcude:
Child-Task Templates: Templates for new child tasks, which an agent can complete right within the ticket window, ensure that new parties joining a ticket receive all the necessary context about the overall ticket and their assigned subtask
Linked Tickets
When multiple incoming tickets share an issue, like a service outage or technical problem, agents can link those tickets together behind a master or "tracker" ticket, initiating streamlined responses to all linked tickets.
Linked Ticket Visibility: In the tracker ticket view, agents can monitor and access all linked tickets
Simultaneous Updates: When an agent posts a note or update on the tracker ticket, agents of all linked tickets are automatically notified
Unified Customer Support and Internal Teams
Agents using Freshdesk can share tickets with internal teams using Freshservice, Freshworks' internal IT help desk software. This provides internal teams with all the customer and interaction context they need to verify things like customer warranty, product information, and incident details.
Customer Updates: Ticket agents stay updated on the internal team's progress and can forward status updates to customers at each step of ticket resolution
Information Control: Customer Tickets remain secure by limiting the amount of information shared with internal teams
Field Team Collaboration
All service field tasks are linked to a ticket, so agents and field service employees remain in step.
Information Sharing: Inside the ticket, agents and field technicians can easily exchange information like addresses, phone numbers, and customer history
Zendesk Collaboration
Below, we've outlined Zendesk's standout collaboration features.
Side Conversations
Within a ticket, the Side Conversations tab initiates and tracks all relevant side conversations.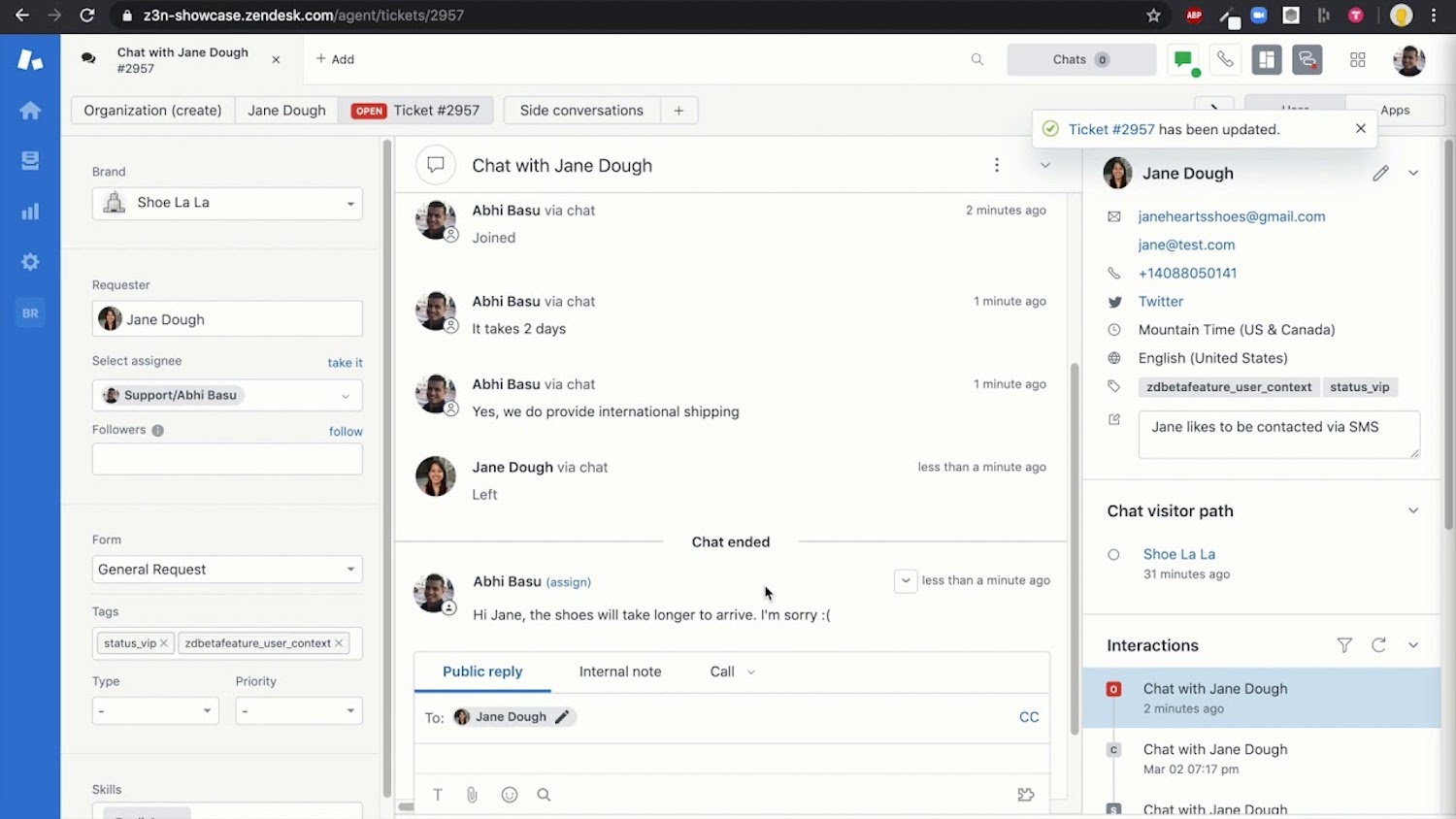 Agents can use email, WhatsApp, Microsoft Teams, Slack, or an internal note to start a thread and create a new channel or use an existing one, and the complete conversation is stored in the ticket.
Multiple Conversations: Agents can start as many conversations as they need within each ticket
Attachment Sharing: Users can share files right in the conversation
Light Access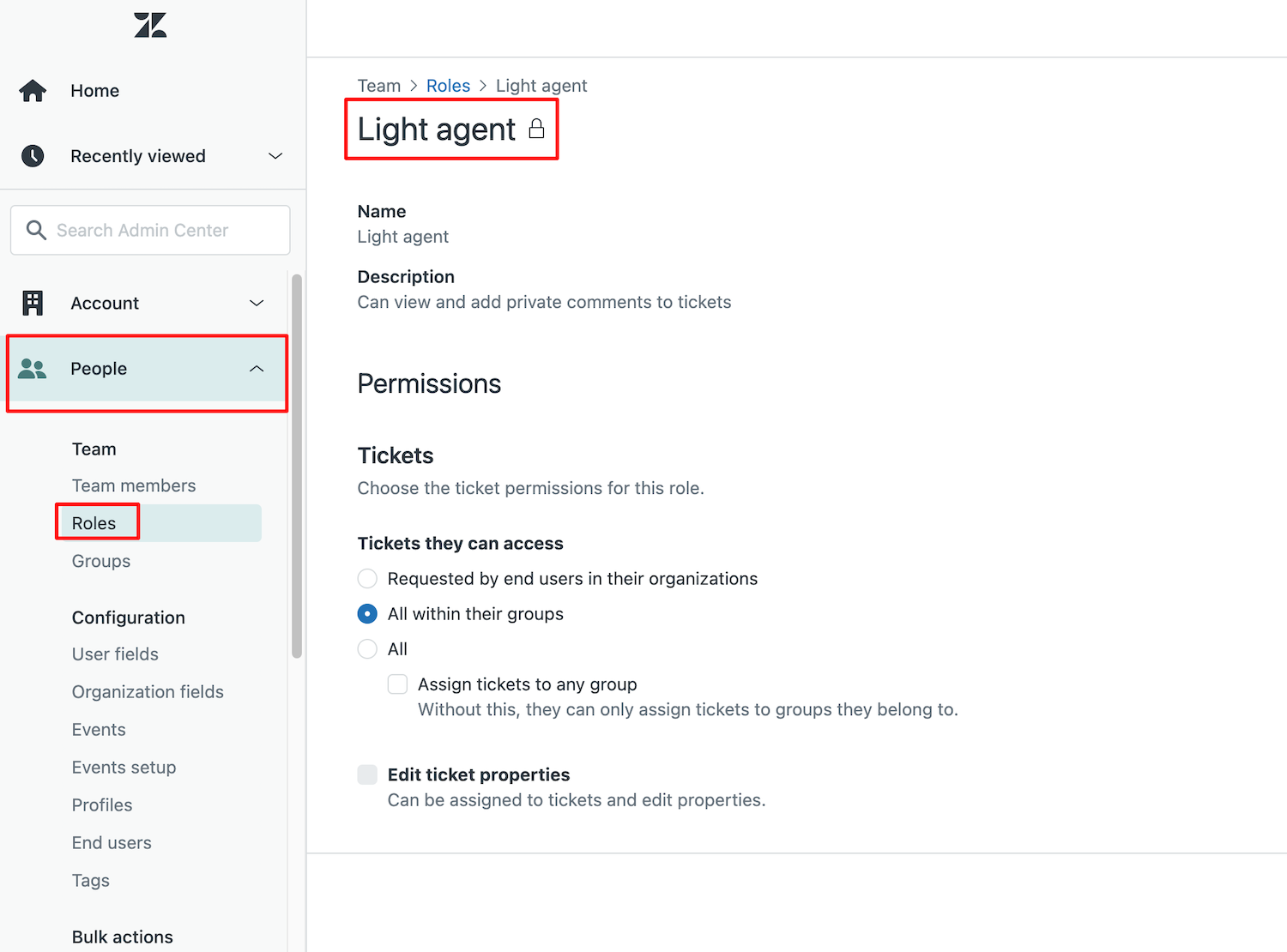 When granted light access, users such as supervisors or subject knowledge experts can browse and monitor tickets–adding private notes to relevant internal parties without compromising agent ownership or confusing the customer.
Linking Across Platforms
Users can link Zendesk tickets across popular platforms–including Jira, Trello, Monday.com, and Asana–making it easy for sales, marketing, engineering, and other teams to stay caught up.
Winner: Zendesk
Zendesk wins the collaboration feature because its side conversations tool supports multiple messaging avenues.
Zendesk vs Freshdesk: Omnichannel Support
Omnichannel support refers to a platform's ability to unify multiple customer-facing channels in one unified interface, allowing customers to connect with support on their preferred channel with limited agent miscommunications.
Freshdesk Omnichannel Support Features
Below, we've outlined Freshdesk's omnichannel support features.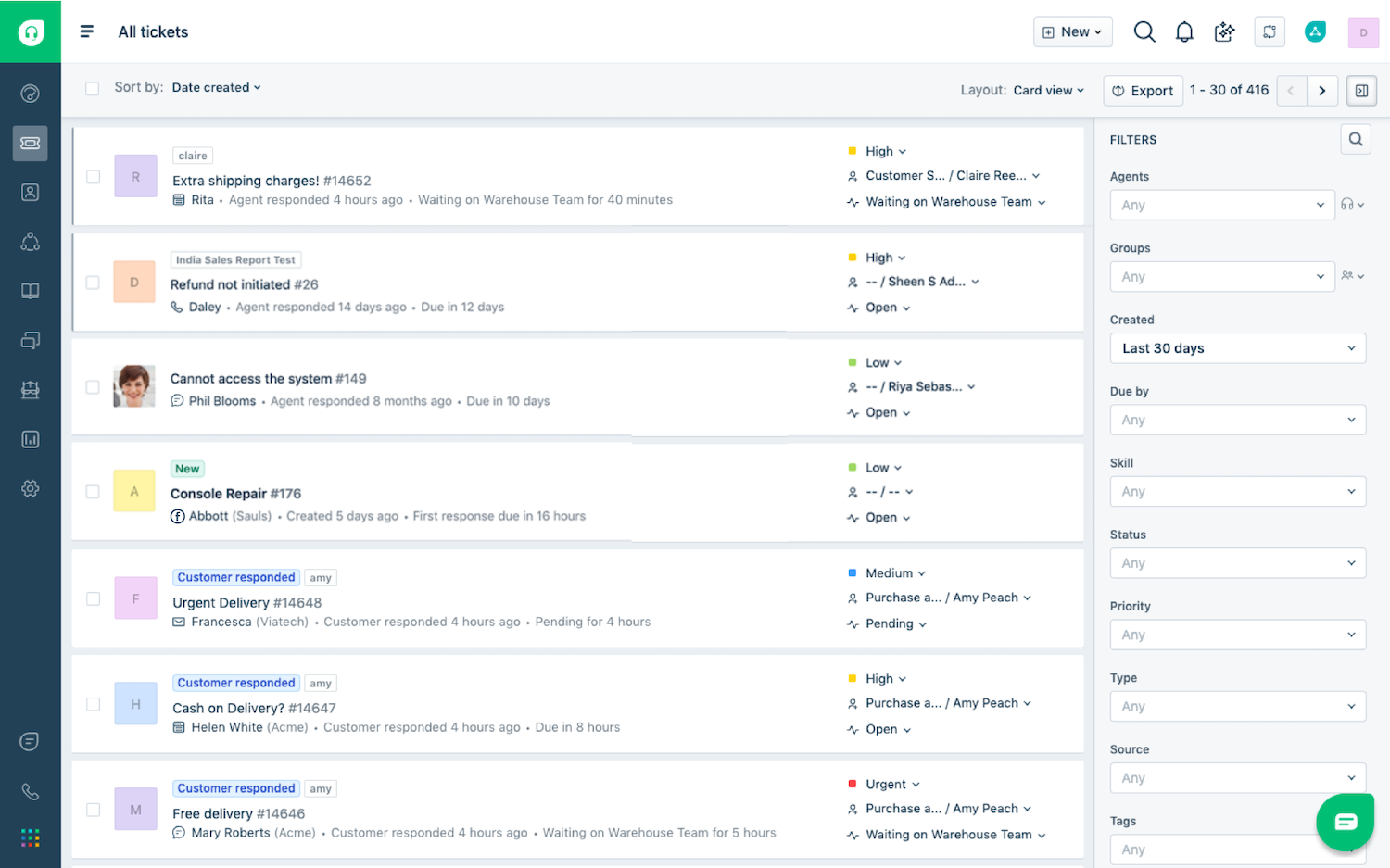 Freshdesk Supported Channels
Freshdesk supports the below communication channels:
Email: All customer emails are automatically converted into tickets
Live Chat and Messaging: Chat with customers through an integrated widget or modern chat-messaging services like WhatsApp or Facebook Messenger
Voice Calling (Cloud Telephony): Use VoIP to support customers via cloud-based voice phone calling
Help Center: A help center with a knowledge base and community forum
Chatbot: Self-service chatbots, embedded into your website or mobile app
Social Media: Social media channels like Twitter and Facebook to support customers, and updates about social media mentions
Respond On Any Channel
Agents and team members can respond to customers on any channel via a drop-down menu in the chatbox within the agent inbox.
Omnichannel Dashboard
The omnichannel dashboard provides statistics and visuals that give administrators and supervisors a holistic view of the team's performance across channels: each channel's performance and trends, CSAT scores for tickets and chat, call service level metrics, to-do lists, currently available agents, and more
Zendesk Omnichannel Support
Here, we've outlined Zendesk's omnichannel support features across:
Live chat support and messaging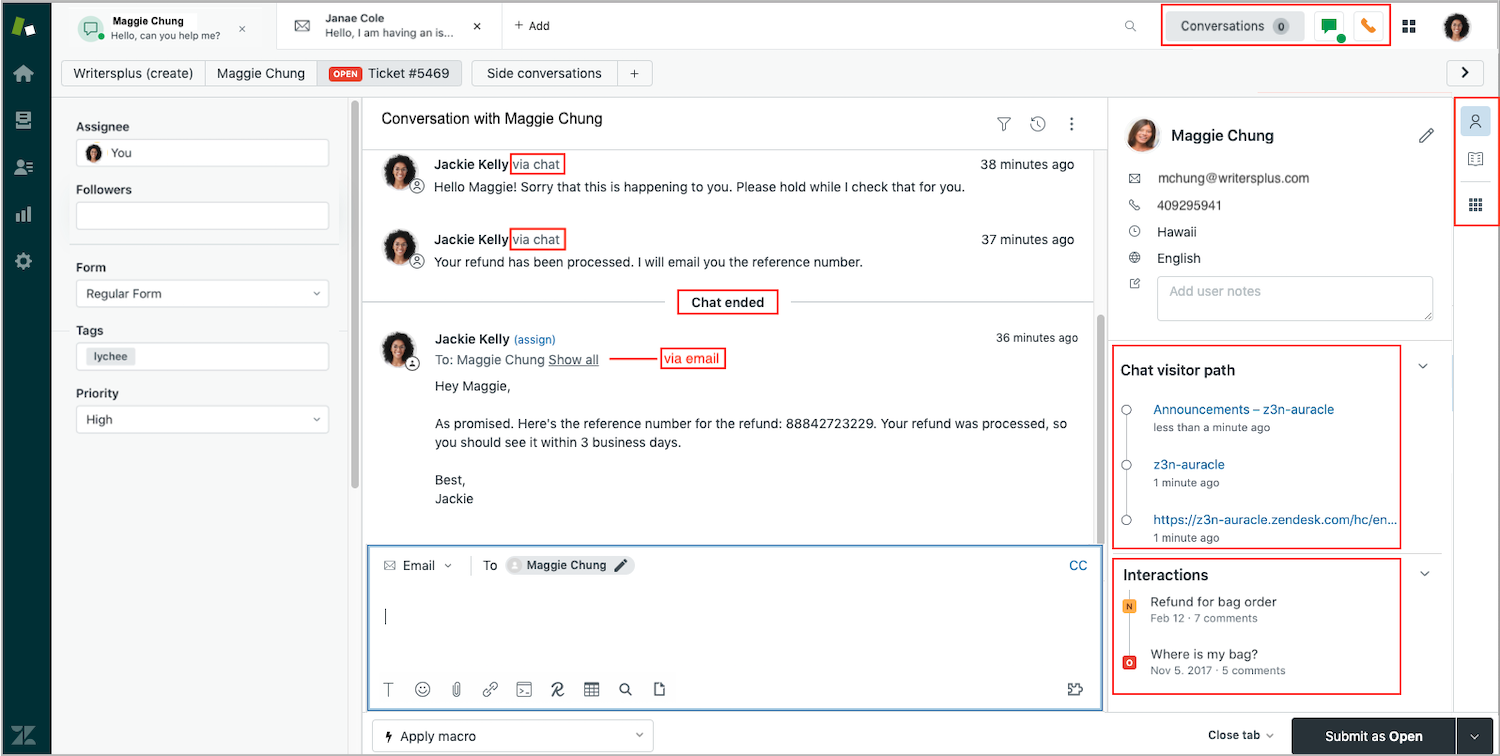 Agent Workspace
The Zendesk agent workspace sets agents up with all the tools and data they need to manage 8 channels simultaneously.
Conversation Updates: All customer replies across tickets send the ticket to the top of the agent's inbox and trigger a notification icon.
Multichannel Responses: A drop-down menu embedded into the agent's customer reply window allows agents to switch channels instantly
Website-Embedded 
Embed messaging or voice icons and widgets right into your website or mobile app
Embedded Messaging: Embed messaging, live chat and chatbots right into your website or mobile app via a widget
Embedded Voice: Add a call button for customers who want to speak on the phone with an agent immediately
Calling Features
Zendesk Talk provides VoIP cloud-based telephony with the HD-voice-compatible opus codec, synced with all other channels.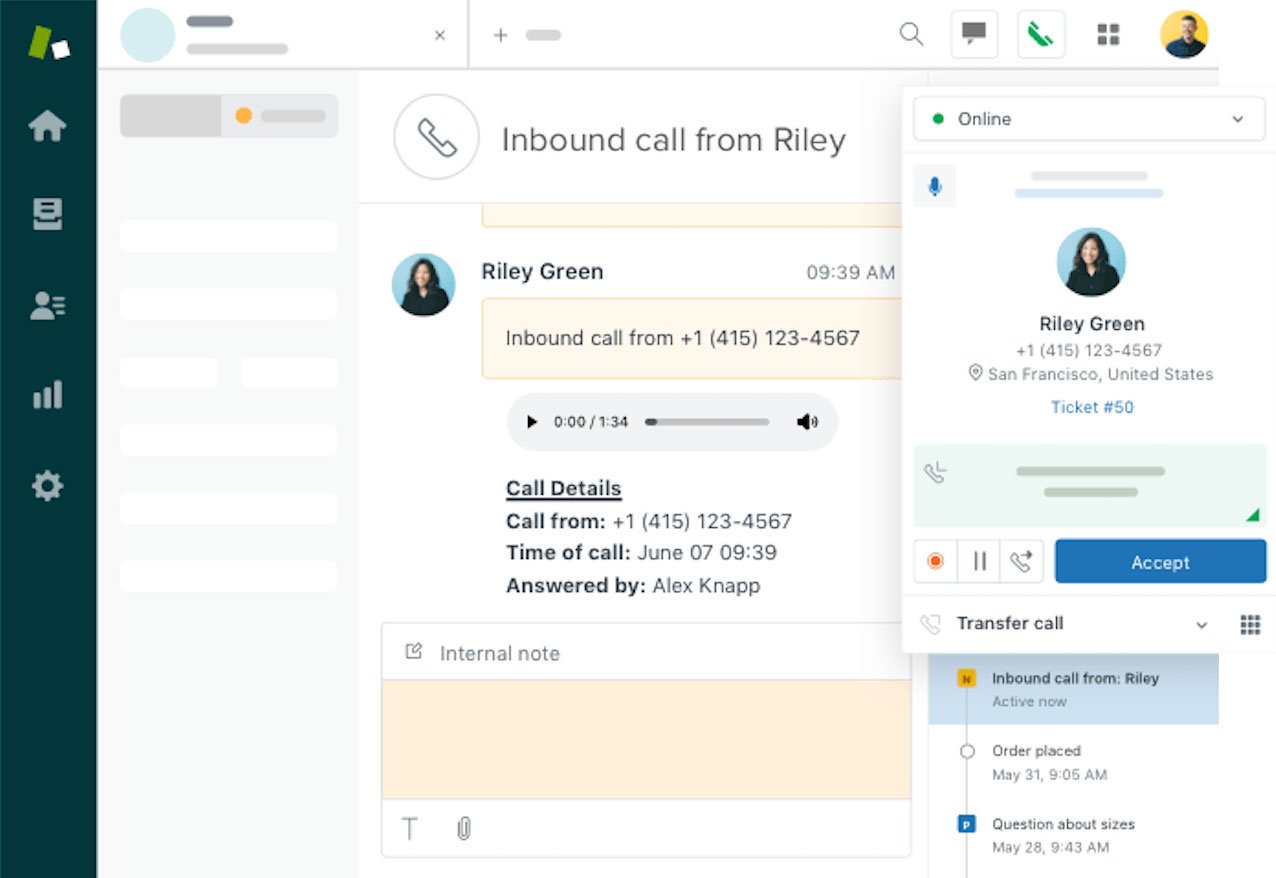 Other calling features include:
Easy Set Up: Purchase phone numbers and set up voicemail, an auto attendant, and SMS texting in just a few minutes
Call Pop-Ups: Inbound and outbound calls trigger a pop-up with customer name, picture, and phone number
Integrate Pre-Existing Providers: Integrate your pre-existing VoIP provider with Zendesk
Conversation Extensions
The Zendesk Sunshine platform provides APIs to integrate dynamic functions into your messenger. Zendesk Sunshine APIs enable agents to do the following:
Send compound messages with text, action options via buttons, and an image
Send carousel messages that customers can swipe through
Book hotel reservations with a "book" button, calendar, and room browsing options
Make restaurant reservations with restaurant browsing options, a booking timetable, and personal details submission
Winner: Zendesk
Zendesk wins the omnichannel features category because it offers SMS texting.
Zendesk vs Freshdesk: Automations
Customer service automations use AI and preset triggers to expedite and automate processes including ticket routing and handling, workflow management, customer follow-up, agent support and recommendations, and more.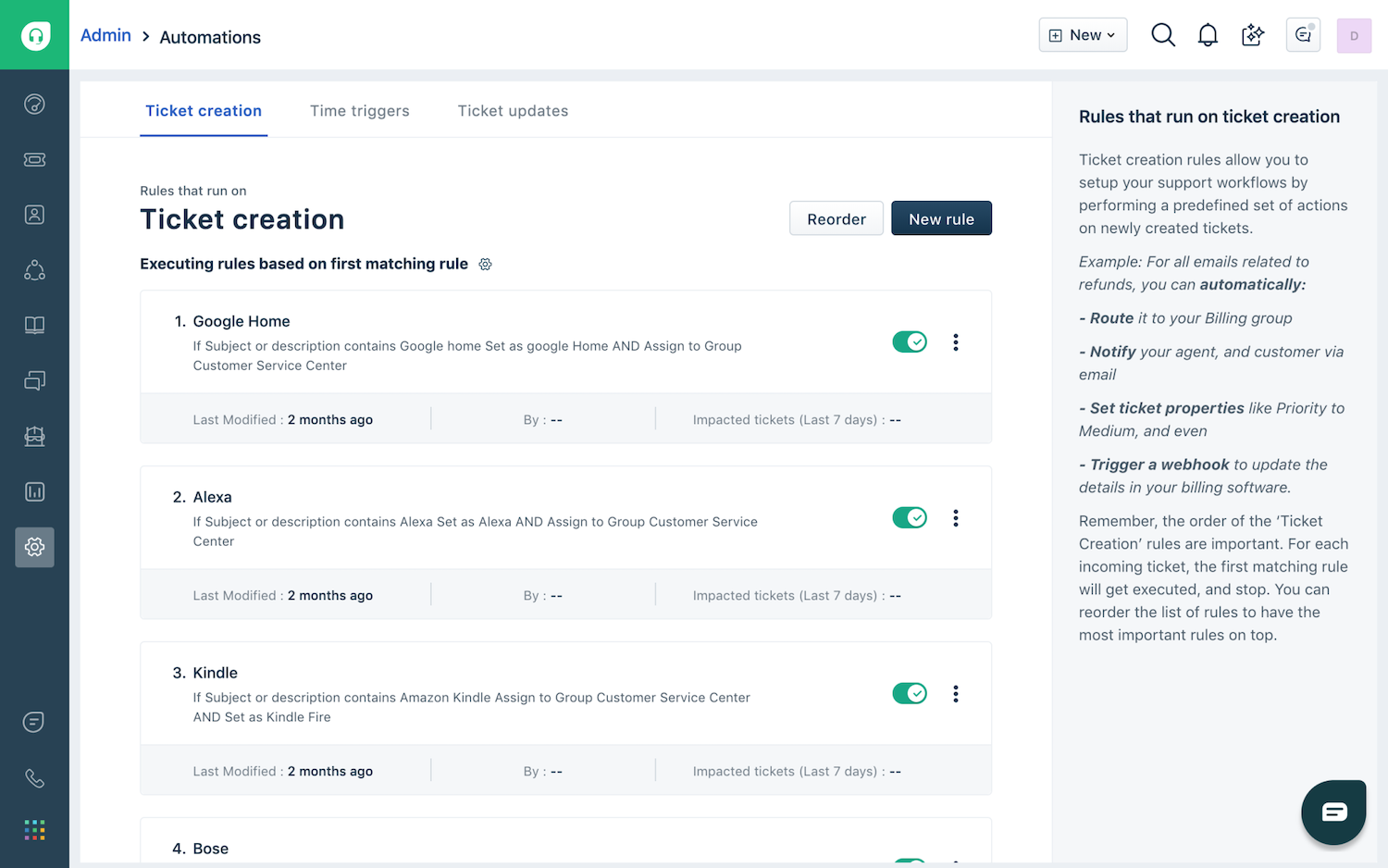 Freshdesk Automations
Below, we've highlighted Freshdesk's key automation features.
Auto-Prioritization
Freddy, Freshdesk's automation system, scans each incoming customer contact request–analyzing things like where the contact is coming from, which channel the customer used, and the issue at hand–to create a ticket, assign it a priority, and route it to the optimal agent.
Logical Operators: Use AND/OR routing conditions and multi-select options to customize routing rules and workflows
Optimal Distribution: Set up ticket assignment rules based on agent skill level and workload
Rule Summaries: View an automatic summary of each rule in a simple workflow document
Smart Automation
Freddy automates event sequences in response to event-based or time-based triggers.
Event-Triggered Automation: Implement a series of actions on a ticket as soon as a certain trigger or action occurs
Time-Triggered Automation: Handle maintenance, update, and follow-up tasks on tickets based on the time since an event occurred
Agent Assistance
Freddy monitors tickets hourly for updates, recommending next steps and collaboration items for agents.
Auto Triage: Learns patterns from previous tickets to suggest ticket fields, prioritization, tags, collaboration, and routing steps for agents
Reminders: Analyzes all tickets hourly, notifying agents about all new updates and customer responses. AI also reminds agents about pending work and necessary follow-up, eliminating agent to-do lists
Dependency Management: Reminds and alerts agents about tickets that require other teams or parties, bringing them in when necessary
SLAs: Set response and resolution time goals that trigger agent notifications when not met
Zendesk Automations
Below, we've outlined Zendesk's key automation features.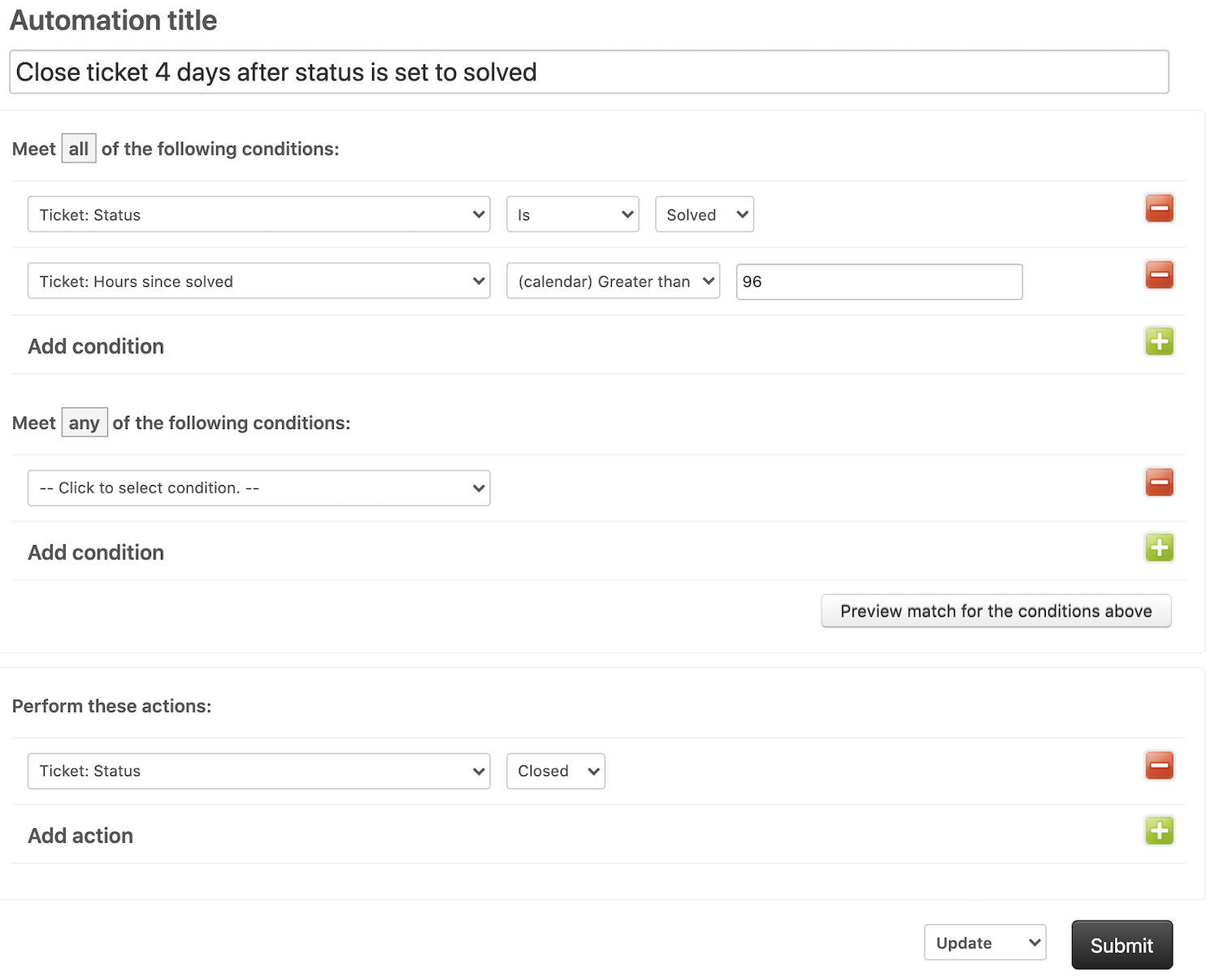 Triggers
Triggers are event-based rules that automatically run certain actions when a ticket meets certain conditions. Users set an unlimited number of IF-THEN statements to customize these conditions (IF) and actions (THEN).
In Zendesk, you can automate triggers for a wide range of conditions and organize them into categories.
Trigger examples:
| | |
| --- | --- |
| IF | THEN |
| A new ticket is created | Send notification email to the customer's email address |
| An email is received at support@getvoip.com | Create a new ticket for Tyler Webb |
| A ticket belongs to a priority customer | Escalate ticket to VIP customer service team |
| A ticket is marked "Closed" | Send a follow-up customer satisfaction survey |
Automations
Automations are just like triggers–except the automated action is triggered by a time-based condition rather than an event-based one.
Zendesk automations run every hour and scan all tickets to see if any meet the conditions. If any do, Zendesk automatically carries out the action.
Automation examples:
| | |
| --- | --- |
| IF | THEN |
| A ticket remains unresolved after x  number of hours | Notify involved agents |
| A ticked was marked solved x days ago | Close the ticket |
| A ticket has not been updated in x number of days | Mark ticket abandoned |
| An urgent ticket has been unattended for more than 48 hours | Send SMS message |
Proactive or Canned Response Templates
Create automated messages or use templates that send via chat, SMS text, or email, based upon certain triggers or automations. Templates are automatically populated with customer information like name, company, and order number.
Call Center IVR
Set up a call center IVR, or auto-attendant voice menu that routes customers using dual-tone multi-frequency (DTMF) menu options.
Example: Thank you for calling. For billing, press 1. For customer service, press 2. For sales, press 3, etc.
Multi-level IVR: Design a conversation-flow tree that maps out all possible conversation paths, including submenus with their own set of options.
For example, if a customer selects 3 for sales, you can set the IVR to provide a new set of sales-specific options.
Winner: Freshdesk
Freshdesk wins the automation category, because of its reminders feature that provides agents hourly support with prioritization.
Zendesk vs Freshdesk: Self-Service
Customer self-service tools provide customers with the 24/7 ability to find answers, resolve issues, and other actions–like booking appointments, making and canceling orders, and updating billing information–without any assistance from a live agent.
Freshdesk Self-Service Features
Below, we've outlined Freshdesk's key self-service options.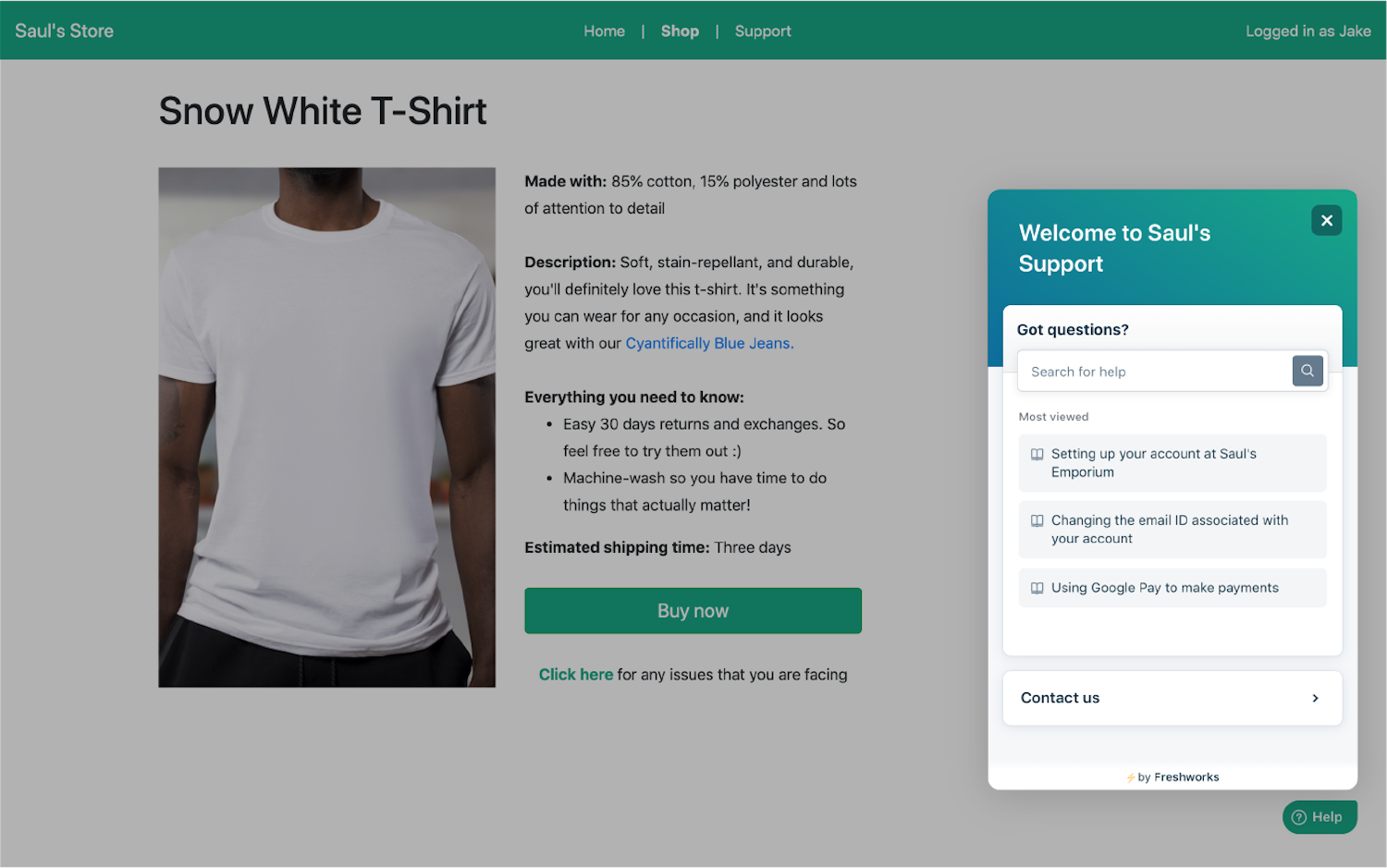 Chatbots
Embed chatbots into your website or mobile app, to answer basic questions, retrieve and suggest answers from the knowledge base, and book appointments.
Dynamic Skillset: Freddy AI can respond to queries, collect customer data, and set up appointments
Custom Conversation Flows: Design your own chatbot conversation flow or use a prebuilt template from Freshdesk, with predesigned support playbooks and options specialized for airlines, healthcare, online delivery, telecom, and more
Help Widget
Add a customized, branded help widget to any customer-facing touchpoint: website, mobile, and even live chat. The Help Widget can recommend articles and provide customers with a contact request form.
Knowledge Base
Create and brand a scalable content management system of articles.
Customizable: Choose the color, formatting, and structure of all your articles, with the ability to add videos, images, and attached files
Multiple Languages: The knowledge base supports 42 languages, allowing your agents to create content for audiences around the world.
Multichannel Accessibility: Customers can access your knowledge base via website, mobile app, and within the chat widget
Multiple Knowledge Bases: Create separate knowledge bases for multiple products or subdivisions, switching between knowledge-base portals
Ticket Reply to Knowledge Base: Agents can convert their ticket replies into knowledge base articles
Article Analytics: Access article analytics like the number of views, likes, dislikes, and commentary
Community Forum
Create an online support community where customers can ask and answer questions, post tips, and vote on favorite posts.
Upvotes Track Sentiment: Participants can upvote any question or post, providing insights into what's important to customers
Forum Moderation: Set up optional moderation workflows for your forum, to vet posts and comments to make sure everything stays PG
Convert Forum Topic to Ticket: Change important forum posts and comments into tickets so they receive immediate agent attention
Zendesk Self-Service Features
Here, we've outlined Zendesk's self-service features.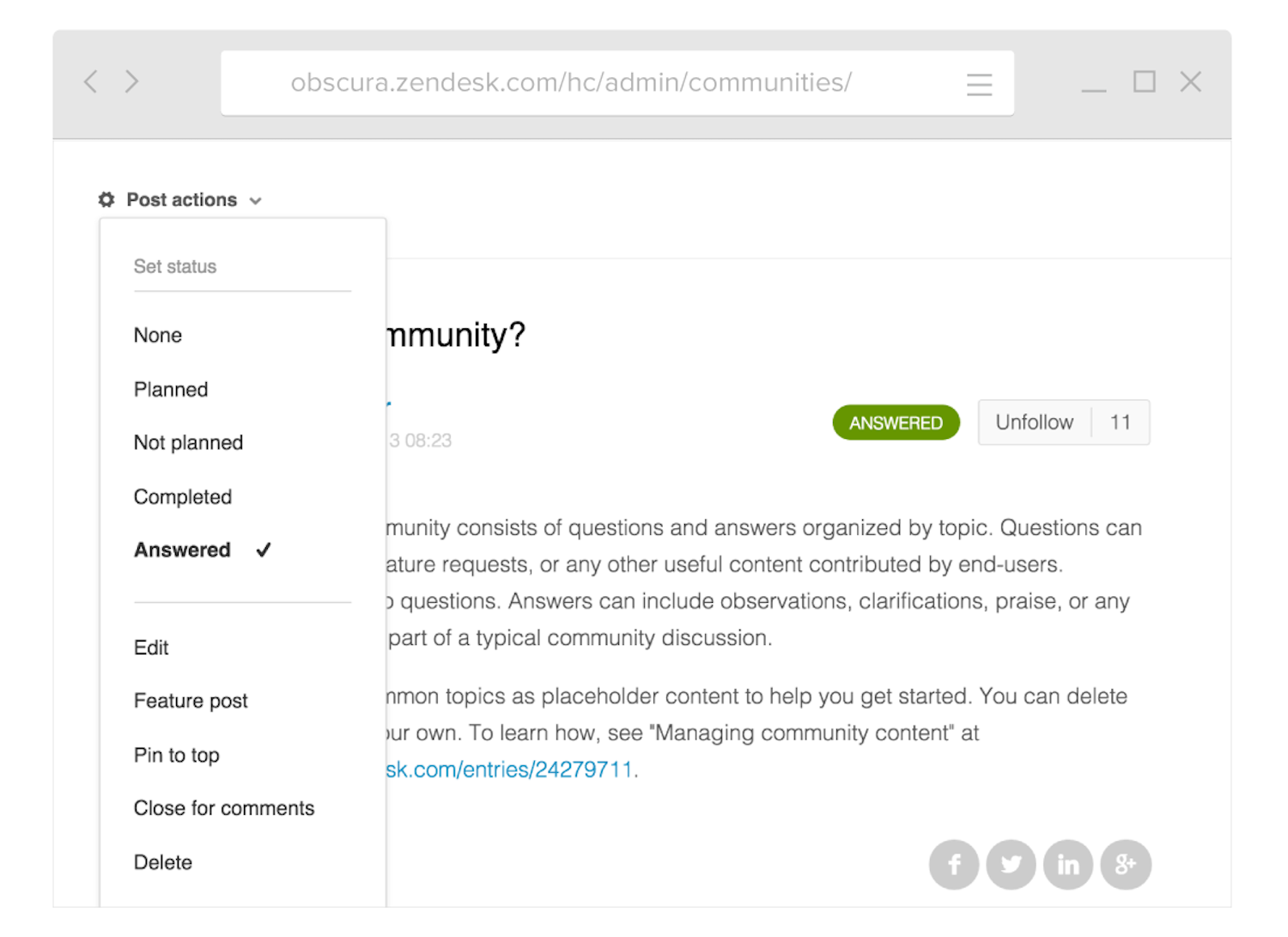 Knowledge Base
Write, edit, publish, and share articles of all lengths for your customers to browse, comment, and seek answers to their own questions.
Translatable: Your customers can translate your articles into 40 different languages, and you can translate their comments into as many languages
Agent Suggestions: While an agent converses with a customer within a ticket, Zendesk automatically suggests relevant knowledge base articles based on keywords within the conversation
Embeddable: Use the web widget or mobile SDK to embed your knowledge base into your product
Content Cues: Zendesk automatically gathers your least-viewed articles and those that have been in draft mode for a long time, encouraging you to update them. Zendesk also identifies your most viewed content, so you can ensure it contains up-to-date information.
Team Publishing: When a content manager finishes an article, they can assign the article to a subject-matter expert for review
Content Block: When you write content, content blocks allow you to chunk it into blocks–a paragraph, sentence, or even a video–that you can easily paste into articles all throughout your help center. When you edit one block, Zendesk automatically updates all copies of that block.
Community Forums
Create a collaborative space for your customers to connect, ask questions, and discuss anything related to your company.
Highlight Top Posts: Broadcast the best user-posted content by featuring top relevant posts
Permission Levels: Grant your most trusted users' moderator status, to monitor conversations and keep the forums clean and safe
Chatbots
Answer Bot, Zendesk's AI-powered chatbot, answers customer questions in 18 languages, across multiple channels–chat messenger, email, text message, or messaging apps like Slack and WhatsApp. Answer Bot detects keywords in customer queries and responds with a relevant excerpt and link to a knowledge base article before asking if the customer is satisfied. If not, Answer Bot routes the customer to the right agent.
Provides Agents With Context: If an agent takes over after Answer Bot, the agent can access the Answer Bot conversation transcript
Pre-Populate Ticket Fields: Answer Bot gathers customer information and uses it to pre-populate ticket fields
Winner: Zendesk
Zendesk wins the self-service category because of its content blocks feature.
Zendesk vs Freshdesk: Field Service Management Features
Field service management capabilities support a company's services that take place in the field–in a customer's home or elsewhere out of the office. Field service management features strengthen communication between the home office and field technicians or provide field technicians with useful abilities
Freshdesk Field Service Management Features
Below, we've listed the top Freshdesk field service management features.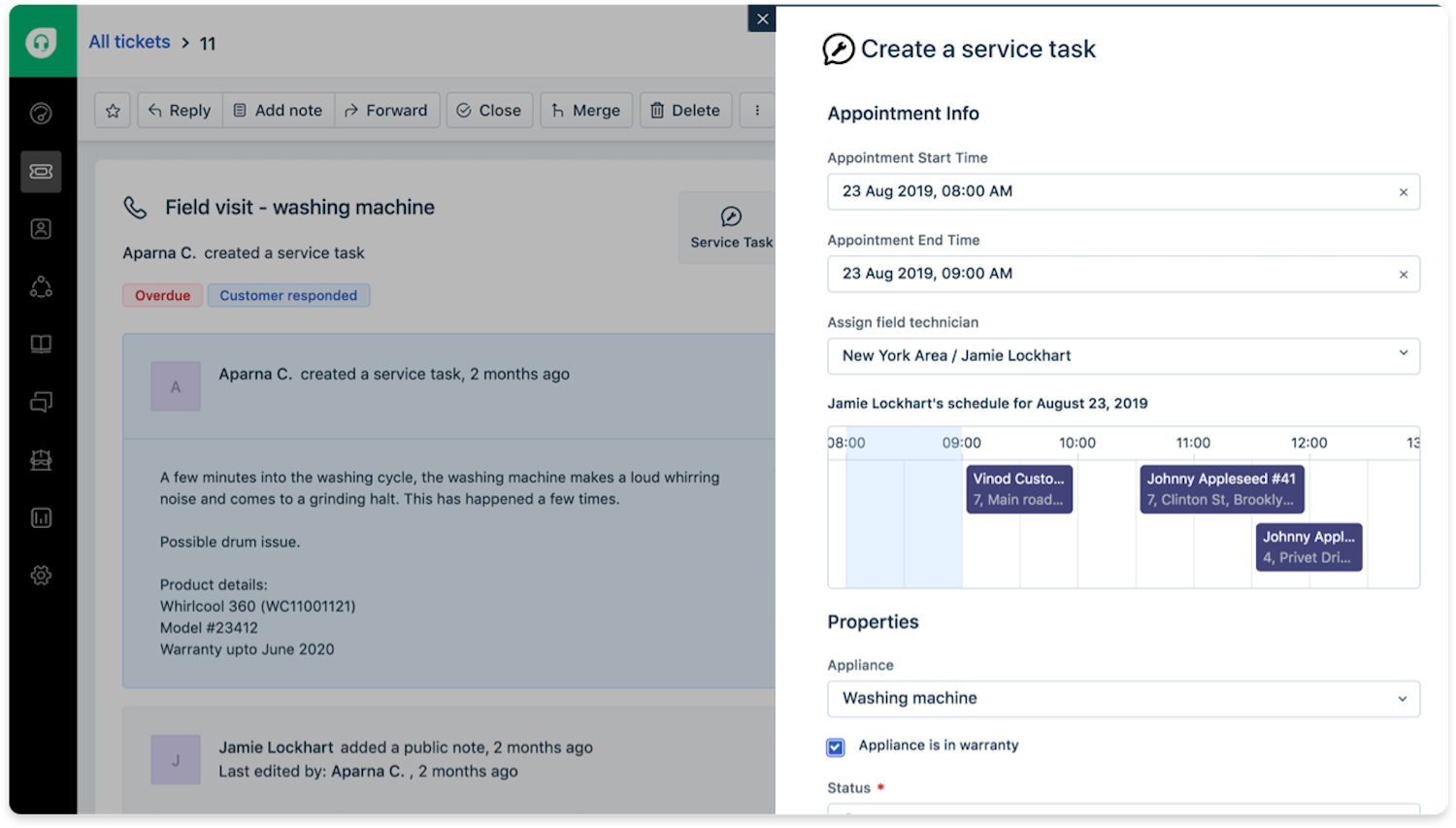 Efficient Scheduling and Dispatching
Freshdesk's scheduling dashboard enables agents to easily schedule and manage appointments and balance field workflows.
Service Groups: Create field technician groups based on location or skill level, making it easier for home office agents to assign the right technician quickly
Dispatching: Home office agents can easily view all technician schedules and assign the best technician for customer needs as they arise, sorting technicians by location, skill, availability, and experience
Drag-and-Drop Interface: the scheduling dashboard's drag-and-drop style makes it easy for agents to manage schedules
Full Service-Task View: Agents can sort their schedules by the day, week, or month, clicking into any task to see full details, including progress and any notes left by the technician
Bot Scheduling
Utilize Freddy AI to set up customer appointments, which automatically book into the agent and field technician calendar–keeping everyone on the same page
Unified Apps
The Freshdesk app for IOS and Android enables field employees to access customer, task, and scheduling information on the go, even offline.
Real-Time Field Service Updates: Field technicians can take photos, add notes, track progress on checklists, and add new data to the helpdesk through the app.
Get Customer Signatures: The app collects and logs customer signatures, allowing customers to verify service right from the field technician's phone
Track Fieldwork Time: Field technicians can log time spent on customer requests, integrating this information directly with billing and invoice software for easy invoice generation
Zendesk Field Service Management
While Zendesk does not offer any native field service management tools, their Side Conversations tool allows agents and field technicians to communicate via slack and email. Further, Zendesk allows you to customize some messaging-icon options, like a maps feature that shows customers where delivery and service teams are located.
Winner: Freshdesk
Freshdesk wins the field service management features category because its scheduling and dispatching capabilities are some of the strongest and most unique in the industry.
Zendesk vs Freshdesk: Analytics
Analytics provide data and insights about helpdesk productivity, customer satisfaction, agent workload, service efficiency, and issue-resolution time.
Freshdesk Analytics
Here, we've outlined Freshdesk's analytics features.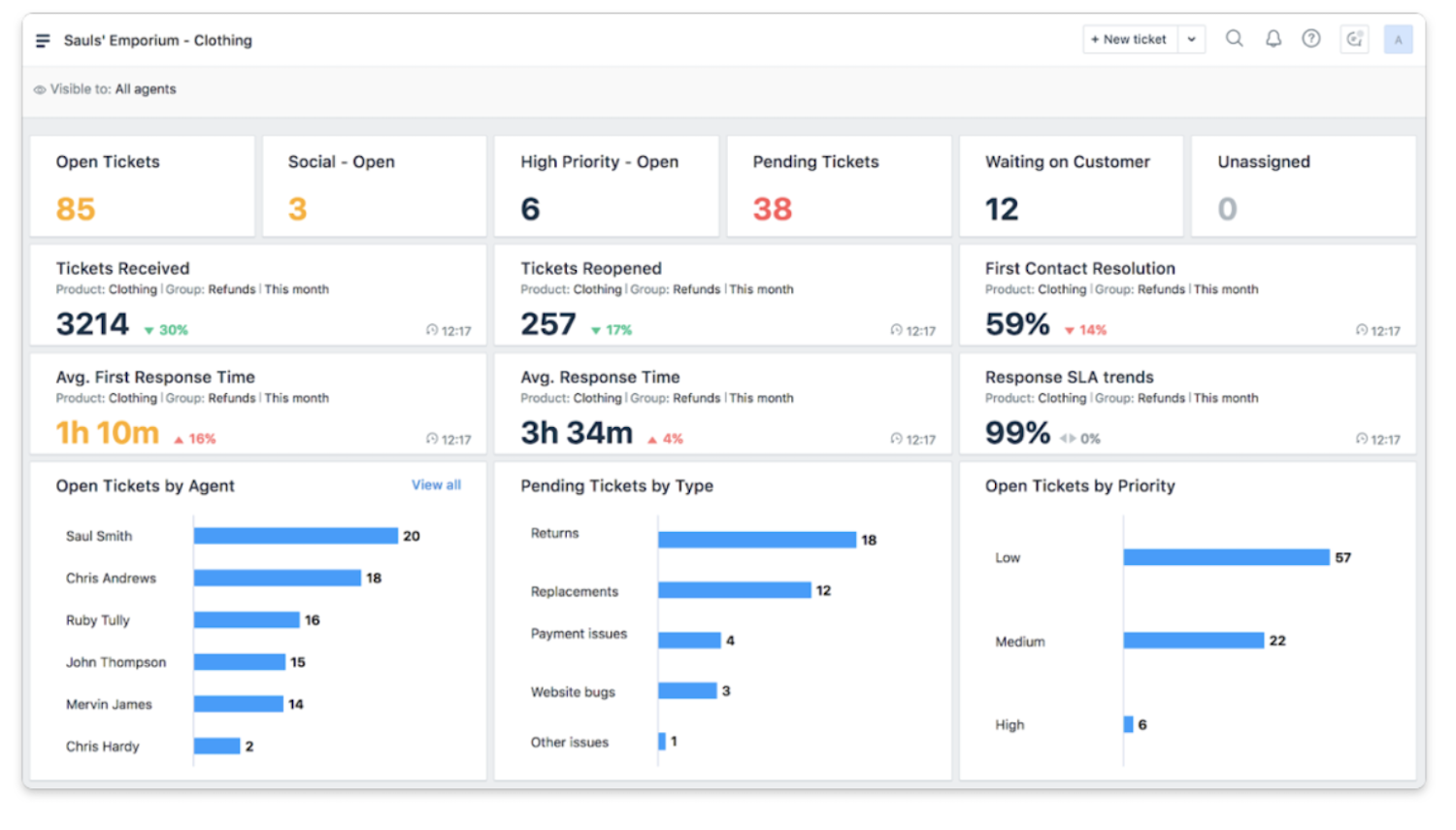 Analytics Dashboards
Access various types of analytics dashboards to monitor exactly the statistics or performance you're looking for.
Team Dashboards: Monitor the performance of the team as a whole, with KPIs like open tickets, high priority open tickets, average wait time, missed calls, first response rate, and more
Helpdesk Trends: Analyze metrics over time–such as the number of unassigned tickets or tickets on hold–on an hourly, daily, weekly, or monthly basis. Compare line graphs to the average.
Comparative Statistics: Compare metrics on different days of the week and times of the day, to observe patterns
Agent Performance: Help agents prioritize their performance with an Agent Dashboard showing ticket status metrics like unresolved and overdue tickets, open tickets, average response time, and daily and hourly trends of these statistics
Customizable Reports
Build reports from scratch, with low or no code, featuring the metrics that you want to see–in the way you want to see them.
Drag-and-Drop: Create paneled reports by dragging and dropping analytics metrics from the Freshdesk widget library. Create multiple reports organized any way you want.
Stylable Insights: Choose from a list of chart types to visualize your metrics in the aesthetic you want
Drill-Ins: Pop-up options that let you click into related, deeper insights for metrics
Scheduling: Schedule default and created reports to deliver to your inbox at set time intervals
CSAT Surveys
Create customer satisfaction surveys–questionnaires that ask customers to rate your company's quality of service.
Framable Questions: Frame questions the way you want–as a poll, answer box, drop-down menu, slider, or multiple choice
Zendesk Reporting and Analytics
Here, we've outlined Zendesk's reporting and analytics features.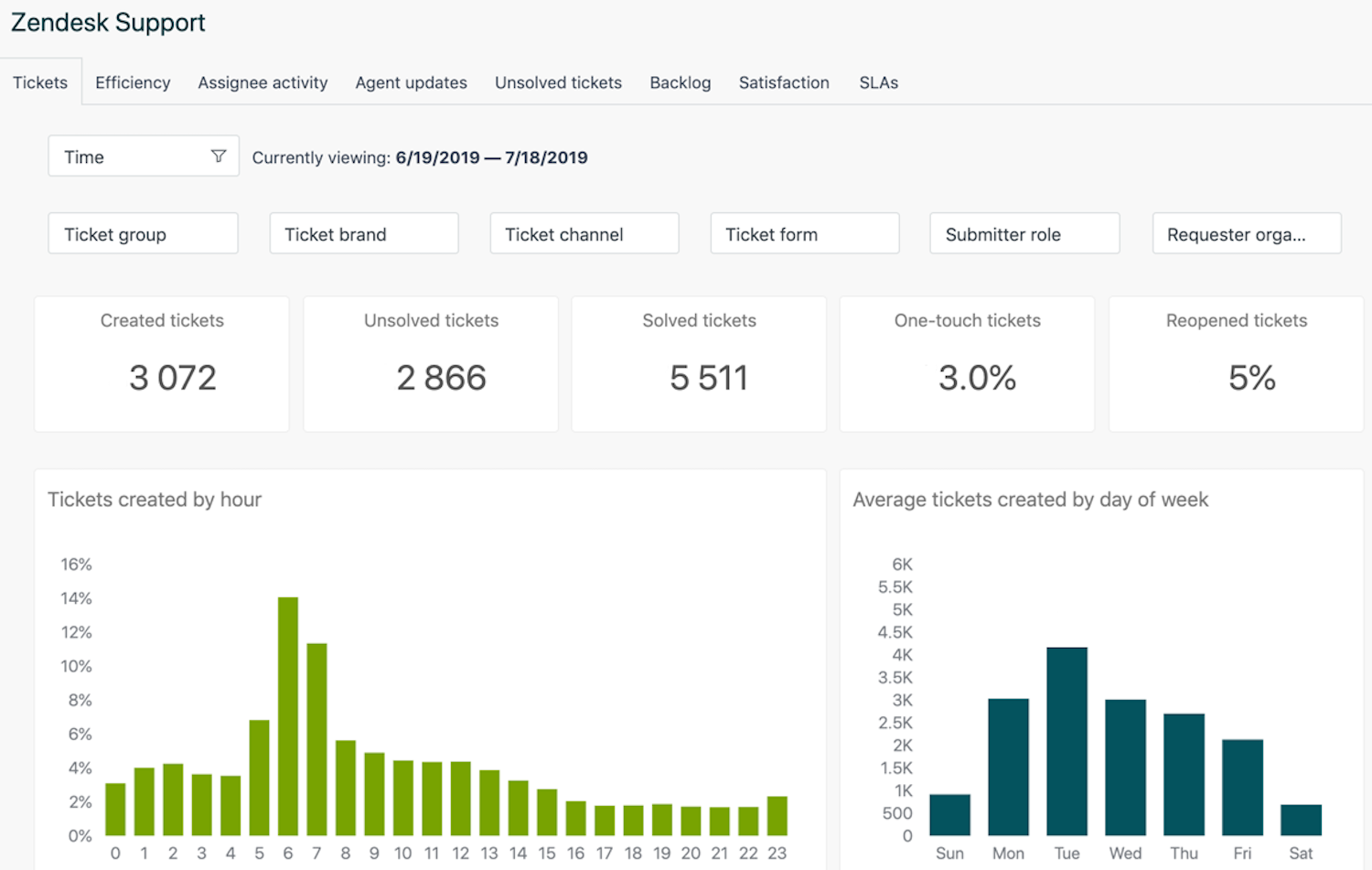 Pre-Built Charts and Dashboards
Overlay and Comparative Data: Plot two metrics over the same timeframe to see how each one's variability impacts the other
Real-Time and Historical: View analytics as they unfold during the day in real-time, or observe trends over previous days, weeks, months, or years
Visuals: Use various types of colorized charts and graphs to compare all metrics
Sharable: Schedule and share dashboard and report delivery, keeping supervisors and key stakeholders updated on customer service progress
Monitor Everything
Zendesk analytics allow you to analyze tons of key metrics from multiple angles and create custom reports that help you get to the root of any issues your contact center encounters.
Monitor All Touchpoints: Use Zendesk analytics to examine metrics for all aspects of your customer service strategy, including all channels, your ticketing system, the knowledge base, chatbots, and individual agent performance
Channel Comparisons: Compare key metrics–like ticket generation–across channels, to see which channels your customers use most often and for which purposes
Region or Department Comparisons:  Compare analytics across departments or regional locations, to determine if one group is doing something differently than another
Winner: Freshdesk
Freshdesk wins the reporting and analytics feature because it offers more diverse dashboards than Zendesk.
Freshdesk vs Zendesk: Customization Tools
Customization options allow administrators to control and personalize a wide range of platform components.
Freshdesk Customization Tools
Below, we've outlined Freshdesk's collaboration tools.
Portal Customization
Create a customer service portal that is branded and personalized for your agents and your customers.
Portal Layout: Customize your portal's colors, images, and layout
Branding: Insert brand logos and colors into your portal
Restrictions and Permissions
Use customized user roles and settings to choose what your agents and managers can access, helping them focus on only the components related to their tasks.
Tailor by Expertise: Customize agent ticket abilities and response options based on skill level
Tailor by Responsibilities: Control individual agent privileges and access to configuration options, billing information, and reports
Report Customization
Set up reports for each team, department, or individual–providing the information most useful for their reflection and improvement.
Zendesk Customization Tools
Here, we've outlined Zendesk's customization tools.
Knowledge Base and Community Forums
Design your help center to look just the way you want, with no code. Customize everything from layout, to branding and images, to color schemes, to font–on both mobile and desktop versions.
Chatbot Flow Builder
Zendesk's Flow Builder tool allows you to orchestrate all possible paths your customers can take with Answer Bot. Without any code, design the colors Answer Bot uses, the words it types to website visitors, and the button options it provides for customers to navigate the menu.
Diverse Capabilities: You can also customize Answer Bot's service capabilities, enabling it to provide services like password reset, survey administration, credit card activation, and more.
Customizable Dashboards
Zendesk lets you create custom data dashboards, with a drag-and-drop wallboard format so you can combine just the metrics you want.
Personalized For Each Team: Create a personalized dashboard for each department within your company, which they can display and view throughout the workday to stay on top of key real-time metrics
Winner: Zendesk
Zendesk wins the customization tools category because its knowledge base and community forum customization options provide a high degree of user control.
Freshdesk vs Zendesk: Ease of Use
Here, we've outlined the usability of Freshdesk vs. Zendesk from agent and administrator perspectives.
Freshdesk Agent Dashboard
The Freshdesk dashboard pulls together everything an agent needs into one interface.
Ticketing: Tickets are automatically routed and prioritized within an agent's inbox, making it easy for agents to work efficiently. Agents can easily reassign or manually assign tickets, as well.
Omnichannel: The dashboard's left-side control panel lets agents toggle between contact modes, with pop-up windows for messaging and VoIP calling within the primary inbox
Collaboration: Agents can easily invite collaborators into a ticket without leaving it, adjusting privacy and logging all conversations
Field Service Management: Home office agents can schedule field work and stay updated on field projects through the scheduling dashboard, ticket notes, and the Freshdesk app.
Freshdesk Administrator Controls
With customization options ranging from analytics reports, to user permissions and controls, Freshdesk empowers administrators with simple visibility and team-management controls.
Zendesk Agent Dashboard
Within the Agent Workspace, agents can easily navigate all of their support, chat, talk, and collaboration features. They also have easy access to the following within their dashboard:
Status management
Conversation history
Customer context
Knowledge panel, to link help center articles
Customer
Agents can provide full customer service within a single window, because the Zendesk dashboard is extremely easy to use.
Zendesk Administrator Controls
The Zendesk Admin Center allows admins to assign roles, permissions, service options, and accessibility to things like analytics and billing–to anyone to anyone in the company with just a few clicks.
Admin can also control the following in the Admin Center:
Branding and appearance of the contact center
Team and group arrangements
Bots
Automation and workflows
Business rules
Integrations
Freshdesk vs Zendesk: Pricing and Plans
Below, we've outlined available pricing and plans for Zendesk and Freshdesk.
Freshdesk Pricing and Plans
Freshdesk offers two primary pricing plan categories–Support Desk and Omnichannel-each with several tiered plans.
The Support Desk plans do not include telephony or messaging–only email support and ticketing–but still include key Freshdesk features like ticketing, knowledge base, analytics reports and dashboards, and customized routing. Support Desk plans range from $0 monthly for teams of ten or less, to $79 monthly per agent for the Enterprise plan.
Freshdesk's Omnichannel plans include all customer service channels. They range from $29 monthly per user for the basic plan to $99 monthly per user for the Enterprise plan.
Freshdesk offers no free plan, but 21-day free trials for their Enterprise Support Desk and Pro Omnichannel plans.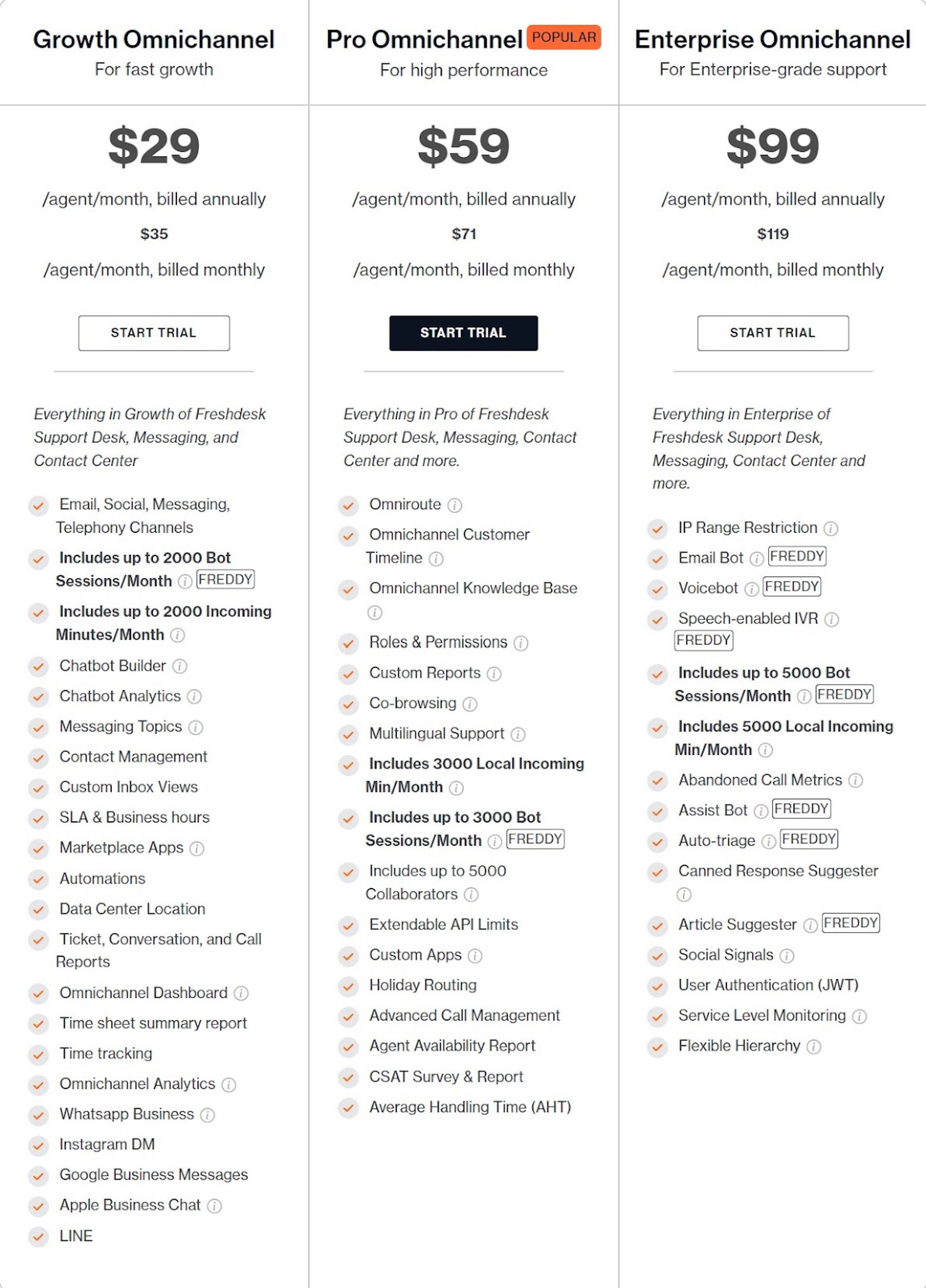 Zendesk Pricing and Plans
Zendesk offers three customer service solution plans, ranging from $49 to $99 monthly per user. All paid plans offer a 30-day free trial.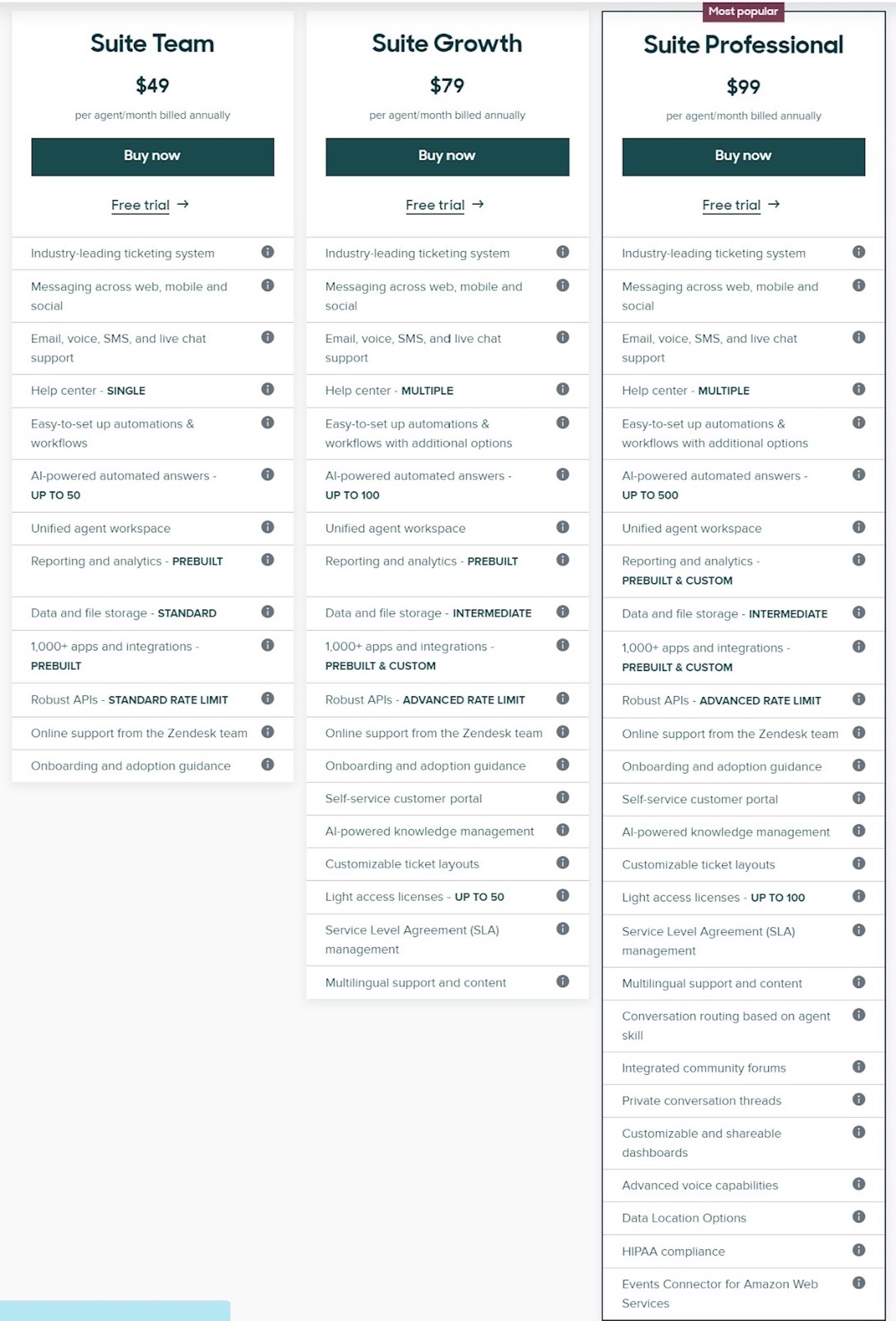 Freshdesk vs Zendesk: Pros & Cons
Below, we've compared the main pros and cons of Freshdesk vs Zendesk.
Freshdesk Pros and Cons
Freshdesk's industry-leading field service management tools–including dispatching, scheduling, photograph documentation, and customer signature collection–are one of its major strong points. However, we wish Freshdesk supported text messaging.
| | |
| --- | --- |
| Freshdesk Pros | Zendesk Cons |
| Field Service Management | No SMS text messaging |
| Automated ticket assignment and prioritization | Features can be overwhelming for new users |
| Shared ticket ownership and child tasks | Limited reporting features |
Zendesk Pros and Cons
We're huge fans of Zendesk's agent interface and collaboration features–especially the Side Conversations tool–but find Zendesk's chatbot capabilities to be slightly limited.
| | |
| --- | --- |
| Zendesk Pros | Zendesk Cons |
| Intuitive dashboard | No native field service options |
| Strong collaboration tools | Custom ticket views cannot be shared with another user |
| Flexible knowledge base features | Chatbot support options are limited |
Which Customer Service Platform is Right for Your Business?
Both Freshdesk and Zendesk provide strong omnichannel customer service SaaS–but the better fit for your business depends on which features you plan to use most often.
If your company provides field services–such as deliveries and installations–or places a high priority on work project management platforms like Asana, consider Freshdesk due to its stellar field service management features and the ability to split a ticket into multiple simultaneous child tasks.
Companies that prioritize ease of use, collaboration via messaging, and providing customers with all available channels should look to Zendesk, as its intuitive dashboard design, Side Conversations tool, and text messaging channel give it a leg up on Freshdesk.
Still undecided? Compare more customer service solution options for small businesses and enterprise-level companies with our list of call center providers.
Zendesk vs Freshdesk FAQs
Below, we've answered some of the top Zendesk vs Freshdesk FAQs.