Agents do not always want to use their personal phone numbers when interacting with customers.
A business VoIP phone system enables agents to switch between several virtual phone numbers inside their VoIP app. This process–known as call masking–gives agents the ability to make outbound calls from assigned virtual business numbers instead of their personal telephone numbers.
This article outlines call masking in detail, covering how it works, benefits, use cases, and top providers.
Jump to ↓
What is Call Masking?
Call masking is a VoIP phone technology used to place outbound calls from a selected business phone number and company caller ID.
Even when making business calls on their personal devices, users "mask" their personal phone numbers by using a company-assigned telephone number and corresponding caller ID. This Caller ID can be a DID number, a new area code, or even a randomly selected virtual number.
Call masking works for VoIP-based calls and SMS texts, allowing users to protect their personal cell numbers and choose a VoIP number instead.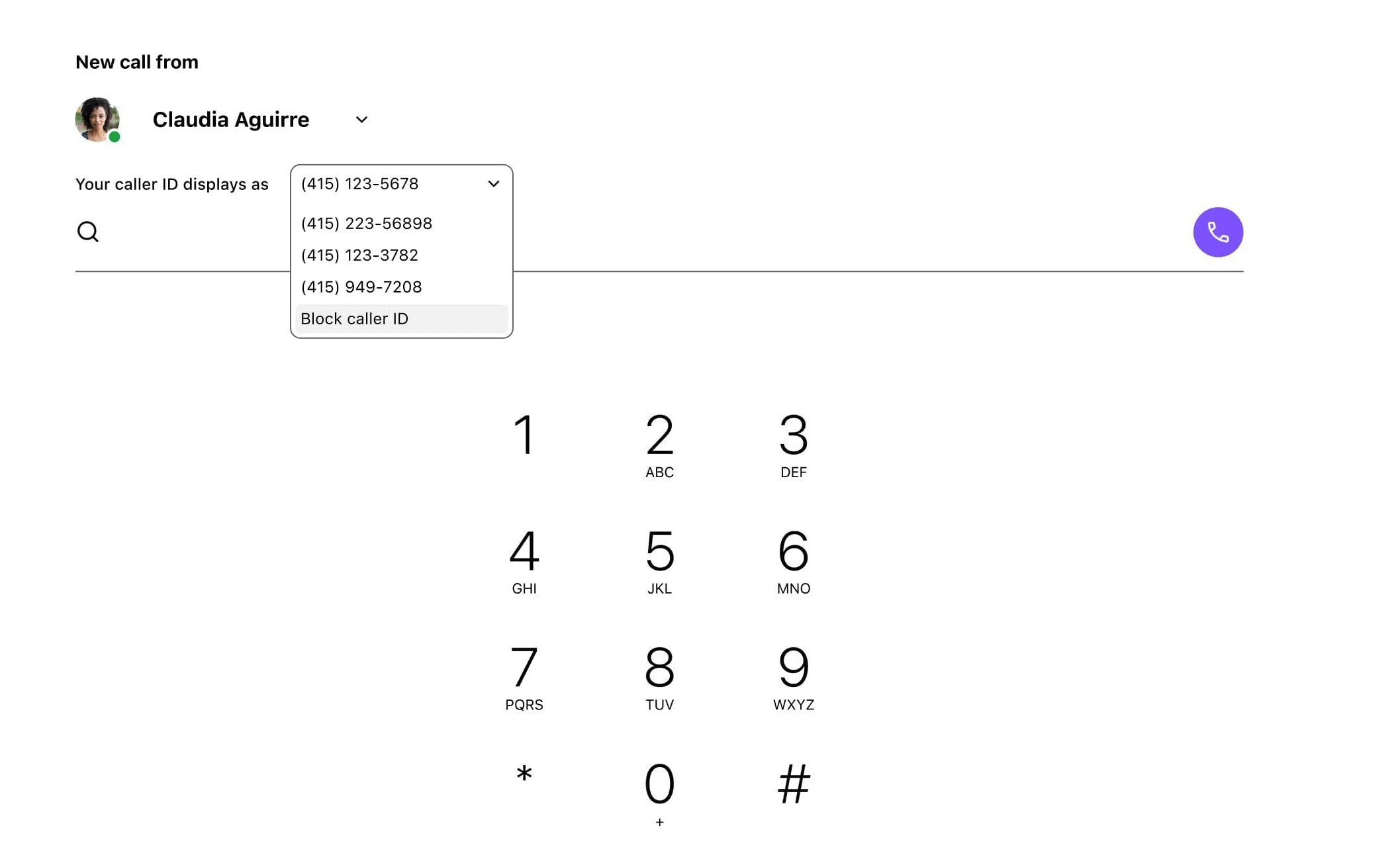 The call masking feature is available in two formats:
Phone-system feature: Most VoIP phone systems include call masking as a built-in feature. When an account owns multiple business phone numbers, users select which number to display on outbound calls.
Call masking API: Many software applications, such as ride-sharing or food-delivery apps, use call masking to protect all users' identities during communication. When one user calls another through a ride-sharing app, the call masking API connects the callers through an app-owned virtual number.
How Does Call Masking Work?
Call masking works by the VoIP phone service provider receiving the caller's outbound request, switching the caller's virtual-number line to a new caller ID, then connecting the call between the two users.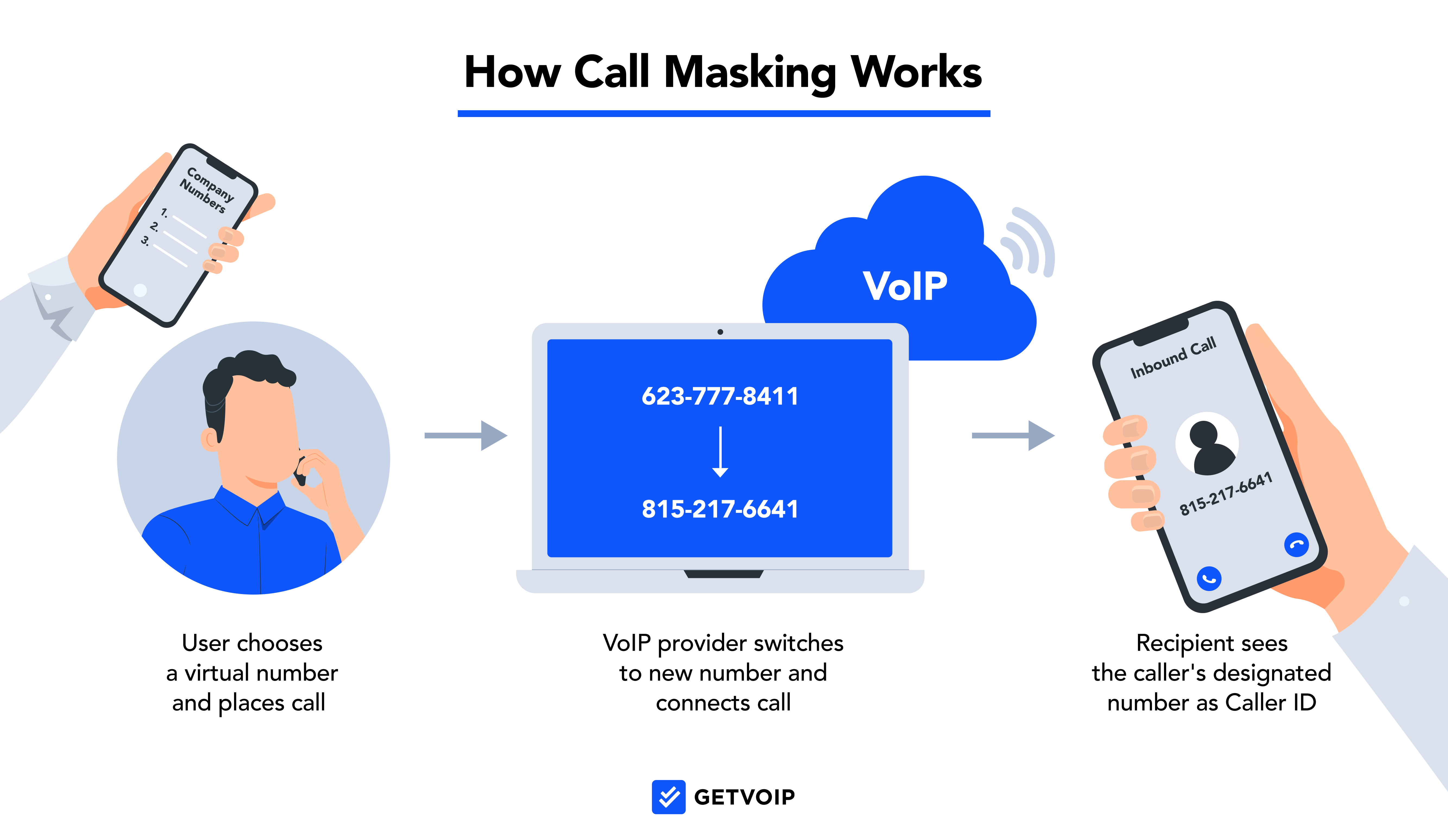 Here's a step-by-step breakdown of how call masking works:
Company purchases virtual phone numbers: To mask a VoIP call, you must have at least one virtual phone number. Company accounts typically purchase multiple VoIP numbers for various locations, departments, or purposes. Apps using the call masking API also purchase multiple phone numbers, hosted by the VoIP provider, for their users.
Caller initiates a VoIP call or sends a text: In a VoIP phone system, the caller dials a contact from within the app, which sends a call request to the provider. In an API-based platform like rides haring or food delivery, the caller simply clicks the "call" button from the app interface.
Service provider switches Caller ID: The VoIP service provider receives the caller's request and information. If the caller requested a specific virtual number ID, the service provider connects the call to the recipient using the indicated virtual line. If the request came from a call masking API, the provider selects a virtual number from the app's account.
Provider connects the call: Once the provider has chosen a new Caller ID, it connects the call. If the recipient also uses call masking, the same process occurs both ways. Callers and recipients using a masking API both share the same outbound Caller ID.
Complete the call: Once connected, users can communicate. Both participants only see the other's chosen Caller ID–masking their actual number.
The number is recycled: VoIP phone systems support concurrent calls from a business number, but some call masking APIs only allow one active conversation per number. In this case, once the call is completed, the phone number returns to the app's available pool for other callers to use.
Business Benefits of Call Masking
Call masking provides the following business benefits:
Establishes a local presence
Unifies business identity
Protects user information
Enables team collaboration
Supports agent flexibility
Establishes a Local Presence
Virtual phone numbers and call masking help your company establish a business presence in area codes across the country and globe.
Regardless of where your offices are physically located, you can purchase business phone numbers local to your customers. When customers receive an inbound call from a local area code, they're more likely to answer and view your company as a welcome, familiar contact.
Unifies Business Identity
Call masking enables team members to make phone calls from a company number–no matter where the user is located. All the user needs is an Internet-connected device–like a desktop computer or cell phone–to make calls from any company-assigned virtual number.
Remote agents around the globe can present a unified business identity to customers–even calling and texting from the same number at the same time.
Protects User Information
Call masking shields a user's personal data, such as phone number and name. This maintains user privacy in a variety of contexts:
Business: Phone number masking separates an agent's personal calls and business calls, so all business through the VoIP app uses company numbers. When the agent logs out for the day, no customers can reach them on their personal number.
Personal: Users can purchase VoIP phone numbers for personal calls and texts, forwarding all communications from that number to their personal cell number. When the user wants to communicate with someone but protect their actual phone number, they can give out the VoIP number and mask all calls.
App-based communications: When a user places a call through a services app–like Uber, Lyft, or Doordash–call masking enables telecommunications without giving away personal contact information. For example, a driver can call a passenger to say "I'm outside," and neither user will be able to contact each other after the ride.
Enables Team Collaboration
Call masking enables team members to share call responsibility–even when remote or working asynchronously.
Call masking enhances team collaboration in two ways:
Shared number: Multiple users can make VoIP calls and send texts from the same business phone number, even simultaneously. Users can share voicemail inboxes and call logs, splitting tasks regarding who responds to missed calls.
Simultaneous ring: Link one business phone number to multiple agents, so their devices ring simultaneously until one answers. Agents can share inbound call responsibility, while the customer sees a singular Caller ID regardless of who answers.
Supports Agent Flexibility
With call masking, one agent can cover multiple business phone numbers. A user can make outbound calls on behalf of a teammate or initiate a callback from an overflowed queue elsewhere in the company.
One team member can simultaneously handle phone numbers from different departments–such as Sales, Customer Service, and Technical Support–all from one Internet-connected device through the VoIP app.
Call Masking Use Cases
Here are some of the most popular industries and uses for call masking:
Rideshare services
Delivery services
Outbound call center and sales
Customer service
eCommerce
Rideshare Services
Rideshare services like Uber and Lyft utilize call masking as a built-in application feature, to enable drivers and passengers to communicate without compromising personal information. When either user pushes the "Call" button, the application makes an API request to the VoIP phone service provider, like 8×8 or Twilio, who selects a new Caller ID to connect the callers without exchanging personal contact information.
Delivery Services
Delivery apps like DoorDash and Grubhub use call masking APIs for a similar purpose: to facilitate instantaneous communication between users while protecting customer privacy. The deliveryperson or customer simply pushes "Call" within the app, which initiates a VoIP API request to connect the callers through a virtual number that the delivery app has purchased.
Outbound Call Centers and Sales
In a cloud contact center, the call masking feature enables agents to text and call their customers from a variety of numbers–a unified company number, a local area code, or a number the customer is familiar with.
Before an agent initiates an outbound call, the phone-system interface prompts the agent to choose among the company's pool of numbers. Agents can use contact details–often synced with a CRM software integration–to select the most relevant number for each contact, thereby increasing the chances that the lead or customer will pick up the call.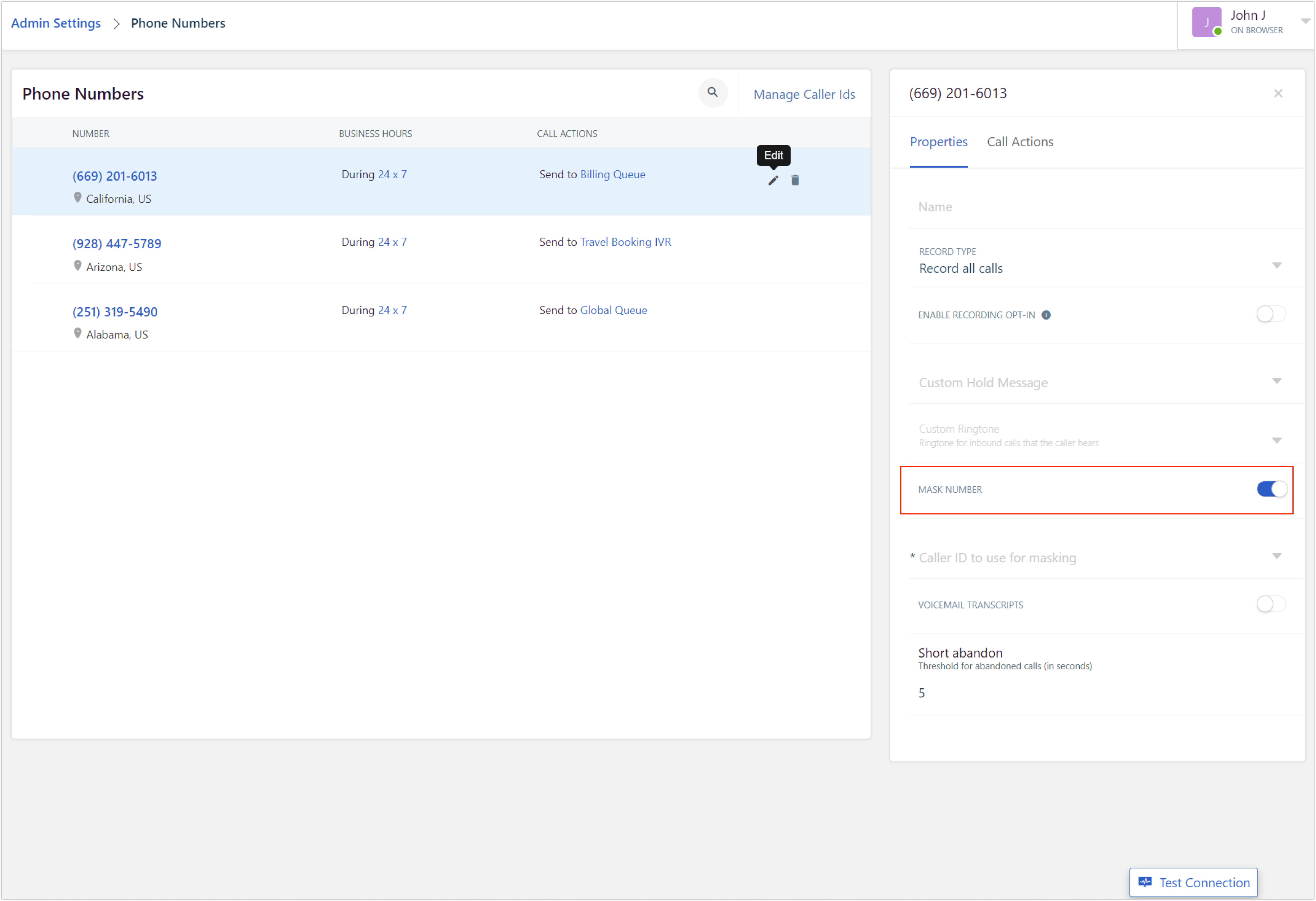 Customer Support
Companies frequently use masked phone numbers to provide flexible service and improved customer experience. Call masking enables one agent to utilize multiple phone numbers for different departments–like billing, technical support, or general inquiries.
This flexibility pairs well with self-service IVR, where companies can create intricate call flows that route calls to multiple departments and phone numbers. A single agent can manage multiple IVR destinations, toll-free numbers, or international numbers based around the globe.
E-commerce
E-commerce vendors and applications utilize call masking solutions to facilitate communications between sellers and buyers.
Phone conversations enable more detailed discussions, including negotiation and the option for customers to ask more specific questions about products. Vendors and sellers also use call masking to send product photos and proof of delivery via SMS.
Top VoIP Providers That Offer Call Masking
Here are the top VoIP providers that offer call masking services in their phone system products:
Nextiva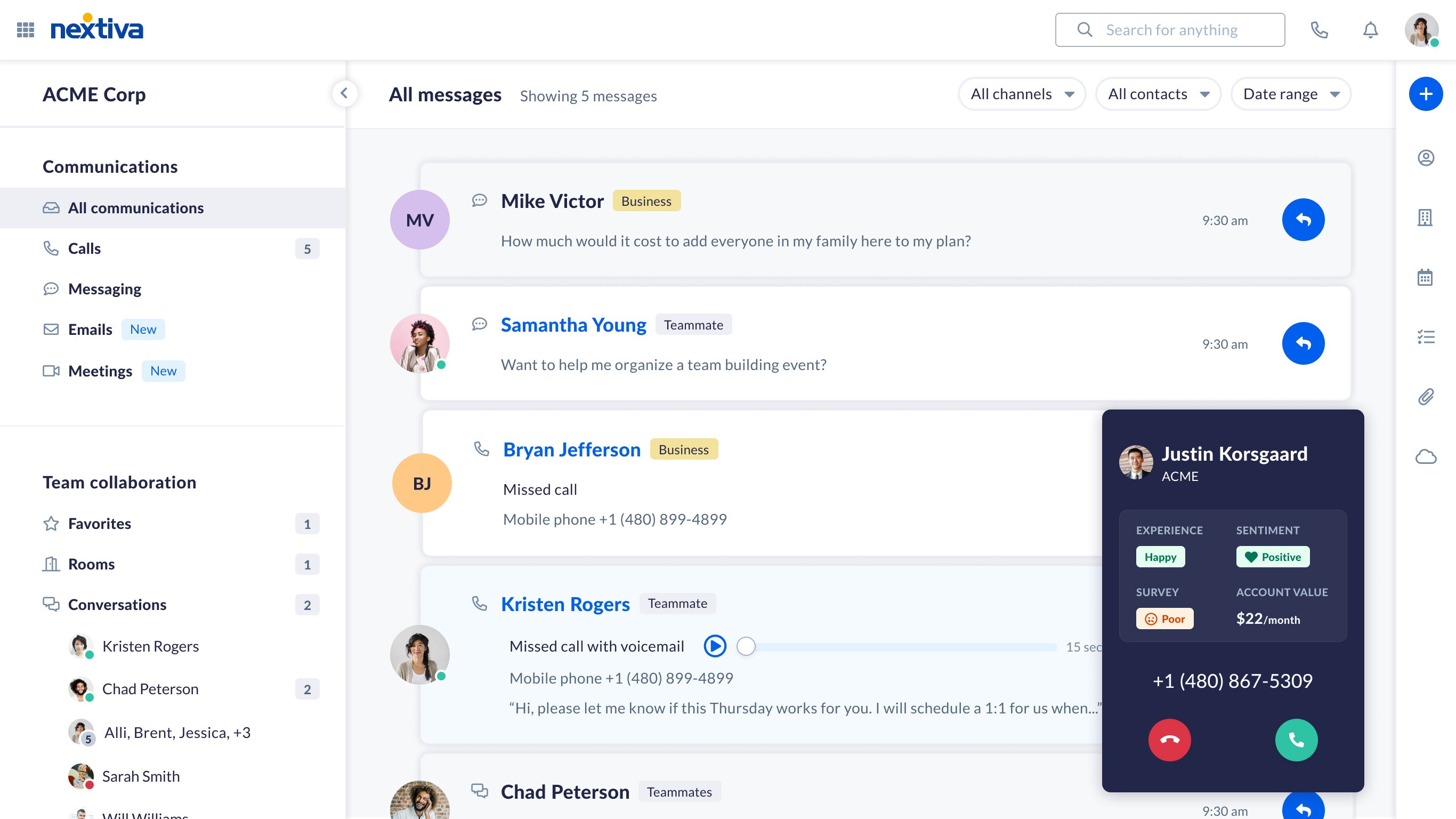 Nextiva offers three unified communications plans, ranging in price from $18.95 to $32.95 monthly per user. Each plan includes call masking, plus a toll-free and local number. Nextiva provides business virtual numbers around the US, plus routing features and multiple communication channels: SMS, team chat, and video conferencing with up to 250 participants.
Dialpad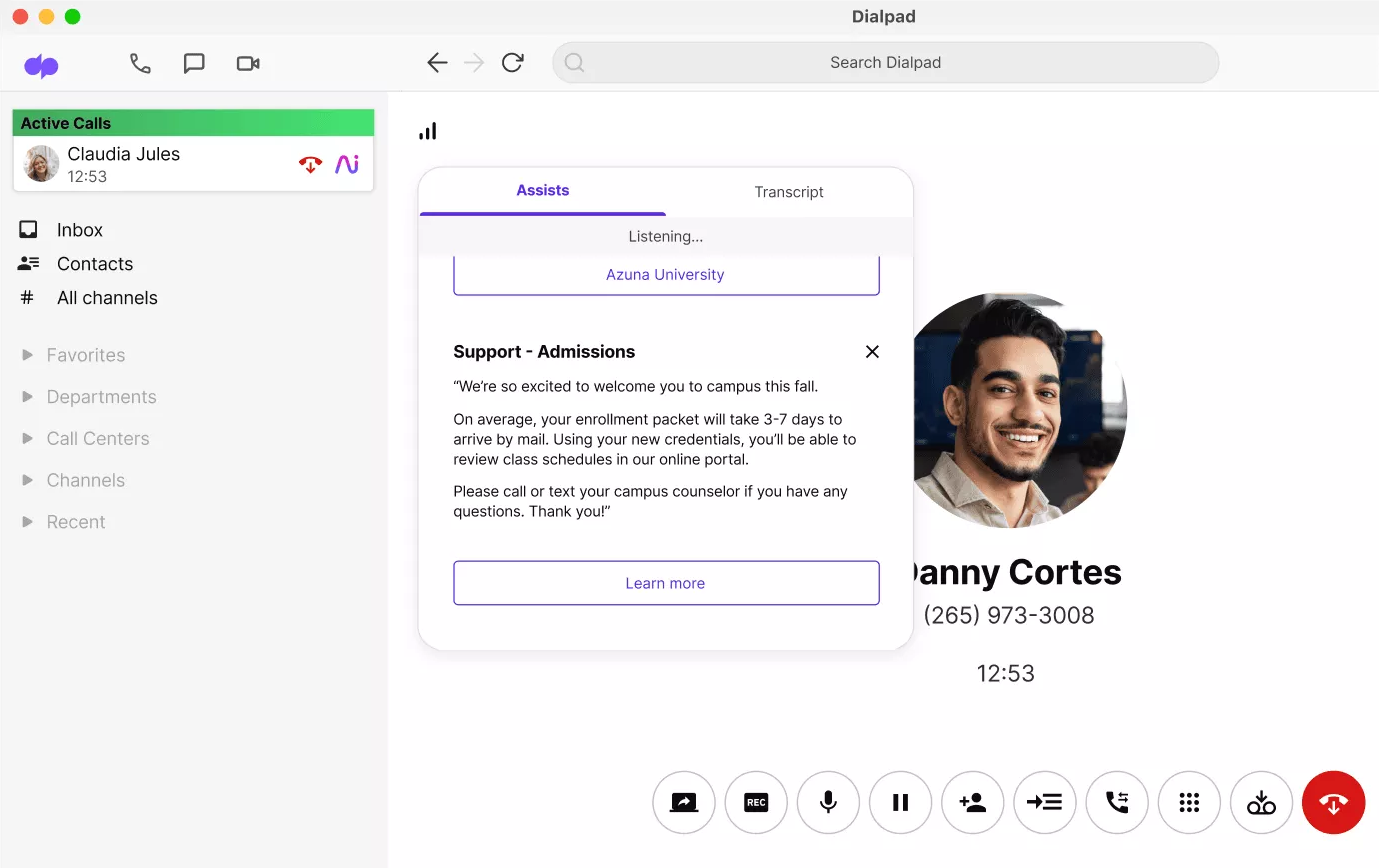 Dialpad offers three small-business UCaaS plans that range from $15 to over $25 monthly per user. Each plan includes a local phone number with unlimited calling inside the US and Canada, but Dialpad also offers international business phone numbers from over 70 countries on the $25 Pro plan. Each plan includes call masking, integrated with team-collaboration features and real-time AI support for agents.
RingCentral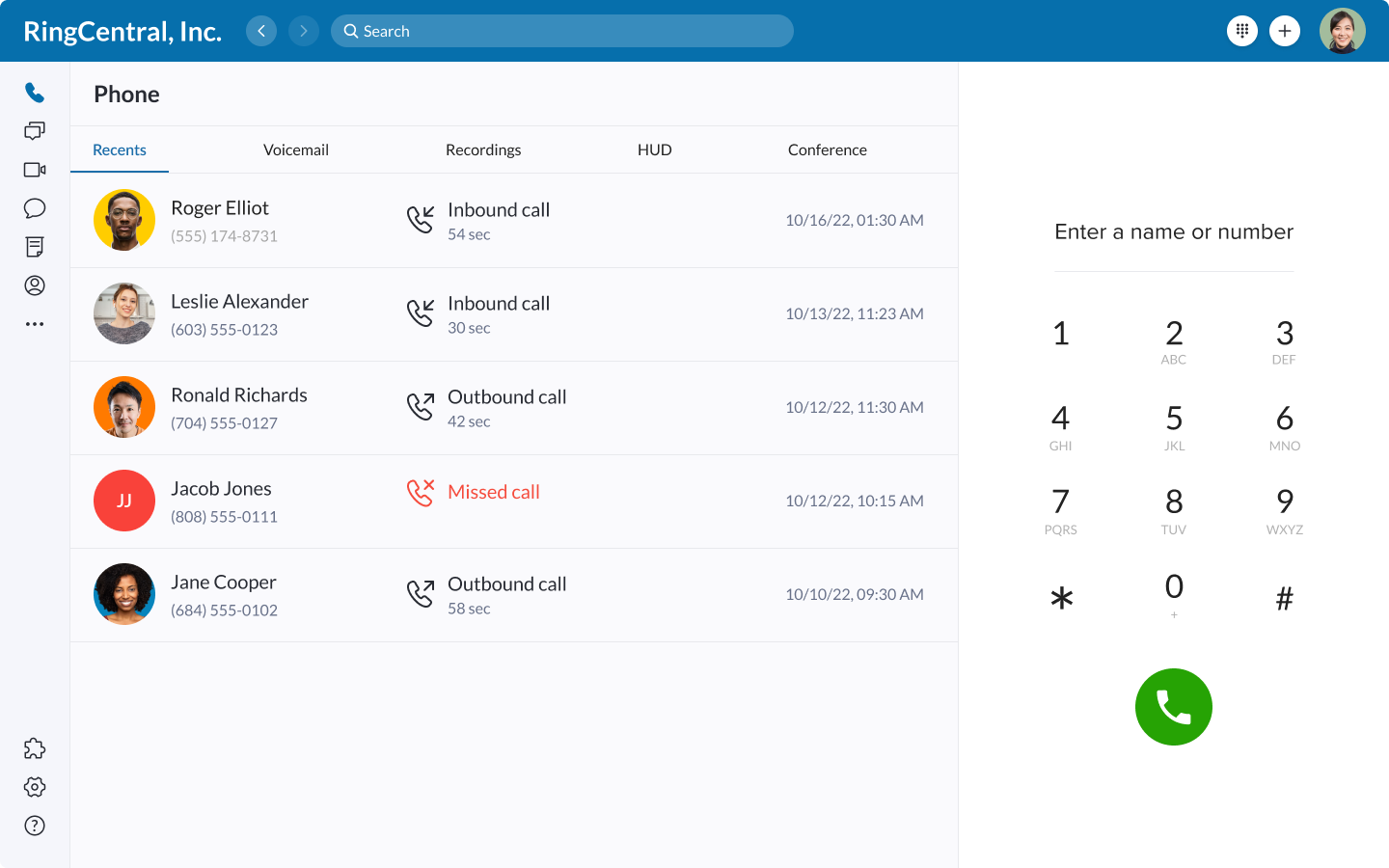 RingCentral Business Communications platform offers VoIP, SMS, team chat, and video in three pricing plans, ranging from $20 to $35 monthly per user. The provider offers a local or toll-free number with each plan, plus business phone numbers around the world and unlimited calling in the US and Canada. In addition to call masking, RingCentral offers advanced collaboration tools like task assignment, file sharing, and advanced call monitoring.
8×8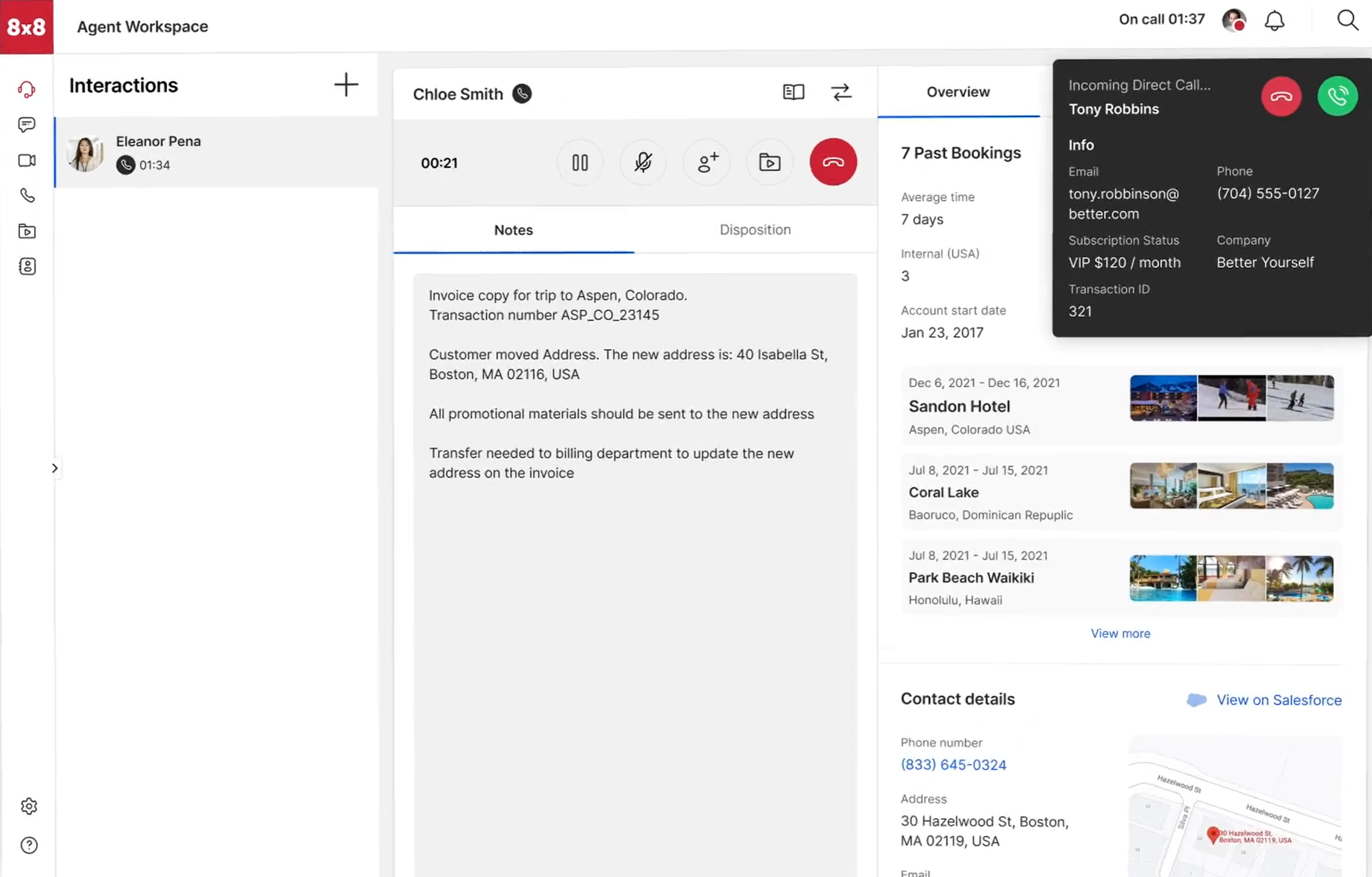 8×8 offers two business communication plans, with quote-based pricing on a custom basis. While the provider offers toll-free and local numbers in over 100 countries around the world, the most notable part about 8×8 is that its two plans support 14-country and 48-country unlimited calling areas. Combined with call masking, this unlimited area makes 8×8 a great option for companies that frequently make international calls.
CloudTalk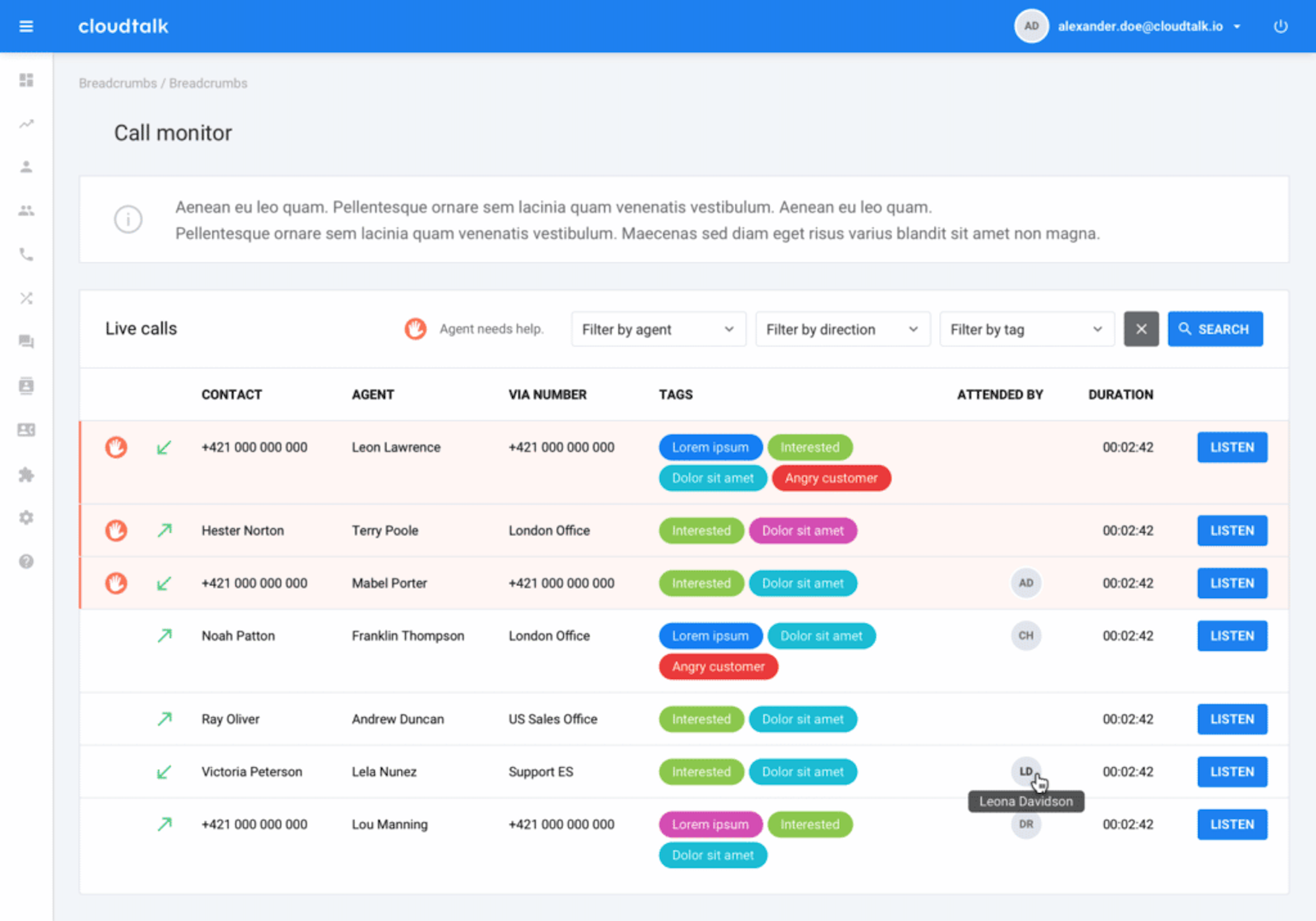 Cloudtalk offers 3 call center plans, ranging from $25 to $50 monthly per user. The business phone system supports VoIP calling and SMS, with international numbers in over 160 countries and unlimited inbound calls. Available on desktop and mobile app, the software features not only call masking but other advanced phone features like skills-based routing, smart queueing, and power dialer capabilities.
Call Masking Supports Diverse Business Needs
Regardless of your company's industry, and whether you focus primarily on inbound or outbound customer contact, call masking can protect and support your ability to communicate with customers.
A valuable business VoIP feature, call masking protects user information, promotes team flexibility, strengthens brand recognition, and helps your company appear trustworthy and familiar to customers.