As you explore business VoIP solutions, you've likely noticed a phrase continually popping up:
Cloud, or hosted, PBX.
Cloud PBX uses VoIP technology to provide more phone number extensions while offering advanced calling features without the need for expensive on-premise hardware.
It's no wonder that cloud PBX is the fastest-growing sector of the Voice Over Internet Protocol (VoIP) market, with a projected growth rate of 16% between 2019-2025.
But what is Cloud PBX, and why should your small business or startup make the switch?
Read on to find out — and to discover what the best hosted PBX platforms have to offer.
Table of Contents: 
What is Cloud PBX?
Cloud PBX, short for cloud-based Private Branch Exchange, is a virtual private business phone system or network that allows users to communicate and route calls over the Internet as opposed to on-premises hardware.
Cloud PBX data is stored and managed in the cloud as opposed to on-premises data centers/hardware that the company is responsible for.
On-premises PBX requires expensive hardware, lengthy contracts, system maintenance, and additional fees for advanced features and support. In contrast, cloud PBX requires no on-site hardware, has a quick setup process, and allows admins to manage their own systems.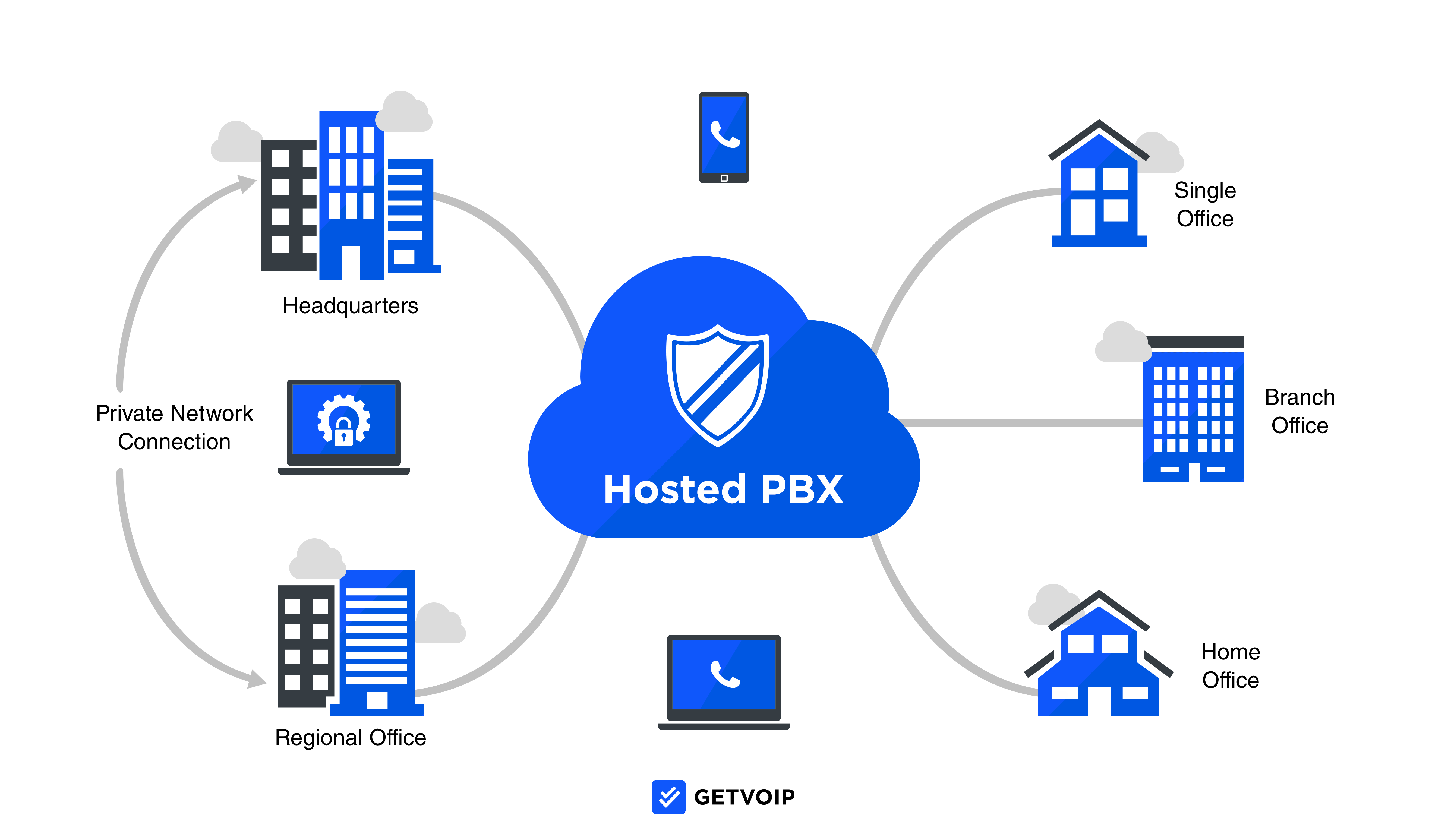 Cloud-hosted PBX (sometimes referred to as simply "hosted PBX) is an excellent way to add more phone lines/extensions, configure advanced business telephony figures without the high costs of traditional PBX, and offers free calling between users. Plus, because it's not hosted by the end-user, the provider, not your company, will be responsible for maintaining the system.
How Does Cloud PBX Work?
In cloud PBX, customer data and voice communications rely on your existing network to function as opposed to onsite servers.
When someone makes a call, the call data is transformed into digital data packets. Your cloud PBX system then routes these packets over the Internet to your provider's server to establish a call path between the inbound and outbound parties. The data packets may also be sent to the PSTN at this time. Once the data reaches the recipient, the PBX system will convert the packets back into voice sounds, sending the call.
Though the process sounds complex, in reality, it takes less than a single second to complete and is relatively hassle-free.
On-Premise PBX vs. Cloud PBX
The below table outlines the main differences between traditional PBX vs. cloud PBX.
| | |
| --- | --- |
| On-Premise PBX | Cloud PBX |
| Higher set-up and maintenance costs, as users must buy equipment and are responsible for maintenance | Lower set-up and maintenance costs. The only equipment to purchase may be IP phones and routers. The host handles system maintenance  |
| Basic VoIP communication features, but end users have a higher amount of control over their phone system without needing third-party PBX providers for assistance.  | Provider offers advanced built-in VoIP communication features, but end users have less control over their phone system. They must contact providers to make changes. |
| A greater level of customization and control | A greater level of scalability and flexibility |
| Must add own extension | The provider adds phone extensions |
| Potential for service interruptions when the end user's IT infrastructure fails | Provider's guaranteed uptime, updates, and maintenance ensure fewer interruptions |
| Ideal for in-house teams  | Ideal for remote teams |
Virtual PBX vs. Cloud PBX
Note that Virtual PBX and Hosted PBX are not the same thing, despite the frequent confusion due to a number of similarities.
Though both virtual PBX and hosted PBX are similar in that neither one of them require an on-premises system, virtual PBX is actually a component of hosted PBX, which is a complete cloud business phone solution.
Virtual PBX systems route inbound calls using Interactive Voice Response (IVR) features or auto attendants, ensuring that incoming calls are directed to the correct phone number, device, agent, or department. Note that virtual PBX services do not have outbound calling capabilities.
Virtual PBX solutions are ideal for small businesses (often with less than 5 employees) with a single location and without extensive call handling features.
Cloud PBX manages both inbound and outbound calls, completely replacing your current business phone system and serving as an entirely new one. Calls will be sent through a router, and businesses will use one main phone number for phone calls, regardless of location. Hosted PBX also has more advanced calling features.
Geographically-diverse, remote, or multi-location businesses will benefit from cloud PBX.
To learn more about the differences between cloud PBX and SIP trunking, read our PBX vs. SIP article.
Top Reasons Small Businesses Should Switch to Cloud PBX
Though the most obvious reason to switch to hosted PBX is the communications cost savings it offers (an average cost savings of 50-70%), there are numerous additional benefits to choosing a cloud-based business phone service.
First, your employees will benefit from the change just as much — if not more — than your customers.
67% of employees say the biggest benefits of making the switch to a cloud-based system is better call management, while over 50% of employees say that the change has improved the remote working process. This leads to increased productivity, more time to devote to outbound sales calls, and a lower level of employee frustration — meaning lower employee turnover.
In fact, studies show that these cloud phone systems can increase productivity by up to 20%, and that the average employee will save about 32 call minutes every day. This coupled with the 99.9% or higher uptime that these systems provide means you'll have time to improve employee training, study customer feedback, improve your products/services, or devote to marketing. Inc
Additionally, these systems are highly scalable, providing different plans for companies in every phase of business. Instead of paying for features you don't need, you can select a basic plan and gradually add on features or upgrade to a higher tier as your business needs increase and your business grows.
Plus, cloud phone services offer a high level of both employee and customer insight thanks to advanced analytics.
According to a recent McKinsey study, using these analytics has helped companies to reduce call hold times by 40%, improve conversion rates by up to 50%, and reduce repeat calls by 15%.
Additional benefits include:
Multi-device availability
Greater employee flexibility
Higher first call resolution rates
Better internal communication
Omnichannel communication
A higher level of customer service
Third-party integration
The Best Cloud PBX Providers
If the above reasons have made you want to make the move to hosted PBX, you'll need to learn more about the features, pricing, and user experience of the top platforms.
They include:
GoToConnect
RingCentral
Nextiva
Vonage
The below table provides a quick breakdown and comparison of the top Cloud PBX providers.
Provider
Pricing
Top Feature
Best For
Pro and Con

GoToConnect

(Formerly Jive)

3 plans from $22.00/user per month to $39.00+/user per month

Advanced Dial Plan Editor for IVR

Small-to-medium-sized teams with a moderate daily call volume that need advanced call path customization

Pro

: Includes robust video conferencing and online faxing capabilities

Con: The mobile app needs significant work

RingCentral

Quote-based, but priced from four available plans from $19.99/user per month to $49.99/user per month

Advanced auto-attendant and IVR capabilities

Companies of any size that need more of a unified communications platform than a standalone business phone system

Pro:

Integrates with a huge number of third-party tools

Con: Difficult setup process with a large learning curve

Nextiva

2 plans, the Professional Plan from $21.95/user per month and the Enterprise Plan from $31.95/user per month

Nextiva Mobile App

Remote teams that primarily communicate on mobile devices and need a high level of flexibility

Pro:

Clean, intuitive, and easy-to-use interface

Con: Third-party integrations and call recording available only with more expensive Enterprise Plan

Vonage

3 plans from $14.99/user per month to $34.99/user per month

Smart Numbers

SMB teams that rely heavily on automation, businesses that need appointment scheduling assistance

Pro:

Excellent voicemail management options

Con: Lack of consistent customer support
GoToConnect

The GoToConnect Cloud PBX Phone System is designed for companies who are looking to switch from legacy phone systems to the cloud.
Its online portal makes it easy for both admins and individual users to configure, and call settings can be updated in real-time.
Plus, users can make and receive voice calls, audio conference calls, and video calls from any device connected to the Internet, whether that device is their desktop computer, laptop, or personal cell phone. GoToConnect's Apple iOS and Android mobile app makes working from anywhere without sacrificing functionality simple.
One of its top features is the Dial Plan Editor tool, which lets users create and edit advanced visual call flows via a drag-and-drop interface.
Users can develop unique call paths based on departments, current call volume, caller identity, after-hours inbound calls, and much more. They can set specific wait times or number of rings between each step, forward calls to multiple agent phone numbers, and choose from several call routing options to increase first call resolution rates. Ring groups, auto-attendants, pre-recorded sound clips, and individual agent scheduling are also customizable within the Dial Plan Editor.
GoToConnect's hosted PBX platform comes with over 100 additional features, which include:
Toll-free, local, and vanity phone numbers
Find Me/Follow Me
Inbound call routing filters allowing you to auto-reject spam calls, automatically send some calls to voicemail, or automatically divert specific callers to other agents
VIP call routing
Call queuing
Call recording
Dial-by-name directory
Unlimited extensions
One-click video dialing or video meeting scheduling
Virtual voicemail (voicemail-to-email, shared voicemail boxes, mobile voicemail notifications)
Virtual fax
Historical and real-time call analytics including agent, issue, and department, and time-specific reporting
Custom hold music/messaging
Integrations with Salesforce, Slack, Zoho, Microsoft Teams, and more
Call barge and call monitoring
Team chat messaging
Up to 250 video chat participants with screen sharing
GoToConnect has three available plans: The Basic Plan for $22/user per month, the Standard (and most popular) Plan for $26.00/user per month, and the Premium Plan from $39.00/user per month. Compatible IP phones are also available for purchase.
For more detail on GoToConnect user experience, available packages, and features, read our complete GoToConnect review.
Best For: GoToConnect is best for medium-sized, mostly-remote teams that may not have an especially high inbound call volume, but that need to be able to create a highly customizable call path for both individual users and entire departments. It's also a good solution for teams that don't yet need a complete contact center solution, but want additional business communication channels like team chat and video meetings.
RingCentral

RingCentral Cloud PBX is a business communication platform offering unlimited calls within the United States and Canada, unlimited SMS texting, and extensive video and collaboration tools that make it more akin to a unified communications solution than simple a standalone business phone system.
With that in mind, RingCentral provides more team collaboration features than most. Aside from team chat messaging, users can create project-specific teams, assign and manage tasks, upload and collaborate on notes and files in real-time, and sync calendars.
The Team Messaging tool allows users to start an audio or video call with a single click from inside the chat interface, pin files, search chat archives, and even send meeting recaps. They can also add external team members and set up chat alerts on desktop and mobile apps.
RingCentral is also known for its Auto Receptionist feature, which routes calls according to time of day, the caller ID, via round-robin, or according to the most idle user. Admins can also create call shortcuts, update the company greeting, and implement a dial-by-name directory within the auto receptionist tool.
Advanced call flows powered by multi-level IVR include features like rng groups, ring queues, automated callbacks, and even visual IVR to assist with omnichannel communication. Users can access pre-developed IVR menus or create new ones based on included templates.
Additional features include:
Intelligent call routing
Automatic call recording
Automatic voicemail transcription
Call flipping
Number porting
Single Sign-On
Up to 200 video meeting participants
Hot desking
Shared phone lines
Voicemail-to-text and voicemail-to-email
Bulk user/department adds
Open platform lets users build integrations or integrate third-party tools
Though pricing for RingCentral's cloud hosted PBX system are primarily quote-based, RingCentral Office, a combined Voice, Video, and Messaging platform, has four plans ranging from $19.99/user per month to $49.99/user per month, allowing for a cost-effective solution.
Best For: RingCentral is best for businesses with a high daily call volume that have realized they need to scale their current phone system into a more complete unified communications solution. They communicate with customers via multiple channels and therefore need real-time notifications across preferred modes of communication.
Nextiva

Nextiva's Cloud PBX is specifically designed to meet the needs of remote teams through cutting-edge VoIP features and functionality.
It provides unlimited calling within the United States and Canada and unifies chat messaging, voice calling, and video communication. Additionally, each plan comes with one free local and toll-free business phone number.
One of its top features is the Call Pop tool, which is included in every plan.
Caller data from Nextiva such as customer sentiment on the last call, account value, last survey response, and the caller's average customer experience score immediately pops up on the screen when you get an inbound call. If a user accepts the call, their screen automatically transitions to more complete native customer data, as well as a place for the agent to enter in additional notes. The Call Pop tool also automatically sends out a customer survey once the call is completed.
Nextiva is also well-known for its mobile app, compatible with both iPhone and Android mobile phones.
The app allows users to make/receive audio and video calls, share screens, switch between mobile and desktop calls, and chat message with team members. It is ideal for mobile workforces that need to be able to completely replicate the desktop Nextiva softphone and portal experience on their mobile devices.
Additional features include:
Audio and video conferencing with no time limits
Call flow design
Call routing
Simultaneous ringing
Free virtual room per user to allow for screen sharing, file sharing, and task management
Voicemail-to-email and voicemail forwarding
Call queuing
Conference bridge
Auto-attendant
Call presence
Call notifications, call presence, and call transfer
Advanced IVR with conversational AI
Automatic callbacks
Unlimited online faxing
Number porting
Priority alerts
Nextiva's Cloud PBX has two plans, the Professional Plan from $21.95/user per month and the Enterprise Plan from $31.95/user per month. More specific, quote-based pricing will be provided once you contact a representative. Note that Customer Relationship Management (CRM)/business software integrations and call recording are available only on the Enterprise plan.
To learn more about how Nextiva stands up against the competition, read our complete Nextiva review.
Best For: Nextiva is best for medium-sized companies that are primarily made up of remote employees that have a greater need for team collaboration. The advanced mobile app also means Nextiva is ideal for on-the-go teams looking for flexible communication capabilities, including frequent video conferencing.
Vonage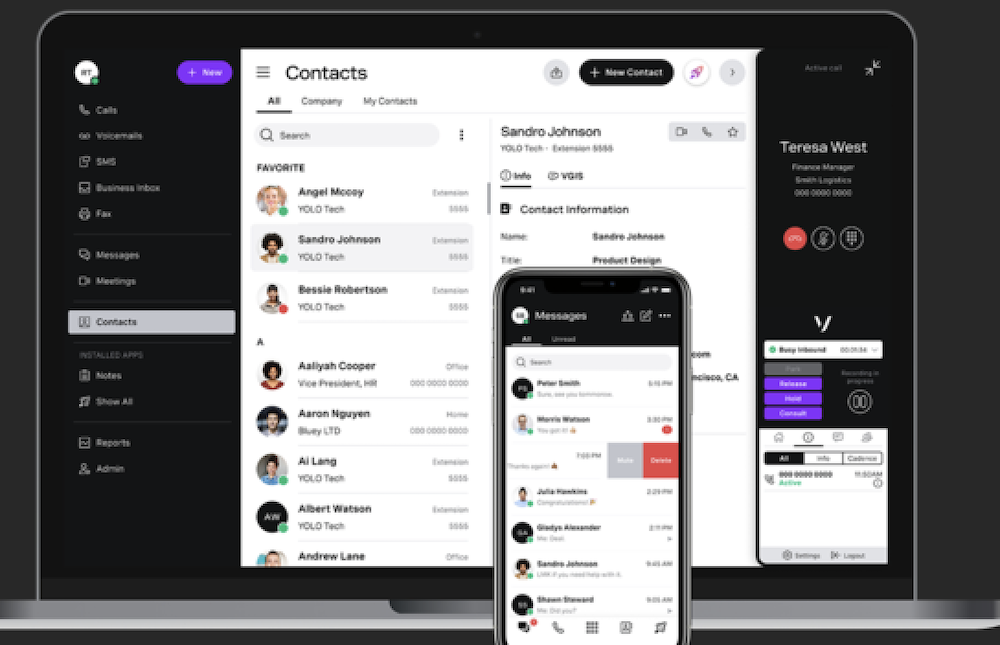 Vonage Business Communications is a cloud-based business phone system that combines voice, video, and messaging in a single platform.
Plans include unlimited calls, online faxes, and SMS texts within the US and Canada.
Vonage's Virtual Voicemail, their standout tool, allows users to customize greetings and securely access messages on the mobile app, desktop computer, office desk phone, or in the online portal. Users can also program the tool to automatically send voicemail transcripts or recordings to email.
Based on the caller's identity, the time of day, or additional factors like vacation time or busy phone lines, users can configure and deploy several voice greetings that will automatically play according to predetermined specifications.
Another excellent feature is Vonage's Dynamic Caller ID. This allows users to easily switch from one outbound phone number to another one, leading to a higher conversion rate thanks to local phone number presence.
Vonage Smart Numbers use customizable communications APIs to program any business phone number to automate tasks, create workflows, and play custom messages based on the caller's responses. This is especially helpful for appointment scheduling and reminders and intelligent call routing.
Additional Vonage features include:
Find Me/Follow Me
Call flip and call parking
Advanced call routing and call forwarding options
Call announce
Ring groups
Call monitoring, whisper, barge
Up to 30 audio conference participants
Team chat messaging
Video meetings
Busy Lamp Field
Call spam shield
Call logs
Call queuing
Company-wide and on-demand call recording
IVR and virtual receptionist
Hold music
Local/toll-free vanity number
Vonage offers three plans: the Basic Mobile plan from $14.99/user per month, the Premium Plan (most popular) from $24.99/user per month, and the Advanced Plan, $34.99/user per month.
For more information, read our complete Vonage Business Communications review. 
Best For: Vonage is best for small businesses that need to automate routine tasks like appointment scheduling and reminder notification and payment collection/reminders. Businesses that should use Vonage have a high call volume, but many of their calls are related to similar issues that could be solved through IVR and automation.
Deeper Comparisons of Top PBX Providers
In addition to defining cloud PBX and pointing out its top benefits, this post has also introduced you to the best hosted PBX providers.
However, in order to create a shortlist to choose from, you'll likely need to continue your research and look at head-to-head comparisons of the providers listed here and other cloud call center tools or VoIP providers.
Our interactive table of the top PBX platforms compares features, pricing and plans, user reviews, and more. Additionally, check our in-depth comparisons of RingCentral vs Vonage and Nextiva vs RingCentral.
Cloud PBX Solutions FAQs
Below, we've outlined some of the top FAQs about Cloud PBX.
VoIP phones/hosted PBX services provide HD quality audio and video.

The problem, however, is that the call quality is directly impacted by your Internet connection. When you lose Internet access, or if you have bad Internet quality, you won't be able to make VoIP calls.
Some tips to improve VoIP call quality include:
Upgrading your Internet speeds
Installing a VoIP accelerator
Consider switching to a wireless connection
Use a Unified Bandwidth Management connection
Purchase high-quality headsets
Look for providers with background noise cancellation features
Top PBX features to look for include:
Call hold, call waiting, call transfer, call forwarding, call routing
Caller ID, call blocking, Do Not Disturb
Call recording and recording transcription
Voicemail. Voicemail-to-text, voicemail-to-email
Interactive Voice Response (IVR) and auto attendant
Chat messaging
Online faxing/text messaging
Local phone numbers
Ring groups
In general, you'll need between 85-100Kbps of bandwidth per VoIP call. If you're unsure of your current bandwidth, contact your Internet service provider.

A bandwidth calculator can help you to determine the exact bandwidth you'll need to operate your system.
As stated earlier in this post, hosted PBX is substantially cheaper than an on-premises alternative. One study shows that companies saved over $11,000 over the course of three years (over 50% of their original costs) when choosing a hosted PBX solution over an on-premises one.

A RingCentral study shows that the average on-premises PBX system for a small business with roughly 20 employees will cost $24,000/year ($2,000/month) while a cloud PBX system will cost that same 20-employee business only $8,200/year ($683.00/month.)