An iPhone is always been a solid choice when it comes to a business-focused smart phone. Although Apple's closed ecosystem places more limits on the user, this same aspect has always provided a significant benefit for Enterprise use.
With only Apple contributing to the development of the OS and supporting features, there is a standardized approach. This is opposed to Android devices, which are configured by multiple vendors from the phone manufacturer to the service provider. And, Apple has recently introduced their next generation of the mobile OS, and a whole list of new features, too.
What's unique this time, though, is the inclusion of particular features that will help bolster the already stable platform for Enterprise use.
The Benefit of a Standardized Platform
Now, I'm no massive Apple fan. I've been on PCs my whole life, but credit where it is due. The concept of a "standardized platform" is exactly why Google and other companies are pushing for something like RCS. With one standard for all messaging, every android device can receive the same videos, pictures, gifs, attachments, links, and so on in standard text messages. This helps remove the need for third party apps like WhatsApp or Facebook Messenger. This is exactly what Apple is already doing with iMessage.
With only Apple in control of the entire iPhone ecosystem, Apple can implement features and functions across all of their devices. This can also lead to a more secure device, less compatibility issues, and an overall pleasanter user experience. As I mentioned before, this is one of the major reasons iPhones are a popular choice for BYoD polices.
During the iOS11 announcement at WWDC, Apple introduced some new security changes as well as new standardized features for the entire iCloud and iOS ecosystem:
iMessage security updates with iCloud
The iMessage Business Chat developer preview
New machine learning APIs thanks to the CoreML framework
Overall security enhancements
Wifi Sharing
NFC access
iMessage Integrating with iCloud
On the UC front, some of the largest updates for business use comes from the multiple changes Apple has introduced to iMessage. Apple decided to introduce iMessage to their iCloud service, allowing users to sync all of their messages across all of their Apple devices seamlessly. If you delete a message on one device, it will delete the message on every device that is logged into your iCloud account; the same applies for received messages, of course. This alone is a great boost to iMessage for general usage, and the addition of iMessage to iCloud also introduces some new security measures.
Way back in 2011 when iMessage was initially launched, Apple actually went ahead and promised full out security with end-to-end encryption. While mostly true, if users decided to backup their history to the Cloud, then Apple could be forced to provide access to these back ups. However, with iMessage being directly rooted into the Cloud it can now benefit from the iCloud's own encryption, which works similar to that of Cisco Spark. That means everything is stored and encrypted with a key that not even Apple has access to. Therefore, Apple cannot even unlock your secured files and messages.
Here's a quote from Apple's Senior Vice President of Software Engineering Craig Federighi that keeps popping up in discussions of these changes:
"Our security and encryption team has been doing work over a number of years now to be able to synchronize information across your, what we call your circle of devices — all those devices that are associated with the common account — in a way that they each generate and share keys with each other that Apple does not have, and so, even if they store information in the cloud, it's encrypted with keys that Apple doesn't have."
This came from a conversation he had with Apple Blogger John Gruber at the conference.
Introducing Business Chat
Now, this one is a bit further out on the timeline, but it's still a very important update worth talking about. Apple is smart to jump on board — especially now, when Contact Centers trends are transforming. Similar to what Facebook is doing with its messenger platform, Apple is looking to open up iMessage to service as a platform for customer service and support. This is a pretty big move.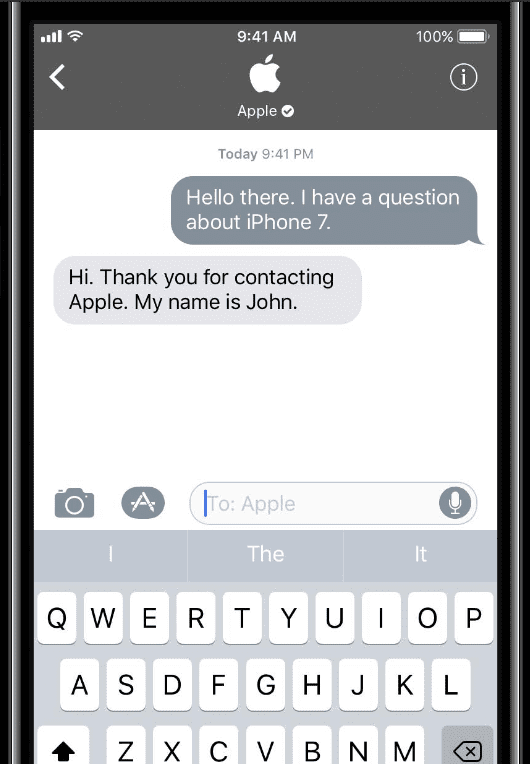 However, what's important to note is that Apple only showed this as a Developer Preview — meaning it's still being worked on and we shouldn't expect to see it go live until next year. Apple's focus on this direction for the platform, though, is reassuring. What makes it unique is the integration with the rest of iOS11 as well as some powerful built-in features like the Date Picker.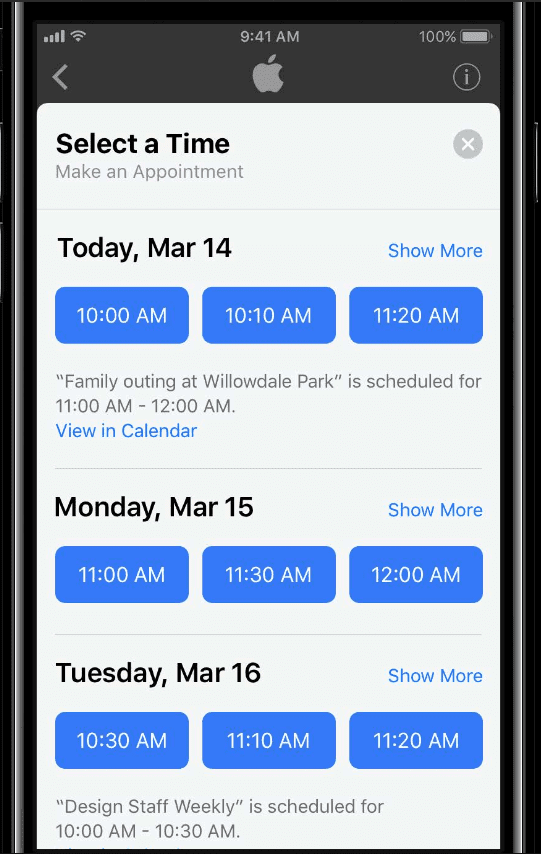 Users will be able to start interactions with support or even complete full transactions on iPhones, iPads, and Apple Watches through Safari, Maps, Spotlight, and even Siri. Again, this comes from the benefit of a closed and standardized ecosystem: since all of these apps are made by Apple, they can all be deeply integrated to create an entirely new user experience.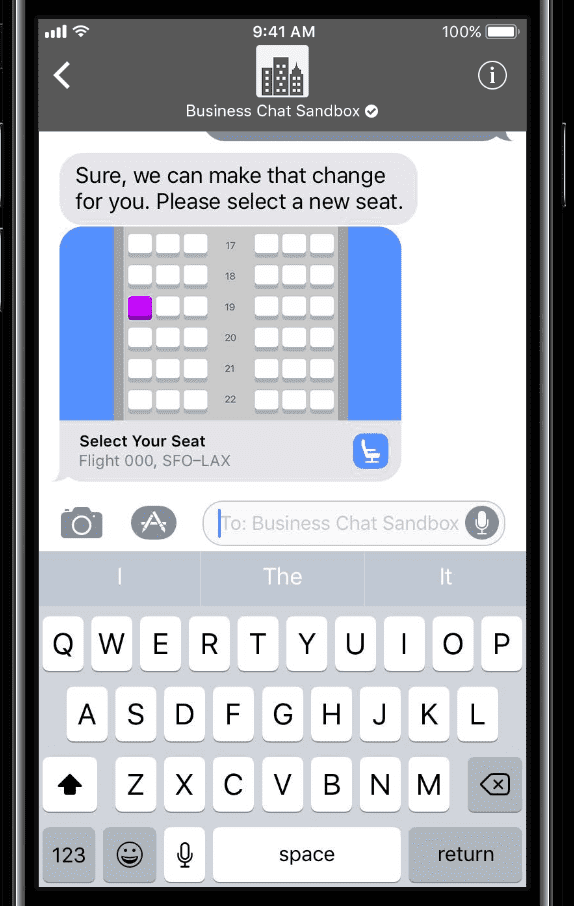 As one very basic example, let's say you're searching for directions to a business, but you're having trouble locating the best place to park. Just pull up the business' address on Apple Maps, start an interaction, and hopefully ask for assistance.
Everything Else That's New
While not our major focus, there are other changes worth expanding upon — the most obvious being security enhancements, which always benefit business-focused solutions and devices. Beyond that, Apple has introduced a few new interesting tidbits that, while not designed necessarily with business users in mind, can overall help boost the platform even further.
A great addition to iMessage on top of the new iCloud change, Apple also introduced an extra layer of security with SMS Fraud protection. Essentially, when users receive a potentially fraudulent message, iMessage will warn users of the possible threat. Any extra layer of defense is good to have, especially when ransomware attacks often originate from phishing scams.
Files App and Integrations
One of the most useful new features is the Files app. Apple essentially brought in a fully functioning file manager and browser to the iPhones and iPads. They even went one step further by including integration with popular file sharing solutions like Box, Dropbox, and Microsoft's OneDrive.
The concept of screen recording is nothing new: you were already able to record your iPhone's screen with the help of a desktop or laptop running MacOS. Now, though, users can streamline the entire process and record with simplicity. Great for collaboration, creating training videos, or even product demos for your business' website.
So far the NFC chip hasn't been available for developers to play around with. Apple introduced a new NFC reader mode allowing third-party apps to take advantage of the iPhone's platform. This means the same Apple Pay chip could be used for NFC security systems for an office building, public transport, or even building your own payment apps for Apple devices.
Indoor Mall and Airport Maps
This one is a bit on the interesting side and really hints at future potential. Apple Maps will now support "indoor maps" of airports and malls, allowing users to locate different stores or boarding gates, among other things. As this expands and we gain more use from it, businesses can go ahead and create the best omnichannel experience possible for their customers.
Going Where the Customers Go
Facebook Messenger is lucky — or rather, Facebook Messenger is smart — in that it builds off the massive existing network of Facebook users. After all, just about everyone has a Facebook account, and this mass collection of existing users is essentially why Facebook Messenger has over 1 billion users.
Apple is in a very similar boat to Facebook, after all. While iPhones aren't necessarily the Facebook of the smart phone world, it's no secret that a large percentage of all smart phone users do have in fact have iPhones. In fact, earlier this year, it was reported that there are approximately more than 700 million actively used iPhones around the world — which isn't too far behind Facebook's billion.
iMessage is already beloved by iPhone users and has become successful due to the massive ecosystem it operates within. Thus, it only makes sense for Apple to follow in its footsteps and go where the customer is. While Facebook only has a website and a single Messenger app to leverage, Apple has an entire phone and list of built-in, integrable apps.