The Good
---
This phone has great clarity for a mid-level phone. This is the case over various codecs from G722 to G711. Same case with the use of its speaker phone. The fact that both Ethernet ports are Gigabit shows that the phone will fit in to your office environment without bottle necking your PC for years to come. The web interface allows for many actions including manual configuration, Action URL programming, hard key programming, and use of trouble shooting features. The phone can also provide Wifi networking and Bluetooth headset capabilities through the use of USB dongles via its two USB ports. This feature and its light weight small form factor makes this a great hard phone for a road warrior that uses a VoIP phone
The Bad
---
Being a mid-level phone, the phone should come with a power adaptor. However it does not. Also it comes with a colored LCD screen but it is very small and does not tilt for better viewing. It is not a touch screen either. The stand is a fixed 45 degree or 28 degree non tilting stand. This makes the phone hard to read if there is any glare. Lastly, buttons are a little hard to press but are still pretty functionable. The WIFI and BlueTooth options that are available are troublesome to implement.
The Bottom Line
---
Great phone for the average office user. This phone is not for a receptionist or CEO in regards to capabilities. The phone can handle up to 12 programmable lines through the web interface. It also provides standard Directory, DND, Message, Transfer, Speaker and Headset buttons. Un-labled hard keys can be programmed for a variety of actions within the web interface, including actionable URLs. Therefore this desk phone is a good choice for the average needs of an office user.
In the box you get:
– Snom 760 Console
– Handset & Cord
– Stand
– LAN Cable
– Quick Start Guide
Not in the box:
– Power Supply
– Wall Mount
Editor's Review
Features I personally love:
The Web Interface is the greatest strength of the phone in my opinion. For starters, you can quickly manually program the phone and make calls from it. You can also program the hard keys and Action URLs for various tasks from the web interface. This includes – Lines, Contact Directory,Call History, Transfers, and Redirects. Lastly being technical, I love the trove of troubleshooting tools available in the web interface which solves most technical issues.
True Gigabit PC bridging means that this phone will not bottle neck the latest PC's or laptops that are connected behind it. The capability will allow that phone to integrate seamlessly with the rest of your office.
Video:

Interface Experience:
Interaction with the interface was easy and intuitive. The phone offered a lot of options at your finger tips. However the true capabilities are apparent in the web interface. The web interface allows for easy manual configuration in most cases. It also allows you to build and use a built-in contact directory to manage calls. This includes seeing incoming, outgoing, and missed calls with the capability to click to dial from the web page.It is worth mentioning that the phone is also UC capable to take advantage of systems such as Microsoft Lync for contact dialing. It means that the snom 760 UC edition can also be easily managed directly via the Lync server, no additional network infrastructure required. Provisioning and firmware updates are down from the web interface. On first boot the phone will provide the link to the latest firmware on the snom site to keep you up to date. Action URLs and the 16 hard keys are programmable from the web page as well. Lastly the troubleshooting option of the phone are available on the phone web page. I have not found another phone with some many impressive troubleshooting capabilities baked into the phone. These include standard system settings, DNS cache, memory usage, SIP Logs, and built in pcap tracing. I personally used the SIP logging tool to overcome a registration issue during one of my boots.Phone calls are load an clear from both the handset and the speaker phone during calls. This was tested using both a standard G 711 and newer G 729 codecs for comparison. The phone also takes advantage of two built-in gigabit ports for itself and the connected PC. I believe this allows for improved voice quality along with it's QoS capabilities. The phone also supports PoE technology, which is great for any office. This feature uses the Gigabit Ethernet cable for the phone's power supply allowing you to eliminate unnecessary power cables. The phone actually does not come with a power cable in the box and you'll need to purchase it separately, making the PoE option even more valuable. This is something for user's to be aware if you're planning for a non-PoE installation.The snom 760 also comes with two interesting capabilities via its two USB ports. Either Bluetooth headset connectivity or WIFI connectivity can be used with the two USB ports. The Bluetooth feature is a great for mobility and hands-free devices. The WIFI connectivity would be great for road warriors and deployments in remote parts of the office that isn't covered by Ethernet. I, however, found using these features frustrating in regards to compatibility with the phone. It either took a long time to connect or configure and then just simply didn't work. This was disappointing given that it is one of the highlights of the phone. The references below can assist with compatible brands to tether. snom compatible WIFI USB dongles
Features Set Usage & Experience:
The web interface allows for making calls, viewing call history, and updating contacts.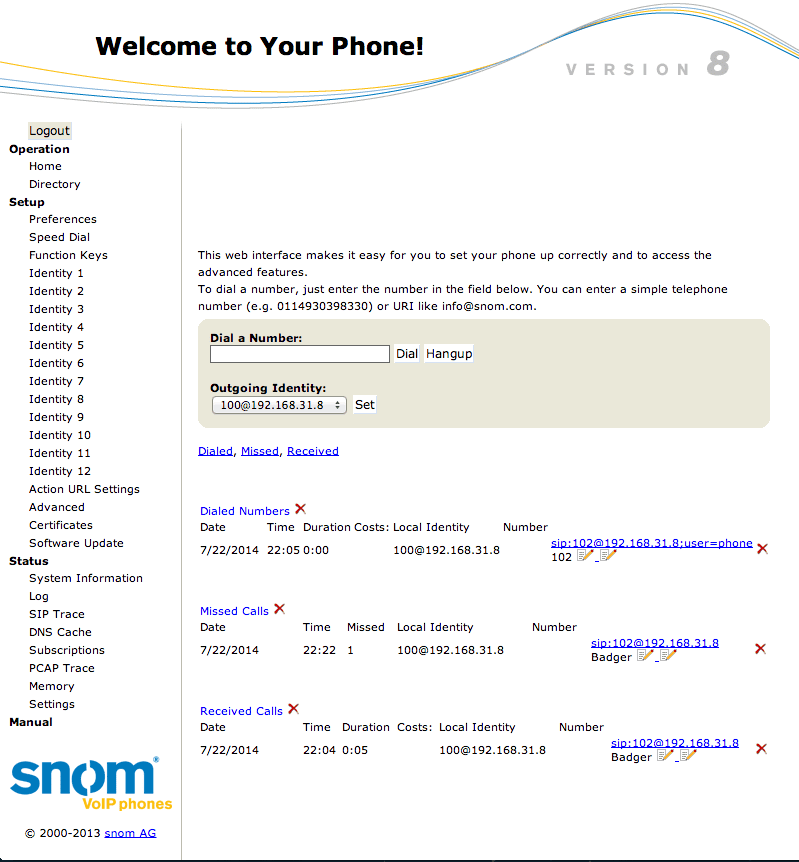 I used the action URL to divert a call to another phone.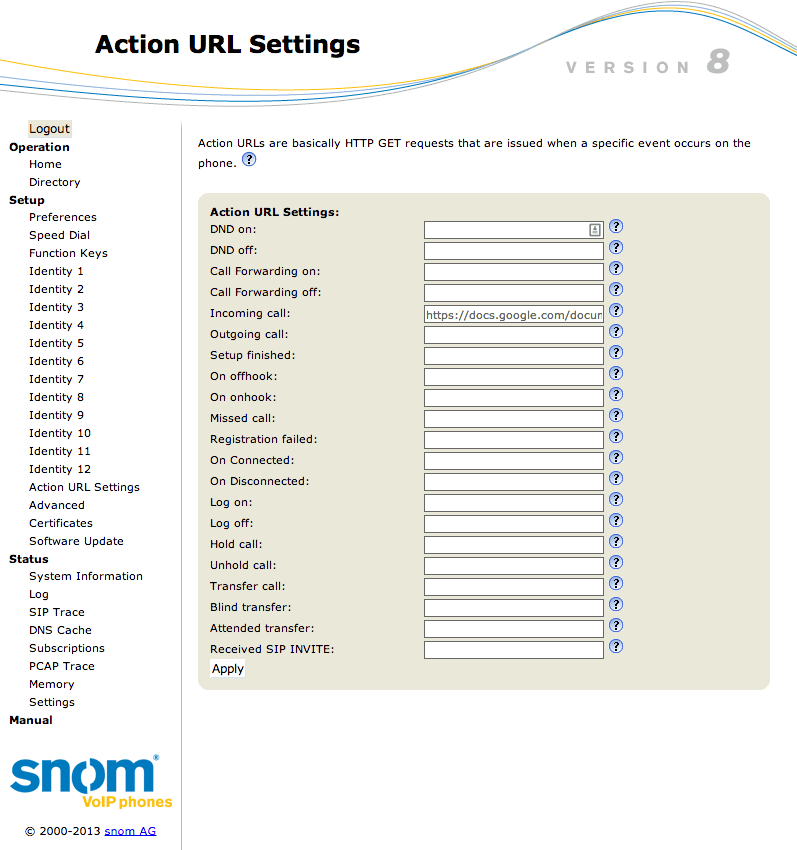 Lastly I love the troubleshooting tools such as the PCAP capture page.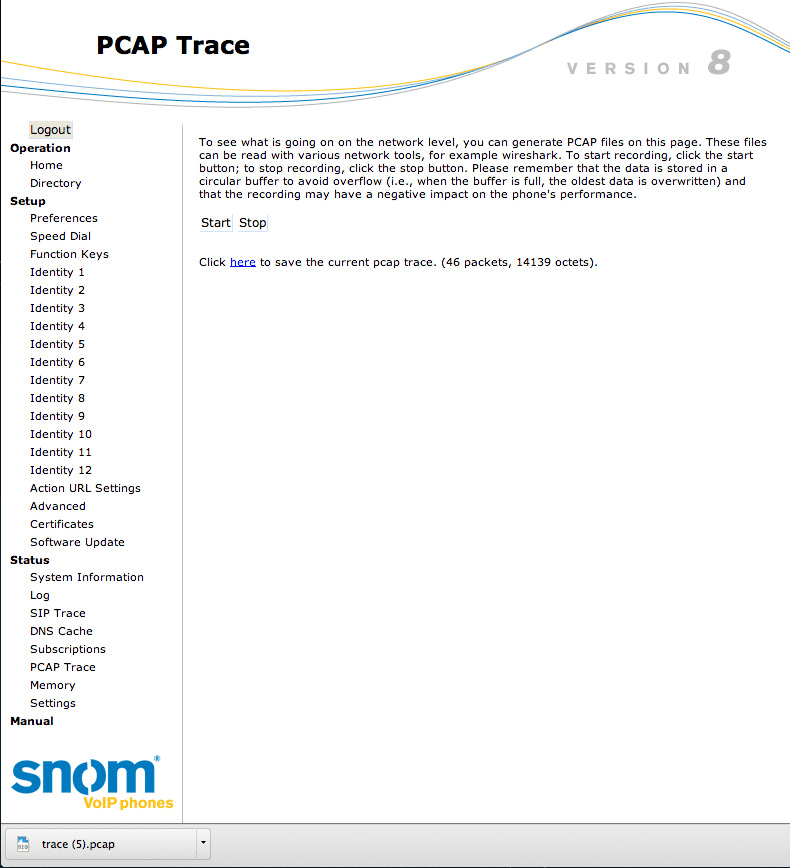 Pricing:
Average cost of the snom 760 is around $200 dollars. The price is pretty reasonable for this level of desk phone. All things considered, I think it's a better deal than some of it's competitors. The phone's solid performance, capabilities, and clear audio make it a worth while purchase in any office environment.
Bottom Line:
The snom 760 phone is a safe investment for any business. snom phones have been around for a long time and have a great reputation for making great phones at a fair price. The phone is simple to set up and use. The phone does not have the complexity of equivalent Polycom models but still provides comparable sound quality for the value. The average user will find this phone productive for years to come. The above pricing is comparable to what a user will find in other phones of this tier. Ultimately, a nice phone for the buck.
Technical Specs
SPECIFICATIONS
# of RJ45 Ports
2
# of Lines
12 indentifiers
3 way conference

YES

AC Power Supply Included

NO

Built-In Bluetooth

NO

Built-In WiFi

YES

Color Screen

YES

Desktop Paging

NO

Display Type
3.5″ TFT Color Screen
Gigabit Ethernet Support

YES

Headset Interface
USB, 2.5mm
Mass Provisioning

YES

MWI Support

YES

Peripheral ports
2 USB – For Wireless LAN or BlueTooth headsets
PoE Compatible

YES

Protocol Supported
SIP
Provisioning Method
DNS, FTP, HTTP, HTTPS, TFTP
Sidecar Compatible

NO

Speakerphone

YES

Supported Codecs
G.711U, G.711A, G.722, G.726, G.729AB, and GSM 6.10
Touch Screen

NO

Voicemail Button

YES

Wideband Voice Protocol
HD Voice
About the Editor:
Josh is a telecom engineer with 7 years experience in VoIP telephony system. With a driving passion for working with various VoIP equipment and phone systems, Josh specializing in in SIP, Asterisk, and Cisco.