The Good
---
Yealink's device offers extensive function and feature spread throughout intuitive and easy-to-use menus. Additionally, customizations allot for even quicker navigations when applicable.
The Bad
---
The menu breakdowns and features are nice, navigation if a bit bogged down by the lack of quicker access options. Also, in focusing on phone operations, the device doesn't offer too much past phone features and functions.
The Bottom Line
---
The SIP-T46G works best as a phone first and foremost. As such, it is able to perform a variety of functions users would expect. While it's not as versatile as some of the tablet/desk phone hybrid devices, it is a quality desk top phone that revels in customizability.
In the box you get:
Quick Installation Guide
Quick Reference Guide
User Guide (CD-Rom)
Base Console
Phone Stand
Wall Mount Bracket
DC5V Power Adapter
Handset & Handset Cord
Ethernet Cable
Downloads:
Yealink SIP-T46G DataSheet
Yealink SIP-T46G User Guide
Yealink SIP-T46G Quick Installation Guide
Yealink SIP-T46G Quick Reference Guide
Yealink SIP-T46G IP Phone Administrator Guide
Top 5 Pros:
Top 5 Cons:

Up to 6 SIP Accounts
Yealink Optima HD Voice
Hi Res TFT LCD Color Display with Backlight
27 Programmable Keys
Highly Customizable

No Touch Screen
Fewer Soft Keys
Awkward Cabling
No Web Applications/Integrations
Limited Functionality/Feature
Editor's Review
The SIP-T46G utilizes interoperability and customizability to the utmost extent. As such, the device supports a variety of provisioning methods, including: FTP, TFTP, HTTP, HTTPS, PnP; BroadSoft Device Management; Zero Touch Provisioning via Yealink's RPS Service; Support for TR-069 and SNMP; and Redundant Provisioning Server Support. In doing so, the phone is able to flex to meet specific requirements of different service providers. In regards to customizability, there are a total of 10 programmable multifunctional line keys on the face of the device, which users can assign as they see fit. With customizability comes greater ease of use. While new(er) users might feel a bit overwhelmed at first, the device is very organized and accessible. Therefore, it's easy to familiarize oneself with all the various functions and methods, and subsequently to make customizations.While function/feature, customizability, and operability are nice, they would be substantially less without quality. Luckily, the SIP-T46G utilizes Optima HD Voice—which leverages software and hardware design with wideband technology to deliver outstanding voice quality. Additionally, the manufacturer also implements acoustic clarity technologies such as full duplex, echo cancellation, adaptive jitter buffers, voice activity detection, a comfort noise generator, and more. Though there are a number of ways to call (speakerphone, handset, headset, Bluetooth), quality is maintained throughout all paths.
With an encompassing list of amenities, superb quality, and grand customizability/interoperability, this phone is a perfect fit for executives and any other business professionals. With an overhauled design and a bold new approach, Yealink delivers one of their best devices. Though the phone is not without fault, it is definitely a big step in the right direction. It's comprehensive without cutting corners, and it's incredibly versatile .
What's in the Box?
–Quick Installation Guide   -Quick Reference Guide   -User Guide (CD-Rom)   -Base Console   -Phone Stand   -Wall Mount Bracket   -DC5V Power Adapter   -Handset & Handset Cord   -Ethernet Cable
The Bottom Line: The SIP-T46G works best as a phone first and foremost. As such, it is able to perform a variety of functions users would expect. While it's not as versatile as some of the tablet/desk phone hybrid devices, it is a quality desk top phone that revels in customizability.
Interface Experience:
The SIP-T46G has seven ports on its back side: 1 for the DC5V power supply, 1 LAN Port, 1 PC Port, 1 Handset Port, 1 Headset Port, 1 Extension Port, and 1 USB port.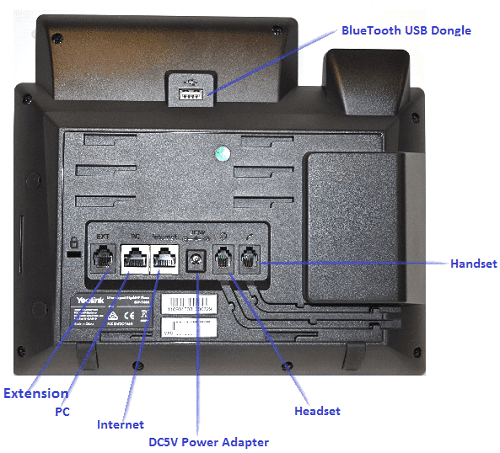 In regards to the face of the device itself, the device features a 4.3" 480×272-pixel color display (with backlight). Aside from the display, the face is pretty straightforward, including a variety of hard soft keys.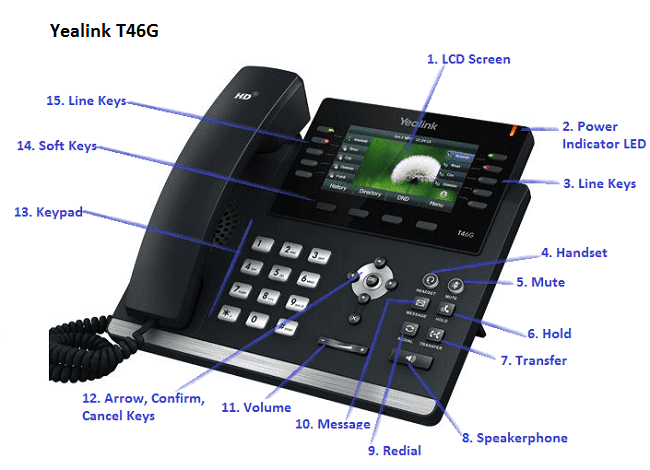 In regards to the color display itself, the menu is very easy to navigate.
As seen in the diagram, the home screen contains four primary destinations: History, Directory, DND, and Menu. Each of these tabs breaks down into another sub menu when selected (by soft key prompt). The organization is classical—similar to Polycom's SoundPoint IP 550 and IP 670 devices. For example, sleecting Menu will take you to the main menu, consisting of: Status, Call Feature, Directory, History, Message, Basic, and Advanced. Each of these options further breaks down into a sub menu, too.
Outlining the color display is ten programmable multifunctional line keys. To program a key, all users need to do is hold it down. Also, users can also go through Menu>CallFeatures>DSS Keys. From here, a menu will pop up which denotes the type of function being assigned to that line. Function types include: Line, Key Event, Intercom, URL, URL Record, ACD, Speed Dial, and BLF. Each of these denotes their own menu, too. For example, in setting the type as Line, users will also see Account ID, User Name, Server, and Value. Inversely, in selecting Intercom, users will only see Account ID, Label and Value. Once the function type is set, a box will appear next to the line number it's attached to on the main menu page.
On the face of the physical display, users will find four arrow keys (Up, Down, Left, Right), an OK button, and an X button. These buttons are what users will utilize to navigate through the menus on the color screen.
Features:
Yealink's SIP-T46G phone offers a variety of features and functions for all users. In doing so, however, the manufacturer doesn't cut corners. Instead, each feature option is well fleshed out and organized nicely. Note: These features are NOT calling features, but actual features of the device itself. As such, the SIP-T46G includes:
| | |
| --- | --- |
| Audio Features | Security Features |
| HD Voice: HD Handset, HD Speaker | AES Encryption for Configuration File |
| Codecs: G.722, G.711, G.723, G.729AB, G.726, GSM | Transport Layer Security (TLS) |
| DTMF: In-band, Out-of-band (RFC 2833) and SIP Info | HTTPS Certificate Manager |
| Full-Duplex Hands-Free Speakerphone with AEC | Proxy mode and peer-to-peer SIP link mode |
| VAD, CNG, AEC, PLC AJB, AGC | HTTP/HTTPS web server |
| | |
| --- | --- |
| Phone Features | User Interface Features |
| 6 VoIP Accounts | Dual Gigabit Ethernet |
| Call Hold, Mute, DND, 3 Way Conferencing, BLF List | Built In USB port, support Bluetooth Headset (through USB Dongle) |
| One Touch Speed Dial, hotline | 1xRJ9 (4P4C) Handset Port; 1xRJ9 (4P4C) Headset Port |
| Call Forward, Call Waiting, Call Transfer | 1xRJ12 (6P6C) EXT Port |
| Group Listening, SMS, Emergency Call | PoE Support |
| Call History: dialed/received/missed/forwarded | Feature Keys: 10 Line Keys with LED, Programmable Keys (up to 27 combinations) |
| Dial Plan, XML Browser, action URL | 7 Feature Keys; 4 Context Sensitive "Soft" Keys |
| Direct IP Call without SIP Proxy | 6 Navigation Keys; 2 Volume Control Keys |
| Ringtone Selection/import/delete | Illuminated Mute, Headset and Speakerphone Keys. |
| Set Date & Time manually or automatically | Wallpapers |
| DND & Forward Synchronization | National Language Selection |
| N-Way Calling, remote office | Caller ID with name, number, and photo |
Impressions Unboxed:
Yealink's T46G is big in size and feature. In taking the phone out of the box, users will immediately understand the size of the device. While this can be a bit off putting to some, especially those used to lighter, more compact devices, the size and weight of the device are justifiable. First off, the T46G includes an LCD screen display and a slew of keys. In doing so, space is utilized quite well. None of the keys are crammed together—which allows for easier usage. Also, each key is clearly identified—which also further lends itself to easier usage. In regards to weight, the device is a nice weight—meaning the phone won't be sliding around your space when you pick up the handset (a problem sometimes found with the smaller, lighter devices). For those with limited desk space, a big device can be rather unappealing; however, the T46G comes wall-mount ready—optimizing even the smallest spaces.
Unlike their competitor's devices, i.e. Grandstream's GXV3175 & GXP2200, Yealink's T46G does NOT utilize touch screen technology. Instead, the interface is consistent with that of the VP530—i.e. soft and hard keys used for navigation. This makes this device nice and accessible for any and all users. While touch screen doesn't complicate things, it can be a bit intimidating to some. Yealink utilizes a simple and proven navigation system hinged on hard and soft keys, which makes usage pretty straight forward and simple—i.e. users utilize programmable line keys and directional keys to navigate through different menus and functions. Past this, however, these hard and soft keys leave a lot of room for customizability. For example, there are 10 programmable line keys on the face of the phone (surrounding the LCD display). This, when used with a new "switching key", allows for up to 27 combinations for users to implement. Additionally, when programming any of the 10 lines with a function, there is a box image that is displayed (digitally) next to the hard button on the LCD screen.
Outside of the physical display, Yealink's T46G utilizes simple menu layout, concise organization, and clear language rather well. Each menu breaks down clearly into another. For example, Directory breaks down to Local Group>All Contacts>Company>Family>Friends. All menus are navigable through the directional buttons as well as the four soft keys (located under the LCD display). For example, to go "Back", users can use either the "X" key or the soft key associated with that function (back or exit depending on the menu). In regards to the menus themselves, the options included are all pretty standard: Status denotes IP, Mac, Firmware, Network, Phone, and Account information; Call Features include all the available functions (i.e. Call Forward, Call Waiting, Auto Answer, DSS Keys, DND, Intercom, Anonymous, etc.); Directory breaks down contacts by Local Group (All, Company, Family, Friends) & Blacklist (users can also search for contacts here); History leads to a submenu where call history lists calls by number date and time, and all calls are sorted by All Calls, Dialed Calls, Received Calls, Missed Calls, and Forwarded Calls; Message includes Voice Mail (view and set) and Text Message (new, inbox, sent, outbox, drafts); Basic simply works as the standard preferences page including Language, Date & Time, Display, Sound, Phone Unlock Pin, and Bluetooth; and Advanced features advanced preference choices and settings—i.e. Account, Phone Settings, Network, Set Password, AES Key, Auto Provision, FWD International, and Reset & Reboot.
In regards to feature and function, the T46G is chock full, making this phone ideal for small or large businesses. While the features and functions included are pretty standard amongst these types of devices, Yealink enables users to access and utilize these features easily and in new ways. For example, as mentioned above, each of the 10 line keys is programmable. This not only makes accessibility and navigation all the easier, but it also enables users to utilize their phones' functionality more wholly. For example, if one utilizes a particular Key Event more often than others, they can set it to their main display—i.e. Group Pickup. All that's necessary is to hold the line button and select the type of function. With Key Events, users can choose Group Pickup, Hold, LDAP, Local Group, Paging, Pick Up, Prefix, Record, SMS, Transfer, Voice Mail, XML Browser, XML Group, Zero Touch, Keypad Lock, Hot Desking, Call Park, Call Return, Conference, DND, DTMF, Directory, Forward, and/or Group Listening.  In assigning any of these to a line, users need only hit the line button for the feature to initiate.
Past the superficial qualities of the device, Yealink offers a pretty straight forward install/configuration. Users can choose to configure via web browser (via their PC) or through the phone user interface itself. The web browser is a bit more complicated for new(er) users; however, it's still pretty straight forward. To access the web user interface, users need their IP address (hit OK when the device is idle). From here, type it into your computer's web browser, in the address bar and hit enter. Enter your username and password (default UN and PW=admin) and click confirm. From here, Network Settings: Network>Basic > IPv4 Config—users can choose to configure their network as DHCP, Static IP Address, or PPPoE. Once this is done, select Account Settings: Account>Register> Account 1, 2, 3, 4, 5, or 6. Here, users will see Register Status, Line Active, Label, Display Name, User Name, Register Name, Password, and Server Host). Opposite this, configuration through the phone's user interface is a bit easier. Select Advanced from the main Menu. From here, select Network>WAN Port/VLAN/Webserver Type/ 802.1xSettings/ VPN to configure. Then to create the account, select Account from the Advanced heading under main Menu.
Utilization & Implementation:
Yealink's T46G is just the right fit for both small and large businesses as it enables the functionality needed for large businesses AND the customizability/personability allotted with small businesses. Though this seems a bit obvious to say, the T46G is a great phone. Nowadays, manufacturers are loading up their devices with a ton of encompassing functions and features. While this is all well and good, many of these devices are lacking when it comes to their phone functionality. This isn't the case with Yealink's device.  For users looking for more Internet/application centric device, they'd do better with other options. However, for those looking for a comprehensive phone, this is a viable option.
The SIP-T46G's strong suit definitely lies with its customizability. While its feature set is nice, and its navigation very well organized, both are supplemented with a flexibility and individuality that can sometimes be hard to find. Many devices have the same set of functions and features as the T46G; however, the device expands on this and utilizes accessibility through the individual's preference. First off, Yealink beef up their allowance of lines, as this device can handle up to 6 individual SIP accounts (from 3 with the T42G model). Also, there are 10 programmable line keys; however, with a clever switch button, these keys can be programmed with 27 different combinations—all based off the user's individual preferences.
The fact of the matter is, the T46G allows users to engage nearly every corner of their system as they want to. In doing so, users are free to customize their Phone: Call History, Contact Directory, Volume Adjustment, and Ringtones; as well as  Basic Calling Features: Placing, Answering, & Ending a Call, Redial, Call Mute/Un-Mute, Call Hold & Resume, Call Conference, Call Forward, Speed Dial, and Call Transfer. Separate from this, users can even also the display with custom wallpapers. Another strong suit of this device is accessibility and ease of use. The device doesn't compile tons of (often) irrelevant/useless features in its interface. Instead, it utilizes the essentials and rolls them into a sleek menu interface. This makes usage accessible and easy for new(er) users without sacrificing the feature/quality that experienced users look for.
Separate from functionality and customization is the voice quality. Yealink utilizes a number of tools to account for solid voice quality over calls. This is crucial to businesses of any and all types. All the customizations and features are compromised when lacking reliable and solid voice quality. Luckily, voice quality isn't an issue for this Yealink device; therefore, it doesn't find any hindrances there. While the menus and navigation are all well and nice, the phone would definitely benefit from some touch navigation. There are a lot of options and ways around the interface. Some touch functionality may speed operability up a bit; however, this is a very minor point.
Price:
Yealink's SIP T46G retails for around $249.99; however, users can find the device for anywhere between $155 and $185. Buying a warrantee can cost a bit a more, too. For those who are looking (or willing) to go the used route, the SIP-T46G is a bit harder to find on the used market. As such, the price doesn't drop too much; therefore, it might be better to just look for the phone new at the lower end of the pricing spectrum.
Compared to similar devices, Yealink's SIP-T46G is pretty cost efficient. Similar devices may run a little cheaper or more expensive depending on the manufacturer. For example, Polycom's VVX 500 though comparable in feature and function sets the industry standard for audio quality; therefore, it's a bit more expensive. This doesn't mean that Yealink's device is any lesser; it's just a bit different. Regardless, for the price tag, it's definitely worth your time.
Performance Tests:
Here at GetVoIP.com, we subject each and every device to a number of operability and performance tests. In doing so, we are able to detail the processes and functionality that are inherent with the device.
Installation:
Yealink's phone, like most others, offers users more than one way to configure. With step-by-step guides and pretty straight forward instructions, configuration and installation aren't all that bad. While one mode (phone user interface) may be simpler than the other (web interface), neither are complex or dense enough to the point of impenetrability. Additionally, in regards to the physical nature of the device, everything is included in the box—i.e. guides, power adapter, mounting bracket, stand, Ethernet cable, handset and cable, etc. As such, users don't have to worry about buying accessories once they have the device. They can simply plug it in, configure, and be on their way.
Call Quality:
Yealink's SIP-T46G offers rich and full call quality when using the handset. This is what the call quality sounds like using the Handset.
The speakerphone quality is just as sharp as the handset. This is what the call quality sounds like using the Speakerphone.
Additionally, the speakerphone retains pretty consistent quality even when the user isn't standing close to the device. This is what the call quality sounds like using the Speakerphone while 5 feet away from the phone.
Past this, the speakerphone retains quality even pushed even farther. This is what the call quality sounds like using the Speakerphone while 10 feet away from the phone.
Features:
One of the finer attributes of Yealink's most recent offering is its inclusion, utilization, and expansion of standard features. While many other devices offer the same (or very similar) amenities, Yealink allows users to organize and implement them on a much more individual basis. As a result, users are able to truly customize their devices according to how they best see fit.
Menu:
The organization and layout of each menu is classic, and therefore very simple. Main menus breakdown categorically, which further break down to the appropriate sub menus. This formula is repeated throughout the device interface. With directional keys, line keys, hard keys, and soft keys all able to navigate, users are able to jump around the system pretty easily; however, with so many submenus, this device might benefit from integrated touch display. On the other hand, there are a number of programmable keys available to create shortcuts to navigate the system more quickly.
Conclusion:
Yealink's T46G is first and foremost a phone. Many manufacturers focus on including various functions and amenities in their devices; however, in doing so, the actual phone function becomes an afterthought, or even worse, a casualty—i.e. Grandstream's GXV3175. This is NOT the case here. Yealink's phone includes the standard array of phone functions and features and wraps them in an intuitive and easy-to-use interface. The result is an expansive, reliable, and highly functioning phone. While its features list may not be as expansive as some of the tablet/desk phone devices available, the T46G offers steadier footing.
Technical Specs
Specifications
# of RJ45 Ports
2
# of lines
10
3 way conference
yes
AC Power Supply Included
yes
Built-In Bluetooth
yes
Built-In Wifi
yes
Color Screen
yes
Desktop Paging
yes
Display Type
LCD
Gigabit Ethernet Support
yes
Headset Interface
Mass Provisioning
yes
MWI Support
yes
Peripheral ports
Extension, PC, Internet, Handset, Headset
PoE Compatible
yes
Protocol Supported
FTP, TFTP, HTTP, HTTPS
Provisioning Method
Auto Provisioning
Sidecar Compatible
no
Speakerphone
yes
Supported Codecs
G.722, G.711(A/µ), G.723, G.729AB, G.726, GSM
Touch Screen
no
Voicemail Button
yes
Wideband Voice Protocol
Optima HD Voice