The Good
---
Many hard keys and and easy to use interface means you'll be making calls right away. Hidden bonus: Unobtrusive screen dimming is not distracting.
The Bad
---
Dial buttons are too small and too close together for how big the phone is.Hypercritical: Speakerphone button could be bigger.
The Bottom Line
---
Is, and will continue to be for years to come, the platinum standard for desktop phones.
In the box you get:
SoundPoint IP 550 console
Handset with handset cord
Base stand
Network (LAN) cable
Universal power adapter (including country-specific cord kit)
Quick Start Guide
Product registration card
Top 5 Pros:
Top 5 Cons:

A Lot of Hard Keys
Easy to Use Interface
Screen Dimming
Easy Installation
Superior HD Voice Quality

Keypad is Too Small
Long Reset Time When Unplugged
Comes with Aftermarket Power Supply
Base Stand Blocks Back Ports
Lightweight so the Base Slides Around
Editor's Review
The SoundPoint IP 550 is a four line SIP desktop phone that delivers voice quality equipped with richness and clarity. In doing so, the device utilizes a number of amenities including: wideband audio (to double voice clarity), Polycom's own Acoustic Clarity Technology (for clear, noise, and echo free sound), and advanced system design (for faithfulness to voice reproduction). Past this, the phone system also encompasses a variety of features and capabilities, both standard and advanced—i.e. Shared Call/Bridged Line Appearance, Busy Lamp Field, Presence, etc. Outside of these amenities, the IP 550 also implements an integrated XHTML micro-browser, which enables productivity enhancing web-based applications. While this is expansive, utilization is ultimately up to the user; therefore, the device is able to cement itself with advanced function and ground itself in universality.
Polycom's device is all about potential, as it compiles all the necessary tools into an interactive and intuitive menu. As such, both new and experienced users can utilize the phone system. Outside of feature sets, installation, configuration, and updates are made as simple as possible (much like the IP 670). The phone utilizes PoE circuitry and a dual-port Ethernet switch to augment flexibility with deployment as well as with cabling. Furthermore, the phone supports remote (zero-touch) provisioning from various servers (FTP, TFTP, HTTP3, or HTTPS3). In addition to this, the device even supports boot and call server redundancy to better account for uninterrupted performance and reliability.
With an eclectic array of amenities, advanced implementations, and ease of use Polycom's SoundPoint IP 550 undoubtedly reigns supreme as the platinum standard to which all other desktop phones will be and are held to.
What's in the Box?
– Base Console
– Universal Power Adapter
– Handset & Cable
– Base Stand
– Network (LAN) Cable
– Quick Start Guide
– E911 Service Information
– Product Registration Card
The Bottom Line: Polycom's SoundPoint IP 550 offers a little bit of everything to appeal to everyone. As such, the device manages to be expansive and accessible all at once, making it the ideal device for new and experienced business users.
Interface Experience:
The SoundPoint IP 550 has five plugs in a line on its back: 1 for the 48V power supply, 1 for LAN, 1 for the PC, 1 for the Handset, and 1 for the Handset. In regards to the face of the device itself, there is a wide selection of hard keys here.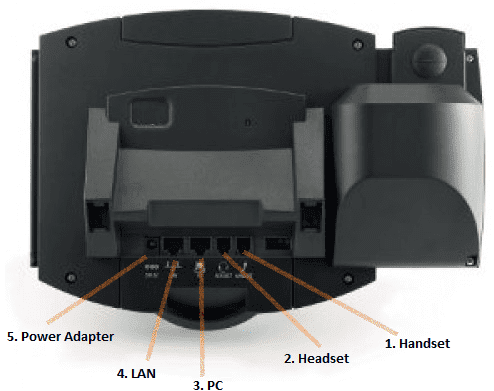 Aside from the hard keys, users will find a backlit display, which is simple, clear, and easy to read. From this screen, users can navigate through the system and utilize soft key prompts, too. Much like with the SoundPoint IP 670, this device suffers from a poorly places stand attachment, which again inhibits users from easily reaching plugs.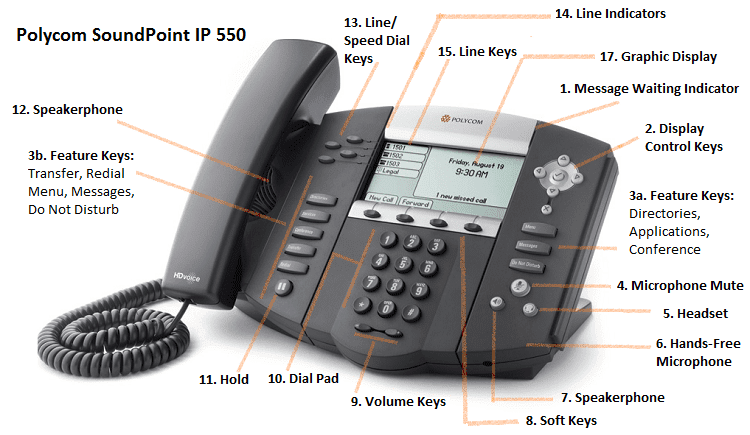 Features Explained:
Polycom's SoundPoint IP 550 includes a wide variety of features and functions that again work for both new and experienced users. Note: These features are NOT calling features, but actual features of the device itself. As such, the SoundPoint IP 550 includes:
– 4 Lines: 4phone lines in standalone mode, up to 24 concurrent calls per line.
– Message Waiting Indicator (MWI) LED
– Hard Keys: 26 dedicated hard keys—6 line keys with bi-color (red/green) LED, 8 feature keys, 6 display/menu navigation keys, illuminated mute key, illuminated headset key, illuminated hands-free speakerphone key, and dedicated hold key.
– Soft Keys: 4 context sensitive soft keys
– Full Duplex hands free speakerphone: Type 1 Compliant with IEEE 1329 full duplex standards
– Backlit LCD Display: 320 x 160 color graphical dispay
– User Configurable Contact Directory & Call History (missed, placed, and received)
– Customizable Call Progress Tones
– Multilingual User Interface: Includes Chinese, Dutch, French, English (Canada, US, UK), Japanese, Spanish, and many more.
– Do Not Disturb
– Acoustic Echo Cancellation; Background Noise Suppression
– Transport Layer Security; Secure Real-Time Transport (SRTP): for secure provisioning
– Manual or Dynamic Host Configuration Protocol (DHCP): Network Setup
– Remote Missed Call Notifications
– Shared call/bridge line appearance
– Hearing Aid Compatible (HAC): handset for magnetic coupling to approved HAC hearing aids.
– Two Port 10/100 Mbps Ethernet Switch
– Wave File Support for Call Progress Tones
– Superior Voice Quality: Voice Quality for all paths—handset, (optional) headset, and hands-free speakerphone.
Again, these features do NOT include calling features, as those vary based on provider and service plan. The SoundPoint IP 550 includes the standard set of features users would expect from a premium VoIP device; however, it also expands upon these standards in a number of ways. The device is so widely encompassing that it isn't too far off from the SoundPoint IP 670 model, which features a few more amenities and an "upgraded" LCD display.
Impressions Unboxed:
Polycom's IP 550 is the fundamental business VoIP phone in a lot of ways. Though its display is merely a monochrome screen, which limits the bells and whistles, it doesn't inhibit functionality in any way. In fact, in a lot of ways, the 550 is as easy to use as most touch screen models. The screen is bright, but it's easy on the eyes—this is partly due to the auto dim feature, which dims the screen after a few seconds of inactivity. Inversely, there are notifying LCDs that draw attention to themselves quite well, too—i.e. the blinking red light for voicemails.
The phone's interface is very easy to navigate and use. For example, the upper right hand corner has up, down, left, right, check and x buttons. Each of these hard keys is tied to a prompt—i.e. up=speed dial list, left=received calls, right=calls you placed, down=missed calls, check=confirm, x=cancel. This simple menu makes it very easy for users to stay on top of their active call logs. Aside from this, each of the other hard keys is appropriately labeled according to functionality. For example, hard keys are labeled Directories, Applications, Conference, Transfer, Menu, etc. Also, each grouping has its own shape, which further helps to differentiate keys.
Installation and configuration are fairly simple, as they can be completed through IP web user interface; however, it does take a little time. During each submission in the process, the 550 undergoes a one-minute reboot, during which users cannot further modify their device. As such it might be wise to complete each page with all settings to avoid delays in configuration. Separate from this, the IP 550 has broad interoperability and feature support with SIP platforms such as BroadSoft, Digium, Sylantro, and others. Furthermore, the phone also inter-operates with Microsoft Live Communications Server (LCS) 2005 for telephony and presence. In regards to usability and operability, the phone is perfect for any type of business user. The voice quality is impeccable, and the features are vast enough to meet most users' wants/needs. Polycom really goes the distance with this device as voice quality is kept intact even when using the speakerphone.
Though this device is well rounded, it's not without its faults. Though it might seem minor, the keypad buttons are just too close together. This makes is substantially less comfortable to dial accurately. Even compared to Cisco's SPA 303 phone, which is a comparatively lesser phone, the buttons felt cramped. Aside from this, the "Redial" button doesn't offer a list of previously mentioned numbers. Instead, it automatically dials the last number called. Again, this may seem minor, but it's worth noting that other phones offer this option. Also, it's worth noting since the probability for mis-dial is higher with this device—i.e. the buttons are close together. That being said, those these setbacks are worth noting, they're not really deal breakers.
Utilization & Implementation:
As stated above, this device is THE platinum standard for VoIP phones. It manages to utilize advanced functionality while still retaining a sense of accessibility and universality. As such, the device can be utilized by a variety of business users in a variety of environments.
Business users need call quality with their phone systems. In this regard, the 550 maintains superior quality through handset, headset, and speakerphone. In order to produce rich call quality, Polycom utilizes a number of tools including dynamic frequency response (150 Hz- 7kHz for handset, headset, and speakerphone), activity detection, comfort noise fill, low-delay audio packet transmission, background noise suppression, and much more. Aside from this, the phone system hosts a variety of features (denoted above). However, while quality and features are important, they're nothing without operability.
The SoundPoint IP 550 is highly easy to use. First off, there are tons of hard keys and soft keys all attached to various prompts. This enables users to navigate the system more efficiently. For example, there are keys for mute, speakerphone, headset, menu, messages, call logs, and many more. In addition to this, there are a number of ways that users are able to customize the device. For example, with the screen display, users can select their own display image. Furthermore, the device also homes a XHTML browser, which enables users' screen to interact with XHTML applications.
If you aren't enamored with this phone yet, I'm not sure it's for you. While there are a variety of device options that boast similar functionality and features, none are as accessible, flexible,  and usable as the IP 550. For example, the device comes with a power adapter, however users can choose to use PoE if they'd like. It's all about preference. Furthermore, none have the same balance either. Most options are too much in one direction—too basic, too complicated. The IP 550 blends the two evenly to produce an advanced VoIP phone that new users can also utilize. Sure flexibility and feature are nice, but they're nothing without universal appeal.
Price:
When the phone was first released, it retailed at around $369.00. Since then, the price has dropped considerably to around $196.00 new (with power supply). Pricing is even lower for users willing to go the used route, as devices can be found for around $65.
This is a great price. Sure, it's priced accordingly with competitor's similar devices; however, with the IP 550, users know they're getting reliability and quality. Again, the phone is an industry standard; therefore, it's a safe bet. While the device might not be as glamorous as others, it's definitely worth its meager price tag. The IP 550 is exceptionally similar to the IP 670 (short of some cosmetic upgrades and amenities)—a device that's priced around $250-$300. If you can do without a few more bells and whistles, this device is definitely worth your dollar.
Performance Testing:
Installation:
Installation is very simple, as the device comes with everything you need. This means that users can start making calls immediately. Again, on the back of the device users will find plug ins for their handset, headset, LAN cable, and power adapter. For your phone to be fully operational, be sure that all of these are plugged in correctly. Aside from this, Polycom has also taken a number of steps to ensure that configuration, installation, and updates can be conducted and easily and quickly as possible. In regards to configuration, it's a simple process complete through Polycom's SoundPoint IP web UI. Despite being easy though, each configuration triggers a one-minute reboot; therefore, users are advised to enter all their settings on one page to avoid the delay.
Call Quality:
Polycom's SoundPoint IP 550 offers rich and full call quality when using the handset. This is what the call quality sounds like using the Handset.
The speakerphone quality is just as sharp as the handset. This is what the call quality sounds like using the Speakerphone.
Additionally, the speakerphone retains pretty consistent quality even when the user isn't standing close to the device. This is what the cal quality sounds like using the Speakerphone while 5 feet away from the phone.
Features:
Polycom's SoundPoint 550 doesn't have all the elaborate bells and whistles found with other devices; however, it does include a variety of both standard and advanced features. These features are all the more appealing thanks to a simple and user friendly interface.
Menu:
One of the highlights of this Polycom device is the accessibility inherent within the menu. The device is just easy to navigate, plain and simple. Again, each hard key has a prompt tied to it, and is grouped separately. As such, users are able to navigate their system quickly and efficiently. For example, there are four hard keys, one tied to each of lines available. As such, users can easily navigate between lines when need be. Furthermore, the soft key menus are concise and easy to go through too. Though the phone boasts expansive functionality, it's made with the everyday user in mind. For example, to make a call, users can either pick up the phone and dial the number directly, select the new call soft key, hit redial, or select a number through call records (speed dial, missed calls, retrieved calls, placed calls).  Furthermore, users are able to view and modify their status appearance directly from the main page, too. Select "My Stat', and use the arrow, check, and x keys to select/cancel Online, Busy, Be Right Back, Away, Out to Lunch, Offline, or Do Not Disturb status. The IP 550's menu is organized very well. While it may take some new, less experienced users a day or two to get the hang of, its intuitive enough not to discourage.
Conclusion:
The Polycom Soundpoint IP 550 is, and will continue to be, the platinum standard for VoIP phones. While Polycom's own VVX line of phones offers slightly better audio quality and more bells and whistles, the IP 550 is rock-solid, and definitely worth your dollar. Though it's probably that the VVX series will overtake the IP 550, it doesn't seem like it'll be anytime soon. With universal appeal and advanced capability, the SoundPoint IP 550 still has a lot of miles left in it.
Technical Specs
Specifications
# of RJ45 Ports
2
# of lines
4
3 way conference
yes
AC Power Supply Included
yes
Built-In Bluetooth
no
Built-In Wifi
yes
Color Screen
no
Desktop Paging
no
Display Type
monochrome LCD
Gigabit Ethernet Support
yes
Headset Interface
RJ9
Mass Provisioning
yes
MWI Support
yes
Peripheral ports
PoE Compatible
yes
Protocol Supported
SIP
Provisioning Method
HTTP, HTTPS, FTP, TFTP, WEB GUI
Sidecar Compatible
no
Speakerphone
yes
Supported Codecs
G.722, G.729 a/b, G.711 µ/a law
Touch Screen
no
Voicemail Button
yes
Wideband Voice Protocol
Polycom HD Voice