The Good
---
Once you get the hang of it, the interface becomes second nature. USB recording is perfect for businesses that require accurate and concise records. High compatibility and ease of provisioning with most providers is also a boost. Sturdy, capable IP phone with added nuances in a clever design.
The Bad
---
For a graphical LCD screen, the resolution is rather poor – comparable to that of the original Game Boy color.
The Bottom Line
---
Polycom's SoundPoint IP670 delivers what users would expect from an industry leader, quality, capability, and reliability. The device offers a number of features and functions; however, usage may be a little restricted due to complicated navigation. Aside from this, and an underwhelming color display, the SoundPoint IP 670 is an executive choice in desktop phones.
In the box you get:
SoundPoint IP 670 console
Handset with handset cord
Base stand
Network (LAN) cable
Universal power adapter (including country-specific cord kit)
Quick Start Guide
Product registration card
Top 5 Pros:
Top 5 Cons:

1. USB Recording

2. High Compatibility

3. Clearly Labeled Display

4. Very Flexible/Adaptable Device

5. Easy installation, configuration, upgrades

1. Poor LCD Display

2. Awkward Menu Layout

3. Convoluted Navigation

4. Base Stand Blocks Back Ports

5. Visually derivative of predecessor
Editor's Review
The SoundPoint IP 670 is a six line SIP desktop phone (with up to three expansion modules into a call attendant console) that's certified interoperable with various SIP call platforms. Additionally, the device offers superior voice quality and comes fully loaded with a number of functionalities and features—including shared lines, busy lamp field, presence indicator, and many more. All of which are built into the body of the device itself. While every device claims a variety of features and amenities, Polycom's device really delivers, and does so without being weighted down by complex installation processes. Separate from this, however, the device is bogged by awkward menu layout, which does slow operability and navigation; however, familiarity and usage make the device much easier to handle.
Again, while the SoundPoint 670 is a viable option for any business organization, it ultimately caters to business professionals and executive users. One of the greatest attributes of this phone is its versatility and wide array of functions. For example, the device works to support a plethora of productivity enhanced applications, processes, and functionalities such as Shared Call, Bridged Line Appearance, HTTPS Secure Provisioning, Customizable Call Progress Tones, Local Three-Way Conferencing, and many more. This eclectic portfolio fits the device with expanded appeal; however, the complexity of these amenities also narrow target users, too. Polycom's SoundPoint is a much more advanced device—meaning that it does NOT have universality of other and/or starter phones (i.e. Cisco's SPA 303). Instead, it is geared towards users with more know-how and experience. Regardless, with extensive functionality, superior quality, and unparalleled reliability, users may want to take the time to familiarize themselves with the device.
What's in the Box?
– Quick Start Guide
– Promotional and Instructional information
– Base Console
– AC Power Adapter
– Handset and Cable
– LAN Cable
– Base Stand
The Bottom Line: Polycom's SoundPoint IP670 delivers what users would expect from an industry leader, quality, capability, and reliability. The device offers a number of features and functions; however, usage may be a little restricted due to complicated navigation. Aside from this, and an under-whelming color display, the SoundPoint IP 670 is an executive choice in desktop phones.
Interface Experience:
The SoundPoint IP 670 has five plugs in a line on its back: 1 for the 48V power supply, 1 for LAN, 1 for the PC, 1 for the Handset, and 1 for the Handset. Outside of this, towards the top right of the device there is also a USB port.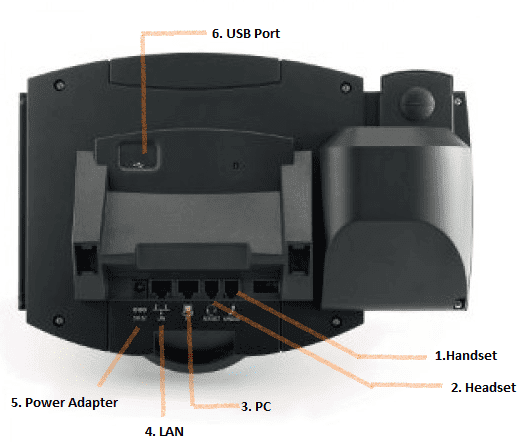 In regards to the face of the device itself, there is a wide selection of hard keys. Additionally, users should note that while there is a backlit LCD color display, the quality isn't too great—i.e. it's very pixilated and grainy. It's also important to make a note about the base stand of the device. As with most phones, the stand is attachable. This isn't normally a problem, and even here it isn't too discouraging, however, when attached it does seem to inhibit users' reach to plugs.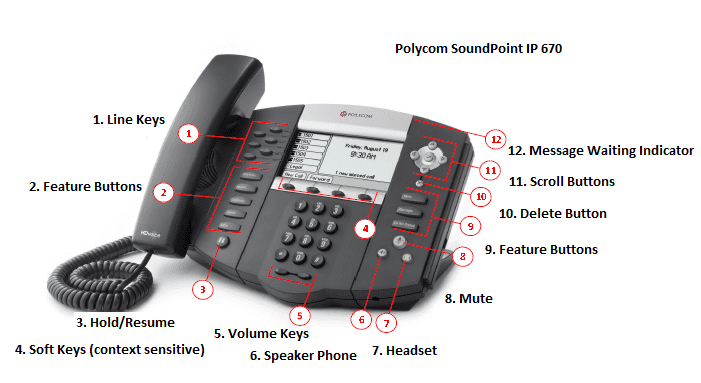 Feature Set Explained:
Polycom's SoundPoint IP 670 includes a wide variety of features and functions that far surpass the standard lot. Note: These features are NOT calling features, but actual features of the device itself. As such, the SoundPoint IP 670 includes:
– 6 Lines: 6 phone lines in standalone mode, up to 24 concurrent calls, and up to 34 lines with Color Expansion Modules.
– Expansion Module: up to 48 line/keys appearances, up to 47 remote party BLF line monitors, and up to 34 SIP registrations.
– Backlit LCD Display: 320 x 160 color graphical display
– Message Waiting Indicator (MWI) LED
– Soft Keys: 4 context sensitive soft keys
– Hard Keys: 26 dedicated hard keys, Includes: 6 line keys with bi-color (red/green) LED, 8 feature keys, 6 display/menu navigation keys, illuminated mute key, illuminated headset key, illuminated hands-free speakerphone key, and dedicated hold key.
– Transport Layer Security & HTTPS: for secure provisioning
– Polycom Productivity Suite: Enabled for this suite of services/features
– Manual or Dynamic Host Configuration Protocol (DHCP): Network Setup
– Remote Missed Call Notifications
– Shared call/bridge line appearance
– Full Duplex hands free speakerphone: Type 1 Compliant with IEEE 1329 full duplex standards
– Hearing Aid Compatible (HAC): handset for magnetic coupling to approved HAC hearing aids.
– WAV File Support: for call progress tones
– Two Port Gigabit Ethernet Switch
– Network Address Translation (NAT) and RTCP (RFC 1889) Support
– Superior Voice Quality: Voice Quality for all paths—handset, (optional) headset, and hands-free speakerphone.
Again, these features do NOT include calling features, as those vary based on provider and service plan. The SoundPoint IP 670 not only includes all the standard features users would want/expect, but expands upon and past them to include an impressive roster of amenities. Also, as mentioned above, the LCD color interface display doesn't have the greatest picture quality; therefore, it might seem curious for the company to have included it. In a sense, the IP 670 is geared for accessing applications—i.e. the Polycom Productivity Suite. Note: The phone also runs applications using Polycom XML API. As such, the color user interface comes into play here.
Impressions Unboxed:
Polycom's SoundPoint IP 670 device can be a bit complicated, but it's nothing hands-on experience can't amend. The phone comes with everything you need, however it's also sold without a power supply—which you will need. Upon setting up the device, users will be delighted to find the manufacturer has taken steps to ensure installation, configuration, and upgrades to be as simple and quick as possible. In regards to configuration, users' best bet is to go through the web portal directly. To do this, all users need a computer with an Internet connection. From here, use the Web Configuration Utility—which allows users to both view and configure their phone's behavior from their computer via compatible web browser (Google Chrome, Apple Safari [ version 5 and higher], Microsoft Internet Explorer [version 7 and higher], and Mozilla Firefox [version 3.0.X and higher]). From this utility, users are able to perform the same updates from their computer as they could from their phone's menu system.
Opposite installation and configuration is usability. Polycom's device benefits from a simple plug-and-play approach; however, it's bogged down by the trial-and-error process that users will undoubtedly undergo in navigating. Here, the hard keys serve as the navigation, as well as a means of pulling up quick menus from the home screen. To the right of the device, users will find their navigation buttons (up=speed dial list, down-missed calls, left=received calls, right=placed calls), as well as a "check" and "x" button to confirm and cancel. To the left, users will find their 6 line keys. Each of these line keys is tied to a menu of prompts.
Aside from these, the rest of the hard keys are nicely self-explanatory as each has a title—i.e. Directories, Applications, Conference, Transfer, Redial, Hold, Menu, Messages, Do Not Disturb, Mute, Volume, Headset, and the Keypad. Additionally, each set of hard keys is given their own color and shape, which makes it all the more easy to differentiate and identify them individually. Separate from their prompts, each of the keys has a nice spring to it.
This device is again aimed at businesses and users who are more familiar with these types of devices, and subsequently have more specific/advanced needs. In that regard, the IP 670 succeeds; however, it does sacrifice a little usability in doing so. While this is corrected the more users navigate—via trial-and-error process, it can be a little frustrating and intimidating straight out of the box for some. This phone is not for inexperienced users. Furthermore, if you're looking for the basic/standard set of functions and features, you may be better off with a simpler, less expensive device.
Utilization & Implementation:
Polycom's phone is a great example of what makes them an industry leader as it's full of function and feature without losing itself in complexity. While there are some operability hiccups, it's nothing that can't be overcome. Furthermore, the IP 670 stretches to include a wide variety of functions without cutting quality or ignoring the essentials. For example, call quality is both maintained and augmented as quality is ensured through all modes. Additionally, the frequency response of the device is 150 Hz- 7kHz for handset, headset, and speakerphone. Beyond this, the device also includes voice activity detections, comfort noise fill, low-delay audio packet transmission, background noise suppression, and much more.
While the list of included amenities stretches on, the important thing to take away from this device is versatility and uses. As such, the phone is fit for a number of professional uses—i.e. offices, conference rooms, etc. The quality is top-notch, which helps ensure users are communicating as clearly and effectively as possible. Also, its functions are vast, which enables the utmost efficiency from employees and individuals. These devices can really be used for any and all businesses. For example, small businesses can use these phones to emit a more professional and corporate image. Inversely, the phone offers wide enough functionality for large businesses and high ranking executives to utilize, too.
Price:
Though it's a bit more expensive than other options, the IP 670 might be worth it for users looking for more, but not all. The device retails at $599.99; however, it can be purchased new anywhere from $250-$320. Pricing is even lower for users that consider the used route.
Though the price tag might seem a little discouraging to some, this is a Polycom device; therefore, there is a certain level of quality and reliability that is inherently present. Also, despite somewhat lacking operability, the IP 670 still boasts an extensive portfolio of options that doesn't sail too far away from shore. Furthermore, it's a very adaptive and flexible device—meaning users are able to shape the device to their individual wants and needs. The IP 670 isn't as glamorous a device as Polycom's VVX500 or others, but it doesn't have to be. Instead, the device focuses on detail. So, for impressive functionality and a lot of room for customization and flexibility, Polycom's SoundPoint IP 670 is definitely worth its price tag.
Performance tests:
Here at GetVoIP.com, we subject each and every device to a number of operability and performance tests. In doing so, we are able to detail the processes and functionality that are inherent with the device.
Installation:
Installation is very simple. Again on the back of the device users will find plug ins for their handset, headset, LAN cable, and power adapter. For your phone to be fully operational, be sure that all of these are plugged in correctly. Aside from this, Polycom has also taken a number of steps to ensure that configuration, installation, and updates can be conducted and easily and quickly as possible. If your phone is part of a larger order, it will typically be configured upon being sent. This ensures that once the device is set up, it is ready to be used. Inversely, if your phone is part of a smaller order, it may not be configured—in which case your system administrator will have to register the phone. In regards to provisioning/configuration, users again have a few choices (web portal, menu, etc.).
Call Quality:
Polycom's SoundPoint IP 670 offers superior call quality when using the handset. This is what the call quality sounds like using the Handset.
The speakerphone quality is just as sharp. This is what the call quality sounds like using the Speakerphone.
Additionally, the speaker retains pretty consistent quality even when the user isn't standing close to the device. This is what the cal quality sounds like using the Speakerphone while 5 feet away from the phone.
When using the phone you're going to have to enter prompts at some point—i.e. press buttons while on the line. For example, you'll need to do this to transfer calls, look at call history, etc. Additionally, when you call out to other businesses you may have to hit keys to respond to automated attendants and prompts. Regardless of the reasoning, you will hit keys while using the phone. This is what the pressing of buttons sounds like on the receiver's end.
Features:
The included features, while not all encompassing, are very extensive and versatile. Furthermore, despite a somewhat cloudy navigation, all the hard keys and soft keys are identified very clearly; however, the functions they're linked to may be a little hard to navigate at first. Regardless, the IP 670 includes an eclectic portfolio of features, integration, and functions.
Menu:
Just as with other devices, Polycom's SoundPoint IP 670 offers users a ton of information and even more options. Despite this however, the device is somewhat hindered by poor organization and convoluted operability, which hurts the intuitiveness of the phone as a whole. While this is prevalent, it's by no means a deal-breaker. As the phone is designed for more experienced users, they shouldn't have too much trouble adapting to the menu. Inversely, for newer users, this makes the phone all the less accessible and viable. On the flip side of this, some functions are made very simple. For example, entering contacts is very simple and allows users to assign/enable "auto reject" or "auto divert". In the same vein, there's also a directory search, which enables users to sift through their corporate directory for a specific contact. Again, all the keys on the phone are grouped, colored, and labeled accordingly, which makes the phone very accessible at a quick glance.
Conclusion:
Sometimes the best fit isn't exactly the right fit. Therefore, for those using the phone for basic means, definitely go for a model that's simpler and less expensive. If you're attracted to IP 670 because of the color screen and body/design, then it's probably best to get a more advanced model in the Polycom VVX 500, being the color screen is not exactly soothing to look upon. Overall, the phone does have a ton of flexibility and integration options. While it's not the be-all-end-all of IP phones, it's a great choice. It works nicely as intermediary phone, as it focuses on individualization and flexibility more so than complete inclusion.
Technical Specs
Specifications
# of RJ45 Ports
2
# of lines
up to 6
3 way conference
yes
AC Power Supply Included
yes
Built-In Bluetooth
no
Built-In Wifi
yes
Color Screen
yes
Desktop Paging
no
Display Type
320×160 Graphical LCD Display
Gigabit Ethernet Support
yes
Headset Interface
RJ9
Mass Provisioning
yes
MWI Support
yes
Peripheral ports
32 line operation w/ expansion module
PoE Compatible
yes
Protocol Supported
SIP
Provisioning Method
HTTP, HTTPS, FTP, TFTP, WEB GUI
Sidecar Compatible
yes
Speakerphone
yes
Supported Codecs
G.722, G.729AB, G.711 µ/a law
Touch Screen
no
Voicemail Button
yes
Wideband Voice Protocol
Polycom HD Voice