The Good
---
Android OS, touch screen
The Bad
---
The phone is genuinely glitchy. I hope as more VoIP providers adopt this phone, the compatibility issues will go away.
The Bottom Line
---
A phone that can hold its own with top Polycom and Cisco desktop phones.
In the box you get:
GXP2200 Base Console
LAN Cable
RJ9 Cable
Handset
Power Supply
Microfiber Cloth
Promotional Materials
Quick Start Guide
Top 5 Pros:
Top 5 Cons:

1. Highly Intuitive Touch Screen with Android OS

2. Superb Audio Quality

3. Expansive Bluetooth Capabilities

4. Full Google Integration (Contacts Sync, Gmail, etc.)

5. Slew of Features and Applications

1. Can Be 

Glitchy

2. Compatibility Issues (Some 3rd Party Apps Don't Work)

3. USB Port Only For Cameras

4. Interface is Often Slow; Slow Touch Response

5. Varying Hard Key Lag
Editor's Review
Though a comprehensive office phone system is nice, it could be thought of as hard to manage. Grandstream tries to avoid configuration, management, and installation complexities, and for the most part, they succeed; however, the configuration can be a bit dense for new(er), less experienced users. The reason is there are several ways to configure the device. While the configuration prompts are straightforward and boot times are short, the language might confuse/intimidate some users. Additionally, the admin interface may also seem a bit dense. This doesn't mean the phone is inaccessible. In fact, the menus are intuitive enough for users to adjust quickly. While some know-how/familiarity may be beneficial, it's not essential. Once the device is up and running, management is kept pretty simple as it utilizes an intuitive touch screen display and inclusive physical console.
Overall, the GXP 2200 is a comprehensive desktop phone that utilizes a number of smartphone/tablet amenities. As such, it is perfect for businesses of all walks. The device is highly customizable, which augments intuitiveness significantly. Furthermore, users are able to structure their device with the tools (apps) and the features they want and are familiar with; therefore, the learning curve is notably shorter. Also, underneath this comprehensive device lies an easy-to-use menu/interface draped in simplicity. Though some users may be turned off by seemingly complex installation and configuration processes, they're nothing out of the ordinary.
What's in the Box?
– GXP2200 Console   -Handset & Handset Cable   -Network (LAN) Cable   -Quick Start Guide
-12V Power Adapter   -Phone Stand   -Quick Start Guide
The Bottom Line: A Plethora of features for the busy executive, the multitasking receptionist, or even the rest of us.
Interface Experience:
The GXP2200 has nine ports/slots on its backside: 1 for the DC12V power supply, 1 Headset Port, 1 LAN Port, 1 PC Port, 1 Handset Port, 1 Extension Port, 1 USB Port, 1 SD Card Slot, and 1 EXT Connecting Slot.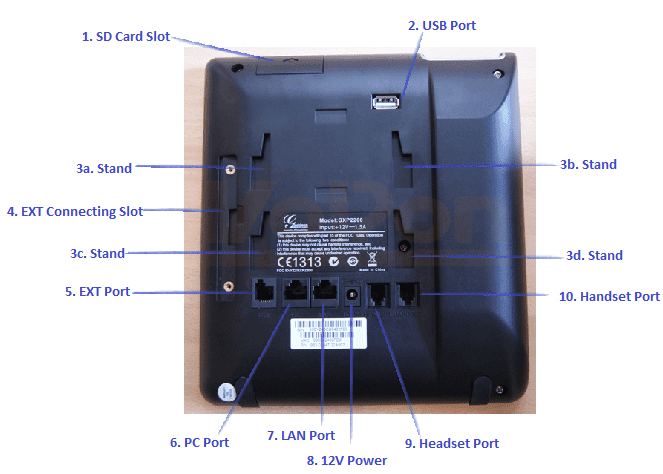 In regards to the face of the device itself, users will find a full-color touch screen display (480×272 pixels TFT LCD screen), as well as a Message Waiting Indicator and a slew of hard keys including Keypad, Contacts, Search, Menu, Back, Hold, Mute, Message, Headset, Conference, Transfer, Speaker, Send, and Volume.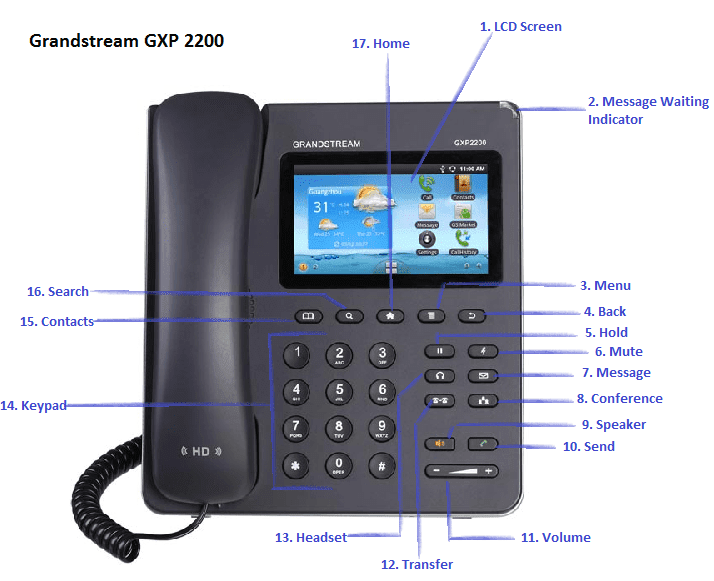 Aside from the physical display, which is very straightforward, the GXP220 utilizes its touch screen rather well. The touch screen interface offers 4 menus/screens (and a directory menu page located at the bottom middle of every screen). Each of these screens contains varying information. Also, users are able to assign and divide applications accordingly too. For example, the Home screen (the page the home hard key jumps to—i.e. pg. 2) looks like this:
Past this, the rest of the screen includes different amenities. Users can add/delete and move Shortcuts, Apps, Widgets, and Folders from any of the screens based on one's own personal preferences. Additionally, users can also add/delete idle screens (to add: Menu Button>Edit>+ Icon). To delete an idle screen, clear the page of all widgets/shortcuts (hold and drag them into the recycle bin) then click Menu>Edit>X Icon.
Separate from this, the Directory Menu page, accessed by clicking the stacked square icon in the middle of the bottom on every page, denotes all applications of the device over two pages. This will vary depending on the applications on each device.
In regards to display, there are a number of ways users can alter display, including Wallpaper, Brightness, Screen Time Out, and Screen Saver and Setting (all located under Settings). Also, in navigating through each page, users are able to click the tiny number button (in the corners) or simply swipe in the direction of the page.
The layout of menus is a bit different on this device compared to Polycom's VVX500 or SoundPoint 550. Instead of menus/categories breaking down into submenus/subcategories, they break off into intuitive interfaces—i.e. Call and Contacts. There are also some options which break down more classically, too. For example, Settings breaks down into Account Preferences, Networks, Sound, Display, Security Settings, Applications, Storage, Language & Keyboard, Date & Time, About Phone, Advanced Settings, and Reboot. Also, Diagnosis (or Factory Functions breaks down into LCD Diagnosis, Turn Off LCD, Keypad Diagnosis, Touch Screen Diagnosis, LED Diagnosis, BLF Extension Test, and Audio Loopback.
Features:
Grandstream's GXP 2200 features a seemingly endless collection of features, namely because users are able to supplement the device with web applications. Even without web applications, though, the device still bolsters a variety of features in and of itself. Note: These features are NOT calling features, but actual features of the device itself. As such, the GXP 2200 includes:
| | |
| --- | --- |
| Audio Features | Phone Features |
| HD Wideband Audio | Dual Switched Auto Sensing 10/100/1000Mbps Network Ports |
| Full-Duplex Hands-Free Speakerphone | PoE, BlueTooth, USB, SD, EHS (Electronic Hook-Switch) with Plantronics Headsets |
| Advanced Acoustic Echo Cancellation | GXP2200 EXT Capable of Connecting up to 4 Cascaded Extension Modules with LCD Display |
| Excellent Double Talk Performance | SIP Compliant |
| Voice Codec Support for G.711 u/a, G.722 (wide-band), G.729A/B, in and out-of-band DTMF | Video Decoder—H.264 BP/MP/HP, H.263/H.263+, MPEG4, up to 1080p Resolution |
| Audio Codec (AAC, MP3, WMA, Real, Ogg-Vortis, FLAC) | 10 Feature/Function Hard Keys |
| | |
| --- | --- |
| Security Features | User Interface Features |
| Automated provisioning using TR-069 or 256-bit AES Encrypted XML Configuration File | 480X272 Pixel Capacitive Touch Screen TFT LCD |
| TLS/SRTP/HTTPS For Advanced Security and Privacy Protection | Supports Android OS (2.3) & 3rd Party Android Applications |
| User & Admin Level Passwords | Advanced SDK Toolkit for Custom Business Application Development and Deployment Control |
| 802.1x Media Access Control | Extension Module |
| MD5 & MD5-sess based authentication | Multi-Language Support |
Impressions Unboxed:
The Grandstream GXP 2200 is chock full of functionality—which is largely due to its utilization of standard features and inclusion of web applications. That being said, the phone is highly customizable. However, aside from customizability, the device is fully loaded with just about everything users could hope for. This is made inherently clear from the moment the device boots up. Even before provisioning, there's a ton users can skim through. For example, in just unboxing and plugging in the device I was shown a weather forecast window, complete with images (fluffy clouds). Aside from this, users can utilize the touch screen to add contacts, browse the Google Play Store (which comes pre-installed), or even play around with the vast amount of ringtones included.
The physical display of the device is pretty standard—i.e. it has a common shape, a nice weight, a dense feel, and a pretty standard assortment of hard keys and ports. Where this device distinguishes itself is in its touch screen menus. Though Grandstream has done touch menus before—i.e. they all touch GXV3175—the results were a bit underwhelming. Here, the manufacturer improves upon the intuitiveness and incorporates hard keys, which are much welcomed. Again, the menus are highly intuitive for a number of reasons—i.e. concise organization, a high level of customizability, and easy-to-use navigation.
As noted above, the menu breakdowns are a bit different from similar devices; however, this works to complement the touch screen menu. Each and every screen feels more involving, which helps make users feel more comfortable in operating the device. Also, with a number of applications readily available, users are able to supplement usage with tools they're familiar with. Speaking of applications, its important to note that the Grandstream Market is NOT the full Android Market, but a store of Grandstream-approved 3rd party applications.  Users shouldn't get too hung up on this as there's a number of popular apps included—i.e. Facebook, Skype, Youtube, Pandora, Camera IP, MPK, and many more. Additionally, if users crave, even more, they are able to download Google Play and download/purchase content using their own Google account.
In regards to configuration and installation, Grandstream gives users a few options. Some providers/sellers ship devices pre-configured with service. Others, however, do not; therefore, users may have to manually configure the device. In doing so, users can choose to do so via the touch screen on the device through a web browser. Users will need their SIP credentials:
In doing so, users will need to log into the GXP 2200's admin interface using the phone's IP address and a web browser. From here, users select Account from the navigation page and enter their credentials and save them. It's a pretty simple process; however, for less experienced/knowledgeable users, it may get a little confusing. Aside from this installation is pretty painless as boot times are mostly quick.
The GXP2200 is a great device, but it is not without its faults. The device can be a little glitchy at times, but it's nothing too detrimental. The same can be said for lag time with some hard keys. Aside from that and some minor complications with installation/configuration, the device is sound.
Utilization & Implementation:
Grandstream's GXP2200 is a beast of a device that has countless implementations. While this is all well and nice, these implementations would be worthless without quality. Luckily, the device offers superb sound quality. Though the headset doesn't handle low frequencies as well as other devices, but this doesn't discredit the audio as quality. It's just something to note. Additionally, the speakerphone is just as good as the one found in Polycom's VVX model.
With high quality paired with versatile usage, this device is great for business professionals in any setting. For example, the Call app is pretty versatile in that users can choose their mode of call—i.e. Call, IP Call, or Paging.  From here, users are also able to view their call history, which is broken down by All, Incoming, Outgoing, and Missed Calls. Furthermore, users can select the Conferencing tool—which enables users to bridge up to 4 calls in one 5 way conference.  With such expansive conferencing businesses can keep in touch regardless of location. Also, they can cut down travel expenses by utilizing conference calls more frequently. Aside from this, the Bluetooth extension works to forward calls directly to an earpiece enabling greater mobility around the office. All users need to do is say Answer when receiving an incoming call on the GXP2200, and the call is transferred automatically.
Grandstream's device is aptly suited for businesses in that it is highly customizable, and therefore adaptable. Users are able to implement and utilize a huge variety of applications and tools that help streamline information and processes—thus churning greater efficiency. Additionally, customizability furthers efficiency as users are able to choose the tools and apps they are already familiar with. This helps quicken usage and optimizes navigation. In functioning as a business device, users are also able to inject identity into the device, too, as there are a number of settings and tools able to reflect the user's interests/personality.
There really isn't one highlight feature of the GXP2200. Sure, the web applications and Android OS are nice, but they would be useless in a phone if the device didn't offer quality. That being said, the phone works as a total package. Applications help supplement functions and features of the device itself. Past this, users are able to leverage all these amenities to more effectively navigate and utilize their systems.
Price:
When the phone was first released, it retailed at around $229.00. Since then, the price has come down a little as users can find the device for around $180. For users that are looking (or willing) to go the used route, the GXP2200 can be found at around $100-$150.
The GXP2200 is a strong candidate for Grandstream's personal best device. While there are a few imperfections littered throughout, none are too terrible and disruptive. The device is irrefutably well rounded and comprehensive. As such, users will have a hard time finding a phone as extensive as this with this price tag.
Performance Tests:
Here at GetVoIP.com, we subject each and every device to a number of operability and performance tests. In doing so, we are able to detail the processes and functionality that are inherent with the device.
Installation:
Grandstream delivers a pretty straightforward and standard installation process. First off, the manufacturer includes everything you need (including a power supply). In regards to configuration, users have a few options (as detailed above)—i.e. through a web browser or the touch screen itself. Again, these options are pretty straightforward, but may seem a bit dense to those less familiar with the platform. Upgrades are simple, too; therefore, users don't have to worry too much about compatibility/interoperability issues.
Call Quality:
Grandstream's GXP2200 offers rich and full call quality when using the handset. This is what the call quality sounds like using the Handset.
The speakerphone quality is just as sharp as the handset. This is what the call quality sounds like using the Speakerphone.
Additionally, the speakerphone retains pretty consistent quality even when the user isn't standing close to the device. This is what the cal quality sounds like using the Speakerphone while 5 feet away from the phone.
The speakerphone retains pretty consistent quality even when the user steps further away. This is what the call quality sounds like using the Speakerphone while 10 feet away from the phone.
Features:
Again, the GXP2200 has an extensive set of features that are supplemented further by various web applications. While some may believe this to lead to an overly complex device, the GXP2200 utilizes intuitive and easy-to-use layouts and menus as often as possible. As such, navigation is kept simple despite the bulky stock of features and applications.
Menu:
Menus are very easy to sort through and use. The touch screen is very responsive. As such, users are able to move around their systems quickly and easily. The departure from categorical menu breakdowns is a welcome one, as menus lead to more interfaces that are optimized for usage. In addition to the digital interface, the physical body of the device offers a number of hard keys for key functions, too. Another key feature of the menu lies with its output of information. There are a number of widgets and settings which display various arrays of information including Date & Time, Calendars, Running Tasks, brightness, Wi-Fi, Bluetooth, News Feeds, Weather, and more. This helps users stay up to date in every area they want to. Additionally, the layered pages help collate this information neatly.
Conclusion:
The Grandstream GXP2200 is a great business media IP phone that really goes the extra mile. It integrates the best of tablets/smartphones with the best of desktop phones to create a truly comprehensive device perfect for businesses of all walks. That being said, this phone system serves to be Grandstream's strongest release thus far. While it might have come out a bit too late to impact the industry the way it should have, it definitely holds up as a quality device worth your time, money, and attention.
Technical Specs
Specifications
# of RJ45 Ports
2
# of lines
6
3-way conference
yes
AC Power Supply Included
yes
Built-In Bluetooth
no
Built-In Wifi
yes
Color Screen
yes
Desktop Paging
yes
Display Type
Gigabit Ethernet Support
yes
Headset Interface
Mass Provisioning
yes
MWI Support
yes
Peripheral ports
USB, SD
PoE Compatible
yes
Protocol Supported
SIP, Skype
Provisioning Method
TR069, HTTP, HTTPS, TFTP
Sidecar Compatible
no
Speakerphone
yes
Supported Codecs
G.729 a/b, H.263, H.264, G.711 µ/a law
Touch Screen
yes
Voicemail Button
yes
Wideband Voice Protocol
Grandstream Wideband Audio