Zoom is used by practically everyone in the world as of now, and has released countless features to keep much of the world connected through the Pandemic. Now that we have emerged, nearly on the other side, Zoom seems to have launched some of its most intelligent features.
There is literally so much going on at Zoom HQ at a given moment that it can be formidable to keep up. 
Recently, I caught wind of a relatively major revamp in the way, Zoom as a corporate entity thinks. It essentially had an epiphany: having realized that customers did not want ala-carte-style offerings but rather a more rounded offering bundled with competitive pricing. Today, Zoom launched a new way to bundle Zoom offerings, which it calls "Zoom One."
At its core, Zoom One is a bundle that gives Zoom customers chat, phone, meetings, whiteboard, and more, in a single, scalable package. Zoom also dropped an innovative translation feature that allows two-way meeting captioning in ten languages. 
What is Zoom One and What will it Offer?
I sat down with Theresa Larkin, Manager, UCaaS Product Marketing at Zoom, for a chat to discuss the news. She told me that Zoom One is practical, giving users everything they need, no matter the size of the business – in one place. There are no hidden fees, only a (really) simple pricing structure.
"We wanted to enhance our user productivity and, of course, increase things like cost savings. Moving past the Pandemic into a new era of hybrid working – we had an aha moment; customers wanted to save time and money," Larkin told GetVoIP News.  
For Larkin, there could be only one takeaway – simplify vendor management. She added that: Simplicity is at the core of everything Zoom does. And Zoom continues to push the one-vendor approach, with Larkin pointing me to research sponsored by Zoom. With the research conducted by Forrester, it found in its "Total Economic Impact of Zoom's Unified Communications Platform," study – Zoom can save its users up to 52 minutes per employee per week in productivity time. 
The report further notes that Zoom can improve the time-to-value of sales by 70%, reduce IT troubleshooting time by 75%, and rid a company of redundant technologies, in addition to reducing time spent traveling. Larkin said that Zoom One is Zoom's way of helping customers alleviate another 'massive pain point,' provisioning, which can take time and get costly. 
Breaking Down Zoom One Plans 
Zoom One Basic:

 extends (for free) 40-minute Zoom Meetings for up to 100 attendees, out-of-meeting, persistent Zoom Chat for team messaging, limited Zoom Whiteboard for synchronous and asynchronous work, and real-time transcription.

Zoom One Pro:

 delivers everything Zoom One Basic without Meeting time limits, with the added value of cloud recording.

Zoom One Business:

 provides everything Zoom One Pro offers, plus Zoom Meetings for up to 300 attendees and unlimited Zoom Whiteboards.

Zoom One Business Plus:

 extends everything Zoom One Business offers, and users get Zoom Phone Pro with (unlimited) regional calling (optional) – and Zoom's (fresh) meeting translation feature.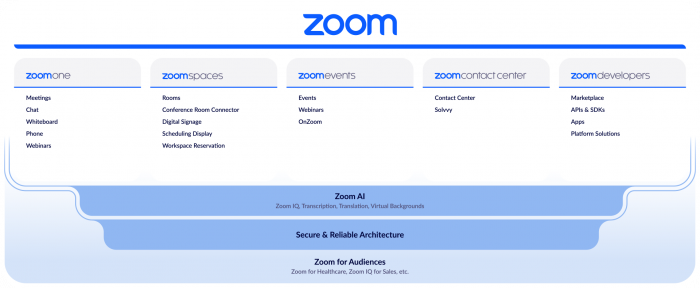 Looking toward the enterprise end of the spectrum: Zoom One Entperise plans offer similar amenities to users. They are as follows. 
Zoom One Enterprise

 and 

Zoom One Enterprise Plus: 

enable everything Zoom One Business offers with a greater meeting capacity and come with Zoom Webinars. 

Zoom One Enterprise Plus: 

also includes Zoom Phone Pro with unlimited regional calling, optional.
Zoom One Enterprise starts at 250 seats and extends meetings for up to 500 attendees. It comes with chat, unlimited cloud recording, webinar at 500 seats, Zoom Phone Pro, unlimited whiteboards, and multi-language captions. Pricing starts at $20 per user per month. 
Zoom One Enterprise Plus starts at 250 seats and extends support for meetings of up to 1,000. There is, of course, chat, unlimited cloud recording, webinar at 500 seats; Zoom Phone Pro, unlimited whiteboards, and multi-language/translated captioning – all starting at $25 per month per user, according to Zoom's website. 
Zoom Intros Translated, Multi-Lingual Captions
Zoom innovation is not in short supply as of late. That is on full display with the introduction of its translated captions feature. It enables users to view captions translated into the language of their choice. "At launch, translations will be available between English and ten additional languages; or from any of the ten languages to English, also known as bi-directional translation."
Translated captions are shown at the base of the screen when meeting attendees are inside a Zoom meeting. According to Zoom, bi-directional translations are available in Chinese (Simplified), Dutch, English, French, German, Italian, Japanese, Korean, Russian, Spanish, and Ukrainian. 

If Zoom users want to leverage this feature, they must first be a Zoom One customer. They also have to upgrade that plan to either the Zoom One Business Plus or Zoom One Enterprise Plus package to take full advantage of the feature.  
On a related note, Zoom further extended its automated captioning capabilities. Zoom currently lets its customers see real-time captions of what a speaker is saying in the same language as the one spoken. What's new? Well, it now includes ten more languages. Automated captions only previously produced support in English.
"Simplicity is our Aim"
In our final moments together, I asked Larkin to sell Zoom One to me. I asked her: What is the aim here? Her response, simplicity. And I have to agree that the appeal of Zoom's newfound pricing structure is simplicity.
One of the bundle's primary aims is to rid the IT world of provisioning to free them up so they can perform more pressing tasks. As features roll out, they also get pushed to each user automatically – nixing the annoying yet nearly universal aspect of daily management.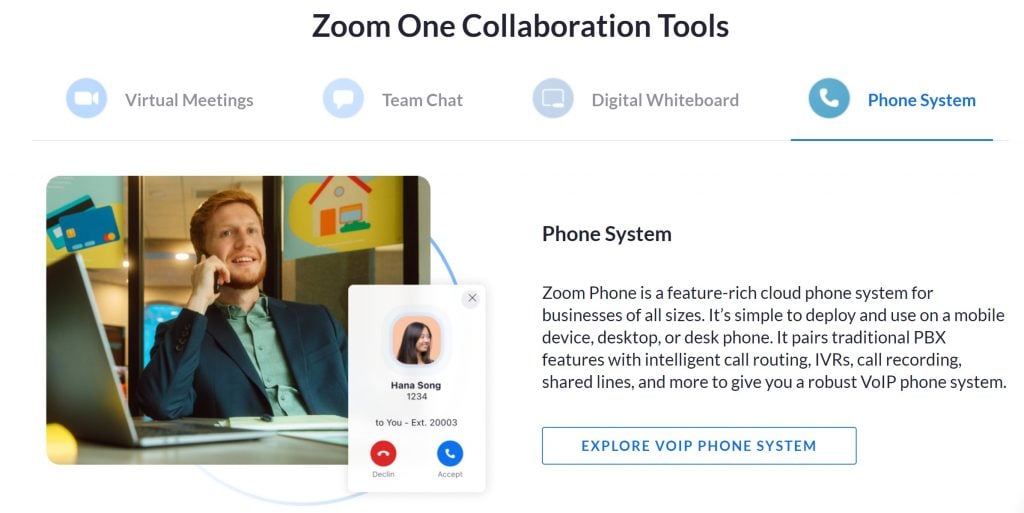 "This is a solution we think will help our customers because we consulted them on their pain points."
Larkin said that it remains Zoom's goal to amplify the user experience across organizations. And the impact will almost certainly (be felt) by Zoom customers who buy into the idea that one vendor is better and a single plan should do everything you need – out of the box at a competitive price.