With companies like Avaya, Twilio, and Meta all laying off employees in recent months – it's apparent that talks of a recession are affecting everyone – no matter the sector. There is a lot of change shaking up the UCC industry, with many attempting to keep things from going too far astray. 
It started with the cloud communications pioneers at Avaya, which a month ago announced it would lay off a sizable amount of staff – leading to an outpour of support from individuals via social media sites like Twitter and LinkedIn, looking to connect said talent with other firms. 
Avaya's board stripped former Avaya CEO Jim Chirico – who held the post for (just) over five years, of his role as CEO. Subsequently, Alan Masarek; took the helm. The former Vonage Chief Executive Officer and Board Director of nearly six years took over the role of President and CEO after Chirico spent just over five years serving as the former legacy provider's top guy.
$250 million in budget cuts later – some, like UCC industry, Dave Michels see it as an opportunity for other firms to gain the veteran talent, Tweeting: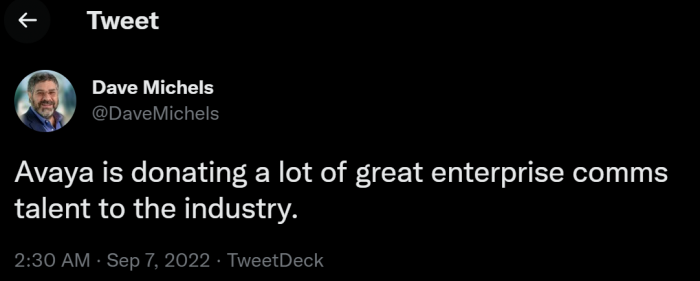 Today, it appears that: many firms in the UCC industry face plenty of issues that could cause things to shift for better or worse, but there will almost certainly be more to come on the matter. 
Facing a looming recession, companies are increasingly at risk of hiring freezes and even further layoffs. This has prompted many veterans to move to places they likely never saw themselves; before arriving there – out of work when demand for UCC tools seems (as if) it would be higher than ever. 
Nonetheless, Avaya cut jobs in its North, Central, and Latin America – looking to save some $250 million this quarter and following a turbulent financial time that many assumed might lead the firm back to chapter 11 bankruptcy.
So far, Avaya seems to be the most extreme case of layoffs, in UCC, but I want to analyze the other firms that have also experienced layoffs and cutbacks thanks to an evidently (fickle) economy. 
Layoffs at Twilio lead to Industry Uncertainty
Despite Twilio being one of the largest CPaaS (Communications Platform as a Service) providers on the planet: it has has yet to turn a profit. The company has apparently felt this in recent months, with the firm last month – announcing it would lay off 11 percent of its workforce. That amounts to between 800-900 employees across its staff of 7,800 global employees. 
Twilio CEO Jeff Lawson noted that the cuts; will likely primarily impact "areas of go-to-market," R&D, and Twilio's general and administrative departments. The move will save the firm some much-needed moolah, between $70 and $90 million – according to Twilio calculations.
More on Twilio Layoffs:
The bulk of that, also according to Twilio, should take place during quarters three and four of 2022. Twilio almost doubled its staff size during the Pamdenic, and had Q2 2022 sales growth that reached 41%. 
According to Tech Crunch, that is the lowest since the December quarter of 2017. The outlet further notes: "In its most recent fiscal quarter (Q2), Twilio — while exceeding Wall Street's expectations — reported a loss of $322.8 million on $943.4 million in revenue."
In general – Twilio stock dropped roughly 73% this year.
Turbulent Times at Meta, Microsoft
The 18-year-old social media giant; Meta: and makers of Workplace from Meta employee engagement and collaboration software cut staff for the first time in its nearly 20-year history. It also announced a hiring freeze, following a one percent revenue decline in its most recent quarter, noting in a statement: 
"We expect third quarter 2022 total revenue to be in the range of $26-28.5 billion. This outlook reflects a continuation of the weak advertising demand environment we experienced throughout the second quarter, which we believe is being driven by broader macroeconomic uncertainty. We also anticipate third-quarter Reality Labs revenue to be lower than second-quarter revenue."
Microsoft, back in August, announced it would lay off less than one percent of its quarter-million-strong global workforce. Nonetheless, it acknowledged that – it too; (has been) adversely impacted by the economic downturn seen as of late. 
Was all the Growth Ever Sustainable? 
This is something that I've questioned since the onset of the Coronavirus Pandemic – asking myself, is this massive growth bubble bound to burst? UCC Firms were quick to hire as many people as possible to handle a rise in growing customer demands, etc., and while that worked out for a while, it always appeared to me that that demand would one day vanish. 
Today, well, at least recently – it appears that the bubble has begun to burst and led to where we today find ourselves, in a state of attempting to make sense of the state of the UCC market. One positive takeaway from all this – is that layoffs seem to have leveled out.
And although as market uncertainty remains high, everything is still subject to disruption, especially in the UCC sphere. It seems that many; presumed that all the progress made on the digital front, accompanied by massive upticks in sales volumes, adoption, and more – would remain a permanent fixture for vendors.
Today: that appears to have proven not to be the case, causing much of the Pandemic-induced confidence to slowly dissipate from those who, before recent months – were flying high in the UCC stratosphere.
There remains work (to be done) to stabilize the companies that kept businesses of all sizes afloat during an uncertain time in human history. And these layoffs/cuts seem to reflect the industry status quo – lots of innovation: much adoption, but not a lot of 'spend' for critical enterprise-grade communications technologies.
It also appears that growth can be sustainable, but (many more) difficult decisions; will be made in months to come. We can expect innovation at the speed of light (as well as) the tactics of all parties involved – think resellers, partners, developers, and executives to get more creative, too.
Nia Celestin, Head of Marketing at DTEN, told me that there is general uncertainty in the tech industry, overall, so UCC is not immune. On the plus side, Celestin highlighted:
"Demand for hybrid workplace solutions remains very strong. And the companies best poised for continued success: those anticipating the needs for hybrid work, delivering robust, all-in-one solutions, and consistently having products in stock: especially with channel partners."
Stay tuned for the latest UCC headlines, news, and analyses here on GetVoIP News, we've got you covered.