Workplace management software developer, Asana, has launched what it calls "Asana Flow," a suite of features it hopes will democratize building, managing, and improving workflows. In a statement, a spokesperson for Asana told GetVoIP News: 
"The new capabilities help teams build start-to-finish workflows with Asana's Workflow Builder and lets individuals prioritize their work with an intelligent Home interface." 
Asana's latest features set has a few express aims, expecting to unravel the issue of disorganized teams, disparate technology systems, and to smooth out the process of task/project management. With the use of multiple workforce management, unified communications, and even collaboration tools – some folks are bound to drop the ball on a task or two – something Asana wants to change.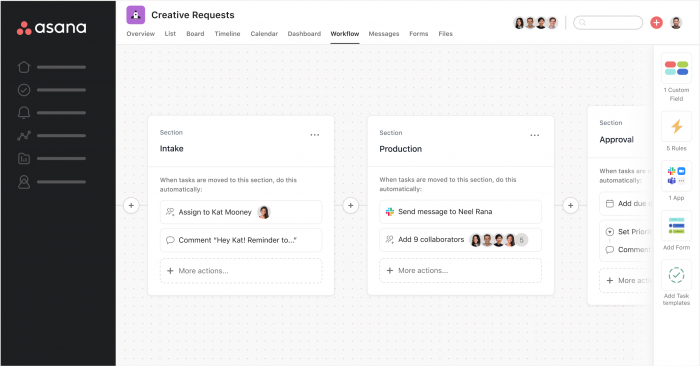 "With unclear processes, handoffs require additional message pings and meetings to clarify who's doing what by proliferating the time and effort it takes to get work done" an Asana spokesperson wrote in a statement.  
Data from the Asana Anatomy of Work Index back this notion up. Having surveyed knowledge workers on a global scale, those workers noted that they believe they could save an average of 5.4 hours a week if workplace processes were improved. 
Managers were even more optimistic, noting they felt they could save as much as 6.3 hours per week with sounder workflows in place. That same report found that 26 percent of respondents believe that distributed work offers up some rationale as to one cause of missed deadlines.
According to the same Asana survey, 26 percent of employees miss over one-quarter of their weekly deadlines, making "cross-functionally," according to Alex Hood, Chief Product Officer, Asana, "paramount."Let us dive into what this means for Asana users and what they will gain from its latest features release.
Build and Templatize End-to-End Workflows 
When you need to build a complex workflow, you do not want to leverage multiple systems to pull it off. And it should be that simple, at least according to Asana, which just released its Workflow Builder. It turns a typically complex workflow design into a seamless experience in a drag-and-drop action.
Asana also introduced Template Library, a feature that lets users share 'standout workflows.' With the feature – users can further access a variety of best practices that leverage data from companies like AppLovin, ClassPass, Discovery, and Stride.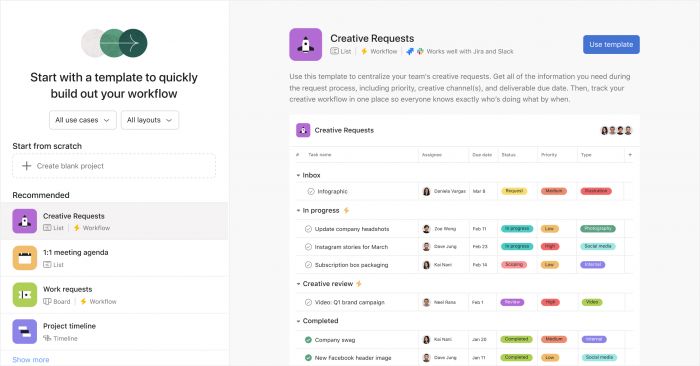 Asana added 'App Components' to its platform, a feature that will make its Workflow Builder and Template Library more powerful engines. The two now connect (every day) hybrid working tools directly to the Asana user interface (UI) and has new integrations with team collaboration app Miro and online form builder Jotform. 
Coming soon, Asana wrote in a statement, is integration with Google Drive. Looking ahead over the coming months, Asana also said that it has plans to expand App Components to customers and partners. 
It will design what it called an "enhanced developer toolkit." It should give developers the tools they need to build and integrate many of the apps essential to their internal workflow – directly into their Asana workflows with ease. Asana currently has over 200 partners, meaning integrations with apps like Salesforce, Zoom, Slack, Microsoft Temas, Venmo, DropBpx, Outlook, Zendesk, etc.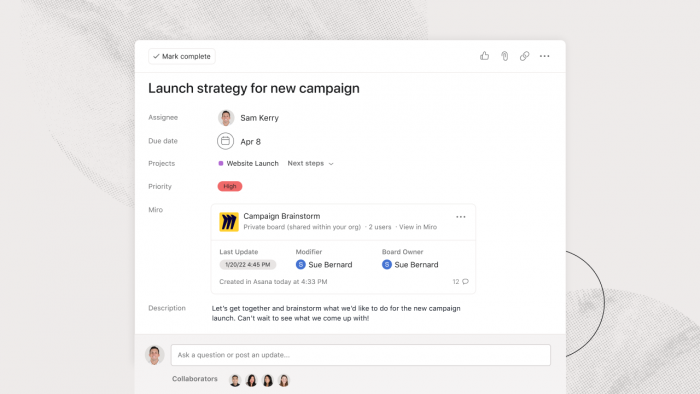 Contextualizing and Prioritizing Workflows
If we have learned anything during the Coronavirus Pandemic – it is that prioritizing what is and what is not "important" or "urgent" can be difficult for some. Especially at work. In a statement, Asana said that making the distinction is consequential, so users should have an easy way to denote the nature of a task.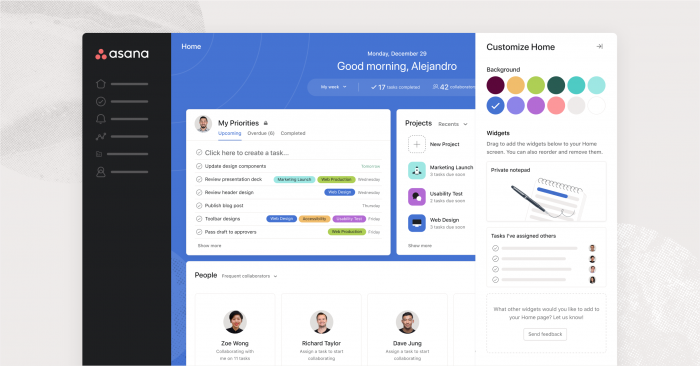 Introducing Asana Home, an intelligent dashboard that extends a task overview and how said tasks; connect with other principal workflows. There are four main components to the feature that include:
My Priorities

: Leveraging the feature, users can quickly spot project delays and focus on priority projects with a centralized view of upcoming 'personal' work.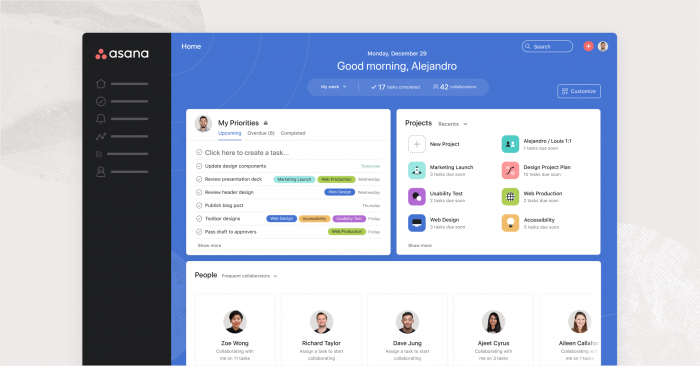 People:

 Users can assign tasks, send messages, and view shared work with recent, frequent, as well as; favorite workplace collaborators with a single click. 

Projects: 

Set company goals and see how projects stack up against said goals. 

Private Notepad

: This feature, while seemingly simple – is a godsend. Now, you can write notes, link tasks, and track quick ideas without leaving Asana using the private notepad feature. 
Asana said, coming soon, it will introduce 'Recommended Projects' and 'Tasks Assigned to Others:' will intelligently surface even more insights, presumably leveraging AI to do so. 
Optimize Processes with Workflow Reporting
For me, this is one of the 'coolest' features of the set. According to Asana: "To continually improve even the most efficient processes, Universal Reporting now includes the ability to measure and optimize workflow performance over time."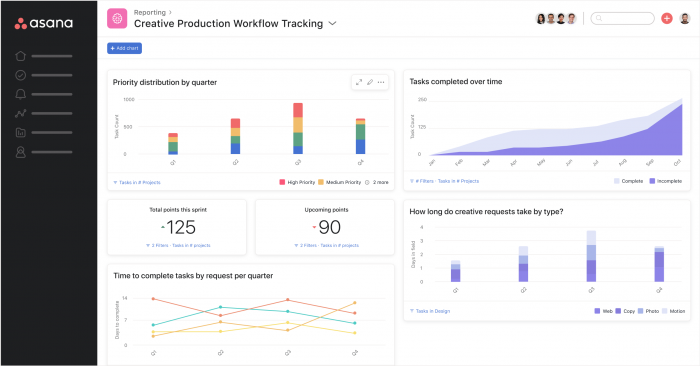 Essentially, it can do everything from analyzing how long a task takes to complete to identifying critical stoppages. It could help unlock a lot of potential insight for businesses over time. It could even lead to optimizing many processes that may be inefficient or redundant.
Wayne Kurtzman, Research Director for Communities and Collaboration, IDC, noted that the feature would be a game-changer for businesses, at every level: 
"Asana Work Graph provides a new dimension of insights for every level of the user that traditional data reporting cannot. Asana Flow extends those abilities to more effectively and measurably connect both people and the flow of work."
Asana Stocks are Soaring High
Asana shares continue growing higher, as the firm's billionaire Co-Founder and CEO Dustin Moskovitz, continues a buying spree of the company's stock. This is not just any buying spree, however. According to Barron's, Moskovitz bought $1.02 billion of Asana stock from mid-June through Feb. 2. They note that the buying spree: 
"Might be the single-largest run of insider stock buying in history."
Asana now has a market cap of roughly $12.1 billion – and including the shares held in trust, Moskovitz now owns close to 22 million of Asana's Class A shares. That amounts to roughly 22.5% of the total outstanding shares available, along with close to 68 million super-voting Class B stocks – 76% of the total outstanding shares, 'Barron's' notes.
Investors have reacted seemingly with joy, as Asana shares have risen as much as 6.8%, reaching $65.73 per share. The same reporting by Barron's further notes that the company's stock surged by nearly 43% since Feb. 3, 2022.