That is according to UCC research firm Metrigy where Irwin Lazar is President and Principal Analyst. In Q2 2021 Lazar authored a report on team collaboration, in which he noted, team collaboration is the: "Foundation for a digital-first workplace." Slack has talked for a while about becoming a digital hub, a new kind of digital headquarters of sorts.
It hopes to reimagine the way we view the concept in a Post-Pandemic era. Or as Slack puts it:
"Moving to a digital HQ doesn't mean ditching the office. It's about empowering people to work when and where it's best for them. Offices are just one of our tools for building relationships and creating space for focused work. 
Slack goes on to say: "With a digital HQ, you can transcend physical spaces and time zones to bring teams, tools, partners, and customers together around shared goals and priorities."
Metrigy's report unveils many figures that might come as no surprise, but one, in particular, stands out – as most have adopted some form of team collaboration technology to enable business continuity during a time where millions now work from home. According to the Metrigy report, more than 60% of companies have adopted team collaboration applications.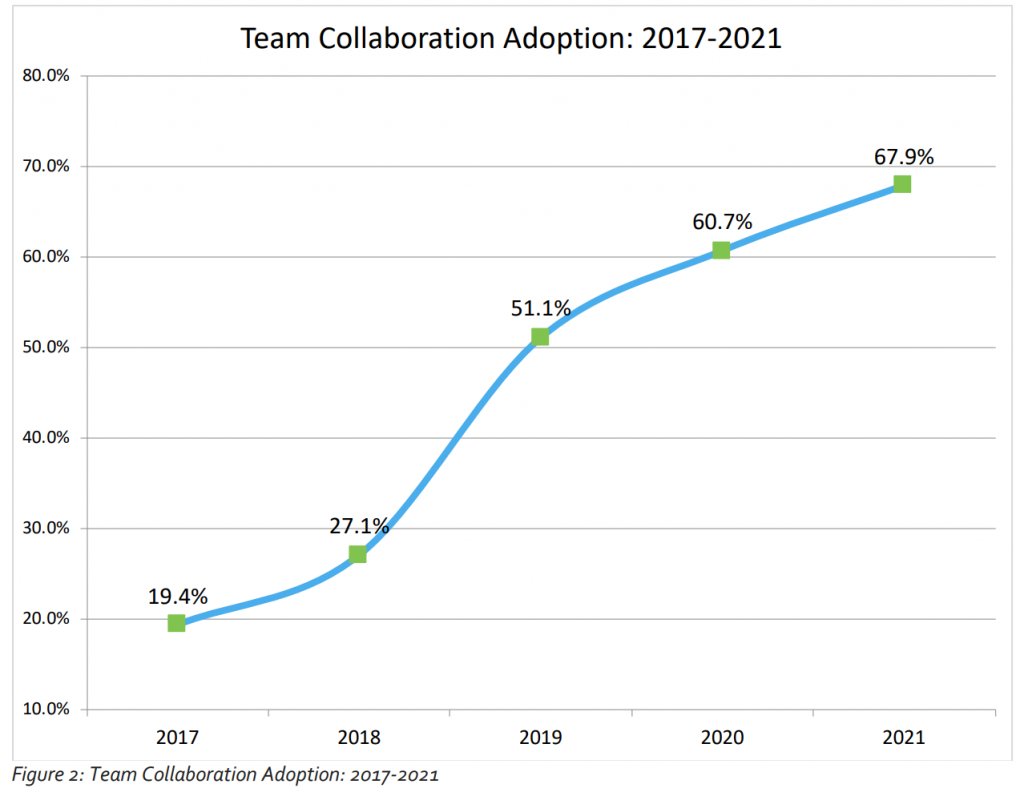 Researchers there anticipate that figure will rise to nearly 70% by the end of 2021. As such, one might reasonably infer that number will grow more in 2022.
Team Collaboration for the Future of Work
Team collaboration apps have transformed a lot since the introduction of apps like Microsoft Teams and Slack. In two years, these two platforms alone look drastically different than they did at the beginning of the workplace collaboration era. 
Today, Metrigy notes, integrated messaging, data, application access, both off-the-shelf and custom integrations have emerged as vital requirements for supporting the future of work. Proper implementation of these systems may lead to a lot of advantages for enterprises, customers, and end-users, with Lazar further acknowledging that in the report: 
"When properly implemented, team collaboration platforms provide measurable ROI by reducing operational costs, increasing revenue, and improving productivity."
About 35% of organizations have already measured some benefit from their team collaboration investments, with the most sizable gains being a reduction in meetings, cost savings, and revenue increases.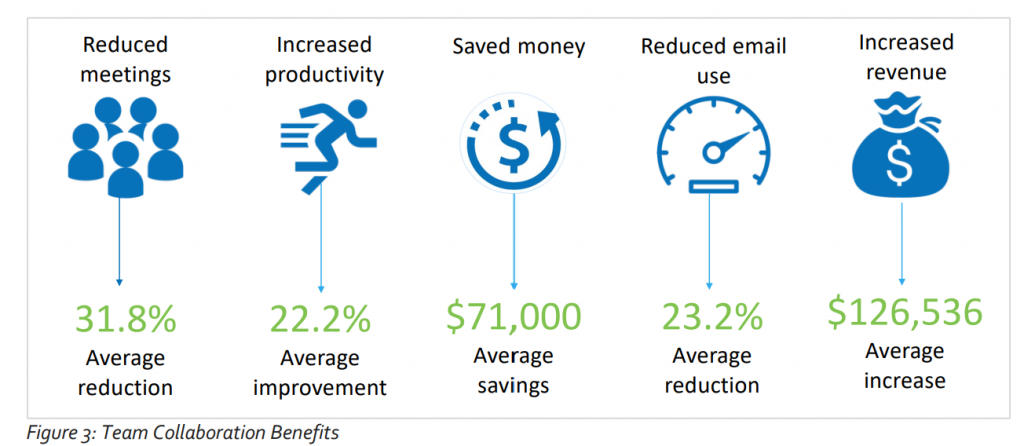 If the future of work and the employee experience is to be anything of quality, Lazar noted, employees must maintain the ability to communicate/collaborate both internally/externally, regardless of location, and in the context of work activities. 
"Team collaboration platforms help meet these needs by enabling application and data integrations to optimize internal, business-to-business, and customer-facing workflows." 
"This approach lets organizations realize quantifiable benefits by adopting team collaboration as a hub for work rather than a standalone messaging app," Lazar concluded. Tons of customer experience (CX) implications tied to the contact center space and the concept of external communication with customers also exist.
Meeting Next-Gen Digital Work Requirements 
In the report of nearly 500 business professionals, including members of IT teams, Metrigy found that the Coronavirus Pandemic created what it calls: 
"Permanent changes to how and where people work."
Of the 476 participants in Metrigy's global Workplace Collaboration, 2021-22 study – 87% of employees said they now work from home either full or part-time. 
"More importantly, just 12.4% of participating organizations plan to bring employees back to the office on a full-time basis once it is safe to do so," Lazar continued. 
The study also found that more than 83% of those queried – say they expect that employees will either work full time (at home) or will adopt a sort of hybrid work schedule. Employees will split their time between home and the office – creating a heftier demand for technology to support the future of work and the employee experience. 
Selling the Idea of Team Collab Won't be Difficult
Selling the idea of team collaboration to your team won't be a difficult task. It will take some work on the part of folks like workplace champions. And they don't merely exist of IT, but rather those who already utilize the technology daily. According to the Metrigy report: 
"Successfully adopting team collaboration applications isn't as simple as just rolling them out and hoping for positive results."
This implies that ensuring success means company deployments support all work locations and styles, enable benefits beyond simply improving internal collaboration, and meet or exceed requirements for security, governance, and compliance. 
More importantly, it is about workplace productivity and improving it. If IT teams and champions can empower others to leverage team collaboration features to optimize their workflows – this will only work to everyone's advantage. So, conveying the benefits of the platforms and what unleashing their full power might mean for team members in a future workplace should remain central to every enterprise comms strategy.
I will explore some of those benefits as Metrigy sees them. First off, there are contextual channels or workspaces. These are established to support specific activities, like projects, teams, etc., that enable employees to know the topic of conversation and associated information, bringing them up to speed on past discussions when they join a channel. 
It also consolidates all communications into a single place, eliminating the need for toggling between apps. Next, there are integrations, which play a role in this production. Integrations enable the convergence of data and applications.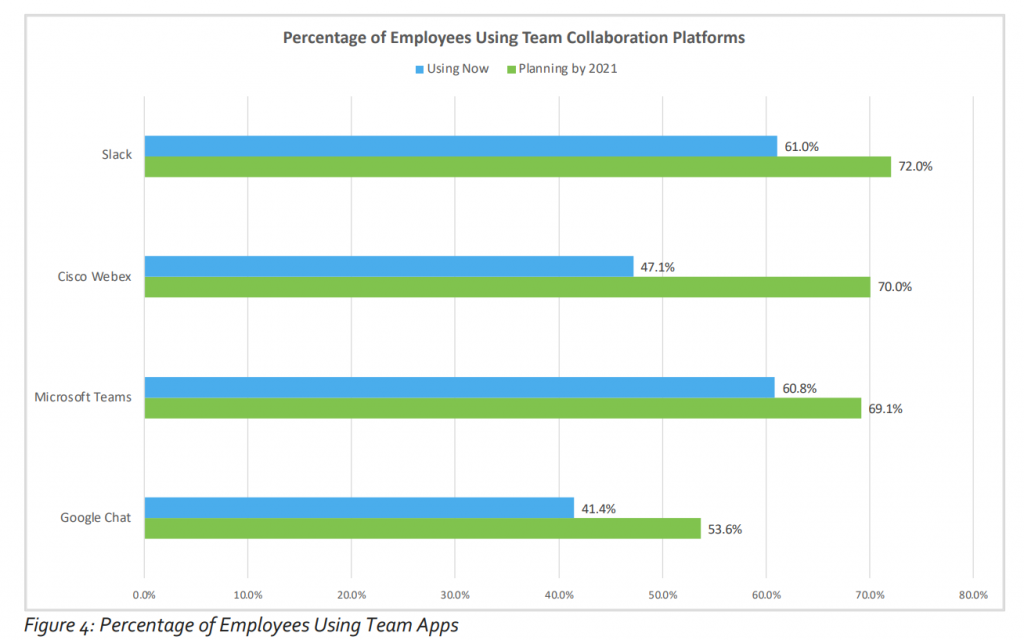 "For example, a sales channel could receive automated notifications from the CRM platform related to an opportunity, allowing all individuals involved with a sales process to collaborate around the next steps required to advance the proposal, with easy access to relevant documents, history, and customer data." 
Integrations typically come in two forms, off-the-shelf, which enable IT admins to efficiently add relevant tools or vital functionalities into team spaces. There are also APIs, which have risen in popularity over the past few years. APIs, furthermore, enable a great deal of interoperability between UCC systems, which supports situations like when one team member operates via Microsoft Teams while the other leverages Slack. 
Without APIs, these two team members could not connect on a joint task using the interface they are accustomed to and have a seamless conversation while sharing files, audio, video, and more. Another principal area in which team collaboration apps extend many benefits is through workflow automation with low or no-code capabilities that often come with no learning curve as it is user-friendly drag-and-drop technology.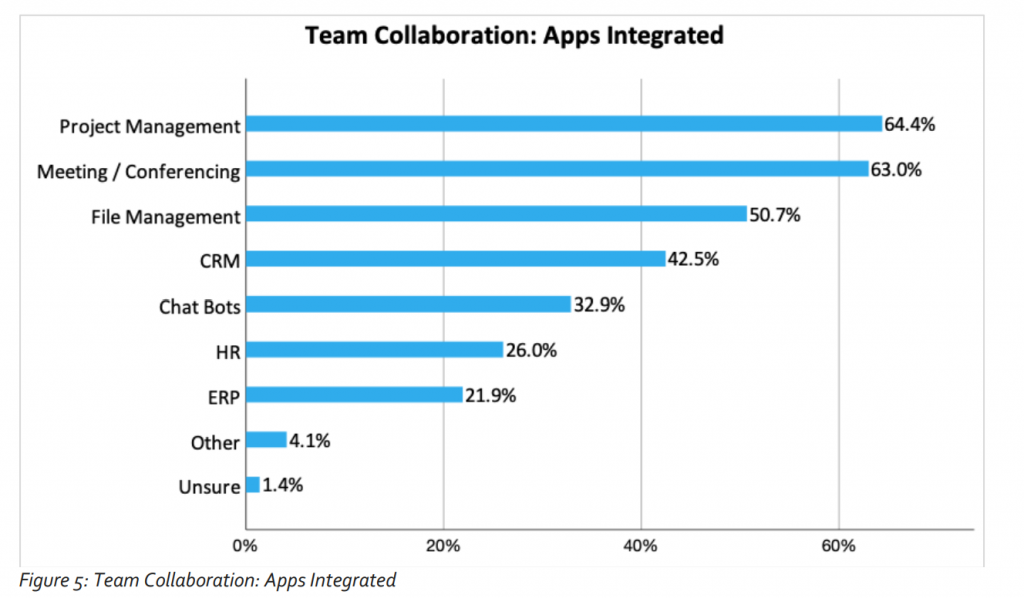 Team collaboration platforms, in the end, do come with a great deal of other befits, too. They enable the consistent enforcement of governance policies to ensure security and compliance.
Finally, according to Metrigy, "They offer the ability to extend team collaboration channels beyond company boundaries, and increasingly, the ability to leverage platform knowledge to enable individuals to search and out-build connections with coworkers in similar roles or with similar interests."
If you want to download the full report, which includes additional insights, you can do so here.