AWS recently announced the general availability of live connector – a feature now available via the Amazon Chime SDK (software development kit). 'Live connector' is set to enable organizations that leverage the AWS solution for internal/external workplace collaboration and communication.
Companies like Mitel, Slack, and Blackboard all leverage the SDK to enhance various aspects of their real-time communications. This includes messaging, audio, video, and screen-sharing capabilities to web and mobile applications. 
I sat down with Sid Rao, GM of Amazon Chime SDK, to chat about the newly-available functionality that enables its users easily add live-streaming capabilities to web and mobile apps.
Capitalizing on Live Streaming Services 
In April 2022, video conferencing giant, Zoom; made a similar move, adding the ability to live stream from the popular streaming app – Twitch. The platform, according to Statista, boasts an impressive 30 million daily active users and 140 million monthly active users – as of 2022.
With just a few lines of code, Amazon Chime SDK users can send a live cast to a range of platforms like YouTube, Vimeo, Twitch, Facebook Live, LinkedIn Live, Periscope, and Instagram Live. Combined, they have billions of global users. Rao hopes this will be to the advantage of most companies, telling me: 
"As the hybrid work environment becomes the new normal: live streaming has had to fill in for remote workers and audiences as a way to watch and engage." 
He acknowledged the cumbersome nature of pulling off this task for developers; however. He notes that for them – adding live streaming capabilities typically introduces long and costly development cycles that are hard to estimate and allocate in appropriate infrastructure.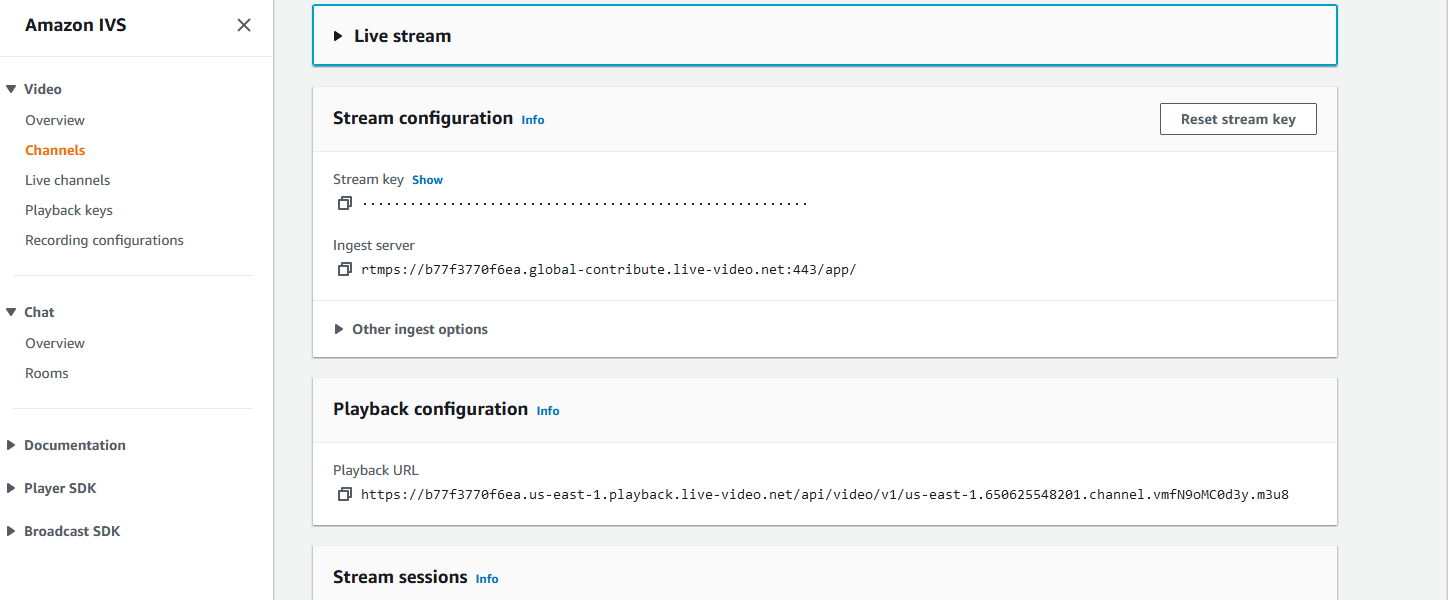 As enterprises swiftly jump on the trend of streaming events on live streaming forms, hoping to connect with millions of potential or extremely targeted viewers – they hope to drive engagement. With the introduction of its live connector feature – developers can: securely send video and add their live streaming capabilities.
They also want a place to connect with customers and other stakeholders who cannot attend that annual developer conference, where they unveil their latest innovations. It is, though, a time-consuming and expensive process – typically. 
"Not to mention: it involves complex development cycles that are hard to scope or build."
Built on resilient AWS infrastructure, Amazon Chime SDK live connector is elastic, cost-effective, and scalable. One of its sharpest features, following the completion of a video session – a video is automatically created and stored in an Amazon Simple Storage Service (S3) bucket designated by the developer in charge. 
According to Rao, now was the most optimal time to release the feature, "especially as virtual and hybrid events become the new normal," he added. Rao continued, saying: "Live streaming has emerged as a critical way for organizations to broadcast video from virtual events, webinars, education classes, fitness sessions, product demos for live commerce, online games, or sports." 
And companies like MICE Platform Co. Ltd.; are already leveraging Amazon Chime SDK live connector. It enables multiple remote speakers to join and present at its conferences and events. Folks in education are leveraging the tool to live stream video lectures to remote students and creating VoD (video on demand) files for offline consumption: Rao said. 
Entertainment; and media organizations are using the SDK, looking to live stream movies, concerts, and games to large audiences – I learned.
Examining Major Trends, According to AWS
According to Rao, AWS has identified three significant trends (playing out) during the Pandemic. "First, our customers not only want to live stream; real-time video but also want to provide a native experience within their apps without having to switch between multiple applications."  
He said this enables customers to provide a "better experience" for viewers and to reimagine what live streaming could mean. Rao contends that a live stream can consist of anything from corporate town halls, to shareholder events, and training sessions. 
Secondly, he told me that: customers want to expand the reach of their streaming events by sending real-time video to popular social media platforms – which is why they head to these platforms. Today, more companies are using streaming tools to broadcast (a variety of) events. 
Nearly every significant player in the game received some (sort of) uptick in usage during the Pandemic. Most recently, video conferencing software provider BlueJeans by Verizon made a similar move – releasing video editing tools and the ability to live stream. 
Lastly, Rao told me that AWS sees increasing use of live streaming in retail live streaming of product demos. Media and entertainment hope to drive more awareness for movies, sports, and music events. 
Amazon Chime: a Well-Rounded Comms Tool
With millions of users using the SDK to do a lot for organizations, giving them powers that typically take tons of time to dream up – the Chime platform is already rather well-rounded. With it, users can conduct and attend online meetings with HD video, audio, screen sharing, meeting chat/dial-in numbers, and enables in-room video conference support.
Those users can also leverage chat and chat rooms for persistent communications across desktop and mobile devices. And; administer enterprise users can manage policies and set up SSO or other advanced features in minutes using the Amazon Chime management console.
Now: these users can further enhance the live streaming experience; by gaining access to formatting video layouts. They can even choose and combine multiple video streams into a single stream. And they have access to machine learning that improves the audio and video quality of live streams – reducing reliance on third-party apps. 
Amazon's Chime SDK enables a lot – including unlimited connections, media capture, live transcriptions, video background replacement or blur, SIP trunking, fax, call recording, text-to-speech, and has WebRTC functionality. All this makes it a contender for being a competitor with some of the biggest providers on the market.
It even seems to be fairly underrated when it comes to its capabilities.
Knowing this and how Amazon tends to – dominate any space it decides to join should be a sign to other providers to ensure their offerings are equally as well-rounded and straightforward to use. In today's business climate, ease-of-use is like salt on bland food – a must-have.