Avaya recently announced the results of its Q4 earnings report and it delivered its sixth consecutive quarter of year-on-year revenue growth. On the heels of the news, I sat down with the one in charge of it all, Avaya CEO Jim Chirico, a man on the job since 2017. Years later, he told me that Avaya has finally reversed over a decade of annual revenue decline. 
"Our results speak volumes to the strength of the business and the ability to execute on our strategy to grow the business, evolve to a cloud and SaaS business model, and do so while maintaining strong profitability. This past fiscal year was a landmark for the company."
Avaya closed the fiscal year up approximately $100 million in revenue, and Chirico said operations have never been smoother at the former legacy provider. 
"We operate like a start-up and move with much velocity. And we also hold an advantage, having captured a significant portion of the IP, technology, market share, and the install base." 
Chirico contends that this; uniquely positions Avaya to lead the pack in enterprise cloud communications and collaboration. Looking at the numbers, Avaya signed over 100 deals with a TCV (total contract value) greater than $1 million, 18 deals worth over $5 million, and seven deals worth over $10 million. 

"No one else has the enterprise-strength that Avaya has, and we signed over 1,600 new customers."
Avaya also experienced a lot of growth on the cloud front, a notion I will explore further in this report. 
Avaya Experiences Explosive Cloud Growth 
Roughly a year ago – Avaya presented Avaya OneCloud to the world. It was the start of a new journey for the cloud communications provider; it helped boost revenue for Avaya to the tune of $530 million. 
Avaya finished the year up 177%, thanks to the offering. The technology assists Avaya customers like Wipro leverage; a global information technology company, work to create a differing kind of customer experience, effectively nixing many of the silos between the customer and employee experience. 
Wipro has 17,500 users and 3,500 agents as part of its cloud and automation who leverage the technology to automate tasks in the cloud for greater productivity.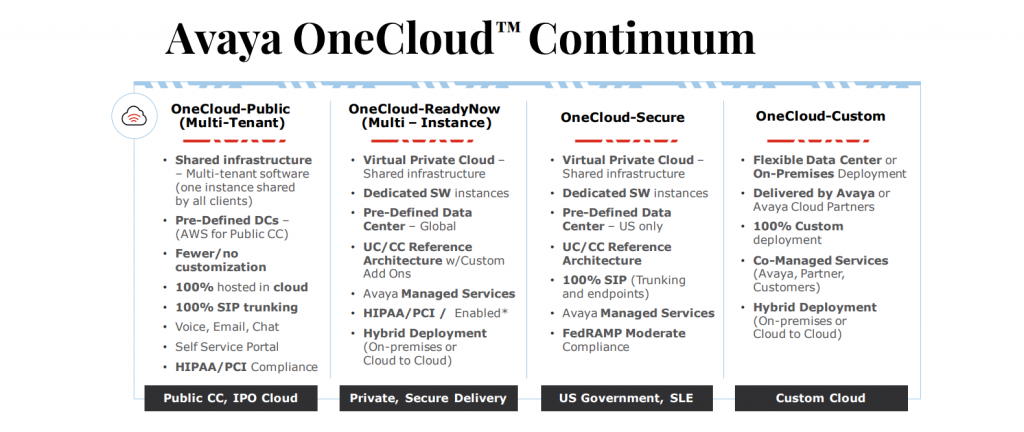 There is also Amtrak; which came to Avaya wanting to provide customers with the ability to use things like voice biometrics to authenticate customers when they call. According to Avaya, Amtrack reduced fraud losses by 50%. 
Today, Avaya is the (most sizable) pure-play communications and collaboration provider in the world – noting that it supplies over 90% of the Fortune 100 companies with its Avaya OneCloud AI-powered experience platform of CCaaS, UCaaS, and CPaaS solutions.
It has over 144 million users in 190 countries. What is fundamental to note here is that there are only 195 (official) countries on the planet. 
Avaya's Fiscal Year by Number and Customer
Software and services revenue made up nearly 90% of total sales, with two-thirds coming from recurring revenue and 1,700 new customers in the last quarter.   
Chirico said that he expects that growth to continue, with revenue expected to reach between two and five percent growth. Cash, also expected to flow – from operations, which he anticipates will reach between seven and nine percent ARR. 
Having grown in nearly every industry imaginable, Avaya picked up (healthcare) giants like Humana in Q4. In financial services, Avaya added some heavy hitters to its roster of customers, too. American Express, Citigroup, and Lloyds Banking Group are officially Avaya customers. 
Apple, GE, AT&T, Walmart, several universities, and government entities; also selected Avaya to power comms. More than 4,800 educational institutions leverage Avaya for communications, and governments in 40 countries rely on Avaya. Hinting at the force that Avaya is, Chirico made a noteworthy remark, and certainly something that indicates how much Avaya evolved:
"We have over 100 million UC lines and over six million contact center; users. More than 5,800 healthcare institutions around the world rely on Avaya, and we have more than 4,700 channel partners globally."
As of 2021, 86% of Fortune's 'Most Admired Companies' leverage Avaya, with the company also powering 90% of Fortune 100 firms and over half of those on the Fortune 500 list.
A Look ahead at Avaya ENGAGE 2021 
The onset of the pandemic would mean that Avaya ENGAGE would become a digital event. But this year, that is all set to change. ENGAGE will take on a hybrid form in 2021, with some attendees physically in attendance; while others will attend from the comfort of their homes. 
The four-day event, held December 12-15, is set for sunny Orlando, Florida. 
"This is the first chance for us to get together in person in almost two years. So first and foremost, this is a chance to meet face to face with our partners and customers and reengage, reconnect."
With a shift to what many experts call the 'experience economy,' meaning companies that offer superior experiences will ultimately come out on top – Avaya hopes to capitalize on this at an event where it historically made some of its most sizable news announcements. 
So, you can be sure to expect some of those. I asked Chirico if he could give me (any) hints at any upcoming partnership announcements in UCaaS or CCaaS. His response: 
"A number of our key partners will be joining us, companies like Google, Nuance, Verint, and others – and we will be providing updates on the value our partner ecosystem is delivering by leveraging the Avaya OneCloud platform." 
The Avaya of 2022 and Beyond
Ok, time to go back to a topic I briefly touched on earlier, creating better experiences for employees and customers. While the concept is not a new one, Chirico notes that there is an even greater emphasis put on it thanks to the pandemic. 
"It is all about the Experience Economy."
According to Chirico, the challenge for enterprises, especially over the past 20+ months; meeting the needs of their customers. 
"It even reinforced the requirement for new ways to deliver technology capabilities to enterprise customers. It, even more, underscores the value of the Avaya composable platform."
A customer's ability to pick and choose the best parts of a system, otherwise known as composability – provides companies with the flexibility, agility, and speed to tailor communications and collaboration solutions around specific business use cases. 
Chirico said that this idea should remain an area of continued emphasis for Avaya, noting: 
"We will continue to focus on delivering this to our global enterprise customers in whatever deployment model they choose, be that cloud, private cloud, hybrid, or even on-premise."
On the topic of acquisitions, I had to ask; because everyone has done it as of late. As of now; it seems that Avaya has no plans to acquire any companies, at least for now. 
"It's a hot space, and we have seen a lot of consolidation and strategic combinations in the market, which underscores the value that the market has placed on communications and collaboration solutions."
Such solutions, he said, have only gotten amplified as digital transformation initiatives have accelerated.  
"I think that it is also important to note that others in the market are moving to exactly where Avaya is already – and looking to fortify their portfolios."
For reference, Avaya's OneCloud platform encompasses UC and CC, CPaaS, and more, with public cloud, private cloud, hybrid cloud capabilities. 
"Others do not have this breadth and depth we do. That paired with our global scale both serve as significant differentiators for our large and growing enterprise customer base."
It seems that at least for now that Avaya will continue to focus on developing its technology and focus on "experiences that matter," picking the brains of its own developers, with no plans for a strategic acquisition in the near or distant future.