Work management platform developers, Asana recently announced a suite of features and integrations that will enable its users to "Better support and empower their teams with alignment and focus." This is; according to Alex Hood, Chief Product Officer, Asana, who I recently sat down with to interview.  
I had hoped to (find out) more about the firm's latest offerings, which come in three forms. There are My Goals: which helps users identify any potential setbacks that may occur in real-time. 
Automatic Progress Updates, which do what they say they do. And two new integrations that should help users stay focused on tasks, leveraging Google and Figma.  Citing, Asana's Anatomy of Work Index, Hood told me that excessive meetings and unclear priorities remain:
"The top culprits crushing productivity and motivation, with individuals wasting six working weeks each year on duplicated work and unnecessary meetings." 
He noted that as a result, employees experience burnout. "And leaders are (at a loss) on how to keep teams inspired to do the work that drives business results." Tackling this issue remained central (among others) for Asana during its most recent rollout of features and integrations. 
'My Goals,' Looks to Align Hybrid Workers
Hood told me that there was a ton of inspiration for Asana's latest release. The Pandemic and the inevitable digital transformation that most companies experienced following are a mere trifle of the equation. 
He believes that the rest lies in the nuance between a few complex contributing factors: which range from; the number of new complexities and distractions that millions of workers now face. Hood continued, reflecting on the changing nature of the workplace and what it now means for many. 
There are hybrid teams in record numbers, more so now than ever before. And that shows in the kinds of tools and tasks they must now take on. Again, Hood: 
"The nature of work has changed so much since the Pandemic: and we are all working in new ways. Individual contributors are trying to figure out how to best contribute to overarching company goals, and managers are figuring out new muscles regarding new management styles." 
He went on to tell me that Asana's overarching goal – a plan that involves reducing the 60 percent of workers who say they spend time doing work about work. That amounts to a billion and a quarter of workers who say they: spend time performing repetitive tasks.
These individuals could otherwise be engaged in high-level workplace tasks, therefore; increasing metrics like productivity in the workplace. And according to Asana, nearly one-in-three employees do not understand how their work contributes to larger company goals – a number rises to 45% among Gen Z workers.
Now "My Goals" is natively built in the Asana work management platform. It offers users the use of a single system to set specific goals and objectives and coordinate all the that will lead to achieving said goals. Organizations and individuals can set goals based on the parameters they choose.
And managers can go a step farther, garnering intelligence from 'My Goals' to coach and guide teams as they see fit, based on personalized employee data.  
Looking to Reduce Micromanagement
In a (small) yet notable rollout: Automatic Progress Updates extend real-time insights on company-wide initiatives, "Drastically reducing the need for time-consuming status meetings and trust-reducing micromanagement," Hood told me. 
We have all had one of those "It could have been an email, meetings." With the introduction of microfeatures "Celebrations and Appreciations" located within 'My Goals,' workers can obtain personal recognition for individual and team achievements that contribute to organizational goals. 
Asana users now have another tool in their toolkit the company hopes will work to reduce the one-in-three workers who say they do not understand how they contribute to enterprise-wide goals.
Getting Workplace Priorities in Order with Asana 
Get your priorities together. Take them to the Priority Museum if you have to. I hear you can focus better there. Rick and Morty double entendres aside: it can be hard to prioritize in the workplace.
Employees spend a lot of time on repetitive tasks. And I do mean a lot. According to Asana, today, "work about work" or the repetitive tasks that take away from meaningful strategy and outcomes – comprises over half of employees' time." The solution is to reduce "work about work" and let employees focus on the highest impact tasks.
Doing this can ensure that teams are more efficient and engaged. Now, Asana users have access to new mobile and desktop focus features that effectively pause notifications for a set amount of time of their choosing. 
Keeping Dispurssed Teams Connected
Asana already has a partner ecosystem of over 260 apps/integrations. These are the kinds of tools that help managers do a lot and (happen to) fuel some fairly innovative work practices. Asana users can now leverage advanced whiteboarding technology built for brainstorming sessions.
Enter integration with Figma, which connects FigJam boards to tasks in Asana. 
The advanced technology was developed for modern business collaboration: and can facilitate everything from diagramming to design sprints, to mood boards, brainstorming sessions, team meaning, and general play, an action ever-increasing in importance in the workplace.
Learn more about FigJam:
Asana already has integrations with the popular team collaboration tool Microsoft Teams, Adobe Creative Cloud, Salesforce, Azure Active Directory, etc. Its users can today access Asana for Google Chat and Spaces, which helps convert unstructured conversations or messages into actionable Asana tasks.
The best part -users never have to leave the comfort of Google Chat. Leveraging Asana's redesigned Google Drive integration, Asana users can soon also link Google Docs, Sheets, and Slides to applicable tasks. Users can even receive file comment notifications directly from within Asana for more synchronous work.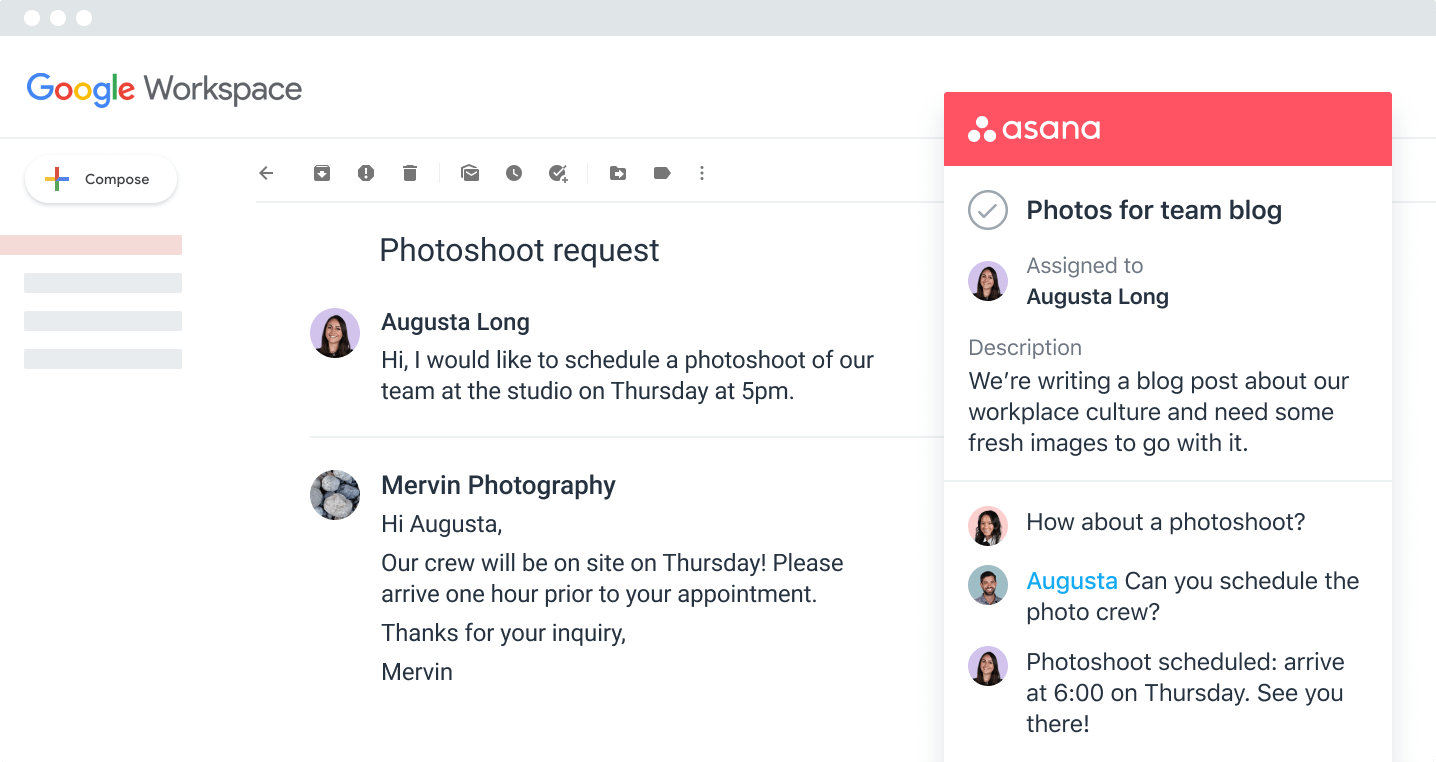 I asked Hood what was next for Asana, and he told me: inserting more applications of AI (artificial intelligence) into the Asana platform. The objective, of course, would be to diminish annoying aspects of work like redundant tasks and to lend users more insight into all the valuable workplace data they gain via the work management platform in the first place. 
Stay tuned for more UCC industry news and headlines, and check out our special coverage of next week's Cisco Live developer conference. I will be live and direct from Las Vegas, Nevada, reporting from my first in-person event in over two years. It still feels weird to say.