Sometimes, a wired Ethernet connection isn't readily available in your workspace, so what do you do when you want to connect your business VoIP phones? For many years, wireless internet was considered a poor option for VoIP thanks to a variety of factors. With new technologies like Wi-Fi 6, which has speeds of up to 9.6 Gbps (gigabytes per second) and has the capacity for four times the number of devices as previous generations, it's becoming more viable.
What is a Wi-Fi VoIP Phone?
A Wi-Fi VoIP phone doesn't require an Ethernet connection to make calls to connect to the internet to make and receive calls. Like other wireless internet-enabled devices, these phones have onboard circuitry that allows them to pick up and broadcast the radio signals needed for wireless internet communications using Wifi connectivity. 
Like standard IP phones, a wireless VoIP phone comes with an LCD display for information and conferencing and can support a headset. These work more like a computer than an analog device because the phone has to decode audio codecs, manage things like business texting and video conferencing, and needs firmware and software updates to maintain security and the user experience.
Because they are so much more complex than traditional phones, modern manufacturers have included more powerful operating systems in modern design. For example, it's not uncommon to find Android-powered Wi-Fi VoIP phones on the market today. These provide traditional internet phone benefits and also grant access to the Android ecosystem of apps.
Benefits of a Wi-Fi VoIP Phone
When we last spoke about these types of phones, we declared the technology as inferior to wired phones. Fortunately, Wifi has come far in the last seven years, and now these devices are much more viable. Today, with more wireless devices appearing, wireless internet systems are much more capable of handling the connection payload. While the dependability of a wired connection will probably be better for most businesses, businesses with limited wiring and strong wireless internet can use one of these devices for business communications.
So, does a wireless VoIP phone make sense for your business?
Well, this is going to depend on your workstation setup, and a few factors:
What type of router do you have?

How many simultaneous connections can it manage?
Running your VoIP over a cordless internet signal is going to require some up-to-date hardware. Older hardware with limited device connectivity is going to not only limit the number of phones on the network, but it will also degrade the quality of the calls made.
The ideal environment for one of these devices would be when you have a mobile workforce. For example, you have a receptionist that is based at home, home-schooling his or her kids while class is out. With a borrowed Wi-Fi phone, he or she connects and uses the more portable phone to receive calls for the company. All features of a wired SIP phone are available; calls are transferred, and messages are recorded as if done in-office. 
Additionally, these phones aren't limited to wireless internet – most have Ethernet connections. This is useful for businesses that are starting out small but are steadily growing. As you scale, you can use the same hardware you began with – just plug in when more Ethernet connections are available. This also allows for you to have employees always be connected if they change desks. 
Top 5 Wi-Fi VoIP Phones
Fortunately, in the broader world of VoIP hardware, there are several wireless phones that you can use to keep your workstation wirelessly connected. Many of these come from industry behemoths like Grandstream and Cisco. Let's take a look at 5 of the best: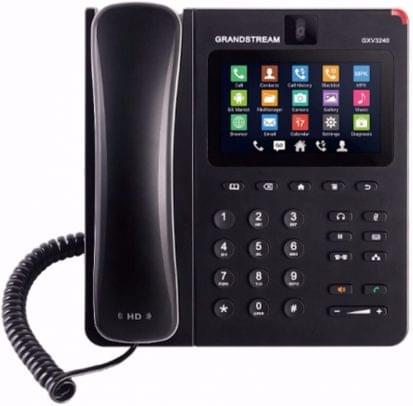 Key Features:
Connects Up to 6 accounts

6-way voice conferencing

3-way video conferencing

Integrated Wi-Fi

1-megapixel camera

Bluetooth enabled

Free IP VideoTalk account

Echo cancellation
This phone has a bevy of features for those looking for a fuller experience. For example, the IP phone's UI is Android, so you download all of the apps you need for communication, which include Google Voice, Skype, etc. The display is a capacitive touchscreen, so while there's no multi-touch, it's fairly easy to select from apps or even search on the built-in web browser. It's also capable of connecting up to six lines with up to six SIP accounts.
Pros

Cons

4.3-inch capacitive screen

HD wideband audio

The availability of the Google Play store

No multi-touch on the display

The CPU gets bogged down easily

SMS messaging isn't available for some providers on this device
Ideal for a first phone?
Yes, it offers clear HD audio options, and it has a user-friendly interface that is simple to understand.
Price: $70 via Amazon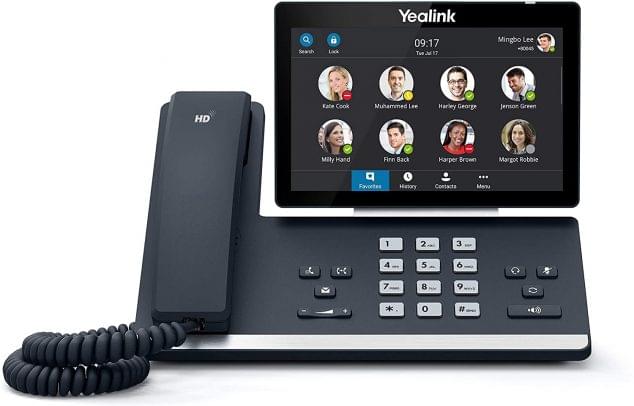 Key Features:
Enriched HD video calling

HD audio

Android 5.1.1 grants access to thousands of apps

Built-in web browsing

Two-megapixel onboard video camera

Bluetooth 4.0

An optional

version

designed for Microsoft Teams

Built-in calendar 

Fully adjustable screen
The standout feature of this Yealink product is its very large screen that can easily be used for video conferencing. As another Android-based Wi-Fi VoIP phone, this device grants access to the hundreds of thousands of apps on the Play Store. This device uses an Opus audio codec that delivers HD sound during VoIP calls. For video conferencing, the IP phone's screen is HD, and there's a built-in camera for two-way video.
Pros

Cons

Massive seven-inch screen

Two-megapixel HD camera

Easy access to Android apps

The screen is vulnerable to glare

It's a little large for some desk spaces

You can't update the firmware
Ideal for a first phone?
Yes, this is a suitable device for those first learning to use IP phones. It provides access to thousands of apps, and the screen is perfect for video conferencing. You can also manually install the firmware that allows it to work with Microsoft Teams.
Price: $279 via Amazon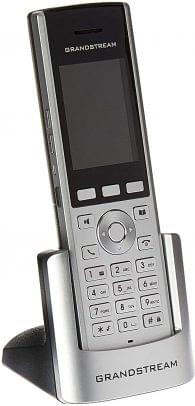 Key Features:
Supports up to 2 SIP accounts

Built-in accelerometer

7.5 hours of talk time

HD voice support

Dual microphone design

Configurable buttons

Bluetooth support

Noise shield technology
SMBs with a need for multiple wireless IP phones will want to consider the Grandstream WP820 because of its cost-effectiveness. At only about $140, this is one of the cheapest options in this guide. It also has a small form factor despite having some decent features. In size and shape, this device is similar to some dect phones; it doesn't connect physically to the docking base station, so it can be used to make phone calls freely around the office.
When not in use, the cordless phone has a 15-hour life, and it supports both wireless headsets and standard headsets using a 3.5mm connector. It easily switches between two lines, and you can transfer, hold, and mute active calls.
Pros

Cons

Backlit screen

High definition sound

Connects up to two lines

No backlit keypad

Lower sound quality sound via earpiece

The buttons sometimes are hard to press
Ideal for a first phone?
Yes, it's a good first VoIP phone to consider for those who need daily mobility. It has all of the features that you need, it's relatively cheap, and using it is straightforward.
Price: $120 via Amazon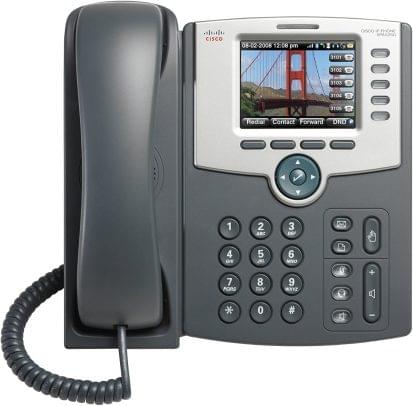 Key Features:
Support for Wi-FI or Ethernet 

Power over Ethernet (PoE)

Video streaming over the color display

MP3 playback

Video camera support

LCD shutoff to save battery

Integration with mobile phones

Built-in AnyConnect Secure Sockets Layer (SSL) VPN

Compatible with Cisco's WVC2300 security camera
The standout feature of the Cisco SPA525G2 is its mobile-friendliness. For whatever reason, some Android-compatible phones do not work that well with Smartphones using the same OS. This device, on the other hand, allows you to pass calls to your mobile device and share contacts quickly. The LCD on the top is also fairly vivid, and while it doesn't have the highest resolution, videos streamed to it are usually pretty clear. Overall, this is definitely a phone to consider if you want relatively simple features that any of your employees can learn quickly.
Pros

Cons

Support for up to five lines

Support for multiple, concurrent VoIP providers

USB for charging your smart device

The display is only 320 x 240

The app ecosystem is limited

The buttons stick
Ideal for a first phone?
Yes, this is an excellent beginner phone for those that want connectivity over wireless networks. It doesn't have a lot of complexity, but it is inexpensive and features Bluetooth, SIP, and has ports for when you have available jacks.
Price: $179.95 via Amazon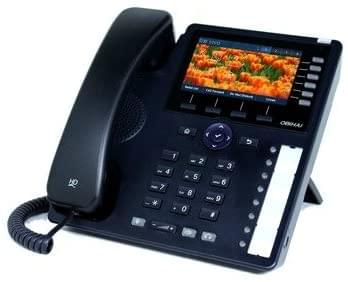 Key Features:
Supports up to 24 lines

Managed remotely using OBiTALK's cloud management portal

Up to 24 simultaneous lines

Large color display

8 programmable keys

Bluetooth enabled

Built-in five-party conference bridge

Class D audio equalizer on the speakerphone
The last phone that we are going to look at is one that is designed for offices that may need to have several agents on the phone at once. It has 24 lines without sacrificing the call quality for each. Voice calls will be offered in high-definition, so as long as the connection is stable, the quality of your calls will be exceptional. In fact, this conference phone even has an amplifier built into it that helps brighten the sound and increase the quality of the calls that you make.
Pros

Cons

Small footprint

Consistent HD sound quality 

Excellent echo cancellation 

The web interface is confusing to navigate

Heavy configure needs

Wireless internet connections decrease sound quality

 
Ideal for a first phone?
Maybe, it's an ideal option for businesses to consider, but it does take some effort for employees to learn to navigate the system. Also, if you are planning on using the phone more than 40 feet from the internet hotspot, the audio connection can become spotty at times.
Price: $120 via Amazon
Should Your Business Consider a Wi-Fi Phone?
How advanced is your router? Are there limited options for hardwired connectivity? How secure is your Wi-Fi? All of these are questions that you should ask before considering a VoIP phone with Wi-Fi connectivity. Of course, with remote work being more popular, you may want to consider a phone system like this if you want your employees to stay connected.
Still, there are significant potential drawbacks. Here are a couple that you will need to consider before settling on a Wi-Fi-only system:
Wired connections tend to be more stable. Ethernet speeds are set by an ISP, but wireless quality is affected by a variety of factors that include the number of devices on the connection and even

office construction

.

At best, Wi-Fi 6 provides 9.6 Gbps, and Ethernet connections provide greater than 10 Gbps. This means that even the fastest Wi-Fi will lag behind wired in terms of speed.
If you're looking to implement a wired VoIP system, we recommend choosing one of the devices featured in our guide to the VoIP Phones for Business. We cover some of the top brands and show you some of the pros and cons of each device. 
Looking for a provider to go with your new VoIP endpoints? Check out our guides to the top hosted PBX providers so that you can find the one that best meets your business needs.