Traditional landline phones still implore the use of wiring and hardware to establish connections. In doing this, it is often hard to differentiate where line and network ownership begins and ends. Exactly how much of the network belongs to the company, and how much belongs to the customer? The way to discern this difference is by using the Demarcation Point.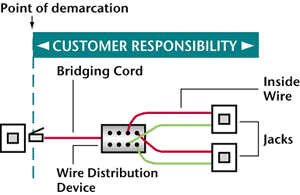 The Demarcation Point is the physical point where the public network ends and the private network of a customer begins. Simply put, the Demarcation Point, or Demarc, marks the point where the customer's network interfaces with the network owned by another company or additional party. While the locational definition of this point can vary depending on region, the Demarc is typically located at the point where the cable physically enters a building, or the customer's premises.
Even defined, it can be difficult to discern the need of this point; however, the Demarc has a number of applications in its use. The Demarcation Point has user accessible jacks that connect to telephone networks, as well as small loops of telephone cords that connect to jacks by modular connectors. In doing this, Demarcs protect the wiring and connected equipment in a customer's home from surges that can cause internal or external damage. Additionally, it also allows customers to disconnect from the provider's wiring to more accurately troubleshoot in the event of a problem.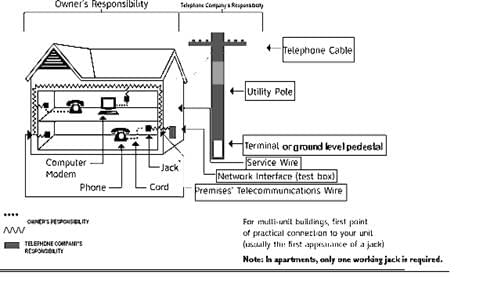 Where residencies may have junction boxes located outside their homes, the box can sometimes be found in the basement. Additionally, businesses may have a large punch down block located inside the building itself. Either way, the Demarc dictates the point at which the service provider's maintenance responsibility ends, and where the customer's responsibility begins; however, it is important to note that the maintenance of the Demarc itself is still the responsibility of the company/provider.
While location again dictates the actual point of the Demarc, the Federal Communications Commission defines the Demarc as being a device used to safely connect third party telephone customer premises equipment and wiring with public switched telephone networks. Though the Demarcation Point offers a host of applications and benefits, its greatest use is in allotting customers the opportunity to choose a phone system from a wide array of companies and manufacturers.
The Demarcation Point varies depending on residency (home, apartment building, townhouse, business, etc.); however, the location and the function of the point are typically the same.
Related Articles
– Hosted, Managed, and on-Premises PBX
– What Is DECT?
– MMS/SMS & VoIP