Business Voice over IP solutions are convenient, allow for a greater level of flexibility, and make it much easier for customers and team members to connect to each other.
Here, we'll compare two of the top business communication software options: Nextiva and Vonage.
Read on for a head-to-head comparison of Vonage vs Nextiva's features, pricing and plans, and user experience, with a clear victor declared at the end of each section.
Jump to ↓
Vonage vs Nextiva: A Brief Overview
| | | |
| --- | --- | --- |
| | Nextiva | Vonage |
| Price Range | 4 paid plans ranging in price from $17.95/user per month to $45.95/user per month | 3 ranging in price from $19.99/line per month to $39.99/line per month |
| Top Features | The Cospace collaboration tool, advanced sales and customer service capabilities | Advanced call recording and storage, AI Conversation Analyzer |
| What Needs Improvement | Very limited third-party integrations | Plans are expensive, but lacking several essential features that must be purchased separately |
| Best For | Remote/blended teams that need a truly "all-in-one" business communications platform, including a solution that provides advanced sales and customer support automation/analytics | Companies that primarily work in the office, or that have a blended team, and need more customizable, a la carte communication features which they can increase as their business grows |
What is Nextiva?
Nextiva is a cloud-based business phone and communication system that combines business VoIP, video meetings, online faxing, and team collaboration capabilities into a single desktop app, called Nextiva ONE.
Nextiva's unified voice, video, and team chat platform is available for use on desktop computers and mobile devices.
Depending on the plan chosen, Nextiva also offers Customer Relationship Management (CRM) features and integration, as well as sales and service management via NextOS.
Nextiva's main goal is to provide omnichannel communication, task automation, customer analytics, service management, and sales data into its all-in-one platform.
It helps to cut down on busywork to increase productivity and sales, it streamlines internal and external communication, and it provides scalable solutions for teams of all size.
What is Vonage?
Vonage Business Communications (VBC) is a cloud-based (Unified Communications as a Service) UCaaS platform offering voice calls, SMS text messaging, team chat, online faxing, and video communications in a centralized interface.
(Note that though Vonage offers singular communication APIs as well, this piece will focus on the UCaaS system.)
Users can communicate via desktop softphone and mobile applications, as well as via Vonage's compatible traditional desk phones.
Vonage's goal is to streamline internal and external communication while offering extensive integration with existing third-party tools and highly scalable plans.
Nextiva vs Vonage: Head-to-Head Feature Comparison
Features like VoIP phone service, video and audio conferencing, and team chat messaging are essential functionalities of all top business phone services.
Below, we'll summarize and compare the most important features that both Nextiva and Vonage offer and declare a winner in this head-to-head feature standoff.
Business Phone Systems
Nextiva offers a cloud-based VoIP phone system with unlimited calls nationwide, online faxing, and SMS texting.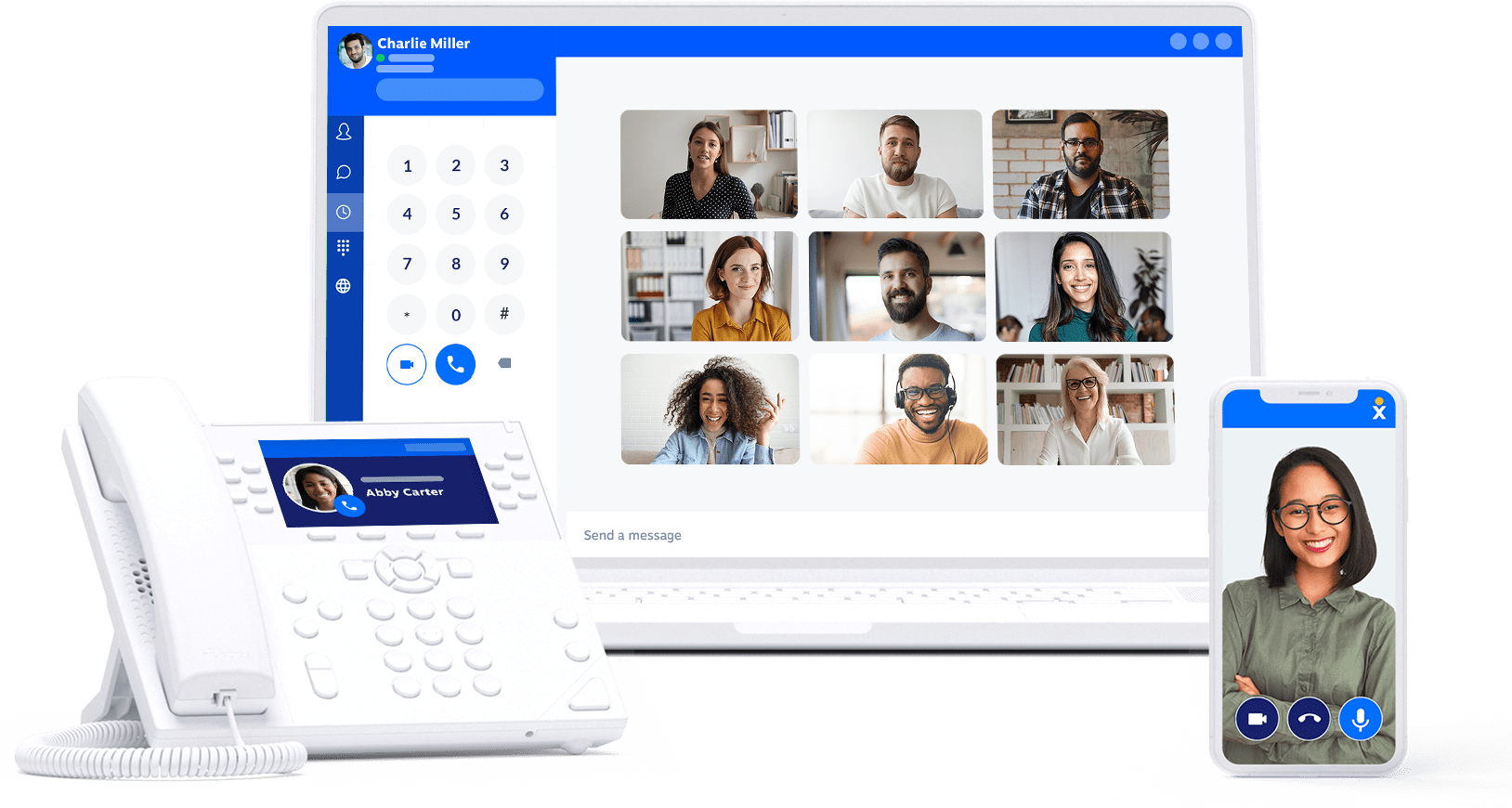 Each Nextiva plan comes with one local phone number and one toll-free number, and users can port in their existing numbers. Calls can be made in the mobile app, the desktop softphone app, or through compatible desktop IP phones from Nextiva itself, Polycom, Cisco, and more. Here are some of Nextiva's most popular phones: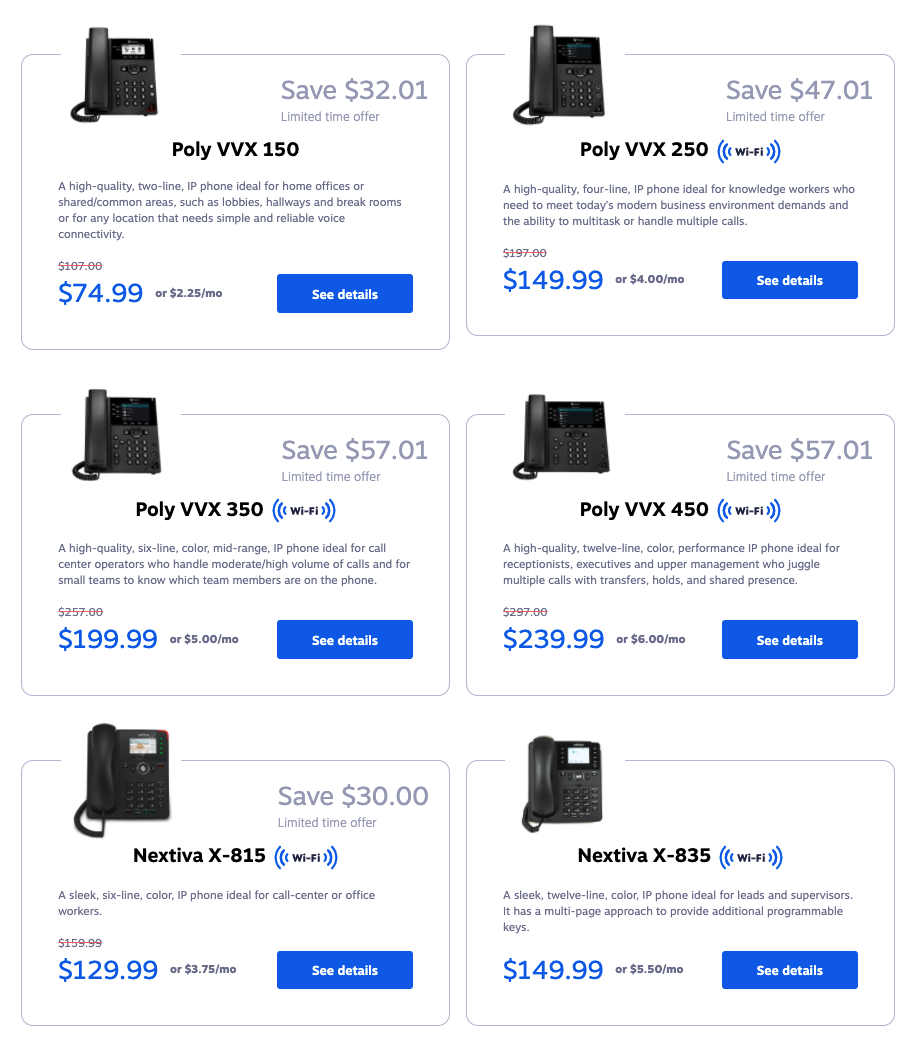 One of Nextiva's top business phone features is its call flow builder, which was recently updated in April of 2021.
It lets users record custom greetings or IVR menu announcements with specific questions or information that will help to direct a customer's call to the most relevant department or representative. Admins can also add multiple business phone numbers to each call flow, and determine the order in which each number should receive or be forwarded a call.
Calls can be forwarded to external numbers, specific ring groups, voicemail boxes, or additional call flow paths for greater flexibility. Admins can set call rules for specific times of the day (office hours vs. after-hours, for example) as well as for specific days of the week. These call flows can be optimized at any time via Nextiva's user-friendly drag-and-drop editing tool.
Another standout feature is Nextiva Call Pop, which uses Nextiva's built-in CRM features (or data from any integrated CRM platforms) to provide a data-filled screen pop of relevant caller information.
Often, this data includes caller contact information, order status/past purchases, their current satisfaction level, details about the most recent customer interaction, and more. This allows the agent to be as prepared as possible for the call, opt to accept or decline the call or choose to forward the call to a more qualified agent.
Additional Nextiva business phone features include:
Auto-attendants for improved customer self-service
Call notifications for VIP contacts, inbound calls, missed calls, new voicemails, etc.
Call queues with hold music and automated callbacks
Call parking, call blocking, call routing, caller ID, call screening, call forwarding, and do not disturb mode
Unlimited business texting and unlimited online faxing
Customized number extensions
Call pulling to swap devices in the middle of a conversation
Push to talk intercom system
Vonage's VoIP phone system comes with over 50 VoIP features, the majority of which focus on prioritizing high first call resolution rates and improving internal communication through its "Never Miss A Call" strategy.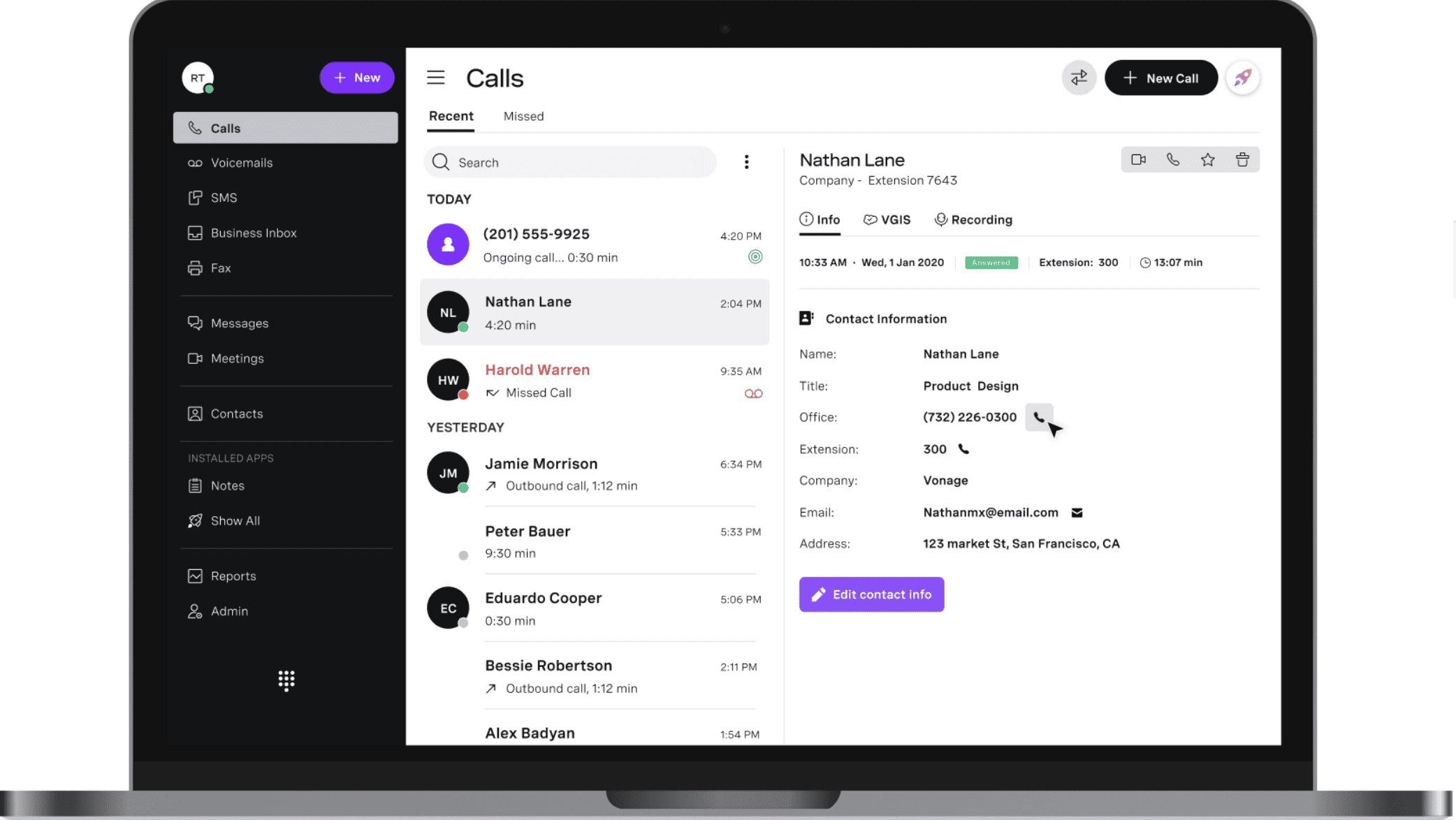 "Never Miss A Call" is a suite of standard mobility features included with every plan that, once enabled, put functionalities like Do Not Disturb, simultaneous ringing, Find Me/Follow Me, predetermined call routing and forwarding paths, and more into action with the click of a button. These call paths can be reconfigured at any time and can be adjusted on a per-agent or department-wide basis.
Like Nextiva, in addition to virtual telephony functionalities, Vonage users can communicate via virtual faxing and SMS texting — however, MMS texting is not available.
Vonage offers local, toll-free, and international numbers in addition to text message shortcodes. Each phone number is "quarantined" and tested before it is sold to prevent cross-talk or misdirected calls from previous owners.
In addition to the "Never Miss A Call" suite, Vonage's Call Announce tool is a standout feature.
When a customer calls into the IVR system and either speaks or keys in a response to phone prompts, those responses are automatically played to the agent in line to take the call. Details often include caller contact information, a brief summary of the issue, any related call tags, and more. This way, each agent can decide if their skill set would be helpful to the caller, or if they would be better served by another agent. They can then reject the call outright, send it to voicemail, or transfer it to another agent/department.
Other Vonage business phone features include:
Call monitoring, call barge, call whisper
Call spam shield
Call screening and Caller ID
Busy lamp field
Call flipping, parking, queuing, and call waiting
Click-to-call
Shared line appearance
Call blocking
Agent directory
IVR and virtual receptionist
Automatic call distributor
Winner: Given that the specific features a business needs will greatly influence the service provider they choose, this one is a draw.
Call Recording
Nextiva offers VoIP call recording with several recording policy options.
Admins can choose to automatically record every call, to pause and resume the recording during a call to protect sensitive information, record calls on-demand, or automatically have recorded calls deleted if they do not choose to save the recordings immediately after a call is completed.
Calls can be recorded on compatible hard phones, in the Nextiva mobile app, or using the Nextiva softphone.
Nextiva will store call recordings for up to 6 months, or users can opt to download the recordings onto their devices. Files are saved in HD to ensure excellent sound quality. Users can share recordings via email, allow for download or stream-only recording access, or download recordings to integrated storage solutions like Dropbox or Google Drive.
Best of all, Nextiva provides a searchable recording database, which lets users search stored recordings by date, duration, agent, caller, telephone number, and even by call direction (inbound vs. outbound.)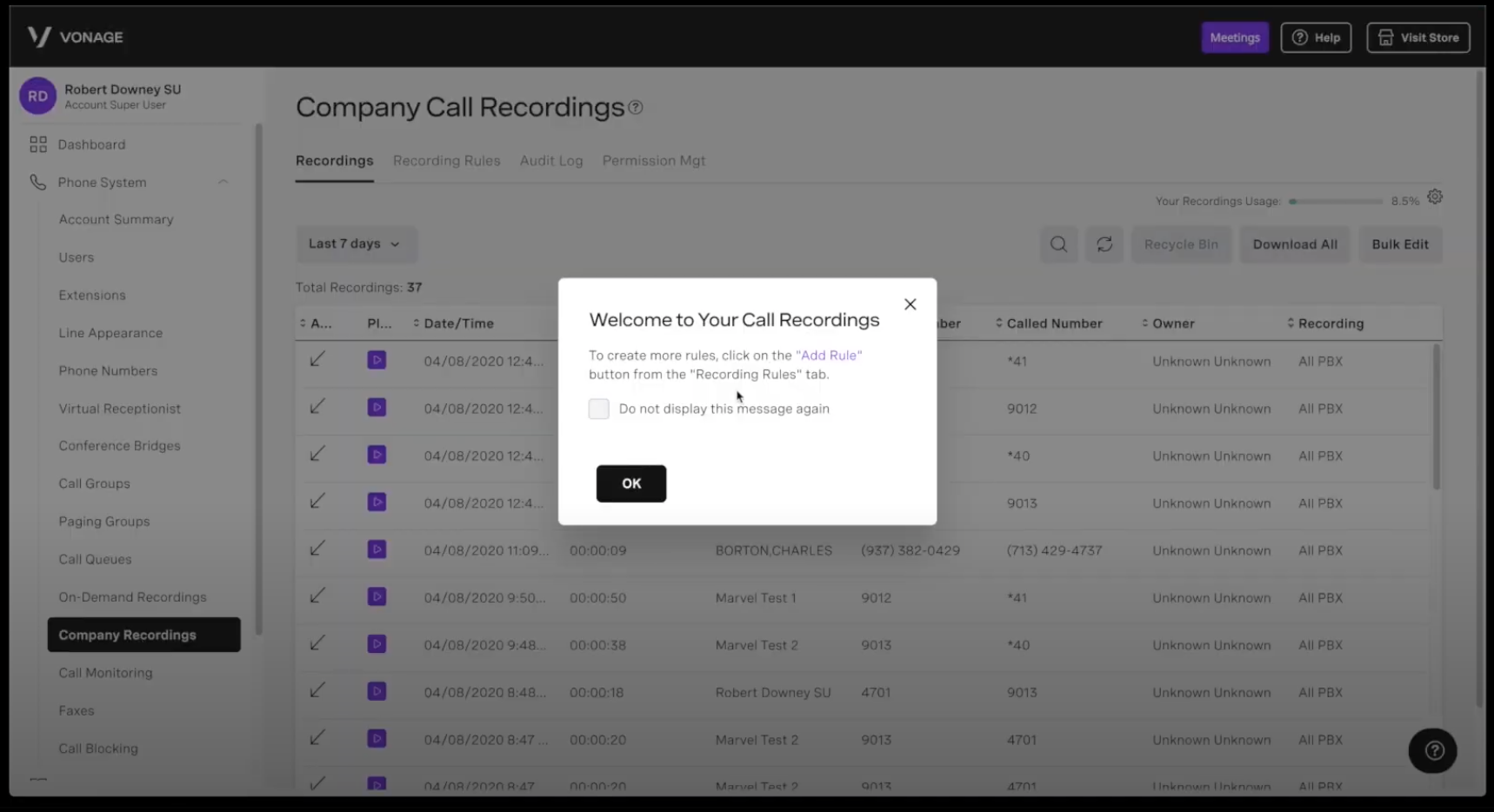 Vonage offers on-demand and company-wide automatic call and video meeting recording.
On-demand recording means that only admins can determine which calls will be recorded and that participants will be notified of the recording before it begins. On-demand recording stores 15 hours of audio/video per extension, and these recordings can be emailed to call participants then deleted directly after a meeting to ensure there is enough recording space.
Company-wide call recording from Vonage allows account managers to set company-wide automatic call recording rules.
For example, admins could opt to record only calls from specific phone numbers, only outbound calls, calls made by certain agents, or only calls made between set hours.
These recordings are shown on the main page of the Admin Portal for up to 7 days, and users can find specific recordings via the search bar. In addition to emailing or downloading these recordings, they can also be played directly in the Admin Portal.
Winner: Vonage provides more advanced recording and storage options, making it the winner here.
Voicemail
Nextiva offers traditional voicemail for its business phone system, in addition to voice-to-text, voice-to-email, voicemail forwarding, and customized voicemail greetings and notifications.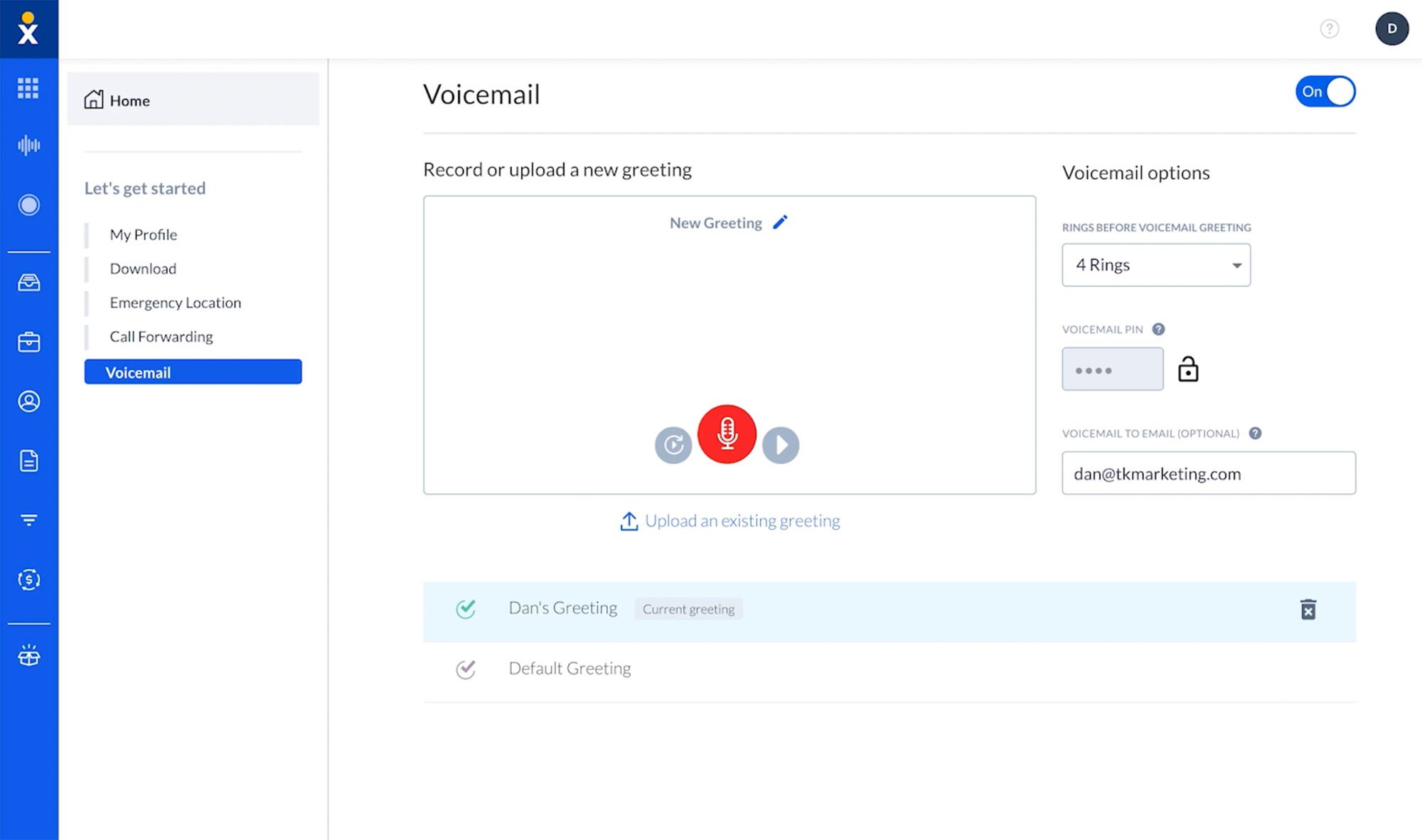 Nextiva can automatically transcribe a user's voicemail messages and send them to the recipient via SMS text message or in an email message using its NLP capabilities. In voicemail-to-email, users receive both a message transcript and an attached audio file in MP3 or WAV format. If the voicemail is sent via text message, users can quickly respond to the caller via SMS.
The number of voicemails a user currently has waiting is always displayed in the visual voicemail feature of the Nextiva app. Users can mark voicemails as heard, play them directly in the app or in the call logs, or save and delete voicemails. Users can return the call with one click or add the caller to their contacts if needed.
Finally, users can forward their voicemails to another extension or agent to share the content with them or so that another agent can return the call.

Vonage Visual Voicemail is accessible only as a paid add-on.
Like Nextiva, Vonage also automatically transcribes voice messages and sends them to an agent's email inbox, cell phone via an SMS text message, or both. Vonage also sends the voice message in the body of the email and as a separate audio file attachment, along with the caller's contact information.
Voicemails can also be forwarded to/from other email addresses and phone numbers, but are protected with a password PIN.
Unfortunately, Vonage does not provide a shared voice mailbox for call groups, even though each individual extension/agent will always have their own voicemail with customizable greetings or pre-recorded messages.
However, Vonage does let agents select the specific number of rings before a call is sent to voicemail.
Winner: Given that Vonage's voicemail is only accessible as an add-on and doesn't provide a shared inbox, Nextiva is the winner here.
Audio Conferencing
Nextiva allows for three-way calling and audio conference calls for up to 200 participants.
Participants can join Nextiva conference calls regardless of whether or not they are current Nextiva users.  Participants can dial into the conference via a mobile device, softphone, or VoIP desk phone. Conference calls are protected with a PIN password. Users can join conference calls in one click from the Nextiva desktop/mobile app.
Call moderator controls to include the ability to mute/unmute, lock/unlock, end the call, hear the number of participants and their names through a roll call, add new participants, and turn on "lecture mode" to automatically mute all participants except the moderator.
Vonage offers an audio conference bridge for up to 30 internal or external participants in a conference call. Conference calls can be accessed via a Direct Inward Dialing (DID) number with a PIN, or within the Vonage dashboard.
Note that, while audio-only conference calls are available for up to 100 users with Vonage, users will need to access Vonage Meetings, Vonage's video calling solution, as opposed to starting a conference call from their desk phones.
Between 3-5 conference call participants can meet within the Vonage mobile application or on a desk phone at any time without needing to start a new call.
Finally, in response to the COVID-19 pandemic, Vonage offers free audio and video conferencing for up to 16 participants for 90 days.
Winner: Though Vonage's free tool is tempting, the majority of businesses will want to have a higher participant cap for conference calls, which makes Nextiva the winner here.
Video Meetings
Nextiva video allows up to 250 internal and external participants — and up to 16 simultaneous video streams —  to meet via HD video for an unlimited amount of time.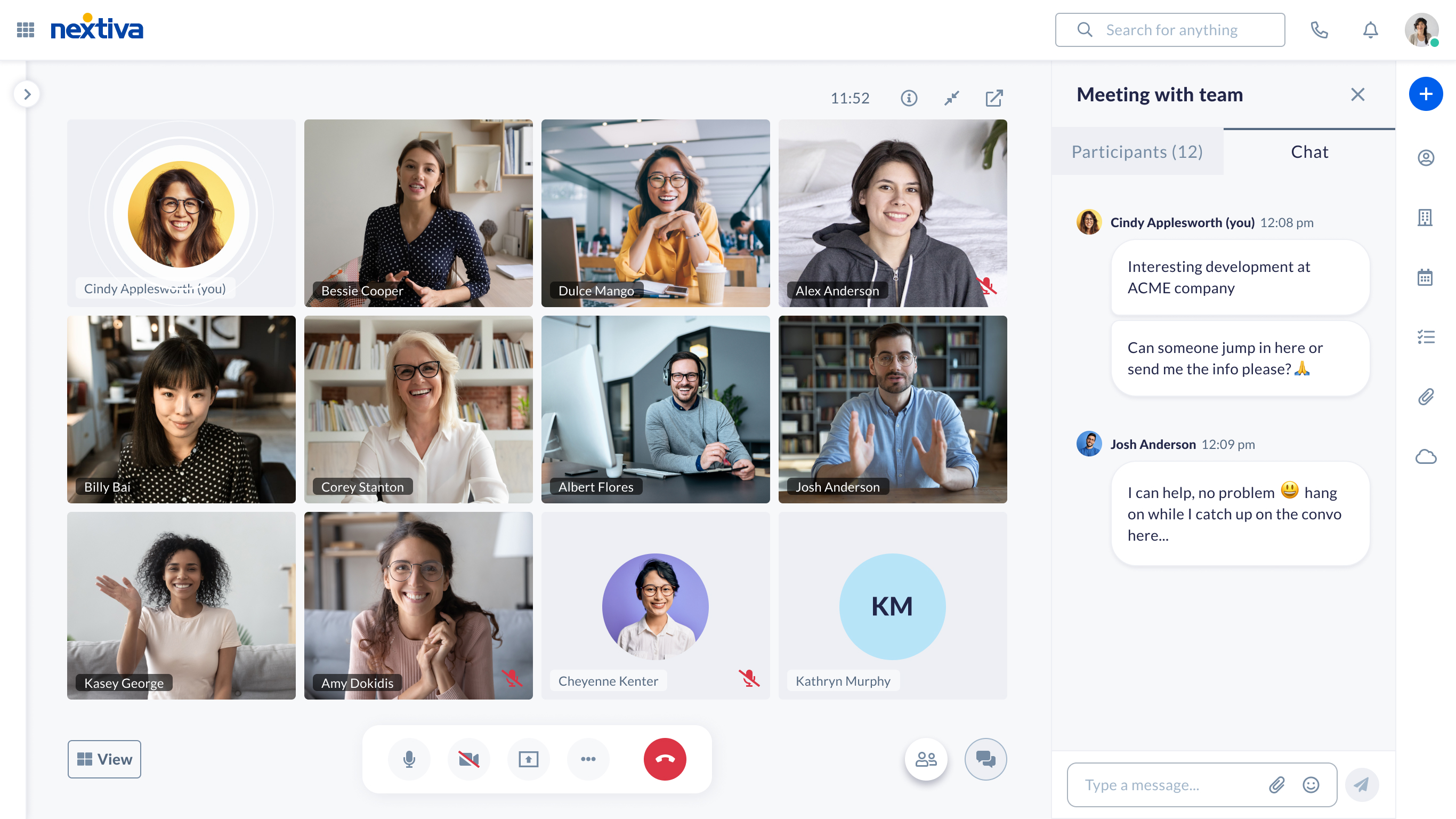 No download is required for external attendees.
Meetings can be started instantly within the Nextiva dashboard/application, or they can be pre-scheduled. Users can also automatically transition an audio phone call into a video call with one click.
Screen sharing, meeting recording, team chat messaging, and file sharing are also available in Nextiva video calls.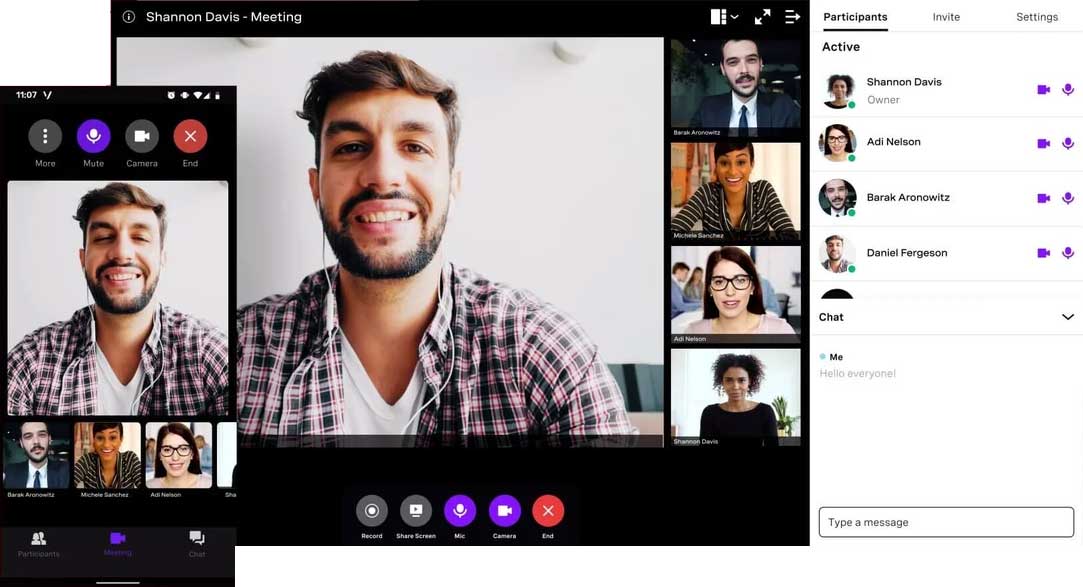 Vonage Meetings, which can be used on its own for free for 90 days or as a part of the Vonage Business Communications suite, lets up to 16 participants meet for an unlimited amount of time.
These attendees can be chosen from an existing contact list, invited via a URL or dial-in access phone number, or via an email invitation. These video meetings can be pre-scheduled or instantly started with one click, and participants can be added at any time.
Both full-screen sharing and application-only screening are possible, and an active speaker view helps to keep the focus. Participant Status lets users see what meeting attendees are up to, and Vonage automatically displays information from other communication channels (SMS, team chat, softphone, etc.) to individual users during meetings so they don't miss out on important notifications.
File sharing, host controls, team chat messaging, and saved chat message histories, as well as meeting locks are also available with Vonage video calls.
Winner: Vonage may have a smaller meeting cap, but features like user status updates and a singular communication interface including video calling mean it still has the upper hand here.
Team Collaboration
Nextiva's team collaboration product, Cospace, combines voice and video conferencing, screen sharing, team chat messaging, meeting recording, task management, scheduling, file sharing, and more into a single virtual workspace.
It's specially designed to replicate the in-office experience for remote and blended teams.
Users can share links, tag each other in channel-wide or private messages, create new public/private channels, and even invite external participants to collaborate with them in Cospace.
Meetings can also be scheduled in Cospace, and users will automatically receive reminders and updates about upcoming meetings Instant video/audio meetings are also available, as is a searchable database of files, tasks, past messages, and more.
Users can create, set deadlines for, assign, upload files related to, and update the status of tasks.
Cospace also provides its own native calendar feature or lets users integrate their preferred calendar app into the system.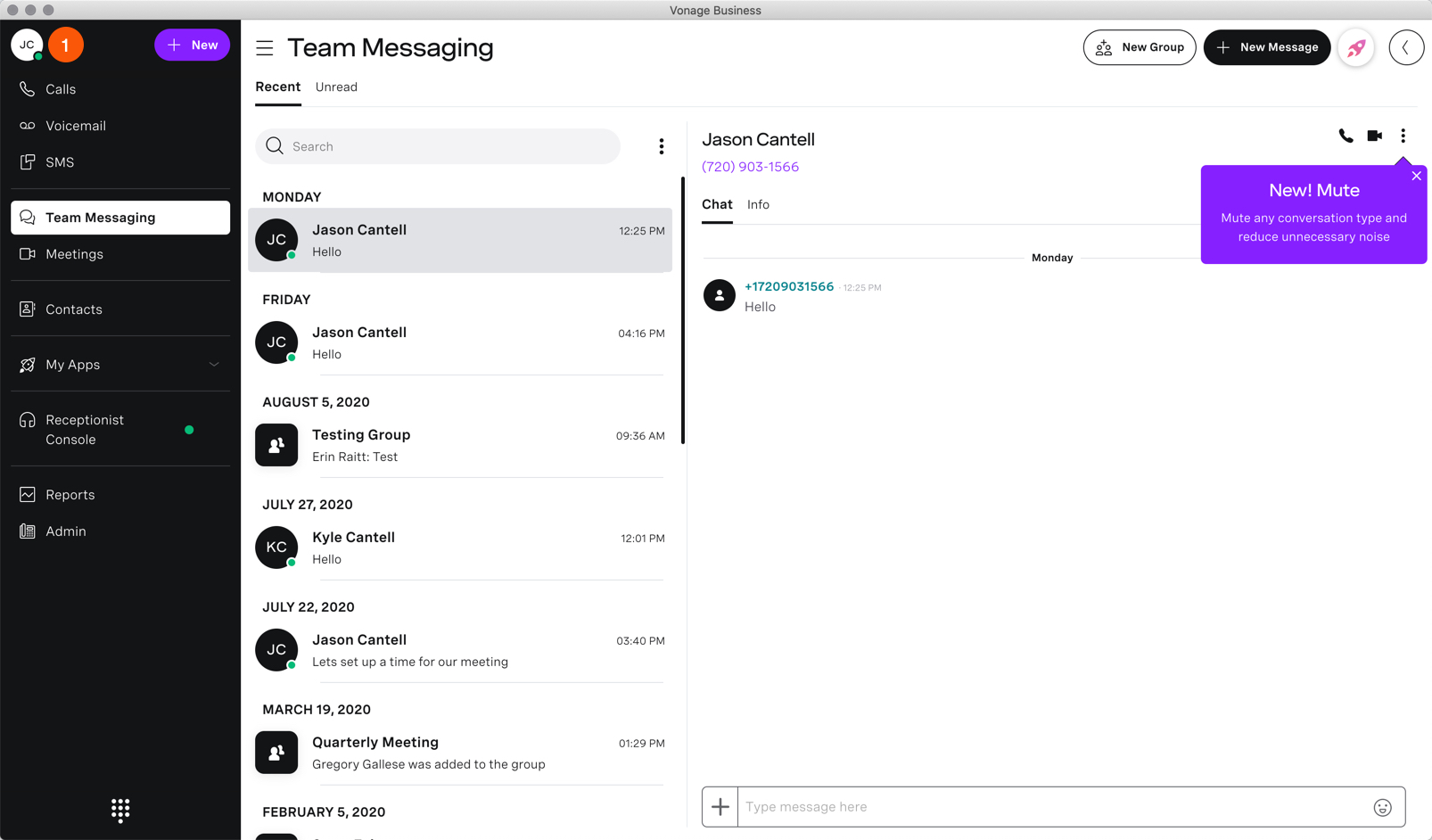 Vonage offers desktop and mobile team collaboration features accessible as a standalone team chat or within Vonate Meetings video calls.
Though basic features such as file sharing, user tagging, one-on-one and group messaging, channel creation, and message pinning are available, in order to access more advanced team collaboration features, Vonage users will need to utilize Amazon Chime.
Chime is included as a part of all Vonage plans at no additional cost.
Its features include calendar integration and meeting scheduling with G Suite and Microsoft Office, as well as file sharing and co-annotation of up to 50 MB per attachment.
Vonage users can, of course, also integrate their preferred team collaboration tools, such as Microsoft Teams or Slack, into their interface.
Winner: Nextiva, as its Cospace app is almost impossible to beat given its advanced features and overall ease of use.
Analytics and Reporting
Nextiva offers built-in business intelligence designed to decrease bottlenecks and optimize a company's sales/customer service departments.
Users have access to pre-built report templates, can customize their own reports, and can even filter and tag analytics according to user, location, date range, and more.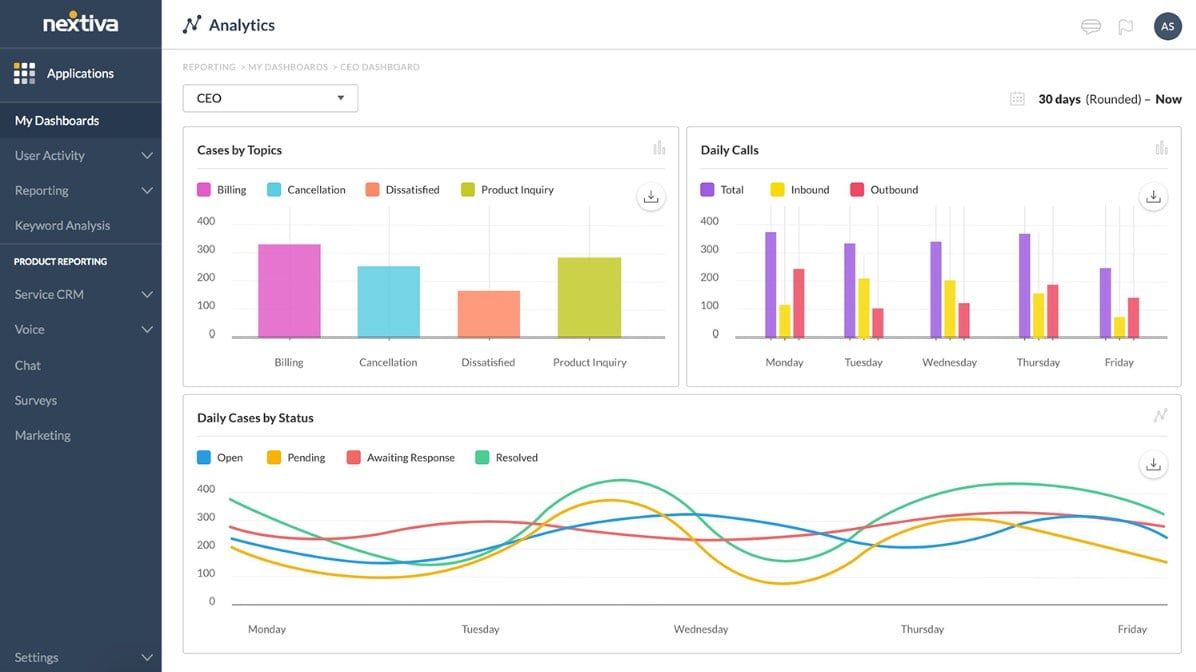 Call tracking data and additional analytics include:
Overall, departmental, and individual agent talk time
Inbound and outbound talk time
Number of toll-free calls, incoming/outgoing calls, local calls, etc.
Customer sentiment analysis
Trend analysis
Popular support/sales inquiries
Current case status analysis
Performance of marketing campaigns
Real-time activity and historical data
Missed calls, number of calls in queue, calls that went to voicemail, forwarded/transferred calls, etc.
Though Vonage also offers numerous pre-built report templates and advanced live/historical analytics, its real standout is the Conversation Analyzer AI tool.
Using NLP and speech analytics, Vonage provides detailed insight into the quality of support, resolution speed, common issues, and overall customer satisfaction levels.  It also automatically records and transcribes conversations, allowing admins to search via keyword to understand key trends and topics.
The Conversation Analyzer also works with a company's CRM solution, providing even deeper insights into customer behavior.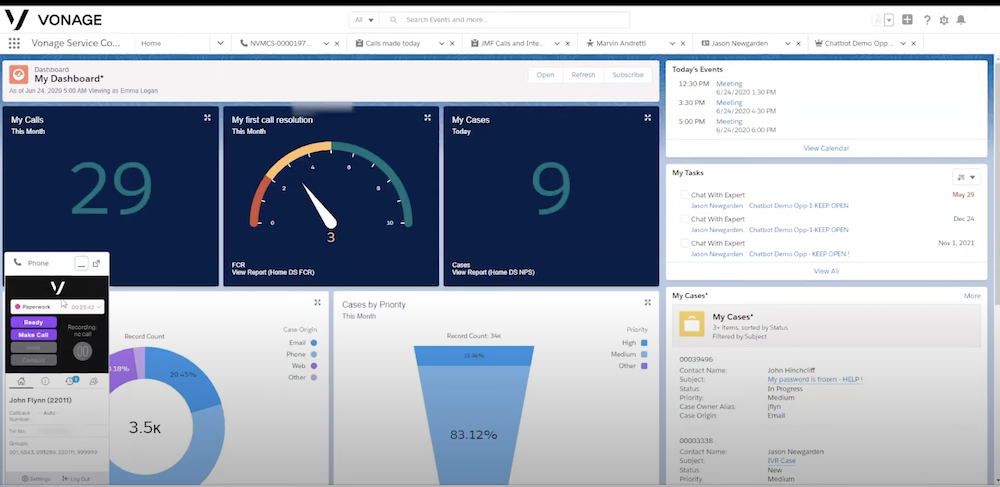 Another highlight is the Company Summary, which compares 3-18 months of data regarding:
Activity by extension, agent, ring groups, etc
Call disposition and direction
Call duration
Total number of calls
Number of calls that were answered, missed or went to voicemail
Most active and least active agents/groups
Call logs
This data can be sorted by agent, date range, topic/tag, and more.
Winner: Vonage's Conversation Analyzer and Company Summary, along with the fact that it displays up to 18 months of data, make it the winner here.
Third-Party Integrations
Nextiva third-party integrations vary according to the specific plan users select. Customizable APIs are also available, and top integrations include:
Zoho
Salesforce
HubSpot
Oracle
Zendesk
Microsoft Dynamics
GSuite and Microsoft 365
Lotus Notes
Vonage offers many more integrations than Nextiva does through its App Center and Vonage Integration Platform. It also provides communications APIs that allow for a more customized business communications solution.
Top integrations include:
Microsoft Teams
GSuite
Microsoft 365
Salesforce
Microsoft Dynamics CRM
Zoho CRM
Sugar CRM
Zapier
Oracle
Clio
Zendesk
Slack
Winner: Given that Vonage offers advanced APIs and a much higher number of integrations, it's the clear victor here.
Nextiva's Sales and Service Tools
Nextiva is markedly different from Vonage in that it also offers select sales and service functionalities.
These features can be purchased separately, but are also automatically included in the Nextiva Professional and above plans.
Customer service tools include omnichannel communication — including live chat –  with instant message syncing, simplified ticket management for common support problems, and advanced customer insight and sentiment analysis.
When customer satisfaction dips below a certain level, team members will receive instant notifications to prioritize assistance. Team members also receive real-time conversation prompts, allowing them to provide a high level of support with information from the company knowledge base.
Automations are also included as a part of the Enterprise package.
In addition to automating routine tasks, Netiva automation capabilities include welcome messages, reminders, customer service escalation paths, advertising campaigns, surveys, and even automated check-ins. Users can create custom automation, or choose from pre-built Nextiva templates.
Nextiva's advanced sales tools provide invaluable insight into and analysis of the customer journey and sales pipeline.
Users can track and update deal progress, manage leads, add notes and tasks, and view past interactions with current customers and leads. Leads can be segmented into different stages in the sales pipeline, and sales automation take some of the pressure off of agents.
Vonage Contact Center Features
Vonage's Contact Center platform is the closest we can get to comparing a Vonage offering to Nextiva's Sales and Service tools.
Users needing more advanced sales and customer service functionalities can purchase the Vonage Business Communications (VBC) package bundled with the Vonage Call Center. This means, unlike Nextiva, basic sales/support management features are not available with standalone VBC plans.
There are two plans — the Express Plan and the Elevate Plan — and pricing for both is quote-based.
The Contact Center's goal is to streamline and monitor the customer journey across several communication channels historically and in real-time, provide several outbound auto dialer options, and offer additional advanced call flow design options.
In reality, it can't compare to Nextiva's Sales and Service features, and will likely not suit the needs of a high-volume contact center.
Vonage vs Nextiva Pricing
Nextiva offers three paid plans, billable monthly and annually (most users opt for the annual plan due to the cost savings) for between one and over 100 users.
Users can also rent or purchase desk phones and other VoIP service equipment through Nextiva, and select features can be purchased a la carte before upgrading to the next pricing tier/plan. Users must contact Nextiva directly for more information on a la carte feature availability and pricing.
The below table represents the pricing tier for between 20 and 99 users, the most common option for Nextiva. Users can also rent or purchase desk phones through Nextiva.
Essential
Professional
Enterprise
From $18.95
/user/mo
From
$22.95
/user/mo
From
$32.95
/user/mo
Unlimited voice & video calling
Everything in Essential, Plus
Everything in Professional, Plus
Voicemail
Unlimited conference calls, 40 participants
Unlimited participants on voice & video conferencing
Toll-free numbers
Unlimited video conferencing, up to 250 participants
Call recording
Outlook/Google Contacts Integrations
Screensharing
Unlimited video conference recording
Unlimited internet fax
Auto attendant (multi-level)
Voicemail transcription
Mobile and Desktop SMS/MMS
Microsoft Teams/Custom Integrations
Salesforce/HubSpot Integrations
Single Sign On

1 Professionally Recorded Greeting

3 Professionally Recorded Greetings
Vonage offers three paid plans, payable on a monthly basis (note that a one-year contract is required.)
The below table shows the pricing model for 20 users, but Vonage provides scalable solutions for 1-1,000+ users.
Mobile
Premium
Advanced
$19.99

per month/per line
plus taxes & fees

$29.99

per month/per line
plus taxes & fees

$39.99

per month/per line
plus taxes & fees

Features:
All Mobile Plan features PLUS:
All Premium Plan features PLUS:
Unlimited Calls1
Unlimited meetings for up to 100
Call Recording: on-demand (15 hours)
Unlimited SMS1
Multi-level auto attendant
Call Group
Vonage App Center2
CRM Integration3
Visual Voicemail
Unlimited Team Messaging
IP desk phone capability
The biggest downside to Vonage is that what many would consider standard features are available only as paid add-ons. Additionally, it's quite difficult to find transparent pricing information for these add-on features.
Vonage paid add-ons include:
Call Recording: $49.99 for 500 hours per month (company-wide) or $4.99/month per extension for 15 hours of recording (Per extension)
Call Monitoring: $49.99 per month
Call Queuing: $250.00/month per call queue with unlimited usage, or $14.99/month per call queue with 3 cents/minute wait time
Call Groups: $4.99/month per call group (Up to 28 groups)
Visual Voicemail: $4.99/month per extension
Virtual Faxing: $9.99/month per line
Toll-free number: $4.99/number (no usage included)
Winner: Nextiva, as even though it's a bit more expensive than Vonage, it still offers more advanced features and truly complete plans.
Comparing The Nextiva and Vonage User Experience
The tables below represent the most common pros and cons of the Nextiva and Vonage user experience, based on data and information gathered from customer reviews.
| | |
| --- | --- |
| Nextiva Pros | Nextiva Cons |
| Advanced sales and customer Service features, including native Nextiva CRM | Limited third-party integrations |
| CoSpace team collaboration platform allows for remote teams to seamlessly replicate the in-office experience | Limited audio and video conference participant capacity (200 and 250, respectively) |
| Task and report automation features save agents time | File co-annotation seems to require third-party integrations |
| Numerous options for customer support, quality response/advice | Users frequently report that phone application leads to numerous, consistent dropped calls |
| | |
| --- | --- |
| Vonage Pros | Vonage Cons |
| Plans available for up to 1,000 users | Standard features of most communication platforms are paid add-ons with Vonage, which quickly gets expensive |
| Highly customizable and scalable solution, as features can be added on one by one according to your business needs | Customer service is difficult to get a hold of, especially when it comes to the billing support |
| Overall ease of use thanks to clean, intuitive interface | Onboarding support is costly, and little onboarding support is available for free |
| A high number of available third-party integrations | Fewer native advanced communication features than many provider's today, without third-party integrations, users will have a fairly basic phone system |
Which Solution Is Right For Your Business?
Below, we'll outline the types of businesses that would be best suited by Nextiva, and which companies would likely get more out of Vonage.
Who Should Use Nextiva?
Nextiva is an excellent unified communications solution for remote and blended teams of any size, as they have solutions specifically tailored for all business phases.
The tool's features and capabilities, especially regarding customer service and sales management, allow geographically diverse, fully remote teams to easily replicate the in-office experience by showing the most recent communications in a single interface.
Nextiva will work best for companies that either have no business communications platform and want a complete system, or teams that find using multiple software solutions is too confusing and tedious and therefore want to transition to an all-in-one system.
Companies that want to continue to be able to use most of their third-party tools with their streamlined business communications platform will likely not be satisfied with Nextiva.
Who Should Use Vonage?
Vonage is an ideal solution for small businesses of between 10-50 employees that primarily work in a traditional office setting as opposed to remotely.
These companies may have more basic business communication needs when they first purchase the Vonage system, but still want the option to scale their user base and features as they expand.
Vonage customers may prefer to add features one by one, a la carte, to avoid paying for features they don't yet need (as is the case with most bundled plans.)
Finally, Vonage is the right choice for businesses that already use several communication platforms or CRM systems, and want to be able to integrate those existing third-party solutions into their Vonage plan.
Additional Business VoIP Providers and Phone Systems
Though this post has made it easier to see the main differences between Vonage vs Nextiva, these two platforms are by no means your company's only solution when it comes to business communication and collaboration.
If your team needs more advanced software, our interactive tables outlining Enterprise VoIP Service Systems or Contact Center Solutions offer an excellent starting point for researching top service providers like Five9, Avaya, RingCentral, Ooma, Grasshopper, GoToConnect (formerly Jive), and more.