With the recent rise in remote and hybrid work, team collaboration tools such as monday.com's platform have become essential to any company's tech stack. Team collaboration software allows co-workers to communicate, share files, video chat and brainstorm ideas in real-time so that everyone stays on the same page. This software can simplify countless operations from onboarding to scheduling to compiling complex financial reports.
Jump To ↓ 
Why Do You Need an Alternative to monday.com?
monday.com offers user-friendly teamwork, project management and task management tools that are designed to increase engagement, streamline workflows and increase productivity, but it is not the perfect solution for every business. Whether monday is out of budget or lacks an essential feature that's needed, there are many alternatives in the team collaboration and project management space.
Here's a quick look at some of the pros and cons of monday.com.
| | |
| --- | --- |
| What Users Like About monday.com | What Users Dislike About monday.com |
| Free plan includes many advanced project management features such as Kanban boards. | Customer service is self-service only with the exception of the highest pricing tier plan. |
| Affordable compared to competitors. | Free plan is capped at only 2 seats/users. |
| 99.9% uptime SLA for Enterprise plan users. | Lack of advanced analytics. |
| Free plan includes advanced collaboration tools such as whiteboards and embedded documents. | Monthly limits on automations and integration actions. |
| Platform is very customizable with over 20 types of columns including dependency, time-tracking and formula columns. | No volume discounts. |
What Are the Best monday.com Alternatives?
There are many alternative options to monday.com, but we put together a list of our 9 favorites: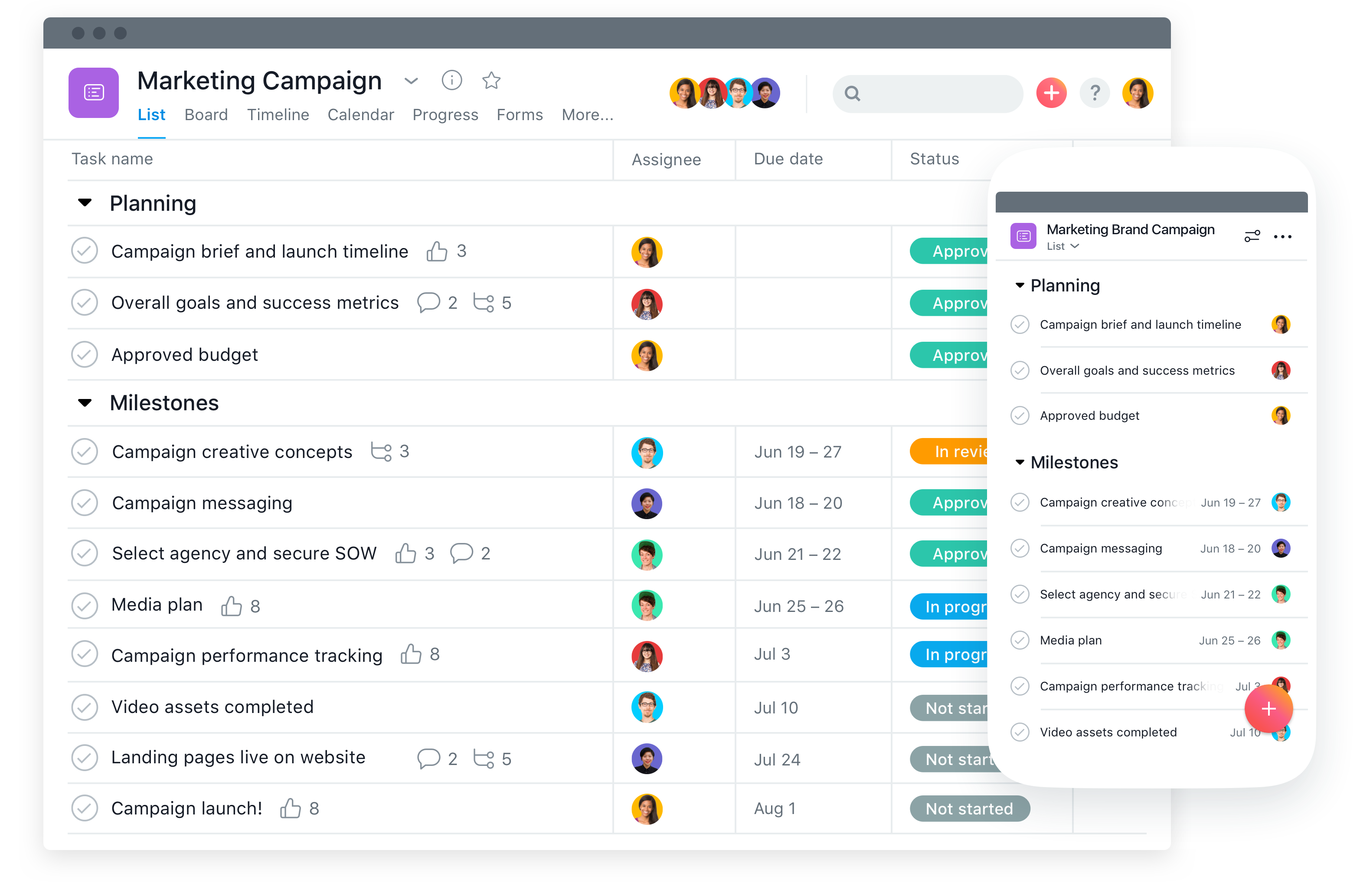 Asana is primarily a project management platform. Team members can collaborate on specific projects through the use of comments, @mentions and likes. If more team collaboration capabilities are needed, Asana has over 100 free integrations with apps such as Jira and Slack. Asana users can create projects, assign tasks and design workflows. Asana offers a robust free version.
Pricing
Asana has a four-tiered pricing structure as outlined below.
Free Plan
Premium Plan
Business Plan
Enterprise Plan
Price
$0
$10.99-$13.49 per mo/user
$24.99-$30.49 per mo/user
Contact Asana
User Limit
15
Unlimited
Unlimited
Unlimited
Main Features

iOS and android mobile app
Calendar View
100+ integrations including Microsoft Teams

Reporting with custom fields and advanced search
Timeline View
Unlimited free guests

Automated workflows with custom rules
Reporting on Goals and Portfolios
Proofing and Approvals

Audit Log API
Custom Branding
Admin Announcements
Key Features
Asana includes all the essential project management features a team needs such as dashboards, activity logs, and task assignments as well as some more advanced features detailed below.
Portfolios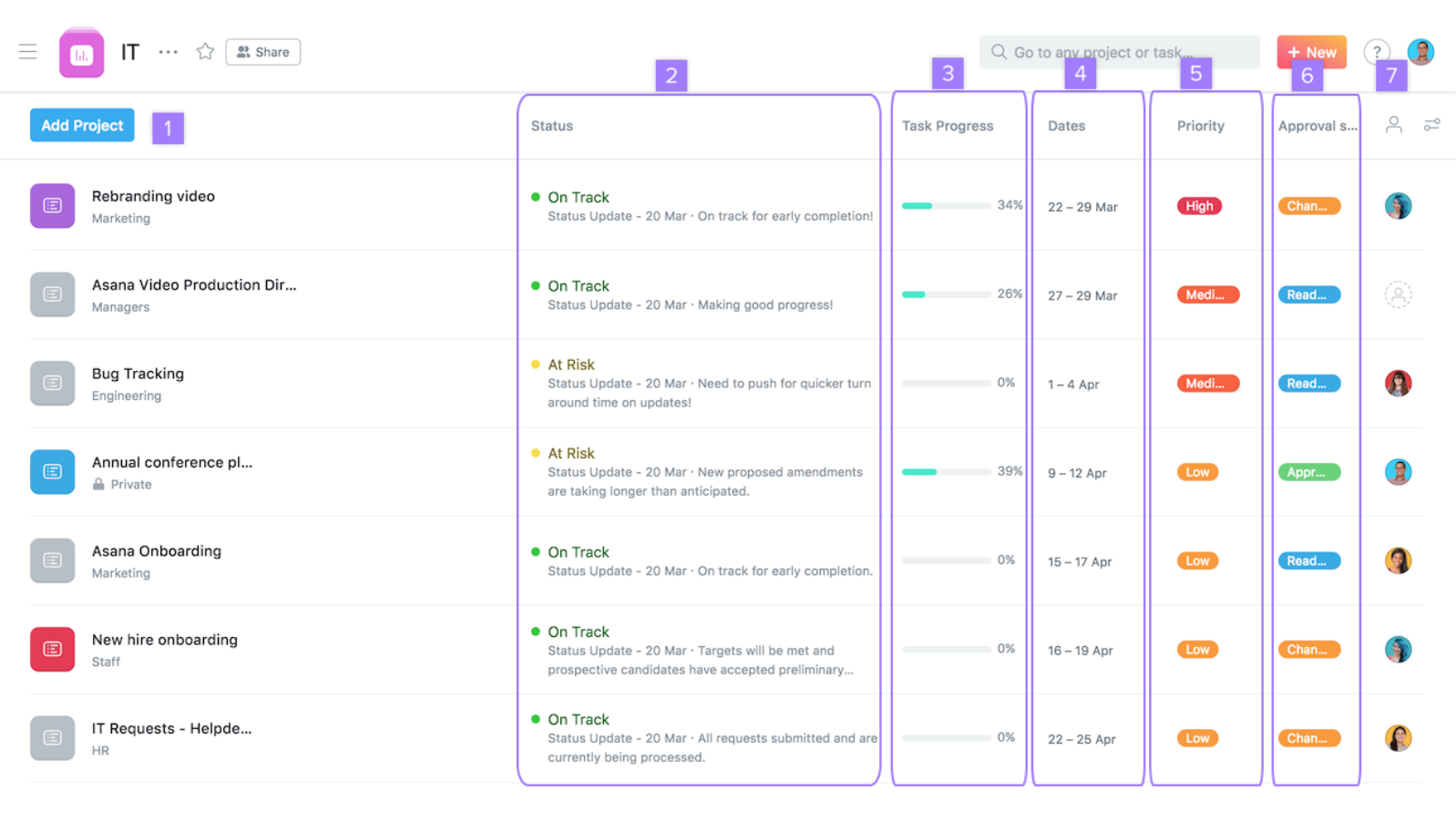 Asana's portfolio view gives users a bird's eye view of all the projects in the portfolio including real-time data on progress and status. Within the portfolio view admins can drill down into details such as project milestones, edit due dates and priorities of tasks and comment on status.
Goals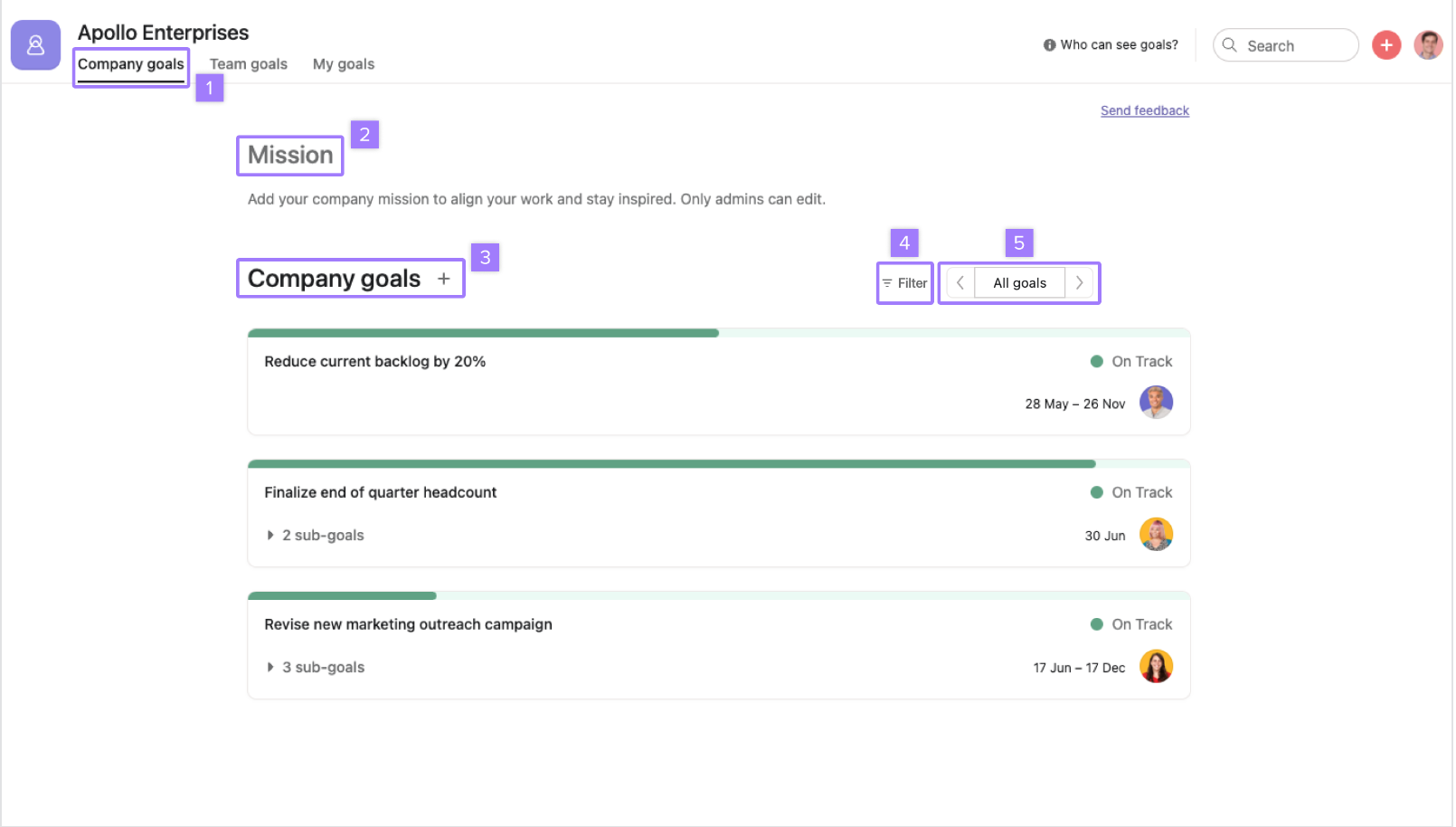 Asana enables users to set goals for individuals, teams or the company and then track goal progress in real-time. Individuals can easily access their goals at any time on their home screen so that they know what needs to be done and why. Parent goals and sub-goals can be created and supporting work can be linked to goals so that the relationships between tasks and the company mission are always clear. Goals is an advanced feature available only in the Business and Enterprise plans.
Automated Workflows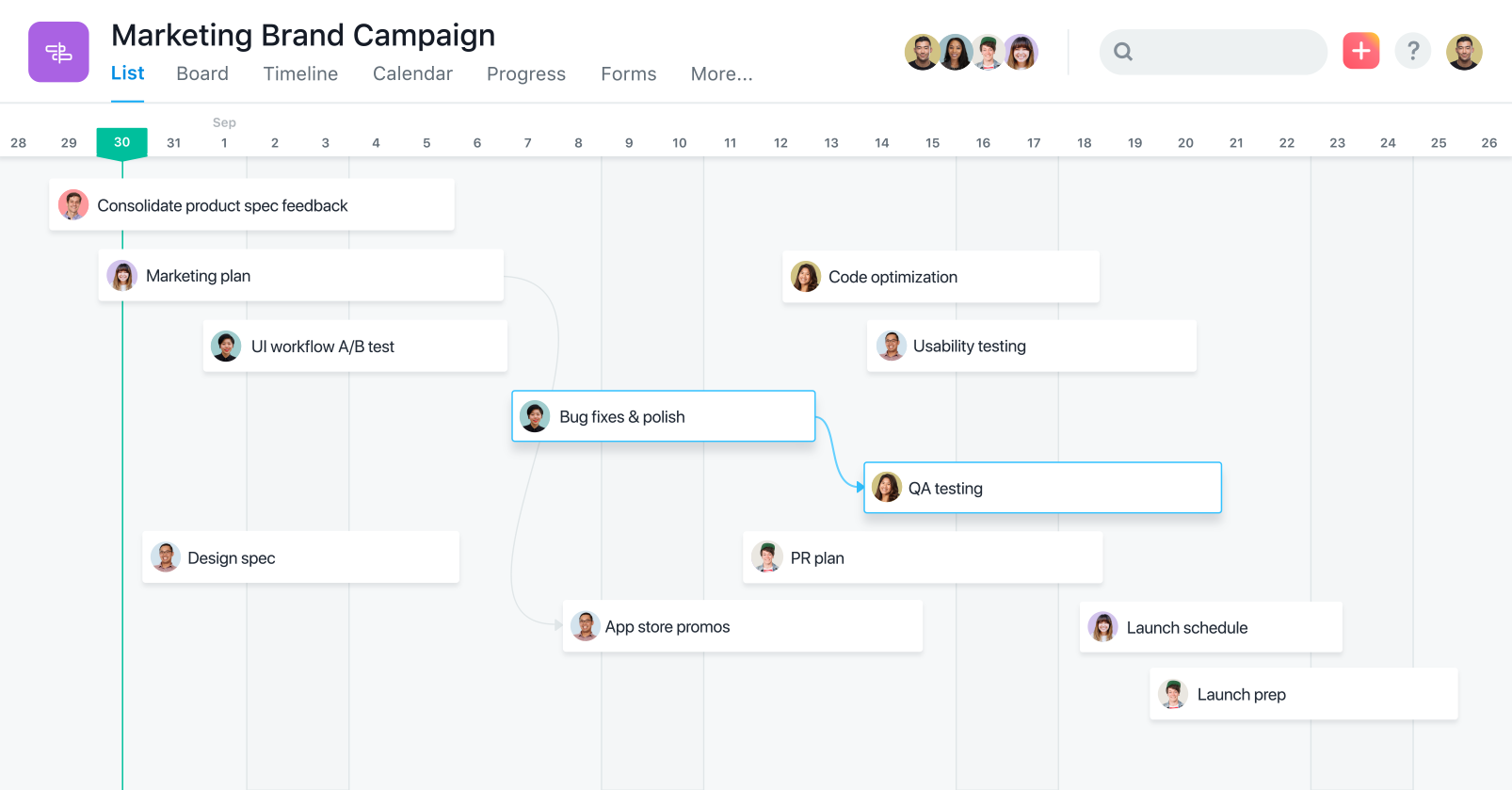 Asana's workflow builder, available in all paid plans, allows users to quickly set up processes using a form or template. Business plan users can also set up task automations and monitor progress with workflow reporting. Common workflows can be templatized and shared easily.
Pros & Cons
Here are some of the pros and cons of Asana's platform.
| | |
| --- | --- |
| Asana Pros | Asana Cons |
| 100+ integrations included in the free version | Lacks native team collaboration space |
| Advanced and automated workflow builder with custom rules | Lacks the Kanban view |
| Unlimited free guests in all paid plans | No SLA uptime guarantee |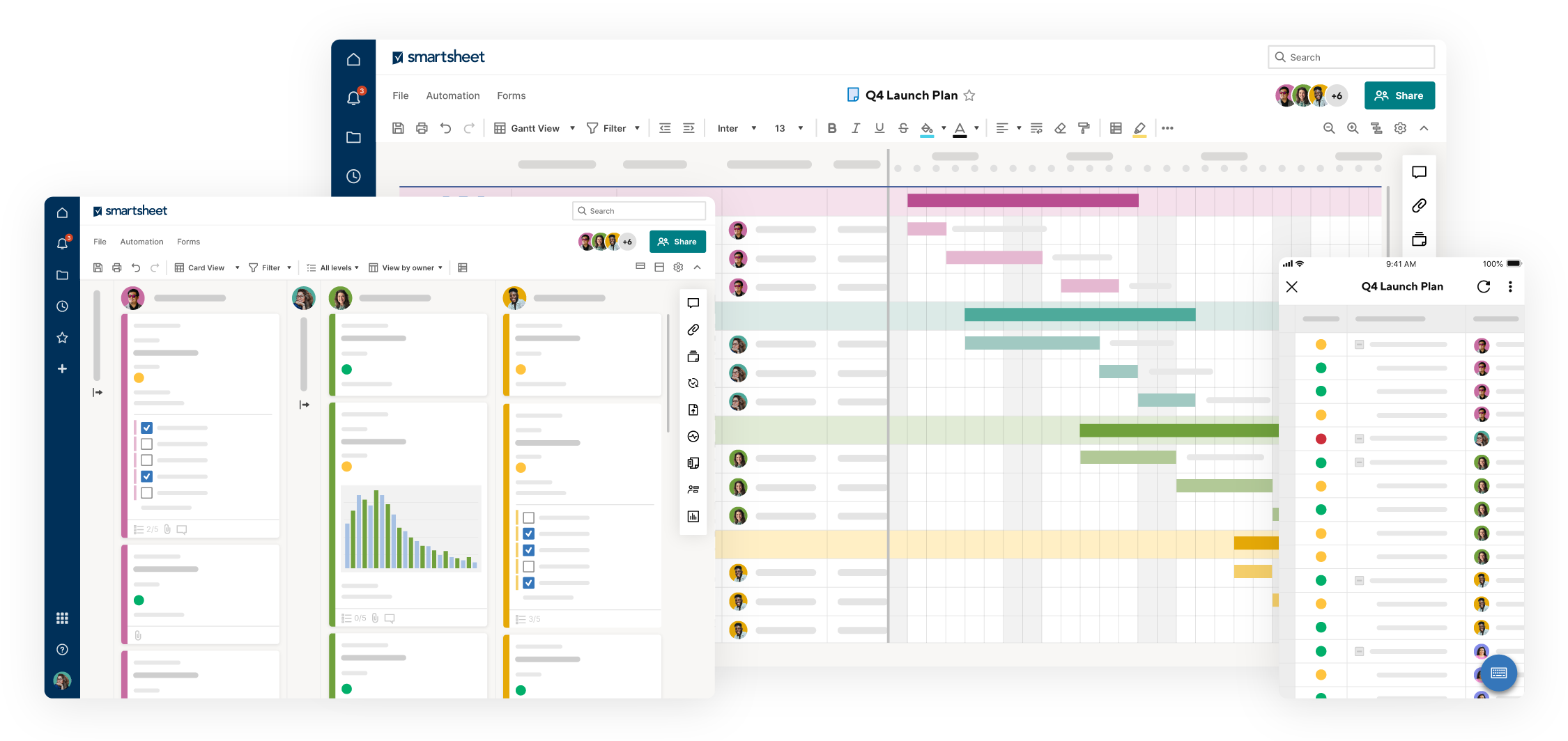 Smartsheet is a project management solution that specializes in forms, customizable dashboards and automations. Smartsheet does not currently have a free version, but they do offer a free trial.
Pricing
Smartsheet offers three different pricing plans, they are outlined below.
Pro
Business
Enterprise
Price
$7-$9 per user/mo
$25-$32 per user/mo
Contact Smartsheet
Users
Max of 10
Unlimited
Unlimited
Main Features

Gantt/Grid/Calendar view
Unlimited viewers and sheets
Dashboards, Reports and Forms

Forms with conditional logic
Activity log
Document builder

Single Sign-On/SAML
Work Insights
Custom email domains
Key Features
Smartsheet includes several unique features such as the ones listed below.
Document Builder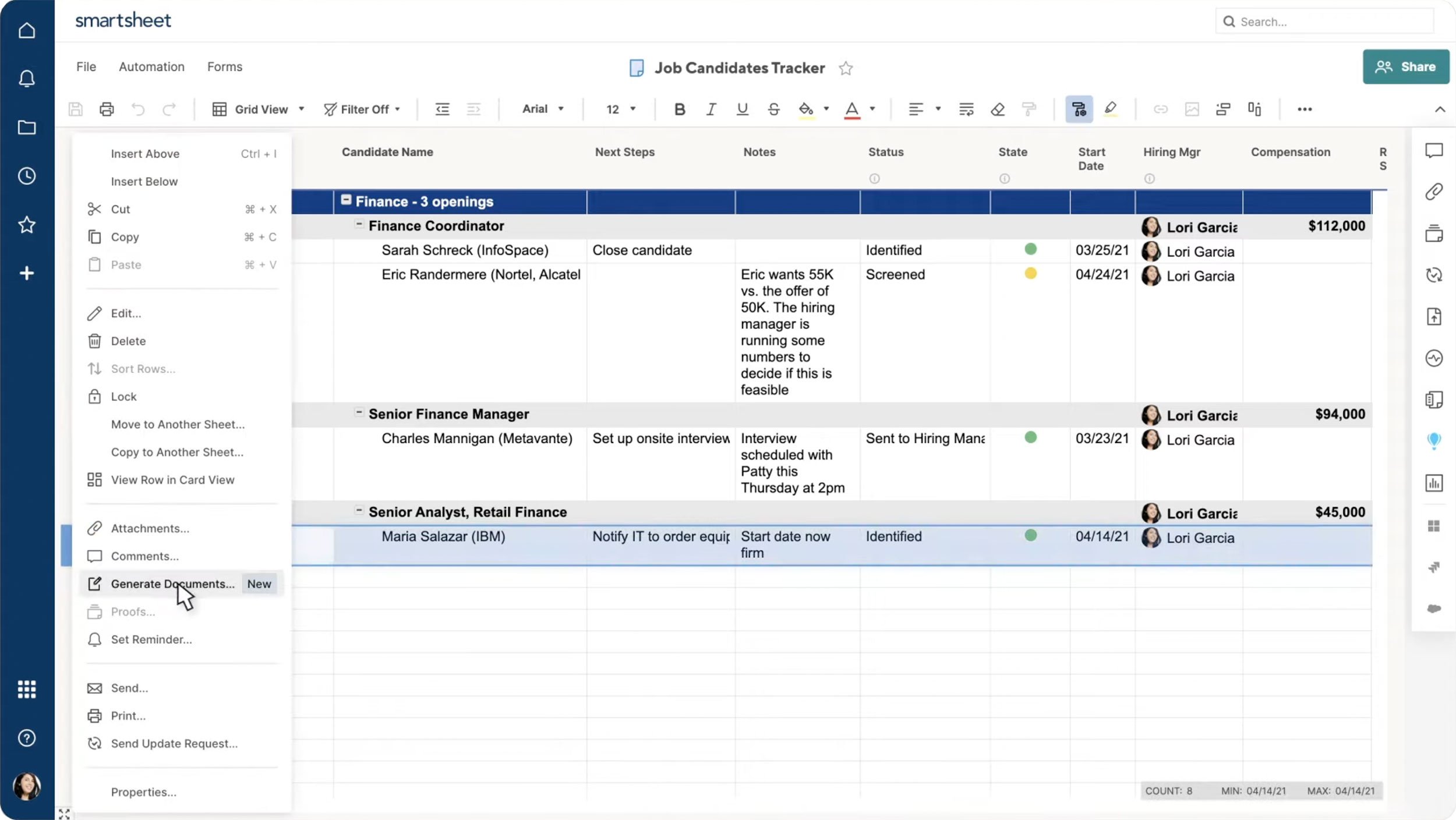 With Smartsheet's Document Builder, users can create hundreds of unique PDF documents in minutes by mapping fields in a smart sheet to a fillable PDF form or DocuSign template if signatures are needed. Document Builder is available in the Business and Enterprise plans.
Gantt View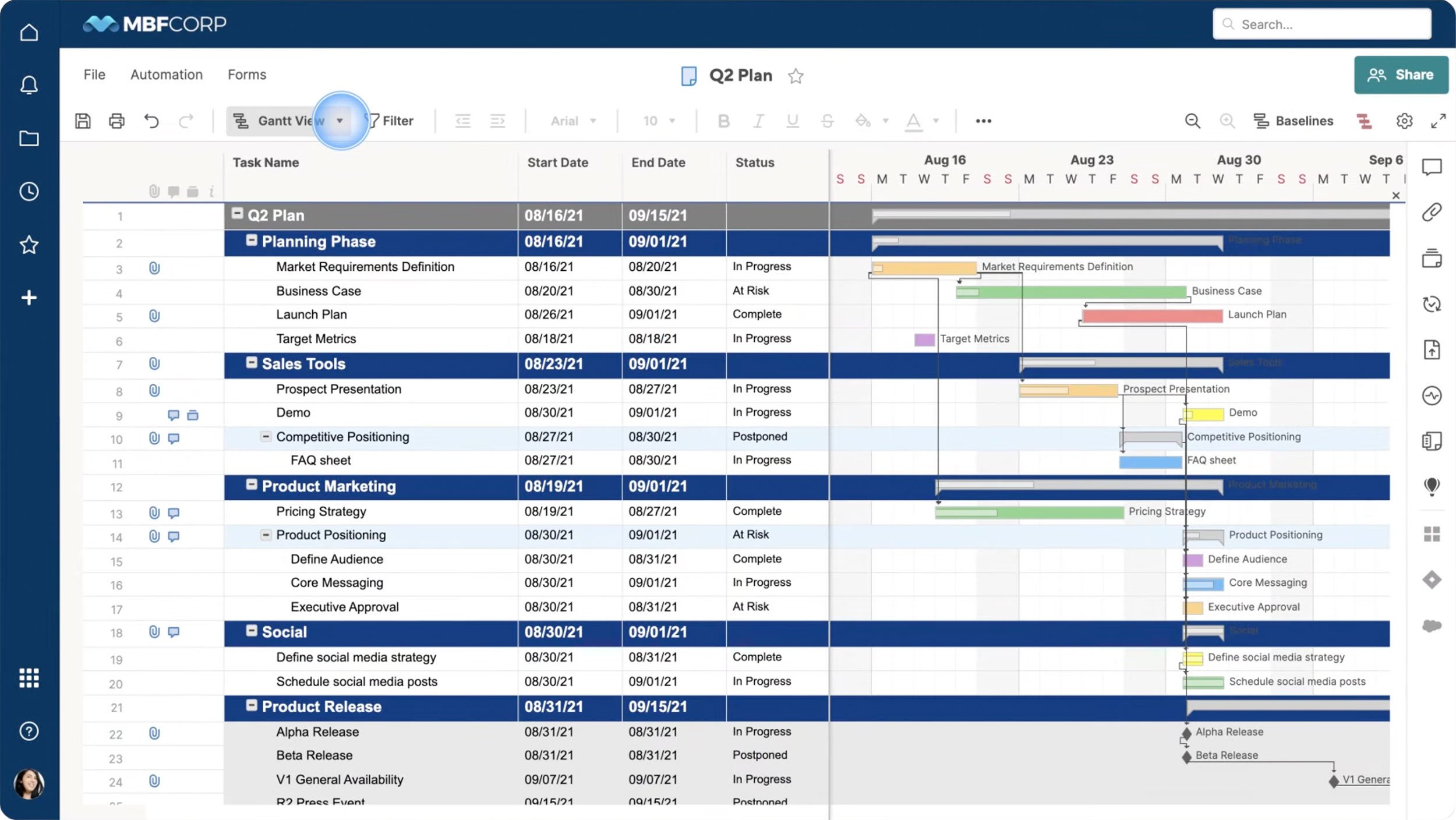 Gantt view is one of the four views that are available to all Smartsheet users. Gantt view shows the time that different tasks will take from beginning to end along with dependencies, progress and critical paths. Gantt charts are especially helpful for seeing the relationships between different tasks.
Automations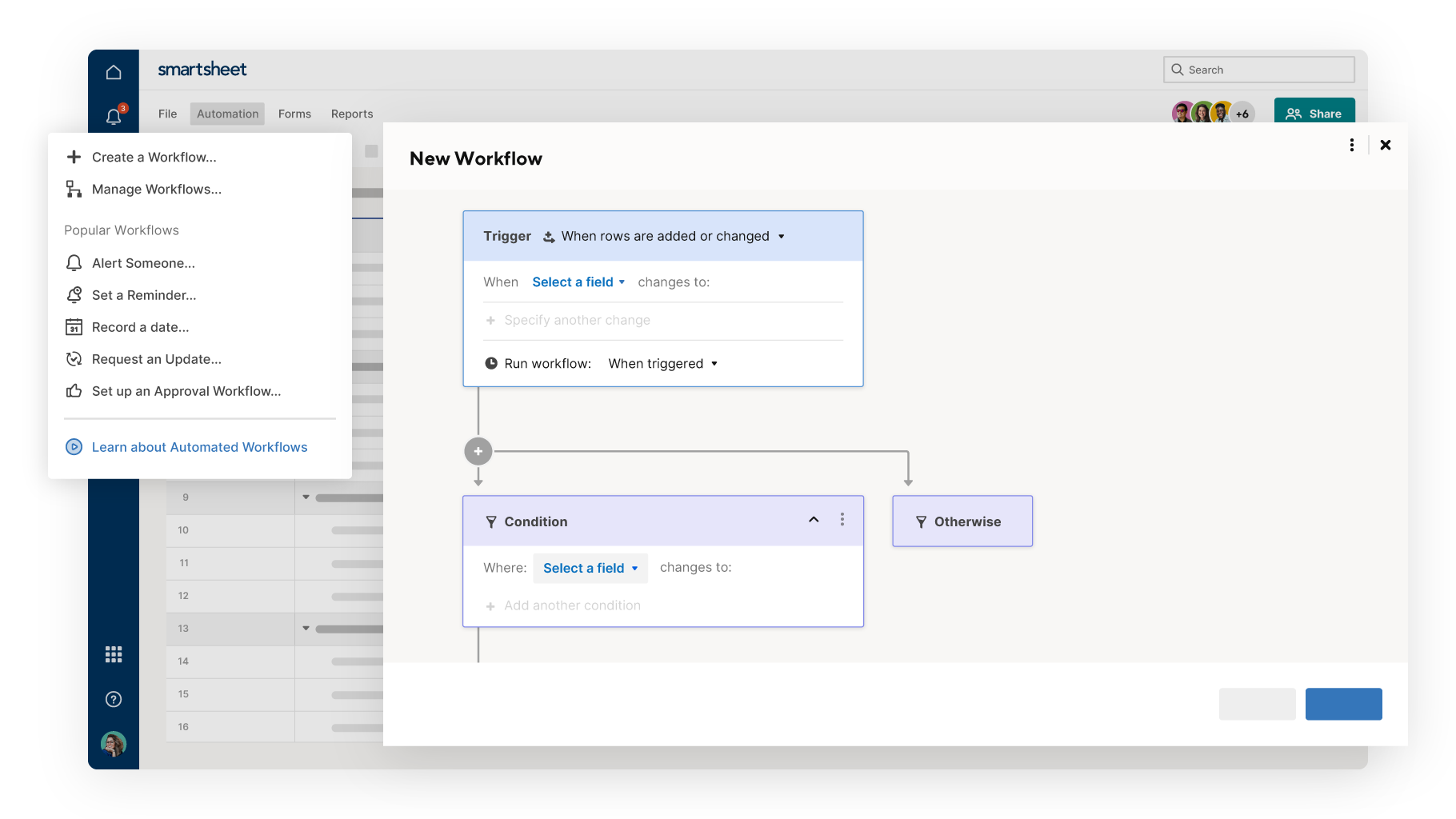 Smartsheet automations allow users to automate any repetitive manual task or workflow. Users can create an automation by designating an action to be completed anytime a defined trigger and condition are met or by using one of Smartsheet's templates.
Pros & Cons
Here are some of the pros and cons of Smartsheet.
| | |
| --- | --- |
| Smartsheet Pros | Smartsheet Cons |
| Automations available in all plans. | No free version. |
| All plans include four different views (Gantt, Calendar, Grid and Card). | No native team collaboration. |
| Unlimited viewers and sheets in all plans. | DocuSign integration only available in Enterprise plan. |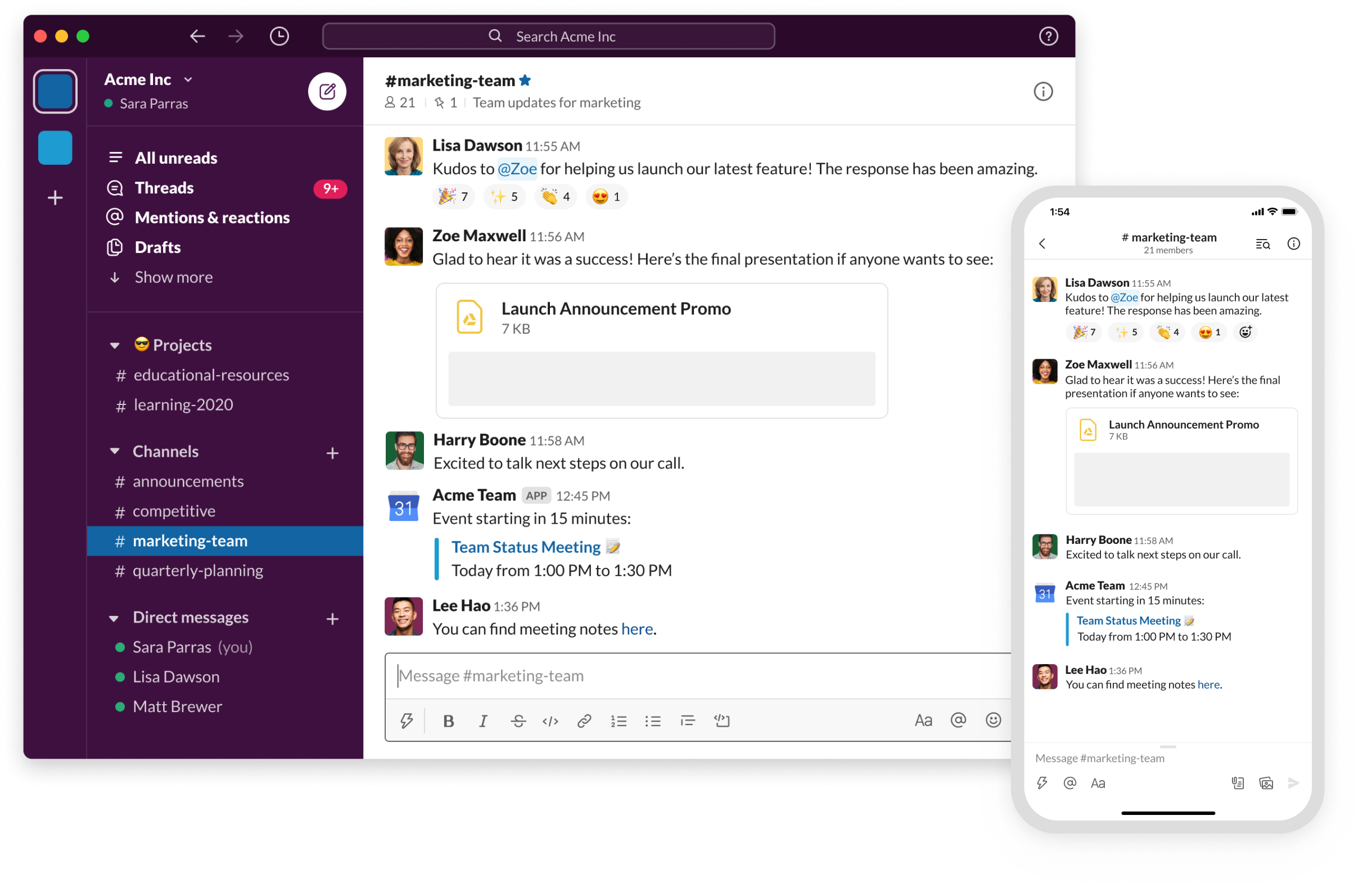 Slack is primarily a team collaboration platform that includes a workflow builder for paid plan users. Slack's platform is highly reliable and secure, and is one of the only team collaboration tools that includes video chat in every plan.
Pricing
Here is a quick look at Slack's pricing structure
Free
Pro
Business+
Enterprise Grid
Price
$0
$7.25-$8.75 per user/mo
$12.50-$15 per user/mo
Contact Slack
Message History
90 days
Unlimited
Unlimited
Unlimited
Main Features

Audio and Video Clips
Data encryption in transit and at rest
One-on-one Slack Huddles

Workflow Builder
Screen Sharing
Customizable Sections

Single Sign-On
Data Exports for all messages
99.99% uptime guarantee SLA

HIPAA compliance
Designated customer success team
Domain claiming
Key Features
Slack offers many advanced collaboration features to help teams stay unified. Here are some key features.
Video Clips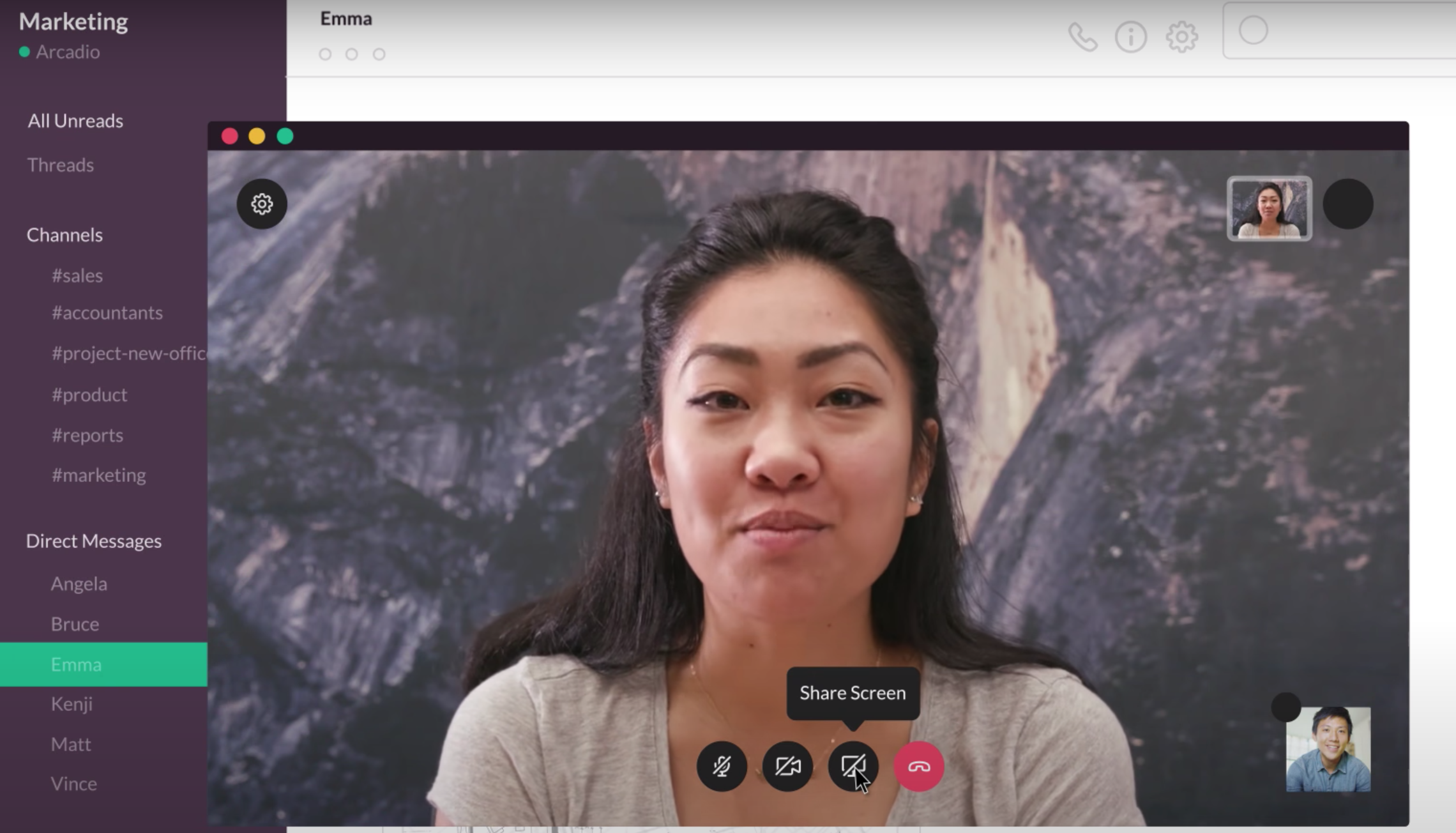 Team members can create and share video or audio clips up to five minutes long. Video clips can be enhanced by blurring the background, uploading a background image, muting parts of the video or adding in a screen share.
Slack Huddles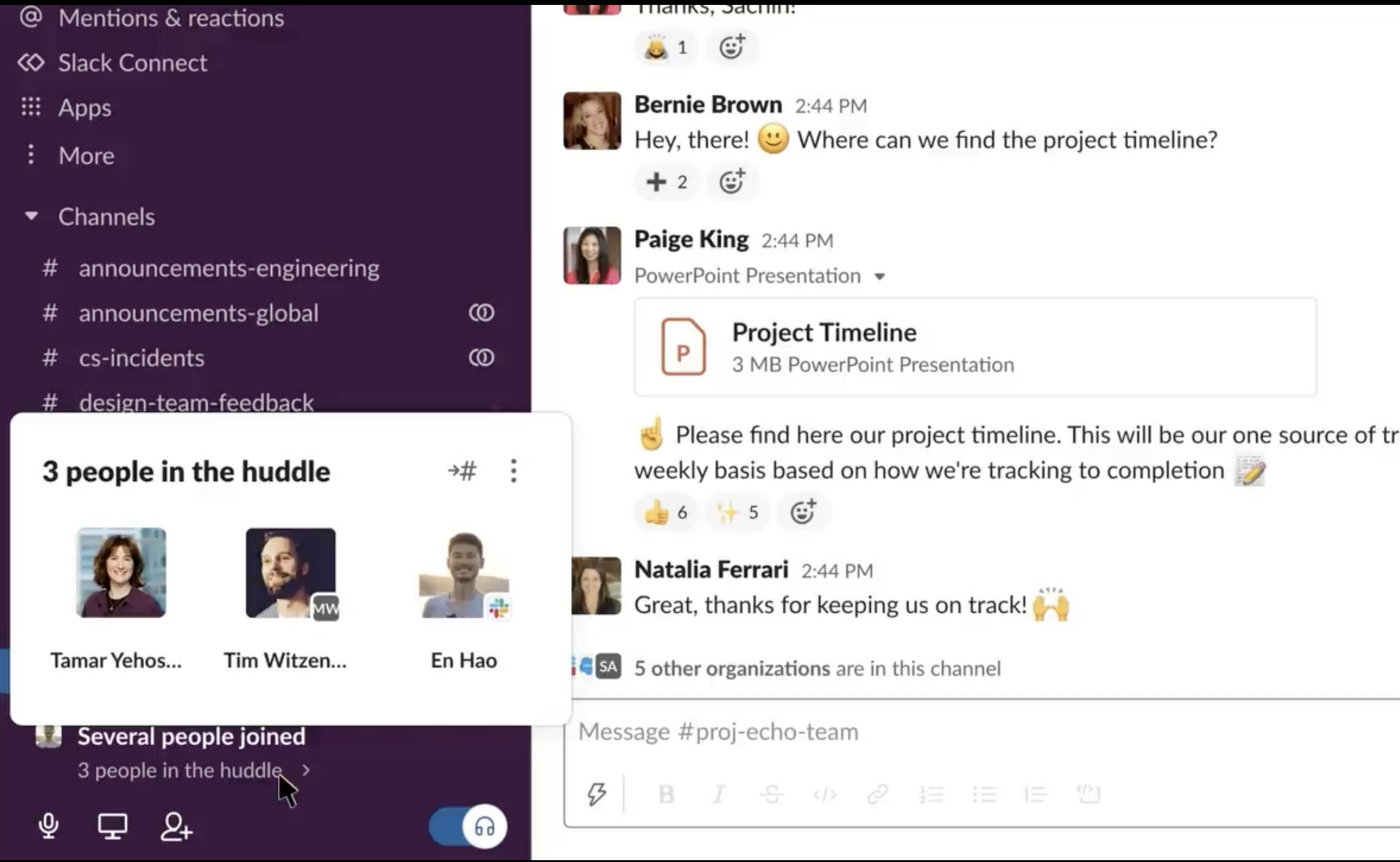 Slack Huddles are real-time video chats between 2-50 teammates. They can be started in a channel or via DM. Huddles include screen-sharing capabilities as well as a dedicated text thread for notes, comments and social media style emoji reactions.
Workflow Builder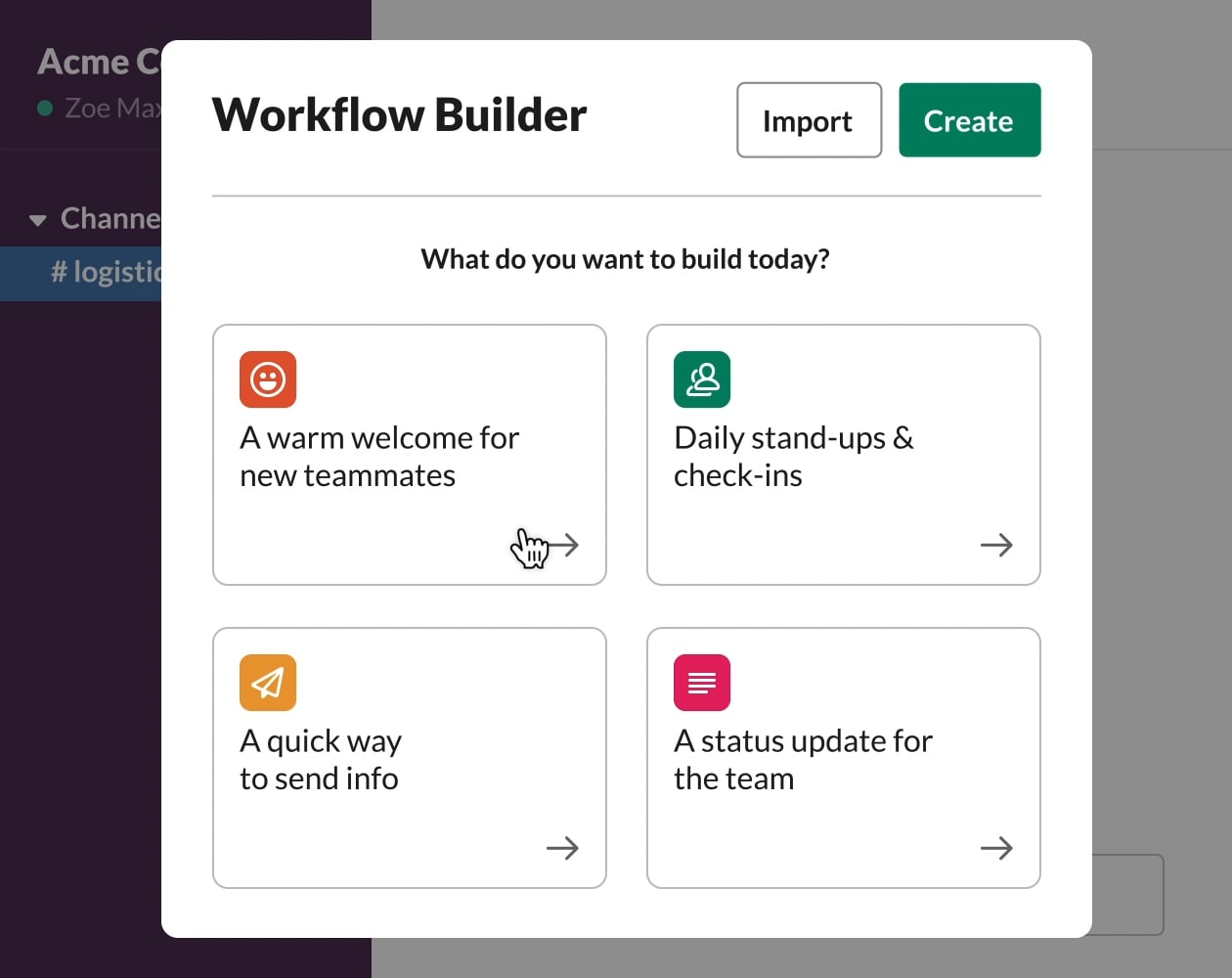 The Slack Workflow Builder is available to Pro, Business+ and Enterprise Grid plan users. The Workflow Builder is a set of tools that enables users to automate workflows in Slack without code. Users can define a trigger, add in multiple steps and variables if necessary, and designate workflow collaborators.
Pros & Cons
Below are some of the pros and cons of Slack.
| | |
| --- | --- |
| Slack Pros | Slack Cons |
| 99.99% uptime SLA for Business+ and Enterprise Grid plans. | No project management in the free version. |
| Video clips available for all users. | HIPAA compliance only available for Enterprise Grid users. |
| Highly secure with encryption, SSO, two-factor authentication and OAuth with Google. | All users of Slack in an organization must be on the same pricing plan |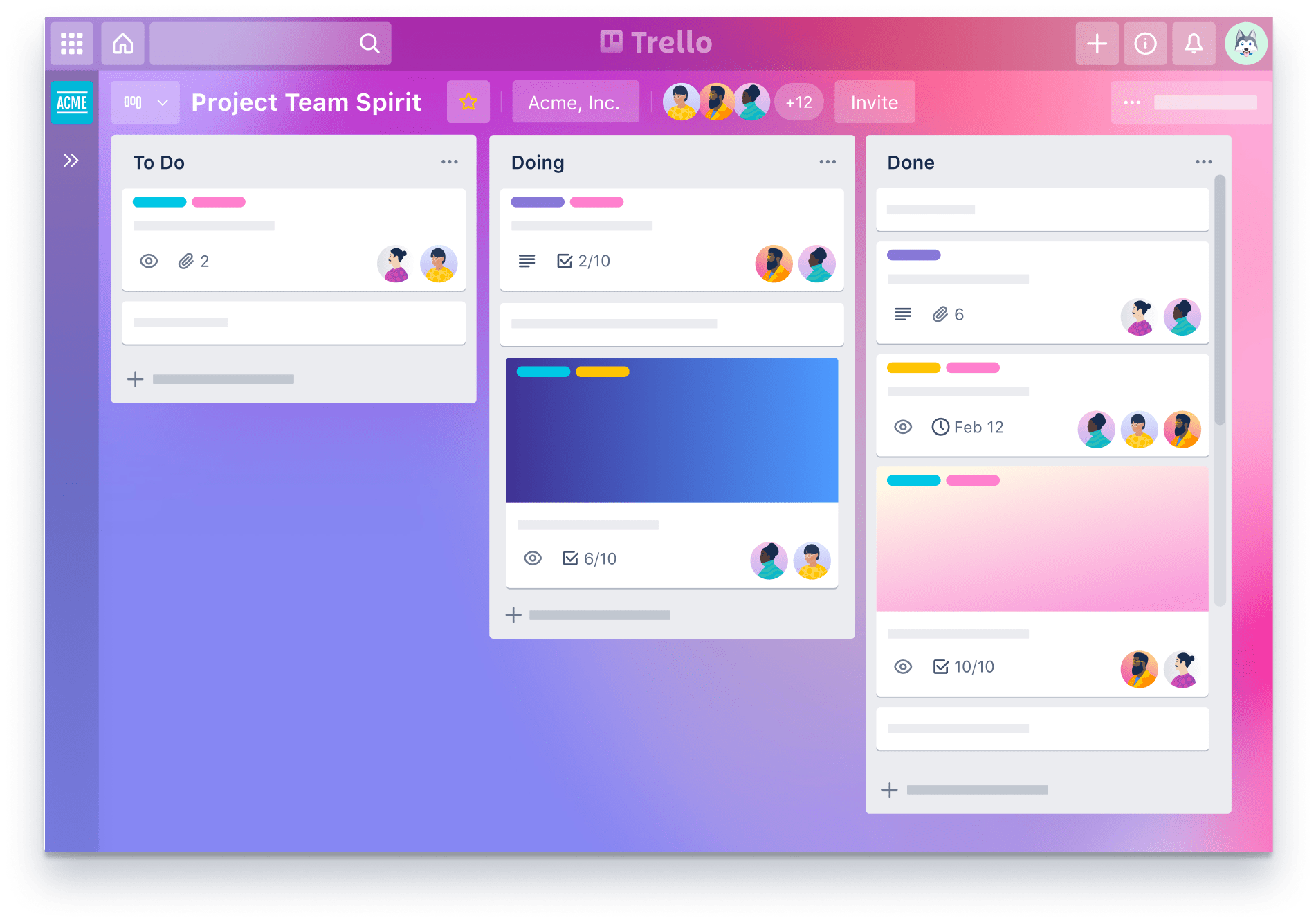 Trello is a project management software solution that allows team members to collaborate on "cards" that are organized on "boards" kanban style to show how tasks are progressing and who is doing what. Cards can be created from scratch or from one of Trello's templates. Cards can easily be linked, moved, copied and deleted.
Pricing
Here is a breakdown of Trello pricing.
Free
Standard
Premium
Enterprise
Price
$0
$5-$6 per user/mo
$10-$12.50 per user/mo
$17.50 per user/mo
Max Boards
10
Unlimited
Unlimited
Unlimited
Main Features

Unlimited Cards
Unlimited Integrations with 200+ apps
Unlimited Storage (10 MB/file)

Custom Fields
Single Board Guests
Saved Searches

Admin and security features
Priority customer support
Calendar, Timeline and Map views

Multi-Board Guests
Attachment permissions
Public Board Management
Key Features
Below are some Trello's key features.
Dashboard View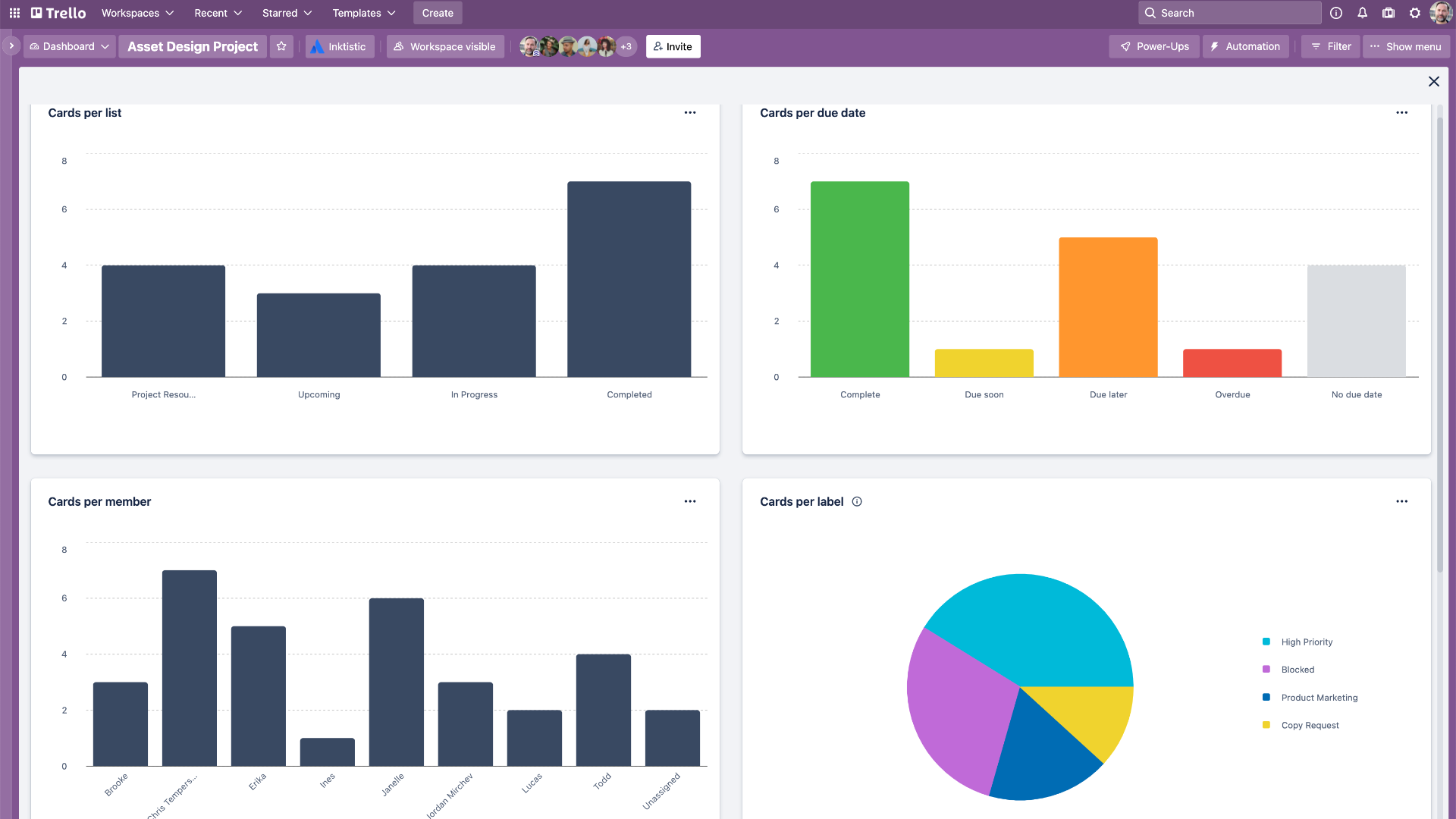 Trello's Dashboard view allows supervisors to quantify their teams' operations at a glance by customizing visual pie charts and bar graphs. Dashboard view can display metrics such as cards per team member, cards per due date and cards per list. Dashboard view is available in Trello Premium plan and above.
Custom Fields
Custom fields is a feature that allows Trello users to customize their cards by adding in custom data and field types that are specific to their business or project. Custom fields can be given any name (up to 25 characters) and users can choose between date, checkbox, dropdown, number or text for the type of input. Custom fields are available on Trello's Standard plan and above and users can add up to 50 custom fields per board.
Advanced Checklists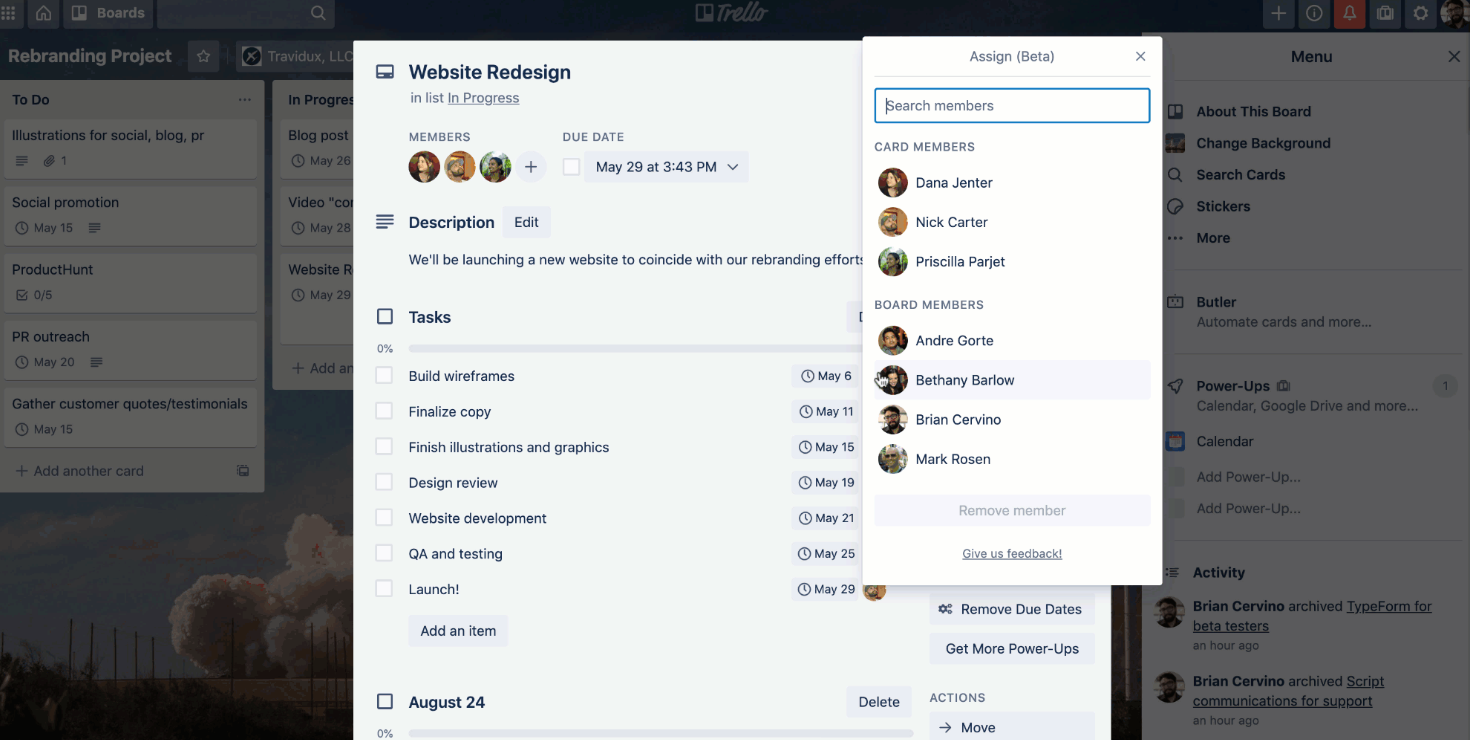 Trello's advanced checklist allows managers to assign a specific due date and individual user to each checklist item in order to increase visibility and accountability. Checklist items are smaller action items that make up a larger task. Advanced checklists are available to Standard plan users and above.
Pros & Cons
Here are some of the pros and cons of Trello's platform.
| | |
| --- | --- |
| Trello Pros | Trello Cons |
| Affordable compared with competitors. | No Gantt view. |
| Single Sign-On is available for all users (it must be purchased as an add-on in Free, Standard and Premium plans). | Only one view available for most plans ("Board view"). Timeline, Calendar, Dashboard and Map views are only available for Premium and Enterprise users. |
| Built-in automation for all plans. | No native team collaboration space. |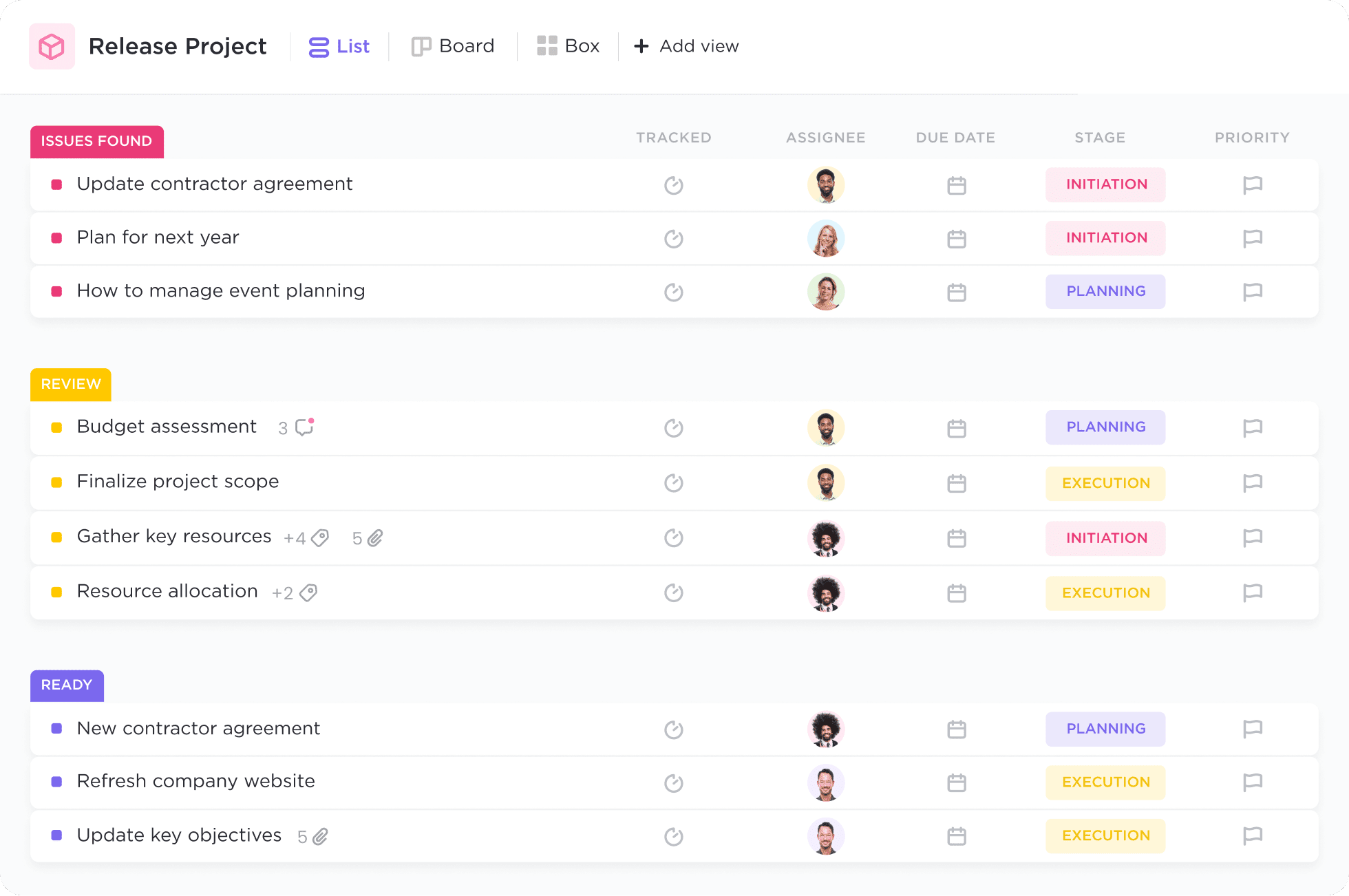 ClickUp's platform combines project management and team collaboration functionality. The platform offers a plethora of advanced features including in-app video recording, whiteboard, team chat and over 9 different views including a unique "box view" which displays the real-time workload capacity of each team member. The ClickUp platform is extremely customizable with 5 different pricing tiers, custom statuses, custom IDs, automations, white labeling and more.
Pricing
ClickUp offers a robust free version as well as 4 pricing tiers. Here's a breakdown.
Free
Unlimited
Business
Business Plus
Enterprise
Price
$0
$5-$9 per user/mo
$12-$19 per user/mo
$19-$29 per user/mo
Contact ClickUp
Users
Unlimited
Unlimited
Unlimited
Unlimited
Unlimited
Main Features

Collaborative Docs
Whiteboards
Real-Time Chat

Unlimited Gantt Charts
Goals and Portfolios
Agile Reporting

Public Sharing
Advanced Automations
Unlimited Teams

Subtasks in Multiple Lists
Custom Role Creation
Custom Permissions

White Labeling
MSA & HIPAA compliance
Advanced Permissions
Key Features
ClickUp offers a full stack of advanced features to its users. Here are some of the most notable ones.
Smart Notifications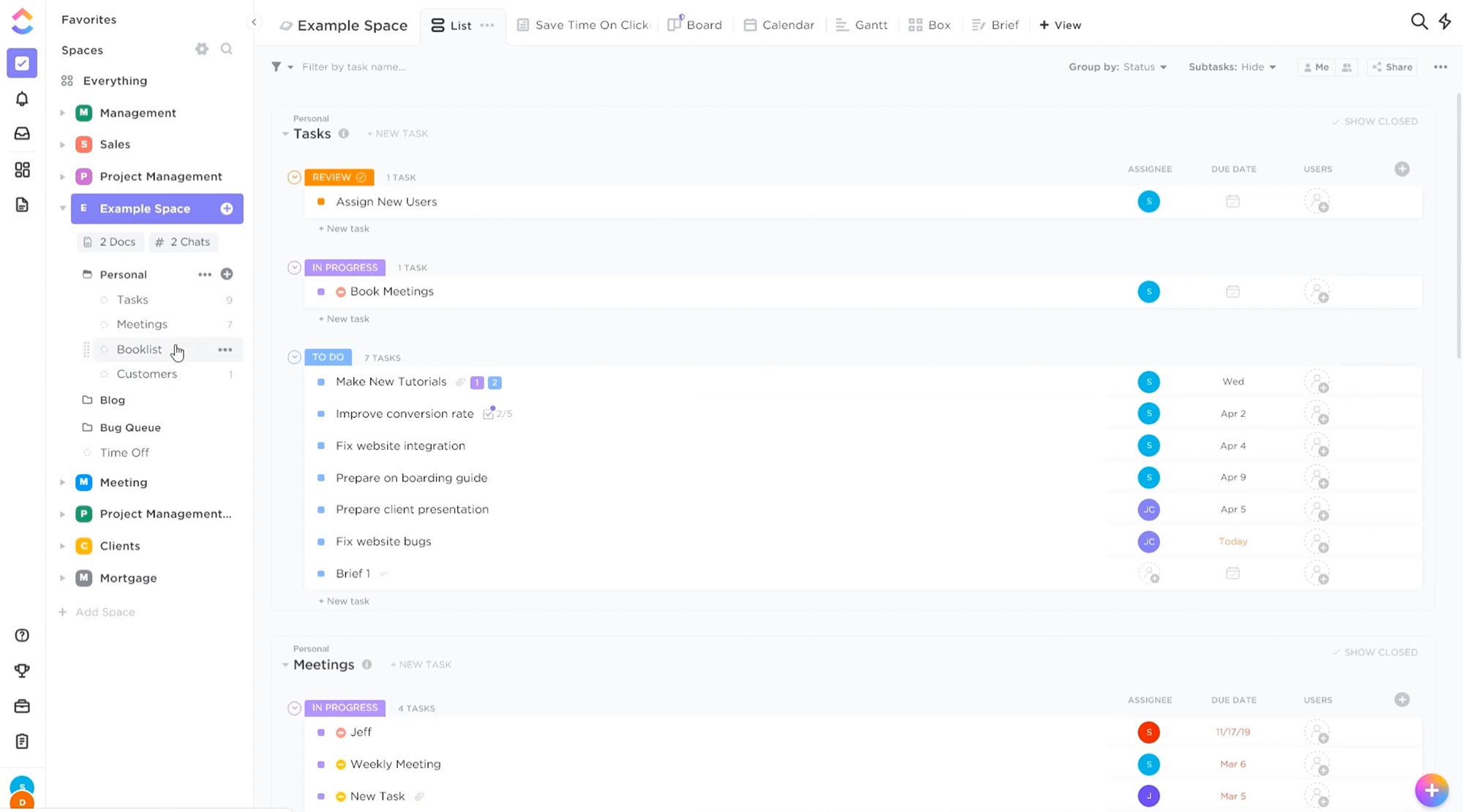 ClickUp's Smart Notifications allow users to customize when they will receive reminders about tasks with approaching deadlines, which notifications warrant an audible mobile notification and at what time of day they will receive daily task summaries. Users can also choose which sources will give notifications, for example, email, mobile, desktop, web app, etc.
White Labeling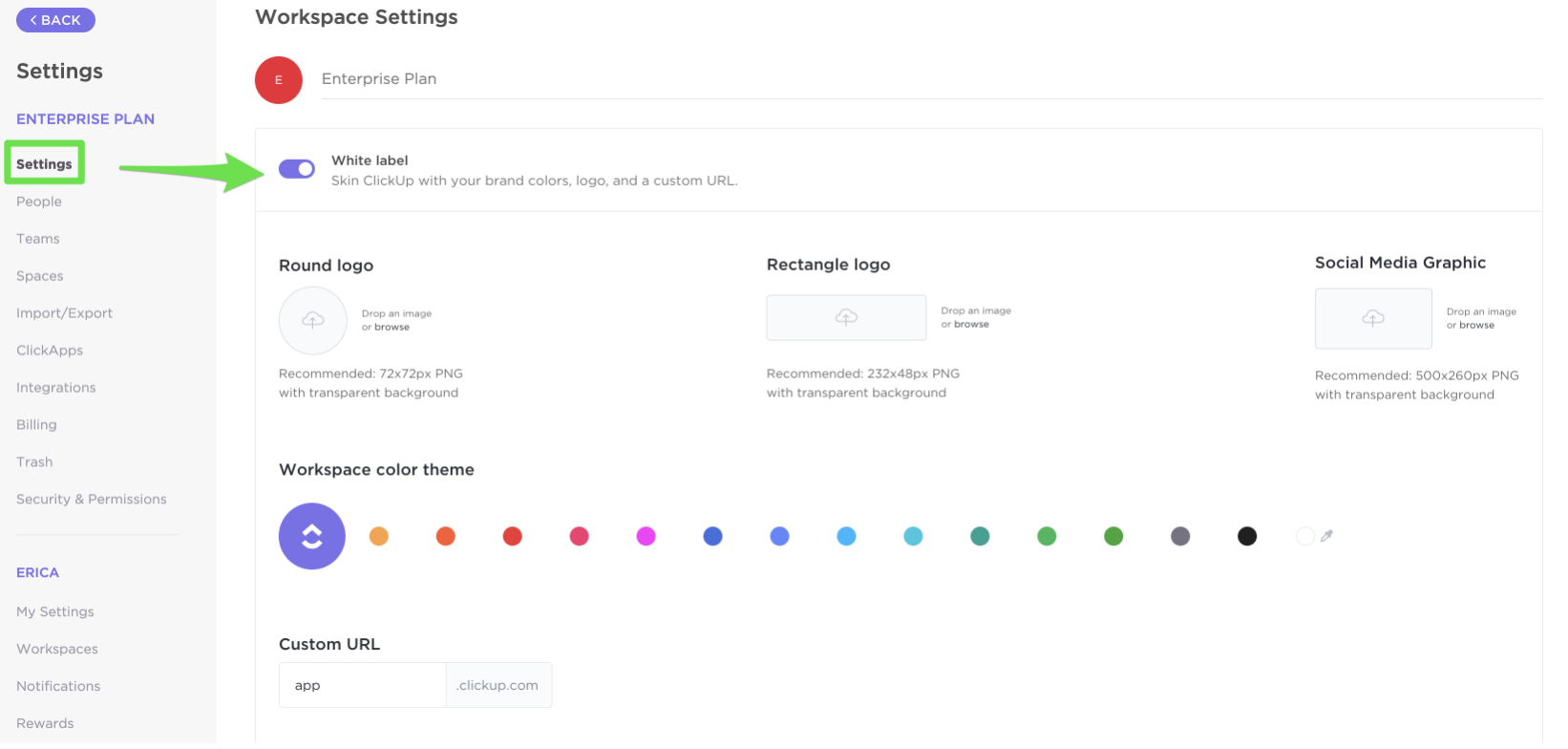 ClickUp's White Labeling feature allows owners and admins to completely customize their workspaces by choosing colors and themes and adding in custom logos and URLs. The White Label feature is only available for Enterprise plan users.
Mind Maps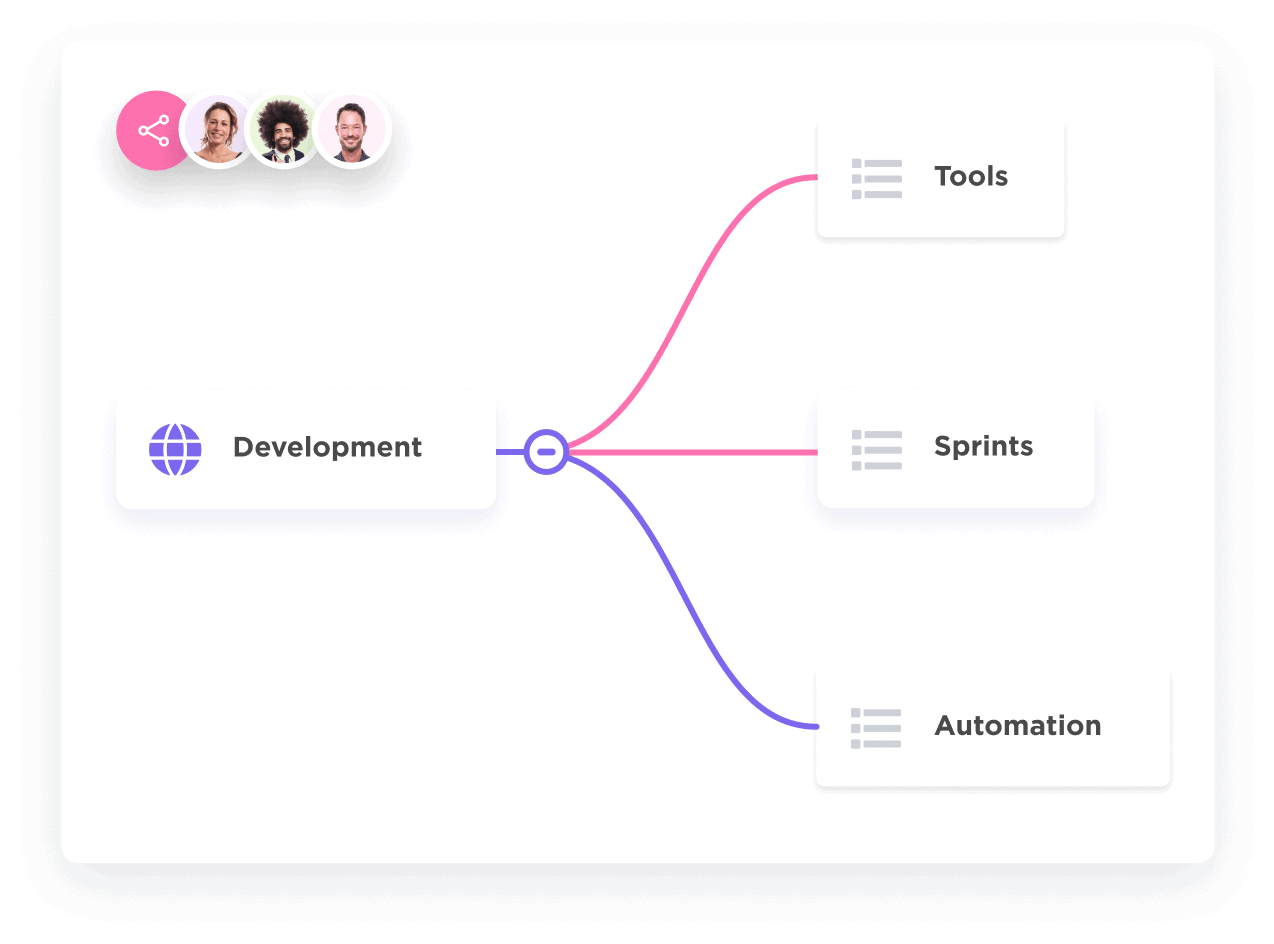 ClickUp's Mind Maps can be used for free form project planning and organization. They are best suited to build on existing ideas as they allow users to build a roadmap between ideas, tasks and company goals (based on scrum methodology).
Mind Maps have two modes: Task mode can be used to drag and rearrange tasks into logical paths, while Blank mode can be used to create nodes that are independent of task structure. The nodes from Blank mode can then be converted into tasks. Mind Maps can be collaborated on and shared.
Pros & Cons
| | |
| --- | --- |
| ClickUp Pros | ClickUp Cons |
| Unlimited users – even with the free plan. | HIPAA compliance and SSO only available for the Enterprise plan. |
| Includes over 9 views such as Gantt, Timeline, Map, Workload and more. | Free plan limits email in ClickUp to 100 users and only displays activity from one day. |
| Live Chat Support available for all paid plans. | "Unlimited plan" has limits on the number of API calls, Doc Tags, Whiteboards, Mind Maps, Teams, Subtasks and Exports. |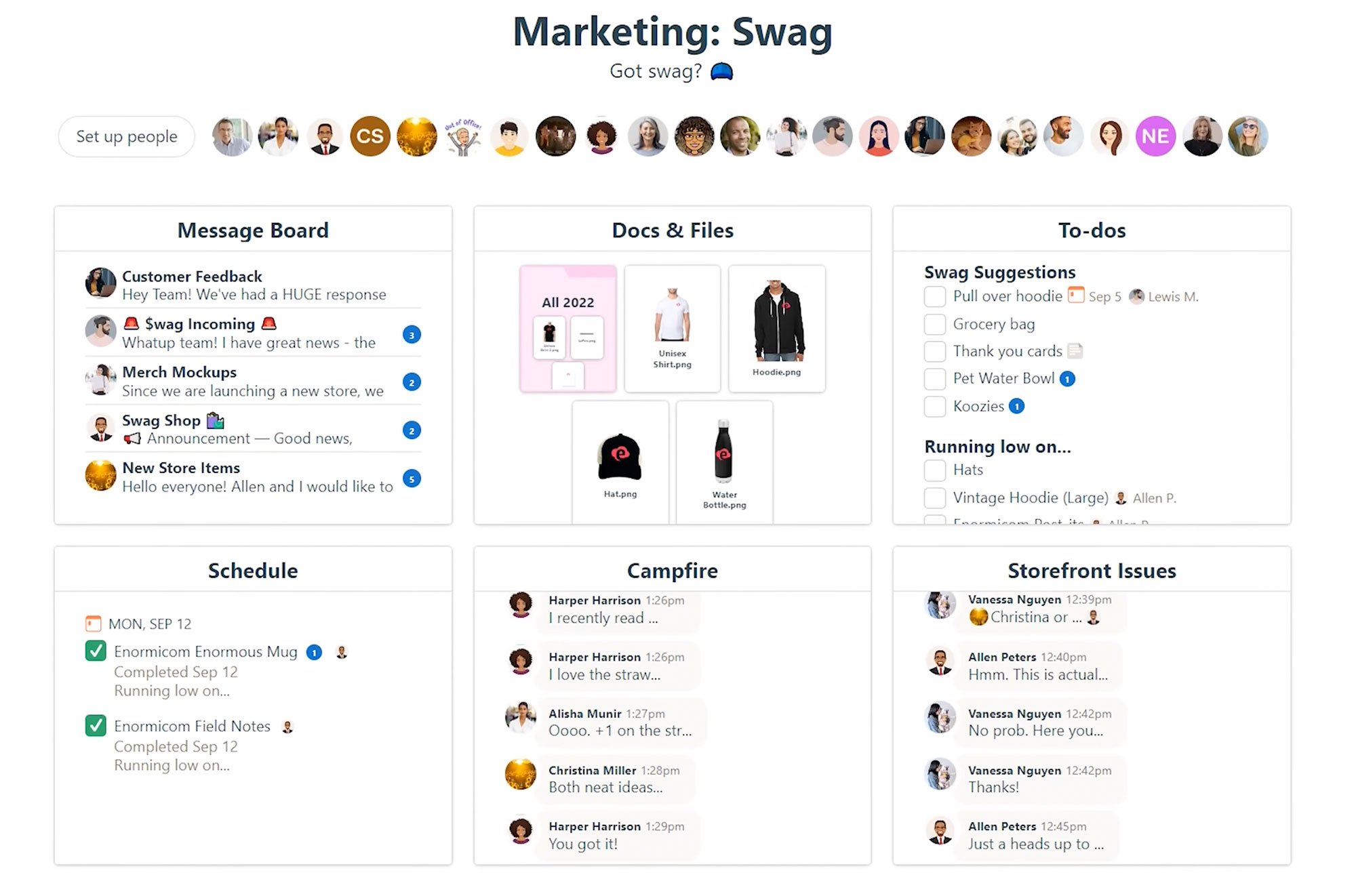 Basecamp is a project management tool with built-in real-time chat. Basecamp's focus is on helping teams prioritize and communicate effectively to meet deadlines and increase productivity. Basecamp stands out with its flat pricing structure and user-friendly interface. Basecamp also allows for an unlimited number of outside guests and collaborators.
Pricing
Basecamp costs $11 per user per month. All features are included, and there are no pricing tiers.
Key Features
Here are some of Basecamp's key features.
Real-Time Chat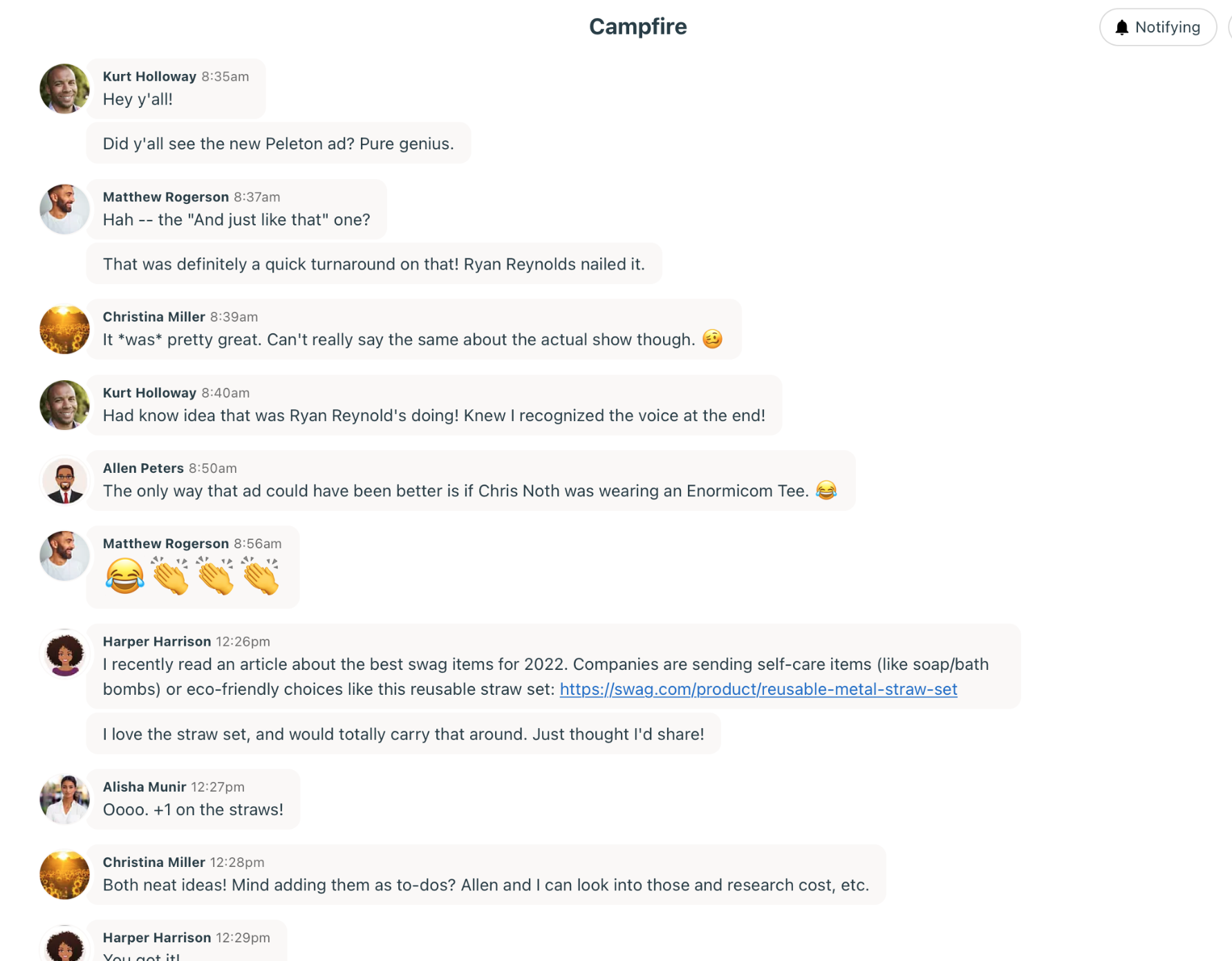 Basecamp's real-time chat is a space that allows users to text, @mention colleagues, attach files, video, audio and code samples, utilize fun emojis and pipe in external services. Users can create an unlimited number of rooms.
To-Do Lists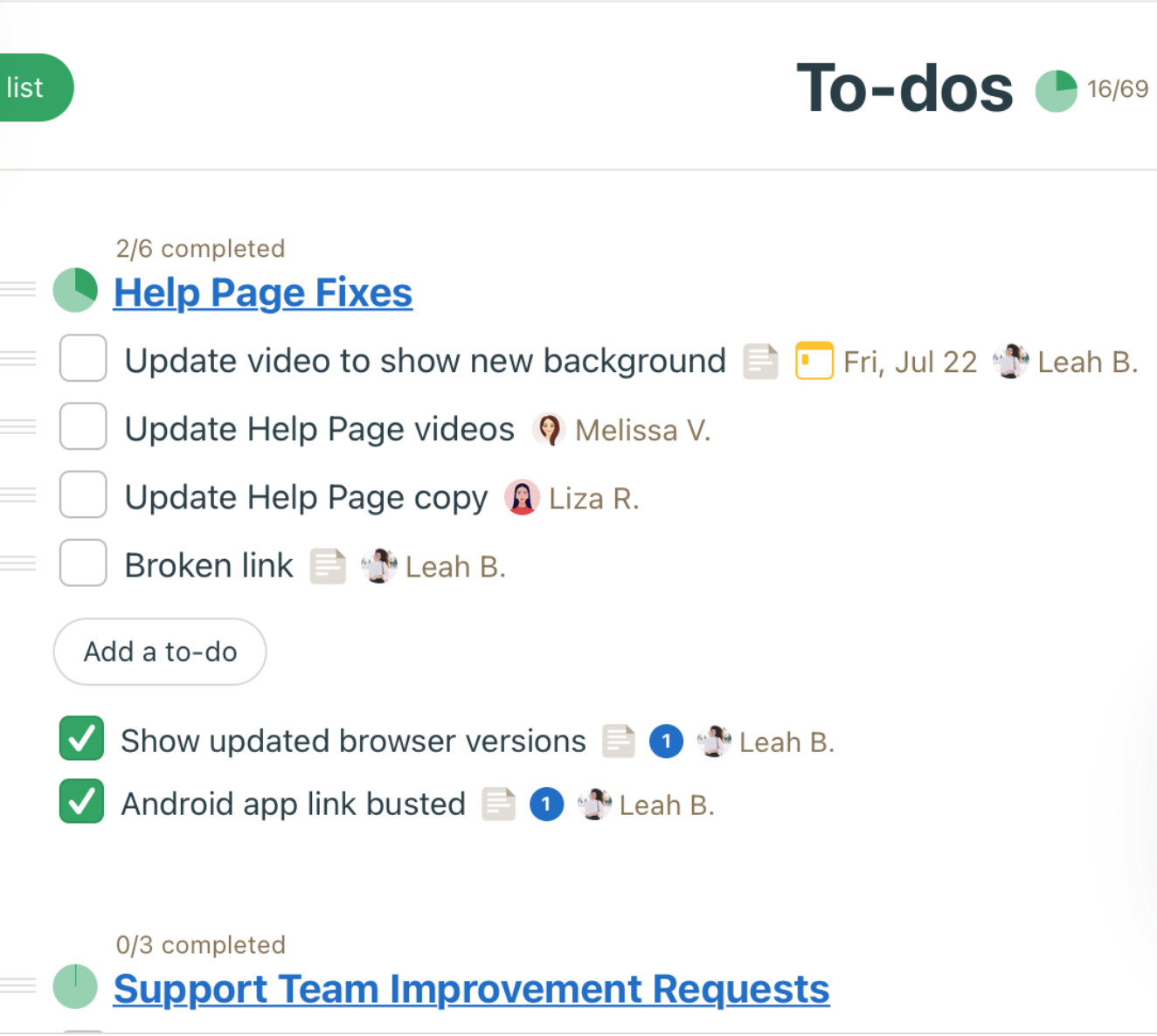 Basecamp allows users to create an unlimited number of simple yet powerful To-Do lists.  On Basecamp To-Do lists, multiple team members can be assigned to each task, alerts can be set up when items are completed or deadlines are missed, notes and files can be attached to tasks and users can comment directly on lists and tasks.
Hill Charts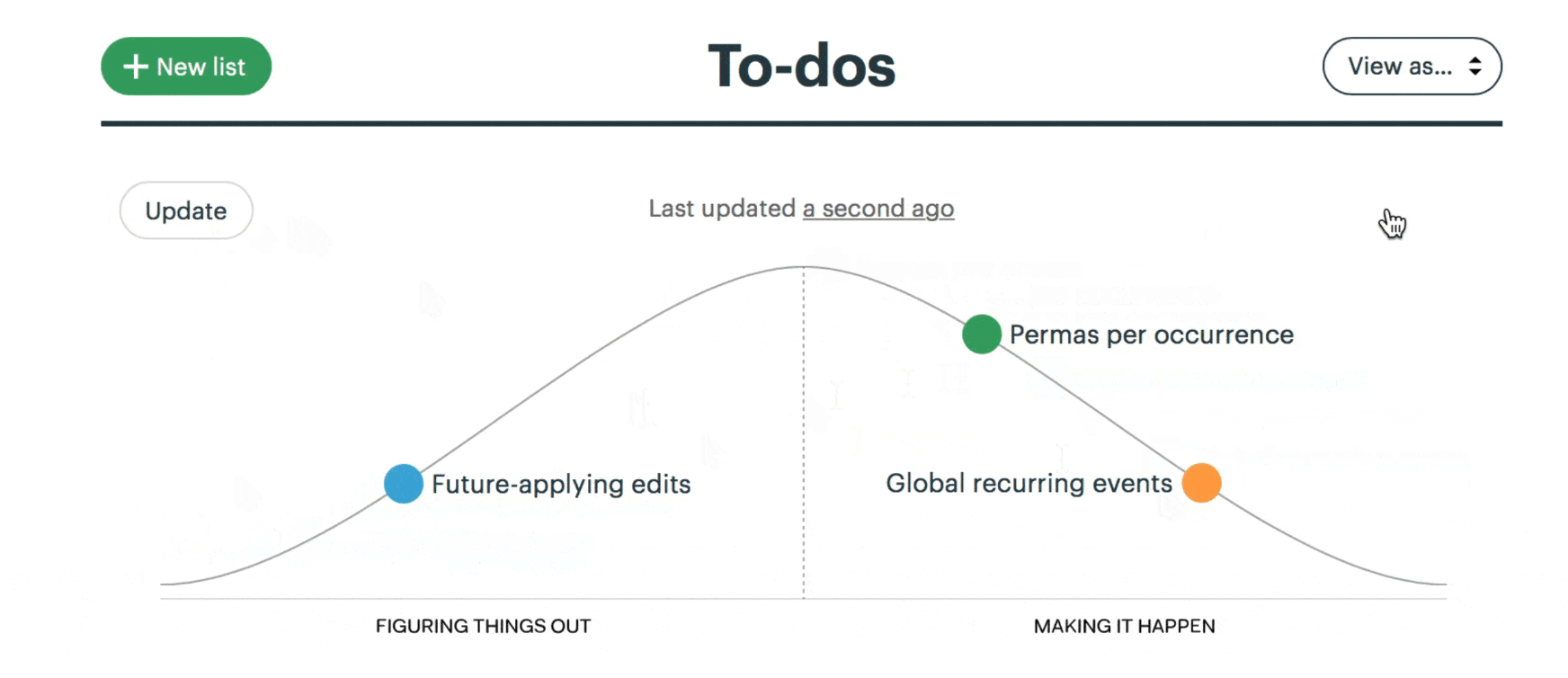 Hill charts allow users to move tasks along a bell curve so that everyone has a better idea of how tasks are progressing as opposed to just being "done" or "not done". Every time a task is moved on the hill chart a snapshot is taken and added to the project history, so that everyone can see which tasks are moving along and which are stagnant. Annotations and comments can also be added to snapshots.
Pros & Cons
Below are some of the pros and cons of Basecamp.
| | |
| --- | --- |
| Basecamp Pros | Basecamp Cons |
| Affordable and simple flat rate pricing structure. | No free version. |
| Includes Real-time Chat. | Lacks advanced security protections such as in-transit data encryption, HIPAA compliance and SSO. |
| Only pay for employees – guests, contractors and/or clients can view/collaborate for free. | Lacks advanced features such as automations, forms, and goals/portfolios. |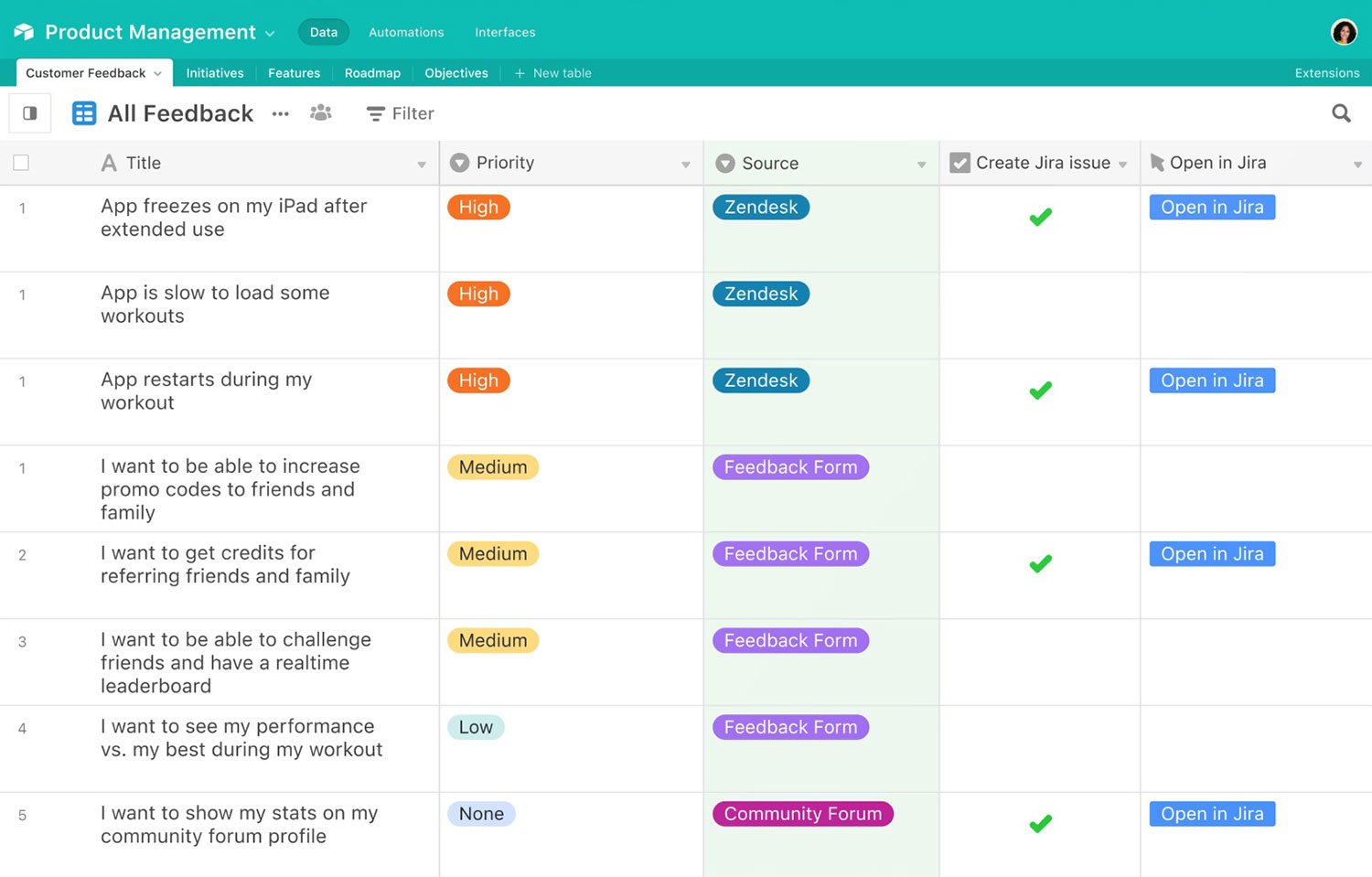 Airtable provides project management capabilities via the use of "bases" and "extensions". A base is essentially a dashboard, it can be created from scratch or from an Airtable template. It is then customized by adding extensions. Extensions are elements that are added to the base and either display chosen data in a specific way or perform an action.
Examples of Airtable extensions that display data:
CSV import
Video snippets
Map
Calendar Import
Chart
Pivot View
Descriptions/Checklists
Flow Chart
Examples of Airtable extensions that perform actions:
Google Hangouts
Send SMS
Validate Emails
Convert attachments to URLS
Barcode generator
Scheduler
Search function
Track time
Pricing
Airtable has a traditional 3-tiered pricing plan plus a free version. Here is a quick breakdown.
Free
Plus
Pro
Enterprise
Price
$0
$10-$12 per user/mo
$20-$24 per user/mo
Contact Airtable
Editors
Up to 5
Unlimited
Unlimited
Unlimited
Main Features

1 extension per base (unlimited bases)
Grid/Calendar/Timeline/Form/Kanban views
1200 records per base

3 extensions per base
Custom branded forms
6 month revision and snapshot history

10 extensions per base
Gantt and Timeline views
Field and editing permissions

Unlimited workspaces and extensions per base
SAML-based SSO
3 year revision and snapshot history
Key Features
Here are some of the key features of Airtable.
Kanban Board
Airtable's Kanban board is a visual representation of workflows and ongoing projects. The main elements are "cards" "columns" "swimlanes" and "WIP(work-in-progress) limits". A card is a customizable box that displays one task. The columns represent where the task is in the pipeline ("to do" "in progress" or "done"). The cards are moved from column to column using drag-and-drop. Swimlanes are the rows of the kanban board and can be used to group similar tasks together such as those in the same project. WIP limits keep workloads manageable and realistic.
Flowchart Extension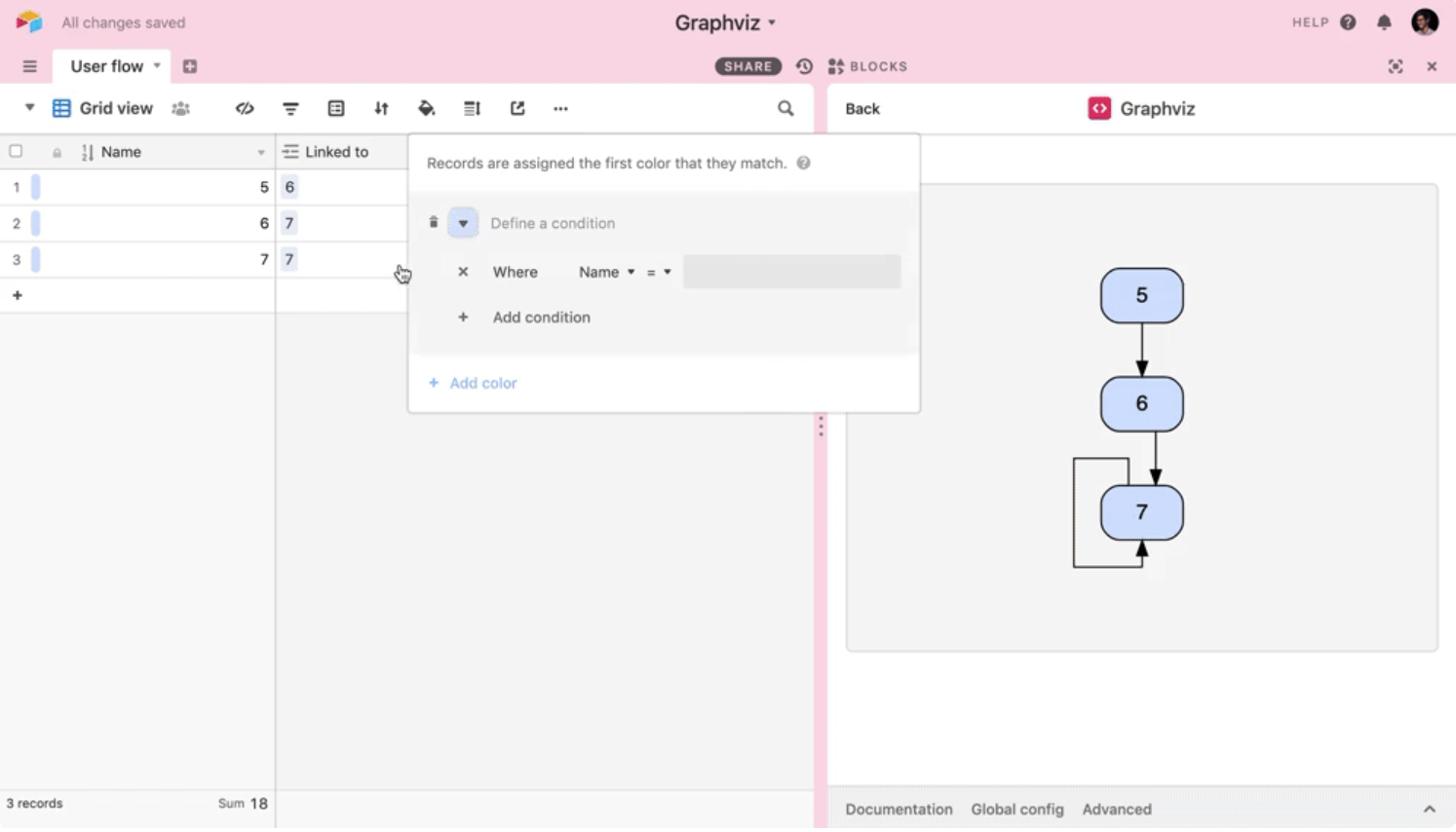 Airtable's Flowchart extension allows Pro and Enterprise plan users to create a flow chart by selecting a table with the data they would like in the flow chart and then setting up record dependencies (records that link to other records in the same table). Users can customize the flowchart by color-coordinating the table, changing chart orientation, selecting the link style and choosing the record shape.
Pivot Table Extension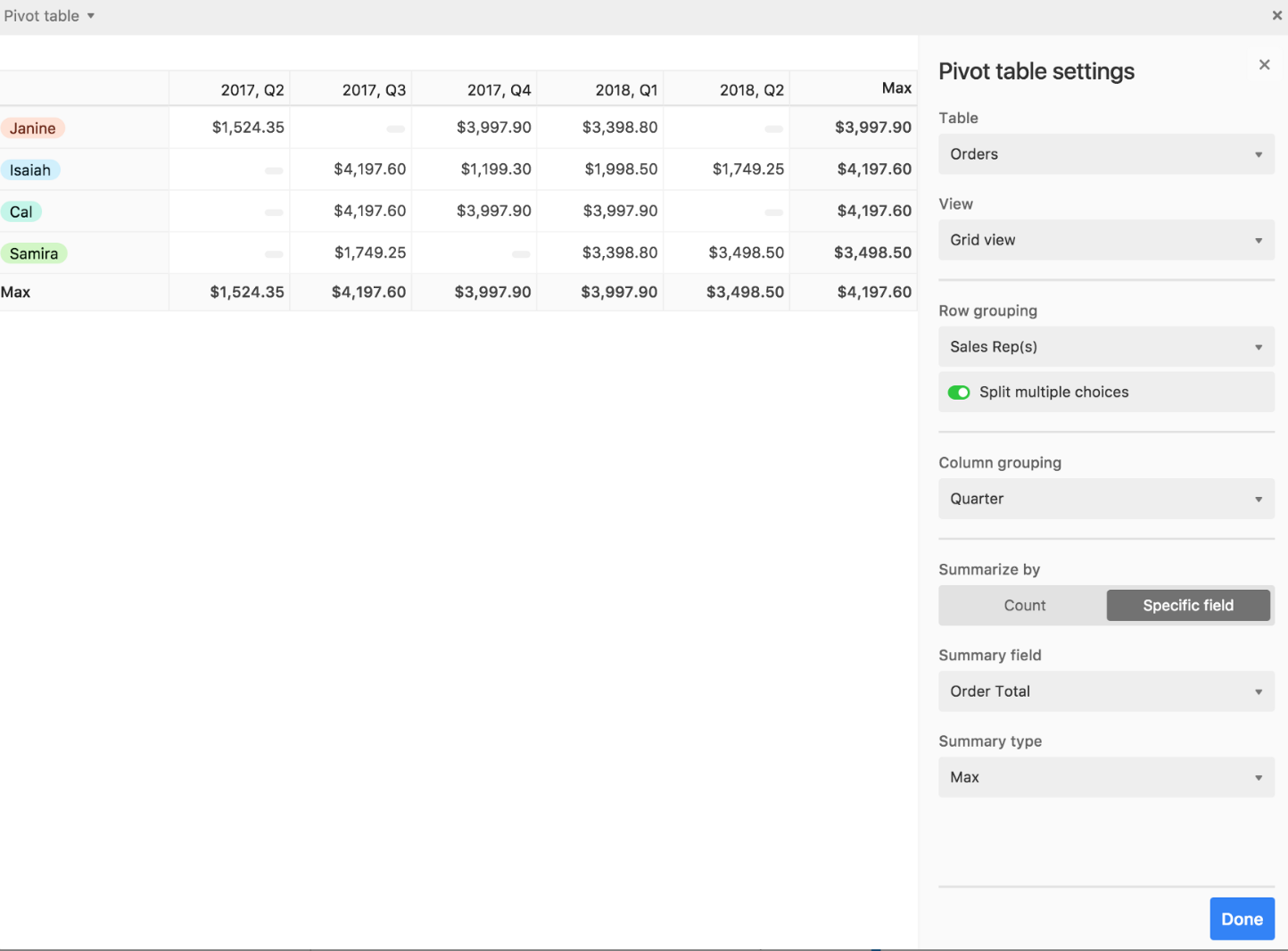 Airtable's Pivot table is a versatile tool that summarizes information from other tables and displays it in a new way. Pivot tables can be used to compare subsets of data and more easily spot trends. In a pivot table the creator chooses fields for data to be pulled from to create new row and column groupings. Once these groupings are chosen, users can then summarize the data by count or by a specific field that applies a function such as sum, average, or maximum. The Pivot table extension is available in all Airtable plans.
Pros & Cons
Here are some of the main pros and cons of Airtable.
| | |
| --- | --- |
| Airtable Pros | Airtable Cons |
| Unlimited commenter and read-only users in all plans including Free. | Expensive compared with competitors. |
| Multiple views including Kanban and Timeline available for all plans. | No uptime guarantee. |
| All plans include a drag-and-drop interface designer. | No designated team chat space. |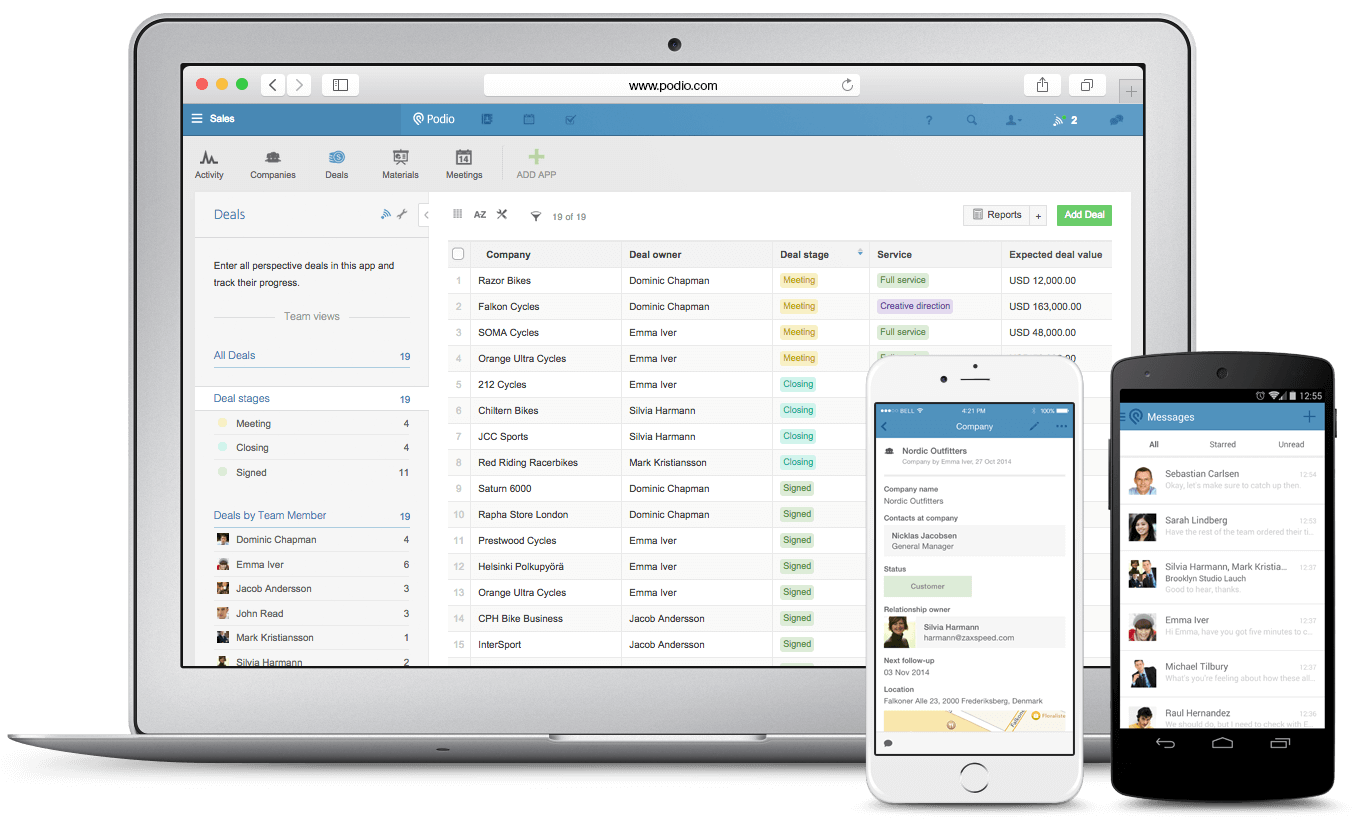 Podio by Citrix is a cloud-based collaborative work platform with integrated chat, task management and automated workflows. Podio offers some of the lowest prices in the work management space, and because it allows for unlimited free viewers, it is great for teams that work with freelancers and clients on projects. Although there is no uptime SLA, Podio has reliable service (99.99% uptime last year) and rigorous security standards such as AES-256 encryption.
Pricing
Here is a pricing breakdown for Podio.
Free
Basic
Plus
Premium
Price
$0
$7.20-$9 per user/mo
$11.20-$14 per user/mo
$19.20-$24 per user/mo
Max Employees
5
Unlimited
Unlimited
Unlimited
Main Features

Task Management Apps
Workspaces

Unlimited items
User management
Unlimited external users

Light user role
Automated Workflows
Read Only Access

Visual Reports
Interactive Sales Dashboard
Advanced Workflow automation
Key Features
Here are some of Podio's key features.
File Sharing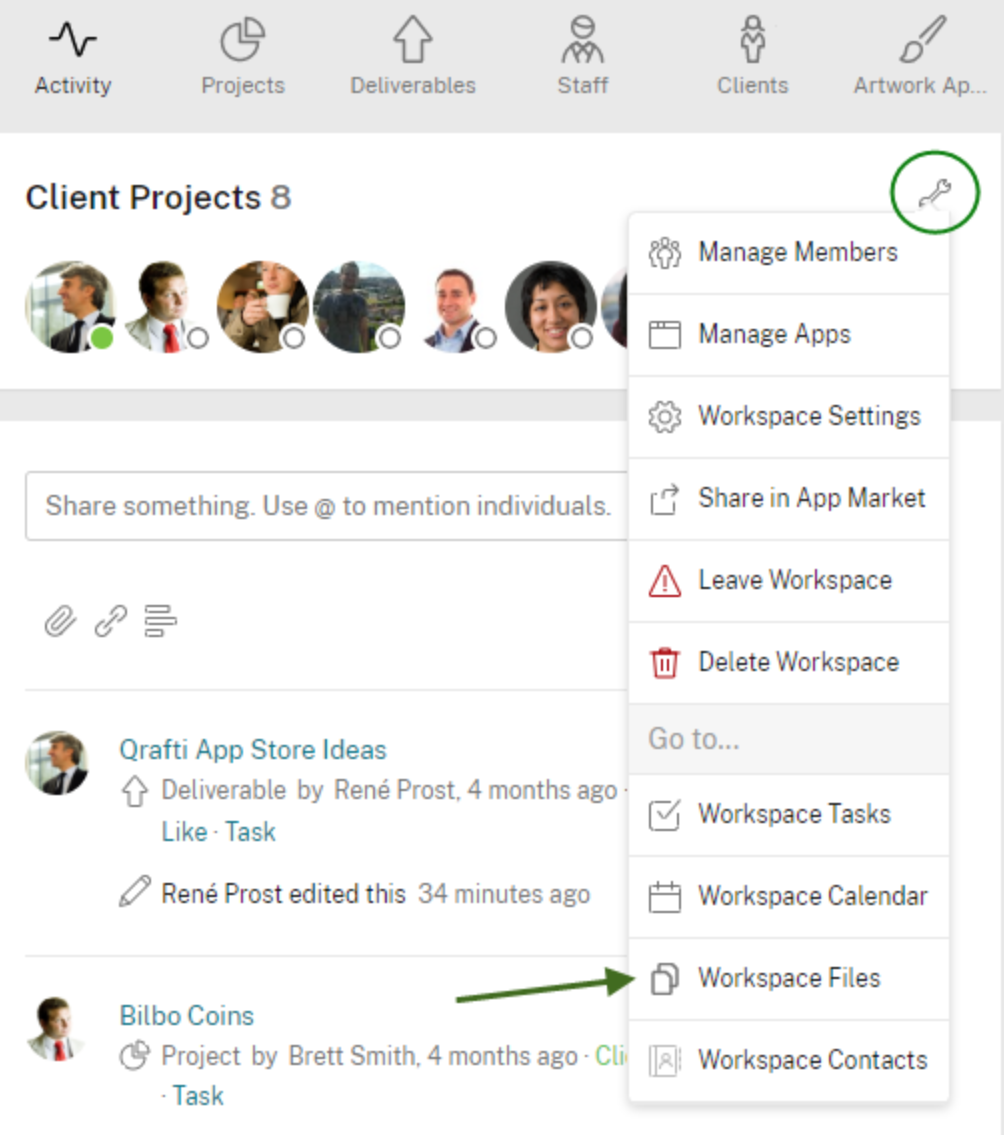 Podio users can attach files to Podio app items such as projects or tasks. This is a great tool for quickly sharing items with other team members or outside collaborators. The limit for each file is 100 MB and the adding files function can be enabled or disabled. When integrated with a file-sharing service such as Box, Google Drive or Evernote, files from that service can be quickly accessed.
Workflows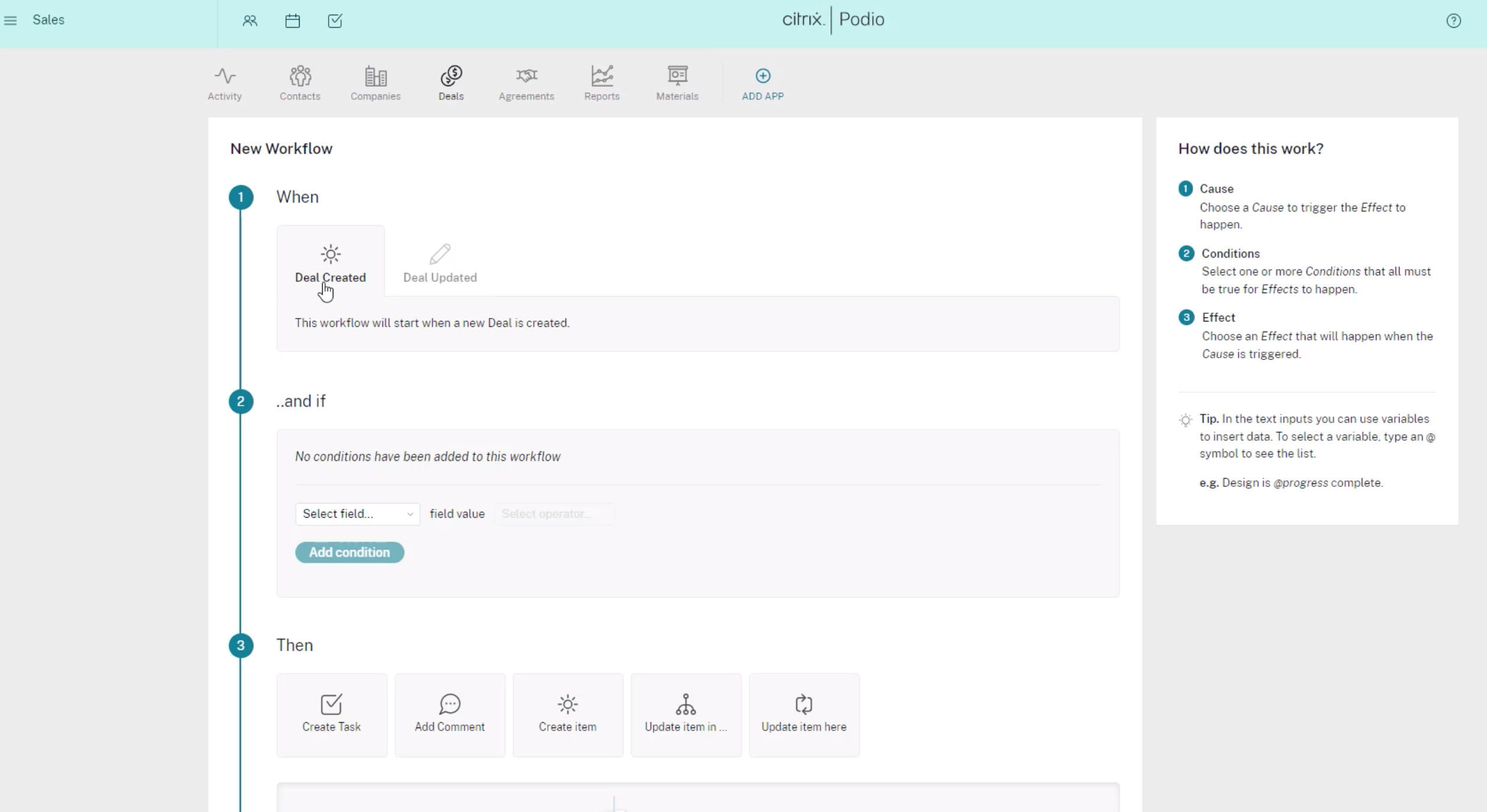 Podio workflows can be used to automate many different repetitive tasks using simple "when/then" logic. For example, when a task is created, then a specific person will be assigned to follow up. The triggering event could be the creation of an item or an update. For Plus and Premium users, there is also an "and if" section to further refine when a workflow will be activated.
Activity Streams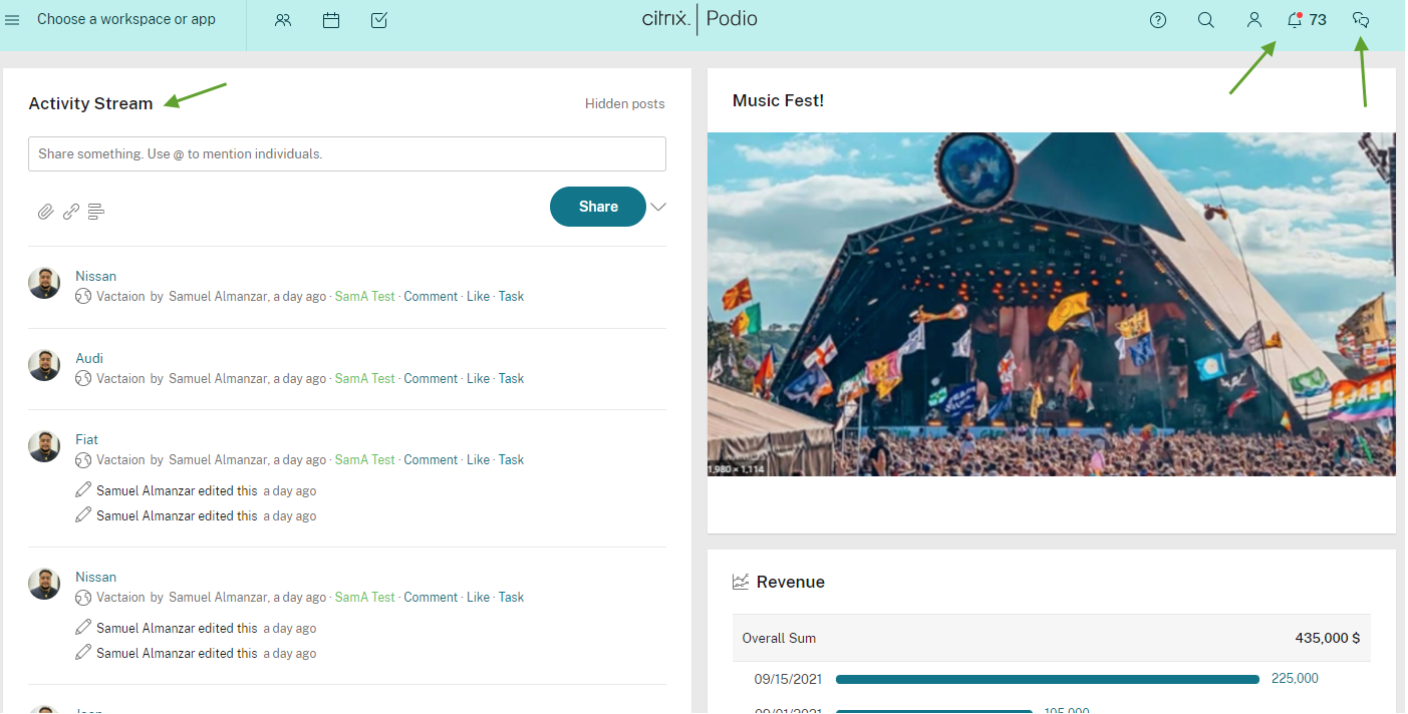 There are two types of activity streams in Podio. The Home Activity Steam displays all of the updates from workspaces that the user is assigned to. The user can also choose to hide specific workspaces from the Home Activity Stream. There are also Workspace Activity Streams for each separate workspace. Users can comment, like and create a task directly from an Activity Stream.
Pros & Cons
Below are some of the pros and cons of Podio.
| | |
| --- | --- |
| Podio Pros | Podio Cons |
| Simple to set up and use | Not many advanced features compared with competitors, requires add-ons/integrations |
| Affordable compared with competitors | Design is not as visually appealing as competitors |
| Unlimited free viewers and sharing | Lack of a robust template library |
Zoho is a top SaaS provider offering a full suite of products including CRM software, a UCaaS platform and analytics software, to name a few. Zoho Workplace is Zoho's team collaboration and resource management platform that streamlines communication, projects and tasks. Zoho Workplace is extremely affordable and users have access to features from across Zoho's suite including its video conferencing platform, Zoho Meetings. As such, Zoho Workplace is perfect for remote teams that are experiencing rapid growth and need a sophisticated platform they can scale quickly with.
Pricing
Here is an overview of Zoho pricing.
Free Forever
Mail Only
Standard
Professional
Price
$0
$1 per user/mo (annual only)
$3-$4 per user/mo
$6-$7 per user/mo
Max users
5
Unlimited
Unlimited
Unlimited
Main Features

Web access only
5 GB per user
25 MB attachment limit

Email hosting for multiple domains
Streams-collaboration tool
Shared calendars

Zoho Mail (includes tasks, notes, etc.)
Zoho Workdrive (Admin dashboard, file sharing, etc.)
Zoho Meeting Video conferencing up to 10 participants

Video conferencing with 100 participants
Zoho Connect (Groups, forums, etc.)
Zoho Cliq (Multi-Team channels, etc.)
Key Features
Below are some of Zoho Workplace's key features.
Smart Assistant, Zia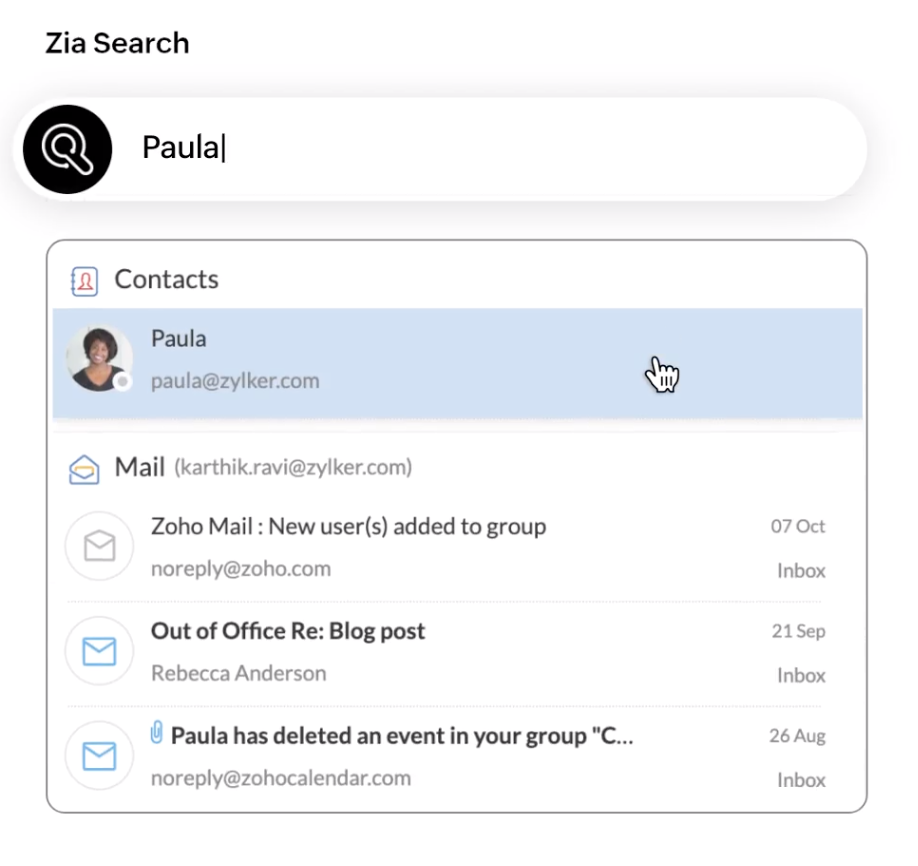 Zoho Workplaces's AI-powered smart assistant, Zia can be used to conduct a search across the platform to find a particular message or piece of information no matter what app it's on. Zia Search can pull information from multiple mail accounts, contacts, email and more. Users can reply to emails, assign owners to tickets and perform other contextual actions right from the search interface.
Zoho Show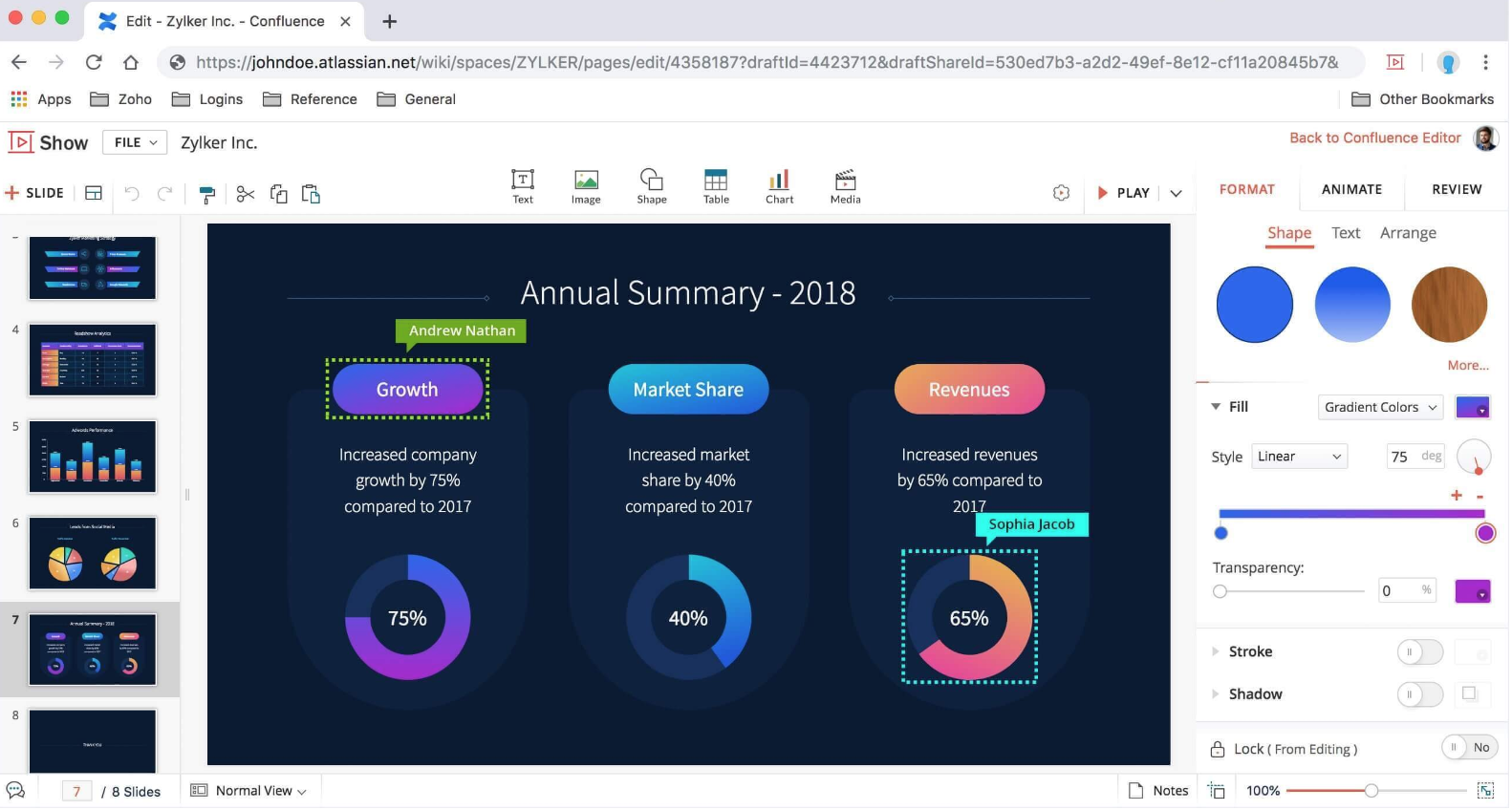 Zoho Show is an online presentation tool included in all Zoho Workplace plans. With Zoho Show users can create visually engaging slide shows. Zoho Show includes real-time collaboration, enabling team members to provide feedback on slides. Some features included in Zoho Show are:
Charts
Custom Shapes
Image Filters
Templates
Comments
Formatting options
Zoho Meetings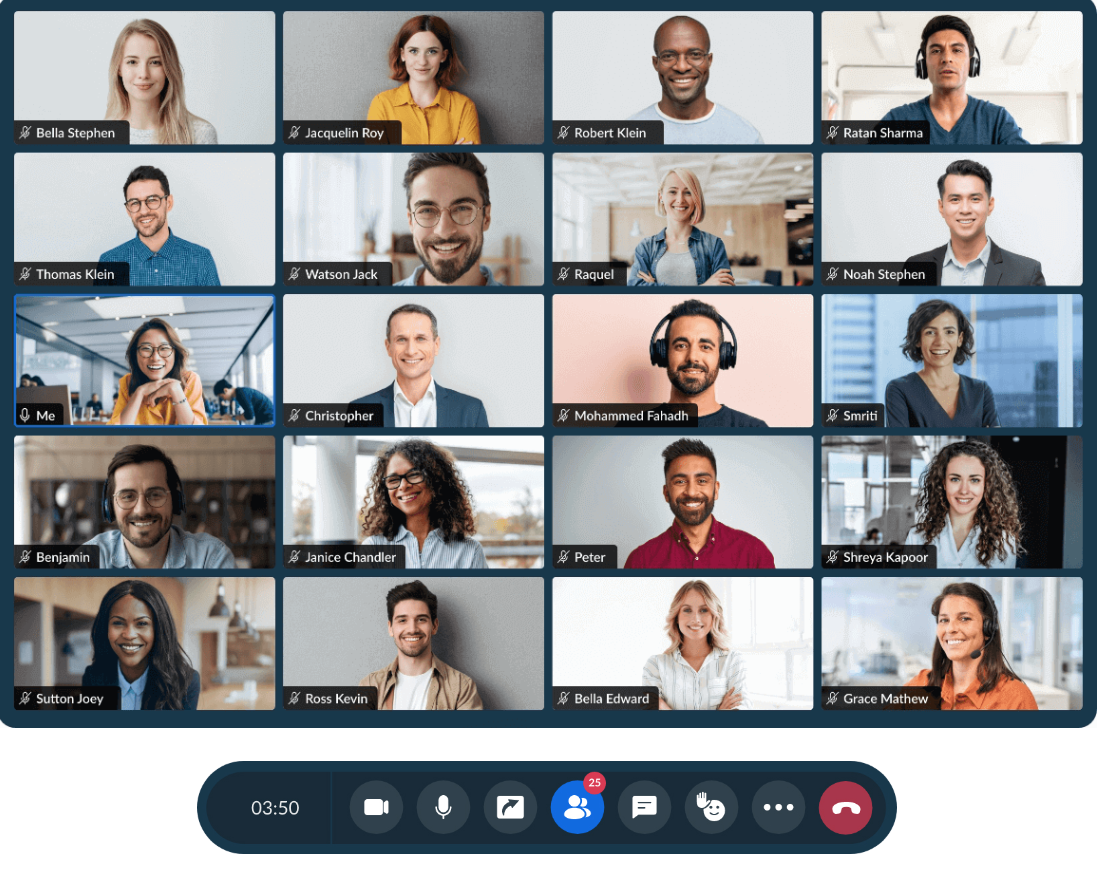 Zoho Meetings is included in Zoho Workplace Standard and Professional plans with up to 10 participants or 100 participants respectively. Zoho Meetings are highly secure and offer numerous advanced features to help remote teams stay unified.
Zoho's video conferencing features include:
Meeting Lock
Co-Hosts
Recording
Screen and File Sharing
Sync meetings to calendar
Hand Raising
Multiple video layouts
DTLS-SRTP encryption following TLS protocol version 1.2
Pros & Cons
Here are some of the pros and cons of Zoho Workplace.
| | |
| --- | --- |
| Zoho Pros | Zoho Cons |
| Extremely affordable and packed with features from Zoho's suite. | Free version is limited. |
| Highly secure and reliable. | A lot of features and customization means that there will be a learning curve. |
| Video conferencing available for Standard users and above. | No native Gantt or Kanban view. |
Which monday.com Alternative Should You Choose?
The best monday.com alternative for your business depends on what tools you need, the size of your team and, of course, your budget. Keep in mind that although we believe this list showcases the best team management tools out there, it is not an exhaustive list. Other notable contenders to consider are Wrike and Workfront.
For large enterprises, Slack is a great option due to its high level of security (encryption/SSO), advanced features and reliability (99.99% uptime). For small businesses that need a simple solution, ClickUp might be the best value due to its affordable prices and live customer support. Trello is another great low-cost option.
For small teams and SMBs that are experiencing rapid growth and need more advanced features, Zoho offers the best of both worlds: prices starting at just $1 per user/mo as well as access to a plethora of advanced features (video conferencing, smart assistant, etc.) and the ability to quickly scale.
For teams that often collaborate with outside clients, contractors, freelancers and other guests, Basecamp is an excellent choice as it allows for unlimited free collaborators along with a straightforward flat pricing scheme.
Almost every provider offers a free version, so it may be best to narrow down your search to a few solutions and then try each one out for a few days or weeks before making a final decision.
FAQs
Yes. In 2020 monday.com released a new and improved desktop app. You can find it by searching for "monday.com" in the macOS or Windows app store.  

Yes monday includes Kanban style boards in all pricing plans.  

On monday.com a board is where you house information on each specific project. A high level board provides a project overview while a low level board zooms in on details such as progress on individual task lists. Content on a board is organized into groups and columns. A workspace is like a big folder that displays information from multiple boards. 

Yes, slightly. monday and Asana have similarly priced economic plans. Both offer a limited free version and both have a comparable version that is around $10 per user per month. monday does offer a semi-limited version for $8 per user/month, but it is not much different than the free version so it makes more sense to compare monday's "Standard" plan (starting at $10 per user/mo) with Asana's "Premium" plan (starting at $10.99 per user/mo). When it comes to higher priced tiers, however, Asana is more expensive. Asana's "Business" plan starts at $24.99 per user/mo and monday's "Pro" plan starts at only $16 per user/mo.