Contact Center as a Service (CCaaS) is a cloud communications and CX software designed to improve and automate workflows, provide intelligent customer self-service, optimize live agent support, and cut down on communication silos across channels.
Freshdesk Contact Center (formerly Freshcaller) from Freshworks is an all-in-one omnichannel communication platform, support desk, collaboration tool, and customer management software with a robust set of AI-powered features and a user-friendly interface.
In this Freshdesk Contact Center review, we'll outline available pricing and plans, key capabilities, the user experience, and even alternatives to Freshdesk.
Quick links:
What Is Freshdesk Contact Center?
Freshdesk Contact Center is a telephony-first cloud contact center and service desk software focused on providing a feature-rich business phone system, optimizing the support ticketing process, and using smart automations to improve agent and customer experience.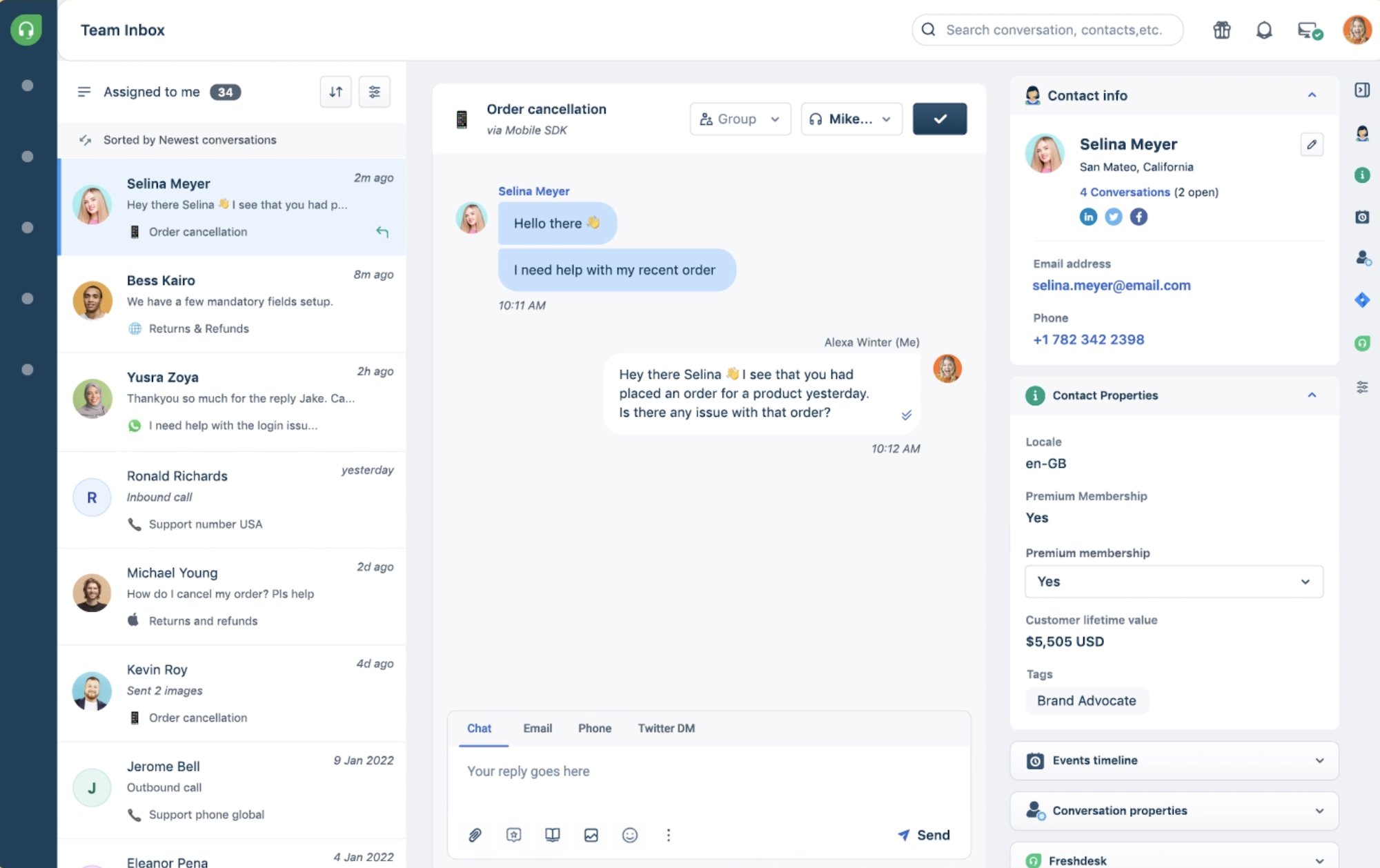 Freshdesk is known for its highly scalable solutions, and offers several tiered business communication and CX products as a part of its Contact Center platform.
On its own, the Freshdesk Contact Center (formerly Freshcaller) is really more of a call center software, offering a feature-rich cloud PBX phone system with voice calling only.
To access omnichannel capabilities–alongside ticketing support, an omnichannel knowledge base, customer management, and advanced AI-powered automations–users will need to upgrade to the Omnichannel Suite, which includes Freshdesk Support Desk, Messaging, and the standard Contact Center plan.
To provide readers with an understanding of Freshdesk Contact Center's complete capabilities, this review is of the Freshdesk Contact Center's Omnichannel Suite.
Freshdesk Contact Center Pricing and Plans
Freshdesk offers two different "Contact Center" products: its standard Contact Center product, which is really a voice-only call center software, and its Omnichannel product, which is a true voice and digital contact center solution.
Freshdesk Contact Center (call center) has one free plan and three paid plans from $15-$69/agent/month, plus pay-per-minute calling fees (billed monthly.)
Freshdesk Contact Center plans include free incoming call minutes (between 2,000-5,000 minutes/month), all outbound calls start from $0.022/minute.
Freshdesk Contact Center pricing plans are shown in the image below: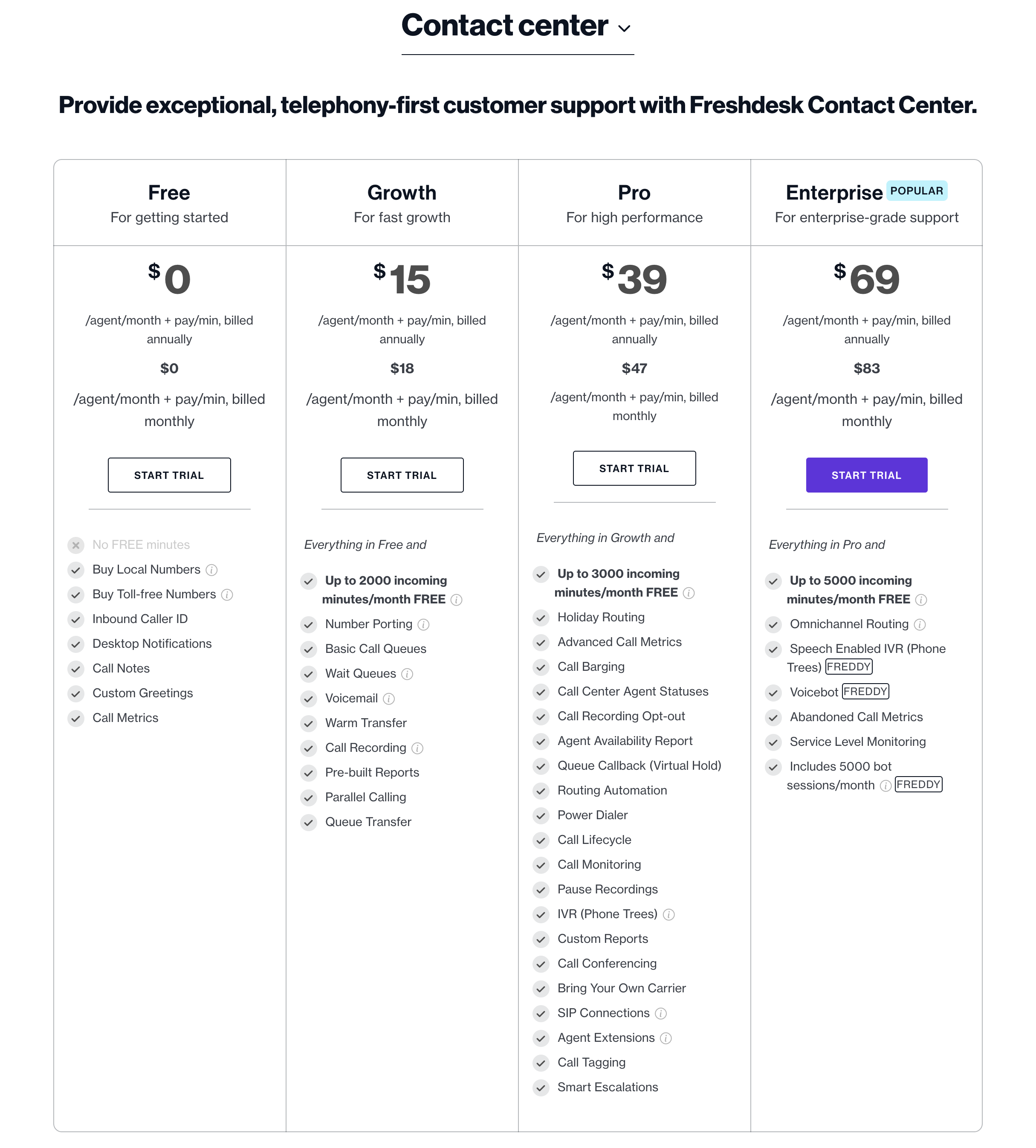 Most businesses opt for Freshdesk's more economical, AI-powered, and multi-channel Omnichannel Suite, which offers three plans from $29-$99/agent/month when billed annually ($35-$119/agent/month when billed monthly.)
All Omnichannel Suite plans also include access to all Freshdesk Support Desk, Freshchat, and Freshdesk Contact Center features, providing a 50% savings compared to the cost of purchasing these products separately.
All Freshdesk Omnichannel users still have to pay-per-minute if inbound calls go over the tiered bundled minutes included in each plan, as well as all outbound calls. All users also have access to the Freshdesk Android and Apple iOS mobile app.
Detailed Omnichannel pricing and plans are shown in the image below: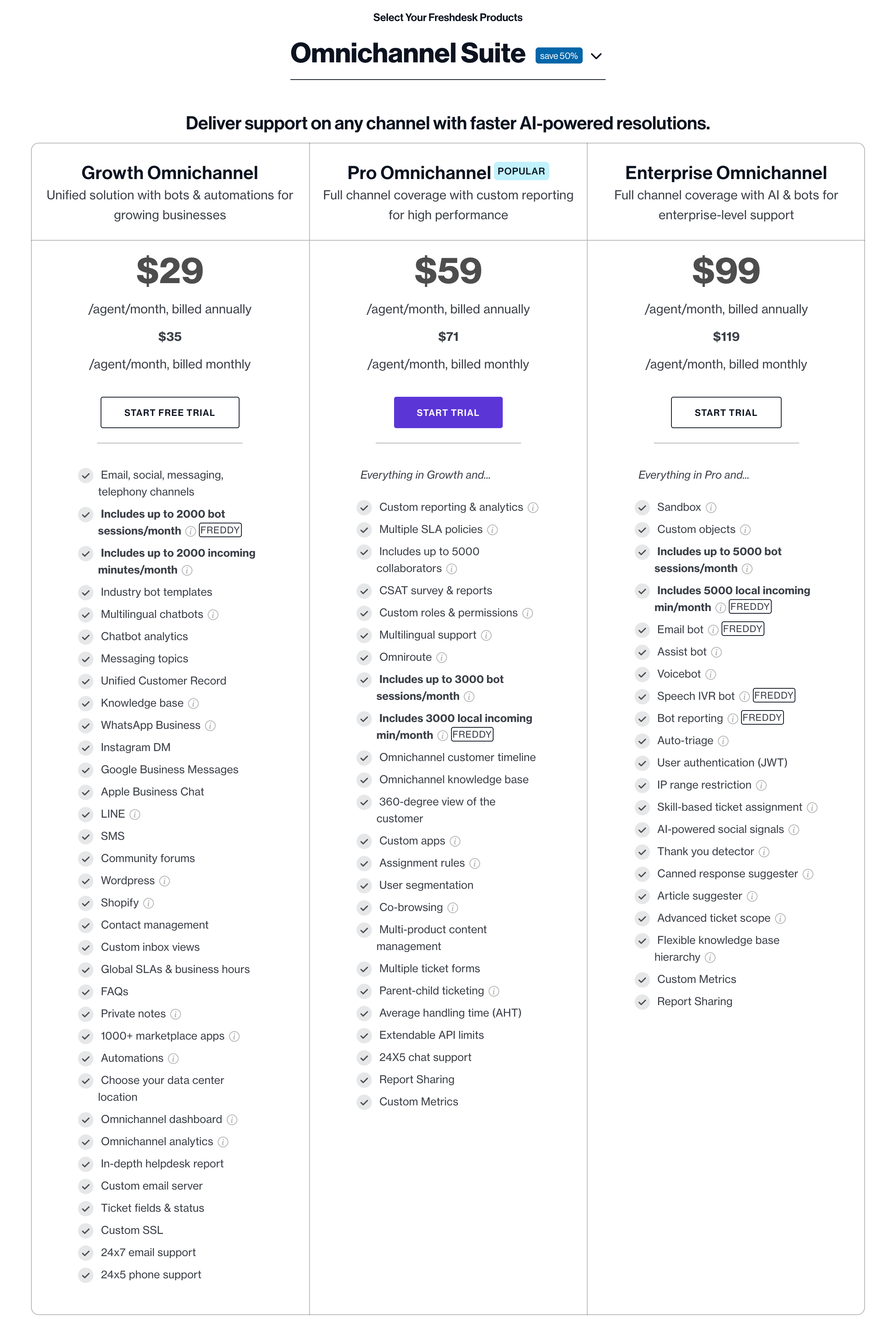 Omnichannel Contact Center add-ons include:
$75 for 1,000 additional bot sessions/month
Field Service Management: $15/field employee/month for Service Task/ Appointment/Field Team Management, Scheduling Dashboard, custom reporting and time tracking, customer signatures, task notes, etc.
Top Freshdesk Contact Center Features
Below, we've outlined some of Freshdesk Contact Center's best features.
Voice Calling
Given that Freshdesk is a phone call-first Contact Center, it's not surprising it offers superior voice calling capabilities.
Freshdesk offers local phone numbers in over 50 countries, toll-free and vanity numbers, and international phone numbers in addition to BYOC and number porting capabilities.
The Call Lifecycle tool identifies nearly 50 pre-call, in-call, and post-call "Events," automatically creating a chronological call summary providing real-time insight into call context and agent activity.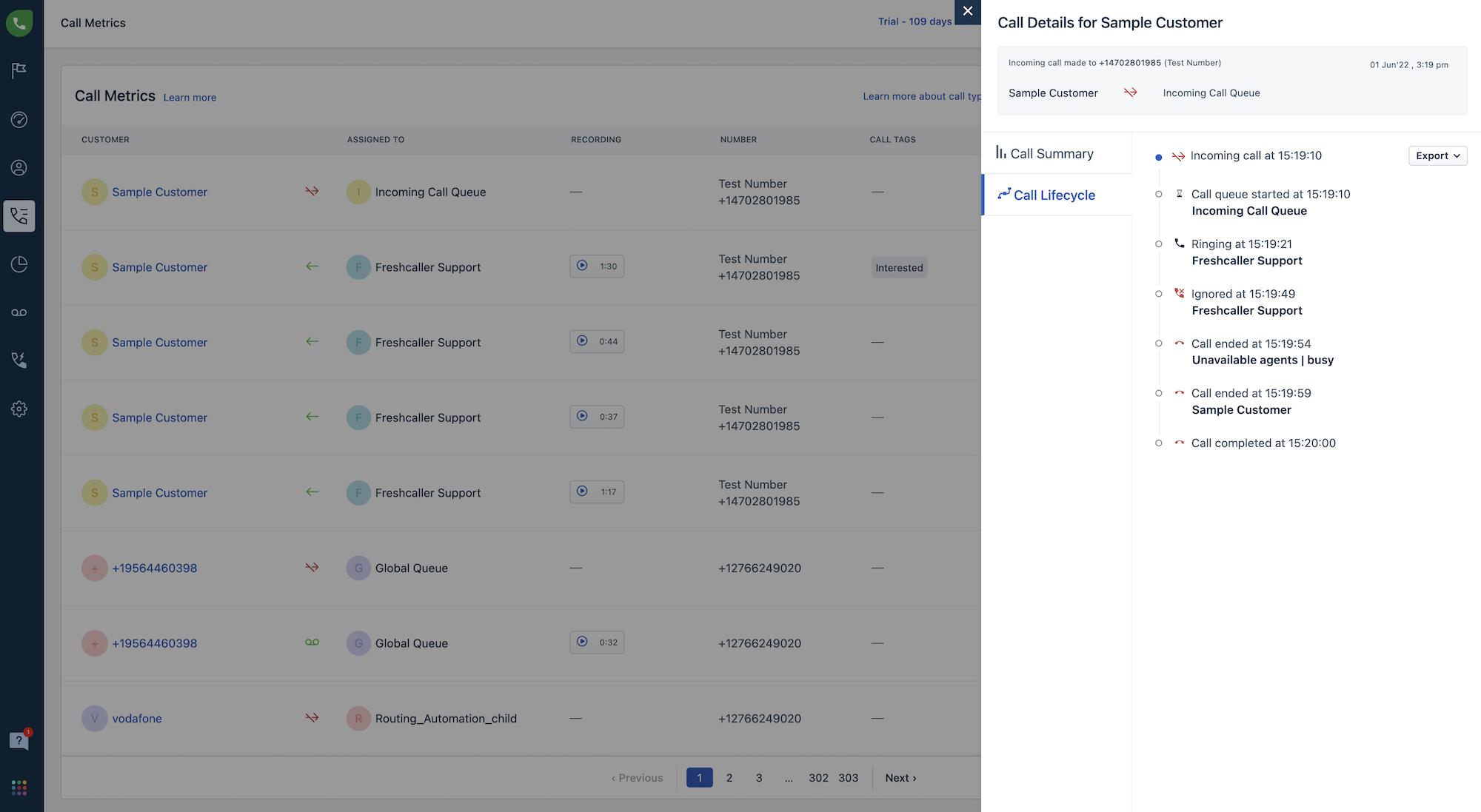 Call Lifecycle monitors inbound and outbound calls to identify key data like:
Agent and customer name/contact information
Time it took agent or customer to answer
Time/date of call, call start/end time
If/when the call was transferred, ignored, sent to voicemail, put on hold, placed in a queue, deflected to a bot/IVR, etc.
Call transcription, recording, routing sequence initiated
CSAT survey completion
When a callback was requested/initiated
Call Lifecycle summaries can be exported and shared, and are especially helpful for optimizing call flows and agent queue assignments.
Freshdesk Contact Center also includes outbound Power Dialing with contact importing and lead list uploading, call tagging, access to contact Conversation History, and the ability to pause/restart the auto dialer.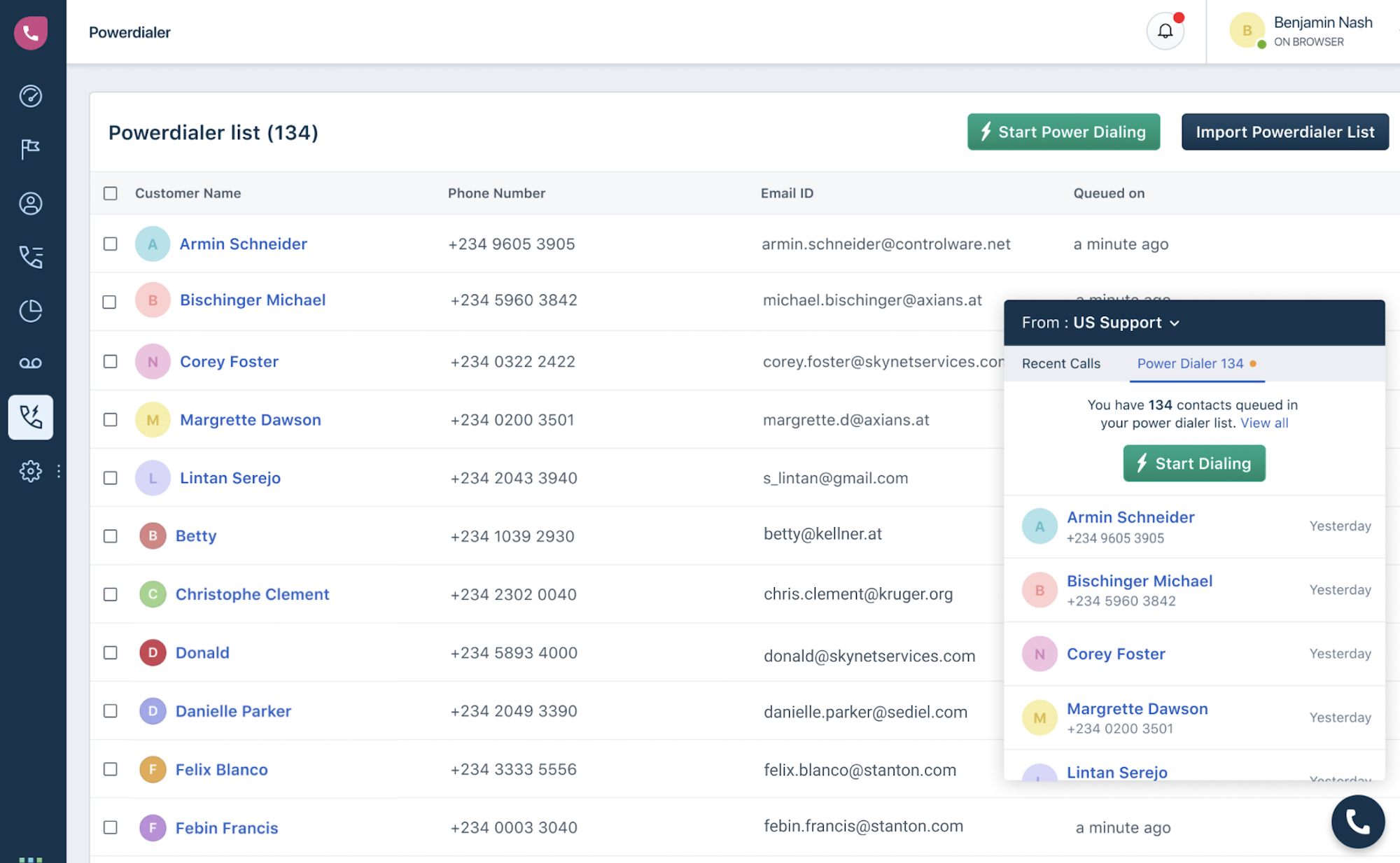 Other key VoIP voice calling capabilities include:
Shared lines and agent extensions
Spam blocking
ACD/IVR
Call recording and transcription, call monitoring, call barge
Call forwarding, call routing, warm and cold call transfers
Call blocking
Caller ID
CRM screen pops
Voicemail drop
Conference calling
After-call work with disposition codes, call notes, call tagging
Call Workflows
The Call Workflows interface is a call flow design tool that lets admins create and assign automated call paths and handling strategies, streamlining inbound voice call management and allowing customers to direct their own calls when needed.
Admins add call workflows to their desired business phone numbers, then set custom call rules for a variety of call scenarios. Basic call flow actions like call transfer, call forwarding, and voicemail messages are available.
However, more complex call workflows increase first call resolution rates and provide customer self-service options if no agents are immediately available.
Available call workflow types are:
Agent Extension Flow
The most basic option, the Agent Extension Flow sends calls directly to a specific agent extension.
If there's no answer, the software initiates fallback call flow options according to agent state (Available, Busy, No Answer, etc.)
Call Queues
Sends incoming calls to specific departments, ring groups, individual agents, or forwards calls to external phone numbers.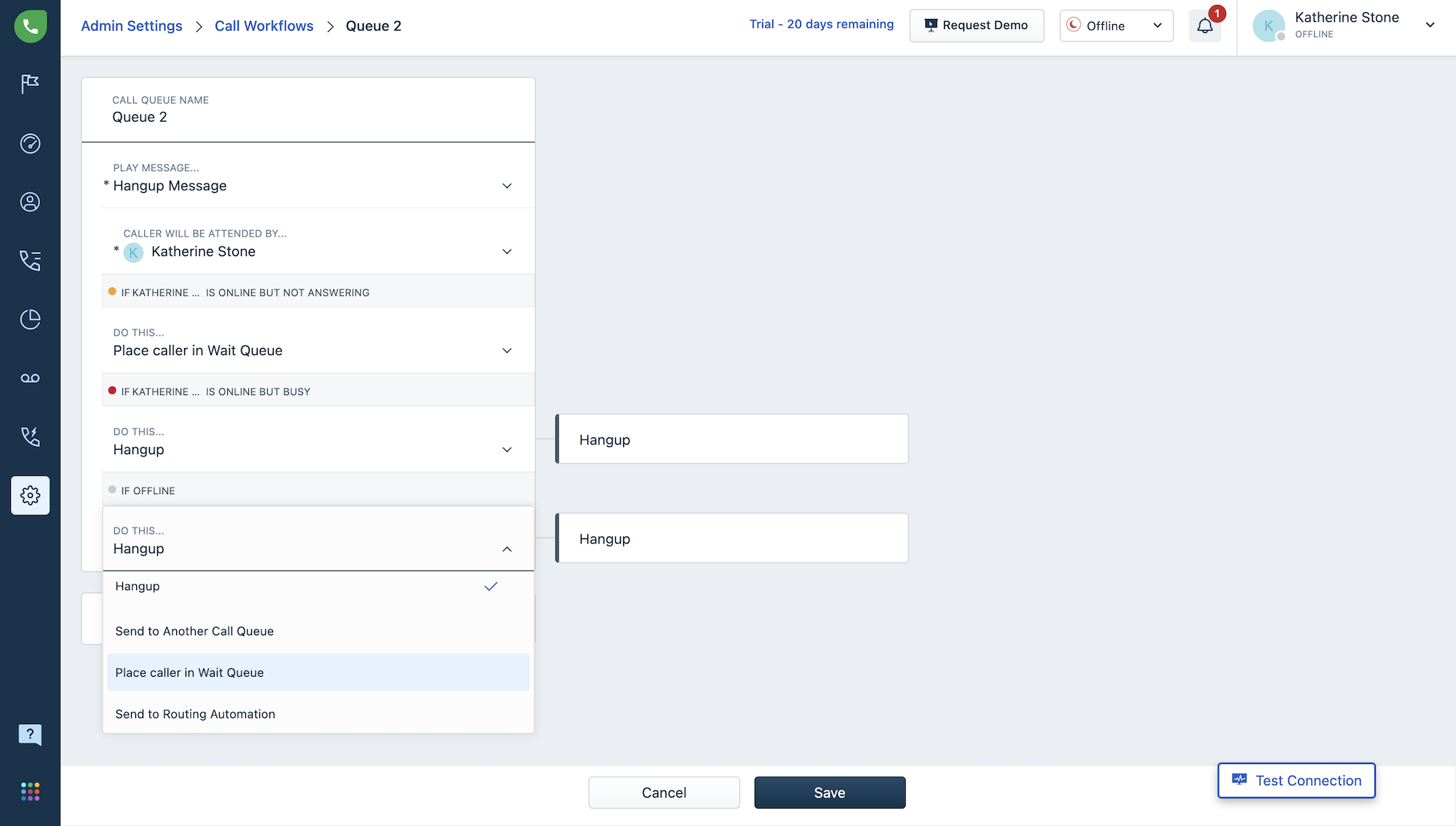 If no agent is available to take the call, admins can configure a traditional wait queue, automated callbacks, or Smart Escalation (send callers to another queue/IVR menu)
Interactive Voice Response (IVR)
Freshdesk Contact Center offers both traditional touch tone and Speech-Enabled Interactive Voice Response.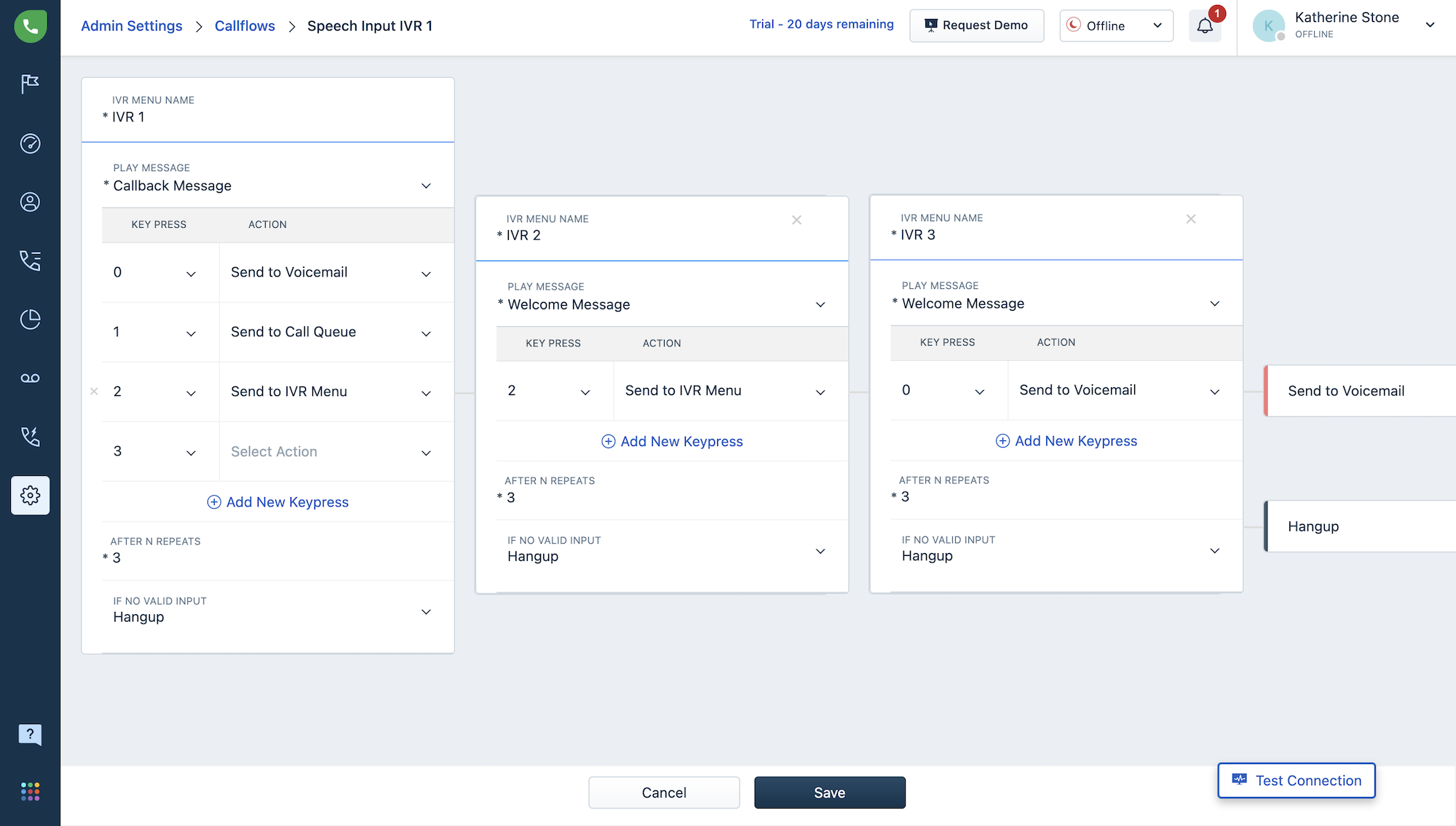 Touchtone IVR lets callers use their phone dial pads to key in their responses to pre-recorded greetings and call menu prompts. Touch Tone IVR is ideal for more basic tasks, like forwarding calls to external numbers, specific agents or queues, voicemail boxes, or call transfers.
Speech-Enabled IVR lets callers speak IVR prompt responses directly into the phone, then uses NLP and Speech Recognition to process customer requests and direct calls accordingly. This multi-level IVR is ideal for more advanced customer queries, but may still result in connecting a caller to a live agent.
Smart Answer Call Flow
Voicebot powered by Natural Language Understanding, and Intent Analysis to completely resolve the customer's query without a live agent.
Bots use Speech Analytics to automatically provide relevant customer support using data from the internal knowledge base, integrated CRM data, and pre-configured bot workflow rules.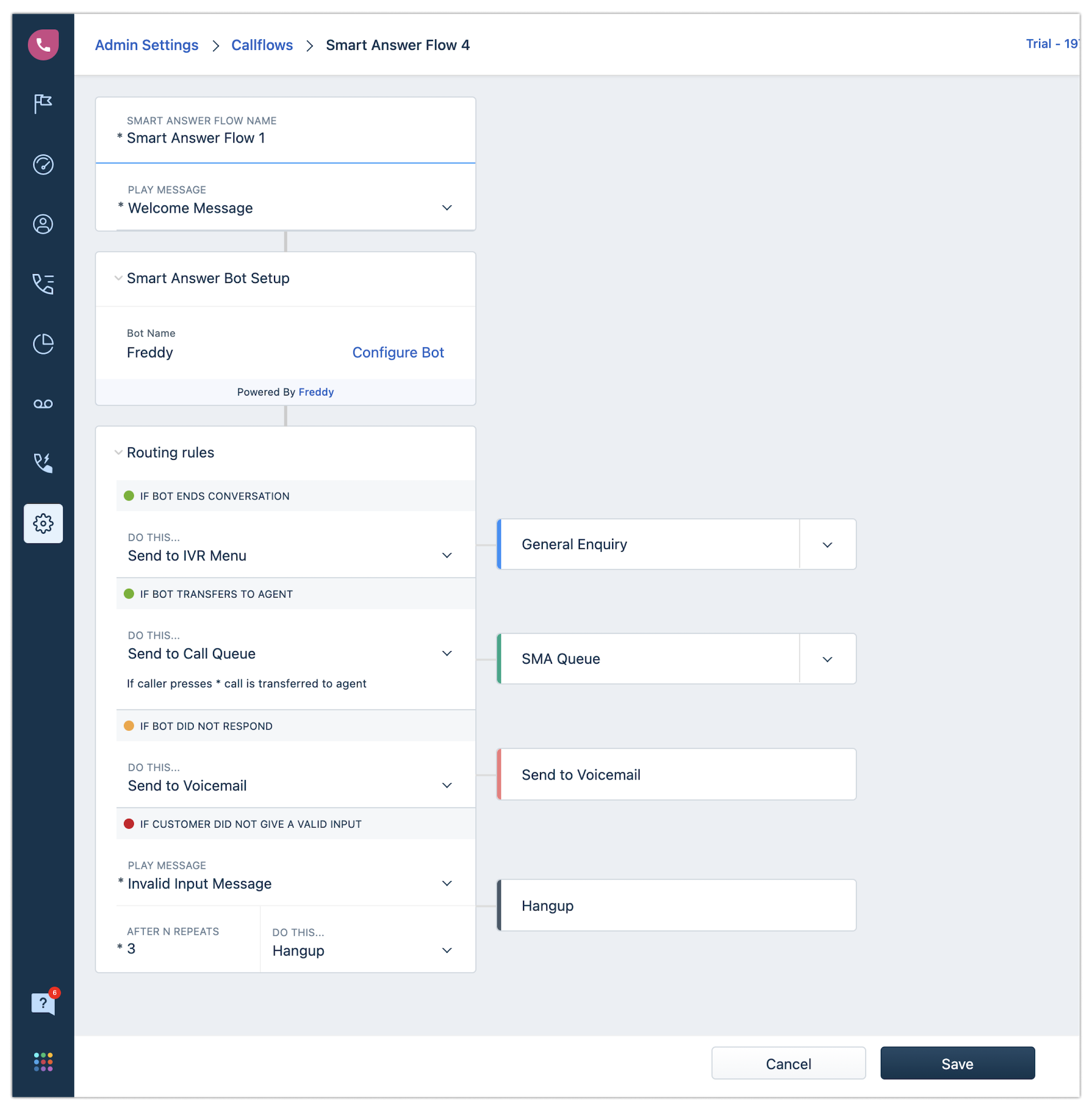 The Smart Answer bot uses machine learning to become more accurate over time, making suggestions for optimizing call flow paths and identifying questions and answers that should be added to the knowledge base.
Admins can also add question variants and examples to improve bot training and performance.
Routing Automation
Intelligent call routing that uses AI to analyze customer IVR input and pull data from integrated third-party applications (like Helpdesk and CRM software), routing calls to the best available agent according to the customer's specific needs.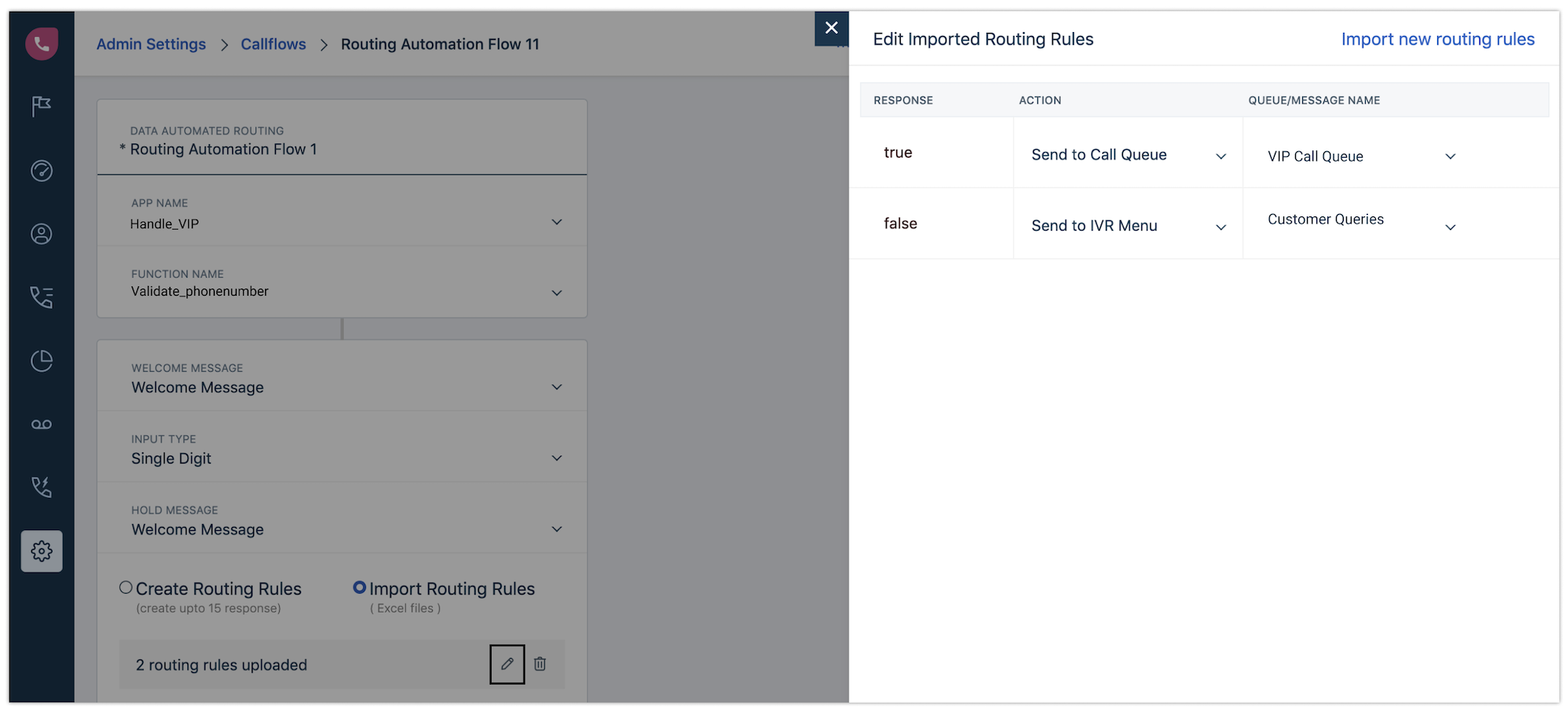 Dynamic Messaging, which lets admins create custom pre-recorded greetings with placeholders for data pulled from third-party apps, allows for more personalized–but still fully automated–customer service. Dynamic Messages work in combination with the Smart Answer Bot to completely resolve high-level customer issues without live agent support.
To further optimize the process, admins can choose from several call routing strategies, including:
List Routing
Skills-Based Routing
Round Robin Routing
Intent-Based Routing (skills-based,
Relationship-Based (VIP) Routing
Simultaneous Ringing
Voicemail Routing
Imported Routing Rules (from Excel, etc.)
Time-Based Routing (business hours, agent schedules, etc.) and Holiday Routing
Omnichannel Communication
In addition to voice calling, Freshdesk Contact Center offers live and automated digital communication channels like website chat, SMS texting, WhatsApp, social media messaging, email, and embeddable website forms.
All voice and digital channels are accessible in one omnichannel Team Inbox, with omnichannel routing and real-time synching to keep track of open tickets and conversations.
Website and Social Media Messaging
Freshdesk Contact Center lets businesses embed a chatbox widget onto their website, or add Freshdesk messaging to existing applications via SDKs. The Contact Center Messaging tool gives users access to Freshchat features, enabling both bot-based and live, two-way agent:customer chats.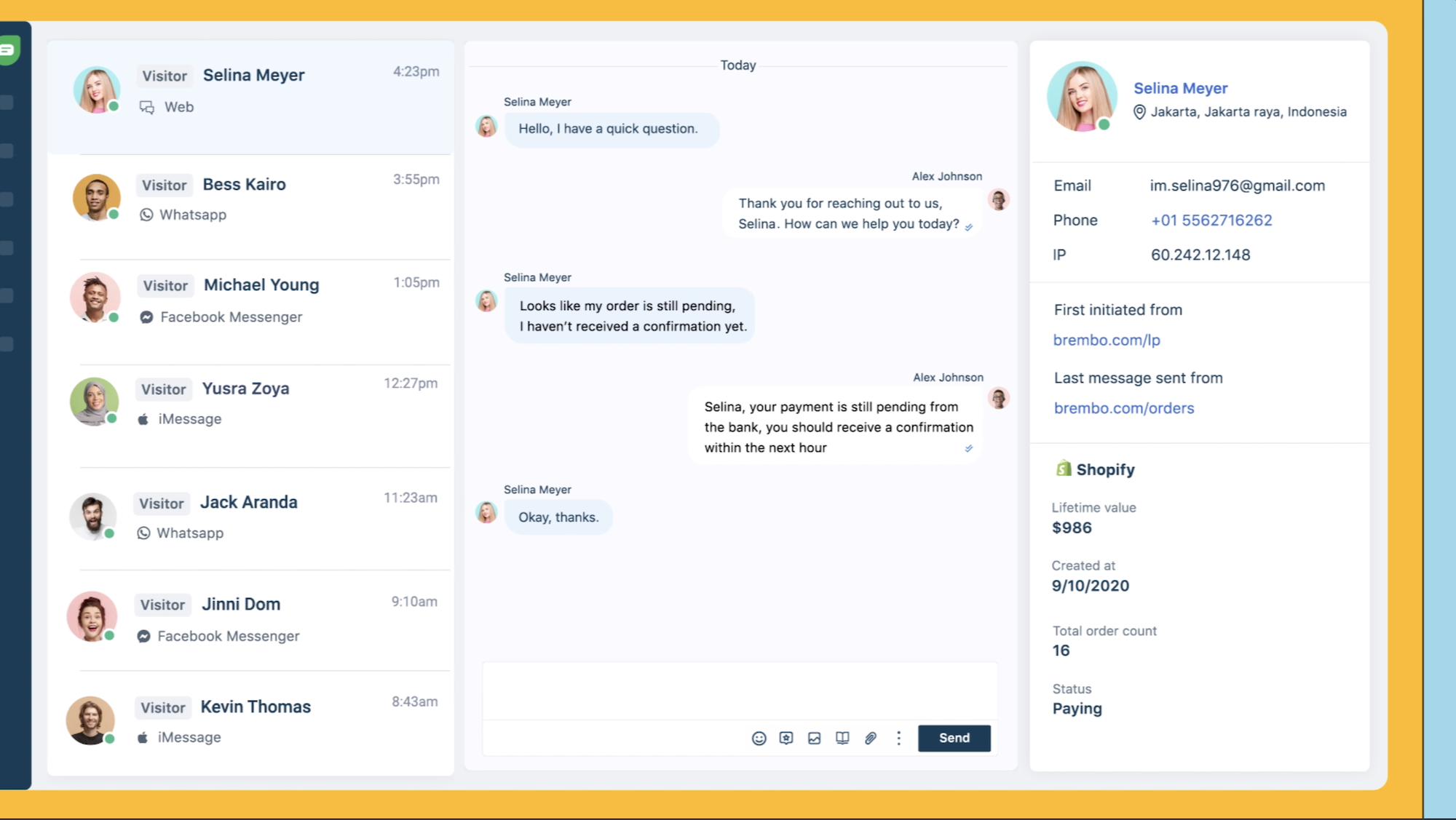 While chatting with a customer in real-time, use rich messaging features to share files, links, FAQs, carousels, GIFs, images, emojis, videos, calendars, and drop-down menus. Agents can access conversation histories and website navigation paths, customer data from CRM integrations, prior agent notes, and review/add conversation labels.
Proactive Messaging automatically engages with your website visitors at key points of the customer journey, providing customers with option buttons they can click for more information. Proactive messages can be completely customized, or set up via pre-made templates.
To optimize proactive messaging, admins can set message triggers according to website visitor action or intent.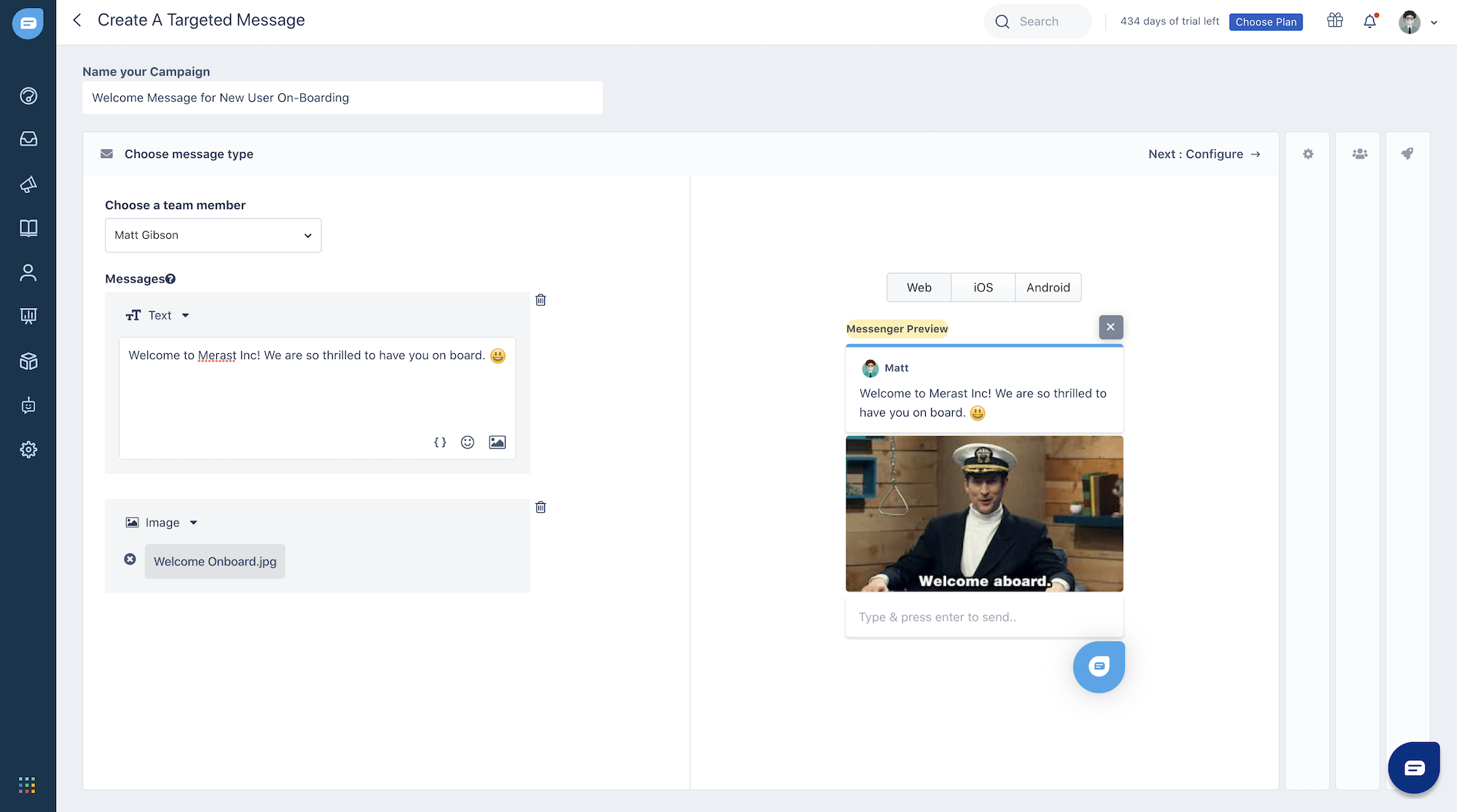 Freshdesk integrates with popular social media platforms like Facebook, Twitter, Instagram, WhatsApp, and Apple Messages to let customers get support via social media messaging–offering the same capabilities as its website chat messaging tools.
Proactive tweet monitoring via Twitter Stream lets admins add brand-related keywords they'd like to track, such as common misspellings of the company name, popular products, or your untagged brand name. Freshdesk then automatically creates support tickets from issues found via Twitter Stream.
Additional messaging features include:
Read receipts
Priority Inbox
Create agent groups to respond to messages
Unlimited chat history
Push notifications for desktop and mobile
Automated chat assignment and assignment rules
Reassign chats to other agents
Bulk chat assignments
Typing indicators
Chat transcript sharing
Canned responses
Live message translation
Email
Freshdesk Contact Center offers automated and manual two-way emailing via Freshdesk native and third-party integrated inboxes.
Freshdesk uses email as a ticket generation and support tool, letting agents add tags, priority levels, statuses, and assignees to emails. Customers can email support and sales teams directly, or via the website support portal.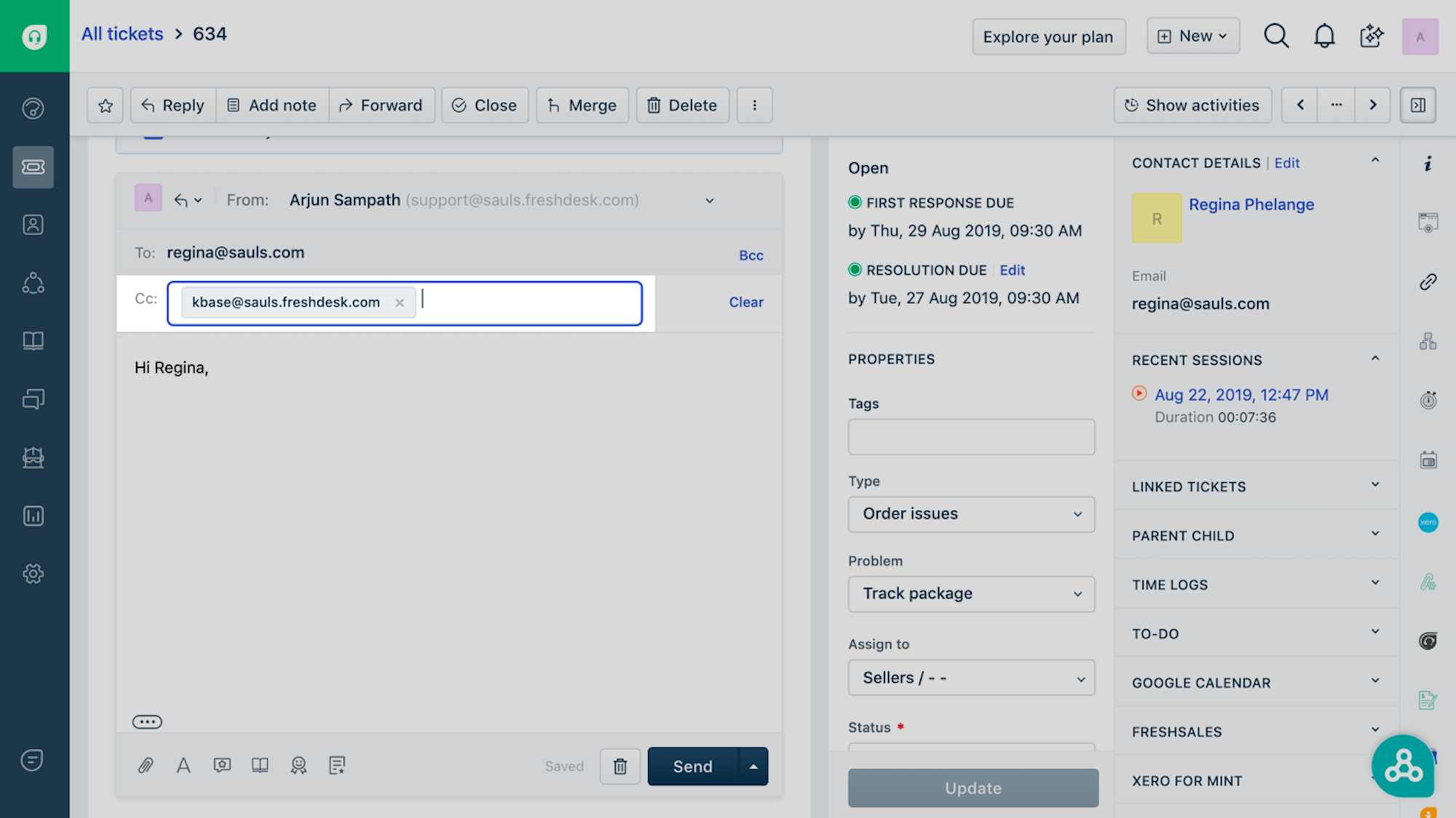 Proactive Outreach is also available via email, meaning teams can still capture and follow-up with leads even after they've left the business website. Agents can reach out individually or en masse to alert customers to a service issue, ask for customer feedback, send abandoned cart reminders, or share information about upcoming promotions.
Agents can preview emails, add files and canned responses to the email body, or attach knowledge base content. Once the email is ready, agents can schedule the ideal send time.
The Email to Knowledge Base functionality converts agent email responses to knowledge base solution articles in one click, then instantly saves it to the knowledge base draft folder for final review.
Additional email features include: 
Contact importing
Auto-reply
Link third-party inboxes and set forwarding and handling rules
Add subject lines
Forward emails and add email notes
Push notifications for emails
Send BBC emails
Use dynamic placeholders for personalization
Send test emails
Email transcripts
Create, save, and deploy email campaigns
Support Desk and Ticketing
Freshdesk is especially well-known for its collaborative omnichannel ticketing capabilities, which allow for manual and automated ticket creation across channels.
Admins can choose and pre-fill a variety of ticket templates and assign tickets to specific agents or agent groups via automated omnichannel routing and rules. All omnichannel tickets are visible within the Team Inbox agent interface, while Collision Detection prevents multiple agents from working on the same ticket.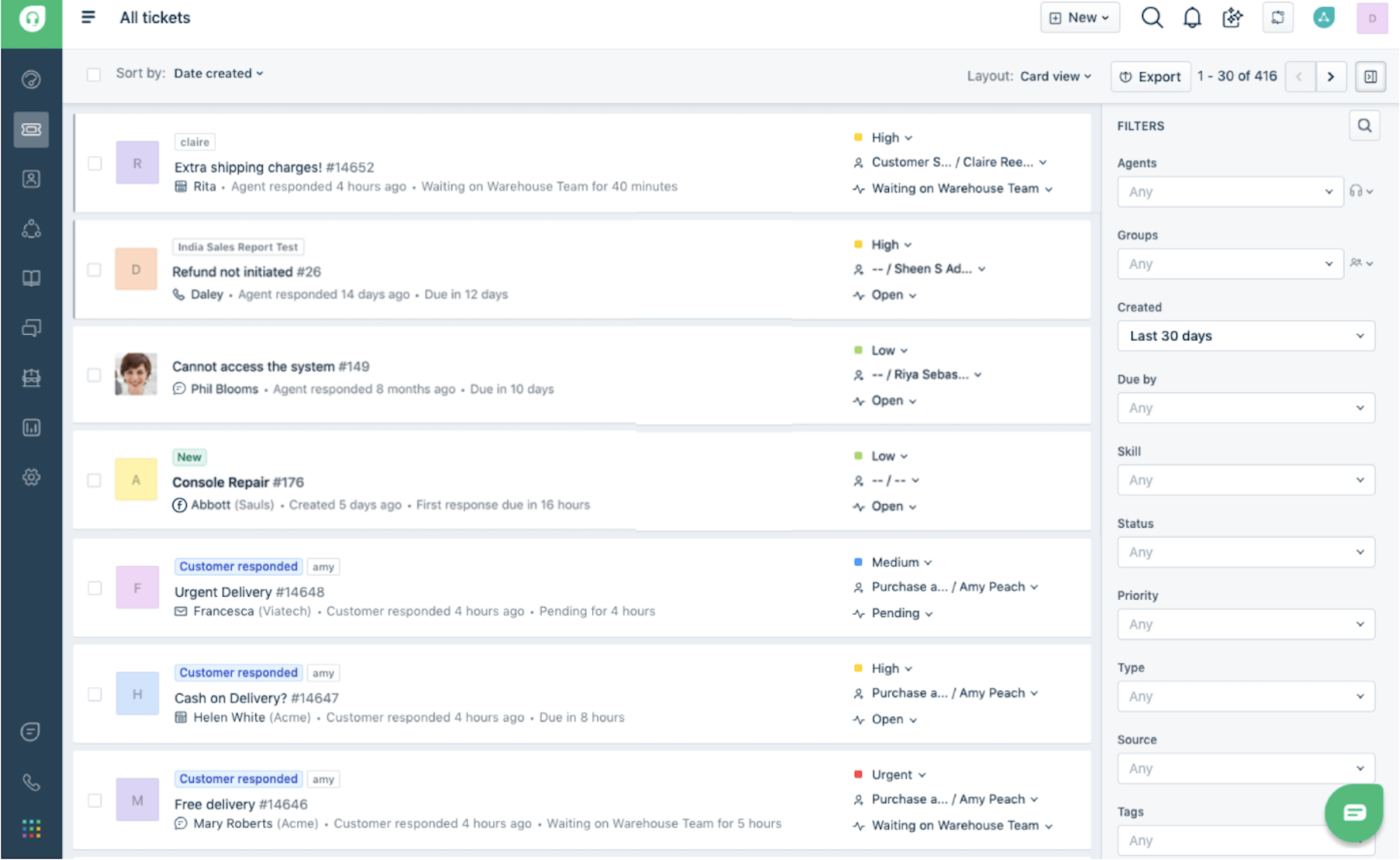 Within the Team Inbox, users can:
Set ticket priority level
Customize ticket views
Create individual and group to-do lists
Access ticket activity summaries
Enable ticket notifications across channels
Merge and link tickets
Review ticket/agent activity logs
Access canned responses
Update ticket status
Set ticket deadlines
Enable ticket time-tracking
Add ticket types, categories, and custom ticket fields
Add attachments and public/private notes to tickets
Add Custom Objects (business-specific data) to ticket fields
Enable automated ticketing workflows and rules
Set ticket dependencies
Create Field Service Tickets
SLA Management lets admins set standards for ticket response and resolution times, and sends out automated updates and reminders to ensure expectations are met.  SLAs can be customized by channel, specific support issue, customer, business hours, calendar hours/dates. Admins can also set escalation rules for all SLAs.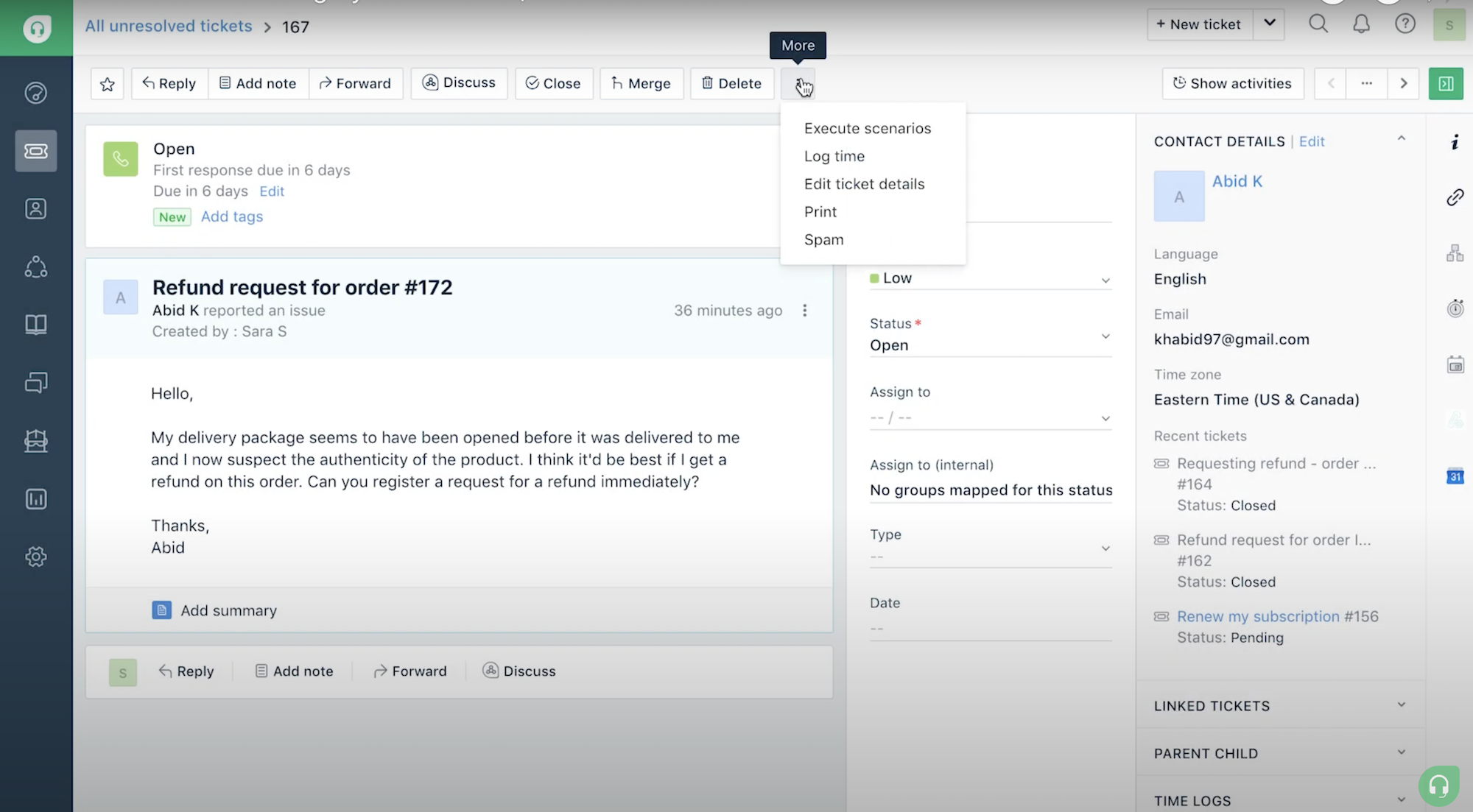 In addition to individual ticketing support, Freshdesk Collaborative Ticketing lets multiple agents share ticket ownership. All ticket collaborators can message each other directly in the ticketing window to get additional feedback, ideas, and support in real-time. Parent-child ticketing lets collaborators break down more complex tickets into multiple subtasks.
Helpdesk and Knowledge Base
In addition to ticket-based customer support, Freshdesk's Knowledge Base and Help Desk allow customers to search your business's virtual support database to resolve their issues independently of an agent.
These tools are ideal for customers with more complex support issues requiring step-by-step instructions and solutions that even AI-powered bots can't always provide.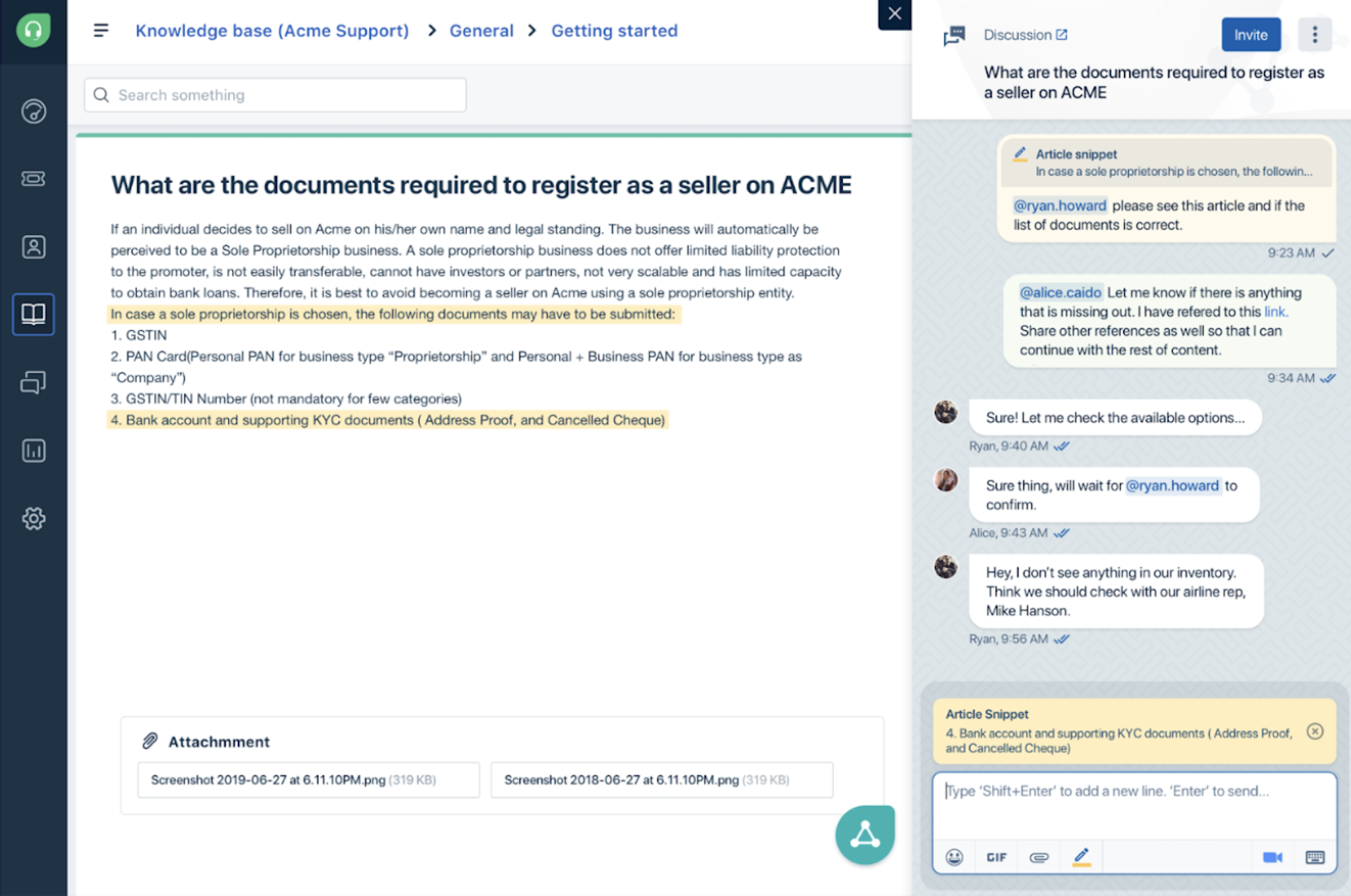 With Freshdesk, you can completely customize your business's Knowledge Base from the ground up, creating a searchable, user-friendly data repository that answers customer FAQs. (Note that internal knowledge bases for agents and other support team members can also be created.)
Freshdesk users can create knowledge base content from prior support tickets or from scratch.  Admins can add written articles, video tutorials, images, guides, product spec sheets, company policies, SLA agreements, customer onboarding details, and demos to the company knowledge base.
Additional Knowledge Base capabilities include: 
Multilingual Global Support knowledge base translations
SEO-optimized content with meta descriptions, titles, tags, etc.
Knowledge Base article customer interaction and performance tracking
Bulk editing features
Save articles as drafts
Add article tags, folders, status, categories, authors
Advanced article filtering
Article versioning
Article templates
Auto-suggest articles to customers
Article feedback
Automatic Sitemap generation
Approval Workflow pre-publication
Enable community forum for your customers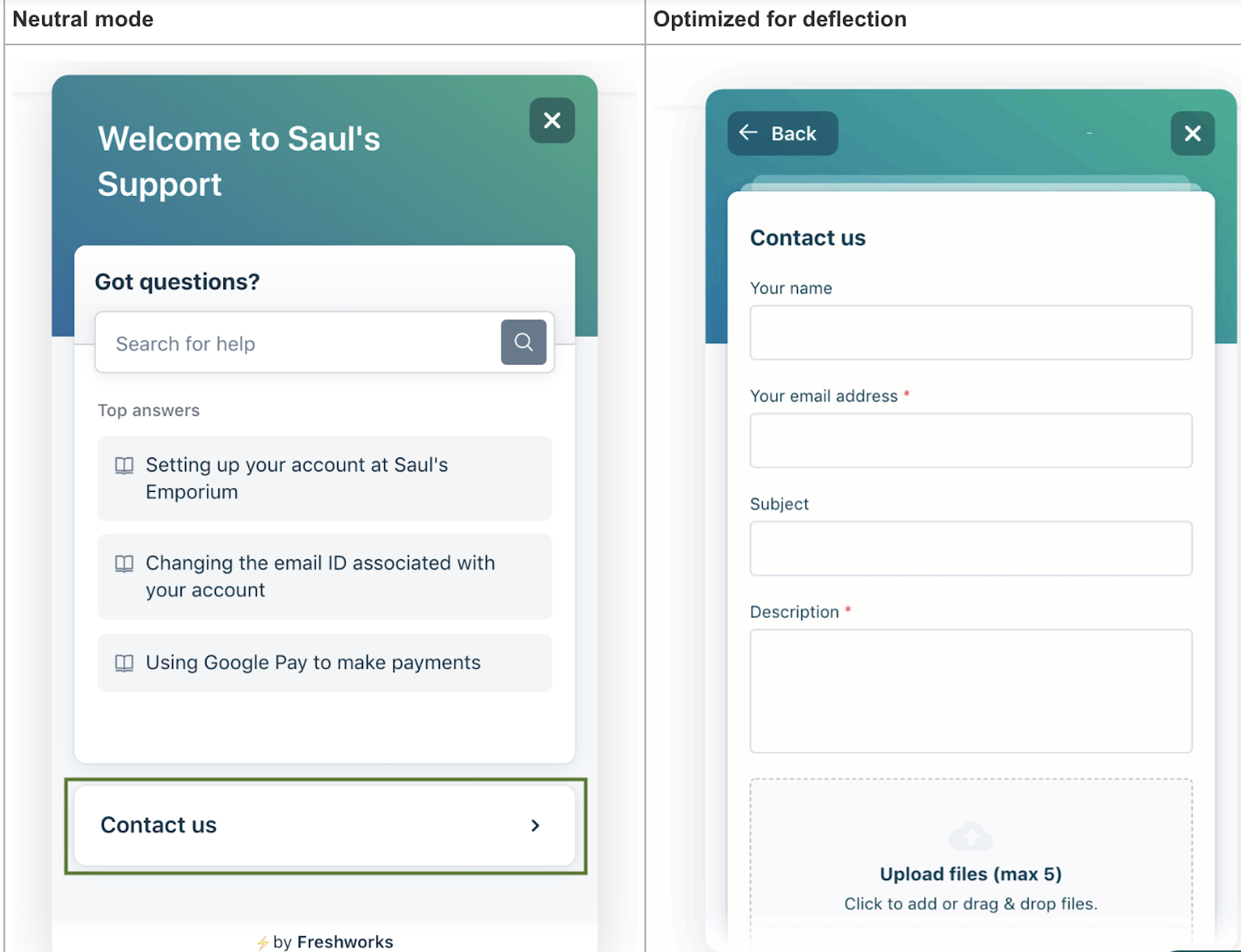 The Help Widget is an embeddable website form that links to your company knowledge base and proactively engages website visitors.
The Help Widget lets customers search your Knowledge Base and view suggested articles without navigating away from the website page. It also collects key contact information,  and allows customers to submit online support forms.
Admins can enable file attachments, multi-lingual support, captcha testing, frustration tracking, and choose from Neutral and Optimize for Deflection widget modes.
AI and Workflow Automation
Freshdesk Contact Center leverages the power of AI and automation via Freddy, its bot platform empowered with machine learning, intent analysis, sentiment analysis, and predictive analytics.
Freddy lets admins create and deploy high-powered support bots across voice and digital channels. Freddy also assists agents via automated canned response suggestions, intelligent ticketing, and more.
Chatbots
Chatbots (available for social media messaging and website messaging) are by far Freshdesk's most advanced AI tools.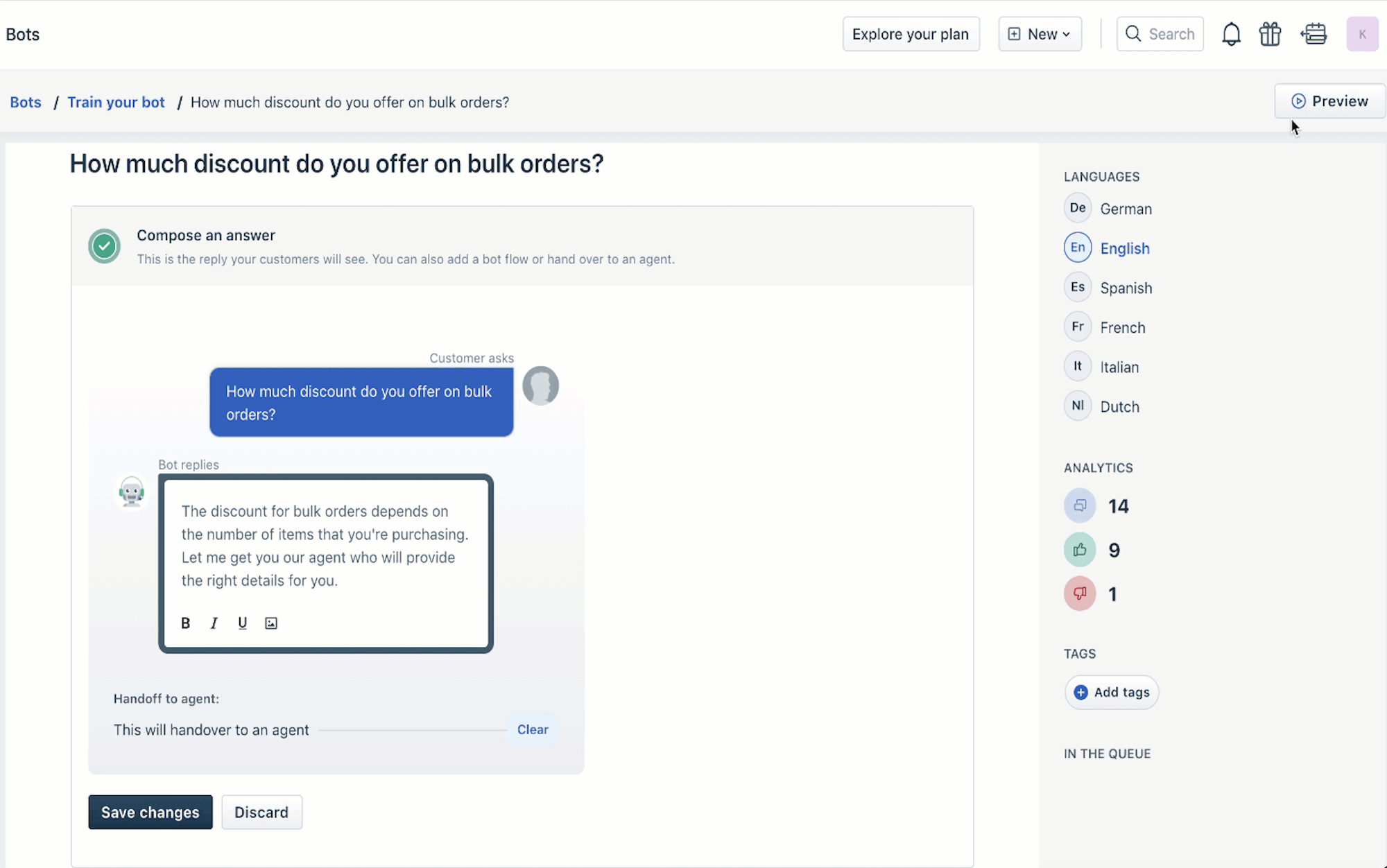 Chatbots digitize the IVR experience by collecting key customer data like contact information, order number, account number, appointment date, and a summary of the issue before transferring customers to a live chat agent (if needed.) In some cases, chatbots may resolve the issue completely.
Chatbots can access third-party data to provide personalized automated support, make suggestions according to your knowledge base articles, provide multilingual support, and execute a series of actions according to pre-set triggers.
Admins can completely customize their chatbots via APIs or access Freshdesk bot templates.
Voicebots
Voice Bots use AI, Natural Language Understanding, and machine learning to provide contextual answers to customer requests over voice calling and collect key information before transferring the caller to a live agent.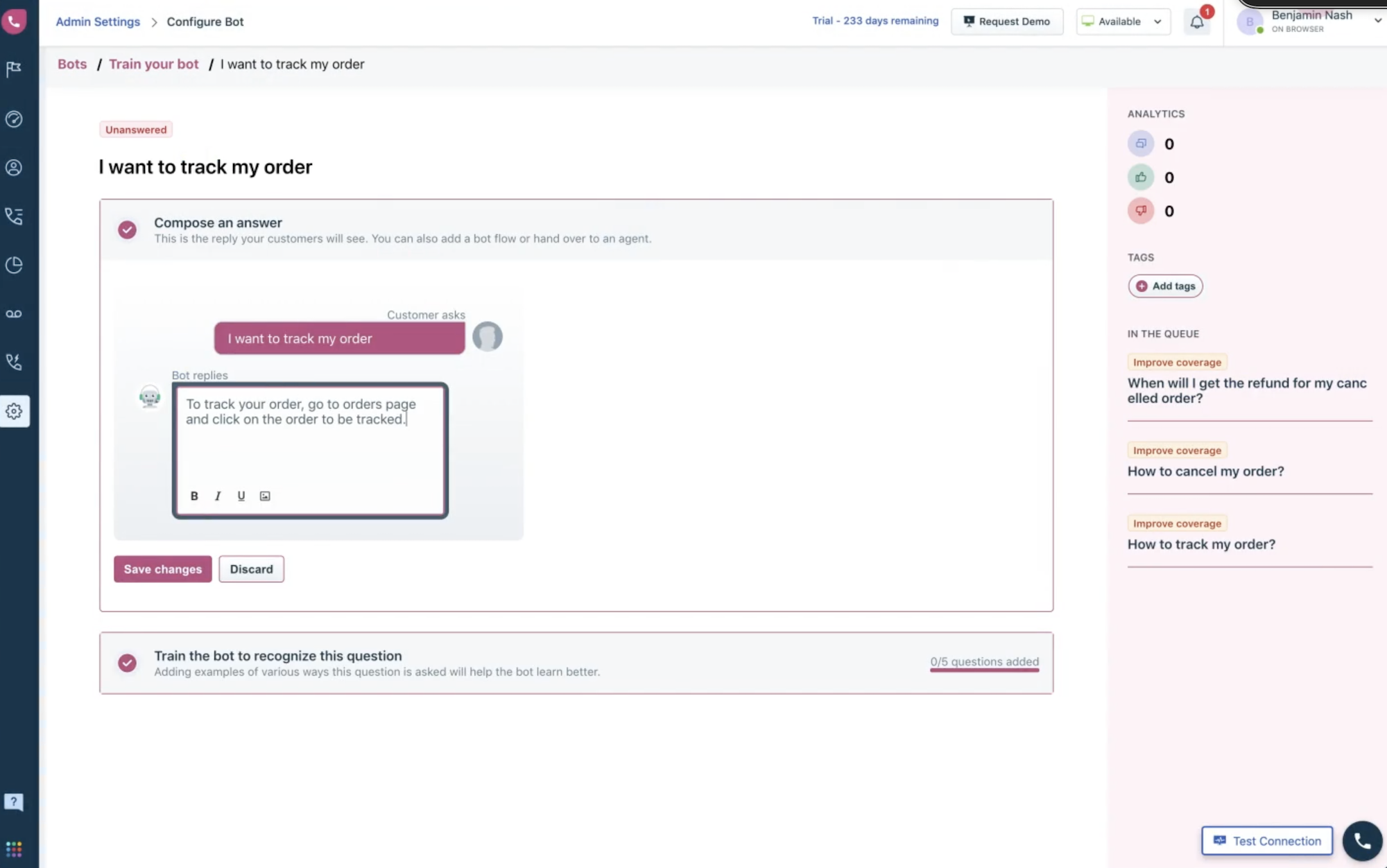 Voicebots can guide callers through IVR menus and submenus, answer brief FAQs, and provide quick updates like account balances, appointment dates, etc. Admins can populate the voice bot with FAQs and integrate it with the company knowledge base.
Smart Answer Call Flow lets admins create custom routing rules and triggers.
Ticketing Automation
Intelligent Ticketing uses Freddy AI to automatically assign and route tickets to agents according to channel, keyword, skillset, schedule,customer, round robin, and current workloads.
Auto Triage, powered by machine learning, uses data from past ticketing experiences to automatically suggest ticket fields, categorizes, priority level, and routing paths.
Freddy also automatically scans all open tickets every hour, sending agent reminders or SLA alerts to managers when needed. Admins can create custom triggers according to ticket updates/status, agent activity, and more that initiate a series of automated actions like follow-ups, closing out tickets, etc.
Assist Bot
The Assist Bot provides AI-powered agent assistance across channels, integrating with your internal knowledge base and third-party tools to provide in-conversation agent support.
The Assist Bot suggests next-step actions, makes intelligent canned response recommendations based on conversational context, and automatically suggests relevant knowledge base articles for the agent to share with a customer or review before providing assistance.
Asist Bot's "Thank You Detector" automatically scans tickets and customer responses to identify keywords that indicate the issue has been completely resolved. It then uses this insight to automatically close out or reopen tickets.
Email Bot
Freshdesk's Email Bot automatically follows up with email customer support queries, then uses machine learning to identify more basic requests and respond by sending relevant knowledge base support articles.
Reporting and Analytics
The Freshdesk Analytics Module offers real-time, historical, and highly interactive Curated and Custom reports. All reports can be filtered by specific metrics, date range, agents and agent groups, channels, filters, and more. To ensure consistent KPI cominitoring, admins can enable automatic report generations at preset intervals.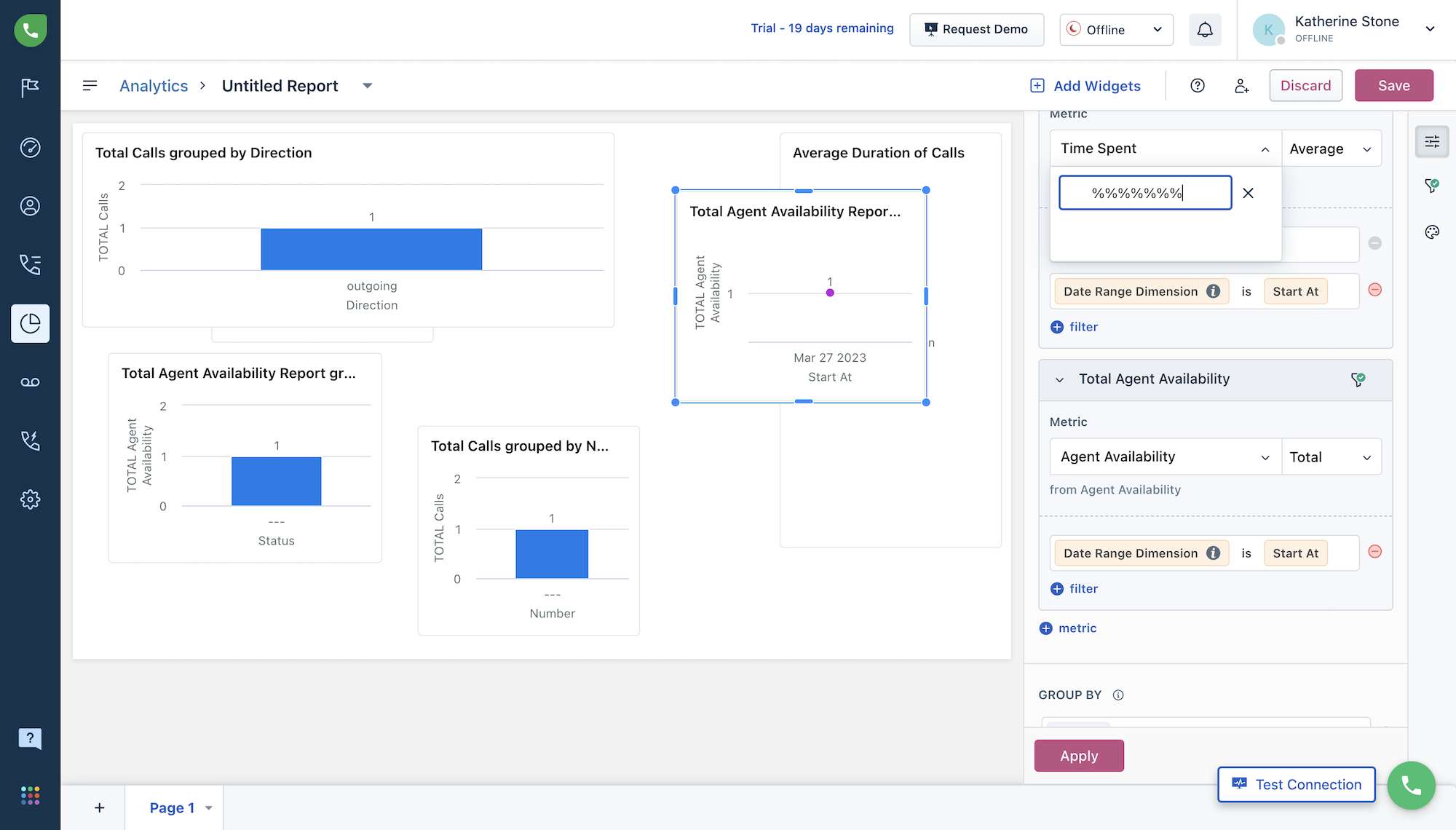 Admins can build custom real-time and historical reports from scratch using drag-and-drop widgets that measure individual KPIs, selecting preferred data visualizations, and adding text, images, or interactive filters. Even canvas size, color, grid settings, layout, and more are completely customizable.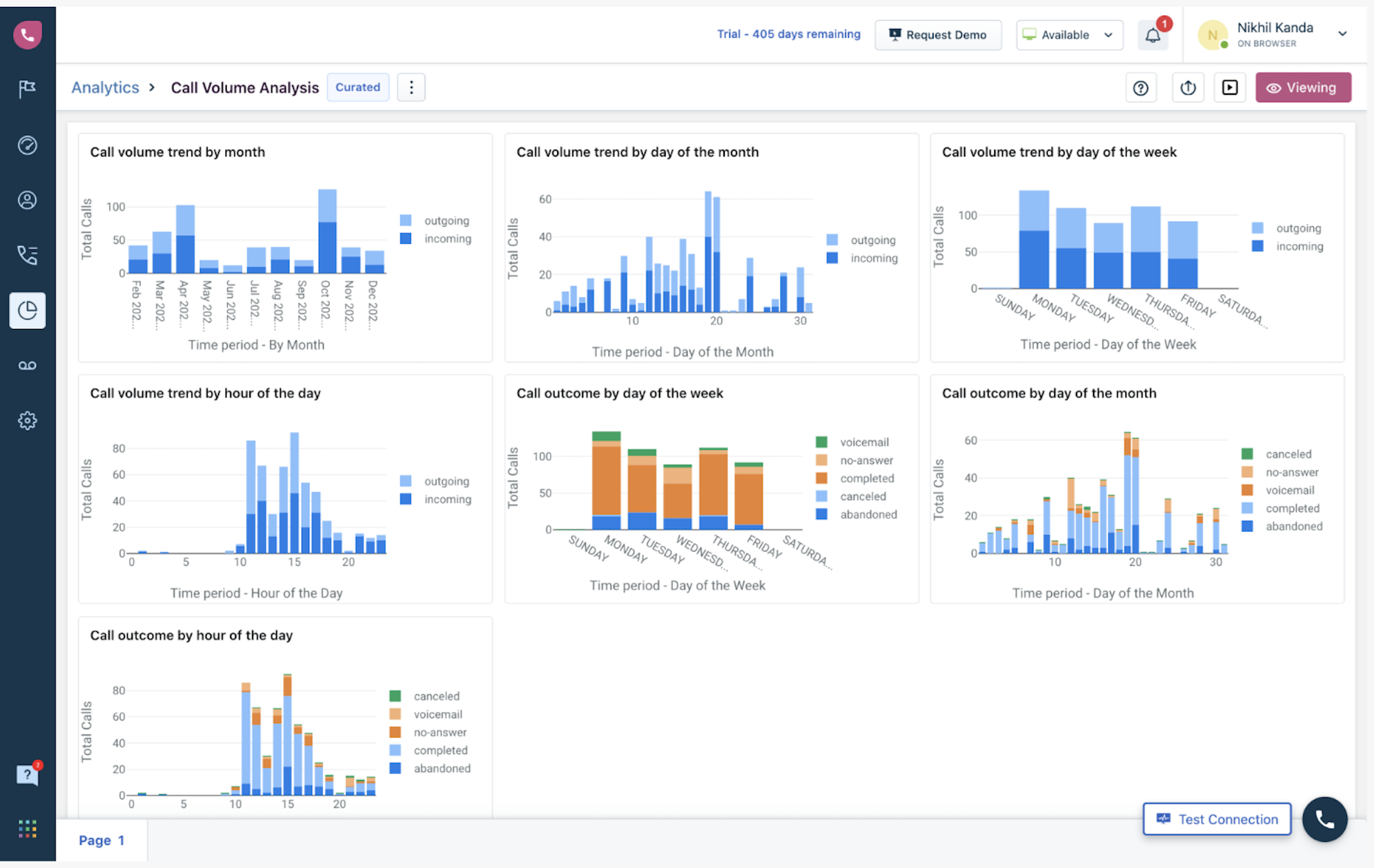 Because of the sheer volume of contact center metrics Freshdesk measures, omnichannel analytics are also available as Curated pre-built reports on:
Agent Activity Report: Real-time report on agent status, historical summaries of total time agent spends in each status, availability comparisons across channels, agent time spent in each status
Omnichannel Volume Analytics: View traffic trends per channel, show percentage of contacts converted into tickets and ticket types, identify busiest days and hours
Omnichannel Performance Analytics: View first response times by channels (speed of answer) and how long it takes to resolve tickets, chat conversations, and phone calls
Omnichannel Agent Analysis: View agent performance across channels (total contact volume by channel and as a whole, percent of missed calls/chats/emails/tickets reopened, response and resolution speed, number of tickets assigned/agent, etc.
Omnichannel CSAT: Analyzes customer surveys and feedback to create NPS and CSAT scores, filter by outcome/customer sentiment, etc.
Contact Center Health Report: Review standard KPIs (FCR, abandonment rate, wait times, queue analytics, missed interactions, etc.) to assess overall contact center health
Service Level Metrics: Detailed analytics on underperforming and adequately performing interactions, agents, ticket types, etc.
Freshdesk Contact Center Integrations
Freshdesk integrates with 1,000+ third-party tools as well as APIs for developers to build custom apps.
Key Freshdesk Contact Center integrations include:
CRM Integrations: Salesforce, Hubspot CRM, Zoho CRM, SugarCRM
Storage and Data Syncing Integrations: Dropbox, box, OneDrive, Google Drive, Intercom
Team Collaboration Integrations: Microsoft Teams, GSuite, Microsoft 356, Asana, Slack, Zoom, Trello, WhatsApp
Payment and Billing Integrations: Paypal, Shopify, Stripe
Other Integrations: JIRA, Mailchimp, HootSuite, Zapier, Pipedrive
Freshdesk Contact Center Security and Support
Below, we've summarized Freshdesk security, network reliability, and customer support policies.
Security and Reliability
Freshdesk is powered by Amazon Web Services (AWS) and has a 99.9% uptime, 24/7 monitoring, a real-time system status page, and global points of presence for network redundancy.
Freshdesk conducts annual third-party penetration testing and third-party security auditing. It also offers AES 256-bit encryption, login auditing, IP whitelisting, and has solid data backups Disaster Recovery Plans in place.
Freshdesk Contact Center security standards and certifications include: 
Custom SSL Certificates and Custom Email Servers
Single Sign-On (SSO)
HIPAA, GDPR, ISO/IEC 27001, PCI, SOC 2 Type 2 Compliance
Advanced password policies
Two-Factor Authentication
Customer Service and Support 
All Freshdesk users have 24/7/365 access to the online customer knowledge base, on-demand user training courses from Freshworks Academy, the community forum, and the online support request portal.
While the Freshdesk Contact Center free plan offers 24/7 email support only, all paid plans include 24/5 chat and phone support.
24/7 phone support is only available with the paid Premium Support add-on, which also includes a dedicated Account Manager and faster incident response times.
Customers needing ongoing support can choose from several specialized service packages, including Managed Services, Admin Coaching, and Optimization Services.
All Freshdesk users receive a complimentary basic onboarding package, which includes a 1:1 setup and implementation session. Advanced paid onboarding packages, including completely custom onboarding support, are also available.
Freshdesk Contact Center Pros and Cons
The below pros and cons table outlines Freshdesk Contact Center benefits and potential drawbacks.
| | |
| --- | --- |
| Freshdesk Contact Center Pros | Freshdesk Contact Center Cons |
| High-value Freshdesk Contact Center Omnichannel Suite includes robust ticketing support and helpdesk tools, global support, and agent productivity tools for a much better price than competitors | All outbound calling requires pay-per-minute pricing, and Freshdesk does not offer free unlimited calling in the US and Canada–a standard feature for competitors |
| Voice and digital AI bots automate routine business processes and provide start-to-finish customer support–with data pulled from CRM systems to personalize even automated interactions | Standard "Contact Center" product is not a true omnichannel contact center, but more of a business phone system that only offers AI bots on the most expensive Enterprise plan |
| Highly scalable CCaaS solution that lets businesses scale up from a basic call center to an Intelligent Contact Center with add-ons for FIeld Service Management and integrations with other Freshworks products like Freshsales, Freshmarketer, and Freshdesk Customer Success | 24/7 phone support requires a Premium Support package add-on, even for Enterprise users |
Who Should Use Freshdesk Contact Center?
Freshdesk Contact Center is best for mid-size, mostly remote teams needing advanced omnichannel ticketing software with standard contact center features and custom reporting tools.
Because Freshdesk prioritizes robust ticketing and knowledge base solutions over advanced AI capabilities, it may not be the best option for Enterprise-level corporations that rely heavily on fully automated customer service and support.
As of this writing, Freshdesk Contact Center's AI features are designed more to eliminate routine data collection and better prepare agents for customer interactions, not to significantly cut down on the number of live customer:agent conversations.
Freshdesk also lacks many of the team collaboration tools its competitors provide, such as native persistent team chat and video conferencing–though these are available via third-party integration.
That said, few CCaaS providers can compete with Freshdesk Contact Center's ticketing capabilities, especially given its native time tracking, SLA Management, and Collaborative Ticketing tools.
Freshdesk's Knowledge Base, available to both internal and external users, also stands out as a unique agent support deflection tool. Many customers may prefer to use the Knowledge Base to solve their own support issues instead of interacting with lengthy IVR menus or lackluster chatbots that can't provide high-level support.
Finally, Freshdesk offers some of the most engaging and customizable reporting tools in Contact Center space today. Admins can select the way their data is displayed (charts, graphs, etc.), specific call metrics to track, add individual widgets, and even customize the design of live dashboard reporting templates.
Top Freshdesk Contact Center Alternatives
Below, we've outlined the best Freshdesk alternatives, touching on top contact center software pricing, features, and ideal user base.
Provider
Pricing
Top Features
Best For
NICE CXone
4 quote-based plans
– Agent Assist Hub: Voice and digital live agent assistance with knowledge base integration, canned responses, suggested next steps, call scripts, customer data cards

– Smart Self-Service: Omnichannel self-service empowered by Enlighten AI to measure 100% of customer interactions

– Enterprise-level contact centers with a high daily voice call volume

– Teams heavily reliant on AI and IVAs to automate the majority of omnichannel customer support requests

Genesys Cloud CX
4 plans from $75-$150+ per month
– Outbound Auto Dialer: Preview, Progressive, Predictive, and Agentless Dialing modes with outbound IVR, lead list DNC management, scrubbing, and segmentation, customer opt-ins

– Predictive Routing: Real-time call routing and call path suggestions, comparison testing, optimized routing benefits summary

– Remote call centers needing outbound automation features

– Teams needing high-level, built-in third-party integrations to consolidate business software to one platform

Five9
4 plans from $149/month-$229/month
– Five9 Dialer: Predictive, Power, Progressive, Preview auto dialing modes, real-time DNC list management and TCPA compliance

– Digital Engagement: SMS, website, and social media messaging with intelligent omnichannel routing, IVAs, concurrent messaging

– Outbound call centers focused on lead list penetration

– Teams needing to increase First Contact Resolution Rates across voice and digital channels

Cisco Webex Contact Center
Two quote-based concurrent or named pricing plans
– Omnichannel Contact Routing: Set custom routing strategies, custom nodes, triggers and actions, and event response flow paths for automated and live voice and digital interactions

– Webex Meetings: HD video calling with whiteboard, Spaces, messaging, Intelligent Webex Assistant, AI Audio Intelligence

– Enterprise contact centers needing high-level customization

– Small business owners that want to transition from premise-based call centers to a cloud-based omnichannel CCaaS platform