eVoice and RingCentral are two VoIP providers with different focuses: eVoice offers a basic cloud phone system, while RingCentral offers a multichannel business communications platform.
This article will compare RingCentral and eVoice in-depth–outlining their pricing, features, pros, and cons.
Jump to ↓
eVoice vs RingCentral at a Glance
eVoice's phone system focuses on VoIP calling features only, while RingCentral offers a UCaaS platform with calling, SMS, team chat, and video conferencing. While eVoice includes paid add-ons for SMS and video, RingCentral offers these channels built-in, making it more of a collaboration platform.
eVoice
RingCentral
Pricing
2 plans: $14/mo/user charged monthly, $12/mo/user charged annually
4 plans from $20 to $50 monthly per user
Key Features

Auto attendant
Call queueing
Call forwarding
Custom ring styles

AI-generated video summaries
Collaborative whiteboards
Task and calendar sharing in team chat

Available Communication Channels

Phone
SMS (add-on)
Video (add-on)

Phone
SMS
Video
Team chat

Integrations
None
Over 300 integrations, including:

Microsoft Teams
Salesforce
HubSpot
Zendesk
Google Workspace

Customer Support Options

Knowledge base
24/7 live chat and phone support

Knowledge base
24/7 live chat and phone support

Best For
Teams on a budget seeking a phone-only solution, without collaboration
Teams seeking a full UCaaS platform with VoIP plus video and team-chat collaboration features
What is eVoice?
eVoice is a cloud-based phone system with VoIP calling, plus add-ons for SMS text messaging and video conferencing. eVoice offers virtual phone numbers around the world, custom greetings, auto attendants, basic call control features, virtual voicemail, and call queues.
The eVoice app is available via desktop and mobile, including iOS and Android.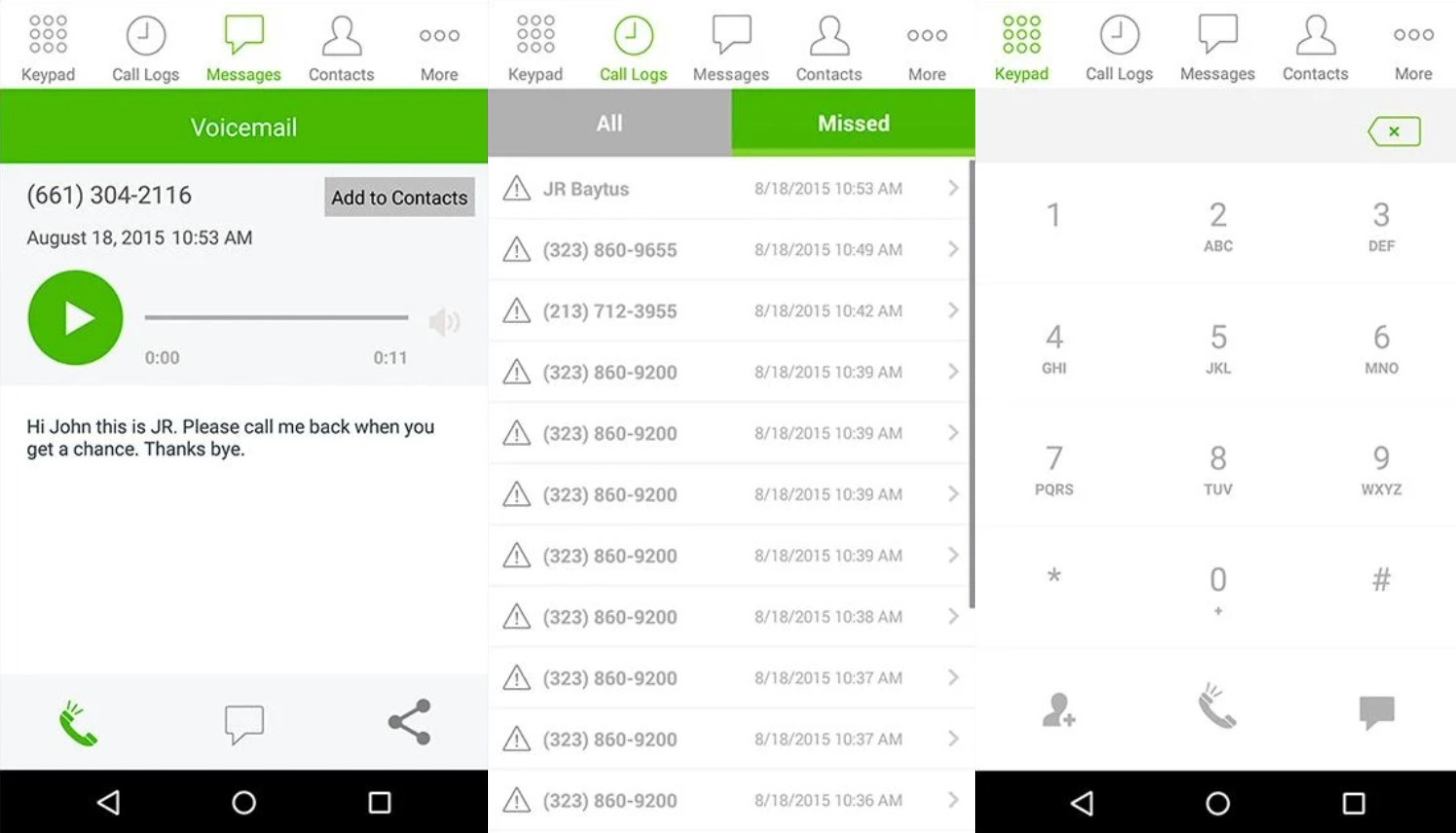 What is RingCentral?
RingCentral MVP is a business communications platform combining a VoIP phone system, SMS texting, team chat, and video conferencing. The solution is available via mobile, desktop, and browser app, featuring advanced routing capabilities, team collaboration tools, queuing, analytics, and over 300 pre-built integrations with popular apps.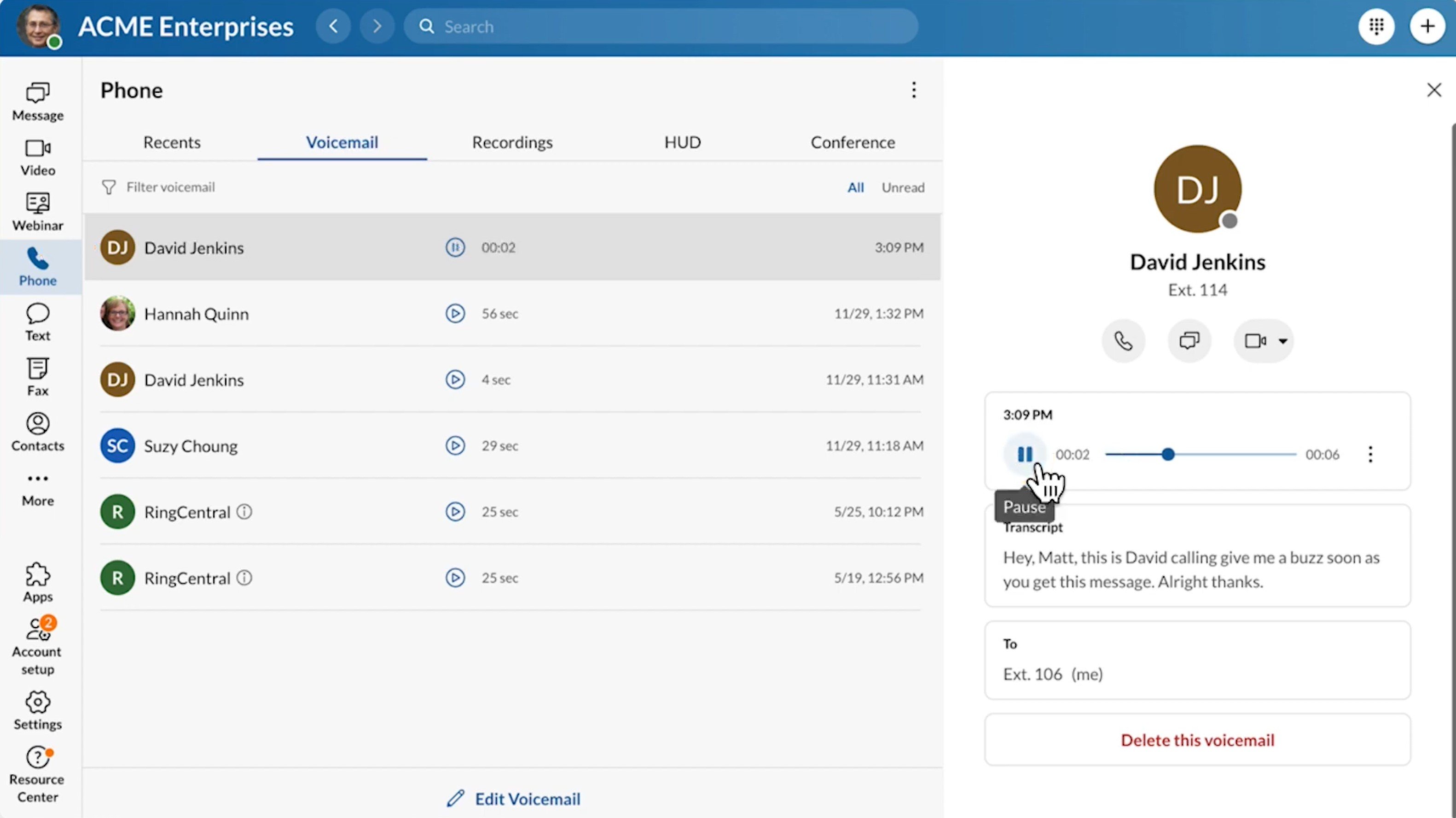 eVoice vs RingCentral: Pricing Overview
eVoice offers one plan, with monthly or annual payment options. While both plans include the same features–like auto attendants, queueing, and call controls–the annual-payment option costs $2 less per month. Add-on pricing is provided on a custom-quote basis.
Plan
Price
Features
Elite (Annual)

Elite (Monthly)

$12 monthly per user

$14 monthly per user

Unlimited calls in US and Canada
Auto attendant
Business hours
Call management tools
Call queueing
Voicemail

Add-ons (a la carte)
Custom price

SMS texting
Call recording
Virtual fax
Voicemail transcription
Video conferencing
RingCentral offers four pricing plans, with each higher tier offering more features. The basic Essentials plan includes voice, SMS, and team chat. The Standard plan adds video meetings, the Premium plan adds analytics and 200 meeting participants, and the Ultimate plan adds unlimited storage.
eVoice vs RingCentral: Feature Comparison
Here, we outline the key features of eVoice vs RingCentral.
eVoice Phone System
We split eVoice's phone system into 3 parts: Calling Network and Phone Number Options, Call Controls and Voicemail, and Routing Features.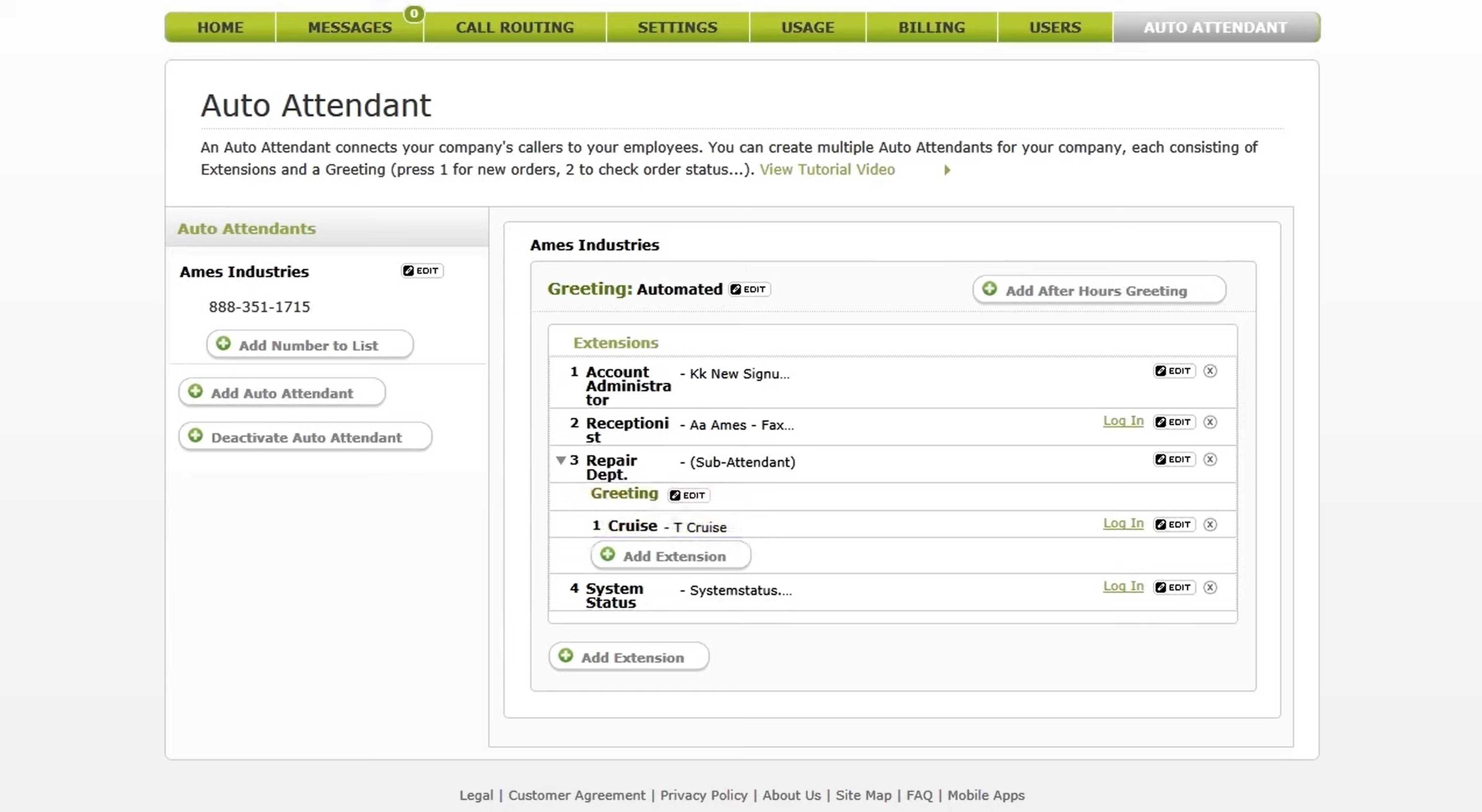 Calling Network and Phone Number Options
eVoice phone service includes 30,000 monthly VoIP calling minutes within the US and Canada, plus metered international calling.
Setting up an eVoice account takes just a few minutes: Choose a monthly or annual subscription, select business phone numbers or port in ones you already use, and record a custom voice message. Then you're ready to make calls, using the eVoice app's softphone functionality across devices.
eVoice offers a free US-based phone number with each account, plus available toll-free, vanity, and local numbers. Set up international numbers for $29.95 monthly per number.
eVoice Popular International Calling Rates
Australia: $0.08 per minute
Call Controls and Voicemail Features
eVoice live call controls include caller ID, do not disturb, call blocking, call screening, mute, hold with music, and call transfer. Schedule conference calls with up to 94 participants, generating a dedicated phone number and inviting participants via email or text.
Each phone number creates its own custom greeting–which acts as a voicemail, announcement, or IVR routing menu.
eVoice Voicemail Features:
Virtual voicemail log: Organizes call logs, contact info, and voicemail messages. Agents can call customers back directly from the log.
Voicemail transcription: Users receive 40 voicemail transcriptions per month, with an available add-on for unlimited transcriptions. Transcription text is available in the eVoice app and is sent to users via text and email.
Voicemail-to-text and voicemail-to-email (add-on): Forward voicemail notifications–with audio and transcription–via SMS and email
Call recording (add-on): Record call audio, available afterward for download and review
Routing Features
eVoice offers basic routing features: auto attendants, call forwarding, custom business hours, call queueing, and custom ring order.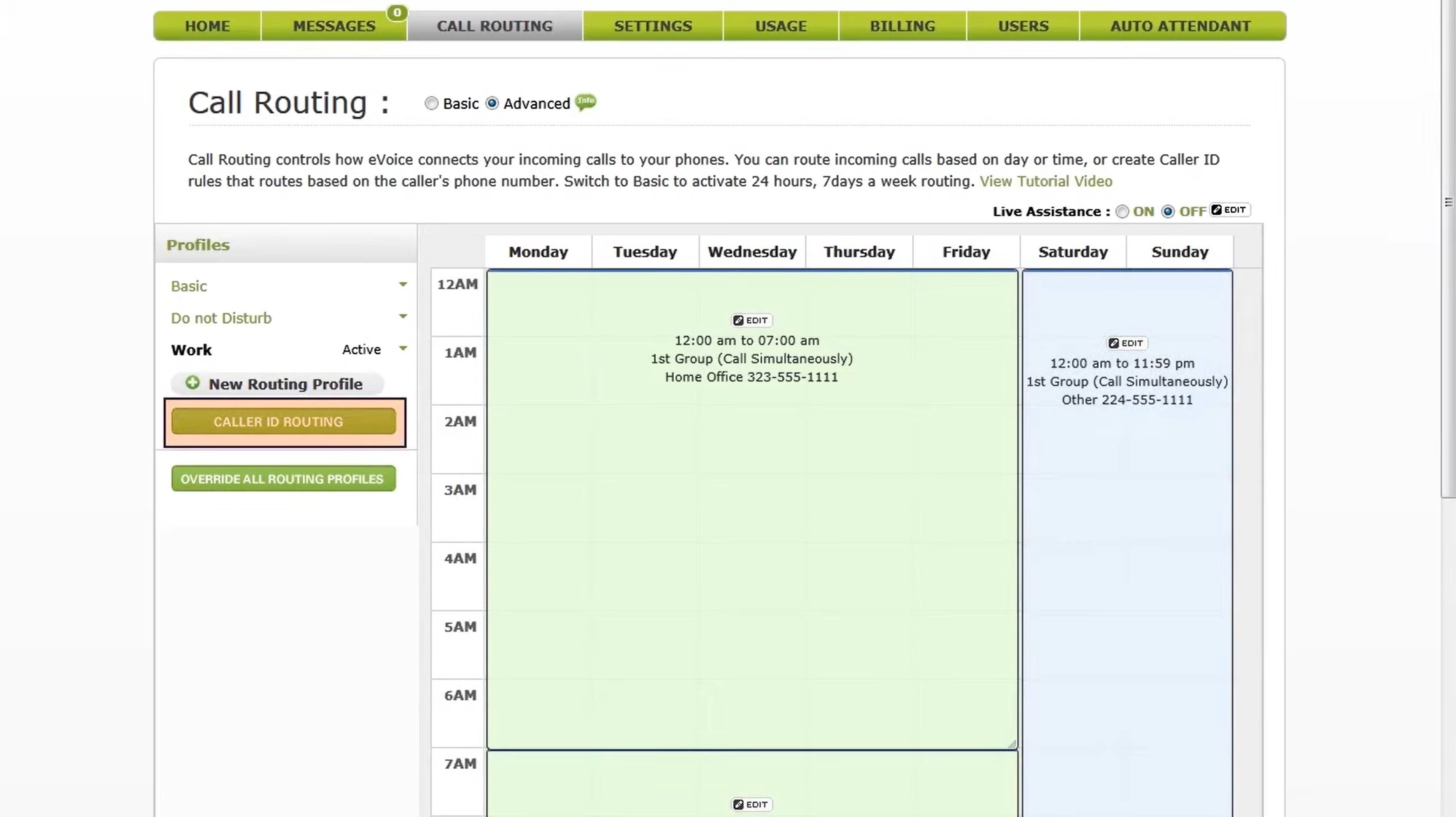 eVoice Routing Features:
Auto attendant: Design a self-service IVR phone menu that routes customers to a user, custom announcement, or submenu. Add extension numbers, record the menu audio, and assign each routing option to a DTMF dial-pad selection.
Call forwarding: Forward inbound calls manually or automatically–to various devices, phone numbers, users, or menus–based on business hours or for all calls. Link phone numbers and devices together for a custom ring order.
Custom ring style: Link devices, users, and phone numbers together with a simultaneous or sequential ring style, creating ring groups to share call responsibility. Sequential ring calls users one-by-one in a custom order, while simultaneous ring calls all users at once until someone picks up.
Routing by business hours: Create custom business schedules down to the minute, routing calls to specific users, devices, voicemails, or auto attendants based on the hour
Call queueing: When callers reach a busy number or ring group, place the call in a hold queue with custom hold music or an announcement, until an agent can answer the call.
RingCentral Phone System
RingCentral's business phone system supports unlimited calling in the US and Canada, metered international calling, and advanced virtual features like HD voice, multi-level auto attendants, voicemail-to-text, and call recording.
Each RingCentral plan includes a business or toll-free number in the United States, and RingCentral also offers international DID numbers.
App Interface
The RingCentral interface–on desktop, browser, or mobile–houses all of an agent's core communication channels in a left-hand menu: Message, Video, Webinar, Phone, Text, and Contacts. New activity pings agents with an activity notification.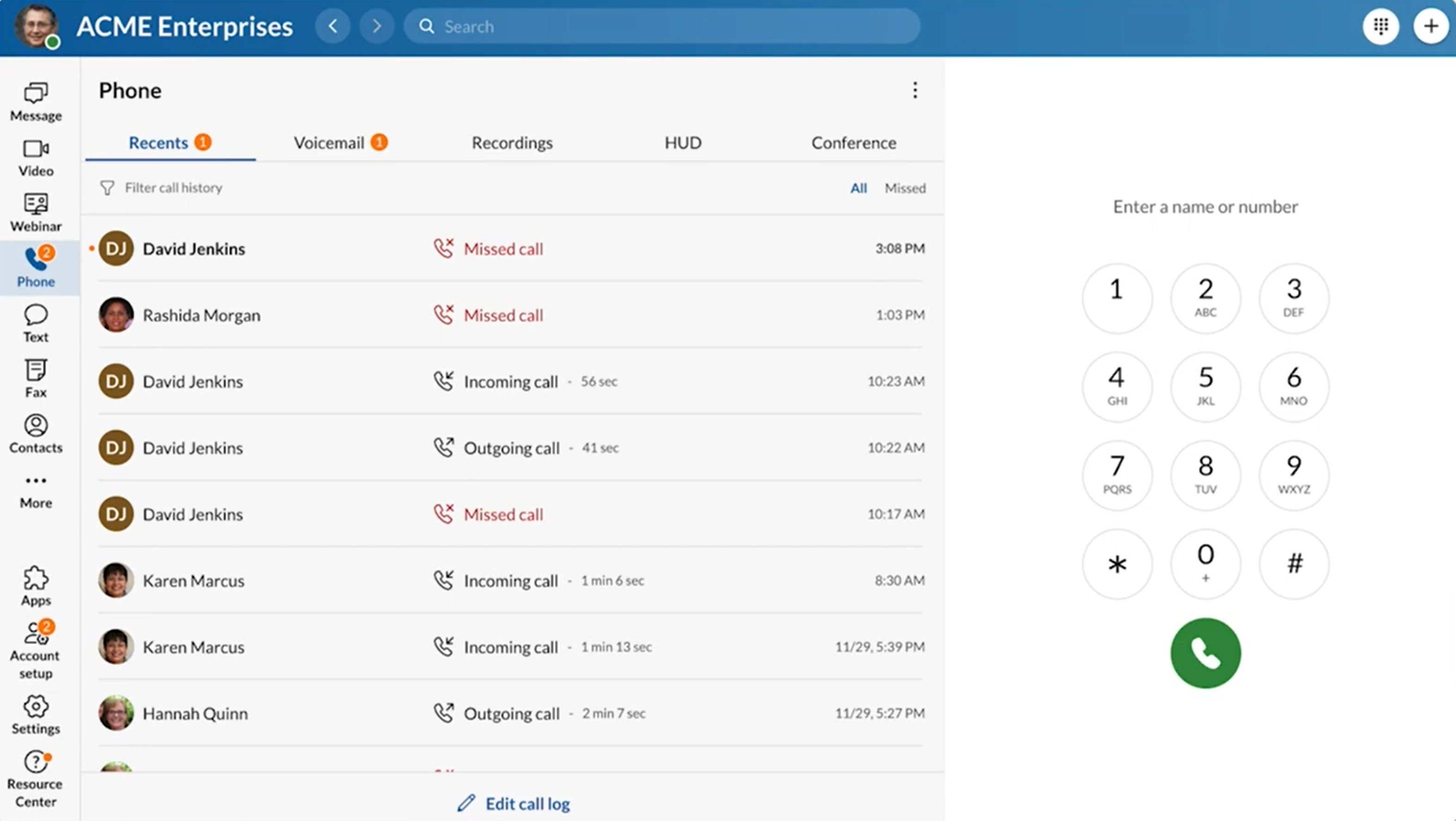 The app's Phone menu includes core phone features: dialing, call logs and recordings, voicemail, HUD, and conferencing. From the main phone screen, agents can use the dial pad, search contacts by name, or call with one click from a call log or voicemail.
Recents tab: Displays outgoing, answered, and missed calls. By clicking on a contact's name, an agent can initiate a video call, audio callback, SMS text, or view the contact's information. Filter call history by name.
Voicemail tab: Displays all voicemails, with new voicemails indicated by an activity ping icon. Clicking on a voicemail opens up an audio playback slider and the voicemail's transcript, next to one-click buttons for callback, SMS, and video contact.
HUD tab: Displays the agent's extensions, parked calls, delegated calls, group calls, and call queues. This tab is removable so that an agent can overlay it atop other calling functions.
Conference tab: Lists all of a user's most recent conference calls, and allows the user to schedule or initiate a conference call with just a few clicks. RingCentral conference calls host up to 1000 simultaneous participants.
Call Management Features
RingCentral offers the following call-handling features:
Business hours: Set call routing, forwarding, and announcements depending on availability
Custom ring order: Select a custom order or simultaneous ring, setting ring duration for each phone
Multi-level auto attendant: Build a self-service IVR menu that routes callers to a user, announcement, or submenu. IVRs are multilingual, translating automatically into 18 languages.
Call park: Agents can transfer a call to a communal "parking space" where a teammate can retrieve it and continue the call
Active call management features: Park, transfer, mute, and record live calls with one click
Call flip: Agents can "flip" a live call between devices seamlessly,
Turn on video: With one click, turn any active phone call–even a conference call–into a video call
eVoice Messaging
eVoice offers business SMS texting as a premium add-on, directly from the desktop or mobile app.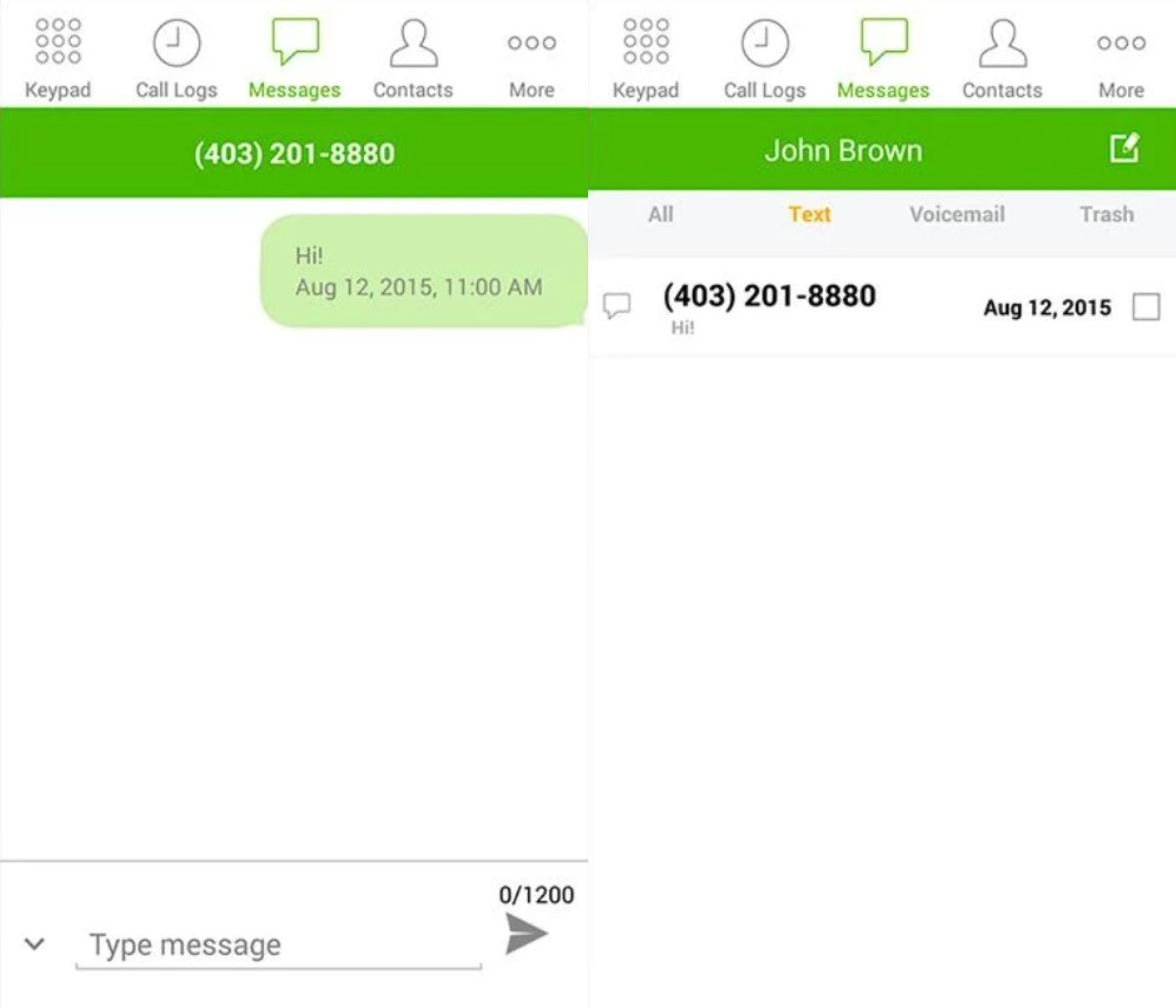 Send and receive SMS texts from US-based local and toll-free DID numbers, even those assigned to an auto attendant. Access all conversations–and send texts–from the eVoice app's Message Center.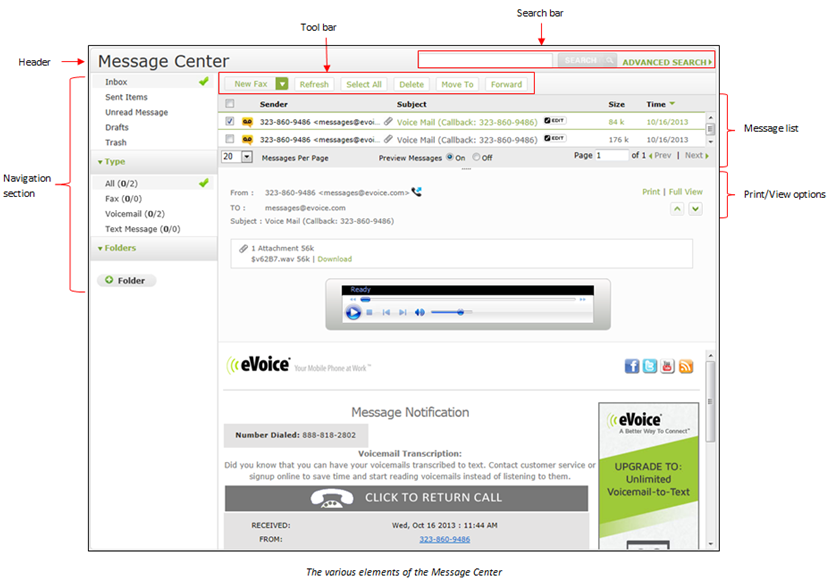 RingCentral Messaging 
RingCentral plans include two types of messaging: SMS messaging and internal team chat, both available in the RingCentral app.
SMS Texting
Send SMS text messages–to customers or team-member phone numbers–from the RingCentral app on any device.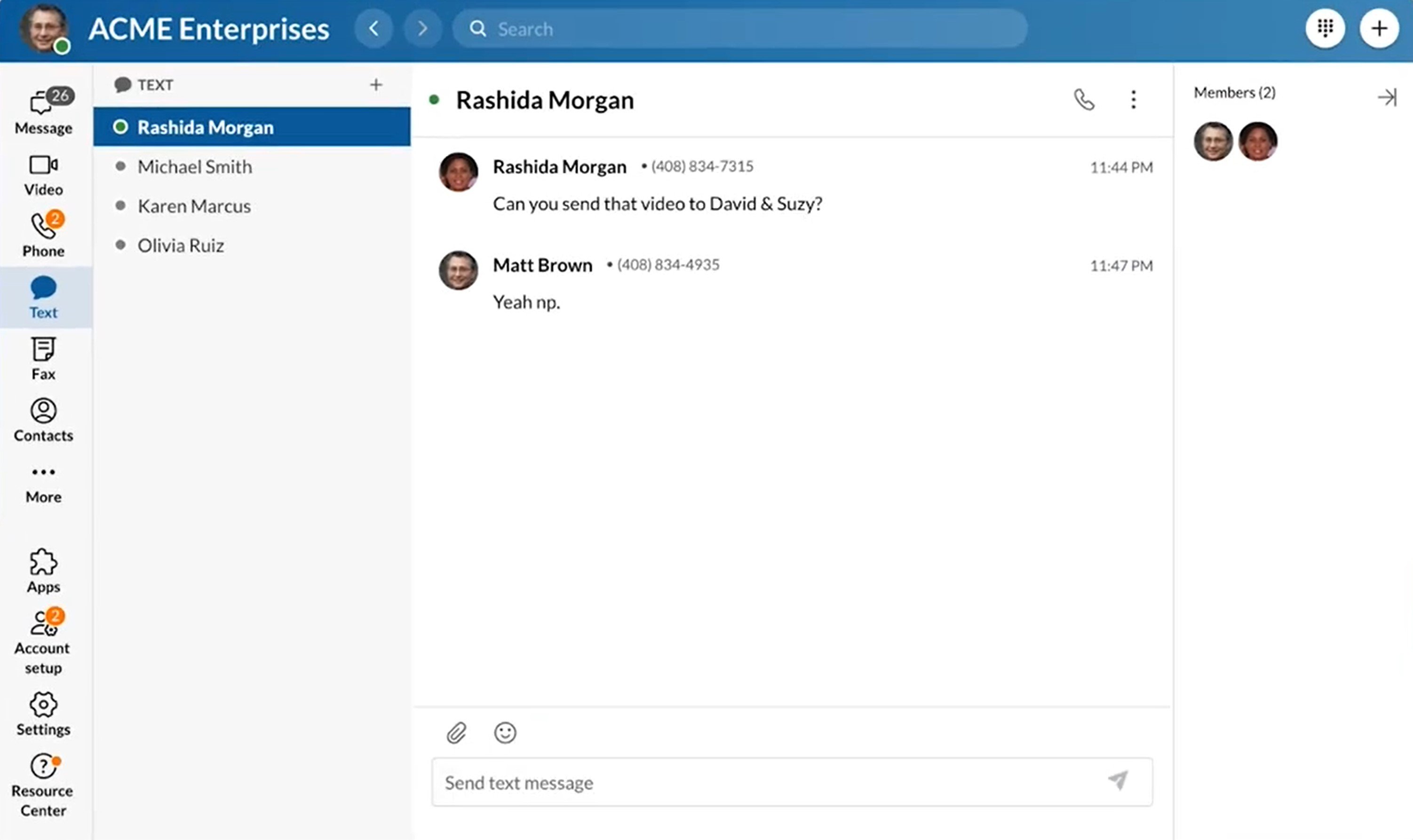 The Text menu tab organizes all of a user's text conversations in a searchable log. Users can text individuals or groups, with the option to initiate a call or video directly from text. Attach files and include emojis in SMS messages.
Team Messaging
The app's Message tab logs all of a user's internal webchats, along with call and video histories–creating a multichannel conversation thread with each contact. Users can create unlimited team-messaging threads to create tasks, send calendar invites, share documents, and more.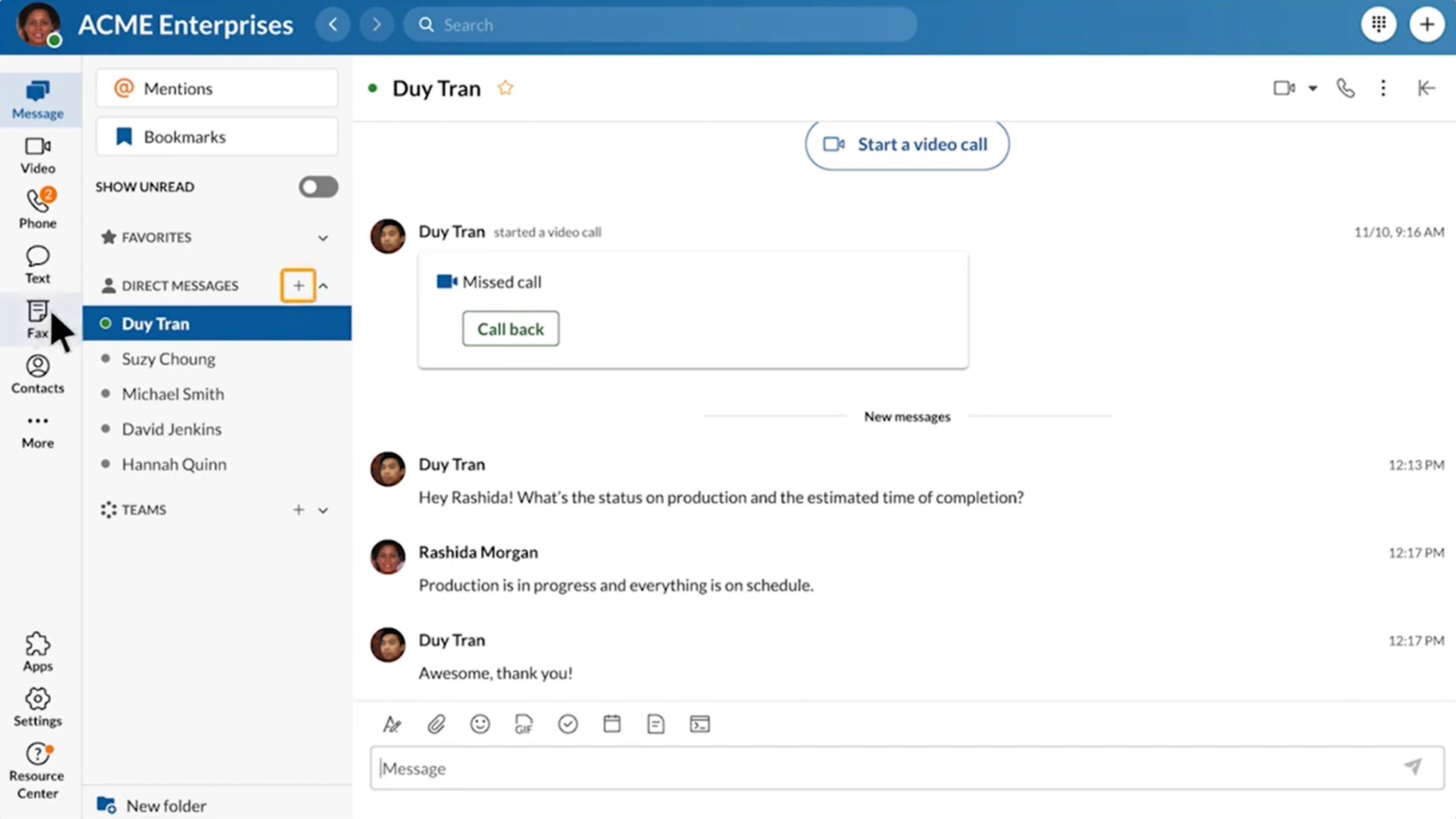 Team Messaging Features:
Type a message: Create dynamic messages with calendar font and size formatting, file attachments, emojis, GIFs, calendar invites, and code snippets
Task assignment: Create and assign tasks that others can mark "complete"
Calendar invites: Invite users to calendar events, like video meetings and audio conferences
One-click callback and video meetings
eVoice Video Conferencing
Available as a premium add-on, eVoice web conferencing supports 95 participants via the eVoice desktop app. Users can host impromptu web conferences instantly or schedule video conferences, generating a shareable invite link.
eVoice Video Conferencing Features:
Customized registration page: Build a page to provide information about the meeting or request information about attendees
Host controls: Share screen, mute, unmute
4 simultaneous videos on screen
RingCentral Video Conferencing
RingCentral supports HD-video meetings up to 24 hours long, with 200 participants.
Schedule video meetings in the Video tab, create an impromptu meeting, or start a meeting directly from a messaging conversation or phone call. Each user receives a personal meeting ID, which they can share with teammates or customers to initiate meetings at any time.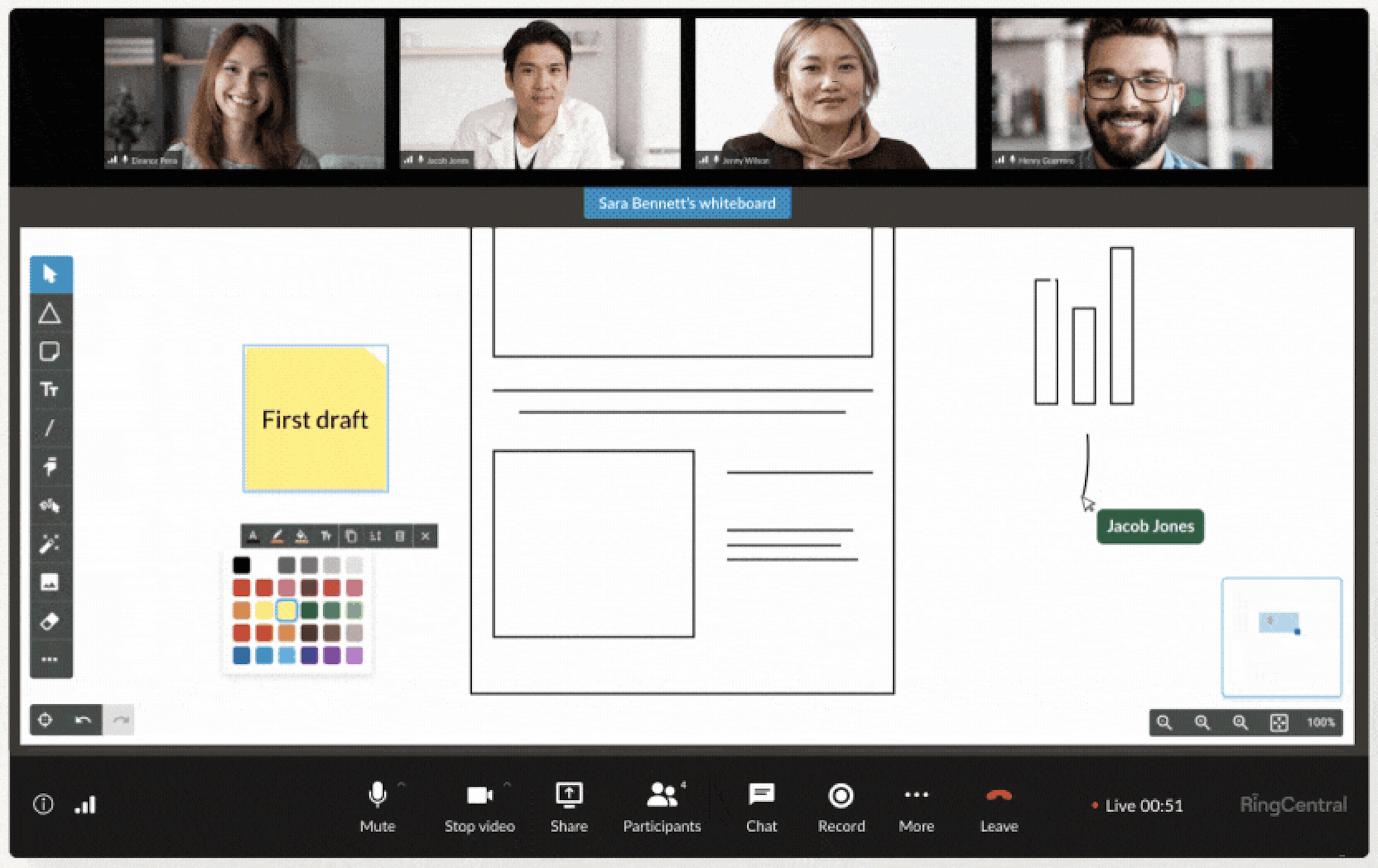 When scheduling a meeting, customize the title, date, recurrence, calendar integrations, invited members, waiting room enablement, and a shareable join link with optional password protection.
Video meetings include a variety of AI-supported analytics and collaboration features–making them a great tool for ideation, presentations, webinars, education, and customer meetings.
Video Meetings Features:
Calendar integrations: Scheduled meetings can integrate with third-party calendar apps like Microsoft Outlook or Google Calendar
Advanced meeting insights: Auto-generated summaries including recordings, transcripts, topics, and meeting highlight reels
Live transcription: Real-time captions, available during and after the meeting. Voice ID differentiates who said what, even during crowded multi-participant meetings.
Noise reduction: AI filters out unwanted background noise, like dogs barking or keyboard noises
Presentation mode: Overlay the speaker's video atop displayed images–like a file or presentation–for engaging delivery
Whiteboard: A blank canvas where dozens of teammates can draw and design with text, drawing tools, and colors
Breakout rooms: Split the group into smaller video rooms, for greater participant engagement
Participant reactions: Participants can communicate with raised hand, slow down or speed up indicators, yes or no, and several emojis
eVoice Reporting 
The Advanced Reports dashboard tracks key calling information via call logs and data reports, including tables and charts filterable by user, phone number, or historical time period. Reports track 14 months of activity and can be downloaded from the eVoice app.
eVoice Reports: 
Account overview: All calls made and received by an eVoice account. Data includes call quantity by hour, week, or month, call volume by time of day, and call volume by weekday.
Inbound numbers: Usage information for particular numbers and users, including each day and time the number was called, its total number of received calls, and the percentage of overall call center inbound activity from that number.
Call outcome: The total number of calls that came in, total call duration, and the duration of each call
Call origination: Graphs and a table displaying which US state originated each call, plus a pie chart with the proportion of calls broken down by state
Call termination: Similar to the call origination report, but for outbound calls instead of inbound. Tables and graphs display the states where outbound calls dialed.
Customizable: Displays charts and tables with custom information, such as date, originating number, calling area, duration, and more.
RingCentral Reporting and Analytics
RingCentral offers a variety of call logs and real-time reports, which allow users to customize KPIs by historical time period, user, and channel–including view options like trends, tables, pie charts, and statistics.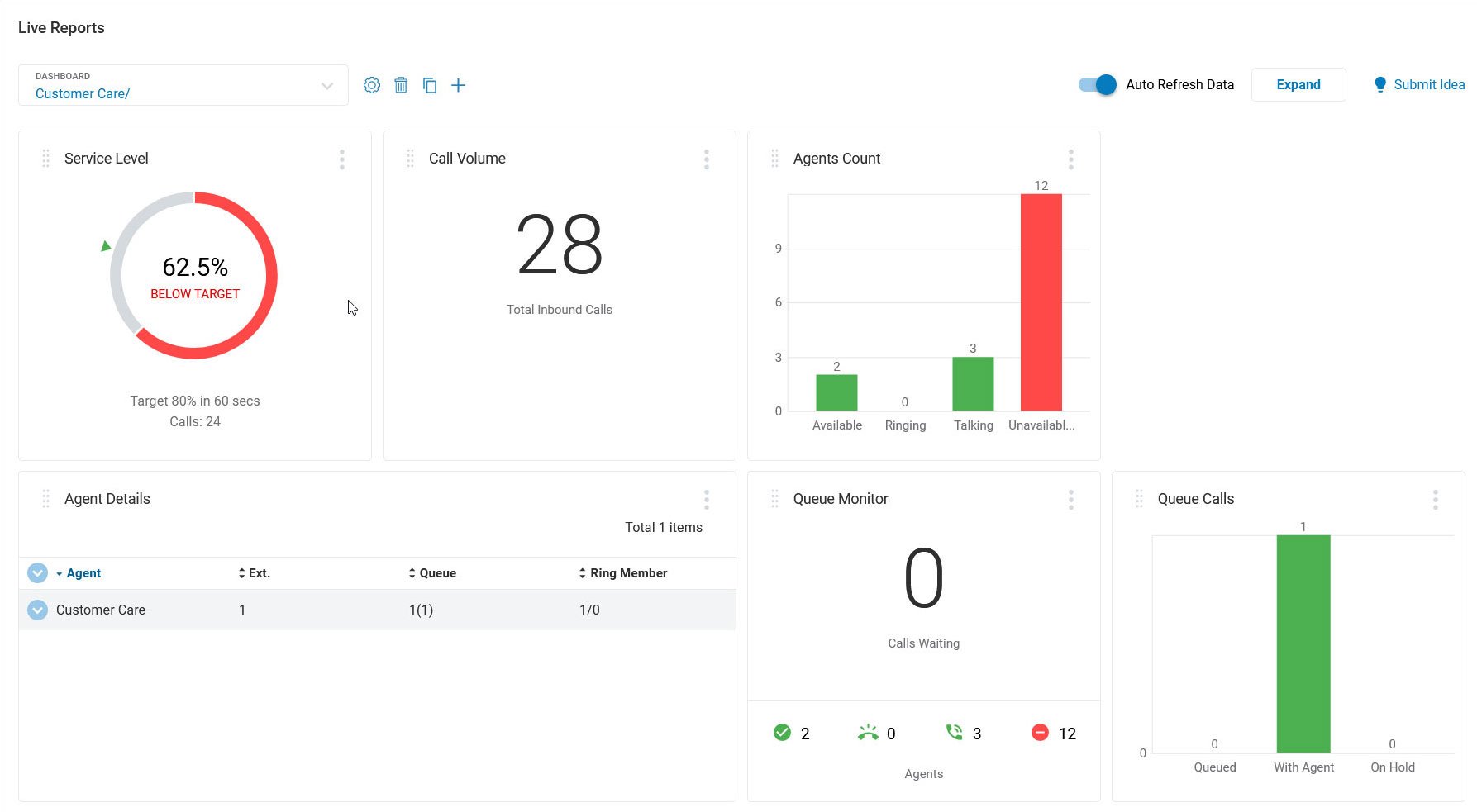 RingCentral Reports Include:
Adoption and usage: The number and percentage of active users for each channel, plus usage totals–total messages sent, calls made, etc. All sortable by departments and teams.
Quality of service: Signal and connection quality for meetings and calls
Queue reports: Current and daily multichannel activity, including total and missed calls, messages sent, first call resolution rate, calls in queue, average queue time, and more.
eVoice Pros & Cons
| | |
| --- | --- |
| eVoice Pros | eVoice Cons |
| International business phone numbers | Key features like video conferencing and texting are only available as an add-on |
| Affordable plans | No integrated apps |
| App available on desktop, browser, and mobile | Does not offer unlimited calling–only 30,000 monthly minutes |
RingCentral Pros & Cons
| | |
| --- | --- |
| RingCentral Pros | RingCentral Cons |
| Offers all core channels: phone, message, SMS, video | Plans are more expensive than some competitors |
| Dynamic team-messaging features | The Essentials plan has a 20-user limit |
| Over 150 3rd party integrations | Some useful features–like call recording and real-time analytics–only come with the Premium plan |
Which Phone System Should You Choose?
The best virtual phone system for your company depends on the channels and features you plan to use, and your budget.
If you're a small business looking for a basic VoIP solution with no bells and whistles, at an affordable rate–eVoice makes a good choice.
On the other hand, RingCentral offers a business communications platform with VoIP, SMS, video and team chat. If you have a little more room in the budget and want advanced collaboration features for your remote or hybrid team, RingCentral makes a better option.