Public switched telephone networks (PSTN) are dying due to long-distance fees, expensive hardware, and frustrating issues with audio quality.
SIP trunking and VoIP are quickly replacing landlines as the go-to technologies for business phone systems. Elastic SIP trunking is a flexible and cloud-based telephony setup that enables companies to make calls over the internet and PSTN landline.
This article will take a closer look at elastic SIP trunking, discussing how it works, what makes it different from regular SIP trunking, and the top providers.
What is Elastic SIP Trunking?
Elastic SIP trunking is a phone-system technology that connects your IP PBX system to the public switched telephone network (PSTN), enabling calls over the Internet or landline. While regular SIP trunking charges by the virtual phone line, elastic trunking allows you to pay per minute or channel–providing greater scalability and a more cost-effective solution.
Elastic SIP trunks are cloud-based, allowing companies to download the SIP trunking software or API and provision VoIP calling in minutes. To use elastic SIP, your company must have a SIP-enabled network element like a session border controller or IP PBX system. There are dozens of service providers offering elastic SIP trunking, with functionality that you typically control via a desktop dashboard.
Since elastic SIP trunks are cloud-based, it's easier for your system to integrate with other cloud applications and communication channels. This is useful for larger organizations with remote and widespread workforces, using a cloud-based communication architecture. For example, your office in London, UK, will have the same SIP calling service and phone numbers as the office in NY, NY. With elastic SIP, you can manage both cloud PBX users and SIP trunking users through the same portal.
How Elastic SIP Trunking Works
Elastic SIP trunks work like standard SIP trunks, by connecting IP channels to the traditional PSTN or other VoIP-based communications channels. This means that your business can call other cloud-based phone systems or reach customers on their landlines. Companies can provision elastic SIP trunking by downloading the software or API from a provider. All you need is a SIP-enabled device or software–such as a SIP call server, IP PBX, or session border controller.

When users make a call from a cloud-based SIP device like a computer, mobile app softphone, or VoIP phone, this audio data travels to the elastic SIP provider, who either forwards it directly to the SIP-based recipient or converts the signal to an analog landline when necessary. SIP trunks can either "terminate" or "originate" calls. Call termination refers to outbound calls that switch from SIP to landline, and call origination refers to inbound calls that switch from landline to SIP.
While regular SIP trunking forces a company to pay for a maximum number of concurrent PSTN lines that can support concurrent active calls, elastic SIP trunking is pay-per-use. This means companies only pay for the minutes they spend on terminated or originated calls.
Elastic SIP Trunking Features
An elastic SIP trunking solution offers the following phone-system features:
Desktop portal: A mission control interface that provides visibility across the entire organization's SIP trunking system. It enables supervisors to monitor user activity, DID phone numbers, codecs, routing, and more.
Activity tracking: Administrators can monitor user activity, traffic levels, call logs, and call destinations over time–all from the software dashboard
DID phone numbers: Purchase virtual phone numbers from around the world, directly from your elastic SIP provider. Most providers offer local, toll-free, and vanity numbers
Call transfers: Users can transfer active calls between endpoints, switching users and devices
Call recording: Enable call recording for elastic SIP trunks
How to Set Up Elastic SIP Trunking
While each elastic SIP provider has a distinct setup process, here are the general steps to set up elastic SIP trunking:
Have a SIP network element: Before downloading and installing elastic SIP software, your company must first have a SIP-compatible device or software. These include session border controllers, IP PBX software, and a SIP server.
Access your elastic SIP trunk provider's services: Either download the provider's app or access the SIP Trunking capabilities through the provider's website
Set up a trunk: Within the app or dashboard, follow your service provider's steps to set up and name a trunk. This will enable one trunking phone line that your account can use.
Configure termination and origination URIs: From the dashboard, create a uniform resource identifier (URI) for each trunk. A URI is a web address, similar to email, that enables other SIP servers to locate your endpoint's IP address to connect inbound and outbound VoIP calls.
Assign phone numbers: From the dashboard, purchase phone numbers and assign them to SIP trunks you have enabled
Benefits of Elastic SIP Trunking
Compared to regular SIP trunking and landline PSTN telephony, elastic SIP trunking offers the following benefits:
Expanded call concurrency
Lower costs
Easy management
More received calls
Scalability
Expanded Call Concurrency
One of the main advantages of elastic SIP trunking is call concurrency. There are no limits when you're working with an elastic system, so VoIP phone systems and call centers can quickly provision new lines when expanding.
With landline PRI, you're limited to branches of 23 lines when expanding, which could restrict the number of simultaneous calls for large phone systems.
Lower Costs
Elastic SIP trunking is generally more cost-effective than a traditional SIP trunking setup because regular SIP trunking forces you to pay a subscription cost for the maximum number of lines you want–even when callers aren't using them. With elastic SIP trunking's pay-per-minute structure, you only pay for what you use.
Most elastic providers provide calling from SIP URI to SIP URI at no additional cost, which means significant cost savings when communicating with other businesses that use SIP trunking. Pure SIP URI calling is separate from SIP calling to PSTN lines.
Easy Management
The cloud-based nature of elastic SIP trunks also makes them more convenient to manage. They'll scale with your company thanks to SIP trunk IT teams being able to change calling capacity in real-time.
More Received Calls
Since elastic SIP trunking utilizes per-minute call pricing, you don't have to set a cap on how many lines you have available. With increased call concurrency comes larger supported call volumes and fewer blocked calls during busy times. The percentage of calls blocked is a vital call center metric to track because fewer blocked calls increases customer satisfaction.
Scalability
Easily add new trunks and phone numbers when needed, helping your company scale and add or remove users. Purchase virtual phone numbers from area codes worldwide, supporting a remote and flexible workforce with an expanded business presence, rather than being stuck with local landline numbers.
Elastic SIP Trunking vs. Basic SIP Trunking
While regular SIP trunking charges a monthly subscription for a preset number of SIP lines or "trunks", elastic SIP trunking charges by the minute and enables an uncapped number of concurrent calls. Elastic SIP trunking offers a more efficient pricing structure and more calls at once, providing greater flexibility and value than traditional SIP trunking.
The table below goes into greater detail comparing the two setup styles:
SIP Trunking
Elastic Trunking
Concurrent Call Capacity
Dependent on plan
Unlimited and based on what you use
Connection Requirements
On-premise hardware
Internet connection
Average Dialing Pricing
$25 to $50 per trunk, per month
$0.005 to $0.009 per minute
SMS Reception
Through API
Included with service ($0 to $0.025 per message)
Outbound SMS and MMS
N/A
Available in some global markets
Average Setup Costs
$0 to $175 per trunk
Typically $0
Provisioning
Done through the provider
Done through the interface
Billing Schema
Based on the number of lines on the trunk
Based on the amount of calling done during the billing period.
Pricing Style
Billed per channel as a flat rate per month
Billed based on usage – typically per minute
Real-time Call Monitoring
N/A
Usage statistics, traffic levels, and active calls
Geographic Flexibility
Limited
Global reach across offices
Maintenance and Management
On-staff IT
Performed by provider staff
Critical Functions
Calling
Calling

Emergency calling

Analytics

Server georedundancy

Call routing

Failover and load balancing

Routing
Randomized
Location-based to reduce latency
Bring Your Own Carrier (BYOC)
N/A
Available from several providers
Internet of Things (IoT) compatibility
N/A
Available from some providers over LTE networks
Multi-tenanted SIP Trunks
N/A
Available through most providers
Call Recording
N/A
Available through most providers
Provider Comparison: The Top Elastic SIP Providers
Below, we outline our top picks for elastic SIP trunking providers.
Twilio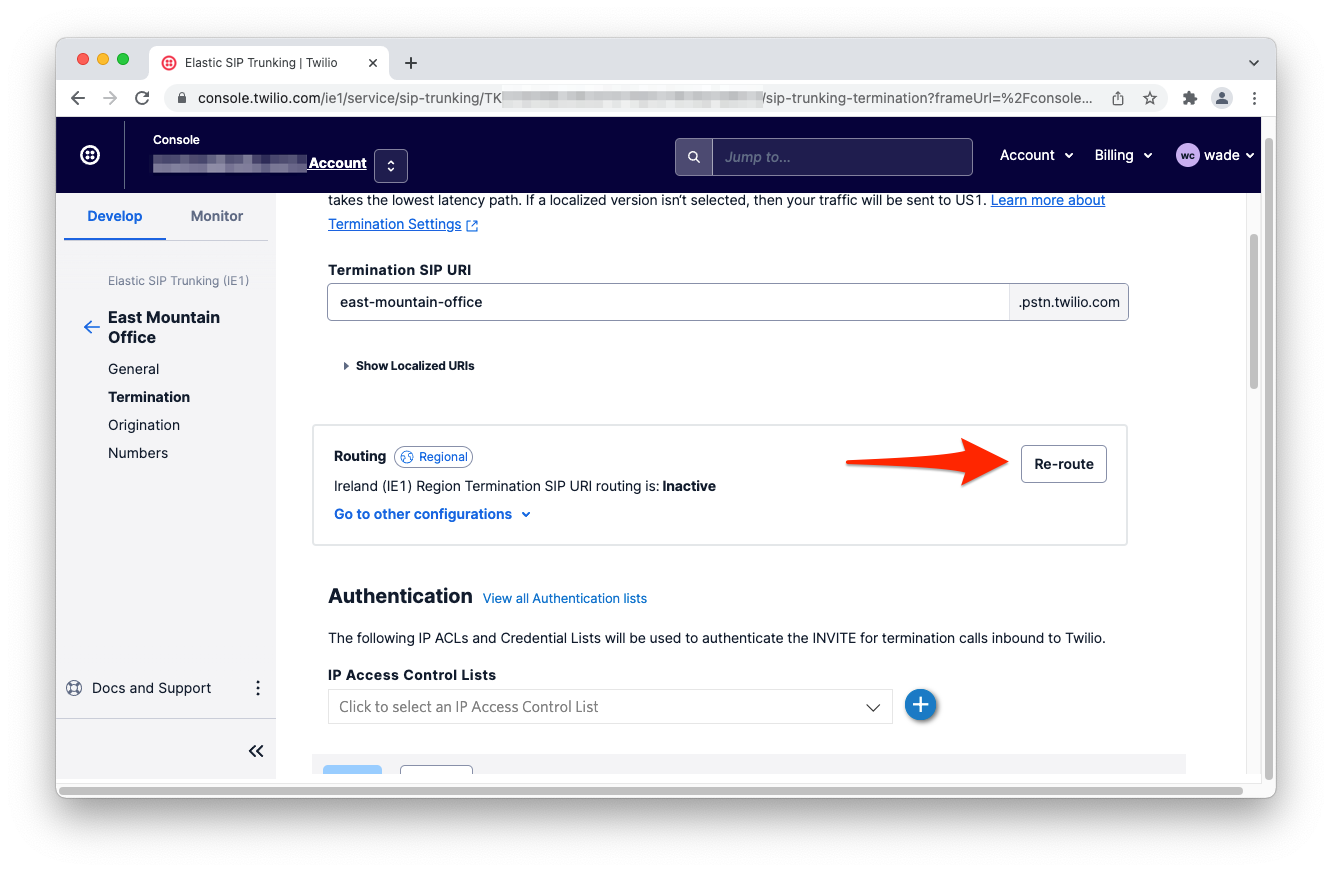 Twilio's elastic trunking gives your business flexible connectivity and functionality in minutes. Their cloud structure allows you to connect on a global scale using unlimited concurrent calling. Twilio elastic SIP trunking supports both small offices and enterprise offices with multiple locations.
Some of the SIP trunking features that are included with Twilio's offerings are:
Private connections to communicate
Emergency calling that will correctly route 911 calls
Security that has encrypted signaling with transport layer security and secure real-time transport protocol
Toll fraud protection
Monitoring for issues with packet loss, jitter, and other metrics
Troubleshooting of individual calls
Notifications to allow you to respond to issues more quickly
Failover across multiple PBXs
Disaster recovery via the cloud
Multichannel experience that includes SMS and MMS
Built-in call recording without additional hardware
Here's a quick breakdown of Twilio's elastic SIP per-minute pricing:
Outbound local calls: Starting at $0.0053 per minute
Inbound local: $0.0034 per minute
Outbound toll-free: $0.0011 per minute
Inbound toll-free: $0.0130 per minute
Local numbers: $1.15 per month
Toll-free numbers: $2.15 per month
Bandwidth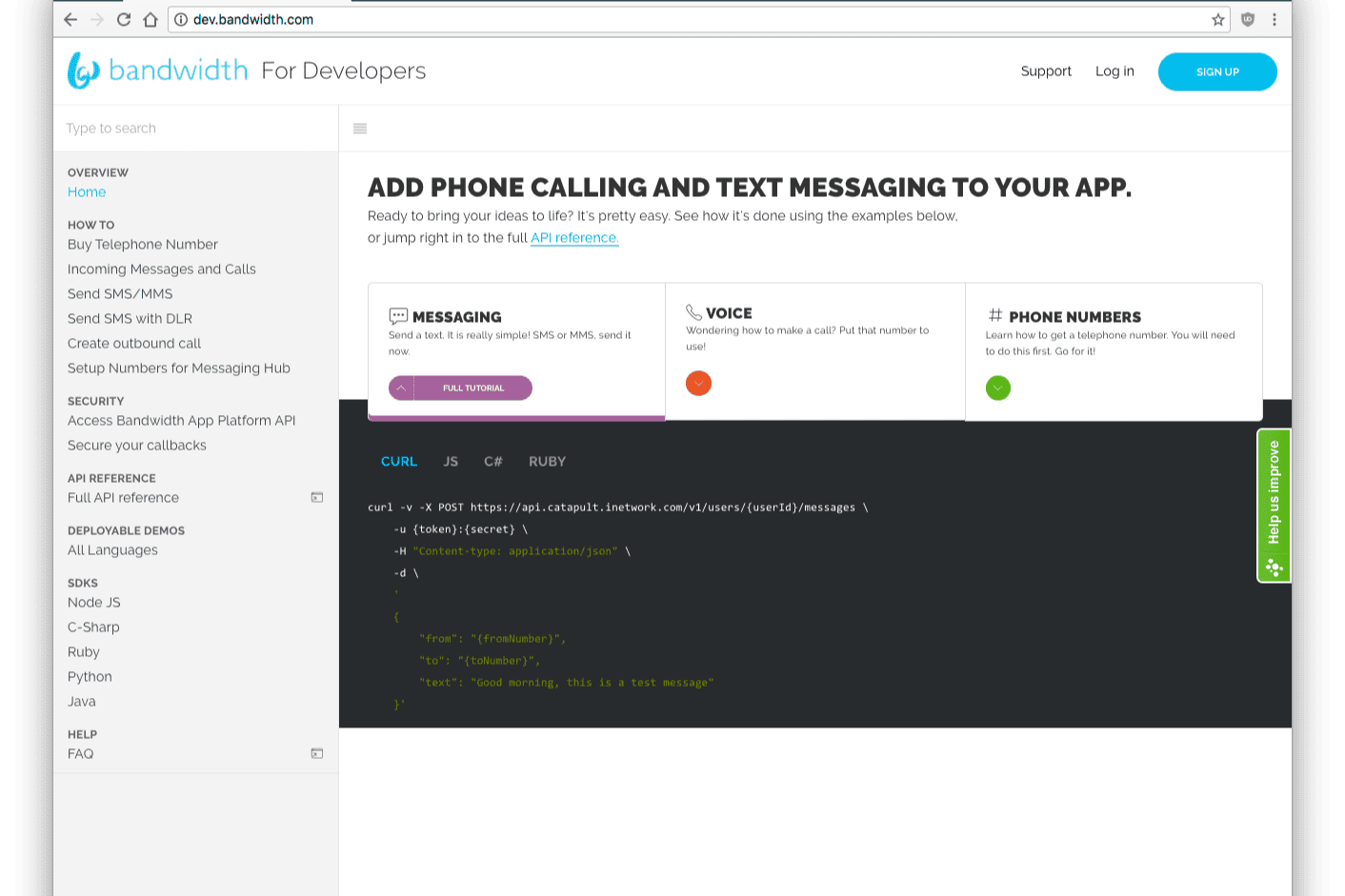 Another cloud-based elastic trunking provider that's ideal for scalability in business is Bandwidth. They provide companies with high-quality simultaneous calling across the United States that can easily be upgraded remotely if the need arises. Some of the business features Bandwidth offers include:
International long-distance and toll-free calling
Emergency 911 calling based on the location
Caller ID information when you receive a call
24/7 network operations center
Disaster recovery
IP failover control options
Porting support
Number management
Bandwidth does not post public pricing information for its elastic SIP trunking service.
Telnyx
Telnyx is a provider that has global elastic trunking that requires minutes to setup. Telnyx has a high level of security that most businesses appreciate for their communication. The data sent through elastic trunking is encrypted, and it uses TLS, SRTP, and ZRTP to make sure that it remains secure during travel.
Some features included with Telnyx are:
Fraud and spoofing protection
Emergency calling that's routed to the nearest public safety answering port
Automatic call recording and cloud storage
Detailed diagnostics and call statistics
Alerts for suspicious activity
Custom routing for better call flow
Track of porting requests
Telnyx offers pay-per-minute or contract-based pricing, but contract pricing requires a custom quote.
Telnyx pay-as-you-go pricing:
Outbound local calls: Starting at $0.005 per minute
Inbound local: Starting at $0.0035 per minute
Outbound toll-free: Starting at $0.015 per minute
Vonage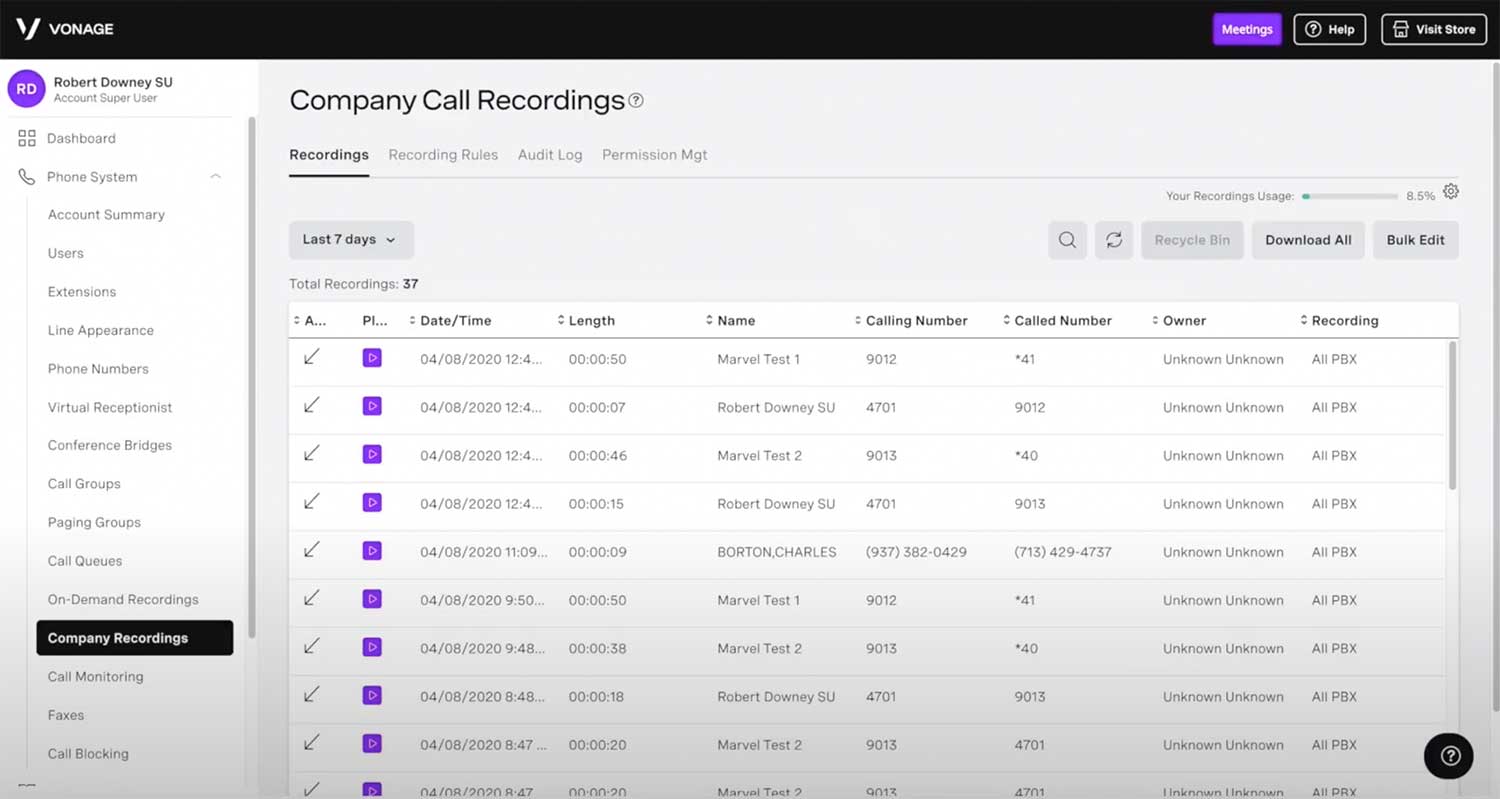 Vonage is an elastic provider that combines SIP and cloud PBX for businesses that have multiple global sites. The service has critical features for business like call recording, fax, auto-attendant, international virtual numbers, and on-demand call analytics. This provider delivers elasticity when it comes to SIP-enabled devices – their service is compatible with the majority of desk phones.
Vonage advertises its elastic SIP trunks for financial services, healthcare, travel and hospitality, logistics and transportation, and retail and e-commerce. Features like customer two-factor authentication, fraud detection, and video and voice APIs are easily used in all of these industries.
Here are some of the features that make Vonage unique:
Per-second billing
Built-in fraud detection
Automatic location-based routing
Chat across connected devices
Customer journey tracking
Integration with third-party vendors including AI bots
Call recording and dashboard analytics
WebRTC-based contact center calling
Vonage offers per-minute pricing along with virtual and toll-free numbers:
Outbound local calls: $0.0137 per minute using PSTN, $0.0043 using SIP only
Inbound local: $0.0048 per minute using PSTN, $0.0043 using SIP only
Outbound toll-free: $0.0137 per minute
Inbound toll-free: $0.0048 per minute
Flowroute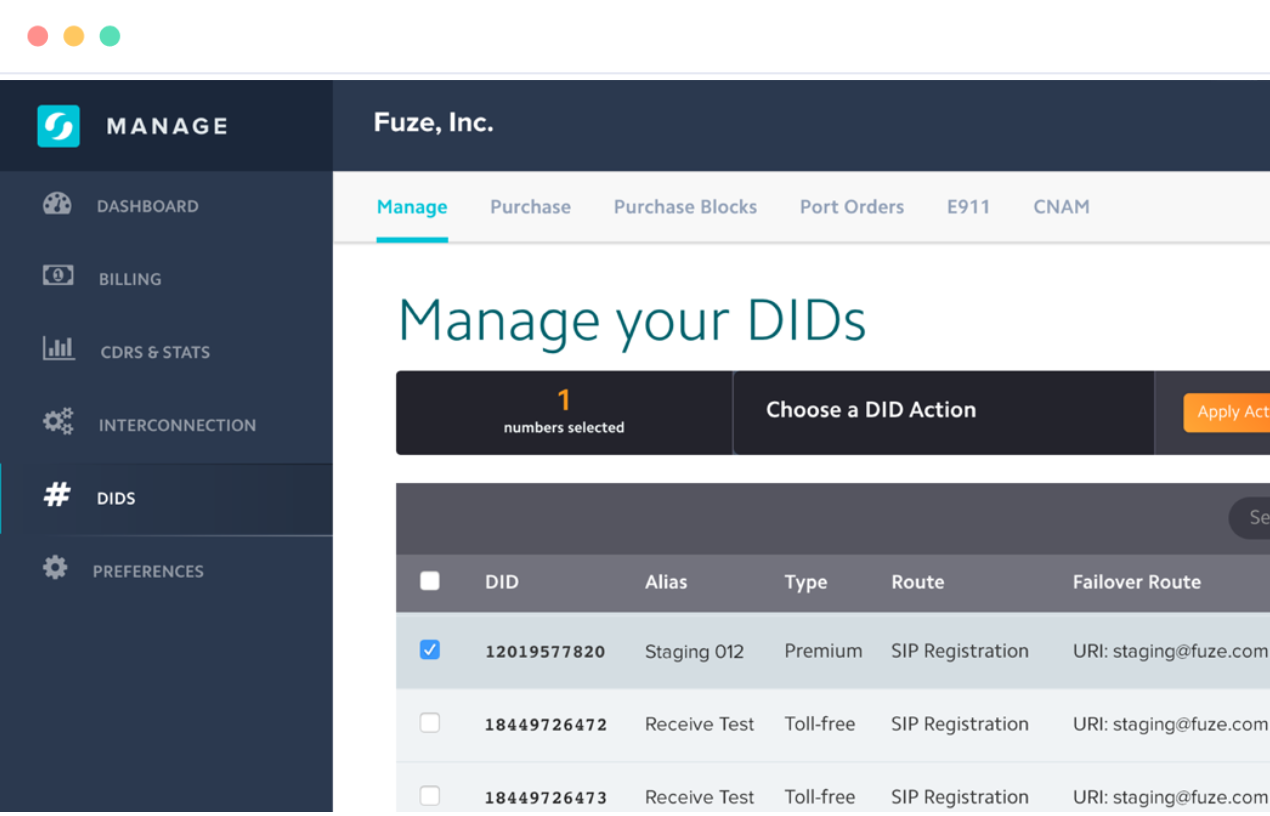 As a provider, Flowroute has several elastic features such as instant number activation and a self-service platform for users that make it a good option for SIP. Flowroute has a global reach that covers North and South America, Europe, and Asia. They also have a "five nines" uptime guarantee, which equates to about five minutes of downtime a year. Their pay-as-you-go pricing plans include toll-free SMS and MMS, and there's the option for both local and international virtual numbers.
Here are some of Flowroute's key offerings:
REST APIs on a management platform
Self-service web portal with analytics
Virtual numbers in more than 160 countries
A la carte pricing for extra features
Instant number activation
99.999% uptime thanks to the provider's HyperNetwork technology
Long code and toll-free SMS and MMS
Fax over IP networks
Here's a brief overview of Flowroute's elastic SIP pricing:
Outbound local calls: $0.00833 per minute
Inbound local: $0.005 per minute
Toll-free calls (inbound or outbound): $0.00975 per minute
Local phone number: $0.050 per month
Improve Calling Flexibility with Elastic SIP Trunking
Elastic trunking improves the flexibility of SIP, providing an affordable and scalable alternative to a traditional landline business phone system. Elastic SIP is particularly useful for businesses with high call volumes, like call centers, and companies that want a more dynamic calling plan. Its ability to link multiple, diverse offices together under a cloud-based calling umbrella also delivers value to larger companies.
To learn more about this technology and other enterprise telephony solutions solutions, check out our guides on the top providers.