Conversational marketing combines the impact of personalized interactions with the expediency of automation software. After all, connecting with your customers to create consecutive positive interactions is the best way to grow your audience.
By using both AI-powered and two-way conversations between live agents and consumers, conversational marketing — a customer-centric, dialogue-driven marketing approach — provides superior customer insights without requiring a significant time investment.
Drift is an industry leader in the conversational AI software space, due in large part to its user-friendly interface and industry-first approach. That being said, some are overwhelmed by the sheer volume of Drift's features – and resulting high learning curve. Other Drift users have reported bugs with integrations like Segment.io, as well as lackluster customer service.
The good news is that there are lots of Drift alternatives to consider. Learn more about the top 10 Drift alternatives in this post.
Table of Contents
Best Drift Alternatives
After evaluating the most popular Drift alternatives, we rounded up the top ten tools based on available features, pricing, free trial options, and unique sets of pros and cons.
The below table gives you a quick overview of the best Drift alternatives before we dive into more detailed reviews.
| | | | |
| --- | --- | --- | --- |
| Provider | Pricing | Top Feature | Best For |
| Intercom | From $67.00/month | Product Tours | Businesses that want to provide a high level of customer self-service and proactive customer outreach |
| Crisp | 1 Free Plan, 2 Paid Plans for $25.00-$95.00/month per website | No-Code Chatbot Builder | SMBs looking for a no-code, easy-setup freemium experience. |
| LivePerson | From $599.00/month | Dynamic Routing | High-risk finance or healthcare providers that need industry-leading security. |
| Aivo | 4 Paid Plans for $99.00-$449.00/month | Customer Experience Surveys | Call centers looking to augment their agents with an AI copilot and track CX metrics. |
| SnapEngage | Custom pricing | Snippet-Based Setup | Companies looking for quick implementation and mobile lead generation. |
| Freshdesk Messaging | 1 Free Plan, 3 Paid Plans for $15.00-$69.00/month | 33+ Languages | Global brands looking for multilingual and live translation capabilities. |
| LiveAgent | 1 Free Plan, 3 Paid Plans for $15.00-$49.00/month | Agent Collision Detection | Agile support teams looking to control queue volume and avoid agent overlap. |
| WATI by Clare.AI | 2 Paid Plans for $49.00-$98.00/month | Message Broadcasting | Businesses looking for broadcasting features and a native chatbot builder. |
| LiveChat | 4 Paid Plans for $16.00-$50.00/month | Multi-Branding | Marketers who need a chatbot with different branding for each of their websites. |
| Terminus | Custom pricing | iOS App | Companies looking for ABM features or iOS compatibility. |
Intercom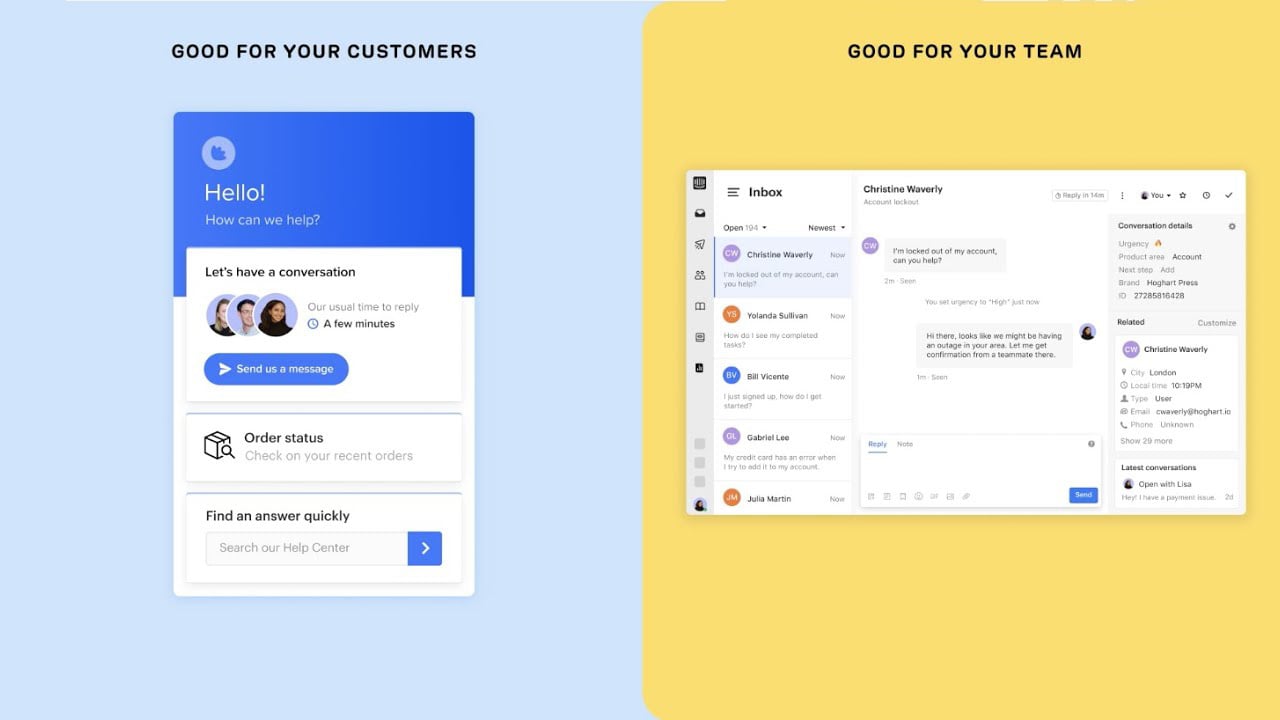 Intercom is a customer communications platform known for its proactive approach to conversational marketing through multiple customer self-service and conversation-based interactions.
Its three-pronged approach combines support, engagement, and marketing into a single dashboard. The sheer versatility of the platform Intercom offers has brought in clients like Shopify, Unity, and Udemy.
Intercom Features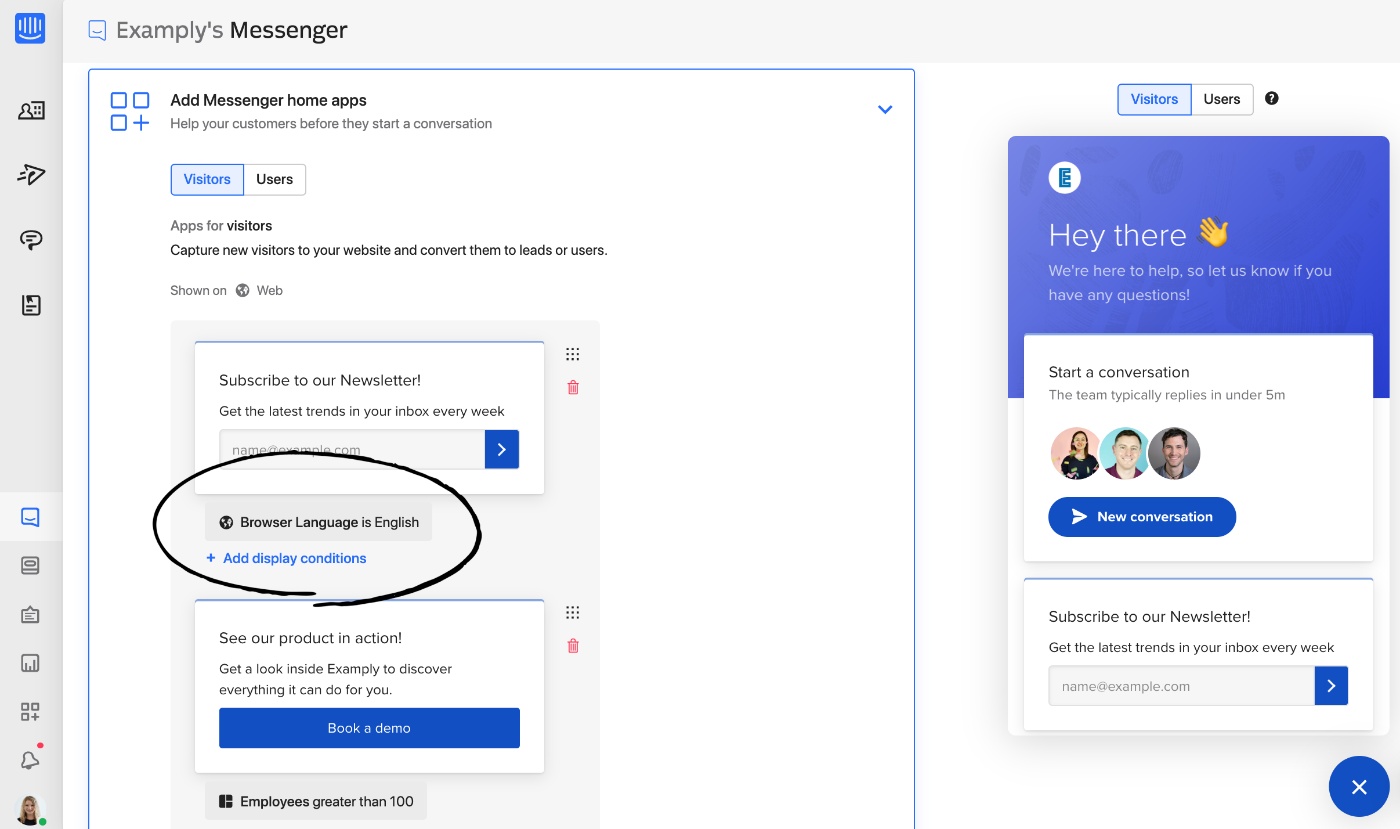 Intercom prides itself on being a solution that helps customers throughout every stage of the user journey. Its features improve customer onboarding and support while providing key analytics and engagement strategies to boost the marketing process.
Ticketing Workflows: Unlike traditional email-based ticketing systems, Intercom has implemented ticketing as part of its Messenger tool. You'll be able to create workflows that identify and categorize issues while viewing key conversion data for your tickets.
Product Tours: Intercom's product tours help onboard new users and highlight your product's key features – making it a perfect match for software companies. It also provides in-app guidance to reduce the number of tickets your customer support team has to deal with.
Advanced Reporting: Intercom analytics evaluate performance for individual conversations as well as your team as a whole, offering admins both a granular and birds-eye view of your entire operation.
Intercom User Experience
Intercom provides a positive user experience as a one-stop shop for all online customer interactions and internal reporting.
With countless features that span multiple stages of the buying process and over 300 integrations on the Intercom app store, the value is definitely there.
However, the customer support team can fall short when it comes to preventative measures, and update errors happen quite often.
| | |
| --- | --- |
| What Intercom Users Like | What Intercom Users Dislike |
| Ticketing automation | Customer support |
| Note sharing between team members | Update errors |
| Detailed multi-level analytics | Confusing pricing structure |
| Native product tours | Buggy CRM and calendar integrations |
Intercom Pricing
The Intercom pricing in the image below is for smaller companies who want a flat-rate package billed annually. Intercom has custom pricing for its support, customer engagement, and conversational marketing solutions. A 14-day free trial is available.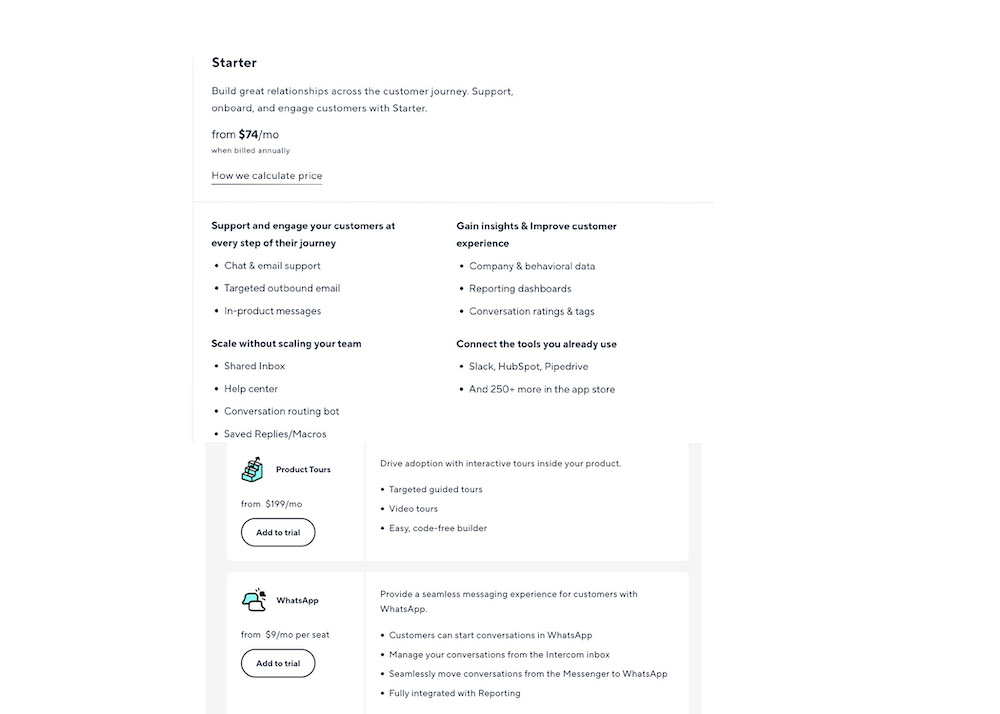 Crisp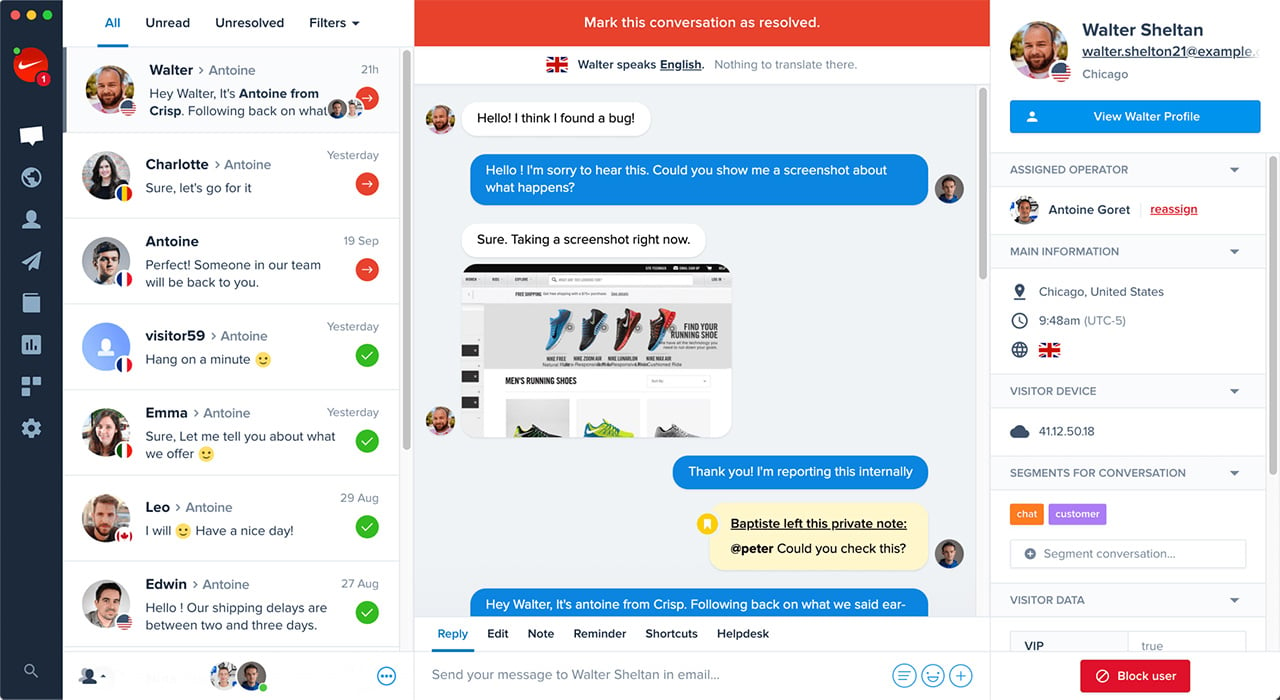 Crisp markets itself as the #1 customer messaging platform for startups and SMBs due to its freemium and affordable plans.
It combines messaging needs for most new businesses with functionality spanning live chats, chatbots, knowledge bases, help desks, CRM software, and more.
Crisp Features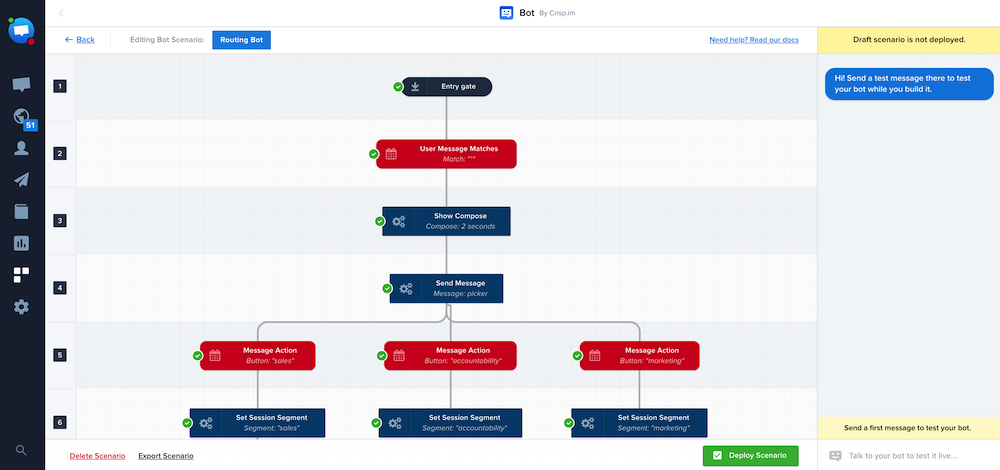 Crisp's features focus on two core areas: centralization and automation.
By bolstering presence across multiple channels, Crisp allows smaller businesses to keep up with larger competitors.
Chatbot Builder: Crisp's no-code chatbot builder lets you create bots that can handle various tasks, such as booking meetings, qualifying leads, and support for less complex queries.
CRM Automations: A core part of Crisp's CRM functionality centers around automating repetitive tasks that would otherwise slow down your employees. It also compiles all your lead data in its database, so agents always know who they're talking to.
Centralized Inboxes: Whether customers send you an inquiry through SMS, email, Facebook, Twitter, or live chat, all messages arrive at the same shared inbox. This makes it a lot easier for your agents to respond to queries faster on all platforms.
Crisp User Experience
Crisp offers a pretty questionable user experience. While the UI is nice, it lacks flexibility as a platform and doesn't have sufficient documentation in the knowledge base.
Customers have complained about upsells on premium pricing plans, only for the promised features to be delayed by months at a time.
There have also been reports of users being charged for their subscription even after canceling – and not receiving a refund.
| | |
| --- | --- |
| What Crisp Users Like | What Crisp Users Dislike |
| No-code chatbot builder | Poor customer support |
| CRM database and automation | Post-cancelation charges |
| Easy to set up | Confusing filters |
| Clean and modern user interface (UI) | Inconsistent loading for chat widgets |
Crisp Pricing
The monthly pricing below is for support and sales teams of any size. A 14-day free trial is available.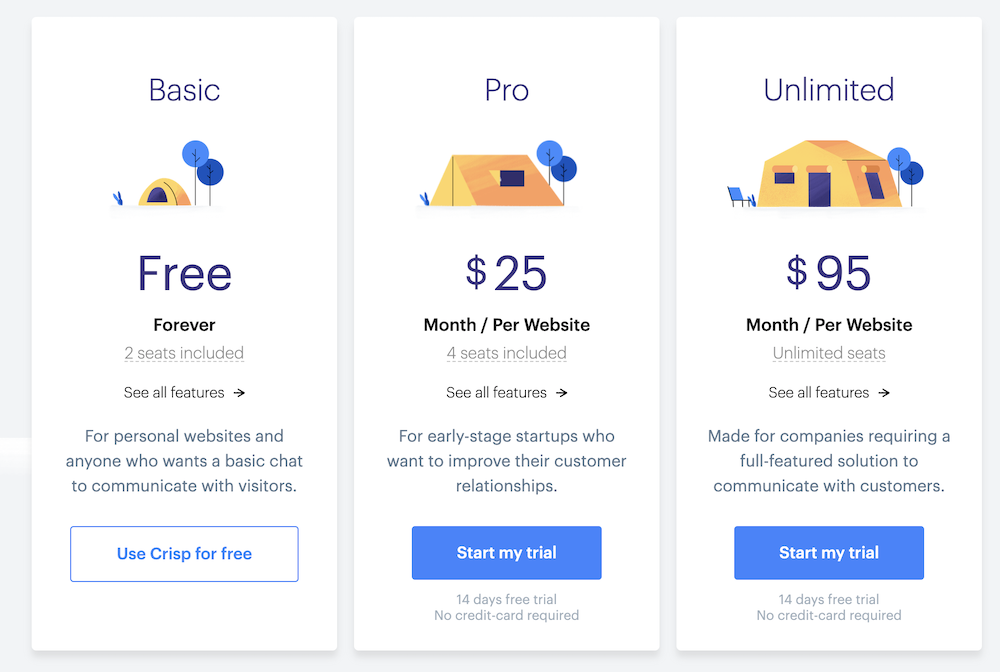 LivePerson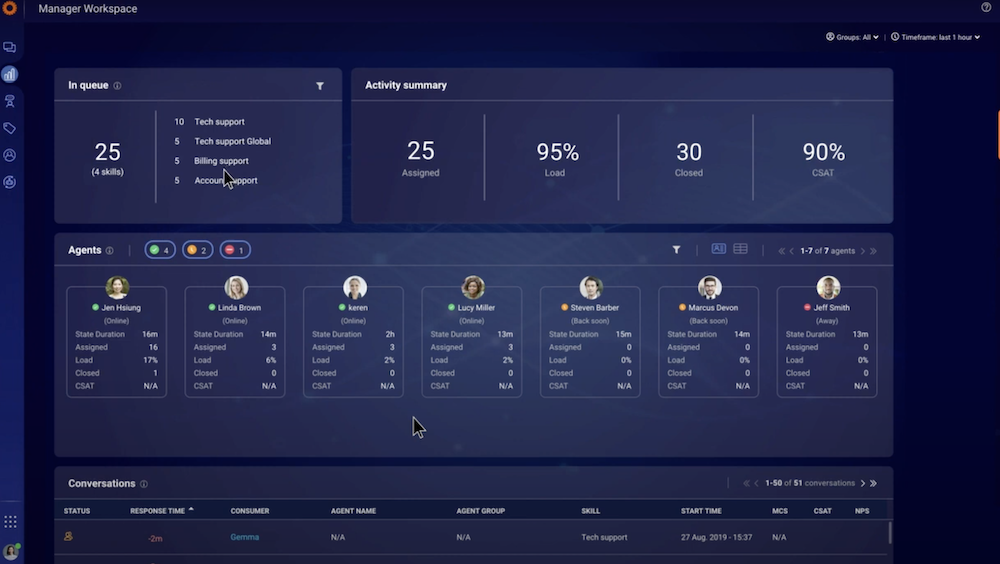 LivePerson is a conversational AI platform that combines chatbot solutions with highly personalized customer experiences.
This hybrid strategy of automation and personalization has landed it clients like IBM, RBS, Virgin Atlantic, and thousands of other brands.
LivePerson Features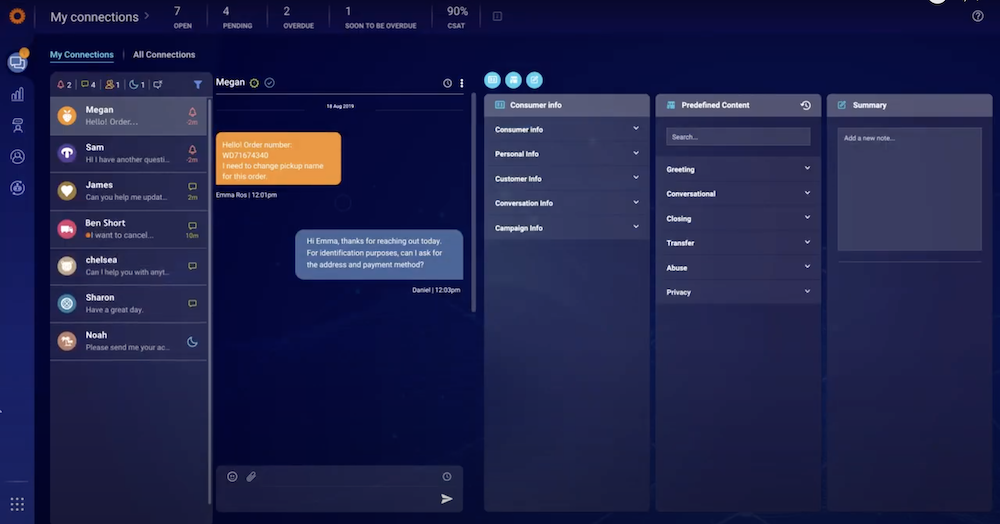 LivePerson has most of the features you'd expect from a Drift alternative, but it also has routing, reporting, and security capabilities that are worth expanding on.
Dynamic Routing: LivePerson's dynamic routing bot lets you design advanced flows using routing policies. This makes it easier to address issues and collect contact information from leads/customers without human input.
Detailed Reporting: The LivePerson dashboard goes over four key metrics – efficiency, effectiveness, effort, and emotion – to evaluate just how well your agents are performing. It also has individual agent summaries to track their KPIs.
Utmost Security: LivePerson serves banks, insurance providers, and healthcare organizations. It runs vulnerability assessments and proactive monitoring to ensure no data breaches ever occur.
LivePerson User Experience
LivePerson provides a positive customer experience for companies that don't anticipate going over 2,000 conversations per month or are willing to pay extra for platforms like Twitter and WhatsApp.
Much like Crisp, there are also reports of LivePerson customers being charged months after they had canceled their subscription.
Outside of billing issues, LivePerson's support team got generally favorable reception from customers due to their friendliness and knowledgeable assistance.
| | |
| --- | --- |
| What LivePerson Users Like | What LivePerson Users Dislike |
| Humanlike chatbots | Starter plan is capped at 2,000 conversations per month |
| Knowledgeable support agents | Annual commitment and high per-user cost |
| User-friendly and modern UI layout | Twitter and WhatsApp aren't included in the starter plan |
| 24/7 support | Post-cancelation charges |
LivePerson Pricing
The pricing below is for teams of 10 who bill monthly (annual commitment). A 45-day free trial is available.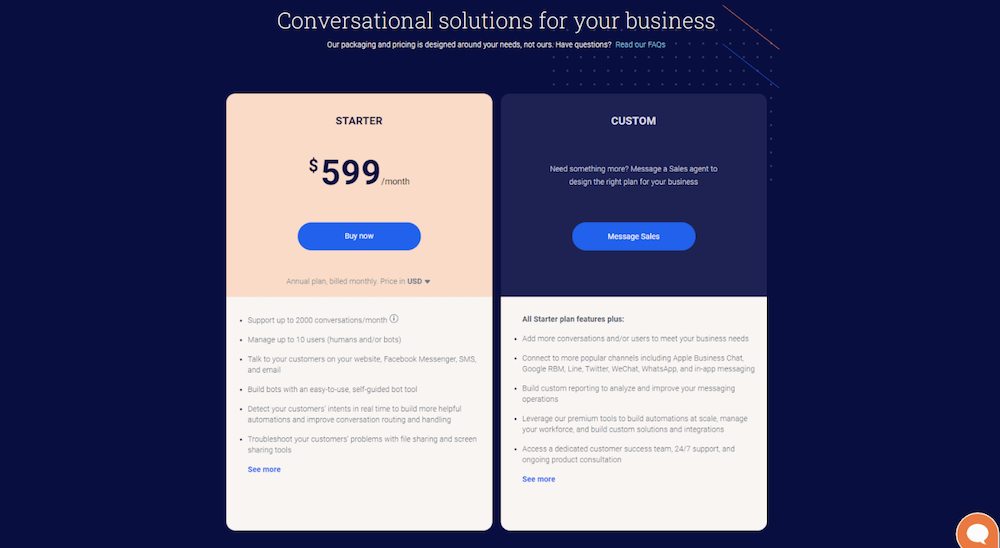 Aivo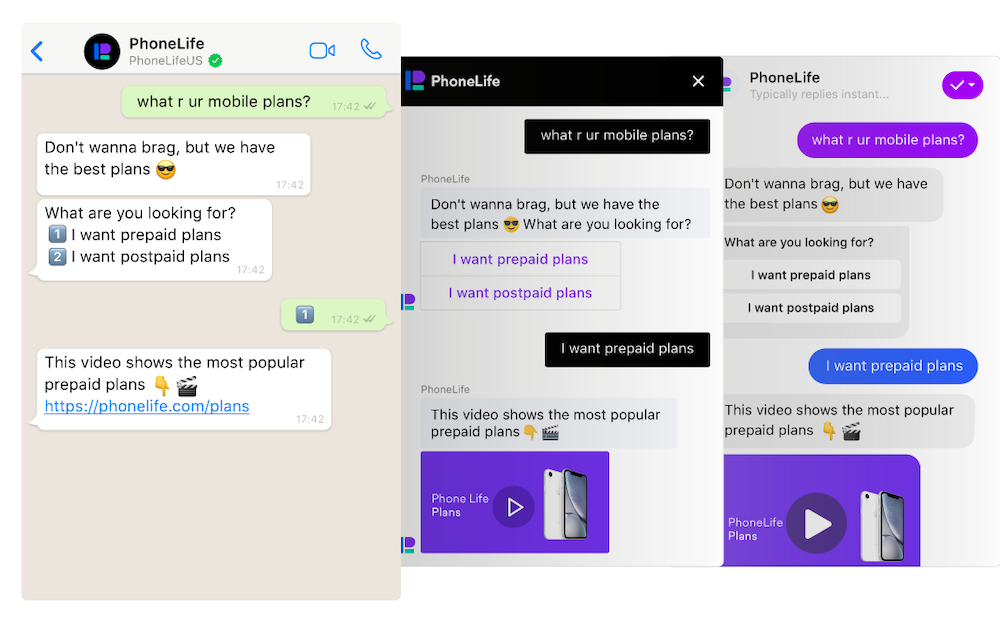 Throughout the past decade, Aivo has leveraged its artificial intelligence platform to drive sales growth and omnichannel support for customers.
Aivo works with big-name clients like Sony, Visa, Renault, and General Motors.
Aivo Features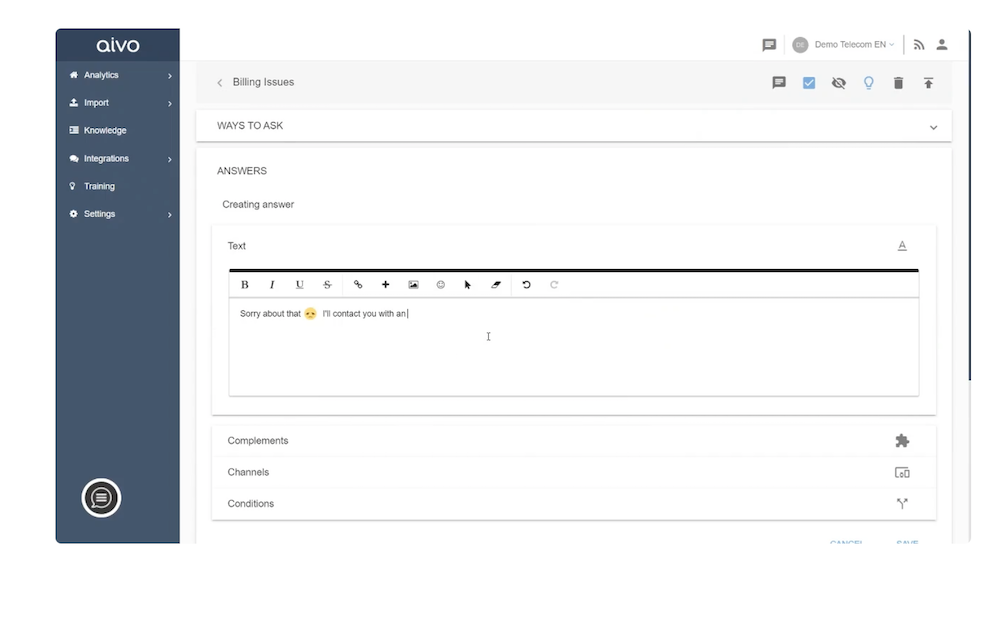 Aivo takes a unique approach to conversational marketing with native surveys and an AI copilot for agents.
AI Copilot: This AI-driven suggestion engine helps agents during live chats so they don't have to put the customer on hold to look up numbers or think of the right approach to resolve the problem.
CX Analytics: In addition to the usual chat metrics, Aivo lets you create four CX surveys to get key insights into the customer experience: NPS, CSAT, stars, and binary. You can also view the full chat to get more context for the survey results.
WhatsApp Campaigns: Aivo lets you create no-code WhatsApp campaigns that identify new opportunities, nurture relationships, and send notifications to customers who have already opted in.
Aivo User Experience
Aivo provides a positive experience thanks to its AI copilot and the resulting reduction of mental strain on agents alongside increased customer satisfaction.
That said, some users have had to wait for quite some time to get their support tickets addressed, so it seems like assistance is slower after the initial implementation period.
The costs can also add up rather fast since you'll be paying $0.15 for each conversation – on top of your monthly subscription fee.
| | |
| --- | --- |
| What Aivo Users Like | What Aivo Users Dislike |
| AI suggestions improve the experience for both agents and customers | $99/month entry price plus additional per-conversation costs |
| Four native CX surveys | AI suggestions struggle with complex tickets |
| No-code WhatsApp campaigns | Slow support response times |
| Technical assistance during implementation | API only available on Business and Enterprise tiers |
Aivo Pricing
The pricing below is for teams who bill monthly. A 10-day or 30-day free trial is available, along with a 20% discount for annual billing.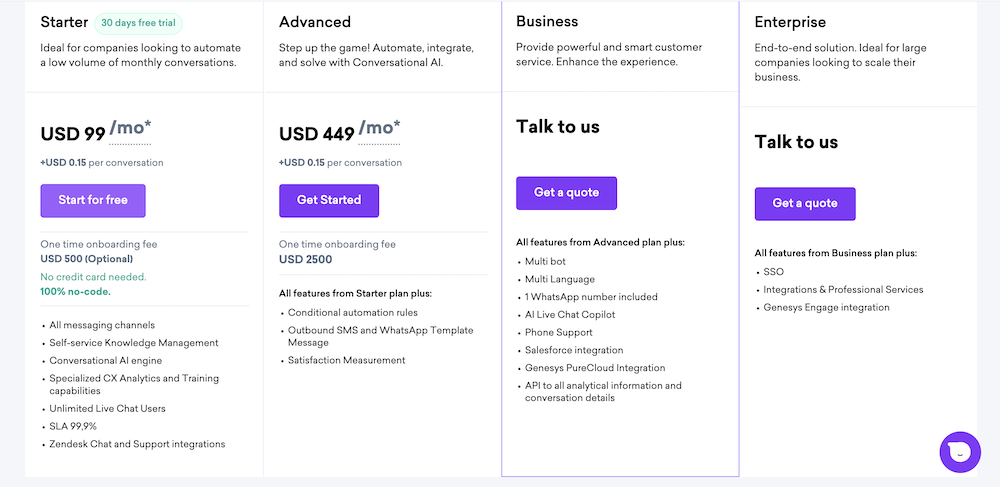 SnapEngage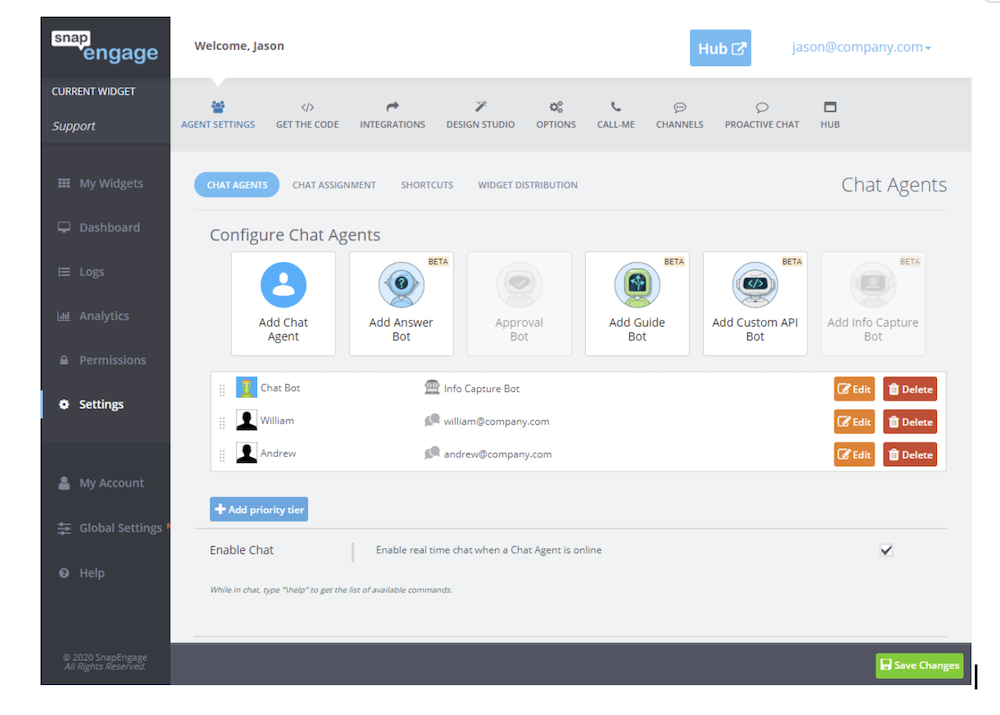 SnapEngage seeks to simplify customer conversations on both ends by providing pop-up chat support to website visitors, providing marketing automation for small businesses, and streamlining multi-channel campaigns.
SnapEngage Features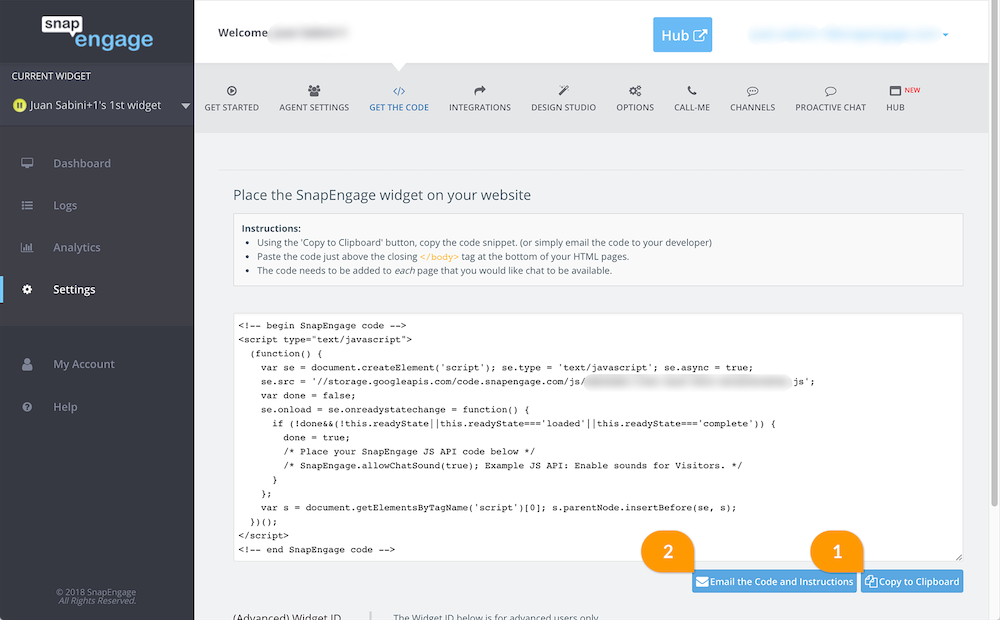 SnapEngage simplifies the omnichannel support process without sacrificing in-depth analytics and native automation capabilities.
Snippet Setup: No downloads or programming are required to get SnapEngage set up with your website. All you have to do is insert its code snippet to start using the solution immediately.
Detailed Insights: SnapEngage's real-time monitoring makes it possible to track the activity of every agent on your team. You can also generate team capacity reports to see how resources are being used, or integrate Google Analytics to monitor engagement.
Mobile-Optimized Omnichannel Support: Whether your customers are reaching out via SMS, Twitter, Messenger, or WeChat, SnapEngage offers a mobile-optimized experience on all its supported channels.
SnapEngage User Experience
SnapEngage offers a positive experience for most users with its easy setup and omnichannel capabilities.
That being said, the interface can get a bit laggy when switching between chats, and the IP blocking feature isn't robust enough to get rid of bad actors for good.
There are also user reports of transfers and other special commands failing, which could negatively impact the customer experience.
| | |
| --- | --- |
| What SnapEngage Users Like | What SnapEngage Users Dislike |
| Snippet-based installation | UI lag when toggling between chats |
| Real-time analytics and detailed reports | Buggy special commands |
| Intuitive UI layout | Insufficient IP blocking |
| CRM integration with HubSpot | No searchable database |
SnapEngage Pricing
SnapEngage doesn't list any pricing on its website, and each plan is available by quote basis only.  A 7-day free trial is available. The below image outlines basic plan componenets.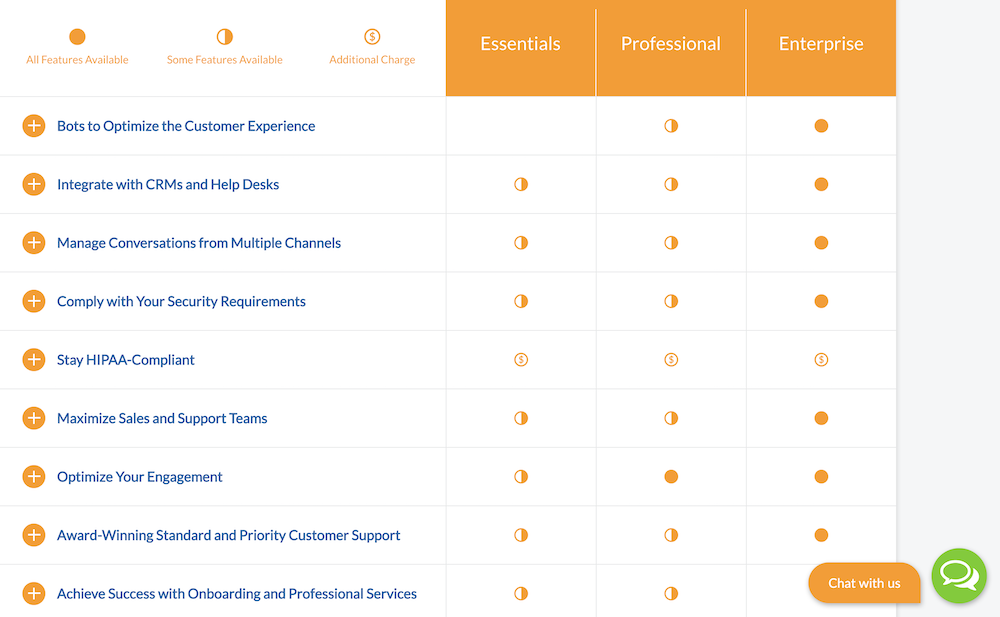 Freshdesk Messaging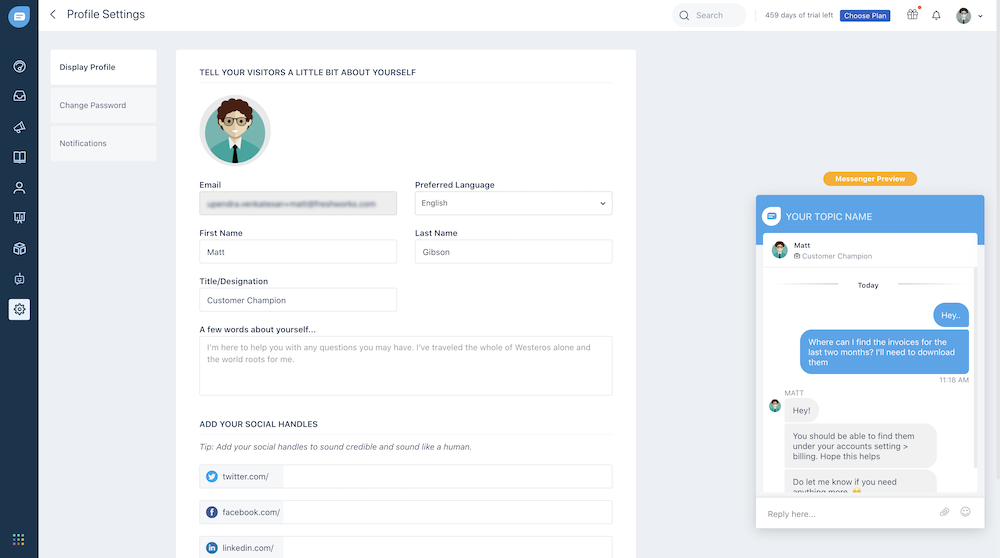 Freshdesk Messaging (formerly known as Freshchat) comes from the Freshworks family of tools.
Their comprehensive lineup of software tools have landed them customers like OneFile, Bridgestone, 7-Eleven, and 50,000 other companies.
Freshdesk Messaging Features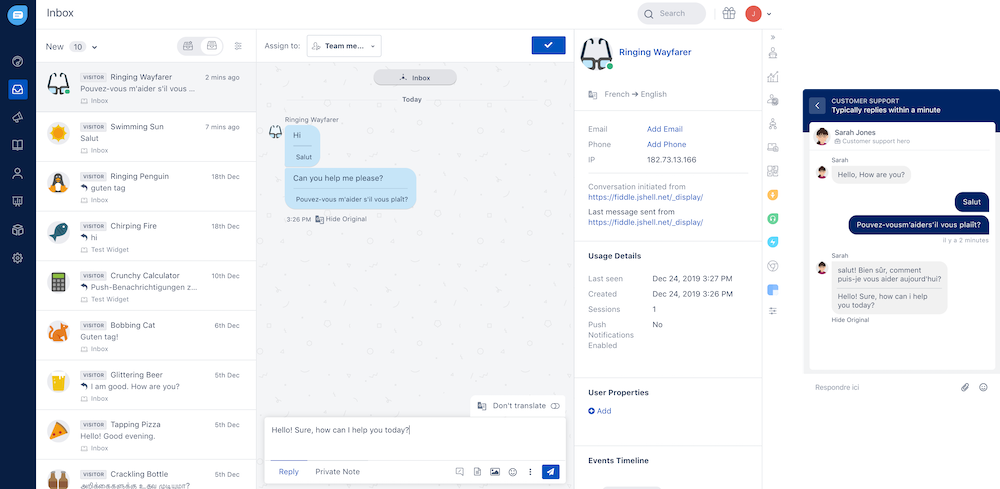 Freshdesk Messaging's feature set focuses heavily on the mobile experience and building advanced customer flows.
Mobile Channels: Freshdesk Messaging supports channels like Facebook Messenger, LINE, Apple Business Chat, and WhatsApp — helping users target social media platforms and mobile traffic (which accounts for more than half of all website traffic)
Multilingual Support: Freshdesk Messaging comes pre-loaded with over 33 languages which help you serve a wider audience. This lets you customize your messenger depending on which market you're targeting.
Live Translate: Freshdesk Messaging's international features go beyond localized messengers since the platform can translate messages in real-time. This helps bridge the language gap between your agents and customers to speed up the resolution process.
Freshdesk Messaging User Experience
Freshdesk Messaging offers a positive experience with its multi-lingual and translation features. It also has extensive support for popular mobile messengers to extend your reach.
There are a few drawbacks to consider, though.
First of all, it can be a bit clunky to restore archived users when they return.
Additionally, onboarding documentation is a bit thin for our taste – which could lead to new users making a few rookie mistakes along the way.
| | |
| --- | --- |
| What Freshdesk Users like | What Freshdesk Users Dislike |
| Compatible with four popular mobile messengers | Difficulty restoring archived users |
| Localization with 33+ languages | Sparse onboarding documentation |
| Real-time translation | Limited analytics |
| Solid customer support | Awkward ticket management on the mobile version |
Freshdesk Messaging Pricing
The pricing below is for teams who bill annually. A 21-day free trial is available.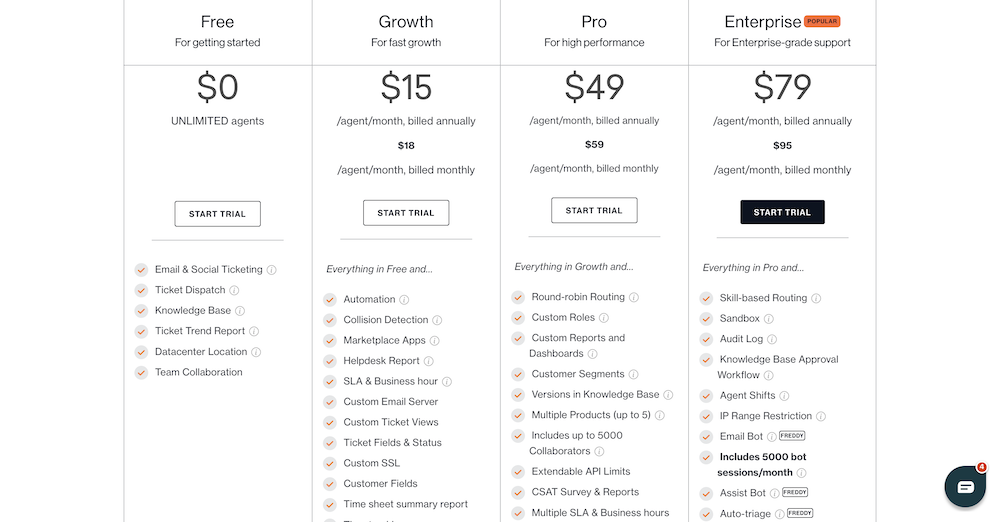 LiveAgent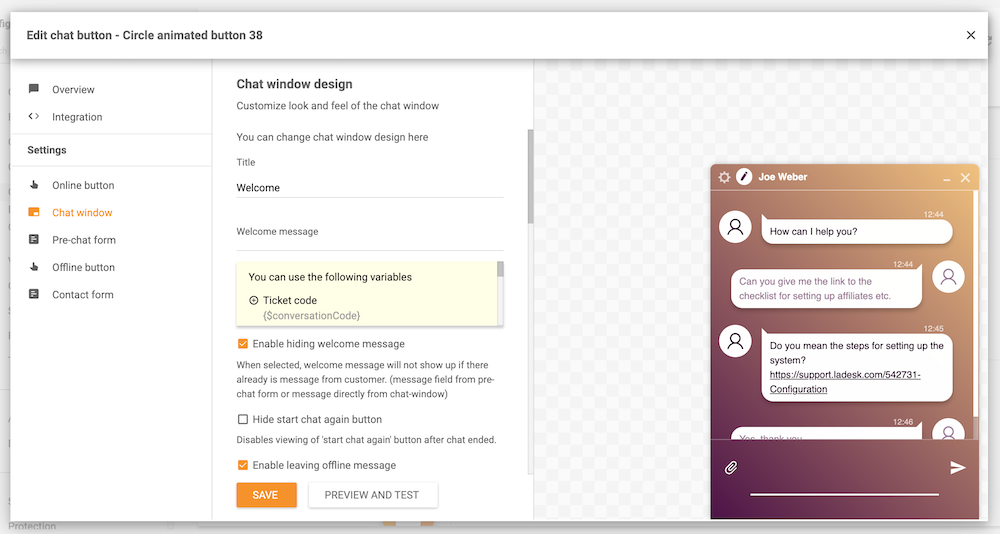 LiveAgent is a highly-acclaimed customer support platform with five-star ratings from well-known business software review sites. Their customers include Huawei, BMW, and Yamaha (for both pianos and motorcycles!)
The website even has migration guides for platforms like Outlook and Genesys to streamline transitions.
LiveAgent Features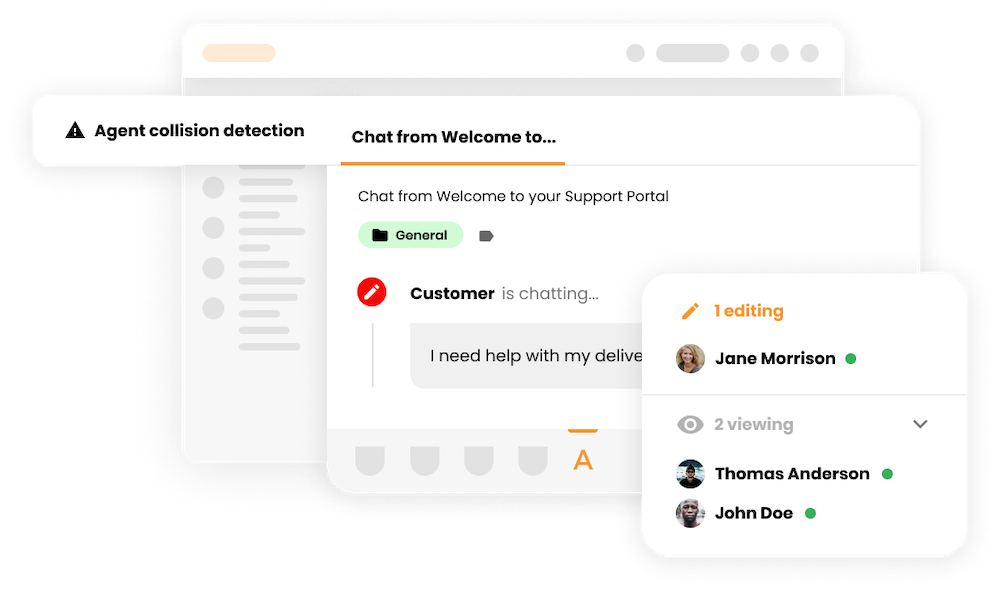 Given that LiveAgent has over 130 features, we could easily create a 5,000-word guide on them alone. However, here are three features that stood out to us during the testing process:
Agent Collision Detection: If more than one agent is currently working on the same ticket, an alert pops up to prevent any overlap or wasted resources. This helps you solve more tickets while spending less on customer support.
Queue Caps: Admins can set a maximum queue length to ensure LiveAgent automatically hides the chat widget if the queue is too long. This saves customers from long wait times and encourages them to email their concerns instead.
Integrations: LiveAgent has 198 integrations to choose from, including tools like Shopify, Mailchimp, Magento, Pipedrive, Slack, Twilio, and even Vonage. In other words? You'll have no problem fitting it into your existing tool stack.
LiveAgent User Experience
LiveAgent provides a positive experience and has a stellar track record of improved customer satisfaction rates in 90% of the businesses using it.
However, the solution definitely feels like a "function over form" product, as its user interface and knowledge bases look rather dated.
Some users also complain the leaderboard function makes agents overly competitive, but that all comes down to whether or not you're a fan of gamified productivity.
| | |
| --- | --- |
| What LiveAgent Users Like | What LiveAgent Users Dislike |
| 198 integrations and counting | Outdated UI design |
| A responsive customer service team | Discrepancies in visitor tracking |
| Easy setup | Automatically logs users out |
| Modular layout flattens the learning curve | Leaderboard (could be a pro if you like gamified work environments) |
LiveAgent Pricing
The pricing below is for teams who bill monthly. A 14-day free trial is available.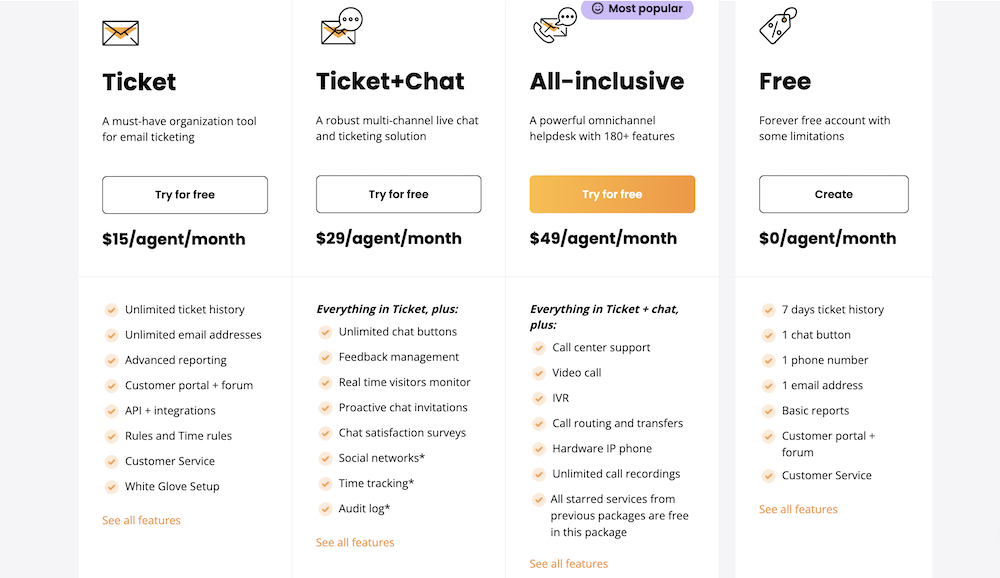 WATI by Clare.AI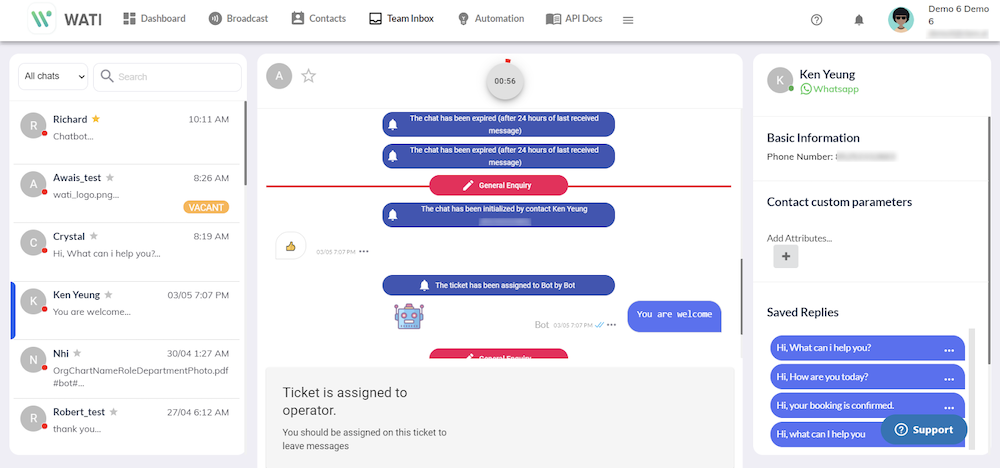 With its WATI-powered platform, Clare.AI is a popular choice due to its easy-to-use chatbot builder and compatibility with messengers like WhatsApp.
The NLP-powered solution has amassed large clients like AXA, Fidelity, AIG, Cigna, and more – a testament to its robust capabilities.
WATI by Clare.AI Features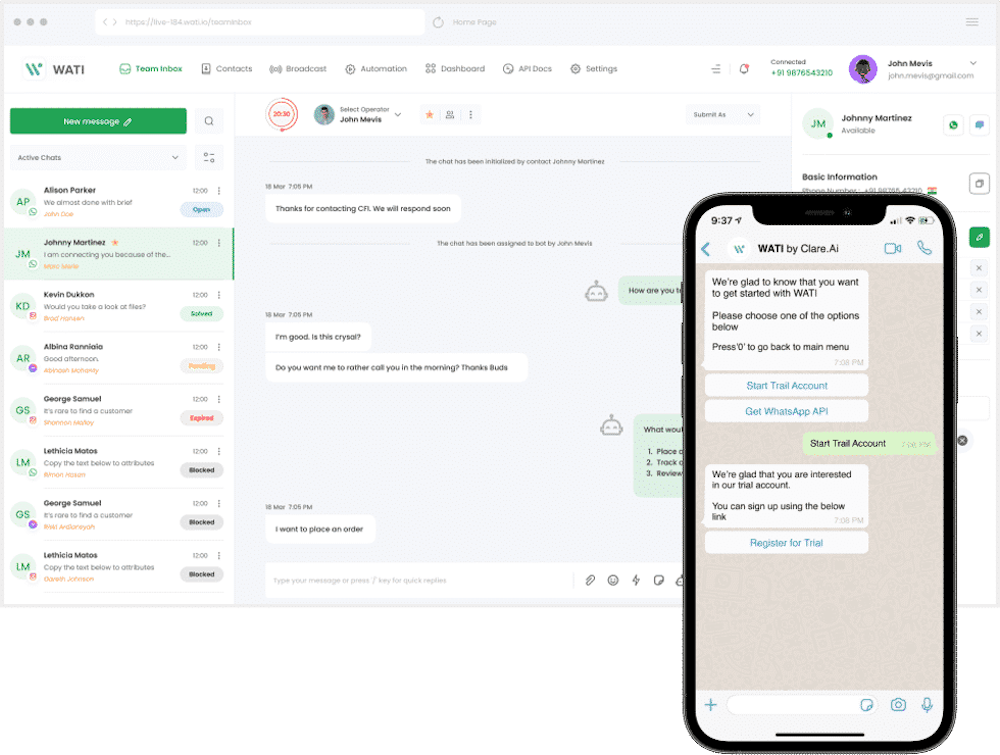 With the features below, it's clear that WATI's Clare.AI is more than just a bot builder or WhatsApp marketing tool.
Native Chatbot Builder: The basic chatbot builder tool and templates may not be as sophisticated as standalone solutions but it's more than enough for SMBs who are just getting started with conversational marketing. There's also an advanced version if you upgrade.
Integration-Friendly: Clare.AI's WATI platform lets you use key integrations for apps like Google Sheets, Shopify, Zapier, Zoho, HubSpot, WhatsApp, and more. This makes it easy to share data across your entire tool stack.
Broadcasting: One of the most popular features on the platform is the messaging broadcast tool, which sends out messages to up to 100,000 users at once. You can also create customer segments based on various attributes to keep your broadcasts relevant to every recipient.
WATI by Clare.AI User Experience
Clare.AI's WATI is a flexible platform that has expanded beyond its WhatsApp-centric origins. However, there are a few snags that could bog down the user experience.
For one, it can take about five days to go through the onboarding process, which is a lot longer than most of the software solutions on this list. There are also a few minor bugs when using certain features, but it's nothing that would significantly impact your workflow.
| | |
| --- | --- |
| What Clare.AI Users Like | What Clare.AI Users Dislike |
| Fast approval times | Slow onboarding |
| Segmented broadcasting for up to 100k users | Scaling up gets expensive ($30/user/month) |
| Basic and advanced chatbot builders | Minor bugs |
| Intuitive APIs | Complex flows are difficult to create |
WATI By Clare.AI Pricing
The pricing below is for teams of five who bill monthly, but there's a 20% discount if you bill annually. A free trial is available, but the website doesn't specify the length.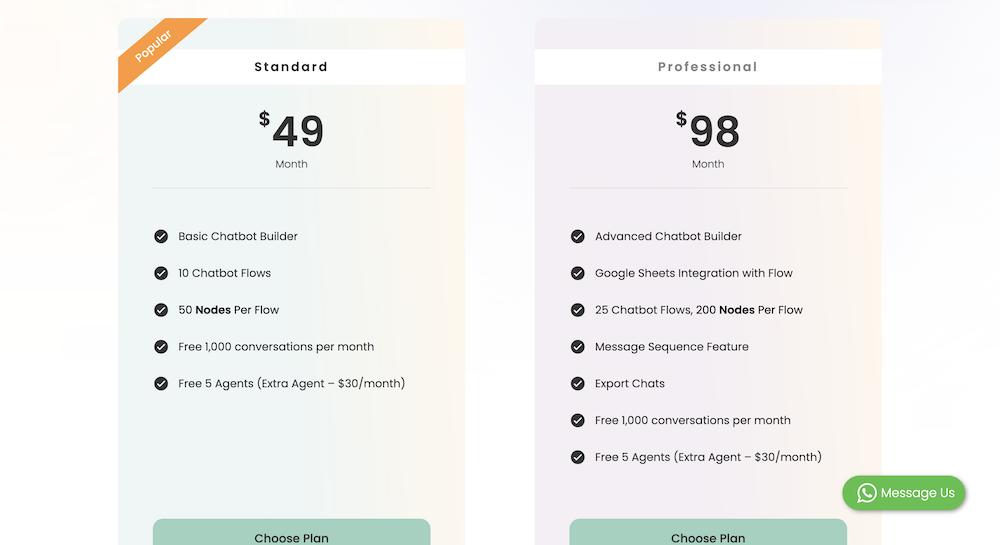 LiveChat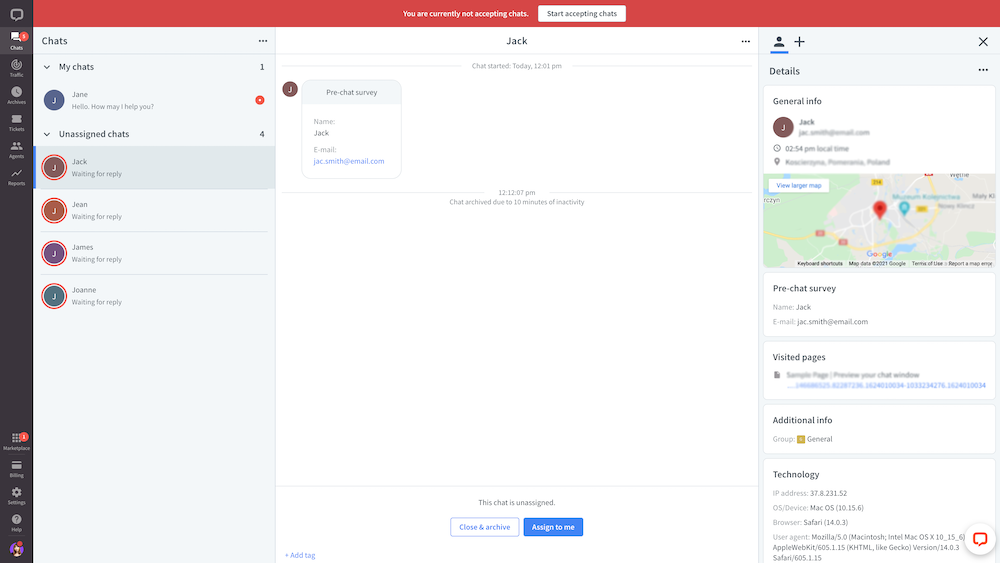 LiveChat has over 34,000 companies using its software including industry leaders like McDonald's, PayPal, Atlassian, Adobe, Toyota, Mercedes-Benz, and various others.
The platform also offers an affordable entry price at just $16.00/month for each agent. Still, you'll likely be better off with one of its pricier plans to get the most bang for your buck.
LiveChat Features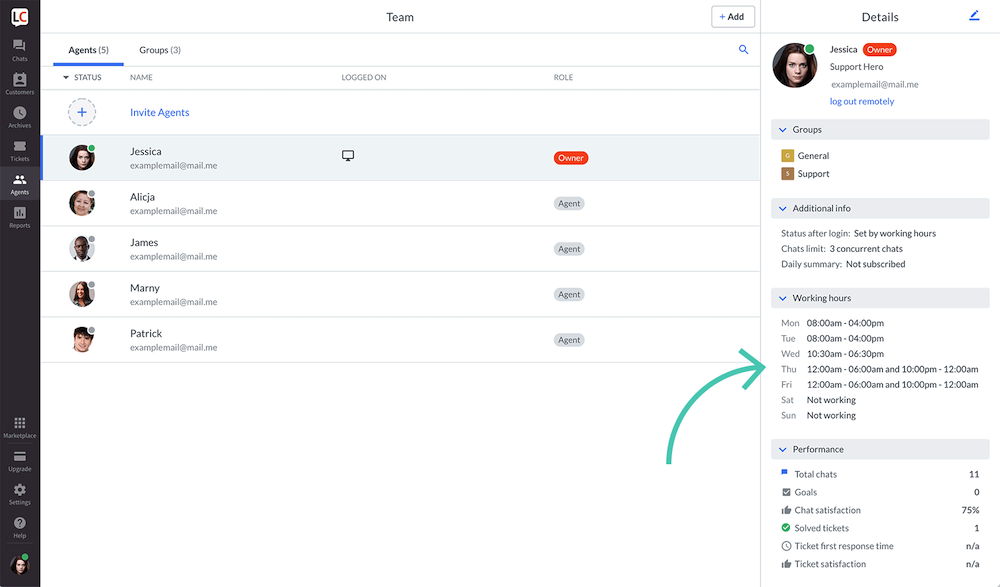 LiveChat has quite a few features dedicated to customization and security. Here are three features that really set the solution apart from competitors.
Custom Reports: In addition to chat, agent, ticket, and customer reports, users can also generate eCommerce reports. This makes it a lot easier to run an online store with LiveChat instead of other solutions listed here.
Multi-Branding: Users with multiple websites can use LiveChat for all of them without having to stick to the same color scheme. The ability to customize each site separately is an invaluable branding feature.
Work Scheduler: LiveChat lets users configure working hours for every agent to ensure they can easily transition between shifts without relying on human managers to guide them.
LiveChat User Experience
LiveChat offers a positive experience with over two hundred integrations available and quality-of-life automation capabilities, like setting agent working hours.
That being said, the Starter plan feels a bit limited when it comes to customization and chat history – so expect to pay at least $33/month for each agent on the Team plan.
A few users also say certain notifications can glitch, causing let unresolved tickets to slip through the cracks.
| | |
| --- | --- |
| What LiveChat Users Like | What LiveChat Users Dislike |
| Custom branding for every implementation | Expensive pricing up to $50/agent |
| 200+ integration | Notification glitches |
| Multiple report types to choose from | Full widget customization requires Team plan or higher |
| Agent working hours | 60-day chat history on Starter plan |
LiveChat Pricing
The pricing below is for teams who bill annually. A 14-day free trial is available.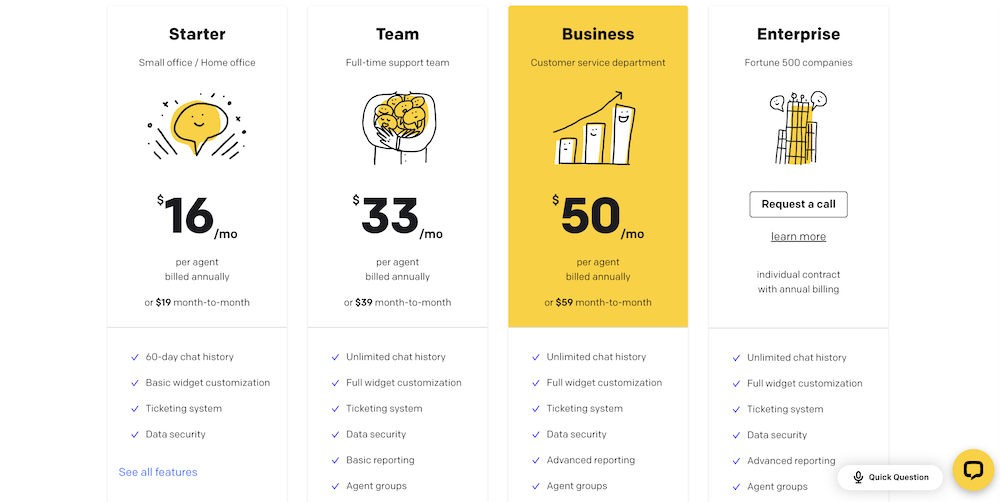 Terminus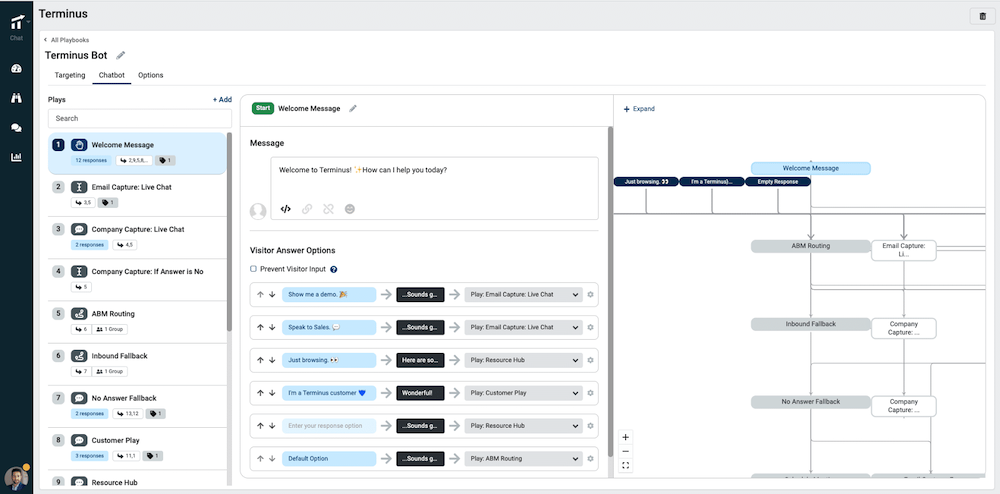 Terminus offers multiple tools that help you push leads through your pipeline and get them to convert as soon as possible.
This chat solution has attracted customers like Autodesk, Dow Jones, and 1,000+ other companies, as it has a great front-end design along with a user-friendly back-end UI.
Terminus Features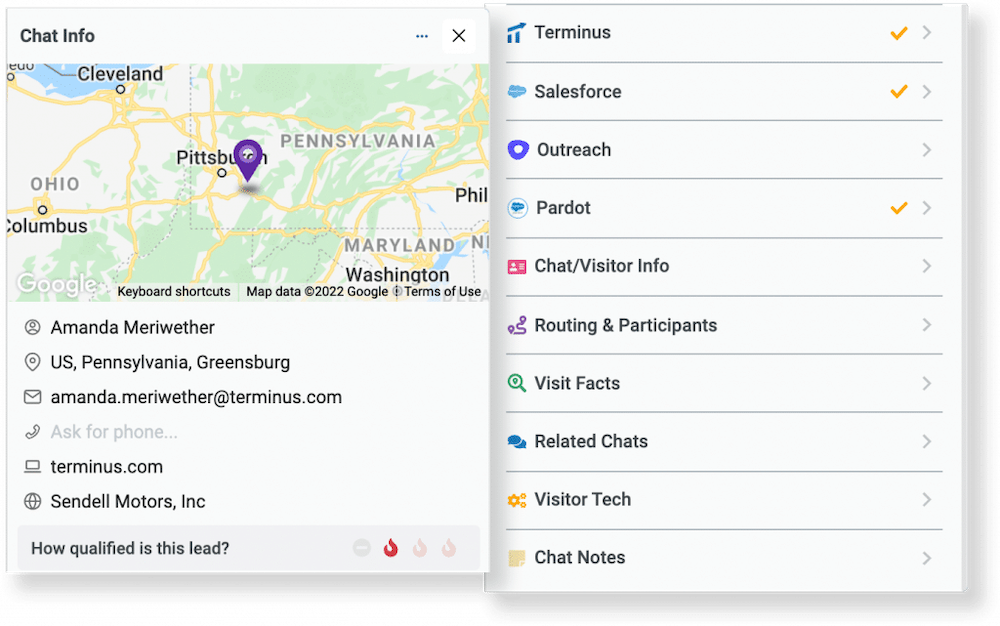 Terminus is a bit light on features but executes well on the functionalities it does implement.
iOS Mobile App: Agents using Apple devices like iPhones or iPads can get the Terminus app on the App Store. However, there's no Android equivalent – which is rather disappointing.
CRM Integrations: While Terminus doesn't have as many integrations as LiveChat or LiveAgent, it does integrate with top CRM solutions like HubSpot, Salesforce, Microsoft Dynamics, and Marketo.
Seamless ABM: Teams already using Terminus as their ABM platform can target the same users with their chat solution. This can increase ROAs while preventing employees from having to hop between multiple platforms.
Terminus User Experience
Terminus offers a moderate experience as it has most of the usual features you'd expect, but its interface can be sluggish and it lacks Android compatibility.
There's also no pricing listed on the website, which makes it difficult to measure the value of each subscription tier.
| | |
| --- | --- |
| What Terminus Users Like | What Terminus Users Dislike |
| Easy setup and usability | Lack of transparent pricing |
| Customizable and professional front-end look | No Android compatibility |
| Integration with AI Watson (Enterprise plan only) | Slow UI navigation |
| Great support agents | No real-time reporting |
Terminus Pricing
No pricing is specified on the website, so you'll need to request a demo for a quote.
The advanced plan comes with five seats while the Enterprise plan comes with 10 seats. A 21-day free trial is available.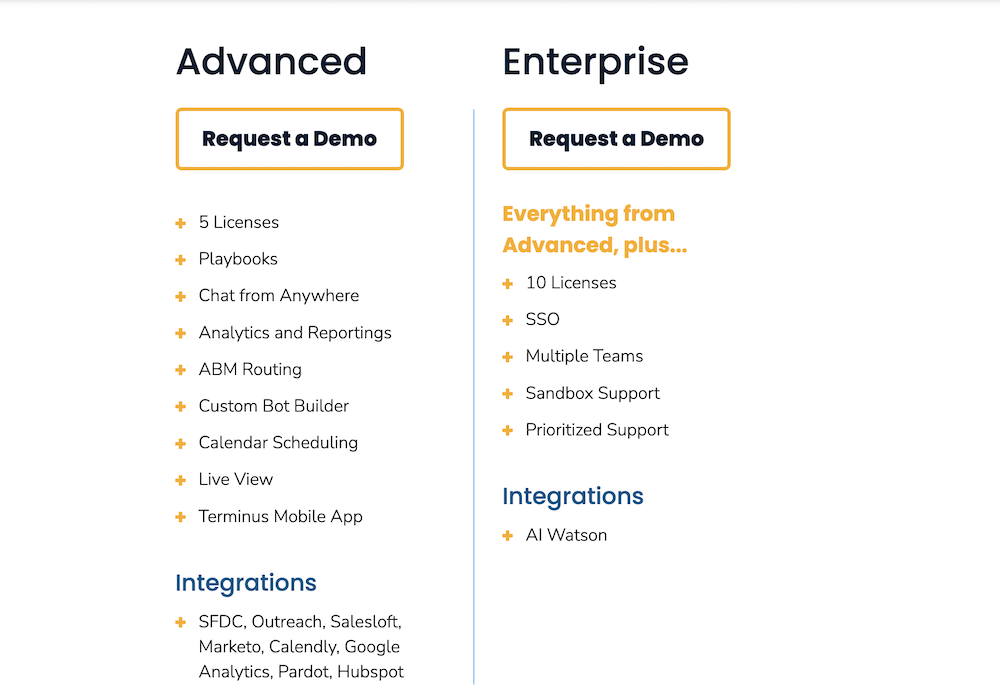 The Importance of Conversational Marketing
There are quite a few benefits to be had by upping your conversational marketing platform.
First and foremost, you'll establish a sense of consumer trust through the continual, one-on-one rapport conversational marketing offers – a key part of both customer retention and account expansion.
According to a report from Walker Information, customer experience is now a more important customer decision-making factor than available products and even pricing.
In addition to helping your business to stand out, establishing an open line of communication with end-users offers granular insights into the needs of your target market. A deeper understanding of consumer likes/dislikes helps you pivot or fine-tune your marketing and core offerings to ensure alignment with customer preferences and requirements.
Smart chatbots – a key aspect of conversational marketing – draw data from integrated CRM solutions, ensuring every interaction with your business (even automated ones) feels as personalized as possible.
Conversational marketing is especially useful for software companies relying on personalized customer experiences for user retention and market growth. For best results, use a combination of both live chat and chatbots in your conversational marketing strategy.
Choosing The Right Drift Alternative For Your Business
As you can see, there are quite a few alternatives if Drift doesn't align with your specific business goals.
Global companies will benefit the most from the multilingual features Freshdesk Messaging offers, while smaller companies prioritizing a quick, simple setup will likely gravitate towards SnapEngage.
Regardless of which platform you choose, be sure to find a solution with the right features to best serve your customers and target market.
Discover more of the best alternatives to Drift in our Live Chat Software Overview, and access additional customer reviews, pricing options, feature overviews, and more.
Drift Alternative FAQs
Below, we've answered some of the most common Drift alternative FAQs.