Despite the pandemic, the business community has stepped up to many challenges and empowered its employees through these daunting and unprecedented times. 
That's why this year's Fortune 40 Under 40 list was extended—it's celebrating 40 influencers who are leading the pack in each of the five categories: finance, healthcare, technology, media and entertainment, and government and politics. 
The list is a diverse and interesting collection of leaders in each category with an array of different specializations and titles represented. Whether they're startup founders, chief executives, science buffs, or sports influencers, each one of them is making an impact within their circle of influence.  
GetVoIP analyzed the list, dug into the details, parsed the results, and isolated the cities with the most up-and-coming leaders. We also highlighted some interesting names from each city below—some well-established, some breaking ground with each stride.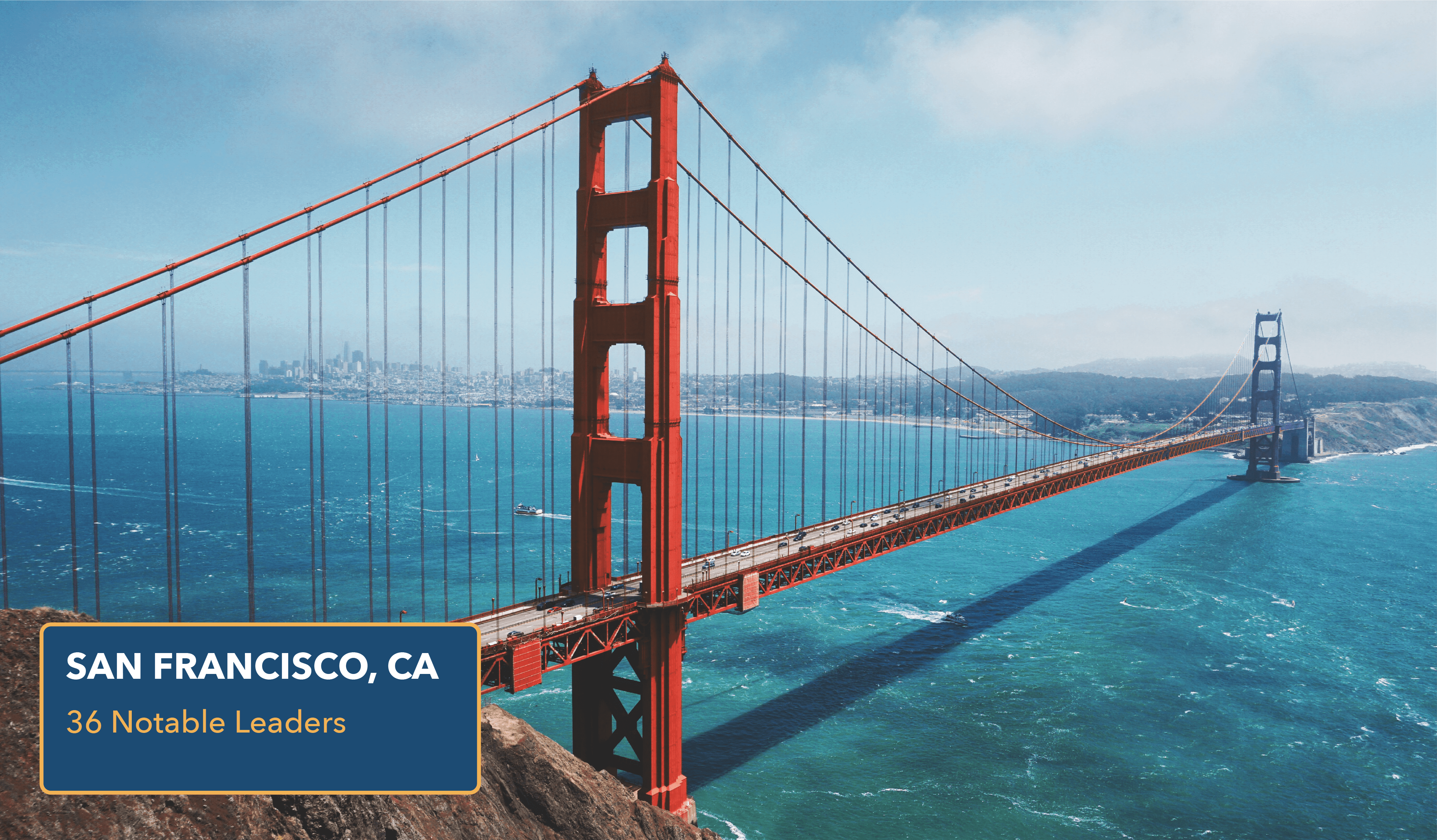 1. San Francisco, CA
San Francisco came out on top of our list of cities with the most up-and-coming leaders in business, with 36 notable leaders across all industries: Finance, Government/Politics, Healthcare, Media/Entertainment and Technology. 
What is it about California's fourth-largest city that produces such extraordinary depth and diversity of leadership skills?
A political consultant, Mary Hughes, put it this way, "There is a sizzle and energy and excitement in San Francisco that attracts people who are doers."  
Notable Leaders From San Francisco
At just 19 years of age, Falon Fatemi became the youngest employee at Google. For 6 years, she focused on global expansion and strategic partnerships at Youtube. After her time there, she became the CEO and CoFounder of Node.io. 
Node.io indexes entities like people, places, products, and companies rather than the traditional web pages. SugarCRM acquired Node in August 2020. However, Fatemi continues to blaze trails with a brand new social platform, Fireside, for live, interactive virtual shows.   
Zach Perret is a young entrepreneur who co-founded Plaid in 2012. Plaid connects to customers' bank accounts much like other fintech companies, Robinhood, Coinbase and Venmo. 
You may have heard of Perret in the news recently because of a failed $5.3B acquisition by VISA in January 2020. However, that hurdle hasn't slowed down the up-and-coming business leader! As of Q1 2021, Plaid is valued at $13.4B.
Andrew Dudum

Hims & Hers

Healthcare

32 y/o
Andrew Dudum is the CEO and Director of Hims Inc—renamed Hims & Hers. Hims & Hers is a wellness brand that provides access to medical-grade products and preventative solutions via telemedicine for both men and women. ​​
Before Hims, Dudum played a key role in the development of innovative companies like Bungalow, Homebound, and TalkIQ, and co-founded Atomic Labs, an incubator for startups. His net worth is estimated at $4.32M as of 2021.
Hims & Hers kicked off the new year with a whopping 74% revenue growth in Q1, raising the expectations for the entire year of 2021. In the first three months alone, revenue reached $52.3 million with a 95% increase in gross profit growth and 391,000 subscriptions, up nearly 80% YOY. For the full year 2021, Hims & Hers is expecting revenue in the range of $221 million – $227 million.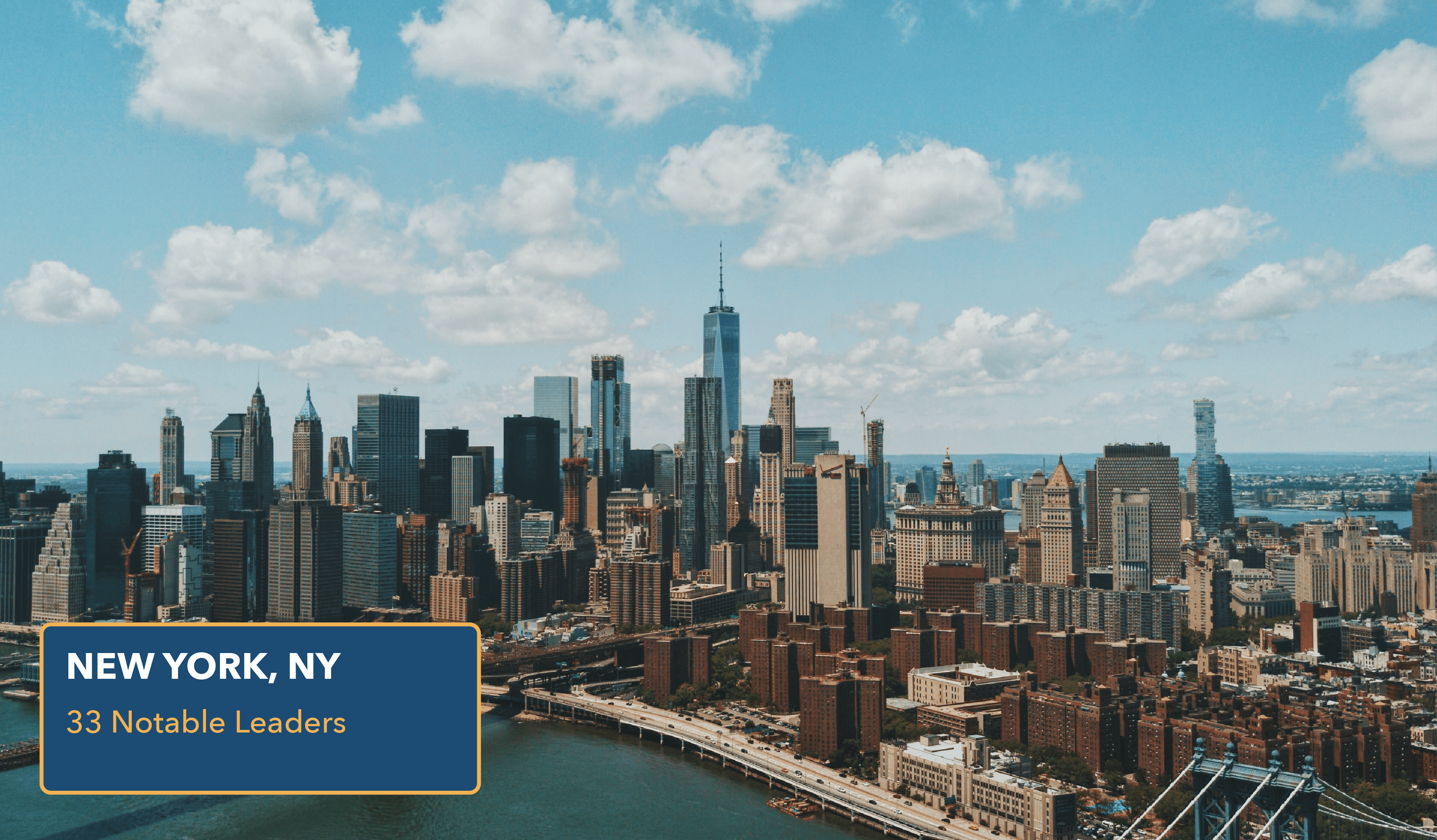 2. New York, NY
Hot on the tail of San Francisco, New York takes second place in our list of top cities with 33 up-and-coming business leaders. 
New York has key influencers in each business industry with a heavier focus on Media and Entertainment. This isn't surprising considering heavyweights like Saturday Night Live, CNN and The Daily Show. 
Que Sinatra, "If you can make it there, you'll make it anywhere; it's up to you, New York New York." 
Notable Leaders From New York
Haley Sacks

Mrs. Dow Jones

Media and Entertainment

29 y/o
Founder of Mrs. Dow Jones, Haley Sacks, uses a combination of pop culture and humor to translate Wall Street into terms millennials can understand. Mrs. Dow Jones has over 214,000 followers on Instagram, 14,200 subscribers on YouTube, 26,400 followers on TikTok and growing! 
CNBC estimates that her audience is 70% women. Bringing women and millennials up to speed with an otherwise male-dominated industry puts Haley Sacks in our list of notable leaders living in New York City.
Adam White is an entrepreneur and US Air Force veteran overseeing the strategic direction of Bakkt. Bakkt is a major innovator in the financial services industry, bringing it up to speed with the advancement in cryptocurrency.  
Bakkt simplifies Bitcoin for investors so that they can buy, sell or trade their digital assets in Bitcoin just as they would using traditional currencies. According to their investor presentation, Bakkt estimates its overall target market would increase to $5.1 trillion, including $3 trillion of cryptocurrency by 2025. 
Artem Petakov is no stranger to innovation. He was part of Google Maps' geographic content team. Now he's utilizing his expertise to help people live healthier lives with the healthcare app, Noom. 
Noom offers customized wellness plans right on your smartphone. Machine learning technology guides its users in reaching their weight loss and exercise goals.
"Today, we're very focused on weight and weight management, but fundamentally, Noom is a behavior change platform that has incredibly broad applications," Foster said in an interview. "We're really interested in leveraging the strength of our platform to impact people's lives."
In May 2021, Noom raised $540 million in a funding round that was said to value the company at $3.7 billion, Bloomberg News reported.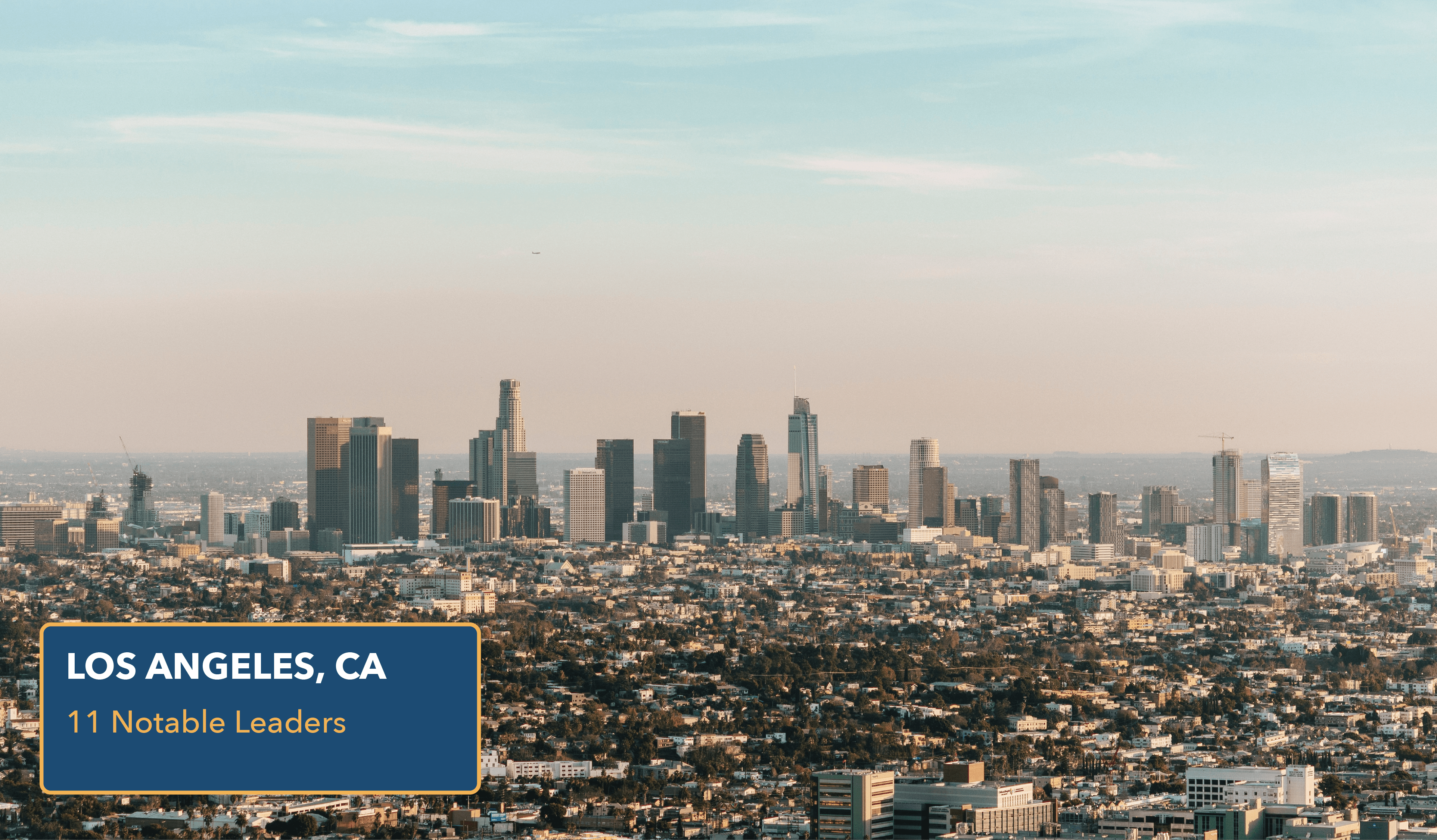 3. Los Angeles, CA
Los Angeles is the largest city in California, with a population count of well over 3M. Needless to say, there is stiff competition to stand out. 
11 talented go-getters made it into the Fortune's 40 Under 40 list, making Los Angeles the third city with the most business leaders.
Notable Leaders For Los Angeles
Naz Aletaha

Riot Games

Media and Entertainment

37 y/o
Naz Aletaha is the Head of Global eSports Partnerships at Riot Games. Riot Games is an American video game developer, publisher and organizer of one of the top eSports tournaments in the world. 
Twelve international leagues participate in the annual League of Legends World Championship, which is the largest eSports tournament and one of the most famous gaming events in the world.
Aletaha has been instrumental to the success of eSports, catapulting from a niche competition to the fastest-growing global sport, securing sponsorships with some of the most well-known brands like Red Bull and Mastercard. Recently, Riot Games won Sports Emmys Awards for outstanding esports coverage. 
Carolina Garcia

Netflix

Media and Entertainment

35 y/o
After nine years at Fox, Carolina Garcia continues to push the media and entertainment industry forward as the Director of Original Series at Netflix. It's not common to find a Latinx person like Garcia at this level in Hollywood. 
She and her team decide which creatives will get the investment for production and which won't. Netflix recently announced a plan to invest $100 million in making their programs diverse and more inclusive. 
According to Garcia, "This isn't about lowering the bar in any way. It's about opening up the possibilities of where excellence can come from."
Kudzi Chikumbu is the Director of Creative Community at TikTok. His team is responsible for driving marketing, education and community development to ensure that creators find success on the platform.
Chikumbu joined musical.ly right after graduating with an MBA from Stanford. In a recent interview with his alma mater, he explains that his "core love is uplifting creative voices and showcasing diversity, so that the next generation feels confident in themselves and sees other people who look like them, and so that hidden career paths might be made clear."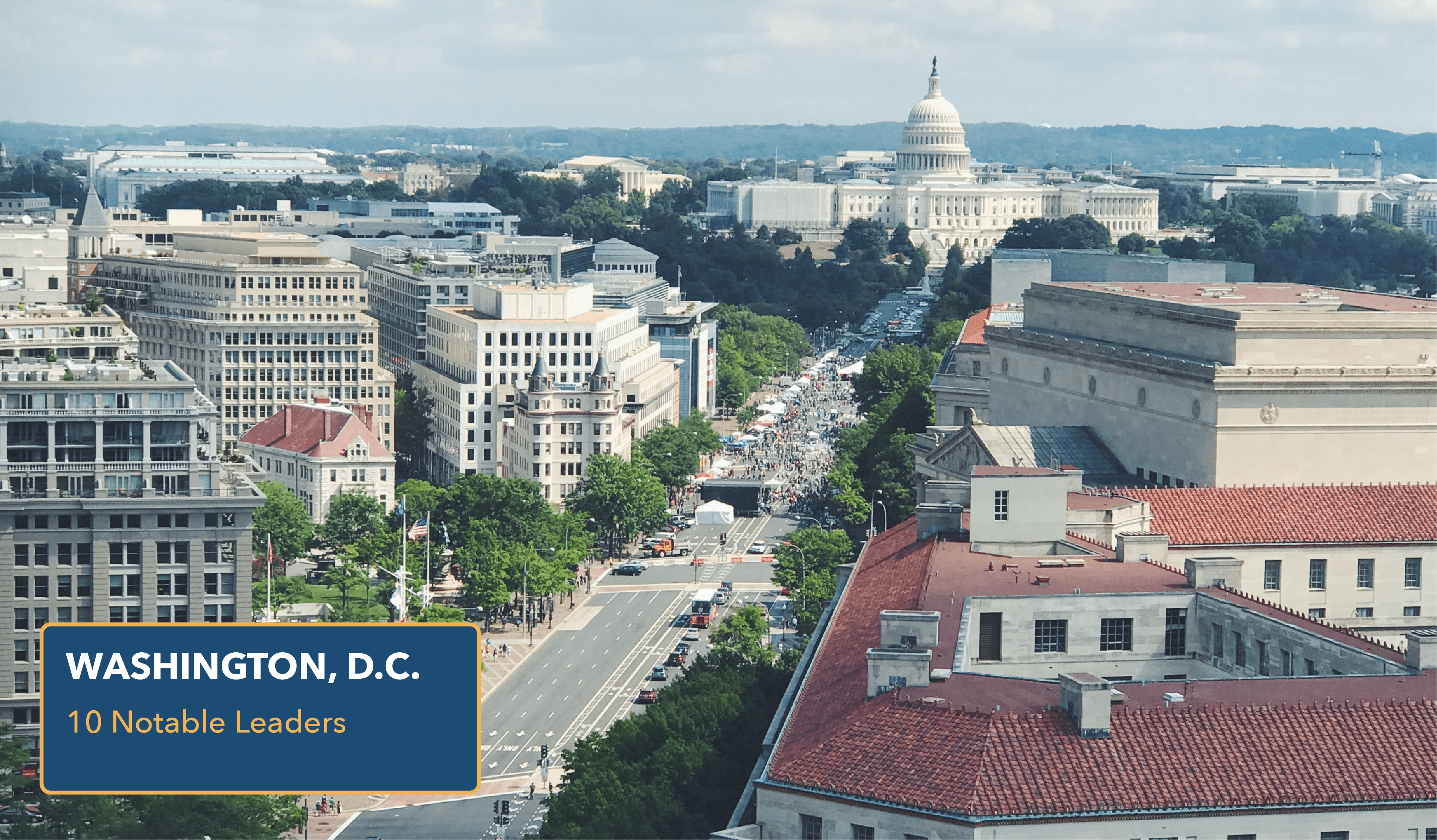 4. Washington, D.C.
Washington, DC, makes the top cities with the most up-and-coming business leaders thanks to the innovators within government and politics. There were 10 notable young leaders hailing from Washington DC on this year's Fortune Under 40 list.
Business is strongly affected by public policies and marketing strategists can learn a thing or two from politician's PR and social media campaigns. 
Notable Leaders From Washington D.C.
Kristin Smith

Blockchain Association

Government/Politics

38 y/o
Founding Executive Director of the Blockchain Association, Kristin is widely recognized as one of the most respected thought leaders on crypto and financial innovation policy. 
The Blockchain Association has tripled its organization's membership and doubled its budget since its inception in 2018. Kristin Smith is quite vocal about Crypto as a political superpower and in debates around cryptocurrency regulations.
Her organization won important policy battles, including the introduction of the Token Taxonomy Act and the postponement of a harmful 2020 FinCEN rulemaking on self-hosted wallets. 
Kat Skiles

Narrative Creative Agency

Government/Politics

35 y/o
Kat Skiles, "the social media guru for House Democrats," was behind the down-to-earth digital strategy for Beto O'Rourke's presidential campaign and is currently the senior adviser and digital director for house minority leader Nancy Pelosi. 
The 'down to earth' trend caught on and changed the American political stage, where politicians welcomed people into their living rooms with lo-fi folksy kinds of videos. 
Skiles's vision of "defying the traditional aspects of cheesy, over-polished ads and utilizing documentary storytelling as the north star of all production principles" has brought her to her latest venture as the CEO and video producer for Narrative Creative Agency. 
Narrative Creative Agency is a group that takes a personal approach to political videos and digital strategy, especially in the age of COVID-19. 
Anna Mason 

Revolution

Finance

35 y/o
Managing partner at Revolution's Rise of the Rest Seed Fund, Anna has led more than 50 investments. Before joining Revolution, she was affiliated with The Vinetta Project that supported female founders in tech. 
Her passion for seed investments comes from her realistic optimism regarding startups. She envisions her platform, Rise of the Rest, as a platform to help the entrepreneurs who are reimagining the country's future through their innovative ideas.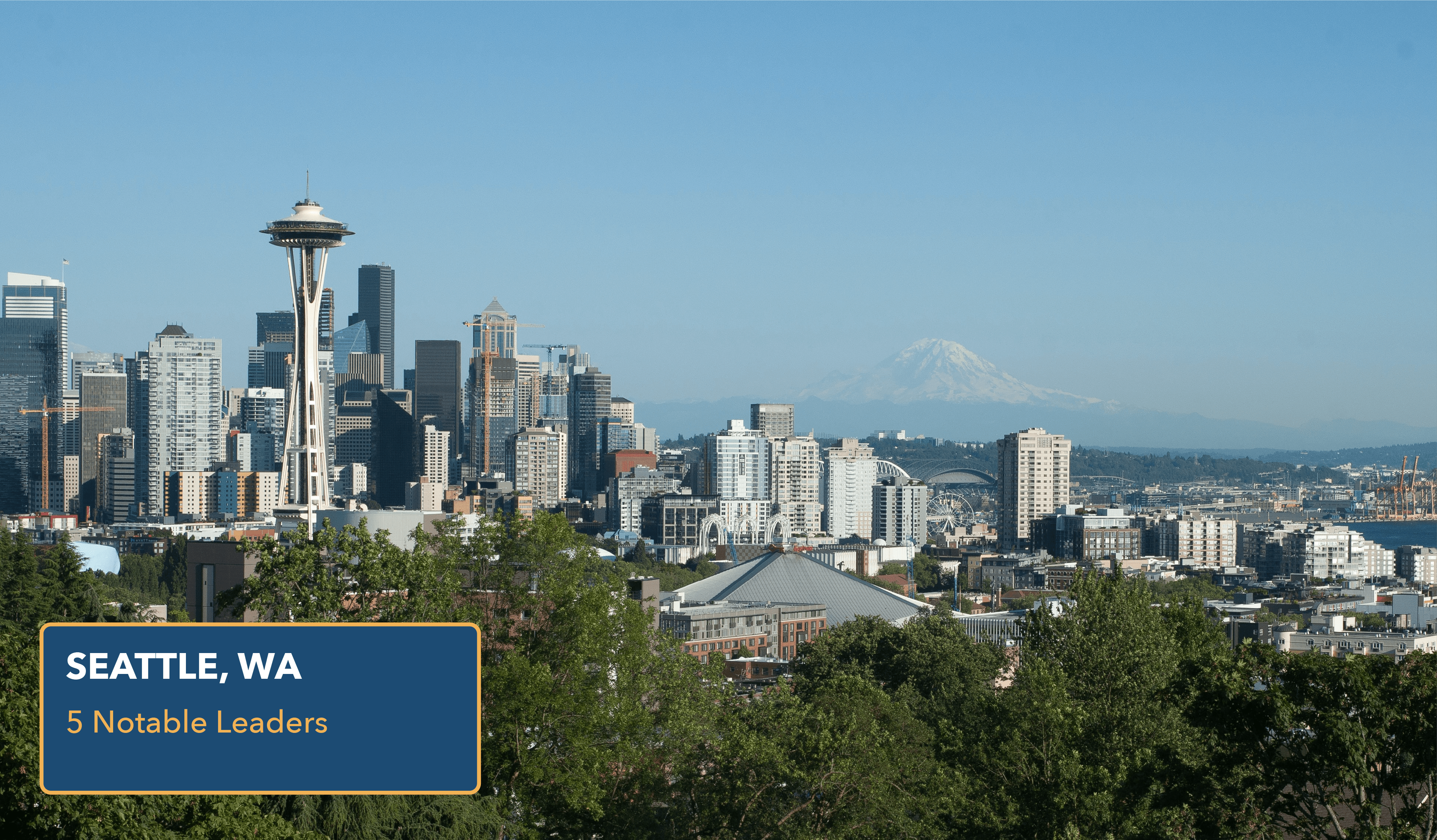 5. Seattle, WA
Seattle, WA, was very close in numbers to Austin, Texas and Cambridge, Massachusetts. Austin and Cambridge were represented by 4 leaders each and Seattle by a total of 5 industry leaders.
Austin's 4 leaders were primarily from the Media and Entertainment industry. Cambridge's 4 leaders were primarily from the healthcare industry. Seattle is evenly distributed across technology, finance, politics and healthcare. The strong pulse in multiple industries is why Seattle, WA, is rounding out our list of the top cities with up and coming business leaders. 
Notable Leaders From Seattle
Tran is the Senior Product Manager for Transactional Foreign Exchange, which manages currency conversion products and services for Amazon payments. Although her business management and P&L growth skills are unmatched, it is her leadership of Amazon's Disaster Relief Team that makes her a notable leader in the tech industry.
Her small team of 5 members developed relationships with nonprofits like the American Red Cross, Feeding America and Giving Backpacks. The Amazon team is able to leverage its expertise in logistics and technology, such as cloud computing, mobilizing volunteers and quickly enabling donations to partners through services like Amazon Pay and Wish List.  
Since 2017, Amazon has donated more than 13 million relief items to support people impacted by over 60 natural disasters around the world. Amazon Web Services (AWS) is distributing another $12 million in 2021 to expand the scope of its initiative to fight COVID-19.  
Diogo Monica is the co-founder and President of Anchorage, the first crypto-native custodian to help financial institutions invest securely in digital assets.
Digital asset custodians hold the private key on behalf of the asset holder, ensuring that any other party cannot access it. A private key is just like a password. Whoever has the private key can access crypto funds and manage them just like a standard online bank account.
Monica started his career at Square as the Platform Security Lead, building a security infrastructure that moved $80B annually. He also led the security team at Docker before joining Anchorage. Recently, Anchorage announced it raised $80 million Series C, which will allow them to scale rapidly and become an authority in crypto banking. 
Jackie Jones

Bill and Melinda Gates Foundation

Healthcare

36 y/o
Jackie Jones is the Director and Chief of Staff for the Bill and Melinda Gates Foundation's gender equality efforts. Supporting women and girls is a top priority for Jackie and she makes sure it reflects in all causes backed by the foundation.
In 2021, the Bill & Melinda Gates Foundation committed to spending $2.1 billion over the next five years on women's empowerment in health, economics, and leadership.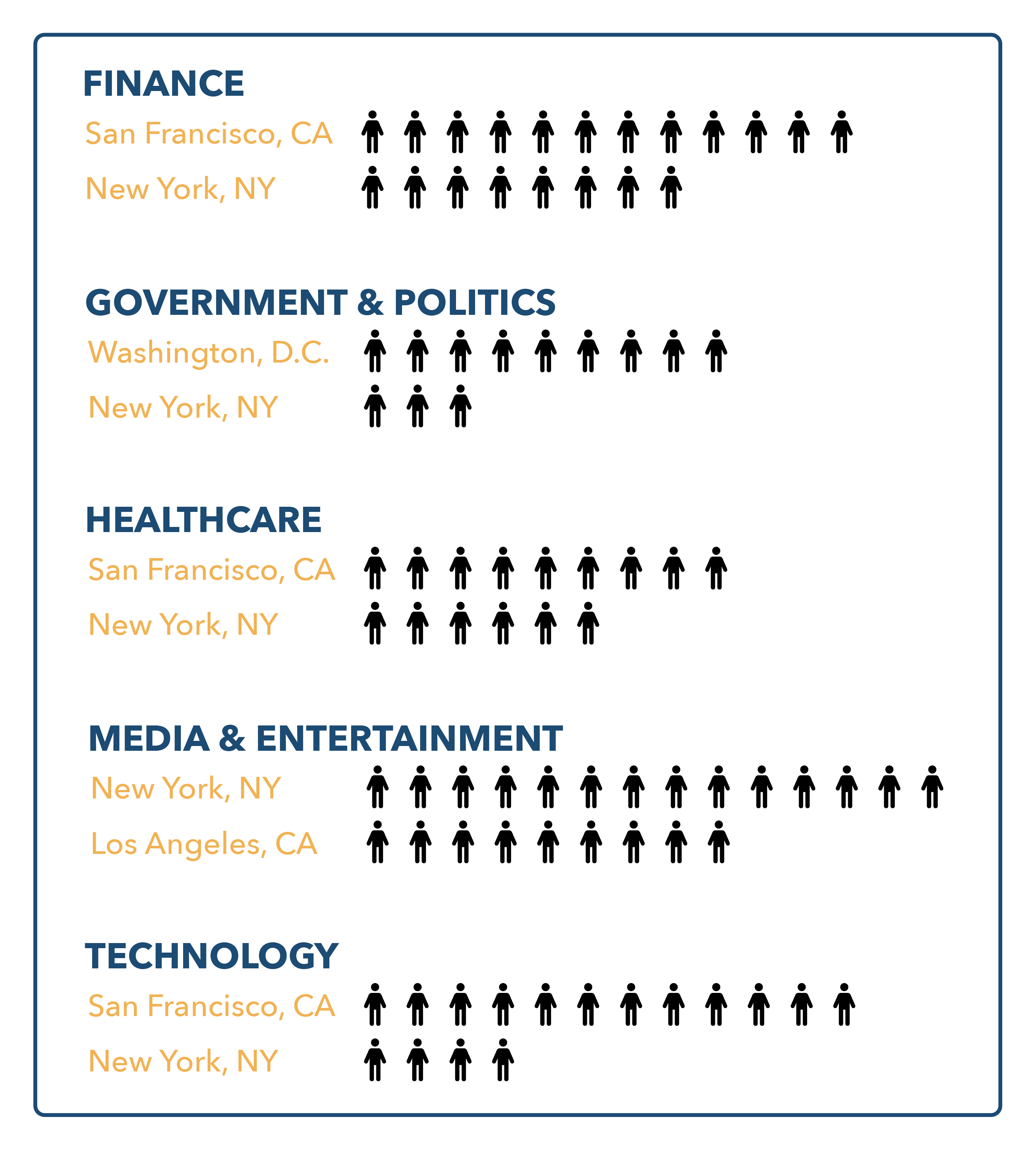 Findings By Industry
We wanted to take a closer look, so we decided to break the numbers down by industry. Here, we'll cover which cities stood out for each industry when it comes to notable up-and-coming business leaders.
Finance
The finance industry saw the most leaders from San Francisco and New York City. San Francisco is a major player in the fintech scene, with leaders from companies like Upgrade, Gusto and Plaid calling the city home. New York comes in at a close second on our list and is home to notable companies like Goldman Sachs, Mass Mutual and Citi.
San Francisco, CA: 12 leaders

New York, NY: 8 leaders. 
Government and Politics
It's no surprise that Washington D.C. leads the pack when it comes to young leaders in Government and Politics. Standout leaders work on projects including Joe Biden's presidential campaign and the United Nations Foundation. New York is home to leaders from Bernie Sanders' campaign and the US House of Representatives. 
Washington D.C. 9 leaders

New York, NY: 3 leaders
Healthcare
San Francisco is home to 9 young leaders, including representatives from Hims and Hers, Google Health and 54gene. Second on the list is New York, with emerging leaders from leading companies like Ro and Noom. 
San Francisco: 9 leaders

New York, NY: 6 leaders
Media and Entertainment
With iconic corporations like Saturday Night Live, The Daily Show and CNN calling New York home, it's plain to see that NYC is a leading hub for Media and Entertainment leaders. Of course, LA also placed high on our list as most of its leaders are in media. Besides entertainment companies, LA is home to offices of Instagram, Netflix and Spotify, and Tik Tok.
New York, NY: 14 leaders

Los Angeles, CA: 9 leaders
Technology
San Francisco and New York City top another industry's list with Technology. With about as many leaders in Technology as in Finance, San Francisco houses offices for some of tech's biggest players. Uber, Salesforce, Y Combinator, Reddit and Facebook are just a few corporations that boast leaders in San Francisco. New York is home to leaders from Squarespace, Twitter and Snap. 
San Francisco, CA: 12 leaders

New York, NY: 4 leaders
Final Thoughts
Fortune focused on putting together a diverse list of up-and-coming leaders across multiple industries. It's a celebration and acknowledgment of the amazing work these men and women do in their respective fields of expertise.
The two cities in the US that stuck out the most were San Francisco and New York. We couldn't analyze a single industry — Finance, Government and Politics, Healthcare, Media and Entertainment, or Technology — without seeing one of these represented. 
However, the other 5 cities had a great representation of young leaders and should be commended.
Methodology:

We took a look at Fortune's 40 Under 40 list, which has recently been expanded to include 40 leaders from each of 5 industries. We then looked up where they lived and what companies they worked for and recorded the data.
We noted which cities had the most leaders, and then we broke them down by industry. We highlighted leaders that we saw as notable, groundbreaking, or standout in their industry in each city. We also took into account the companies that we found were notable in each sector.