There are four words that every business owner loves to hear: Save time and money. It's not only music to their ears, but money in their pockets. That's why so many business leaders are adding a cloud based predictive dialer to their marketing, sales, and customer management suites.
Increased call agent efficiency, real-time interactions, better customer experience, and improved lead management are just a few of the ways businesses are enjoying the benefits of their outbound dialer.
Make an informed decision about predictive dialing and the future of your enterprise. Keep reading to learn everything you need to know about these types of dialers.
What is a predictive dialer?
A predictive dialer is a software that dials a list of phone numbers quickly and accurately and can also return calls to your call center agents. It is a software designed to accurately predict agent availability, screen out busy signals, answering machines, and disconnected phones, and optimize the outbound call pace to connect sales representatives with leads fast. Think of it as IVR for outbound calling.
Sometimes called an "outbound dialer" or a "hosted dialer," these systems use machine-learning algorithms so you can spend less time between conversations for your agents, as well as wait times for your customers when no agent is available. In the background, the software analyses answered calls, dropped calls, the number of active agents, and more, filtering out unproductive calls so your agents get more talk time.
While you can purchase physical on-premise hardware to accomplish these tasks, most modern companies use cloud hosted dialers instead, often integrating their software with their overall contact center platforms.
This software is a workhorse for your call center and sales strategy alike.
Why invest in a cloud based predictive dialer?
With so many business solutions being tossed at you daily, it can be hard to navigate and understand what will actually benefit your bottom line and provide a decent ROI. We think a dialer of this type can be a smart choice for any business currently using or considering adding a call center. 
1. You're busy.
Managing your sales team, maximizing profits, delighting customers. Your plate is full. Unless you have a bunch of time to waste on hacking systems to maximize your call center agent's task lists, you're going to spend a lot of unnecessary energy training your staff to do mediocre rather than great work.
2. You want your sales team to be more efficient.
By automating the process of calling customers, your agents are no longer wasting their time dialing numbers. This increased efficiency means more output from your agents per hour, exponentially improving agents' productivity by reducing their idle time and accelerating sales (your agents will spend more time connecting with potential customers than re-dialing dropped calls).
3. You want to manage your leads in a smart way.
You can integrate a cloud predictive dialer across different platforms such as phone, email, chat, mobile, social and more. This gives you better, smarter lead management. An outbound dialer can be core to unifying your messaging and communications across multiple channels.
4. You strive to provide exemplary customer service.
Cloud based dialers boast specific features that allow you to contact your leads at times that are convenient to them. Perhaps in the morning at home, over the weekend via an SMS / text message, or during the day at their office number. Or maybe, they just want to leave you a voicemail.
Stronger customer service = better brand affinity = more prospects for long term sales. You can turn your contact center into something powerful that delights your customers rather than annoys.
5. You want to reduce operational costs.
Who doesn't? ?
With the help of a cloud based predictive dialer, you can reduce the number of agents on staff and call lines without sacrificing any results. 
One more time for the folks in the back: these types of dialers make it possible for your call center to make more live calls than ever with less staff to make it happen.
Progressive vs. Predictive vs. Auto dialer
Progressive, predictive, and auto dialers initiate outbound calls from a contact list automatically and sequentially while also transferring calls to live agents.
These types of dialers don't wait for the agent to let the system know that they're ready for the next call. Instead, they optimize their dialing modes to minimize the gap between your agent hanging up with one lead and connecting with the next.
Let's say that the software has deduced that most phone calls last an average of 60 seconds. Moreover, it takes roughly 10 seconds for the system to dial a new telephone number and hear "Hello" from the person on the other end. In a predictive dialing system, the software will initiate the next call at the ~50-second mark. Once the agent hangs up with lead 1, they'll be prepped and ready to great lead 2, sparing no idle second in between – which means you get real-time communication.
Progressive dialers, on the other hand, initiate outbound calls for each available agent. To meet the demand for increased outbound calls, they'll need to deploy additional agents. Similarly, an auto dialer distributes connected calls among available reps, whereas a dialer that is predictive dials multiple contacts simultaneously to increase the odds of establishing a connection. For example, If the software has learned that an average of 1 out of every 4 calls picks up, it might dial four numbers at once.
Predictive Dialer Pricing
Through our rigorous research and testing, we have found that the typical dialer cost ranges from $100 per user per month and up. Most software systems will build custom quotes for you, your business, and your business goals, so don't be surprised when the specifics around dialer pricing are hard to come by. 
A customized price is an industry norm, but you can find tiered pricing options available at hosted dialers like Genesys, ChaseData, and dialerAI. A cheap dialer of this type can be uncovered with a little digging and comparing price plans.
CRM Integrations
You might think it is important to find a predictive dialer with a CRM, which can be a smart tactic to further arm your call agents with the right information they need to close a big sale. Luckily for you, most of these software systems can integrate seamlessly with popular CRMs like Salesforce.
The combination of a CRM + dialer means you'll be able to quickly organize lead data, sales info, customer history, show the caller ID and create a superior customer engagement environment for them along the way.
Country-Specific regulations
Adhering to legal compliance can be a huge barrier to self-manage without the help of a cloud based predictive dialer. Just like call recording, there are specific legislations for automatic dialing as well.
In 1991, the Telephone Consumer Protection Act was passed, which prohibits the use of an automatic telephone dialing system to contact a telephone number without express prior consent, to hinder practices like telemarketing. This has continued to evolve into the National Do Not Call registry, also known as the DNC registry. You don't want to dial numbers on this list—or those of parties who haven't given you permission (dialing "accidents" aren't an effective legal defense). With the right tool, you can easily adhere to these regulations without fear of penalties.
Here are few country-specific call center dialer regulations to be aware of:
The Best Predictive Dialers
When we set out to test the best predictive dialer software, we had three main criteria: 
Robust feature sets

Network reliability

Great customer support and service
After taking multiple dialer options for a spin, we've determined the following as the three best options on the market.
» Read Our Full Predictive Dialer Software Buyer's Guide: Top Solutions of 2020
Five9 differentiates itself with its extensive cloud expertise and comprehensive set of integrated capabilities. They claim they can "make geniuses of your agents" and we fully agree. Not only will their solutions serve your customers well, but they'll also serve you, as their customer, well—between instant chat, in-person training, and telephone support available 24/7/365, they'll never leave your question unanswered.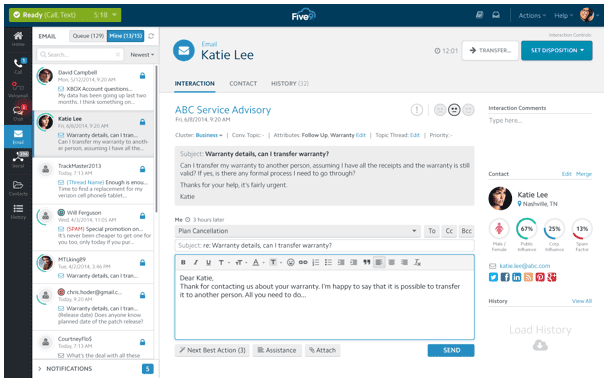 Cost:

Starts at $150 per month, per user.

Get quote

Solutions:

Inbound, Outbound, Blended

Learn more about Five9 pricing.
Sales dialer reviews agree: Genesys is the Swiss army knife of omnichannel engagement, delivering a better customer experience while improving operations and reducing capital costs. Note that a power dialer is not included in this software.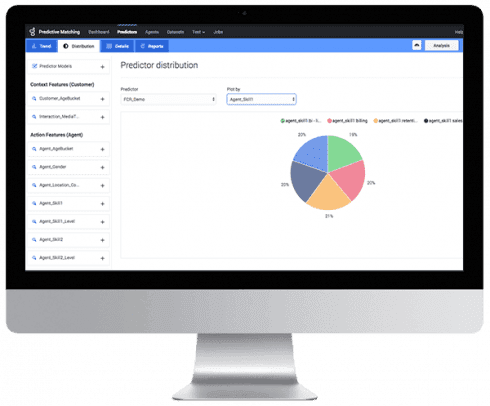 Cost:

3 tiers, ranging from $69.99 – $129.99.

Get quote

Solutions:

Inbound, Outbound, Blended
NICE inContact's hosted call center software helps you excel at responding faster to consumer expectations. Customers typically love the various reporting functionalities (very customizable) and the overall useability of the software's dashboard. Pro tip: With this platform, you can control which hold music the customer on the phone will get, which is a nice touch.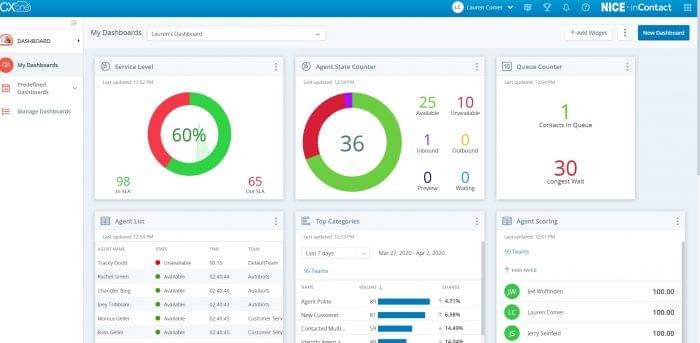 Cost:

Starts at $100.00/month/user.

Get quote

Solutions:

Inbound, Outbound, Blended
» Read our Top Five9 Alternatives for the Best Predictive Dialer
Who else gets top marks?
While Five9, Genesys, and NICE inContact rank as the best predictive dialers, we also thought Aspect, ChaseData, Convoso, and dialerAI were up to snuff. 
» Read our full free comparison guide for hosted dialer shoppers.
Benefits of a cloud dialer can't be understated
A cloud based dialer can improve productivity and increase your contact rate while respecting compliance regulation. It takes the heavy-handedness out of routing calls according to agent availability, maximizing efficiency, and giving you the time, space, and energy to focus on bigger goals. The right software will give you a single number to take calls on, keep data and communications in sync across devices, and unify your phone, text, and social content seamlessly, while offering some key features your team needs, such as caller ID, callback and many others.
If you want to find the right solution for your business today, start by reading our comprehensive reviews.