The global market for cloud private branch exchange (PBX) technology is expected to grow by 13% by the year 2023. Traditional PBX business communication systems are costly for companies to manage, but free cloud PBX offers businesses more flexibility and features than other options. Cloud and hosted PBX doesn't have to be expensive for small organizations that are looking to improve their business communications.
What is Free Cloud PBX?
Free cloud PBX is a communications exchange system that uses a cloud-based structure to provide service to customers free of charge. Providers offer a free-to-use service as a basic plan, but it may not offer all of the cloud-hosted PBX features that larger businesses need for communication. Additional services may be found in a paid subscription or in a pay-as-you-go plan.
Most of these won't lock you in, so if you're reluctant to sign a VoIP contract, then these free services are something to consider.
How Does Cloud PBX Benefit A Business?
Cloud PBX allows companies to switch from a standard PSTN (traditional phone) network and move to an internet-driven technology. PSTN networks require extensive hardware and cause businesses to incur extra charges for long-distance calls that are free with cloud PBX systems. Since virtual PBX solutions are hosted remotely, a business doesn't need to have a dedicated on-premise IP PBX that takes up space in a server or phone room.
Free cloud PBX services and plans allow for sampling without subjecting your business to initial investment costs that could dissuade a smaller company from making the change. It also helps your business try out a provider without making a long-term commitment that could hinder the growth of the company's phone system in the future.
Pay-as-you-go options provide the essential features that any business needs, but additional features cost extra to use. Calls are likely to cost per minute, but if the desk cloud phone system is not used during the month, there's no extra cost for your company.
Who are the Top Free Cloud PBX Providers?
Freshdesk Contact Center
Bitrix24
Callcentric
OnSIP
3CX
Anveo
Call Recording
✔
✔
?
✔
✔
✔
IVR Call Routing
✔
✔
?
?
?
✔
Call Groups
✔
?
✔
✔
✔
✔
Voicemail Transcription
✔
?
?
✔
✔
✔
Self Service Portal
✔
?
✔
?
✔
?
Auto Attendant
✔
?
✔
✔
✔
✔
Voicemail to Email
?
?
✔
✔
✔
✔
Conference Calls
✔
✔
✔
✔
✔
✔
International  Virtual Numbers
?
✔
?
?
?
✔
Call Analytics
✔
✔
?
✔
✔
?
Toll Free Numbers
✔
✔
✔
✔
?
✔
Call Queuing
✔
✔
✔
✔
✔
✔
Real-Time Queue Reports
✔
?
?
✔
✔
?
Salesforce Integration
✔
?
?
✔
✔
✔
HIPAA Compliant
✔
?
?
?
✔
✔
Customizable

Hold Music

✔
✔
?
✔
?
✔
Unlimited SMS
?
?
✔
?
?
✔
Unlimited Fax
?
?
?
?
✔
✔
Enterprise-Level Security
✔
✔
✔
✔
✔
✔
24/7 Customer Support
✔
✔
✔
✔
?
?
*Not all PBX features are available in the free plans, but they are available in existing plan structures.
1. Freshdesk Contact Center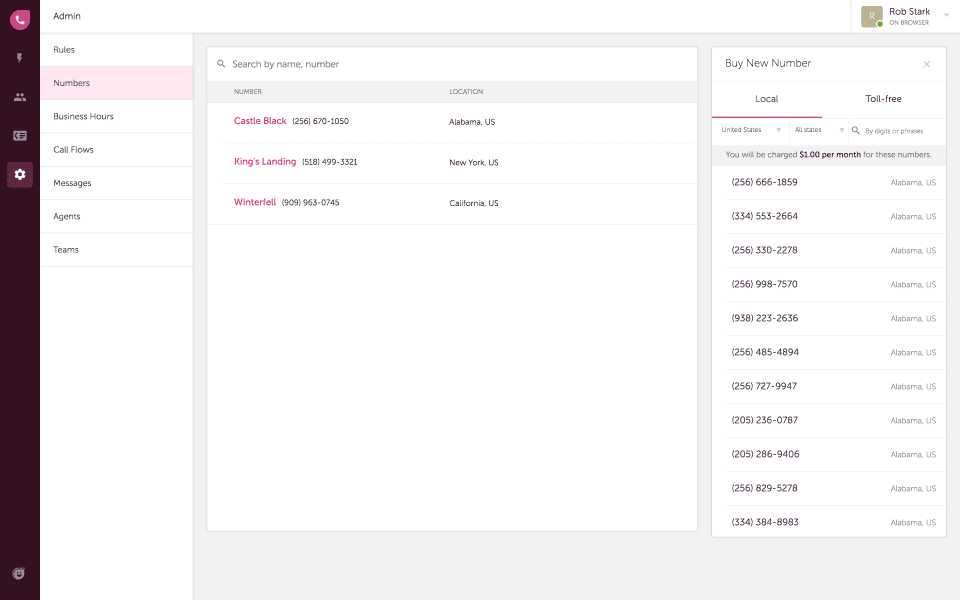 Freshdesk's Free Plan includes caller ID, call metrics, custom greetings, and desktop notifications for agents. Call metrics for this service provider are beneficial for those running contact centers since it provides information on call abandonment rate, the duration for each call that incurs charges, and the Freshdesk Contact Center number used for the call.
Top Features
Designed with contact centers in mind
Detailed calling reports
Best for: Businesses that need to protect electronic patient information (ePHI) such as medical research call centers.
2. Bitrix24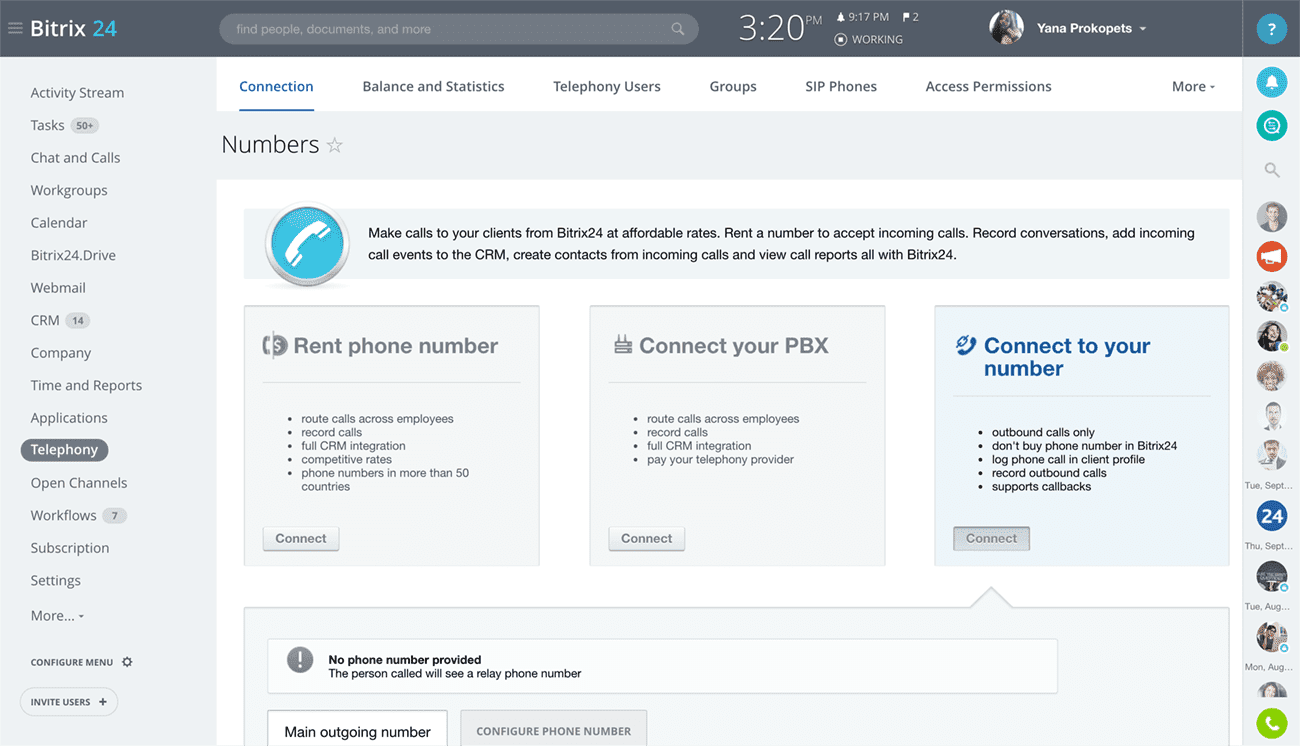 With Bitrix24's free plan, users are granted access to base-level yet functional CRM VoIP integration, access to their online store, and online storage up to five gigabytes. Bitrix24 has a specialized "Kanban view" that provides custom stages and statuses in CRM records. Their platform also has a built-in SIP connector that allows your team to integrate an existing third-party telephony service.
Top Features
Extensive call tracking at the base level
A website widget for contact forms, callback requests, and live chat
Best for: Organizations that need a functional CRM coupled with built-in telephony.
3. Callcentric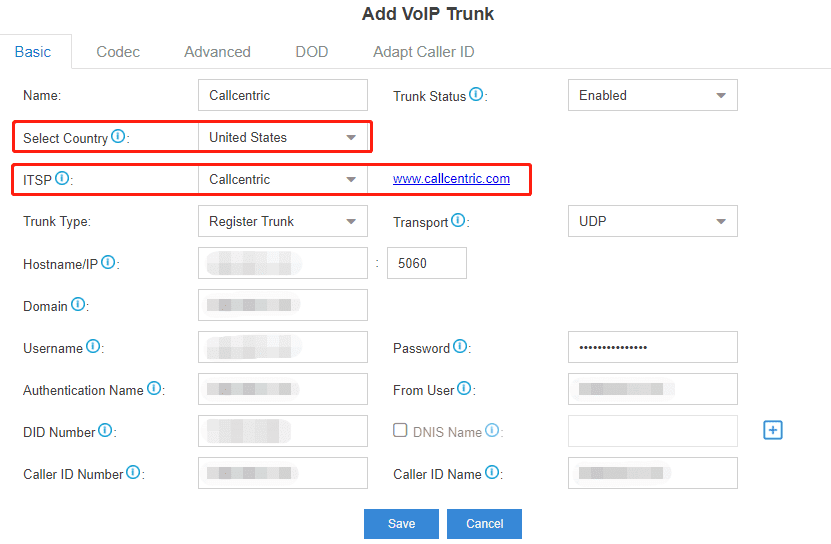 Callcentric has two free virtual PBX plans – IP Freedom and Pay Per Call. With IP freedom, your business makes calls to other Callcentric phone lines for free – globally. This is entirely commitment-free, and for those outside the network, calls are placed and received via a SIP URI or a SIP broker. Their Pay Per Call plan is useful for those businesses without regular calling needs. You only make the calls you need and aren't charged a monthly subscription fee when you're not making outbound or inbound dials.
Top Features
Commitment-free plans
Three included channels for both free plans
Auto attendant
Best for: Any business that doesn't need to make calls every month.
4. OnSIP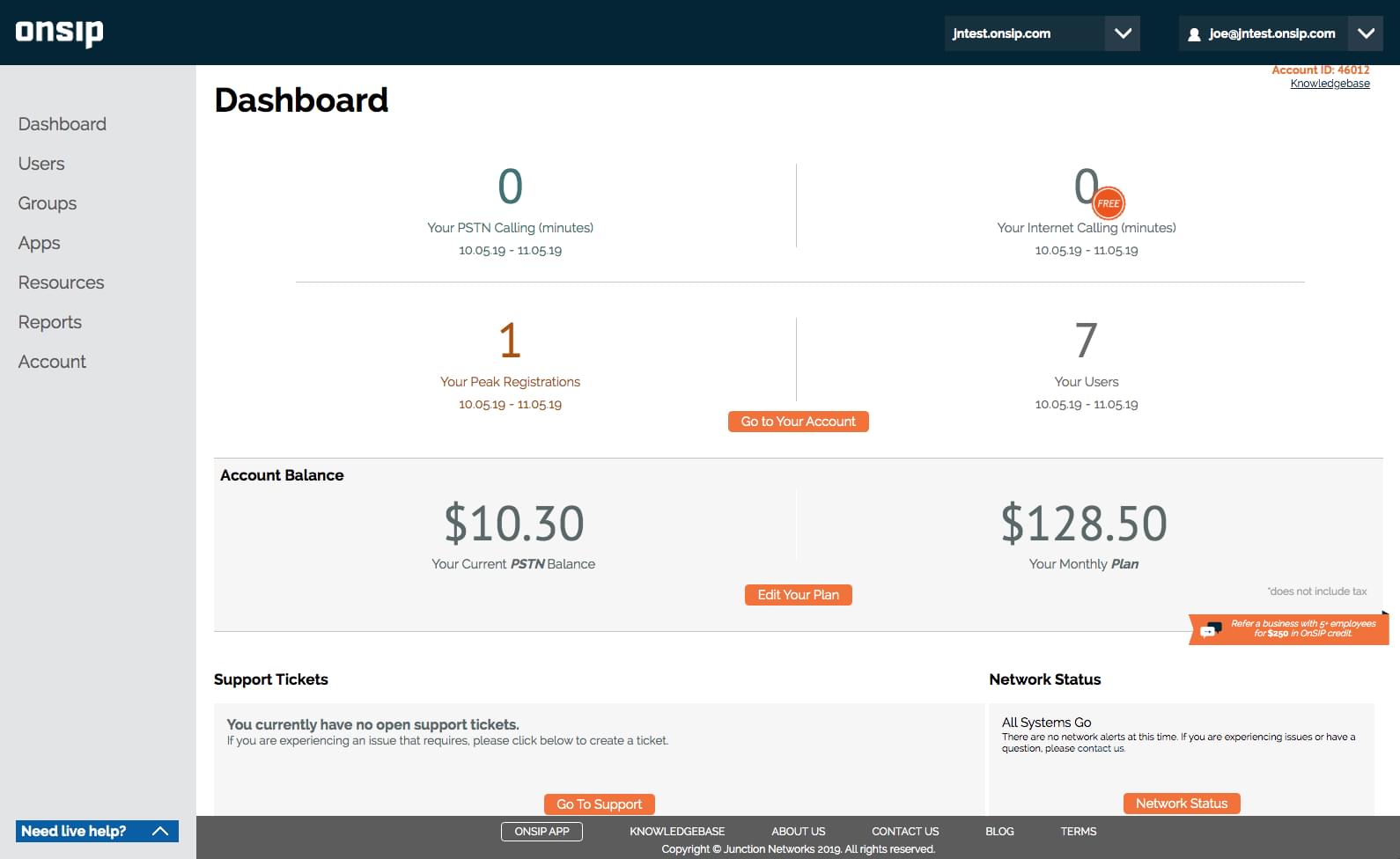 OnSIP's free plan uses its Sayso technology to deliver web call links for your website that customers use to reach your business. This plan level includes unlimited web voice and video calling with free webphones included with the plan. Additionally, OnSIP allows for up to 100 users with unlimited extensions. OnSIP's PBX software has dashboards that deliver call recording data and reports so that you discover call patterns and trends that help you plan.
Top Features
Integration with Slack and Zendesk
Developer APIs
Built-in business hour rules
Best for: Businesses looking for secure web-based UC collaboration – OnSIP delivers presence and voice and video conferencing for free.
5. 3CX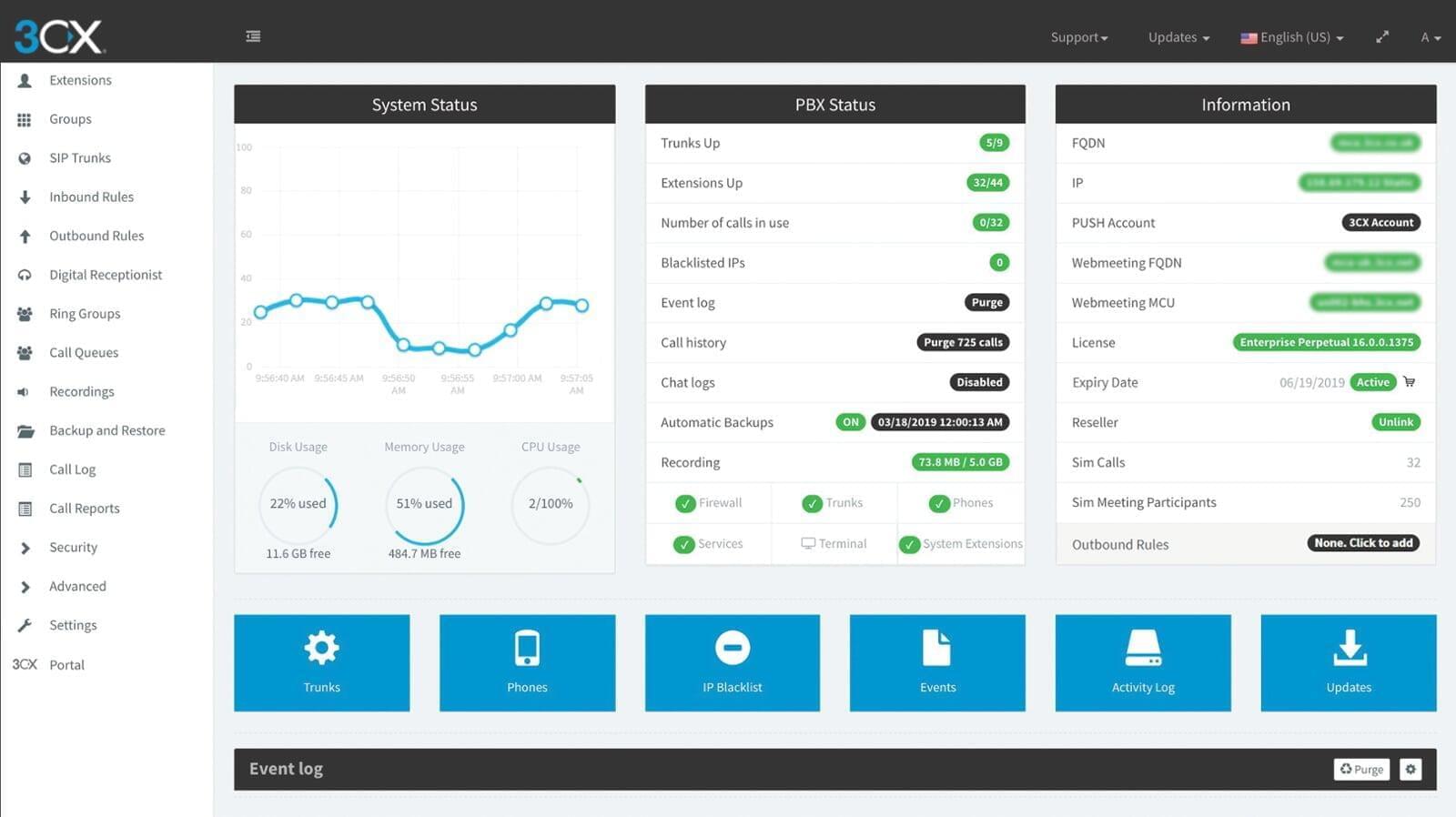 3CX is a provider that employs features like georedundancy so that there's a high level of uptime for its subscribers. Their VoIP phone system has a Standard plan that is entirely free and has unlimited extensions, mobile apps for both Google Android and Apple iOS, and an integrated fax server. 3CX's site mentions an IVR system, but when it comes to function, it has features that are more like an auto attendant.
3CX is offering its Pro plan for free for three years and Licenses for schools and colleges for a full year.
Top Features
Supplied company directories
Webinar software through 3CX WebMeeting
Simultaneous ring for desktop, softphones, and smartphones
Best for: Businesses looking for WebRTC-based video and voice.
6. Anveo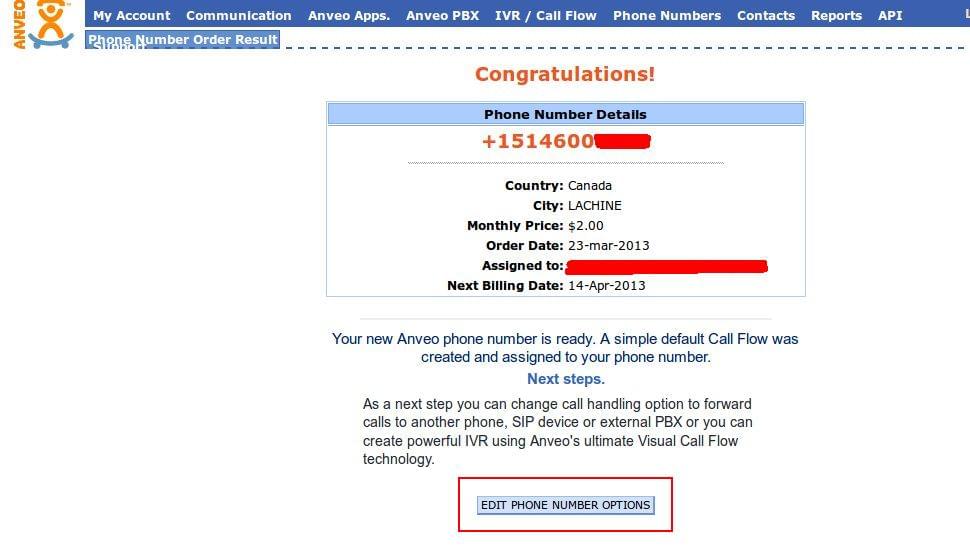 Anveo has a surprising number of features for those looking for free cloud PBX, such as call recording, IVRs, fully customizable on-hold music, and call queuing. For those looking to expand into international markets, Anveo even offers international virtual numbers in 48 countries so that customers reach your business without calling outside of their local calling area. They also have voicemail transcription, and your voicemails are sent to your email if you enable the feature.
Top Features
International virtual phone numbers
Visual call flow customization
Click to call buttons from your website
Best for: Organizations without hardware – Anveo uses web browsers to complete calls.
Free Cloud PBX: Inexpensive Business Communications
Before you try one of the phone services that we've featured above, you must understand that you'll never have extensive enterprise-grade features on an entirely free plan. The providers we've listed work as entry points into the world of VoIP and unified communications and are well-suited for an organization that's trying to keep costs in check.
SMBs are projected to grow by more than 15% in the VoIP market by the year 2025, so finding a service that meets your needs is a required step towards adopting this important technology. Free plans without contracts also grant you the ability to easily measure different free cloud PBX providers against each other so that you better understand the strengths and weaknesses of each.
We've included information about the top business VoIP services so that you find the right cloud and hosted PBX solution that helps your organization move forward.