Team collaboration software helps employees understand their responsibilities and allows project managers to monitor project progress reports.
However, most teams don't take advantage of the additional collaboration features this software provides, such as Kanban boards, checklists, time tracking, and task dependencies.
These collaboration features and the ones outlined below allow project leaders to take task management to the next level and provide employees with a more streamlined and balanced workflow.
Which Team Collaboration Features Should Project Managers Look For?
The most important team collaboration features for project managers are those that provide real-time insights into project progress and overall team workflows.
The below features improve a team leader's role as a supervisor and make it easier to communicate with employees on an individual, team-wide, and company-wide basis.
The right team online collaboration tools offer features that allow project managers to quickly address roadblocks and balance employee workloads. They also keep team members aware of their long and short-term responsibilities.
Task Assignment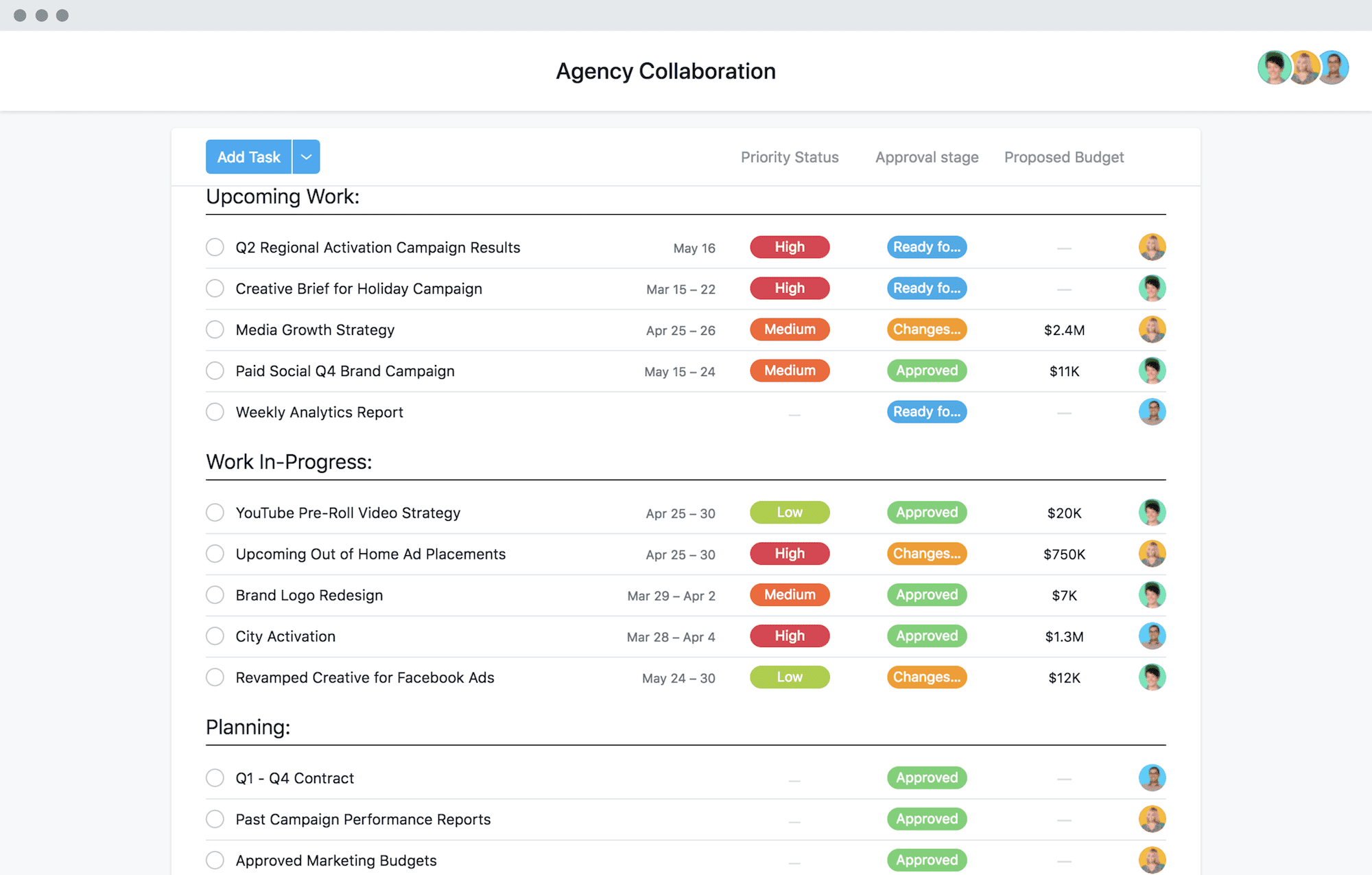 The most essential team collaboration feature to look for is task creation and assignment.
Team leaders can break down larger projects into multiple smaller, more manageable tasks on both an individual and team-wide basis — which is one of the top productivity tips.
Tasks can be created in a "to-do" checklist format, and employees can check them off when complete. Creating subtasks within these tasks prevents important details from slipping through the cracks.
For example, let's say the project as a whole is "Company Holiday Party" and is assigned to the HR department (team.)
Some tasks might be securing a venue, selecting entertainment, choosing a date, and hiring a catering company. One specific employee can be assigned the task of finding the venue, with relevant sub-tasks of checking on the venue's crowd limit and making a down payment on the space.
Some collaboration platforms allow only for one team member to be assigned to a specific task, which is a point of frustration for project managers. Team leaders that frequently assign tasks — not just projects as a whole — requiring collaboration between multiple employees and teams should choose a software that doesn't place a limit on the number of people assigned to one task.
In addition to standard task assignment team collaboration features, also consider software tools that allow for task dependencies. This prevents employees from working on one task or moving forward with project plans before a related task is completed. To continue with our event planning example from above, setting task dependencies means that team members cannot decide on entertainment until a venue is secured.
Project Status Reporting
Once an employee has been assigned a task or subtask, team leaders need to supervise the overall progress to ensure deadlines are met.
Look for collaboration features that allow team members to update task progress with tags like "in progress," "not started," "stuck," or "waiting for approval."
These updates allow project managers and other team members to quickly address a problem, complete a dependent task, or get a better idea of when things will be finished. This boosts productivity and prevents team leaders from having to constantly check in on project progress, freeing them up for more important assignments.
These simple status updates take the place of hours spent in a meeting room or on phone calls discussing problems or deadline dates.
Integration with Other Team Collaboration Software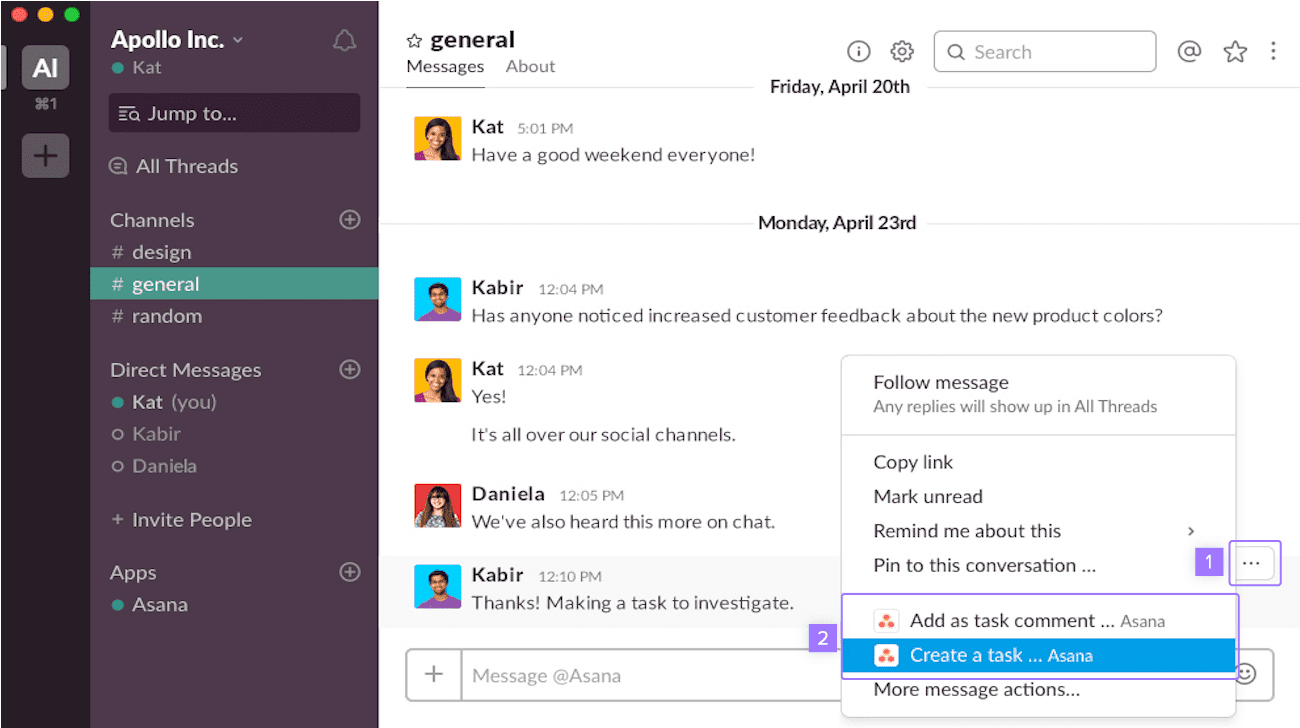 No matter how comprehensive a remote team collaboration tool is, employees and project managers alike will still use additional software and team communication tools.
While the right team collaboration platform can replace many of these tools, employees feel more comfortable using software they're already familiar with or simply prefer.
To avoid a large learning curve and employee frustrations, ensure that any team collaboration software selected integrates with essential applications and tools.
Popular integrations include:
Slack and Slack alternatives
Zoom and other web conferencing software
GSuite and Microsoft 365
Google Docs
Salesforce
Skype
Gmail and Outlook
Mailchimp
Zapier
Social media platforms
Other team collaboration tools
Workflow Management Features
Over 25% of American employees say that they feel overworked very often — but studies also show that the average office worker is truly productive for only about 3 hours every day.
Workflow and content management collaboration features correct this imbalance by showing current employee workloads, upcoming deadlines, and more. This prevents employees from getting burnt out and overloaded with assignments, so project managers can better spread the workload out between team members.
This prevents employee burnout and also helps project managers evaluate the productivity of specific employees.
Time tracking tools also allow team members to keep track of exactly how much time it took to complete a task or project. This makes setting timelines for future projects much more realistic.
Project Templates
Project templates act as workflow roadmaps, connecting different teams, project managers, individual employees, and even clients or freelancers outside of the organization.
Once team leaders have decided on a specific template format, they shouldn't have to re-create that same template every time they have a new project outline. One of the top collaboration features to look for is the ability to save project templates for future use.
Additionally, agile team collaboration platforms should provide a number of pre-made project templates for things like marketing campaigns, the path to create a training webinar, website updates, and sales pitches.
Which Team Collaboration Features Will Boost Employee Productivity?
While project managers should focus on team collaboration features that make it easier to monitor project progress, they should also consider how the tool will benefit employees.
The below features are essential to boosting employee productivity and overall collaboration.
Public and Private Messaging Features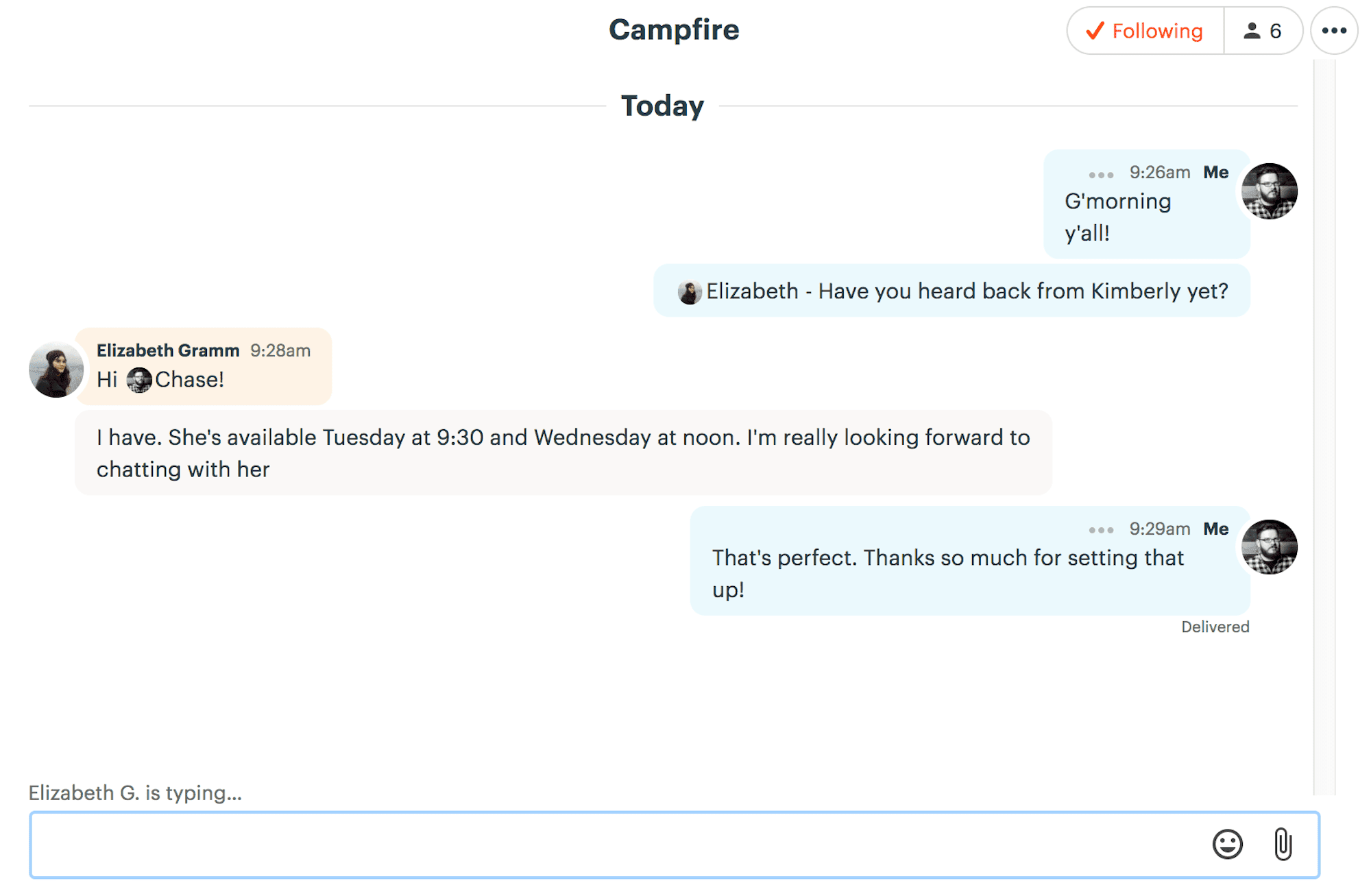 Successful team communication and collaboration starts with an instant messaging tool that allows employees and managers to connect with one another in real-time.
Messaging features should include:
Team/project channels
Direct mentions and tags
Private chats
Group chats
Public messages
Pinned messages
Message threads
Searchable chat history
File sharing capabilities
Company-wide discussion board
Remember that chat messaging functions may be either native to the team collaboration tool or can be integrated with it.
Though video calling is not typically a native feature of team collaboration apps, most will integrate with tools like Zoom and other popular Zoom alternatives.
In-App File Sharing and Editing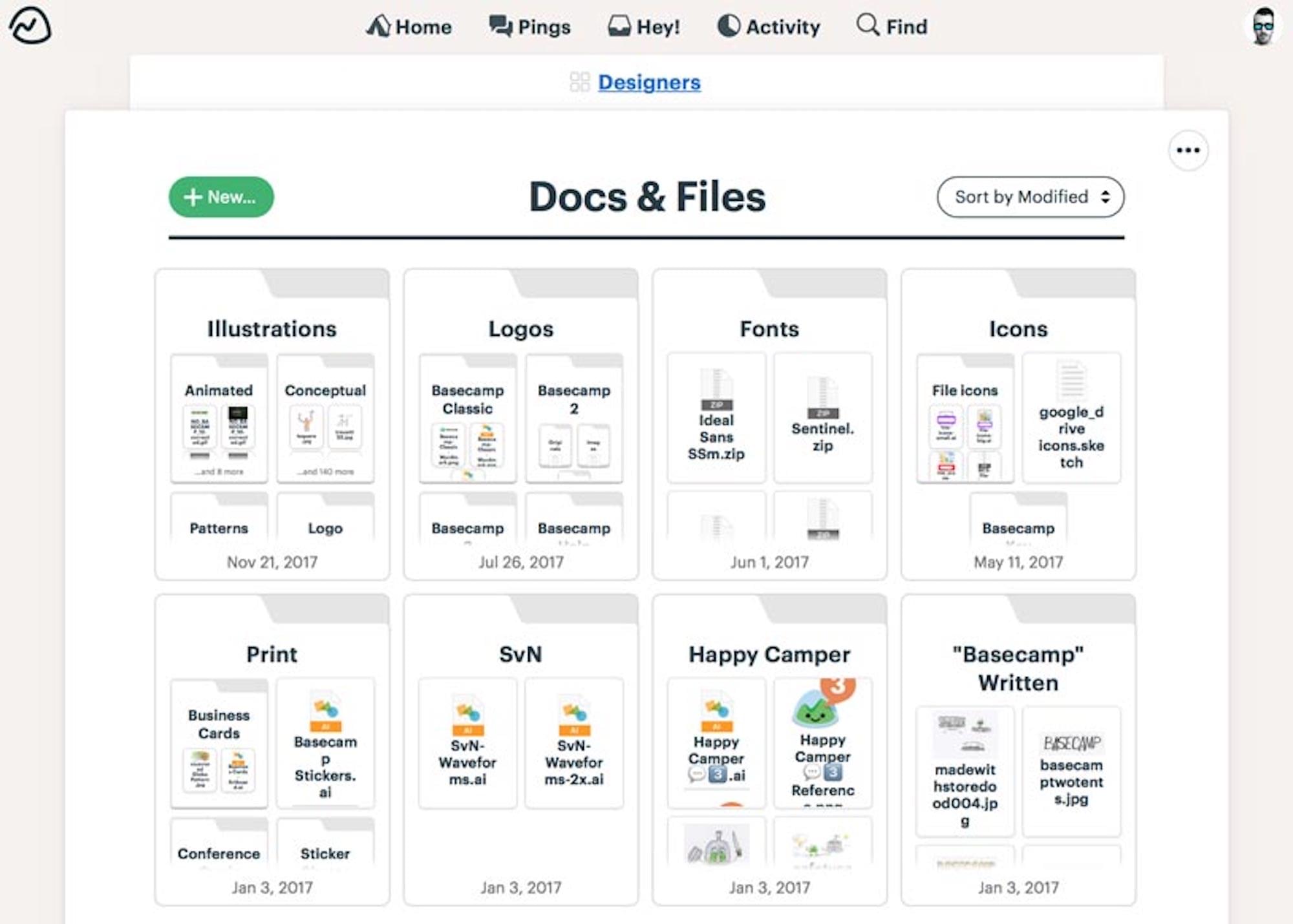 The ability to share files and edit them are some of the most important parts of team collaboration. However, file sharing often also causes lots of communication problems, lost time, and employee frustration.
For example, let's say your HR team is creating onboarding documents to teach company call center agent skills to new employees.
In-app file sharing should provide a wiki central location for every file relating to this project, like sales pitch scripts and customer service standards. Without one central location, employees will waste time digging around for the files they need in their emails or chat message history.
They also risk making changes to an outdated version of those files.
Version control and document management within file sharing and editing prevent this from happening. This ensures that each team member sees the most current version of a file as well as any edits in real-time.
Finally, evaluate the amount of storage space that team collaboration tools offer, as well as any automatic file deletions that occur after a certain period of time.
Multiple Dashboard Views
While team collaboration tools all offer a specific default view, allowing employees to customize and change those views according to their visual preferences is an important feature to look for.
Popular dashboard views include:
Kanban boards
Checklist/to-do list view
Gantt/timeline charts
Calendar view
Location-based view
Task Organization
In addition to selecting their preferred dashboard view, team members will also benefit from being able to customize the way they organize tasks.
Color-coding and keyword tagging tasks allow employees to quickly filter through tasks relevant to their specific projects, while being able to prioritize tasks lets other team members know which things to tackle first.
Tasks can also be organized by deadlines, overall cost, location, estimated time required, and current progress status.
Real-Time Notifications
While there are many remote work benefits, one of the downsides is that this level of flexibility can clog up email inboxes, making it easy for important notifications to get buried. Plus, team members working in different time zones and opposite schedules make real-time communication a challenge.
Desktop and push notifications for mobile devices make working from anywhere easy, and let other team members and project managers alike quickly approve or comment on tasks to keep the workflow going.
What Are The Top Team Collaboration Tools?
The below tools have all of the essential collaboration features covered above, as well as unique interface and customizable options that will be the deciding factor in your selection process.
Asana
Asana is a browser-based team collaboration tool with an interface primarily made up of checklists, tasks, and subtasks. It allows users to tag one another in task comments, set task status updates, and switch to Kanban or Gantt views.
Asana pricing and plans are ideal for smaller companies or those with a limited budget, as it offers the best and most comprehensive free plan out of all the tools we've profiled.
Though multiple users can be assigned to a project, Asana only lets a single team member be assigned to a task at one time. Therefore, it's not ideal for tasks that require a high level of collaboration between multiple employees. It's better suited as a tool used to help individual employees keep track of their unique roles and responsibilities within larger projects.
Monday.com
Monday.com is a web-based SaaS project management tool offering the highest level of project and interface customization out of all the options on this list.
Users can view tasks in Kanban, checklist, timeline, and calendar formats while taking advantage of features like time tracking, task prioritization, and workflow automation.
Monday.com pricing, however, is a point of contention as it is one of the few team collaboration applications that doesn't offer a free plan. It is an ideal choice for businesses with a high volume of staff who juggle numerous detailed projects simultaneously.
Smaller teams are likely to be overwhelmed by the somewhat excessive customization features.
Wrike
Wrike is a board-based online project management software that is ideal for projects that require frequent communication between project managers and employees.
Wrike is best for teams and project managers who need to provide progress reports to higher-ups, as it has excellent data analysis and productivity graphing features.
However, some of the essential collaboration features can only be accessed with the Wrike Proof add-on, which means that users will need to pay more to comment on tasks and work via real-time document collaboration.
Basecamp
Basecamp is a Kanban board-based work management platform that is best known for its built-in real-time chat messenger feature and automated check-in tool. Teams requiring frequent, though not overly detailed, communication with one another will benefit most from this tool.
However, Basecamp does lack important collaboration features like Gantt charts, task status updates, task comments, and subtask creation.
Therefore, it's best for small to mid-sized teams who need a clear and uncluttered view of upcoming tasks and assignments. It's also a good choice for projects requiring cross-departmental collaboration, as it provides team-based and company-wide board creation.
Trello
Like Basecamp, Trello is also a Kanban board-based team collaboration solution. Each project is made up of a team-wide board, which is then filled with cards and checklists to create and monitor tasks.
Trello's "power-ups," or integrations, allow users to further customize their workflows with additional collaboration features like time tracking, Gantt charts, and file sharing.
It's especially beneficial to teams who want to automate as much of their workflow as possible, as its "Butler" feature provides the highest level of task automation out of any other option on this list.
However, the bare-bones interface may not provide enough native features to suit the needs of larger businesses with highly-detailed projects.
RingCentral Glip
RingCentral Glip is a task management software that offering unlimited users, integrations, and file storage — making it a wise choice for large teams.
However, RingCentral's Glip lacks the largest amount of basic collaboration features out of all the other tools listed here. It doesn't offer Kanban or Gantt views, instead providing only checklist and calendar view formats.
Still, it is one of the rare platforms that has its own native chat messaging tool, so it's a good fit for companies that require frequent real-time communication.
ClickUp
ClickUp offers the most comprehensive list of native collaboration features out of every platform we've mentioned in this post.
It provides Kanban, Gantt, and calendar, and checklist views, offering a high level of interface customization. It also includes time tracking tools, task dependencies, and task prioritization features.
The only real downside to using ClickUp is that it requires integration with Google Drive to share and edit files. Other than that, it's tough to find a bad thing to say about it.
Teams of any size needing a forever-free collaboration tool that doesn't compromise on the features it offers should opt for ClickUp.
Which Collaboration Features do Workflow Management Tools Offer?
The below interactive table provides a clear overview of the features and limitations that the above team collaboration tools offer.
| | | | | | | | |
| --- | --- | --- | --- | --- | --- | --- | --- |
| Collaboration Features | Asana | Monday.com | Wrike | Basecamp | Trello | RingCentral Glip | ClickUp |
| Kanban Boards | ✓ | ✓ | ✓ | ✓ | ✓ | X | ✓ |
| Checklist View | ✓ | ✓ | ✓ | ✓ | ✓ | ✓ | ✓ |
| Gantt View | ✓ | ✓ | ✓ | X | X | X | ✓ |
| Calendar View | ✓ | ✓ | ✓ | ✓ | ✓ | ✓ | ✓ |
| Subtask Creation | ✓ | ✓ | ✓ | X | ✓ | ✓ | ✓ |
| Task Dependencies | ✓ | ✓ | ✓ | ✓ | X | X | ✓ |
| Task Prioritization | X | ✓ | ✓ | X | X | ✓ | ✓ |
| Task Status Updates | ✓ | ✓ | ✓ | X | ✓ | ✓ | ✓ |
| Project Templates | ✓ | ✓ | ✓ | ✓ | ✓ | ✓ | ✓ |
| Native Chat Messenger Tool | X | X | X | ✓ | X | ✓ | X |
| Workflow Management | ✓ | ✓ | ✓ | ✓ | ✓ | ✓ | ✓ |
| Task Comments | ✓ | ✓ | Requires Wrike Proof Add-on | X | ✓ | ✓ | ✓ |
| Native Time Tracking Tool | X | ✓ | ✓ | X | X | X | ✓ |
| Multiple Users Assigned to Tasks | X | ✓ | ✓ | ✓ | ✓ | ✓ | ✓ |
| File Sharing | ✓ | ✓ | ✓ | ✓ | Requires Dropbox integration | ✓ | Requires Google Drive Integration |
| Mobile App | ✓ | ✓ | ✓ | ✓ | ✓ | ✓ | ✓ |
| Free Plan | ✓ | X | ✓ | ✓ | ✓ | ✓ | ✓ |
Which Team Collaboration Tools Are Worth Using?
Our research shows that Asana and ClickUp are the best team collaboration tools in terms of features and pricing.
They have high customer satisfaction ratings, are user-friendly, are ideal for a variety of use cases, and have all the essential collaboration features to streamline workflow management.
Both also offer comprehensive free plans in addition to paid plans that allow for further customization.
In addition to using team collaboration tools to connect remote and on-premise employees, consider how web conferencing software allows for face-to-face communication between project managers, team members, and clients.
Our breakdown of popular video conferencing tools can help you know what to look for in a platform for video calls and how features like screen sharing, VoIP audio, and whiteboard tools will benefit your team.
We'll give you a straightforward take on which platforms are worth using — and which ones should be left behind.