Session initiation protocol trunking helps businesses expand their business communications. Several VoIP service providers that offer SIP trunking solutions have straightforward plans to communicate within the business as well as between representatives and customers.
AT&T SIP trunking and business VoIP service, which goes by the name IP Flexible Reach, designed for businesses that need clear audio communications. AT&T IP Flexible Reach allows businesses to share trunks in multiple locations, making it an ideal SIP trunking solution.
What is AT&T IP Flexible Reach?
AT&T IP Flexible Reach, which is also called AT&T IP Flex, is AT&T's SIP trunking solution that provides business clients with inbound calling, outbound calling, long-distance, and international calling. AT&T IP Flexible Reach prioritizes voice data, but as a SIP service, it also allows businesses to transmit data for applications using chat, file transfers, and web conferencing. It does this while maintaining standard calling features like voicemail and caller ID.
Since voice is prioritized using their system's Class of Service (CoS) features, there's reduced audio loss during calls. SIP calling is done by sending voice traffic as data packets over the open SIP connection, and some of the packets become backlogged or lost. Packet loss is one of the leading causes of poor call voice quality, and when calling packets are prioritized for immediate transport, this loss is reduced significantly.
AT&T SIP trunking has three plans for customers that come in A, B, and C tiers. Outbound calls made within the IP Flex data network are completely free. For those off-net calls made within the United States, AT&T bills you the same rate – no matter the geographical distance.
AT&T uses a multiprotocol label switching (MPLS) network to manage calls rather than a public internet connection. Calls are more secure since external agents will have to be within the network to access call data. MPLS networks are more resistant to periods when the public internet is slowed thanks to high traffic. As we covered in our SD-WAN vs MPLS piece, MPLS backhauls traffic to central data centers to ensure stability on the network.
The vendor also provides IP-PBX and session border controller (SBC) customer configuration guides to ensure that VoIP is secure. Both of these guides help you configure your various networks to work more smoothly with each other across enterprise border elements when calls are being made.
What Benefits Does AT&T IP Flexible Reach Offer?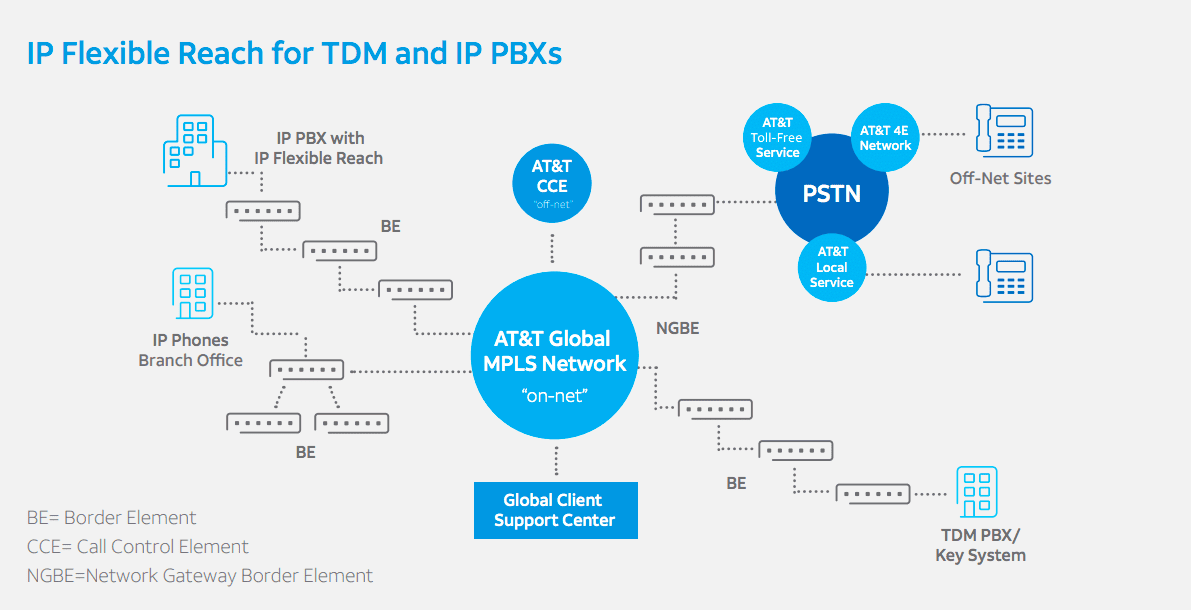 Choosing an internet-based business communication provider is difficult, especially with the number of providers providing comparable packages. What makes the AT&T SIP trunking system beneficial for your business?
AT&T Technical Assistance
Managing a business phone system requires a lot of hands-on technical expertise, but with AT&T IP Flexible Reach, your business will have access to the AT&T technical team. They coordinate and provide onsite installation, which includes installing routers and connecting POTS lines so that AT&T has remote access to the system.
Optimized IP Network Capacity
A business phone system uses a lot of information to handle everyday calls, so you must have voice integrations and data integrations. This AT&T SIP trunking system combines data from your IP address and holds it in a space that is managed easily.
Using Current Hardware
When a business invests in new phone lines, purchasing new hardware to get the system up and running is often required. With AT&T IP Flexible reach, there is no need for this purchase because most businesses using their existing IP or TDM PBX lines. Reducing equipment reduces the startup costs for a company.
Quality of Service
Call quality is always something that you want with business communication, and this is a factor that AT&T prioritizes for their VoIP phone systems. Public internet and networks often have lag or latency that reduces the quality of the call. To eliminate this and maintain QoS, AT&T utilizes its MPLS network.
Scalable Communications Channels
The size of the communications network that your employees use to contact each other and clients will need to be scalable for growing businesses. The AT&T IP Flexible Reach System allows you to increase the number of call channels that are used simultaneously. The number of channels can also be decreased.
Compare this to a primary rate interface (PRI), which provides high call quality and some data transmission but is limited to 23 communication channels per upgrade, and you'll see why a SIP trunking solution from AT&T is more scalable. With PRI, if you want one or 24 extra lines added, you're going to be purchasing one batch of 23 or purchasing 56 lines for your office. In our guide comparing SIP vs PRI, we dove into the details of what to expect. In today's quickly scaling business world, it's hard to justify being limited to preordained blocks when you want to grow.
AT&T IP Flexible Reach Standout Features
While not a perfect SIP trunking solution, AT&T IP Flexible Reach has some features that will be attractive to businesses looking to enhance their calling. Here are a few that stand out.
Flexible Calling Plans
AT&T IP Flexible Reach has several calling options for businesses to select from when choosing a plan. These plans support both inbound and outbound calls, and you choose to have local or long-distance calling options. The plans modify easily if your business needs change.
Best for: Businesses that are growing and opening up or incorporating additional satellite offices
Web-based Portal for Detailed Reporting
This AT&T business phone system has a web-based portal that businesses use to get information about the calls such as performance reporting, maintenance reports, and other actionable call center analytics.
Best for: Contact centers or businesses branching out with an in-house call center
Virtual Phone Numbers
Virtual phone numbers are used so that businesses can make calls without being tied to a traditional phone line. These telephone numbers use your internet access to connect, so very little hardware is required. These numbers are used to make your business look more local in a specific area or to give the caller the option of calling the business toll-free.
Best for: Businesses breaking into distant domestic or international markets
AT&T SIP Trunking Plans
AT&T has three plans for businesses looking for voice and data business communications. Pricing for these plans varies by location – you can't even get a rate without providing your business address to their sales reps. We were able to get some information from their team based on our Queens, NY, location. With our set up, we can expect to spend about $17 per month, per user for the SIP trunking service.
This service requires AT&T's dedicated internet (ADI), which is a fiber-optic service that grants speeds of up to 10 Gbps. Still, it significantly adds to the price. With AT&T IP Flexible Reach, a New York-based business like GetVoIP will be paying about $750 per month with a 24-month contract for data and voice services. This is expensive, but it's worth noting that ADI is very fast, which is important for VoIP-based connections since bandwidth is important to VoIP call quality.
If you're considering the service, you'll have to contact AT&T and provide them with your business location first. Here's a breakdown of the available plans and what they offer:
Calling Plan A: Long Distance Plan
This plan grants unlimited outbound calling while on the network. This is useful for fostering communications across your various sites – as long as they are within the continental US. When making calls off-net, AT&T charges a single per-minute rate for each call. For calls outside of the United States, there is a per-minute charge that varies based on the country that you're calling.
Calling Plan B: Local and Long Distance
Calling Plan B has similar features to A, but you're granted unlimited local outbound calling. Outbound calling to off-net numbers has a slightly reduced rate. Finally, you are granted access to directory assistance, operator services, and directory listing at either per-use or per-number rates.
Calling Plan C: Local and Long Distance
The final calling plan has all of the features included in the first two, but in addition to the on-net calling, you're also granted 300 minutes of outbound off-net dialing.
How Do AT&T SIP Trunking Plans Compare?
We decided to compare the features of IP Flexible plans with a few of the industry leaders in SIP trunking.
Unitel
Unitel has pay-as-you-go plans for the SIP trunking solution as well as volume-based plans, which provide a flat rate for committed use. Like AT&T, its pricing is quote-based and varies by your business location. For toll-free calls, their rates start at $0.0180 per minute for origination. For local phone numbers, you're going to be spending $0.0045 per minute for origination and about $0.0069 per minute for termination.
Unitel prides itself on having carrier-grade pricing that is straightforward. Users won't have to worry about "reasonable use policies," which limit calling capacity on unlimited plans. Compared to Unitel, AT&T makes it easier to create branch office extensions by sharing trunks across multiple locations.
Comcast
Similarly to AT&T SIP trunking, Comcast's SIP trunks provide virtual direct inward dial (DID) numbers for your employees so that they are reachable by customers on dedicated lines. For this service, you'll also need to be on Comcast's network. Comcast also has a cloud-based PBX solution called Comcast Business VoiceEdge for those without existing PBX hardware.
The bandwidth on their SIP trunks aren't fiber optic, so you're limited to 100 Mbps speeds. This is significantly slower than AT&T's 10 Gbps bandwidth. AT&T IP Flexible Reach has a few features not found on Comcast like anonymous call rejection, which automatically refuses calls that don't provide information on the caller ID. Another feature that's present on AT&T is "call forwarding – always", which automatically redirects calls from one line to another.
Twilio
Twilio SIP trunking has been very successful – they are trusted by more than 50,000 businesses worldwide. This is another pay-as-you-go provider with prices that start at $0.0045 per minute for local and $0.0180 per minute for toll-free numbers, which is similar pricing to Unitel. Twilio was rewarded top marks in customer satisfaction by Eastern Management Group for SIP trunking.
Twilio, like AT&T, has its network backbone that is highly secure and stable. On their VoIP services platform, you can analyze call data via their insights and find out if you're losing packets during inbound and outbound dialing. Unlike AT&T, Twilio doesn't have a voice calls-first CoS feature, so there is the potential for reduced call quality with heavier network congestion.
AT&T SIP Trunking Opens Up Opportunities
AT&T SIP trunking via its IP Flexible Reach solution is for businesses that are looking to shed ​public switched telephone network (PSTN) or primary rate interface (PRI) setups. This kind of upgrade adds scalability and consistency to business communications. This isn't to say that there aren't drawbacks to the service. Some distinct weaknesses include:
You'll be locked into the ADI network, which is costly
There's no clear rate since everything is based on location
Businesses will be limited to 300 minutes per line with Calling Plan C
Still, this is a plan that can prove useful for organizations with multiple offices that may have preexisting TDM, IP, or hosted PBX setups since trunks can be shared across multiple locations. Want to learn more about your options? Check out our interactive tables for enterprise VoIP solutions.