While coronavirus may have caused the sudden 2020 spike in remote employees, working from home had already grown by roughly 44% between 2015 and 2020.
Remote work was always on track to become the "new normal" in the American workforce. It was hardly just a consequence of the virus.
Project managers, therefore, shouldn't select team collaboration software based solely on a business's immediate needs. They should also consider which of these tools will connect remote employees, align with company goals, and compliment the overall collaborative process both during the pandemic and after it ends.
Remote desktop software features like screen sharing and face-to-face video conferencing may currently be the biggest factors in choosing which tool to use. However, if businesses want to avoid having to re-evaluate their collaborative tools, they should start planning for the long-term now.
What Team Collaboration Software Features Do Companies Need?
When choosing company-wide communication tools, team leaders need to evaluate the features that come standard within a specific program as well as those that can be added via integration.
Integrations allow businesses to build their own customized tools that provide new collaborative features and work with applications employees already rely on.
Especially with COVID-19 forcing companies and employees to make drastic changes and start working from home overnight, the last thing any team member wants to do is have to learn to use an entirely new software program.
In order to effectively streamline office communication within a single program, project managers must know which features these collaboration tools should either offer within their own apps or integrate with.
Video Conferencing
Given that Zoom's user base went from 10 million to 200 million during the first 3 months of 2020, many project managers see video conferencing as the most important feature or integration when choosing the right team collaboration tool.
The top video conferencing features to note include:
Maximum length and number of meetings allowed
Maximum number of meeting attendees
Maximum number of visible screens per meeting
Audio and video quality
Host controls (screen sharing, mute/unmute users)
Background screen
Virtual hand raising
Livestreaming/webinar capabilities
Security (encryption, password protection, waiting room, remove/block users)
Chat feature capabilities during video calls
Screen Sharing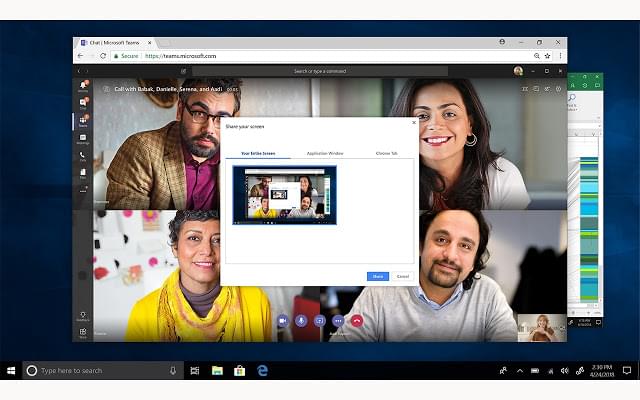 While file sharing allows team members to access company documents and provides version control, they also need to be able to edit and annotate these files in real-time.
During an online video conference, project managers should be able to share, draw on, and make notes on presentations and webpages just as they would in a traditional office meeting. Being able to share an entire desktop, for example, makes training employees on how to install, open, and use new applications easier than ever.
Finding team collaboration software with superior real-time screen sharing capabilities (or integration with a company's preferred screen sharing app) won't just prevent excessive miscommunications. It will also allow employees to ask clarification questions, share ideas, better illustrate their points, and cut down on those frustrating moments where team members just can't figure out what they're doing wrong.
Screen sharing, especially those with a whiteboard feature, allows businesses to keep — or even exceed — standard productivity levels no matter where they're working from.
When evaluating a remote desktop software's screen sharing capabilities, ensure that it allows both meeting hosts and attendees to share their entire desktops, web browsers, and individual applications. In order to prevent issues like zoombombing or embarrassing moments where an employee may not realize their screen is visible to everyone, look for strong screen sharing host controls that allow hosts to turn off attendee screen sharing capabilities or limit which team members can share their screens.
Software Integration
We've already discussed how, especially with free versions of popular communication tools, users will need to integrate tools specifically designed for or capable of video conferencing and screen sharing. But don't stop there when it comes to considering a tool's integration capabilities.
Most team collaboration applications will need to be compatible with, among other tools:
Microsoft Office 365
Google Calendar
Slack
Dropbox and Google Docs, and Google Drive
Abode Creative Cloud
Salesforce
Outlook and Gmail
Project Collaboration and Task Management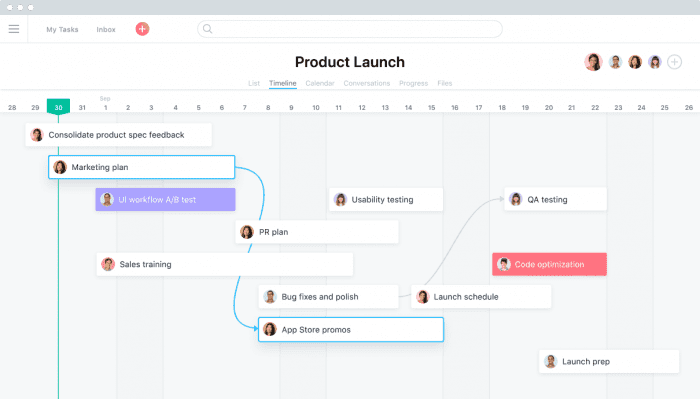 Project and task management features are what really separates a team collaboration app from standard video conferencing software.
They allow project managers to create and assign employee tasks and subtasks to ensure that, even when working remotely, everyone has a clear idea of their responsibilities and deadlines. Managers can check the progress of multiple tasks simultaneously, address missed deadlines, see timelines for longer-term projects, and even monitor monthly budgets.
Task management streamlines inter-department communication, allows team leaders to track employee hours and productivity levels, and simplifies the process of generating reports for higher-ups.
Unified Communications
Team collaboration software needs to streamline both internal and external office communication all in one place.
Especially when the majority of employees are working remotely, it's all too easy to use several different communication applications. This leads to crossed wires, missed information, and hours of wasted time. Instead, look for business communication tools that allow teams to handle as many of their communication needs as possible in one centralized software.
In addition to robust integration capabilities and task management features, the right communication programs should also include:
Team chat messaging
File sharing and document collaboration
File storage
VoIP/audio phone calling
Scheduling tools
Reporting tools
Employee monitoring capabilities
The Top 8 Free Remote Team Collaboration Tools
The following best online collaboration tools offer all of the core features mentioned above, in addition to unique interface options, task automation, in-app file editing, and much more.
Wrike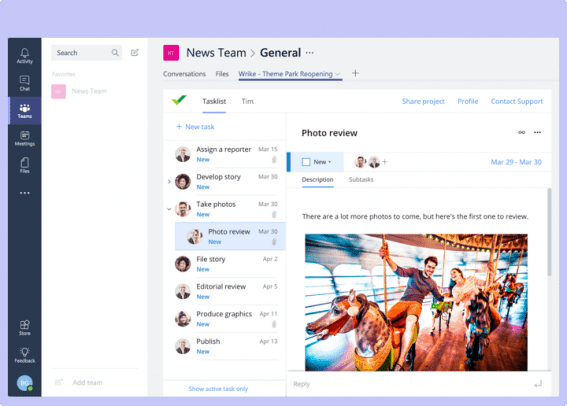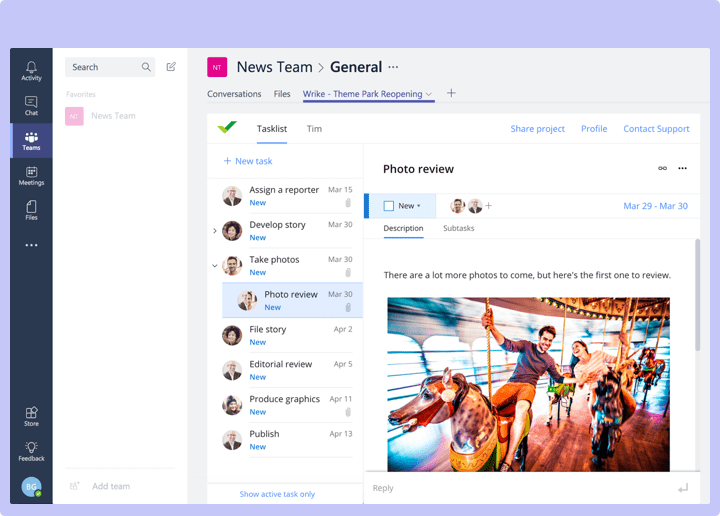 Wrike is a scalable desktop and mobile team collaboration platform designed to streamline interdepartmental communication, improve employee productivity, and clarify team member tasks and responsibilities.
Its free plan includes real-time progress updates and activity streams, board and spreadsheet views, and customizable open-source templates/dashboards.
While Wrike integrates with Google Hangouts, Slack, Microsoft Teams, and Zoom, as of this writing, it does not have a native video calling feature or chat messenger tool (though users can leave comments and tag co-workers on Wrike boards.) In order to make a video call, share screens with others, or use a chat messenger features, users will need to connect their preferred tool to Wrike.
Wrike also offers several paid add-on features like Wrike Integrate and Wrike Resource.
Wrike Integration includes unlimited app integrations, automation, and data syncing. Wrike Resource is designed to help team leaders optimize resources, allowing them to see current employee workloads and schedules, provides estimations about how long certain projects will take, and allows for project prioritization. In addition to a free version, Wrike also offers a two-week free trial that also allows users to test out the Wrike Proof feature.
The free version of Wrike includes:
Maximum of 5 users
File sharing and in-app editing
Drag-and-drop task management tools
Cloud storage integrations
Google Drive, Office 365, Dropbox integrations
Up to 2GB of storage space
Asana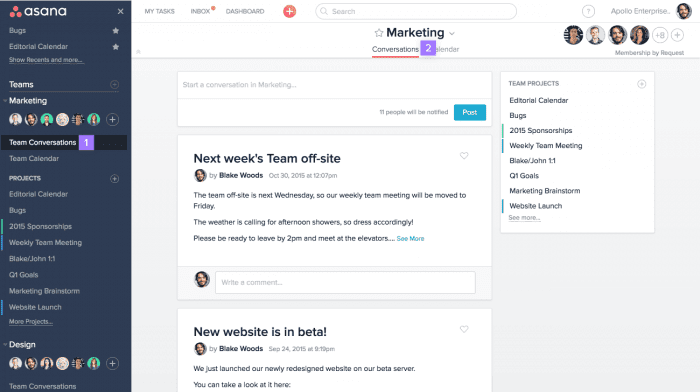 Asana is one of the best-known team communication tools, especially since it was created by one of the founders of Facebook. Its intuitive interface provides a bird's eye view of upcoming tasks and projects, real-time progress and status updates, important files, and specific teams.
As with Wrike, in order to make video calls, use a messenger feature, or share a screen with others in real-time, users need to integrate tools with those capabilities into Asana. Asana integrates well with numerous video conferencing programs like GoToMeeting, Zoom, and Microsoft Teams. It also integrates with other popular communication tools like Slack, Office 365, G Suite, Adobe Creative Cloud and PDF files, and Dropbox.
Features of Asana's free version include:
A maximum of 15 users
Task list and board views
Task creation and assignment
Calendar feature
Scheduling features
Project templates
Project status updates
In-app comments and user tagging
Android and Mac mobile and desktop versions
Asana's paid plans offer additional features like project timelines, Asana Forms, report generation, workload analysis, automation, and more.
Slack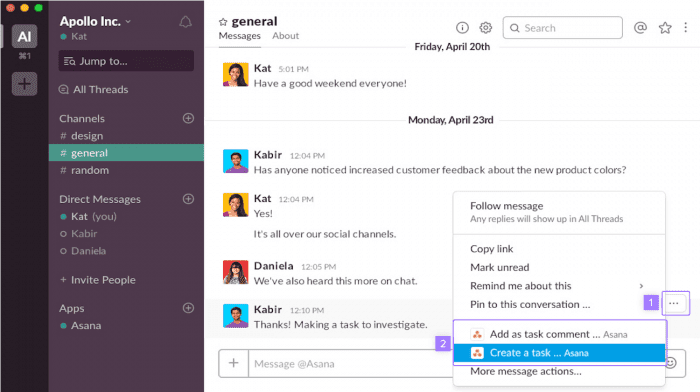 Unlike some of the other options on this list, Slack has its own built-in audio/video calling features and chat messenger, making it one of the go-to team collaboration tool for over 10 million daily users.
Though primarily used as a messaging app, both the free and paid versions of Slack offer numerous features and app integrations that can quickly transform it into a highly-customized communication and task monitoring tool.
Slack's free plan allows users to:
Create an unlimited number of channels
Make one-on-one video calls
Integrate up to 10 apps
Search the past 10,000 messages
Enable two-factor authentication
Share files and store up to 5 GB
Send/receive private and group messages
As of this writing, screen sharing and annotation in Slack are only possible with paid plans, but both features are native to the app itself. In order to share screens within the free versions, users will need to integrate tools like  Zoom or Microsoft Teams.
Flock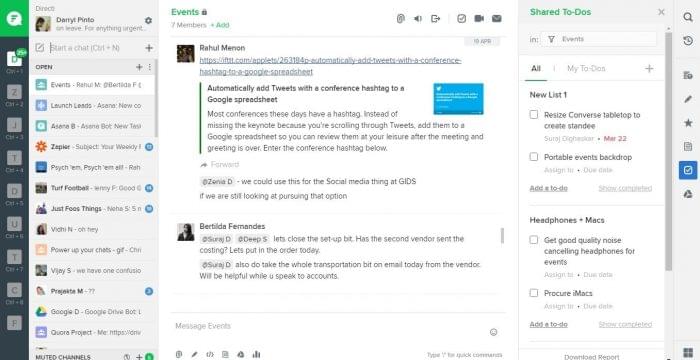 Though Flock's free plan does include a video calling feature, users are limited to one-on-one conversations for a maximum of 20 minutes. Additionally, screen sharing is only available with a paid Flock plan, and it makes it difficult for users to find a screen sharing app that integrates with for free.
That being said, Flock still integrates with Jira, GitHub, ToDoist, Asana, Trello, and Zapier among others. It also allows you to build your own custom apps and integrate them with your Flock dashboard.
Flock's free plan also includes:
Up to 10 public channels
Instant messaging
5 GB of storage per team
Unlimited 1-1 calls
Unlimited group messages
Up to 10,000 searchable messages
File sharing
Sharable to-do lists
Reminder app
Task assignment and basic scheduling
Samepage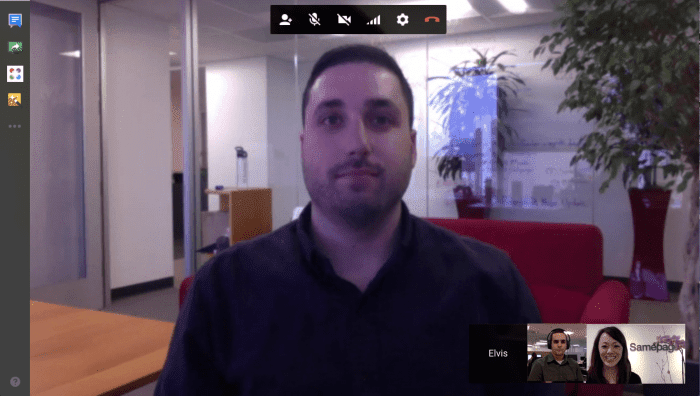 Companies looking for the most complete free team collaboration tool — or those that have more communications needs than most — should strongly consider Samepage.
In addition to free audio and video calls with screen sharing features, Samepage's native task management software features allow team leaders to schedule and track the progress of multiple projects simultaneously.
It also boasts excellent integration with tools like Salesforce, Slack, Google Drive, and even social media integration via Facebook and Twitter.
With a free plan this comprehensive, the vast majority of companies likely will not need to pay for a SamePage plan, though there are paid options available.
Samepage's free plan includes:
Unlimited chat and message search history
Unlimited number of users and guests
Screensharing
File sharing and editing
Group audio and video calls
Group texting
Up to 2 GB of storage
Unlimited pages and folders
Surveys
Calendar
Ability to create/assign tasks
Trello

If your team is more visually-focused, then Trello may be the right fit.
Trello offers a few unique features, including its "Trello cards," where users can attach files, write to-do lists, assign tasks/subtasks, update task progress, and add comments. Trello users can then pin their cards to a sharable overall project board.
The app's "Command Run" feature is especially handy, allowing users to automate tasks like setting due dates, outlining schedules, and adding team members to cards.
Though Trello does not have native video conferencing or screensharing tools, it integrates with Google Hangouts and Zoom. It also integrates with Slack, Yammer, Flock, Glip, Asana, and other communication tools.
Trello's free plan includes:
Unlimited lists, cards, personal boards
Maximum of 10 team boards
Basic automation
50 monthly command runs
Two-factor authentication
Mobile app access
Redbooth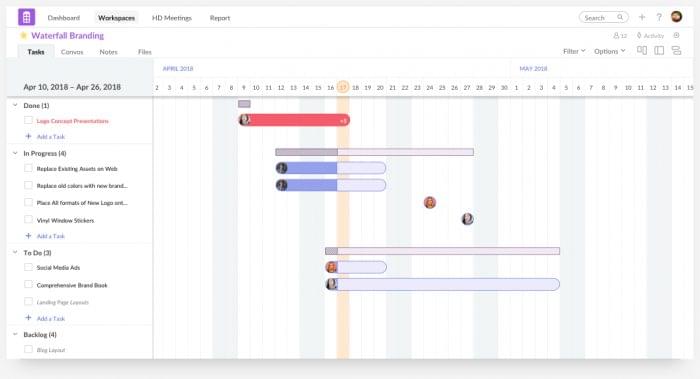 Redbooth allows users to create customizable Kanban boards, create to-do lists and recurring tasks, and see real-time updates via project timelines.
While as of this writing, Redbooth's integration options are limited, it will work with the majority of the necessary communication tools including Slack, WebEx Teams, Outlook and Gmail, Dropbox, and Google Drive.
Paid Redbooth plans provide access to video conferencing via Zoom, time tracking features, resource management, and an unlimited number of workspaces.
The free version of Redbooth doesn't offer quite as many collaboration features as some of the others discussed here, but it is still a solid choice for small teams, nonprofits, or freelancers who need to regularly communicate with clients to keep them updated about project progress.
Redbooth's free plan includes:
Task assignment and due dates
2 GB of storage space
2 workspace maximum
2 users maximum
Community and email customer support
Calendar view
Mobile app
Task overview/progress tracker
Gantt Charts
Conversations (chat messenger) and commenting
Microsoft Teams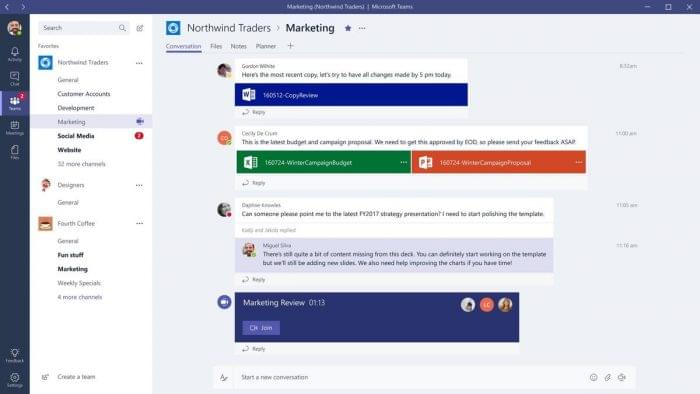 If we had to choose the best option for free team collaboration tools, Microsoft Teams would likely be the winner for companies prioritizing video and audio calls.
However, Teams falls short in providing basic task management features. While the other options on this list include at least some native task management tools, only the paid versions of Teams provide project management features.
Just as team leaders must integrate some of the collaboration tools discussed here with video conferencing software in order to share screens and virtually meet face-to-face, Microsoft Teams requires app integration or payment to access project management tool features.
The free version of Microsoft Teams includes:
One-on-one and group video calling
Audio calls
Screensharing
Blurred Background
Chat messenger
Unlimited users
Unlimited and searchable group chat history
File sharing (2 GB maximum per user, 10 GB per team)
Over 250 app integrations
File notation/editing
Other Business Tools to Connect a Remote Team
Especially if company employees are adjusting to remote work for the first time, using team collaboration tools alone likely won't be enough to maintain the same business standards outside of the office as are expected inside of it.
It's time to start thinking about how to use additional software to leverage communication in any circumstance.
Check out our interactive comparison table of web conferencing software to learn more about how the right tools will keep employees productive in times of uncertainty, allow hiring managers to interview job candidates remotely, and let team members connect with clients face-to-face to tell them how your company will continue serving them during the Coronavirus crisis and when the world returns to normal again.