Many read the word "fax" with a somewhat antiquated connotation, much akin to having a computer room in a family house. Online fax, however, provides the complexity of a cloud-based service without the need for extra hardware (fax machines). Unlike its bulkier counterpart, which used analog networks to transmit data by connecting to traditional telephone lines (PTSN), secure online fax products create documents that can be sent to another fax machine with Web apps or as email attachments.
This modernized technology now expedites document transfers, saving labor hours and providing the flexibility that the outdated systems could never offer. Better yet, newer online fax systems come with high-security protocols that enable document management as secure and convenient as any other common software program.
How Does Online Faxing Work?
Internet fax systems assign unique phone numbers that are used when someone attempts to transmit a document. The system recognizes the fax number and responds by sending the scan as a file attachment, typically a PDF. Incoming faxes are preceded by a prompt to visit sites to download compatible software for a smooth transaction, but many software brands send the documents as standard images in their uncompressed form. That way, as long as the contact has a standard graphics viewer, there is no need for additional downloads.
Some internet fax products provide advanced optical character recognition (OCR) capabilities, which instantly convert character images to text that can be read or copy-pasted elsewhere. Once the attachment is opened, it can be treated like any other file – forwarded, saved as other file types, and combined with other documents. Many all-in-one online fax services will generate cover sheets, which is essential for protecting patient information in the healthcare industry.
For many professionals looking to increase productivity and save physical space, switching over to online fax generally makes sense. Those working in the government, healthcare, or legal industries might be more hesitant to change their communication methods, since such occupations require a heightened security presence – not only for internal operations, but also the assurance that private information will remain secure. Luckily, online fax offers the kind of enhanced security features that ensure these documents are kept safer digitally than they ever could be in their printout form. So the question to consider becomes not "Is online fax safe to use?" but rather, "Is online fax right for my industry?" The answer, either way, is likely yes.
Should I Ditch My Fax Machine?
By and large, the answer is probably yes. While every industry has different file management and correspondence needs, there are a few perks that can benefit businesses no matter the sector.
File Security
Perhaps the most important factor for anyone in the medical, legal, or government field is the privacy and security of the documents being faxed. Some internet fax products provide SSL encryption and password protection, which would likely be the default process for these professions. Most offer a secure log-in prompt, and two-factor authorization for extra security and an increasing number are flaunting their faxing solutions as HITECH and HIPAA compliant.
File Size
Many online fax services compress large documents automatically so that recipients can quickly open them. Large attachments can significantly slow the transmission time for an email, so keeping them smaller expedites the email and ensures that it doesn't clog up the recipient's inbox (a thoughtful step to take regardless of industry).
File Organization and Management
By automatically digitizing documents, a user can send and save fax pages as quickly as they are received. Incoming fax records, which weren't even easily available with a fax machine, can now be obtained in seconds and shared if needed.
When it comes to professionals in the healthcare or legal industries, or those working for government municipalities, it's important to consider the specific fax features to search for.
Medicine Modernizes With Online Faxing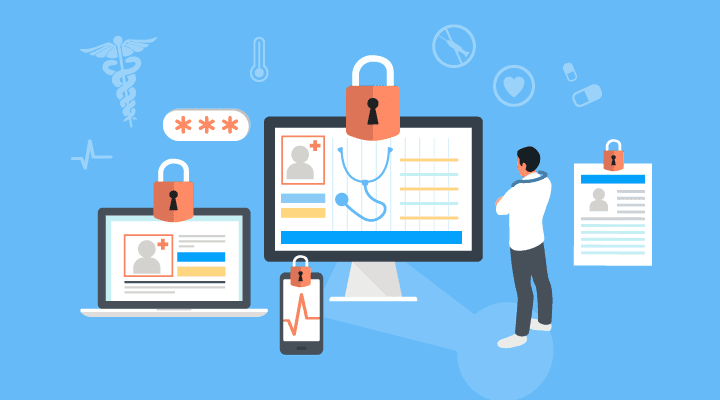 Employees in medical practices are familiar with the process of receiving and sending patient data. Patient records and referrals are still overwhelmingly sent over fax, or sometimes mailed – but rarely by any other route.
Poor communication often frustrates doctors, nurses, researchers, and patients alike, over time instilling a fax-related technophobia. Because of this, many doctors remain reluctant to upgrade their systems, and in many cases, even insist on hand-delivering their most important records. Workers across the sector commonly refer to faxes as "the cockroach of American medicine," even though about 75 percent of medical documents are still handled with the traditional fax hardware.
Numerous medical professionals have already seen the advantages of digitizing their patient records and correspondence, thanks to industry-wide modernization initiatives. Prescription renewals, physical therapy treatment approvals, and insurance company notifications are the kinds of common fax-related requests typical doctors encounter daily. For that reason, many smaller practices are pledging to become "fax-free zones by 2020," an ambitious goal that, while eco-friendly, doesn't consider the lasting benefits of switching over to an exclusively-online fax infrastructure.
By digitizing records and most communications, as some larger hospitals have, archives can now contain much a more thorough, detailed information history than faxes can. Better yet, digitizing correspondence means recorded actions become searchable and easy to analyze for machine-learning tools.
Implementing online services to an existing fax-heavy business, like a clinic, simultaneously enables smoother filing and record-keeping, which helps all future efforts of modernization when implementing other software or productivity tools (in addition to the aforementioned encryption and security measures that old fax machines just can't provide).
Secure Online Fax For Law Firms
For those working at legal firms, the need for document security is just as apparent. One of the main concerns for many attorneys is the ability to support remote work and providing multiple fax methods, including email, web and mobile apps or portals, and smartphone capability. Smooth remote operations are essential for any law firm, which tends to need attorneys available for billable hours regardless of their location. It's common for courts to require "wet ink" signatures on documents, too, so not having these tools readily available can drastically prolong the amount of time it takes to complete such a simple task.
Many corporate internet fax packages use a monthly subscription service, providing different pricing tiers depending on the number of files or the number of pages that the firm plans to transmit. Along with setup fees, this can add up quickly, but corporate packages often also include valuable features like scalable page volume, API integration, and HIPAA compliance. However, doing away with landlines and streamlining can balance out savings.
The best online fax services cater specifically to legal professionals, and their products often boast features like the ability to send faxes to high volumes of people, smooth international faxing capabilities, custom cover page storage, and integration with cloud drives a firm already uses, such as Google Drive, Dropbox, Box, OneDrive, or Evernote. Thankfully, even options that let you send a fax from a phone have these capabilities.
These features are much more advanced than the average medical firm would need to use, but attorneys are expected to keep up with modern technology to impress clients and perform efficient remote work that secure online faxing services make it easy to accomplish, while retaining a professional image. This software also supports the eco-friendly efforts of the increasing number of paperless offices and keeps important documents, like legal contracts, organized (a factor of crucial importance for industries like medicine and public relations).
Government Contractors Need Secure Online Fax

Their work may be very different, but government contractors need many of the same security features valued by lawyers. Dealing with confidential documents and sensitive information is an everyday matter for someone in such a career field, so security measures often trump convenience features in terms of importance. As modern communication revolves around emails and smartphones, security measures have adapted – but so have hackers. Files can be intercepted in many ways, pulled from a compromised email account, or hacked directly from a computer.
Knowing this, contractors must do all they can to protect their documents from the start. Many advanced internet fax services have been awarded Schedule 70 contracts by the U.S. General Services Administration (GSA), the procurement arm of the federal government. These contracts provide worldwide federal agencies unlimited information technology (IT) and telecommunications hardware, software, and U.S. based support and professional services.
They also come equipped with a range of great security features, such as adjustable bandwidth, which helps control fax traffic volume on a group-wide basis for busier times; extensive dialing rules and restrictions, which enable precise control over outbound faxes; Secure Binary File Transfer (BTF), and Windows NT (New Technology) security authentication for existing Microsoft accounts. Faxing can be done domestically or internationally, and even basic products provide fax archiving and SSL encryption using toll-free numbers. These security measures are imperative to any government agency, but they also benefit organizations that operate on limited budgets, like educational institutions and public organizations.
What are the Security Benefits of Online Faxing?
Security benefits might be at the forefront of the modern fax argument, but there are near-countless other valuable features that can grant businesses an edge regardless of sector.
Online Fax
PRO
CON
•  Decrease or eliminate costs of paper, toner, and hardware maintenance
•  Using a centralized document-delivery hub improves enforcement, monitoring, and administration of regulatory compliance
•  No busy signal interference
•  No blurry printouts
•  No risk of sending to the wrong recipient
•  Not ideal for use in places with limited or poor Internet connections
•  You may still need a printer or scanner (if desired for hard copies)
•  Phone line required
Beyond specific occupations in healthcare, law, and government work, relying solely on fax machines can hinder businesses with their outdated security measures, cost, and inefficiency. With the amount of free fax options that can be accessed via mobile devices and with cloud storage options, large offices and small businesses should take advantage of online fax solutions. Our list of the best online fax solutions has options that are compatible with Mac, Android, desktops, and tablets, along with some that allow you to send faxes from free email services like Gmail.
Therefore, in short, yes. Digitizing correspondence and embracing secure online fax is not only the obvious path of the future for many industries; it is the safest practical everyday document-sharing method available.