With the advent of VoIP technologies like IP-PBX and cloud PBX, unified communications have branched out significantly from just being on-premises. Agents and salespeople can now utilize mobile platforms like iOS and Android to stay connected to clients and internal teams, thanks to mobile VoIP apps. In fact, communications giants like Nextiva and RingCentral have very robust offerings when it comes to this kind of UCaaS for mobile tech.
What is Mobile VoIP for Business?
Just like office-based VoIP, mobile VoIP uses the internet to provide team members with a communications solution that's non-reliant on cellular or landline-based networks. Wherever an internet connection can be found, a mobile phone user will be able to stay productive with VoIP. They can make traditional calls, converse with coworkers via chat, or even attend audio or video conferences.
This is an advantageous and inexpensive way to power a company's communication. Phone bill charges like roaming fees are nonexistent thanks to the cheap international calls possible with mobile VoIP calls. Mobile VoIP for business has come a long way; both Android and iOS have native apps that can be used for Wi-Fi calling. Several business VoIP apps on the market for both platforms that deliver superior call quality and collaboration options.
But what are the best mobile VoIP apps for business-grade users? Well, you'll find that the market is becoming increasingly crowded, which is why we've created this guide so that you can have an idea which providers provide the most robust mobile VoIP experience.
How Do VoIP Apps Improve Business Communications?
One of the primary reasons that so many companies are looking to expand their unified communications to mobile is for convenience. With a VoIP calling app, a team member can have his or her phone number and an app that supplies them with a business phone number.
A salesperson can answer both private and professional phone calls on the same device. The mobility afforded by both Android and iOS platforms is a significant selling point. Not only can you store your VoIP-powered mobile device in a pocket, but in many cases, similarly portable products like Android and iOS tablets can also utilize VoIP softphones.
With this type of communications solution, it's effortless to send VoIP calls directly from a work phone to a smartphone. As soon as a user leaves the office, he or she will remain as quickly contacted as if they were at a desk. Sales and support staff can make cheap calls or free calls even when they have to stay at home for personal reasons.
Outside of convenience and mobility, users will benefit from tremendous cost-cutting. When salespeople are traveling abroad, they will only need an internet connection to make calls. This also reduces the costs of calls when team members need to contact each other across disparate office locations, which can add up with traditional telephony options. International calls or long-distance costs don't matter because mobile VoIP apps treat them the same.
Finally, there's the comfort of dialing from your own device and bring your own device policies are becoming increasingly popular. There was a time where business people would have to carry their personal cell phone and their work smartphone so that they could stay in the loop.
With VoIP, private and work smartphones are one and the same, allowing employees and small business owners to connect with iPhones, softphones, Android VoIP, or iPads without a difference.
Top Providers for Business Mobile VoIP

Skype for Business Overview
Skype originally started out as the video chat program called Skyper, and when it was released in 2003, it took the internet by storm. Purchased by Microsoft in 2011 for $8.5 billion, it was clear that the communications platform wouldn't be going anywhere. In 2015, Microsoft opted to replace their Lync software with Skype for Business, which was designed to provide a more extensive UCaaS option for their clients.
Skype for Business has some great overall features like unlimited meetings, free online meetings for non-subscribers, and effortless screen sharing. Skype for Business has built-in Outlook integration, so scheduling meetings from inside the platform is a cinch. since Skype started as a video conferencing platform, it also shouldn't surprise that multi-party HD video chats virtually come standard.
Features
Skype for Business is compatible with just about any device that you want to use. Features like screen sharing and audio and video features are straightforward to access and use from both Android and iOS devices. For those with legacy Lync accounts, Skype for Business can be accessed with the same mobile VoIP app credentials.
Users will also have access to push notifications, contacts and contact groups, instant messaging, standard telephony, an English-only screen reader/voiceover, and optional external keyboard. The software will sign out if the user has push notifications enabled, and the account has been inactive for 10 days. Mobile users will also be able to see statuses of fellow Skype for Business users to determine if they are available or not.
Companies that Would Benefit from Skype for Business
Since Office 365 is a top-rated platform for many businesses, those that want easy integration may consider Skype for Business as their UCaaS platform. With many of the features being easily scaled down for phones, this is an affordable solution for those looking for a streamlined experience.
Some features like contact group management aren't available on iOS, but overall, there's a lot of functionality when using Skype for Business as a provider. This is especially true for organizations that need quick communication since all of Skype's instant messaging, conferencing, and telephony functionality is available on mobile VoIP apps.
| | |
| --- | --- |
| Pros | Cons |
| Outlook integration makes scheduling meetings simple. | The file-sharing utility isn't as agile as some other options. |
| Fully encrypted communication is limited to approved devices | Some features are notably missing on specific platforms. |
| Through Skype Manager, organizations can efficiently allocate Skype credits to users. | iOS users can't manage contact groups. |

Aircall Overview
Originally founded in Paris in 2014, Aircall has always had communications and phone support at the center of its business offering. The company makes it easy to reach out to salespeople, colleagues, and customers, and there is plenty of functionality built into the platform to unify communications across several channels.
Aircall believes in transparency, community, and teamwork, and their Chrome extension, desktop app, and mobile VoIP apps facilitate these values. Their apps also integrate with CRM systems like Hubspot, Salesforce, and Zendesk.
Features
One of the most useful features of the Aircall mobile app is a shared call inbox. With it, a team can see a list of calls that require follow-up. This inbox will automatically update when a reach-out has been completed, which is a great way to know where a lead is in the sales funnel. There is even a shared contacts function that will allow teams to reach out to the same group of leads.
Aircall is a cloud-based provider, and the provided phone numbers can be used on any device. Looking to tweak team performance? Calls are recordable so that managers can use them for coaching purposes.
Companies that Would Benefit from Aircall
While there isn't a vast number of features with Aircall, the ones that are available are available on all platforms. Teams that want to work from the same resources will find that Aircall's features are advantageous.
Since Aircall connects call information with CRM and marketing automation software, it's somewhat useful for those that are looking for actionable analytics.
| | |
| --- | --- |
| Pros | Cons |
| With shared contacts and inbox, team members will get the right amount of collaboration features with Aircall. | The customer service experience could be better. |
| Aircall allows you to assign, comment on, and tag calls. | Call quality can be choppy. |
| All features are available on any platform. | |

RingCentral Overview
Having been founded in 1999, RingCentral has been active in the world of communications for 20 years. The flagship product of the company is RingCentral Office, which has features like an auto-attendant and CRM integration.
RingCentral specializes in cloud PBX-based VoIP, so there's a high amount of stability, and the provider has great audio and video quality. It's also easy to get access to call logs with the platform, and virtual numbers are a great feature that works perfectly with mobile VoIP apps.
Features
RingCentral is a good unified solution that has functionality on all smartphone platforms and also works well for Android and iOS tablets and is included with RingCentral plans. On any device, users can access voicemails, receive internet-based faxes, and call recording is also an easy-to-use feature on mobile devices. In addition to this, the UI allows for access to these call recordings, and playback is simple.
Downloading the app can be quickly done straight from the RingCentral desktop interface (via a web browser), or users can use their favorite app store to download the platform. Similar to platforms like NetFortris, a competitive RingCentral alternative, RingCentral has a HUD (heads up display) style of interface. The top functions include buttons for call, text, transfer, and add caller, and functions like voicemail and calendar are also easy to reach using the RingCentral UI.
Companies that Would Benefit from RingCentral
RingCentral is very versatile, and it works well for just about any device, so smaller companies looking to provide their agents and salespeople with an easy to use option for mobile telephony will appreciate this solution. RingCentral provides online meetings, audio conferencing, and easy team collaboration via mobile VoIP apps.
| | |
| --- | --- |
| Pros | Cons |
| The service is usable over 3G/4G without using carrier minutes. | It's easy to close the app on Android if you tap the back button accidentally. |
| The software has some great team collaboration functionality. | The fax functionality could be expanded. |
| It's compatible with both Box and Dropbox cloud storage. | |

Vonage Overview
Vonage is one of the VoIP providers that's relatively well-known, even outside of the business VoIP market. Their office phone systems are very high tech, and their unified communications offerings also include contact center support. The software also integrates well with CRM solutions from a variety of companies.
Thanks to SIP Trunking, Vonage even makes it pretty easy to connect legacy phone systems with their cloud PBX offering.
Features
One of the standout features of both the Android and iOS apps for Vonage is the linked device functionality. With it, you can link up to five devices at a time, and if you want, all devices can ring at once when there's an inbound call.
Vonage also has easy call recording, and visual voicemail helps mobile users quickly read voicemails that have been left on the system rather than having to listen to them. Every tier of Vonage's offering features unlimited calling and SMS messaging, and they have one of the many mobile VoIP apps compatible with both smartphones and tablets.
Companies that Would Benefit from Vonage
With SIP trunking, Vonage is the right solution for organizations that are looking to integrate legacy systems with PBX-based systems that utilize telephony for both in-house and mobile use. As a result, if you're looking for a reasonably all-inclusive experience, Vonage, with its great mobile functionality and robust ecosystem of features, might be the right choice for you.
| | |
| --- | --- |
| Pros | Cons |
| Vonage has CRM integrations so that users can utilize analytical data about customers. | Call waiting is for iOS only. |
| Amazon Chime is utilized for both chat and file sharing. | |
| Support for Vonage is available 24/7. | |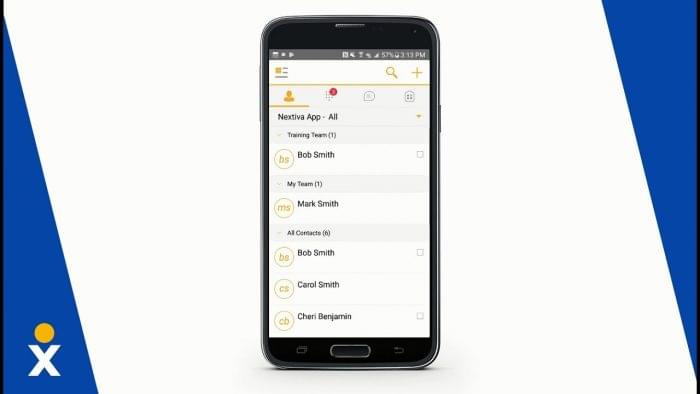 Nextiva Overview
Nextiva is a VoIP company that has been in operation since 2006, and in the intervening time, they have become a significant player in the UCaaS world. Nextiva offers two months free for subscribers, and devices are included. They are also known for stability; Downdetector.com provided them with a 5/5 network rating, which is supported by the fact that they have a 95% customer satisfaction rating.
Nextiva calls their flagship UCaaS offering NextOS, and it not only helps teams communicate (including across mobile), but it also helps automate workflows without the need for additional software. There's even a built-in analytics functionality, rare among mobile VoIP apps.
Features
When it comes to the smartphone-friendly features of Nextiva's VoIP app for both Android and iOS, Nextiva has covered most of the bases. Users have access to text to voicemail, device swap, collaboration tools, conferencing (both audio and video), status setting, instant messaging, and screen sharing on iOS.
Companies that Would Benefit from Nextiva
Since Nextiva is entirely cloud-hosted, organizations won't have to have a PBX box to create a unified communications network. This is perfect for smaller organizations that are just starting – with Nextiva Anywhere, team members can make calls from mobile or even home devices, and there's no need to maintain a local server in the office.
The stability of redundancy is provided by Nextiva's cloud-based architecture, so if a company depends on maximized uptime, which makes the provider stand out among Nextiva alternatives.
| | |
| --- | --- |
| Pros | Cons |
| Nextiva Anywhere makes it easy to switch from desk phone to a smartphone, even mid-call. | It can take up to four weeks to transfer existing numbers over to Nextiva. |
| Nextiva has a very responsive support team that has a great level of product knowledge. | |
| Even when using a mobile device, users can create conference bridges for up to nine callers. | |

Mitel Overview
Mitel is a communications provider that has a cloud architecture that provides a very stable level of service for business customers, making it a strong Nextiva alternative. The company's flagship product is MiCloud Connect, and it has an architecture built on Google Cloud. With Mitel, businesses can expect a reliable all-in-one solution where users can talk, text, and file share on almost any device platform.
The company has communications partnerships with brands like Netflix and the Western Mutual Insurance Group, and they were named one of the Best Business Tools of 2019 by Newsweek.
Features
As a platform, Mitel OfficeLink for both Android and iOS has some very robust features that enhance communications and bring office functionality out of the office. Both mobile VoIP apps can be found on their respective app stores, and the interface is very easy to navigate. For example, setting status, or changing the 'availability state' is simple – alongside your user icon is an arrow, and tapping this will allow you to establish if you're available.
On the same page, you can change the access settings, view calendar events, check out the recent call log, or message colleagues. The in-call UI lets you place calls on hold, silence calls, or even merge calls to create a conference call.
Companies that Would Benefit from Mitel
Mitel is a great enterprise-level solution because Mitel Connect has a wide variety of compatibilities when considering both Android and iOS devices. Additionally, since the software is so easy to use, it's easy to implement and get running across teams. However, you might struggle with contacting Mitel support if you run into snags.
Since the software is so fully-featured, larger teams will be able to chat, conference, and file share with relative ease.
| | |
| --- | --- |
| Pros | Cons |
| The Google Cloud that Mitel is built around is very reliable. | The original caller information isn't included when calls are transferred. |
| Mitel Connect has the same experience for iOS and Android users. | |
| Changing the availability state in the client changes the state in the mobile app. | |

Grasshopper Overview
When it comes to business communications, LogMeIn has become something of a juggernaut since it features the GoTo series, Jive, Join.me, and Grasshopper as solutions. Grasshopper, as LogMeIn's cloud-based phone system offering, is also an excellent cloud PBX option for businesses looking to save cash but still provide their teams with competitive features.
For example, the provider supports extensions, voicemail, call forwarding, and has a great level of stability. Grasshopper isn't purely VoIP; the service works with your existing telephony or cell service, and call quality is typically high. With Grasshopper pricing accessible to businesses of all sizes, it's one of the most well-known mobile VoIP apps out there.
Features
Grasshopper has a great set of especially robust features, considering the price of the service. For example, you get the team messaging functionality, the ability to return missed calls, and the ability to send group messages with all tiers of the Grasshopper plan.
Grasshopper Connect also allows for a unified inbox for voicemails, texts, emails, and calls, which makes for a useful feature. Grasshopper also has a very simple UI that's easy to navigate and use for various communications needs. There's even voicemail transcription, which can be a real timesaver when you're on the run.
There are even extensions and name directories for team members.
Companies that Would Benefit from Grasshopper
Grasshopper shines because it has such a simple and easy-to-use design. For this reason, it's great for companies that have team members who aren't IT professionals. Additionally, this is a very reasonably-priced UCaaS solution with mobile functionality, so smaller companies may be attracted to its reasonable pricing structure.
If you're already using Grasshopper, consider some of the Grasshopper alternatives we've laid out in our recent guide.
| | |
| --- | --- |
| Pros | Cons |
| Grasshopper allows for the usage of custom greetings and even hold music. | Grasshopper doesn't allow users to switch between the desktop and mobile apps. |
| It's simple to switch from using the desktop app to the Android/iOS app. | You'll have to configure it for Wi-Fi calling. |
| Call history allows users to follow up on missed calls, even across devices. | |
Mobile VoIP Providers Compared
| | | | | | | | |
| --- | --- | --- | --- | --- | --- | --- | --- |
| | Nextiva | Skype for Business | Aircall | RingCentral | Vonage | Mitel | Grasshopper |
| Conference Calling | Yes | Yes | Yes | Yes | Yes | Yes | Yes |
| Call Queuing | Yes | No | No | Yes | No | No | No |
| SMS | Yes | No | No | Yes | Yes (Through Nexmo) | Yes | Yes |
| Missed Call Notifications | Yes | Yes | Yes | Yes | Yes | Yes | Yes |
| Instant Messaging/Chat | Yes | Yes | Yes (With Intercom Messenger) | Yes | Yes | Yes (With MiVoice Connect or ST14.2) | Yes |
| Set Status | Yes | Yes | No (only on desktop or web app) | Yes | No | Yes | No |
| Call Pulling | Yes | Yes | No | Yes | No | Yes | No |
Mobile VoIP Apps Keep Business Moving
You need to have mobile functionality, especially if your teams are always on the go. Fortunately, several solutions on the market can help your team collaborate, communicate, set remote statuses, and file share. Unified feature sets also make having different types of devices on different platforms manageable for teams.
With many agents and salespeople depending on smartphone apps for a variety of purposes, UCaaS solutions that accommodate this on-the-go computing will have a lot of utility. As team members move from place to place, their calls will be clear, they will have access to chat, and they will even be able to set status, and most calls can be pulled from desktop to smartphone without interruption. The best VoIP apps for Android and iOS can certainly streamline processes significantly.
In many situations, a call made on a VoIP app is also cheaper for the organization thanks to cloud PBX architecture, so check out our published article on why businesses are choosing that technology to find out more.